11 Best Outdoor Pull Up Bars in 2023
last updated:
Jan 07, 2021
Nothing beats working out in the great outdoors. The fresh air, the scenery, and the open spaces just can't be beaten. When it comes to your home workout, performing your pull-ups on an outdoor pull-up bar has a lot to recommend it. Performing the full range of possibilities on a pull-up bar requires space - something that is of limited supply in most homes. You need plenty of head clearance to perform advanced movements above the level of the bar. You also need to move your body around the bar, without the constrictions of walls and ceilings.
The best outdoor pull-up bar will provide unrestricted movements through all planes of motion while allowing you to breathe in the beauty of nature. We selected, tested and reviewed the 15 best outdoor pull up bars on the market today.
In a Hurry? The test winner after 10 hours of research: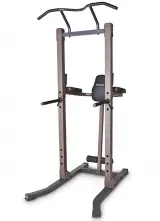 Steelbody Power Tower
Why is it better?
Higher weight capacity
Dip station
Curved bar
12
Researched Sources
13.5k
Reviews Considered
10
Hours Researching
14
Products Evaluated
Model
Size
Durability
Materials
Effectiveness
By Default
11 Best Outdoor Pull Up Bars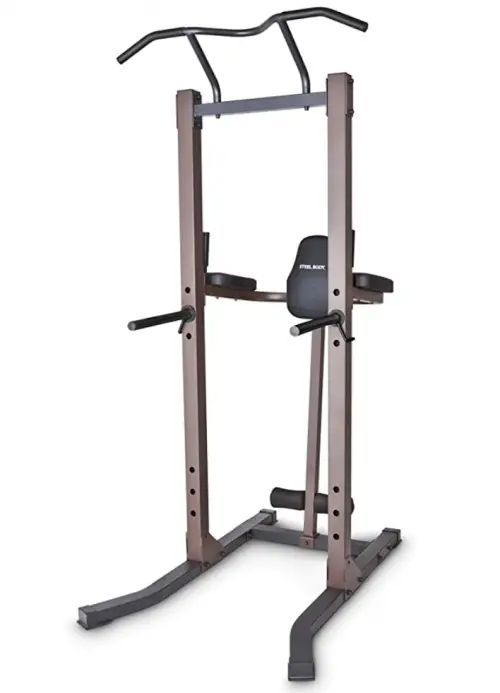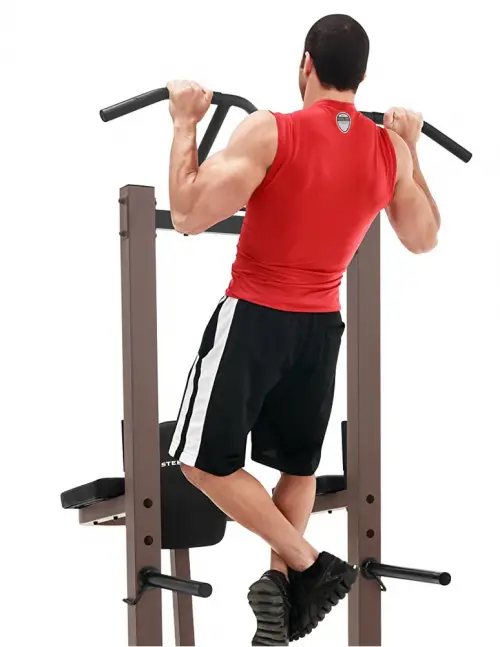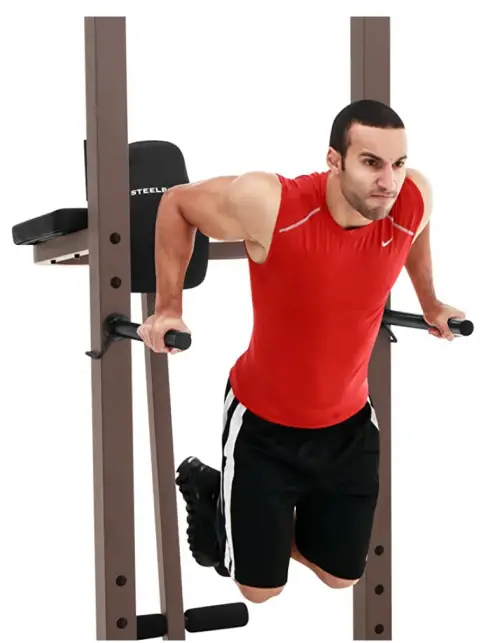 Higher weight capacity
Dip station
Curved bar
Slightly expensive
Very high bar
What we like most about this power tower is that it has a series of grips and ways to workout that help to engage a series of upper body muscle groups. It is made from a solid construction that can withstand some pretty heavyweight as well as the elements outdoors. It may cost a little bit more than some of the other designs that we have seen, but we feel that it is well worth the cost.
Read more
The very first thing that we noticed about these designs is that it boasts a very thick steel frame that has a powder-coated finish that makes it more resistant to rusting when left outside all year round. This super sturdy frame is also able to comfortably accommodate users that weigh up to 300 pounds without bending or wobbling.
Not only does it have a main curved bar at the top for various styles of pull-ups, but it also boasts a few smart features to help engage other muscles as well. The dip station allows users to really engage those triceps with a pair of adjustable handles. It also has a knee tuck station with a padded back and elbow rest as well.
If you are in the market for something that will be able to withstand the elements while providing a stable base for a myriad of workouts, this design from Steel body is a great choice. It is composed of quality materials, and it is incredibly easy to use as well as initially set up.
2

. CAP Barbell Power Rack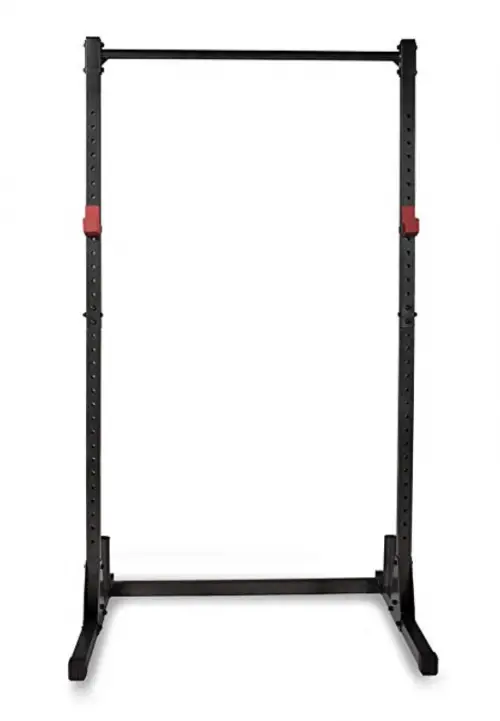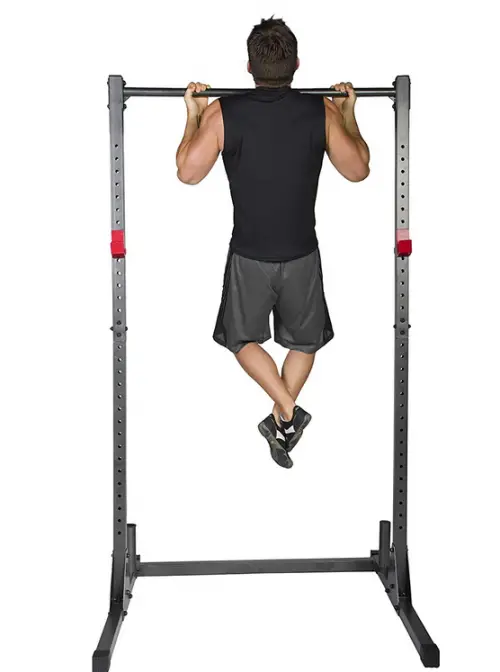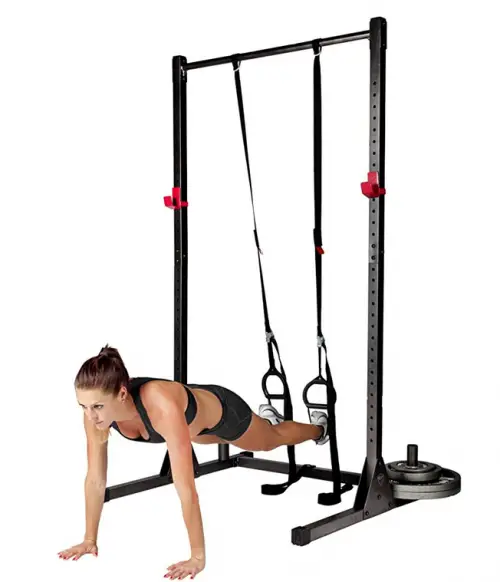 Colorful options
Adjustable J-cup catches
Gusseted uprights
Cold rolled steel
We've all heard of CAP Fitness before, and we're used to seeing their equipment all around the world. This power rack is just one example of a great piece of gym equipment, worthy of gracing your yard, or garage gym.
Read more
This rack is built out of 11 and 12-gauge steel that makes this construction particularly sturdy and resistant.
The bars are coated with a powder that makes them scratch and rust-resistant, and they come in a huge variety of colors so you can give your eyes a bit of joy too.
The power rack has j-cup catchers that can be easily adjusted. The uprights are gusseted, making the construction exceptionally stable.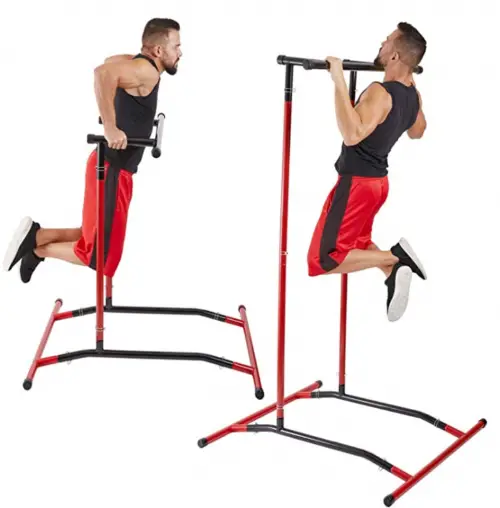 Easy to assemble
Stores compactly
300-pound weight limit
It doesn't get much simpler than this design from Go Beast. What we loved most about this super simple frame is that it is easily transported to the place you want to workout. Want to take it outside to get a bit of fresh air? Simply pop out the extra bars and cart it into the yard. To take it back inside when it gets a little too cold is just as easy. Plus, it offers a few other build variations to work out other muscle groups as well.
Read more
If you ever had an Erector Set growing up, you have all the skills required to assemble and disassemble this design as needed. The heavy-duty poles on this frame lock into place with a pair of clips and pop out just as easily. If you love to change up your workout locations, it doesn't get much easier than this super simple frame from GoBeast.
The chin-up bar is able to be adjusted downward to create a sturdy and easy to use dip station to really dig into those triceps. Adjusting the shape of the bar requires some tinkering, but many users are able to make these adjustments in under 5 minutes. Plus, despite its thin and simplified frame, it is able to accommodate up to 300 pounds!
If you aren't married to a specific location for your workout gear, this design from GoBeast is made to move. It is insanely easy to set up, and just as easy to pull apart to quickly move to a different location. It comes in at an incredibly affordable price point and is also easy to pop into storage when you need to clear up a bit of space.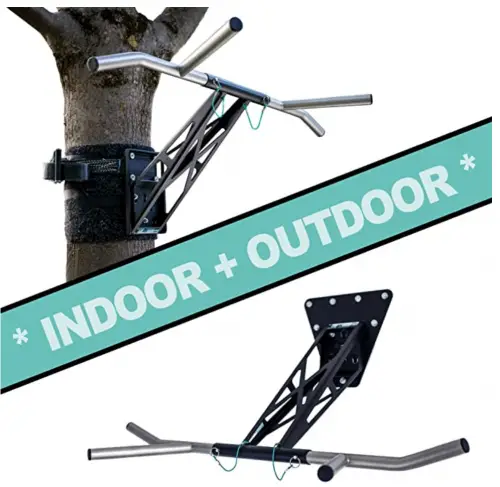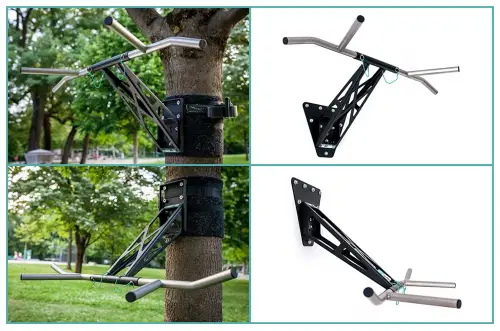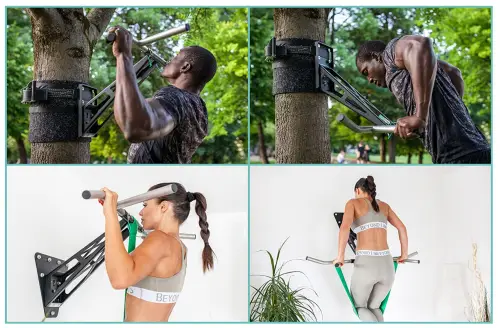 Space-saving
Two in one
Easy installation
Security pins
Outdoor adapter very adjustable
The pull-up bar from PULLUP & DIP is a very unique bar. The reason why is simple - it's completely portable! This bar also qualifies as a dip station, so you get two exercise tools in one. You can attach this piece of equipment to a tree, post or column wherever you go, so you can stay fit in all corners of the world.
Read more
You can get this station in three different varieties, either just an indoor one, just an outdoor one, or both! The only difference is the type of mount you will get. You can perform over 35 different exercises on this very versatile piece. You can change the bar from pull-ups to dips in just mere seconds, no difficult assembly required.
The bar itself is wide and long enough to allow you to place your grip however you want to. A handy guide explaining over 30 different exercises is included to show you just how you can begin using the bar, and how to continue using it once you master the basics.
The construction itself is very small, and you can just pop it in a bag to carry it with you no matter where you go. If it's indoor, the mount is also quite small and you can easily hide it with a picture. The rotatable locking pin keeps you secure, so don't worry about the stability of this piece.
The outdoor mount can be easily adjusted with four knurls. The mount and bars are stainless steel, coated for extra protection.
5

. KT Toes Don't Touch Ground Pull Up Bar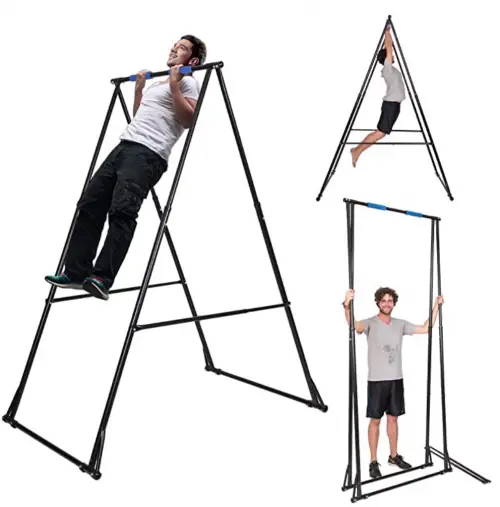 770 pound weight capacity
Very adjustable
Keeps a-shape
Foldable
Quick set-up
Height difficult to adjust
This pull-up bar looks just like a piece for a children's playground, and that makes it ideal for outdoor use. You can swing around the construction with full force and in every direction, activating every upper body muscle group in the process. The bar is adjustable, suiting users in almost every height range. The weight capacity is 485 pounds, so don't worry about overloading this bar.
Read more
The bar is very easy to set up, so you can get to working out almost immediately. The good force-bearing capacity makes this a very trustworthy outdoor bar, allowing you to pile up 750 pounds (your weight plus the loading weight combined)!
The A-shaped frame will not collapse no matter how much you jerk it and pressure it. The frame is not all that space-consuming either, so you can easily fit it into your home when the weather is bad. The steel construction is covered with a powder that keeps it rust and damage-free.
The frame weighs 64 pounds, so everyone can simply pick it up and move it where they need it to be. The standing rack is equipped with an antenna that makes adjusting it quite simple. The company offers a five-year warranty, showing confidence in their own product.
6

. ONETOFIT Mounted Pull Up Bar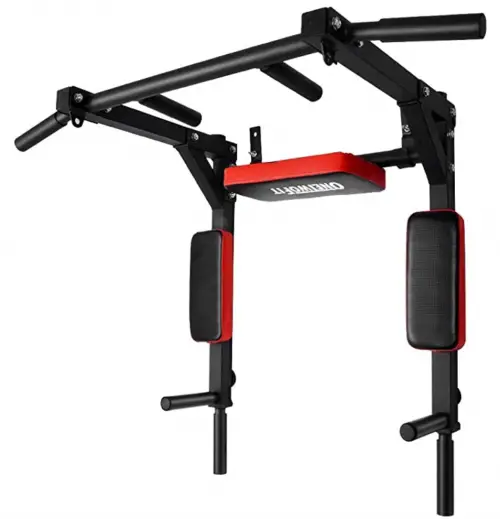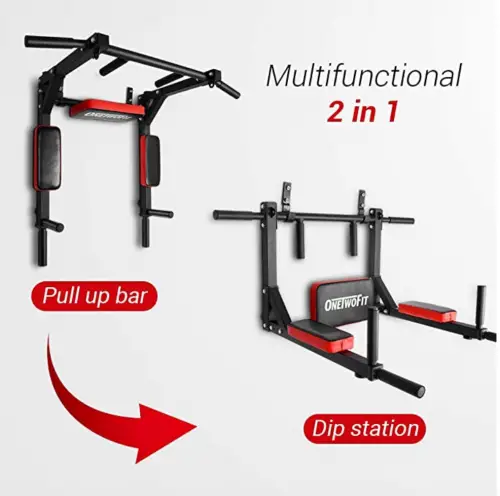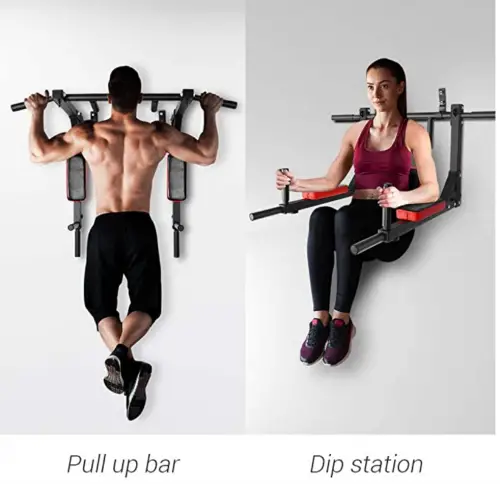 Multifunctional
Good weight capacity
High-density foam grips
Eight different grip positions
Compact and lightweight
This is a regular wall-mounted pull-up bar we're all used to see in gyms, but this one is especially hardy and it can easily resist the cold, uninviting outdoors.
Read more
You can grip this bar in eight different ways, adding variety to your fitness regime.
The mount is very compact, fitting on walls of all shapes and sizes. This pull-up bar is also a dip bar! I
t's equipped with high-density foam handles for a comfier grip. It can support up to 440 pounds, which might not be enough for seasoned users, but it's perfect for beginners.
You can easily place it on your will thanks to the quick assembly.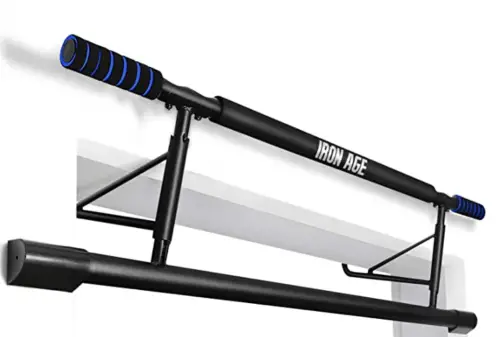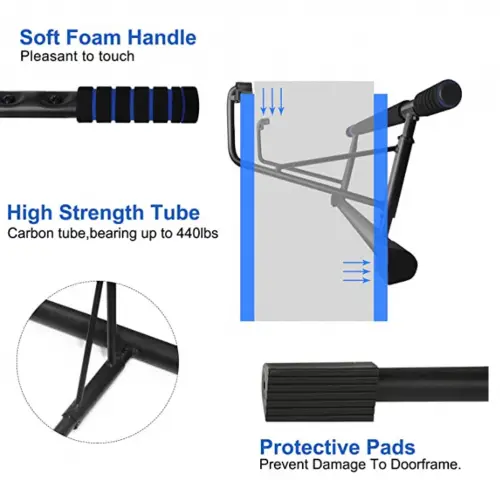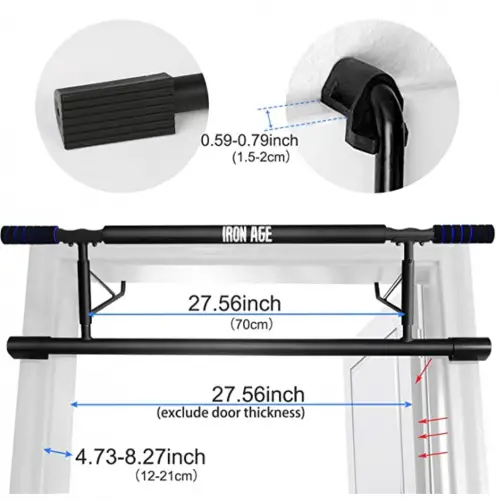 Easy installation
440-pound weight limit
Very affordable
Looking for something a little more simple and affordable? This option from Iron Age affixes to the inside of a doorframe (such as the inside of the garage man door, perhaps) for a secure installation that is able to accommodate quite a bit of weight. We love that it is super easy to install, and comes in at a super affordable price point that won't break the bank!
Read more
The very first thing that we noticed about this design from Iron Age is that it utilizes Short Hook Technology that works to evenly distribute the weight that protects your doorway, and also reduces the risk of a technical failure. We've all seen those videos where the bar breaks from the wall or doorway in the middle of a set, and you can rest assured that they weren't using this bar in those videos!
While many doorway models are limited in weight capacity, this design boasts higher weight limits than even some of the standing floor models! When installed correctly, this simple design is able to accommodate up to 440 pounds without running the risk of damaging your doorframe.
The best part about this model from Iron Age is that it comes in at one of the most affordable prices points out there on the market. Plus, it boasts a bar that sits higher than many of the similar doorway models out there on the market. With an easy installation and an incredibly high weight limit, there are few reasons not to get this option a try.
8

. Merax Multi-Grip Chin-Up Station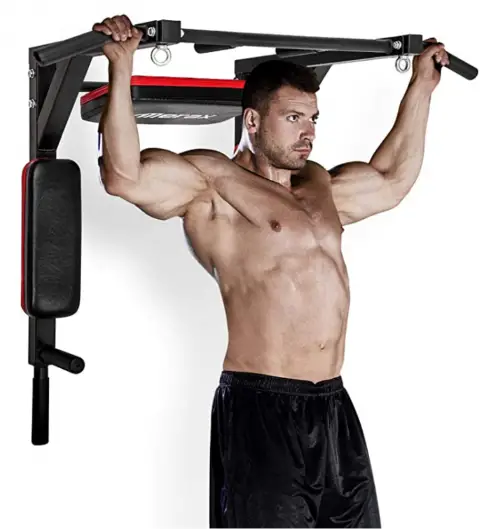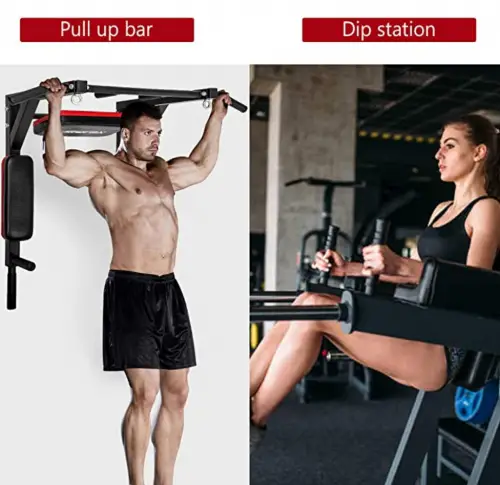 Knurled grips
440-pound weight capacity
Dip station
Want all of the functions of a power tower with the style of a wall-mounted option? This design from Merax is incredibly unique as it is affixed to a wall but provides users with all of the functions of a power tower. It boasts a high weight capacity, and it is incredibly easy to install. Plus, users really love the knurled grips that feel strong and steady while in use so you can push yourself to a new PR 12 months out of the year!
Read more
The very first thing that we noticed about this option is that it provides users with a quality chin-up bar with additional features for various workouts, all while easily mounted to an outside (or inside) wall. The provides users with an additional dip station for tricep work, and it can be adjusted to be used as a knee tuck station as well to fit in a killer core workout.
One of the best features of this design is that it is composed of quality materials that feel great in your hands. Some designs utilize a foam grip, which is great for cold temperature but it can sometimes cause your hands to slip. This solid steel knurled grip allows users to grip the bar like a barbell, and it works great when pushing yourself to your limits.
If you are in the market for something compact and versatile that is made from quality materials that hold up well over the years, this option from Mermax is an excellent choice. It is composed of tough, heavy-duty materials to help you really wring out those muscles, and it is versatile enough to work out your triceps and core as well!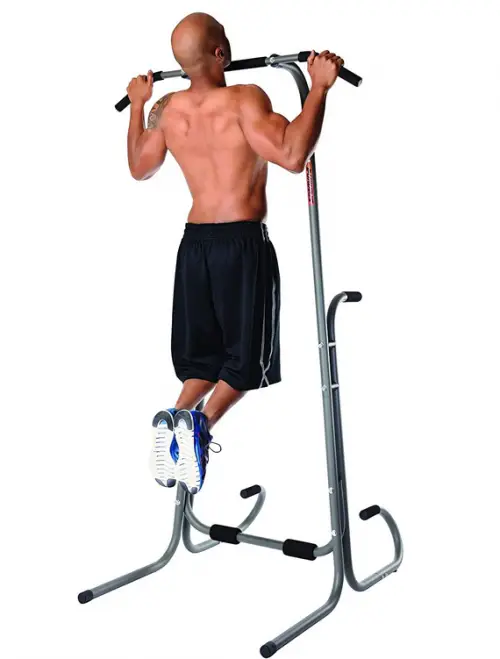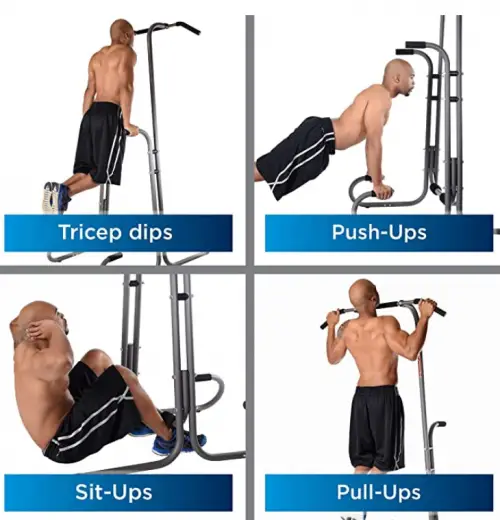 Foam padded grips
Easy assembly
Affordable
250-pound weight limit
Shorter than most
Simplicity is the name of the game when it comes to this design from Stamina. It is made from quality materials that hold up well over time, and it is incredibly easy to install. The durable foam grips make it ideal when working out in cold temperatures because your hands won't freeze to the bar! Plus, it offers a dip station as well to really hone in on those triceps.
Read more
One of the things that users love most about this simple design is that it is incredibly easy to set up as well as disassemble. If you want to bring your gear inside when the snow starts to accumulate outside, it takes many users under 30 minutes to take it down completely. While it boasts a simple frame, it is able to comfortably accommodate users that weigh up to 250 pounds (which is slightly less than similar freestanding models we have seen so far).
The style of the grips is what makes it ideal for an outdoor workout. Knurled grips are great, but when training in cold temperatures they can be a little distracting. These foam grips take it easy on your hands when pushing for reps, and prevent the uncomfortable occurrence of your hands getting stuck to the bar in the winter!
For those in the market for something simple and affordable that hails from a trusted brand, this design from Stamina is a great choice. We love that it is super easy to assemble, and the foam-padded grips make it ideal when working out in super cold temperatures. Plus, it comes in at a reasonable price point that won't break the bank.
10

. Joist Mounted Pull Up Bar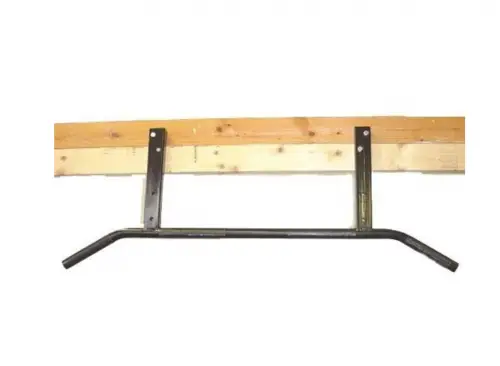 Attached neutral grips
Grips can be angled
Hardware included
Knurled grip
If you're looking for a mounted pull-up bar, and nothing more, then look no further. This elemental pull-up bar is good enough for beginners and serious users alike, still offering enough versatility to keep you going.
Read more
This bar has neutral grips attached that can be adjusted into angled positions, allowing you to change up your routine whenever you feel like it.
Four mounting bolts are included to save you the trip to the hardware store. The grip is knurled, instead of having rubber or foam grips.
Knurled patterns are naturally non-slip, and they do not wear down, so you can expect to always be safe when using this bar. The bar is constructed out of sturdy steel.
11

. Ultimate Body Press Outdoor Pull Up Bar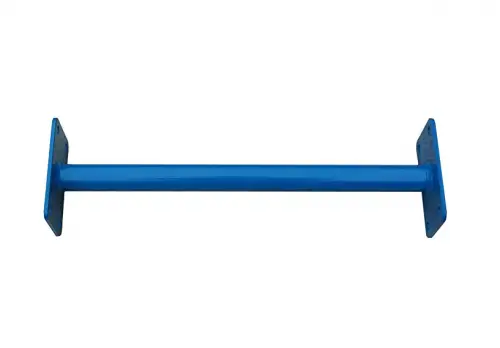 Plain and simple
Brightly blue
Galvanized steel
18 Inches long
Hardware included
This is just a plain, run-of-the-mill blue pull up bar, and nothing more. You can attach it easily wherever you want it to be, and since it's made out of steel, it will survive the conditions outdoors.
Read more
The steel is galvanized, and it has a powder finish that makes it rust-resistant. The tube has a 1.25-inch diameter, suitable for small and big hands alike. There's no mount included, but you do get the hardware you need to install it on a post or column.
Criteria Used for Evaluation

Model
Outdoor pull-up bars have become increasingly popular with the recent explosion in popularity of CrossFit.
They are available to be purchased in a number of options, depending on your budget and preference, as follows:
Bar only - you purchase a straight pull bar with bolt holes and bolts. You will need to provide your own posts and concrete and you will have to place them in the ground. This is the least expensive option.
Bar and posts - you purchase the bar along with wooden posts (usually oak or pine). Some suppliers will even provide concrete. You then install the unit in your backyard. Some models come with metal as opposed to wooden posts.
Full Install - the manufacturer will provide all of the equipment ( bar, posts, concrete) and come to your property and install the unit for you. Most expensive option.
Portable Free Standing Bar - you may choose to purchase a portable free-standing bar. The best ones simply connect together with no bolts or fasteners to give you an instant pull-up tower that you can carry with you. clearly, these units are not as rigid as a post mounted unit.

Size
The size of the pull-up bar matters both because of the space you have in your yard, and because you need to get a bar that is big enough to allow you to do all the basic movements plus more.
Since we're talking about outdoor bars here, it's likely that you have plenty of space in your yard. Still, make sure to consider the model of the bar you're getting because some are as small as just a bar while others are as big as playgrounds! The size will also affect the weight of the construction. You probably won't be moving the whole thing around that much, but consider the surface the pull-up will be placed on - if the construction is heavy, it will probably sink into the ground! Your best bet is installing the mount on a wall, and then simply placing a regular bar on it if the ground is unstable and soft.
Make sure that the bar is sufficiently long to allow you to movements beyond the basic pull up or chin up. A lot of core movements require you to move your legs in a windmill or an arc. You don't want your legs to be sashing into the posts, to ensure that the bar length can accommodate your current and future needs (you know when you get fitter and stronger!). The diameter of the bar also matters. It must allow you to grip it comfortably without causing you to slip down!

Durability
Pull up bars are designed to handle a heavy load.
Once you become proficient with your body weight, you should start strapping extra resistance to your body. To ensure that your outdoor pull-up bar can handle that requirement, it should have a minimum capacity of 400 pounds. High-quality pull-up bars can definitely withstand this, while lower-range products struggle and you may injure yourself as a result.
The bar must be made out of high-quality steel, and the construction holding the whole thing together also must be made out of high-quality, durable steel, resistant to all kinds of weather conditions. After all, the bars will be sitting outside, so it's imperative that they can resist water damage, corrosion, the wind and rain and everything else in between!
The place where you fasten the bar should also be strong and sturdy. If it's not, you may fall and injure yourself upon hitting the ground, and the higher the bar stands the more risks you will have! Think of the strength of the wall or whatever area you want to fasten the mount to. It has to support your weight, the weight of the set, plus the additional plates or dip belts or whatever you decide to weigh yourself down with!

Materials
The materials your outdoor pull-up bars are made out of will say a lot about them.
The materials affect the comfort, durability, weight and even the size of the whole construction, or of the bar itself, so if the material choice is poor, you will end up with a flimsy pullup bar that is a recipe for disaster. First, look at how resistant your bar is, and whether it's protected in any way from the outdoors. Steel is sturdy enough by itself, but it's not weather resistant, so both the elements and your sweat can cause it to corrode and break down. This is why your bar has to be made out of stainless steel, or it has to be coated in some way for extra protection.
If the posts are included in the cost, make sure that the timber is going to last the distance - and that it will look good in your environment. Make sure that your posts are treated and free of any cracks or imperfections. Pine or oak posts will prove to be the sturdiest. The dimensions of your posts should be 4" x 4" x 10 feet. You should bury the post 36 inches into the ground, giving you a clearance of about 7 foot, 2 inches from the ground to the bar. You will need a flat ground surface with a solid packed soil base to mount your posts into.

Effectiveness
Pull-ups have many benefits to bestow us with.
They are a super-effective way for us to see some serious upper body gains, all through just one simple, fluid movement. They develop your grip strength too, that in turn helps you perform other exercises where you need some serious grip strength.
The best part about pull-ups is that you can virtually do them no matter where you are. You can always find a branch to hang from, a post to pull yourself up against, and if not, there's always room for a simple bar to be placed on. You don't need a fancy bar hanging around a whole playground-type construction, a simple straight comfy bar is all you need. You might even have a calisthenics park near you, which you can explore and work on even more muscle groups!
A pair of gymnastic rings can do a great job too, and they also work on your sense of balance. They are very portable, and you can set them up virtually wherever you are.
Pull-ups will activate a lot of muscle groups that work together, instead of isolating each muscle group. This helps you develop functional strength, useful for us in many day-to-day situations. Your back, arms, core, and shoulder muscles all need to use all of their might in order to pull you up the bar! This develops coordination between these muscle groups, which brings about a lot of benefits all by itself.
You will be better at climbing a rope, swimming, playing rugby and doing just about anything where you must use these particular muscle groups. While isolation exercises, like biceps curls, define the individual muscle and help it stand out, they will not improve your sports performance per se. You will move fluidly and with balance when your muscles are all developed equally.
You will also see your pulling strength improved! Although this may seem like something that you don't need, pulling strength is actually very useful in our day-to-day lives. Both your maximum pulling strength and endurance pulling strength will increase, provided you do the exercise how it's meant to be done. Aim to equalize these two, as it will make you a very balanced machine. Also, you will definitely see an increase in your muscle mass the more you do pull-ups! Since pull-ups are a compound exercise, they are both time saving and more effective than training just one muscle at a given time.
This means that you will grow bigger in less time, because more muscles will break down at the same time, and more energy will go towards them. More testosterone will be released, and more growth hormone as you sleep, aiding in muscle growth.
Expert Interviews & Opinions
Most Important Criteria
(According to our experts opinion)
Experts Opinion
Editors Opinion
Users Opinion
By Default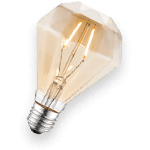 DIY
Of course, you could decide to build your own outdoor pull-up bar completely from scratch. Doing so would undoubtedly save you some dollars. Let's consider the pros and cons of this option. Making one from scratch is much cheaper than actually buying a bar. Also, you will have a sense of achievement at having done it yourself. And the best part is that you can customize the bar with your specific requirements. But you need to ensure that the bar you select is up to the job and of the proper dimensions (not always easy). You also must find good timber to act as a post, and there exists the danger that the bar and posts may not align correctly, giving you an inferior level of stability. All in all, you can always try making a bar yourself and see whether it's worth it or not!
Versatility
A Pull Up Bar outdoors can be so much more than just a pull-up bar, so long as you do a proper job at the outset. One way you can ramp up the usage of the unit is to set bars at different levels. Let's say you can currently do 4 or 5 pull-ups on a normal height bar. If you set a second bar at a height you can reach from the ground, you'll also be able to perform negative pull-ups and jump pulls. This will allow you to get stronger a whole lot quicker. Pull-ups primarily work the back and biceps. To get complete development, you can target the chest and triceps with a set of parallel bars. These will allow you to perform dips and push-ups, plus a whole host of auxiliary movements. By extending your pull up bar outdoors, you can provide an exercise and play area for your children. Add a low bar and a swing bar and you've got your own complete outdoor workout/playground.
Other Factors to Consider

Ease of Use
The pull-up bar is actually quite easy to use, once you get the basics, and of course, if you have enough strength to do a pull-up in the first place. All you have to do is grip the bar, pull yourself up, and repeat this until you can't anymore! But life is not as simple as that, and there are some things to avoid when doing pull-ups. First, make sure that you are performing the exercise nice and slow. Rushed and sloppy motions will get you nowhere! If you feel like you're losing form, take a break. Do not grip the bar too wide, as it will ruin your range of motion. Do not do partial raises if you can do full raises! You're only cheating yourself, and no one else. Do not flex your wrists if you want to avoid wrist pain.
Also, do not wrap the thumb around, keep it in line with the rest of your fingers instead. Keep your elbows next to your body instead of flaring them out. Do not attempt kipping if you do not know how to do it properly, as it can only bring dangers with it!

Bottom Line
An outdoor pull-up bar is a great addition to any landscape. While definitely the most expensive of any home pull up option, it will provide you and your loved ones with a lifetime of upper body exercise, as well as providing the base for a complete workout station. In addition, a properly installed outdoor pull-up bar will enhance any outdoor setting, adding to the capital value of your property.
Frequently Asked Questions
q:

Can I use an indoor pull-up bar outdoors?

a:

If the bar is sturdy enough, and if it's weather-resistant, you can do this. But most of the times, indoor pull-up bars were made for indoor gyms, and nothing more. They will not resist weather fluctuations, and they will probably start to fall apart, which can open up possibilities for injuries and safety risks! Also, outdoor pull-up bars have sturdier constructions and cages that support them, so it's always better to buy an actual outdoor bar, just to be on the safe side!
q:

Can I really train when it's cold outside?

a:

Yes! In fact, it is actually more beneficial to you to train in cold and uncomfortable weather. The human body has a temperature comfort zone (the temperature indoors) where simple or complex tasks are a bit easier. When working out in cooler climates, it means that your body needs to work extra hard to get it done. While it may seem miserable, it actually helps to burn more calories!
q:

Do I need to warm up first?

a:

A proper warm-up is essential when training in cold temperatures. When you are running short on time, you are more likely to skip your warm-up. We've all been there. However, when working out in cold temperatures, it makes it more difficult to jump right into your workout when your muscles feel like blocks of ice!

The best warm-up for pull-ups is knocking out a few sets of push-ups. If you have some dumbbells on hand, shoulder presses, kickbacks, and curls are a great way to warm up those muscles before you engage in compound lifts.
q:

Is it better to make my own outdoor pull-up bar?

a:

There are a lot of pros and cons to this, just like with everything else. For starters, you need to know your way around tools and building things from scratch. Although it's really not that hard to create an outdoor bar, you still need some skills to actually manage to do it. You will also need more time to make the whole thing, as opposed to just going to a store and getting one or ordering one online. But ordering from a store is pricier, and you don't get to brag that you made your own gym! All in all, decide whether you value your time or your money more, and make the decision - no matter what, you will end up with a great piece of equipment to help you on your fitness journey!
q:

Can I attach my bar to a tree?

a:

Sure, why not! You just really need to make sure that the tree is healthy and strong enough to support the weight of the bar, plus your weight, and perhaps a dipping belt or a weighted vest. You also need to look at how thick the tree branch is - if it's too think, the bar may slip off, but if it's too thick, you won't even be able to fit the bar on it! You can always use a pillar or a post instead of a tree if you do not have an appropriate one!
q:

Is installing an outdoor pull-up bar complicated?

a:

It can be if you never did something like this before, but if you read the instructions carefully, you can easily do it by yourself. The individual parts are easy to put together, and if you follow along with what the manual says, you will have a good time putting your outdoor bar together! If you struggle through, you can always ask for help, or look at online video instructions if the brand provides them.
q:

How high should the wall mount sit at?

a:

This, of course, depends largely on how tall you are. If you can, mount the bar so high up that you hang from it, without touching the floor at all! You're installing the mount outdoors, so you don't need to worry about the ceiling, but if there's anything above the mount, you should make sure that you won't hit your head when you pull yourself all the way up!
Subscribe to our newsletter