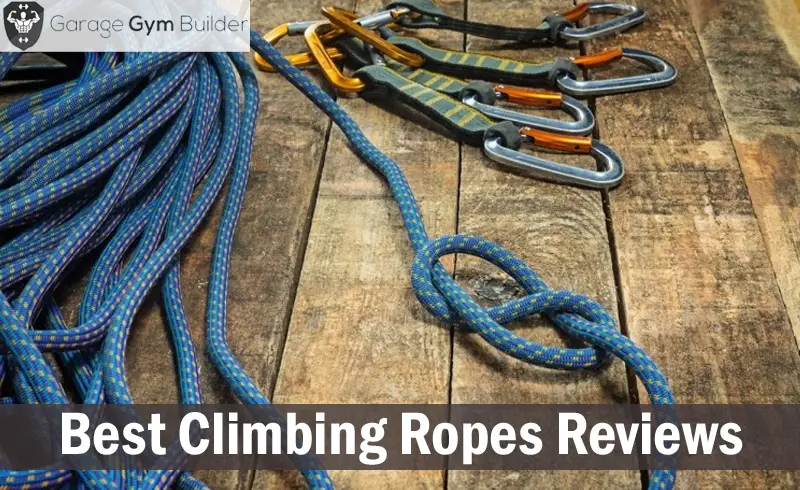 Best Climbing Ropes 2018
There is no better measure of a person's upper body strength and overall endurance than rope climbing. With the massive popularity of CrossFit and functional training, climbing has now come into the mainstream. If you haven't added dynamic climbing ropes to your home gym set-up, now's your chance. We've rated the 10 best climbing ropes on the current market to allow you to choose the best of the best.
A Quick Overview of the Best Climbing Ropes
The best climbing rope that we found is the Rogue manila hemp model. Made in the USA, the Rogue is one of the strongest, most durable, fray resistant ropes you will ever come across. The Fringesport model with clamp also impressed us, with its 16,000 pound weight resistance and sweat resistant finish.
Our third favorite, the Fitness Solutions white climbing cord, is ideal for anyone looking for a cheap rope that is also top quality.
We've taken the top 10 ropes and rated them on a scale from one to five based on price and durability. Then we've provided an overall rating for each product, so you can easily compare them. In the following section, we go in-depth on each product.​
The 10 Best Weighted Vests In Depth
The Rogue Manila Climbing Rope is made from the toughest manila hemp rope, the same material that has made manila ropes the standard used in military bases and shipyards around the world. The rope provides a superior grip and durability level. You don't need a mounting bracket to fit the ropes, which can be used both indoors and outdoors.
The Rogue rope is available in 5 different lengths. Made in the USA, the manila rope has a braided eye-lit and comes in a 1.5 inch diameter. The rope lengths range from 6 feet to 30 feet. The Rogue climbing rope will provide you with an enduring tool that will give you the comfort and performance that you need to get a great climb workout.
Made from manila hemp
Great grip
5 different lengths
Will shrink about 10% in inclement weather
The Fringesport Climbing Rope with clamp is constructed from Grade A half inch manila rope. Made in the USA, this rope is tough enough to handle anything you challenge it with – it has a 16,000 pound breaking strength. The form of this manila rope prevents sweat build up as you grab it. That means that you won't slip and that you will get a very secure grip with every hand hold.
The Fringesport rope features an easy to use, sturdy metal clamp. They come in three lengths;15 feet, 20 feet and 25 feet. Weights range from 8 to 13 pounds. The ropes are built like a tank, meaning that they will last year after year.
16,000 pound breaking strength

Made from Grade A half-inch manila rope

Sturdy metal clamp
The white climbing rope from Fitness Solutions is USA made and is very solidly constructed. It is a thicker diameter rope than many other climbing ropes, allowing you to strengthen your forearms as you climb. The rope is available in a variety of set lengths, with Fitness Solutions also being able to custom make to your desired length.
The rope features a sturdy loop at one end that allows you to connect it to a solid mounting post. The rope provides a solid grip, although it does require a little breaking in to overcome inherent slipperiness. The rope is sweat resistant, meaning that you'll get a secure hold in the hottest conditions. It all adds up to a very good rope at an affordable price point.
Extra thick diameter

Customizable lengths

Sweat resistant
The Valor Fitness Sisal Climbing Rope is 25 feet long and has a maximum user weight of 300 pounds. The diameter of the rope is 1.5 inches. The sisal rope is very strong and durable, while providing a comfortable texture that allows for a very secure grip. The rope is sweat resistant, meaning that your hands won't slip while you're climbing.
The Valor Sisal rope features a sturdy loop at one end. It knots very easily, making it easy to secure for climbing purposes. The weight of the rope is 13.2 pounds. This sturdy rope will provide your with a solid, reliable climbing platform that will not fray or splinter. The result is a great upper body workout.
Sweat resistant

Very strong and durable

Sturdy end loop
Max user weight limited to 300 pounds
The Aoneky Fitness Climbing Rope 30-foot static climbing rope is made from heavy duty manila hemp. At 30 feet long and 1.5 inches wide, you get the gripability and length for a great Crossfit challenge.. The entire unit weighs 20 pounds.The Aoneky Fitness Climbing Rope static climbing rope can be used as both a climbing platform and for a range of other exercises, such as throws, slams, jacks, waves and pulls. The rope can easily be secured to the rafters of any building. The gripping surface is very secure with no fraying or splintering.
30 foot long

1.5 inches wide

Multi purpose

May shed fibers if left outdoors
The White Polydac climbing rope from Crown Sports is made from a white dacron material that is very strong. It also provides a firm grip that is soft on the hands. It includes a heavy duty eye-hook that allows for easy attachment anywhere. This rope is available in ten different sizes from 3 to 30 feet. The rope arrives without any nots, so that you have the options of keeping it knotless for a more challenging workout or add knots for less of a strenuous climb.
Dacron material

Secure yet soft grip

Ten sizes available

The RopeFit Climbing Rope is a high quality manila rope with a breaking strength of 16,000 pounds. Each rope is hand-made by a rope rigger in the USA. They are used with confidence by the US Military. The rope consisted of hand spliced knot loop for easy knotting to any sturdy anchor point. You do not need an anchor plate to attach this rope. The rope is 1.5 inches in diameter and is available in a range of lengths. It has heat shrink end caps to prevent fraying.
Very strong

Made in USA

Heat shrink end caps

The Fitness Solutions Graphite climbing rope is made from a graphite polymer blend that is very strong. It also provides you with a comfortable climbing grip that is secure and firm. This rope comes in a range of sizes and comes with a diameter of 1.5 inches. It features a rigid metal eye-hook to allow you to secure your roop to any secure anchor. It can be used either indoors or outdoors. This rope is made in the USA.
Graphite polymer blend

Comfortable climbing grip

Made in USA

The Petzl Mambo is a 10.1 mm single rope designed for both indoor and outdoor climbing. It has a thick outer sheath which provides a strong level of protection and prevents fraying or cracking. A special ultra-sonic finish has the sheath and core bonded together on their ends, providing further protection from frayed ends. Another innovative feature is ClimbReady coil, which means that the cord is always ready for use.
An Everflex treatment on Petzl Mambo ropes enables them to be more effectively stabilized and more consistent. This gives greater gripping ability and overall handling. The cord has two middle marks with black stripes either side of the middle. The unit comes in a sealed plastic bag. Overall this is a good, cheap climbing rope.
Thick outer sheath

Ultra sonic finish

ClimbReady coil

Everflex treatment
The Bluewater Lightning Pro is a double dry dynamic single model. It is a lightweight rope with a 9.7 mm diameter. It is a stylish and attractive rope that is also extremely well made. The strength, elasticity and grip level of the cord is outstanding. It handles very smoothly, having a slip resistant surface that allows you to maintain a firm hold every time.
The Bluewater Lightning Pro will stand up to inclement outdoor conditions. It will dry out quickly from rain and soon be back to original condition. The elongation means that falls are very soft and comfortable. A very good rope, if a little pricey.
Great grip

Effective elongation for fall protection

Handles smoothly
Are you new to rope climbing? Before beginning, get up to speed with some great training tips from the experts . . .
Conclusion
Our favorite climbing rope is the Rogue manila hemp, a rugged, fine grip model which is made in the USA. It is slip resistant and guaranteed not to fray. Coming in second is the Fringesport model with clamp, an incredibly tough cord with a 16,000 pound resistance level and a great gripping ability.
Our best value rope is the Fitness Solutions white climbing cord, which features an extra thick diameter to challenge your forearms while you're climbing.​