Best Activity Tracker for Weight Loss
last updated:
Feb 12, 2020
All fitness trackers have the ability to help you to lose weight. That's because they make use of the fundamental fat loss formula of calories in versus calories out to allow you to monitor your daily caloric balance. There are a few manufacturers, however, who have gone beyond this level to provide you with more comprehensive weight loss tools. The best of them feature a suite of products that include a fitness tracker, a wireless body scale and a method to track the calories that you are consuming.
In this article, we will identify the best activity tracker for weight loss. We'll also take a look at the extra suite of products used by the best performing weight loss activity tracker manufacturers to provide you with a complete weight loss experience.
In a Hurry? The test winner after 10 hours of research: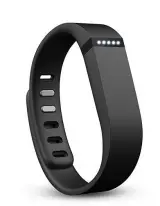 Fitbit Flex
Why is it better?
Very Water Resistant
Multiple Band Choices
5 LED Notification Dots
Vibrating Alarm
Removable CPU
16
Researched Sources
14.5k
Reviews Considered
10
Hours Researching
12
Products Evaluated
Ease of Use
Accuracy
Battery Life
Features
Weather Resistance
By Default
Best 10 Weight Loss Trackers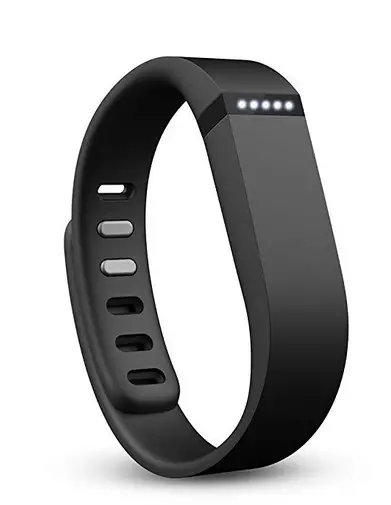 Very Water Resistant
Multiple Band Choices
5 LED Notification Dots
Vibrating Alarm
Removable CPU
​The Fitbit Flex is an activity bracelet that monitors your movement and your sleep pattern. The Flex is available in Black, Slate, Orange, Navy and Mint Green. Fitbit provides two wrist bands with your purchase, one small and the other large. Each band has various notches that ensure that, whatever wrist size you have, the notch will fit. ​The rubber band material makes the Flex very comfortable to wear all day. It is very lightweight and has a very flat, streamlined profile. The only computerized part of the band is the removable CPU. The only time you would remove the CPU from the band is when you need to charge it with the supplied USB cable. The battery will last about ten days on a full charge.
Read more
The Fitbit Flex is water resistant, meaning that you can wash your hands and shower with the device still on your wrist. However, it is not waterproof, so you are unable to jump into the pool within on. The Flex does not have a word or number based display. Instead, it lets you know how you are progressing toward your goals by way of 5 LED illuminating dots.
​The Fitbit Flex syncs wirelessly via Bluetooth 4.0 to the free Fitbit app. The app will record your steps, distance walked, the minutes you were very active and calories burned. Tapping on any of these readings will expand the category. You are able to get a breakdown over the course of your day so that you can see when you were most active and when you need to do more.
​The Fitbit Flex will also monitor your sleep through movement. Once you are in bed, you simply open the Fitbit App and tell it that you are going to sleep. When you get up the next morning, you tell the band that you are awake, and a summary chart of your sleep activity displays. Throughout the night, it will track your sleep, restlessness and how long you are actually up.
The Fitbit App allows you to record your food and drink intake. You can access the food log through the calories eaten category. The app will find and record the foods that you have eaten, automatically logging your caloric intake.
​You can also log your workout on the Fitbit Flex. Unfortunately, there are no generic options, so all of your data will have to be manually input. The app will record your calorie expenditure and then provide you with a daily balance to allow you to check if you are in negative caloric balance in order to achieve weight loss.
​If you have friends with a Fitbit Flex, you can compare and compete with them through the app. The Flex also has a vibrating alarm. This allows you to set an alarm that will give you a gentle wrist vibration to wake you up, so you will not be disturbing your partner. You can also pair the Flex with the Fitbit Aria WiFi Smart Scale.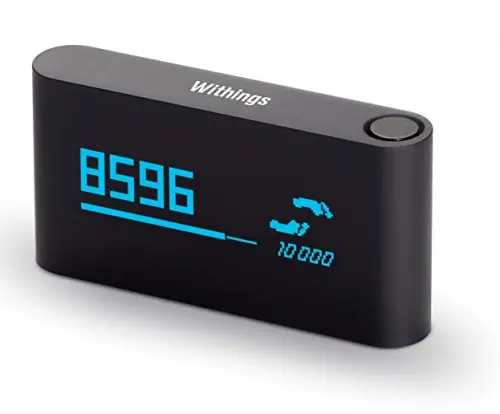 Clear Display
Touchscreen
Button For Navigation
Wristband Included
Easy To Use
Not Water Resistant
Tough To Read Outdoors
​The Withings Pulse fitness tracker is a small, chunky rectangular device that has a very comfortable soft-touch plastic feel to it. It is not water resistant, so can't be worn in the shower. It has a small display on the front and a button on the top that, together, will allow you to navigate through the various bits of data that the device collects. The touch screen enables you to see your records and history. You simply swipe to the left and you can see all of the numbers that you have achieved in the past.
Read more
The display on the Pulse can be difficult to see in the sun. The button on the top allows you to move from screen to screen. On the back of the device is a heart rate monitor that measures your beats per minute through your finger. It does not have the ability to track your heart rate 24/7. The heart rate sensor is quite reliable and easy to work with.
​The Withings Pulse is intended to be worn on your hip, on your wrist or in your pocket. It comes with a wrist band, which is primarily for sleeping, but which can be used day to day. It also comes with a waist clip. The waist clip is a silicone material which securely fits around your waistline. However, it is difficult to clip it onto your athletic belt. The wrist band, though comfortable, is quite cumbersome to put on. You also have to interact with the Pulse through a mesh lining once it is on your wrist.
​The Withings Pulse is very easy to use. It will track your calories burned, steps taken, elevation, distance traveled, heart rate, hours slept and the time. It doesn't have a silent alarm or a stopwatch facility. Neither can it relay phone notifications. ​The Pulse has a very good application to analyze your data. It brings together all of the data from all of your Withings products, including your scale, blood pressure monitor and activity tracker. ​The Withings App has great social features. It will also connect with the most prominent fitness apps, such as 'My Fitness Pal'. The app will stay open in the background of your Smartphone, allowing your pulse to sync via Bluetooth throughout the day. The app is fun and it easy to use, just like the actual fitness band.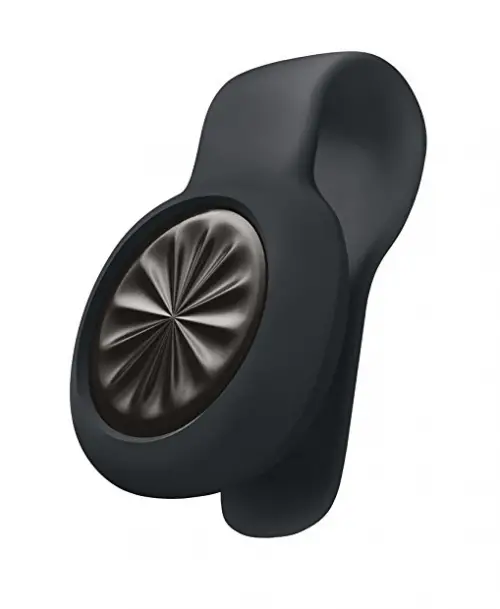 Very Comfy
User Manual Included
Sleek Design
SmartCoach Feature
Can Be Worn On Multiple Places
App Not Supported Anymore
​The JawBone Up Move is a lightweight wristband. It is made from a rubberized material that is very comfortable on the skin. The Move is an entry-level tracker that comes with a hip flip and a user manual. You may not get a watch strap but you can buy a strap separately. The Move has an attractive sleek design. The UP Move syncs automatically via Bluetooth low energy. The JawBone app is very detailed and includes a feature that allows you to record your food and drink intake. Jawbone's app is more detailed than that provided by FitBit in that it will provide details about the protein, carbohydrate and fat levels of the foods you eat, whereas the FitBit will only give you the total amount of calories in each food. Read the full article where we compare these two brands.
Read more
The app has a very good design, with excellent infographics and it is able to work with a large number of third-party apps. The app features a SmartCoach feature which will provide you with coaching tips.
The UP Move is a multi-location device that can be worn on the hip, wrist or in your pocket. It runs on a standard coin cell battery that should last up to six months before it needs replacing. The display has a network of LED dots on its face. When you press down on the screen, you will see if you are in sleep or active mode. You will also see the percentage of your daily goal that you have attained. Double tapping will start a stop watch or an activity so that you can analyze it later.
The UP Move will track your sleep, but you must enter and exit sleep mode manually. The device will not relay your phone notifications, nor does it have a silent alarm function. It cannot be submerged in water but you won't have a problem taking it in the shower. It is quite difficult to get the Move in and out of the optional wrist strap. This means that it won't fall out, but it makes it quite a pain to switch between the hip flip and wrist strap.
If you are in the market for an inexpensive fitness tracker that will accurately monitor your calories burnt and allow you to get a detailed breakdown of your calories from food and drink, then the UP Move is a good move for you.​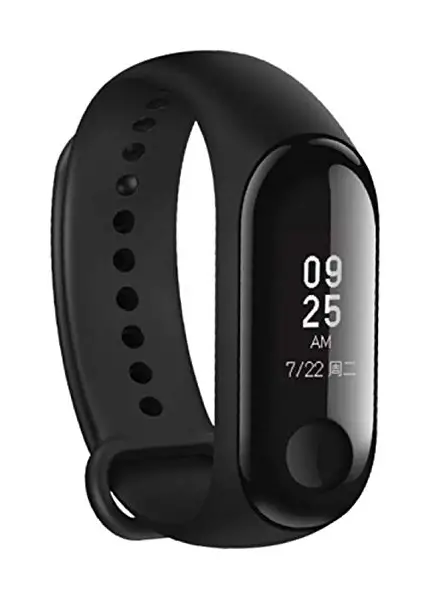 Small Yet Functional
Intuitive Design
Lock Body
Sedentary Reminder
Silent Alarm
The Mi Band 3 is a simple little device that doesn't look all that impressive, but don't let that fool you! This budget-friendly tracker manages a lot of impressive tasks, all packed into a small display that is super easy to use. Its AMOLED touchscreen has three basic movements you have to master: swipe up and down, swipe left and right, and the simple touch, and that's all you need!
Read more
The Mi Band 3 is an excellent calorie tracker and general well-being tracker, especially when combined with the Mi Scale. The Mi Scale, when you upload the data onto the Mi Fit app, will show you almost everything you need to. This dainty device is capable of a lot of things - first things first, it measures the number of steps you've taken, just like every basic fitness tracker does. It also measures the distance you've crossed thanks to the built-in GPS. The heart rate tracker is quite accurate, missing the actual number by only a few beats. This is all taken into account when the tracker calculates the number of calories burned, a very important feature for you!
The Mi Band 3 also monitors your sleep cycles, but this is a feature that is still not so accurate in any tracker that exists, so take these numbers with some doubt. This tracker has an excellent battery life, lasting up to 20 days even with moderate use, and it charges in about an hour or so. The display shows you messages, missed calls, and vibrates to alert you if you've got an incoming one. The silent alarm wakes you up gently without waking up the rest of the household, while the sedentary reminder reminds you to move. The tracker is water resistant up to 50 meters, so don't worry about water damage either! The wristband is rubbery and comfy to wear, while the lock body keeps the CPU safe!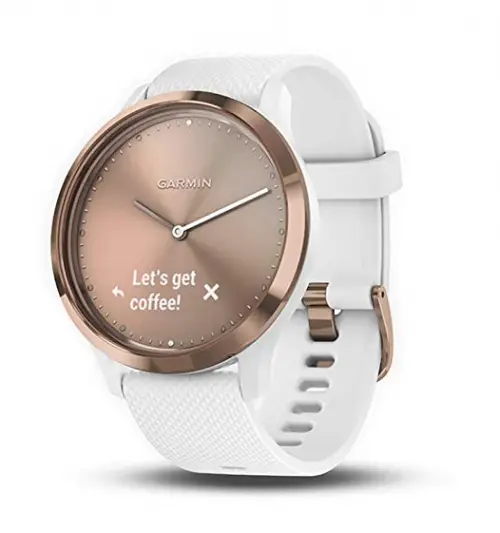 Elegant Fitness Hybrid
Dynamic Precision Handles
Touchscreen
Stress Tracker
VO2 Max
If you ever wanted to look sublime while staying fit, this is your chance! The Garmin Vivomove Hr is a beautiful hybrid of elegance and fitness. The watch face does look like a regular watch, complete with precision handles. But the display hides wonderful features - the touchscreen is discreet, hidden underneath the handles. When you start to use the watch, if the handles are in the way, they will dynamically move upwards to not bother you!
Read more
The watch monitors your steps and the distance you've crossed. The Elevate wrist heart rate technology monitors your heart rate all day long, continuously, so you always know just how well your heart is doing. Speaking of your well being, this tracker has a very handy feature - stress tracking! The watch will recognize when your stress levels spike, and it will gently nudge you to stay calm until the storm blows over, and guide you to breathe slowly and deeply to help calm you down. The relaxation timer tells you just how long you need to wind down, and once it's over you can safely get back to your day.
The watch monitors the calories you've burned, but it also estimates your fitness age, and with its guiding voice you can work towards lowering that number! One more thing many fitness enthusiasts appreciate is the VO2 max, and this watch can measure it to show you your full fitness status! The data uploads automatically on your device to the Garmin Connect app, and the watch gently vibrates to notify you if you have any calls or messages. You can also control your music with this watch!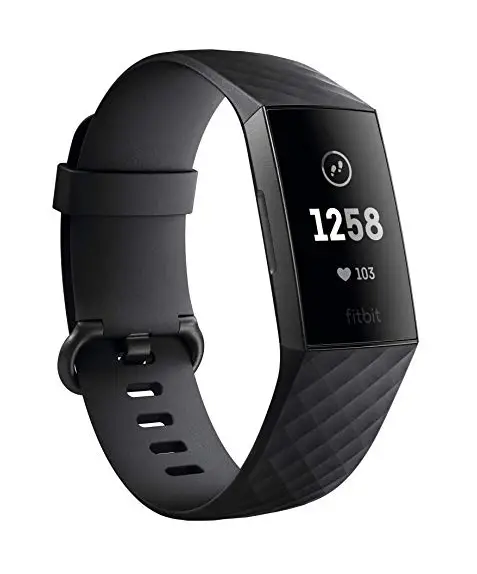 Great Design
Guided Breathing
Continuous Heart Rate Tracking
Swimproof
15 Exercise Modes
The Fitbit Charge 3 is arguably the best Fitbit fitness tracker out there, and it would be in poor taste not to include it in our list, especially because you can connect it with the scale to track your progress in even greater detail. The tracker continuously measures your heart rate, and thanks to that you can know precisely how much calories you've burned and when.
Read more
The battery lasts up to 7 days, connecting you with your fitness progress all day and night. The touchscreen is quite large, bright, and easy to read, even in direct sunlight since it automatically adjusts to the situation outside. The band itself is durable and lightweight, and quite comfy to wear. You can even swim with this handy little watch since it's swim-proof and it has special features that show you good of a swimmer you are. The Charge 3 reminds you to check your calendar, messages, and calls, and you can even quick reply to messages, albeit only on Android devices. You can choose 15 different exercise modes that enrich your fitness journey and make reaching that goal even easier.
The coach shows you real-time progress while you exercise. The Charge 3 automatically tracks your sleep, and it even reminds you to go to bed at preset times so you're lulled gently into a healthy routine. The reminders to move do not let you stay sedentary! If your heart rate ever goes up, the guided breathing helps you calm down and find your inner peace again. You can connect the watch with the Fitbit app and upload all of that precious data to see it summarized with colorful graphs and fun charts.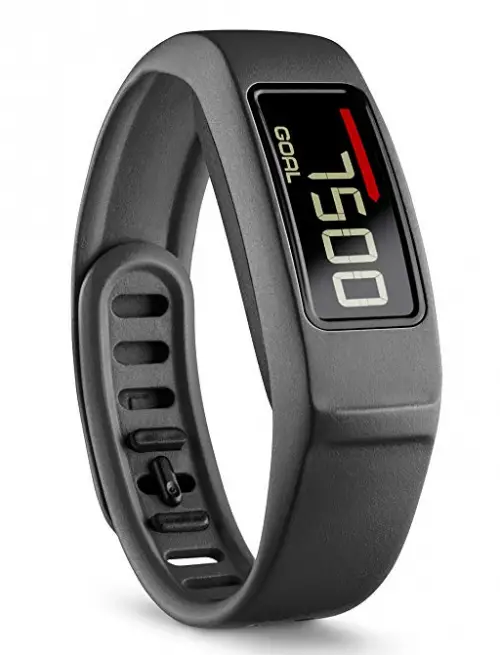 Move Bar With Alarm
Backlit Display
Personalized Daily Goals
Activity Timer
1+ Year Battery Life
Not So Pretty
App Is Unreliable Sometimes
Garmin and Fitbit both create outstanding fitness trackers, so we must include one more Garmin tracker, and we decided to go for Vivofit 2. The battery lasts up to one incredible year, offering you insight into your life non-stop. The display is clear and backlit, so you can read it no matter where you are.
Read more
The Vivofit 2 reminds you to move with a loud alarm, and a bar shows you just how much sedentary time you've got left until it's time to kick it again! As the watch learns your routine and life, it will gradually comprise personalized daily goals and show you just what you need to do in order to reach them. The tracker itself doesn't show you the heart rate, but if you combine it with a chest strap heart rate monitor expect to see a lot of accurate data. If you're connected to your device at all times, the watch will continuously upload data to the Garmin Connect app, so you always know where you're standing. The tracker is water-resistant, so you can shower with it or swim briefly, but you should still be careful with it around water. By connecting the Vivofit 2 to MyFitnessPal, you can get super detailed calorie tracking that is sure to keep you motivated.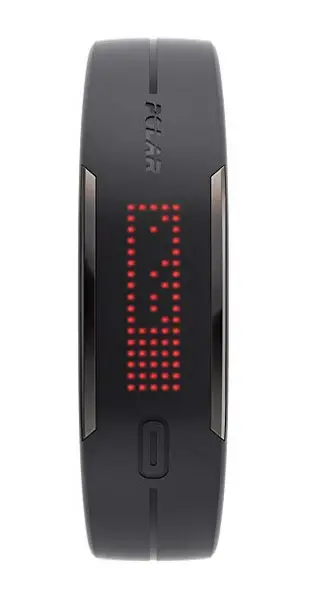 Adjustable Silicone Band
Cute Display
Measures Daily Activity Levels
Tracks Sleep Quality
The Polar Loop 2 is a neat band that has no display, thus making it small and very portable. The Loop 2 does display messages on it's "display" though thanks to the strategically placed LED lights. It shows you motivating feedback and helpful guidance, and with just one tap of a button, you can see all the data you ever need to.
Read more
The Loop 2 also learns your habits and shows you personalized daily goals, just like the Vivofit 2 does. The motivating guidance we mentioned tells you just how to stay focused on your goals and it doesn't let you lose your goal out of sight. The band tracks your sleep and shows you just how well you rest each night. Of course, it measures your steps, distance crossed, heart rate, calories burned and everything else a standard fitness tracker tracks. Once connected to your device, it will show you standard notifications and remind you to look at your phone. The silicone wristband is pliable and very adjustable, so don't worry about your wrist size too much!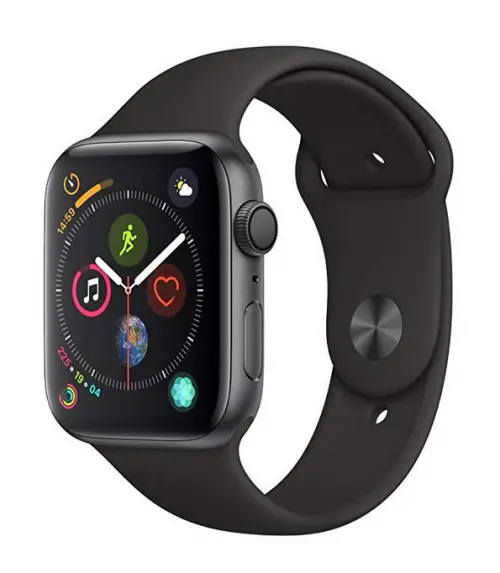 Built-in GPS
Super Large Display
Electrical And Optical Heart Sensors
Automatic Workout Detection
Calls And Texts
Apple Watches are quite popular fitness trackers, but keep in mind that they are only compatible with iOS devices. Right off the bat, this watch has a seriously big display that's very bright and colorful, and very easy to read. This does make it easy to use, but the watch itself might be too chunky for some users.
Read more
The heart rate tracking is quite accurate, and the watch will notify you once your heart rate goes way up or down, or if your heart rate becomes irregular. The Apple watch 4 can even detect if you've fallen down, and it will send an emergency SOS if you stay down for too long! It will ask you whether you want to send a notification or not beforehand, so don't worry about rogue alarms going off when you don't need them to. The watch will detect when you've started working out, and it will recognize what kind of activity you are doing. Runners can enjoy even more benefits, like their cadence and their pace. You can see up to five different metrics on the display so you always know just how well you're doing. You can talk using this watch, message people, and listen to your favorite music.
10

. Samsung Gear Sport Smartwatch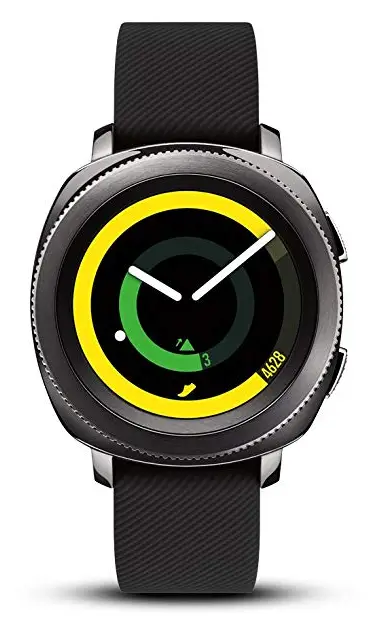 Water-resistant
GPS Mapping
Samsung Connect
Samsung Pay NFC
Android And iOS Compatible
The Samsung Smartwatch does not look like your regular fitness trackers do - it's disguised as a regular chunky watch, and you won't even know it has a touchscreen until you start to use it and all the colors start to flash. This watch is water-resistant, up to 50 meters, and you can enjoy it in the water without worries, but take it off when you go swimming.
Read more
You can easily track your activity levels with heart rate tracking and GPS mapping. You can look into your calorie balance and adjust what you don't like for a fast and effective way to lose weight. Once you start working out, you can turn a personal coach on that guides you throughout different exercises. The Samsung Connect app lets you control every Samsung device (including the Gear Fit 2 tracker we also reviewed) you have in your house with the watch, making it super convenient! The Samsung Pay NFC allows you to pay using the watch. You can receive and make calls with the watch, and the same is true for texting. You can select various features just bu turning the bezel, no need to touch the display! This watch is both Android and iOS compatible, so don't worry if you change brands!
Criteria Used for Evaluation

Ease of Use
It's very important that your fitness tracker is easy to use. If you end up with a device that is hard to use, it's very likely that you will not feel motivated to use it at all, rendering the tracker completely useless. Thankfully, plenty of fitness watches we wrote about here are very easy and intuitive to use, so you won't have issues with using them.
There are over 400 fitness trackers present on the market today, and making that important choice can be a very hard decision. Not a lot of those trackers are actually worth any of your time and money, and they won't provide you with what you need. Before you make your choice though, it's important to remember that almost every number the trackers show you is an estimate, not the exact number, and you can't expect insane precision out of them. The pedometer function is likely going to be the most accurate since that technology is the oldest and people had the most time to make it sophisticated. If you want to make the best of your tracker, remember to regularly input data into it. The more data the tracker has, the more accurate it will be! These features are easy to use and understand, and they're likely just a tap away. You can input the most valuable data in the apps that can be connected with the trackers for an even better experience!

Accuracy
Since you're tracking your calories for weight loss, you want your tracker to be very accurate. If the data you get is not precise, the tracker loses its value, and it's just as good as a regular watch is, and you can find much better watches for the price some of the fitness trackers are sold at! Remember that not every number the tracker shows is as accurate as the next one. Some data will be more accurate than other data, there's no going about that.
You must know which data you can truly trust, and which data you can just look at as a rough estimate of your fitness. Most of the data the tracker gathers are thanks to movement sensors. So, what data relies on the motion will be the most accurate data. Sadly, the amount of calories you've burned does not tend to be so accurate, unless you pair your tracker with a scale, but then you'll see data related to fat burn and such, so measure your calories in multiple ways!

Battery Life
How long your tracker lasts is quite important, and that is determined by the battery life. You cannot plug your tracker into a wall and then let it measure everything since you need to move about, The battery can either be rechargeable or removable, and they both have their set of pros and cons. Removable batteries do really last a very long time, but once they are out of juice you need to replace them, and this can be very cumbersome for a lot of people. But the super-long battery life is super convenient on the other hand since you won't have to worry about charging the tracker or losing the charger ever.
Rechargeable batteries don't ever have to be replaced (unless they break down), but you need to charge the tracker every few days or so, and the more you use the tracker the faster the battery will drain. You can try turning off some features that are virtually useless when you use the tracker though, like LED lights or you can lower the brightness of the display to make it last longer. Continuous heart rate monitoring also drains the battery fast, but this feature is useful when you want to monitor the number of calories burned.

Features
Fitbit offers a stable of wrist-based activity trackers that will provide an estimate of the number of calories you burn each day. They will also track your steps taken, distance traveled, and how intense your activity level was. Some of them will also monitor your quality of sleep and how many flights of stairs you have climbed. All of this information is collated to provide you with an estimate of the number of calories you have burned over the course of the day.
Fitbit also offers their Fitbit Aria WiFi Smart Scale. The Aria will record your weight, body fat percentage and body mass index, transmitting this information directly to the Fitbit App on your Smartphone. This will allow you to very accurately chart your changes in weight and, more importantly, body fat percentage, over time.
Fitbit allows you to also monitor the number of calories that are going into your body each day. The app provides a system where you can input your foods by way of a database. You can also make use of such 3rd party apps as 'Lose It' and 'My Fitness Pal'.
This ability to track both calories in and calories out is vital, as it will provide a way for you to check on and manipulate your caloric balance. A pound of fat contains 3,500 calories. To lose a pound, you need to create a 3,500 calorie deficit. A realistic goal is to lose a pound per week, which means that your caloric balance, the number of calories taken in minus the number burned up, should average negative 500 calories per day.
To make use of the FitBit product range in your weight loss quest, firstly select a Fitbit activity tracker to purchase. We suggest the Fitbit Flex. You then need to purchase the Aria WiFi Smart scale. Then you should select an app to track your caloric intake. We suggest using 'My Fitness Pal'. Connect these three products and integrate them following the instructions provided.
​Withings may not be nearly as high profile a fitness band manufacturer as FitBit, but they do offer a range of weight loss products that give the market leader a run for its money. Withings have a very good fitness tracker in the Pulse, which provides an accurate measure of the day's caloric expenditure. They also have two wireless body weight scales to record your weight, body fat percentage and body mass index. Calorie counting is done by way of pairing with either 'My Fitness Pal' or 'Lose It'.
Xiaomi is a very budget-friendly fitness tracker that does an excellent job of monitoring your fat percentage, body fitness age, muscle to fat ratio and much more. Of course, you're going to need to buy the Mi Scale in order to experience the full potential of the Mi Band, but the scale is budget-friendly as well, and you won't need to spend a lot of money on these products to feel the benefits.
Your best bet is to buy both a fitness tracker and a scale that goes along with it, as demonstrated by these three brands, and you will have no issues with losing weight after that, as long as you also exercise and have a good diet plan!

Weather Resistance
You will likely wear your fitness tracker outdoors, and this is why the tracker needs to be able to withstand a lot of different weather conditions, plus your sweat, dirt, and bumps and scratches! This keeps the function of the watch intact, and it also preserves its looks.
There's a special number that should tell you just how resistant your tracker is. This number is usually prefaced by two letters - IP. These letters are just the name of the measurement that showcases how tough a device is. After those letters, two numbers will follow. The first one, going up to 6, will describe how resistant your device is to dirt and dust. Six makes the tracker completely dust and dirt-proof, and the lower this number is the more careful you need to be. The second number, that goes up to 8, or 9K in some rare instances, tells you how resistant to water the tracker is. Eight describes resistance to water of up to 50 meters deep, for 30 minutes, if the water is still and clear. No water is like that, so you still must be very careful around water unless the device is made for swimming!
Expert Interviews & Opinions
Most Important Criteria
(According to our experts opinion)
Experts Opinion
Editors Opinion
Users Opinion
By Default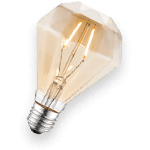 Apps
What makes fitness trackers so great is the possibility of seeing all of that data they gathered sprawled across cool apps! Usually, the brand that made the fitness trackers offers its unique apps, like Garmin Connect or Mi-Fit. These apps show you the data you need to see laid out in useful charts and colorful graphs that make tracking your progress even easier. You can also share this data with the active fitness communities, and then show off once you've reached your goals, or just keep that valuable data to yourself. You can also connect your devices with other apps, like MyFitnessPal or LoseIt, where you can track what you eat and see just how much calories your ingest and burn every day!
Adjustability
Not one person was made the same way, and as such we have varying wrist sizes that cannot accommodate the same band sizes. This is why most fitness tracker manufacturers make bands that are super adjustable! They usually have a clasp as a locking system, and you can move that clasp around preset holes to change the fit. Since the bands are some variety of rubber, they do tend to stretch, but most of the bands can be switched out for new ones, so you can refresh your style whenever you feel like it! Some brands, like Fitbit, send you bands of multiple sizes for the ideal fit.
Other Factors to Consider

Bottom Line
In order to get an accurate analysis of your weight loss activity and, therefore, be able to make the daily changes you need to succeed, you need a fitness tracker that is powerful enough to provide you with accurate information about both your calories in and your calories out. The best brands to provide this level of food detail are Fitbit, Withings, and Jawbone. Fitbit and Withings also provide WiFi scales to allow for an even more accurate analysis of your weight loss progress. Our overall pick for the best activity tracker for weight loss is the Fitbit Flex, paired with the Aria WiFi Smart scale.
Frequently Asked Questions
q:

Can fitness tarckers be turned off?

a:

We're all used to turning off our phones and other devices when we don't need them to conserve battery life, or to just let them rest, but this changes with fitness trackers. Most of the times, turning off a fitness tracker is impossible, and you will have to keep it on at all times! If you worry about the battery life, you can just turn some features off that you don't use all the time, like LED lights or vibrating alarms, and you can even try turning the brightness down to conserve battery life.
q:

Where should I wear my tracker for the most accurate results?

a:

Believe it or not, where exactly on the wrist you end up wearing the tracker does matter, a lot. If you're not working out, you can wear the tracker one finger above your wrist, and do not tighten it so much that it cuts off your circulation. When you decide it's time to exercise, put the tracker two finger above yoiur wrist, and tighten it as much as you can! This allows the tracker to precisely measure your heart rate which is much needed for measuring the number of calories you've burned! You won't be able to track your weight loss without this info, so make sure you're wearing the tracker the way it's meant to be worn.
q:

Can I really lose weight with a fitness tracker?

a:

Well, a fitness tracker is just a tool that makes this journey easier and faster. Although just wearing the tracker will likely motivate you to keep going, the tracker alone will not be responsible for your weight loss. You will also need to exercises regularly, and eat a healthy diet to see some real results!
q:

Does the brand of my tracker matter?

a:

Sometimes the brand name is just a name. The name can influence the price a lot, and you'd just be paying extra money for a popular brand, instead of paying for a quality product. This is true for Jawbone products, as an example, because all of their devices lost the support and it doesn't get any updates anymore. Fitbit and Garmin are very well known too, but their products are excellent and are worth the money. Some lesser brands that are unfamiliar will be less costly, like Mi Band, but the tracker itself is great and the price point shouldn't cause any doubts. Look at the reviews and experiences of other people before ultimately deciding on the product!
q:

Can I wash my fitness tracker?

a:

Sweat will definitely accumulate on your tracker, especially on the bands. All that sweat can cause odors, and dirt can also stain the bands, making them look unappealing. So, washing the band, not the tracker itself, is essential. You can swipe it down with alcohol, or just wash it down in your sink, being careful not to rip the band apart. You can wash the tracker itself if it's water-resistant, but you must not use soap or any chemical at all, only water!
Subscribe to our newsletter