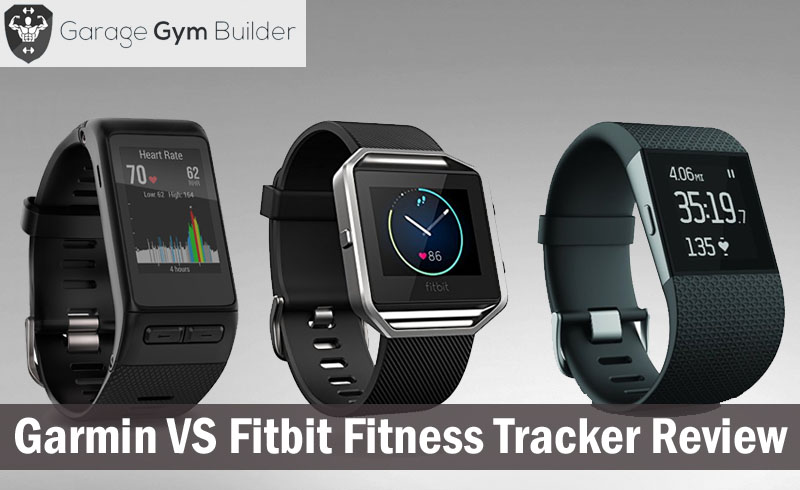 Garmin vs. Fitbit Fitness Tracker
Garmin and Fitbit are the Coke and Pepsi of the fitness tracker world. Sure, there are other brands out there, but when you want the best, it's going to come down to the heavyweight players. And, in the wearable fitness tracker industry, that means that you'll be comparing Garmin with Fitbit. In this article we put the brands head to head, so you can make the choice, FitBit or Garmin, as to which brand belongs on your wrist. We'll compare FitBit and Garmin by going head to head with their 3 most popular fitness and activity trackers.
About FitBit
FitBit is an American company operating out of San Francisco. They have been operating in the fitness tracker market since the late 2000's. FitBit offers everything from entry level trackers right up to the top of the line Surge, which retails for $250. In addition to wearable wrist monitors they also produce clip on activity trackers and a digital scale which connects to the FitBit A00 (the Aria).
About Garmin
Garmin is an American multinational company operating out of Switzerland. The company was founded in 1989, and established itself as a leader in the global positioning satellite (GPS) market. They have developed GPS systems for use in automotive, outdoor, marine, and sports applications.
Garmin VS FitBit
When it comes to fitness trackers that are heart rate monitor capable, FitbIt's Blaze is matched by the VivoActive HR by Garmin. But, which one is the better product? The following comparison will help you to decide.
5 Key Advantages of Garmin VivoActive HR
It is waterproof down to 50 meters. That means that this is a swimming device that will track your swimming statistics. As such, it is a rare beast in the current fitness wearables market. It will give you stroke count and work rate. In contrast, the FitBit Blaze is only water resistant, meaning that you can take it in the shower but you definitely will not be able swim with it on.

The VivoActive HR has built-in GPS and GLONASS. This means that you can leave your phone behind and go running while still being able to track your route, pace and speed. The FitBit Blaze only has what is termed connected GPS. That means it can pull the GPS information from your phone, which requires you to carry your phone with you when you are running.

The VivoActive supports more sports than the FitBit Blaze. It includes running, swimming, water / snow sports and golf. In fact, it has a bank of over 40,000 golf courses that you can choose from on the Garmin mobile app. It also supports skiing and snowboarding along with such water sports as indoor and outdoor rowing and paddle boarding. The FitBit Blaze does not support snow sports, golf, swimming or water sports.

The VivoActive will provide you with more drill down on the stats associated with the various sports that you monitor. For example with running, you will get data about your running cadence, 3D speed and distance. You can also connect an external heart rate monitor to the VivoActive to provide a more accurate read out than the built in heart sensor. The FitBit Blaze only has a built-in heart rate sensor; it does not allow for 3rd party connectivity. On both units the heart rate monitor runs 24 /7, including during exercise. Both devices will provide about the same level of heart rate monitoring accuracy.

The Garmin VivoActive has better smart features. Both devices support phone notifications such as calls, text messages and calendar reminders. However, the VivoActive also supports emails, along with any other incoming messaging to your phone. It also provides you with access to Garmin Connect IQ. This allows you to download custom apps, widgets, and watch face designs.
5 Key Advantages of the FitBit Blaze
The FitBit Blaze has far better music controls than the Garmin VivoActive HR. It works for stored and streamed music on IOS, whereas the VivoActive only supports stored music.

The Blaze has built-in applications for FitStar workouts. You get an ab routine, a warmup and a seven minute workout right on your wrist. It even has avatars that will walk you through the workouts. The VivoActive HR does not give you this option.

The FitBit Blaze has a big emphasis on style. FitBit want you to be able to take their wearable devices to the gym and then wear it to the office. As a result you can change the band out to make it more stylish. In contrast, the VivoActive HR is always going to look like a fitness watch, no matter how you dress it up.

The FitBit Blaze is cheaper than the Garmin VivoActive HR. However, additional bands for the Blaze will cost anywhere from $30 to $130.

The FitBit Blaze is easier to use than the Garmin VivoActive HR. You don't have to dial in a lot of settings, the touch screen is very responsive and everything is straight forward and simple. The VivoActive is designed for athletes and fitness enthusiasts. While still easy to use, it is slightly more complex than the the FitBt Blaze.
You will not go wrong with either of these fitness monitors. They are both great devices. They both have an awesome mobile and web application. They both sync automatically via Bluetooth. They both have complete activity and sleep trackers and both feature silent alarms.The VivoActive does have move reminders in its move bar, while the Blaze does not. They both have crystal clear, full color touch screen displays and they both use proprietary charging cables. Both the Blaze and the VivoActive will give you around 5 days charge.
So, which one is the best?​
For the general health enthusiast, we would recommend the FitBit Blaze. However, for the more serious athlete, the Garmin VivoActive HR provides more in-depth tracking analysis of the workout. It also has built-in GPS and GLONASS as well as the capability of pairing with a chest strap heart rate monitor. That all makes paying the extra $$ a worthwhile extra expense.
The FitBit Surge is FitBit's premiere fitness tracker. How does it stack up besides the ever impressive Garmin VivoSmart?
Let's find out.
Similarities​:
​Both the FitBit Surge and the Garmin VivoSmart are wrist worn devices with touch screen displays. They both have about 5-7 days of battery life. They both operate with iOS, Android and web apps. The both upload to the web and mobile apps via Bluetooth and are water resistant up to 50 meters. They equally track activity levels, basic fitness data and heart rate. They both have activity tagging or stopwatch features. However, the Surge does not have a designated home screen.
The Surge has a built-in GPS. That means that all of your workouts, whether a trail run, weight lifting session or a stair stepper will be recorded on one application. However, FitBit does not have a designated pre-set for cycling. This means that you have to use a few work-arounds to log your cycling workout

FitBit has the better overall mobile application. It also has a better locking mechanism on the strap. The VivoSmart's locking device isn't bad, but you will have to use the keeper that comes with the device to make sure you don't accidentally knock the tracker off your wrist.

The FitBit Surge has auto-sleep detection. In contrast, the VivoSmart requires that you manually enter and exit sleep mode. The VivoSmart only lets you set one alarm, the management of which can be quite cumbersome

Overall, the Surge experience is more seamless and simple.
Garmin VivoSmart Advantages
The Garmin VivoSmart can be paired with 3rd party chest heart rate monitors. This will provide you with far more accurate pulse rate and calories burned data. The VivoSmart also relays more phone notifications than does the Surge. Any notification that would show up on your phone will show up on your VivoSmart. In contrast, the Surge only relays text messages and phone calls.

The Surge does have a bigger screen than the VivoSmart. However, this added screen size, along with built-in GPS and heart rate sensor gives the Surge a very large footprint. The VivoSmart is far lighter and more streamlined. This makes it more comfortable and far less invasive. The VivoSmart also has a fine line phone feature and the ability to connect with Garmin's Go Pro live action camera.

Overall, we select the Garmin VivoSmart as our preferred device over the Fitbit Surge. The key deciding factors were that it is cheaper, it connects with an external heart rate monitor, it has extra features and it is smaller and more streamlined.

However, the FitBit Surge has a better mobile app, it has built-in GPS and it has all-day heart rate data.
What the FitBit Charge offers:
Tracking of sleep, steps, goals, calories, distance and floors climbed

Displays of fitness info, time, date, alarms, phone calls

Backlit display

Auto sleep tracking

Auto sync via Bluetooth

Activity tagging / stopwatch

Compatible with iOS, Android, Windows, Web, Mac and PC
What the FitBit Charge offers:
Tracking of steps, goals, calories, distance, floors climbed

Displays of fitness info, time, date, alarms and phone calls

Backlit display

Sleep tracking

Syncs via Bluetooth

Activity tagging /stopwatch

Compatible with iOS, Android, Windows, Mac and PC
Why buy the FitBit Charge over the VivoFit 2?
FitBit has a superior mobile application. In fact, FitBit has one of the best, if not the best, mobile app on the market right now. It is very user friendly, allowing you to jump right in without having to input lots of information. It has an easy layout and is simply a lot more fun to use than the Garmin app.

The FitBit Charge relays your phone calls.

The FitBit Charge has autosync. As soon as you open up the app the device will sync all of your data to the app.

The Charge has silent alarms. This allows you to be woken up without interrupting others. You simply set the alarm and your wrist band will vibrate to wake you up.
Why buy the VivoFit 2 over the FitBit Charge?
The Garmin VivoFit 2 is waterproof to 50 meters. That means that you can take it swimming, which you cannot do with the FitBit Charge.

The VivoFit 2 has a very effective locking mechanism. It uses a very robust quarter turn system.

The VivoFit 2 is more customizable than the Charge. That means that you can change the screens on the display of the device. This is something you cannot do on the FitBit Charge. You can also get different bands for the VivoFit 2 to style up the look of the device.

The VivoFit 2 connects with an ANT Plus heart rate monitor. This will give you the most accurate heart rate monitoring.

The Garmin VivoFit 2 has a vastly superior battery life to the FitBit Charge. It gives you 12 months of battery life compared to 5-7 days for the FitBit Charge. After a year or so you simply replace the Garmin battery.
So, who wins in the Vivofit vs FitBit head-to-head? Our overall recommendation is to go with the VivoFit. This device is your everyday activity tracker that you never have to take off. You can take it swimming. And it can be paired with a heart rate monitor.
Conclusion
Having put three of of the best from Garmin and Fitbit head to head, what do we conclude? For the general fitness enthusiast, FitBit offer the features, styling and app analysis to provide what you're looking for. But, if you are more of an athlete or a hardcore workout warrior, the Garmin range is going to offer you the extra features, such as GPS and chest strap capability, to keep up with the demands of your training. So, go with FitBit for general fitness. But step up to Garmin for a more serious workout tracking experience.
The third biggest player in the wearable activity tracker market is JawBone. For an in-depth analysis of their UP range of fitness wearables, check out our Jawbone UP2, UP3 and UP4 reviews. Click to see our review for the MisFit wearable range and the complete guide for the best fitness trackers that you can find in the market.