Garmin vs Fitbit Fitness Trackers
last updated:
Apr 29, 2020
Garmin vs Fitbit are the Coke vs Pepsi of the fitness tracker world. Sure, there are other brands out there, but when you want the best, it's going to come down to the heavyweight players. And, in the wearable fitness tracker industry, that means that you'll be comparing Garmin vs Fitbit. In this article, we put the brands head to head, so you can make a choice, Garmin vs Fitbit, as to which brand belongs on your wrist. We'll compare Garmin vs FitBit by going head to head with their 5 most popular fitness and activity trackers. Be sure to check out all the great information about the Garmin vs Fitbit Fitness Trackers we have here for you!
This is the best product on our list that is currently in stock: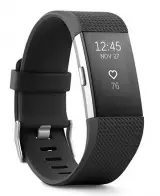 Fitbit Charge 2
Why is it better?
Pure pulse Heart Rate
Fitbit App
Gorgeous Design
All-Day Tracking
Guided Coaching
43
Researched Sources
14k
Reviews Considered
17
Hours Researching
14
Products Evaluated
Ease of Use
Accuracy
Battery Life
Features
Weather Resistance
By Default
Fitbit vs Garmin Fitness Trackers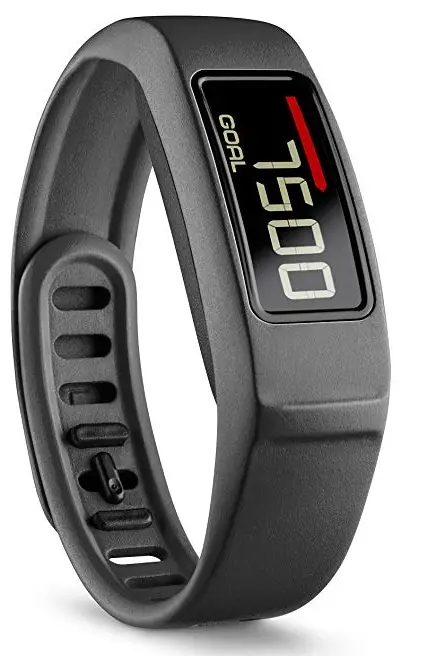 Super Waterproof
Very Effective Locking Mechanism
Backlit Display
1+ Year Battery Life
Auto Sync
The Garmin VivoFit 2 is waterproof to 50 meters. That means that you can take it swimming, which you cannot do with the Fitbit Charge2. The VivoFit 2 has a very effective locking mechanism. It uses a very robust quarter-turn system.
Read more
The VivoFit 2 is more customizable than the Charge2. That means that you can change the screens on the display of the device. It is something you cannot do on the FitBit Charge2. You can also get different bands for the VivoFit 2 to style up to the look of the device.
The VivoFit 2 connects with an ANT Plus heart rate monitor. It will give you the most accurate heart rate monitoring. The Garmin VivoFit 2 has a vastly superior battery life to the FitBit Charge2. It gives you 12 months of battery life compared to 5-7 days for the FitBit Charge2. After a year or so you replace the Garmin battery.
From our list of Garmin vs Fitbit Fitness Trackers, this product is highly rated.
Take a look at other waterproof fitness trackers we reviewed.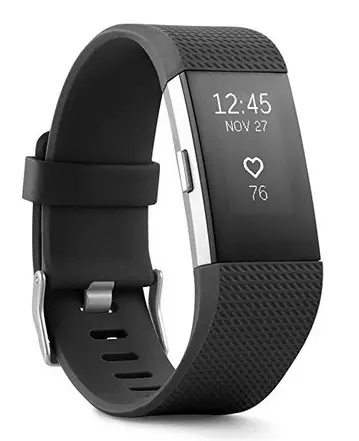 Pure pulse Heart Rate
Fitbit App
Gorgeous Design
All-Day Tracking
Guided Coaching
The Fitbit Charge 2 has far better music controls than the Garmin Forerunner 35. It works for stored and streamed music on IOS, whereas the Forerunner 35 only supports stored music. Fitbit Charge 2 has a big emphasis on style. Fitbit wants you to be able to take their wearable devices to the gym and then wear it to the office. As a result, you can change the band out to make it more stylish.
Read more
In contrast, the Garmin Forerunner 35 is always going to look like a fitness watch, no matter how you dress it up. The Fitbit Charge 2 is cheaper than the Garmin Forerunner 35. However, additional bands for the Blaze will cost anywhere from $30 to $130. The Fitbit Charge 2 is easier to use than the Garmin Forerunner 35. You don't have to dial in a lot of settings, the touch screen is very responsive, and everything is straight forward and simple. Charge 2 is designed for athletes and fitness enthusiasts.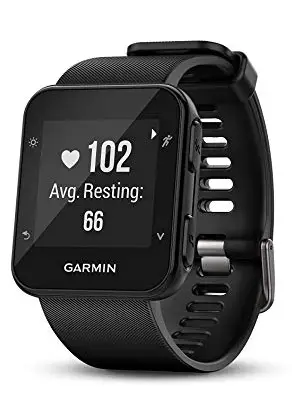 Built-in GPS
24/7 Heart Rate Monitor
Updated Display
Smart Connectivity
Smart Notifications
The Forerunner 35 has built-in GPS and GLONASS. It means that you can leave your phone behind and go running while still being able to track your route, pace, and speed. This is similar to the Fitbit Charge 2. ​It has a water rating of 5 ATM so you can swim with it in shallow water. In contrast, the Fitbit Charge 2 is only water-resistant, meaning that you can take it in the shower, but you definitely will not be able to swim with it on.
Read more
The Garmin Forerunner 35 supports more sports than the FitBit charge 2. It includes running, swimming, water/snow sports, and golf. It has a bank of over 40,000 golf courses that you can choose from on the Garmin mobile app. It also supports skiing and snowboarding along with such water sports like outdoor and indoor rowing and paddleboarding. The Fitbit Charge 2 does not support snow sports, golf, swimming, or water sports.
The Garmin Forerunner 35 will provide you with more drill down on the stats associated with the various sports that you monitor. For example, with running, you will get data about your running cadence, 3D speed, and distance. You can also connect an external heart rate monitor to the VivoActive to provide a more accurate readout than the built-in heart sensor. The Fitbit Charge HR2 only has a built-in heart rate sensor; it does not allow for 3rd party connectivity. The heart rate monitor runs 24 /7, including during exercise. The heart rate monitor as also super accurate, giving you precise info all day long.
The Garmin Forerunner 35 has better smart features. It supports phone notifications, such as calls, text messages, and calendar reminders. However, the Forerunner 35 also supports emails, along with any other incoming messaging to your phone. It also provides you with access to Garmin Connect IQ. It allows you to download custom apps, widgets, and watch face designs.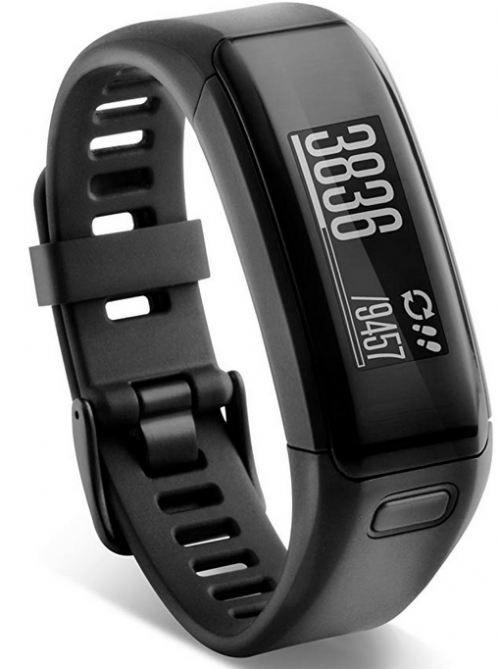 Sleek Comfy Band
Easy Music Control
Move Bar And Vibration Alert
Garmin Connect
The Garmin VivoSmart can be paired with 3rd party chest heart rate monitors. It will provide you with a far more accurate pulse rate, and calories burned data. The VivoSmart also relays more phone notifications than does the Alta. Any notification that would show up on your phone will show up on your VivoSmart. In contrast, Alta only relays text messages and phone calls.
Read more
The VivoSmart is not as light and streamlined as the Alta. As a result, it is less comfortable and more invasive. The VivoSmart has an excellent line phone feature and the ability to connect with Garmin's Go Pro live-action camera. A significant advantage of the Vivosmart is that it is waterproof. That means that you can wear it while taking a plunge at the pool or beach. Overall, we select the Garmin VivoSmart as our preferred device over the Fitbit Alta. The key deciding factors were that it connects with an external heart rate monitor, it has extra features, and it is waterproof.
From our list of Garmin vs Fitbit Fitness Trackers, this product is one of the cheapest.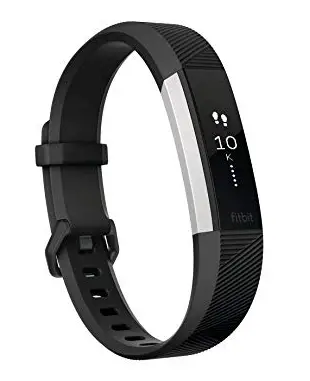 Good Sleep Tracker
Seamless Experience
Instant Stat Access
Smart Notifications
Poor Customer Service
Weak Vibration
The Alta is the most stylish model in the Fitbit range. In comparison to the Garmin VivoSmart HR, it is a very slimline unit that can be worn to even the fanciest of occasions without looking out of place. The Fitbit Alta supports a variety of interchangeable bands. It provides you with all the essential functions such as tracking steps, distance, calories burned, and sleep quality.
Read more
Fitbit has a better overall mobile application. It also has a better locking mechanism on the strap. The VivoSmart's locking device isn't bad, but you will have to use the keeper that comes with the device to make sure you don't accidentally knock the tracker off your wrist. The Fitbit Alta has auto-sleep detection. In contrast, the VivoSmart requires that you manually enter and exit sleep mode. The VivoSmart only lets you set one alarm, the management of which can be quite cumbersome. Overall, the Alta experience is more seamless and simple.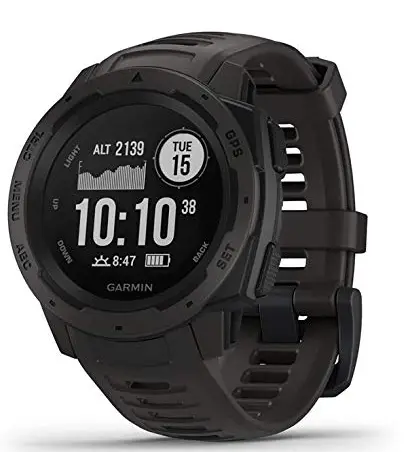 Insanely Hardy
3-Axis Compass
Multiple Global Navigation Systems
TracBack Feature
Battery Saving Mode
Side Buttons Accidentaly Pressed
Now we've come to the lower five contenders. The fact that they're placed here doesn't make them any less worthy; it just means that some of their features and settings are outdated, or that the top 5 have better optimization, but you can still use them just fine! We will not compare these five; we will list their best features so you can decide for yourself. The Garmin Instinct is a perfect watch for nature lovers!
Read more
The Garmin Instinct was created to match the U.S military standard 810G that protects the watch from thermal and shock damage, while also making it highly water-resistant. There is a built-in 3-axis compass that will guide you through the harsh outdoors. Combined with the barometric altimeter and the multiple global navigation satellite systems (GLONASS, Galileo, and even GPS), this watch offers you a unique chance to explore the green heart of nature without ever getting lost. Besides guiding your wild heart, it also monitors how fast it works, along with your activity levels and stress.
A compatible smartphone shows you every notification you need to see on the backlit round display. All the data this watch collects will be automatically uploaded to the Garmin Connect fitness community if you need to do so. The TracBack feature is outstanding, as it allows you to revisit the same routes you once trekked across, while also pointing you towards your starting point. The battery lasts up to 14 days in smartwatch mode, 16 hours in GPS mode, and if you have a need to preserve its life, activating the UltraTrac battery mode will prolong its life by 40 hours!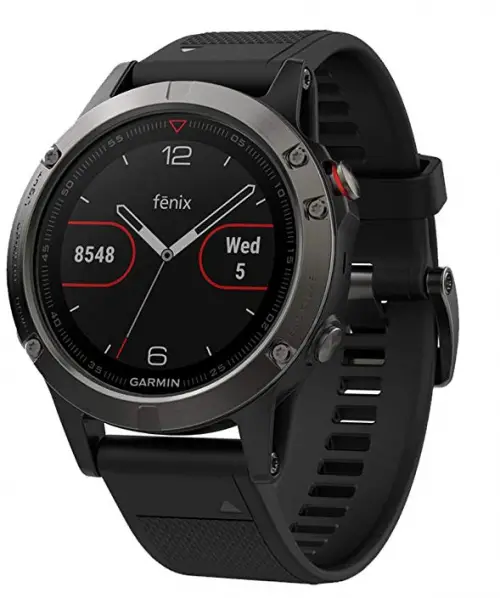 Premium Multisport GPS Watch
Elevate Heart Rate Technology
Rugged Design
Hardy Sapphire Edition Option
Outdoor Sensors
Altimeter Not Accurate
Poor Battery Life
The Fenix 5 is an excellent multisport GPS watch equipped with the Elevate heart rate technology. The rugged design helps it survive the harsh outdoors, while the stainless steel bezel, buttons, and hardy rear case prolong its life significantly.
Read more
The super bright HD full-color display aptly named the Chroma Garmin Display, has an LED backlight that allows you to read all the info you desire in every possible weather and light condition. Bright sunlight cannot harm it either, thanks to the transflective technology that reflects and transmits light at the very same time. The sapphire edition has a sapphire lens which is scratch-resistant and has wi-fi connectivity, so you can easily send all of your data to Garmin Connect. The extended physiological metrics, paired with the great running dynamic offer unparalleled insight into your workouts. The special features are your lactate threshold, the performance condition, the cadence, and your stride length.
From our list of Garmin vs Fitbit Fitness Trackers, this product is one of the most expensive.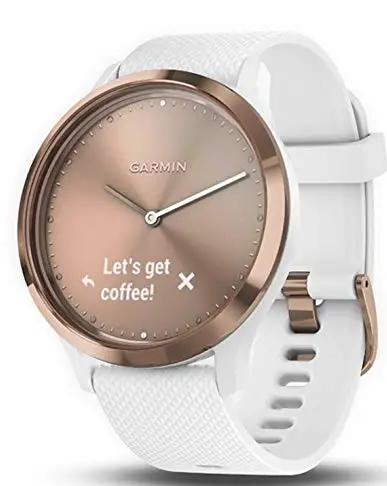 Hybrid Smartwatch
Dynamic Precision Hands
Discreet Display
Relaxation Timer
The Garmin Vivomove Hr is an exceptionally designed wristwatch that doesn't look like a fitness tracker. The gorgeous elegant design paired with the fitness features will make you both stylish and aware of your fitness prowess at all times!
Read more
Do not be discouraged by the whimsical appearance of this watch; it will still provide you with accurate data and many features that will make tracking your fitness progress a breeze. It combines a touchscreen with a display that is discreet and not attention-grabbing. It has old-fashioned hands that precisely show you the time while moving away when you want to look at your notifications and data. This hybrid smartwatch has the Elevate heart rate technology that tracks your heart all day long. A relaxation timer is a handy tool that lets you manage your stress levels so you can sit back and relax when you need to do so. The battery lasts up to five days if all tracking is turned on, while it can last up to two weeks if you use your tracker like a regular watch!
From our list of Garmin vs Fitbit Fitness Trackers, this product is one that looks very stylish.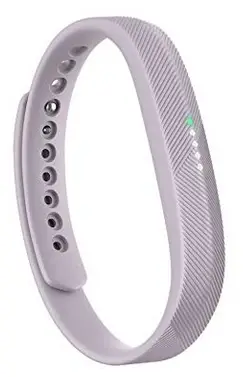 Swim-Proof
Auto Sleep Tracking
Call & Text Notifications
Color-coded LED Lights
Reminders To Move
If you ever desired a super-discreet design, yet struggled to find one, you should be happy to know that your struggles are over! The Fitbit Flex 2 is king of discreetness, hiding in plain sight as a thin band that doesn't even look like a smartwatch!
Read more
This small band harbors a pretty impressive set of features that will accurately measure your every fitness journey. This super-thin band is made out of a bendy, yet durable elastomer material that should be known to you if you ever owned a fitness watch. The surgical-grade stainless steel clasp will keep the band securely strapped around your wrist as you go about your day. The band is also swim-proof so that you can take it with you in the shower, in the pool, and even in the ocean. The SmartTrack will recognize which fitness activity you are participating in, automatically recording them and uploading the data to the Fitbit app. The color-coded LED lights and interesting vibration patterns show you whether you have any essential notifications or not.
From our list of Garmin vs Fitbit Fitness Trackers, this product is one of the best out there! expensive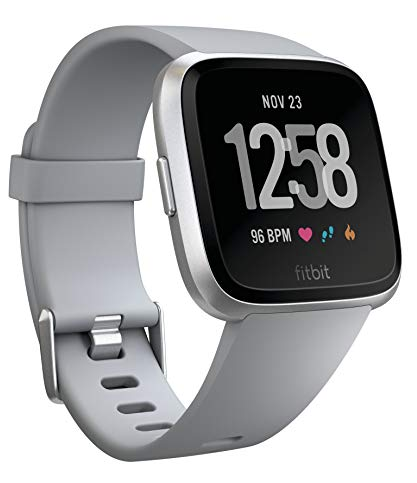 Can Store 300+ Songs
Intuitive Controls
Experimental Fitbit Apps
4+ Day Battery Life
15+ Exercise Modes
Not Very Accurate
Loses Bluetooth Connection
The Fitbit Versa is just your regular, run-of-the-mill fitness watch, but it still has many features that made it deserve a spot on our top 10 list. It will track your fitness progress accurately, and it will be of help to you no matter how ordinary, at least when compared to other trackers on this list, it may be!
Read more
The Versa has the incredible ability to store more than 300 songs, plus giving you the chance to listen to your favorite Pandora stations and your personalized Deezer playlists (although you do need to subscribe to these services beforehand). By connecting your watch with wireless Bluetooth headphones, you can take this musical experience to a whole new level. The intuitive interface is easy to maneuver, giving you more than you'd ever need just one finger-tap away. There are even some experimental apps developed by Fitbit; you can have a chance to explore and try out! The battery can last 4 days, or even more, while the slim and lightweight case allows it to sit on your wrist all the time to precisely measure everything of importance to your fitness journey. The watch is water-resistant, and it will give you 15+ exercise programs that will keep you entertained. The big, bright display is easy to read and easy to navigate!
Criteria Used for Evaluation

Ease of Use
First and foremost, your fitness tracker needs to be easy to use. If you bought a device that you struggle to use and understand, it's highly likely that you will give up on it, and it will then sit on some shelf collecting dust, or it will be abandoned alone in a drawer. Luckily, most fitness trackers are easy to use, and both Garmin and Fitbit create intuitive and simple-to-use smartwatches.
There are over 400 fitness trackers on the market today, and it's easy to feel confused over which one is the ultimate one. Some of them are easier to use than others, but that doesn't mean that they are better! We will go over most of the data the fitness trackers show you, and how to understand what the trackers are trying to tell you. As you know, these watches have a myriad of features that give you a lot of information about your day, and sometimes you can get lost in all of that. Although you should know that the watches can only reliably measure data related to movement - everything else is speculation based on the data already collected. This is why you need to consistently save and input data - a watch cannot know whether your heartbeat rose because you ran or because you got excited. Thus, you need to set up your device properly before it begins to gather valuable info about your day. The watch needs to know how tall you are, how much you weight, how active you are, how much you eat, and so on and so forth. The more data you give the watch, the easier it will be to understand the data it gives you as a result!
The most comfortable devices to use (or simply said, the devices you need to worry about the least), will be the ones that come from recognizable names, like Fitbit or Garmin, because they gained popularity for a good reason. You will need to spend a bit more money, but it's all in the name of accuracy and ease of use, and if you care about your fitness then this is something worth investing in!

Accuracy
Like we mentioned before, not every fitness tracker out there is going to be accurate, and not every piece of data collected will show the actual result. You need to know what kind of data you can trust, and what numbers to only slightly rely on. All the data collected by your fitness watch is measured and gathered thanks to movement sensors, and nothing more. Accordingly, most of the numbers you see on that bright and colorful display are their thanks to your step count. So, some data that relies on your movements plus some other algorithm calculations the watch does by itself may not be exactly accurate, like calories burned or the amount of time you've spent sleeping.
Logically, the more sensors and information a watch has, the more accurate the results will be. The best watches out there will have super accurate heart-rate monitors, for example, and this is vital information that helps the watch calculate the remaining data. The trackers you see on your treadmill or bike are most of the times pretty inaccurate, and this is something every seasoned gym lover will gladly tell you, which is why you will often see them with a wearable tracker. It's essential that the numbers you see are correct, which is why most of them invest in high-tech watches that are very precise. Still, the data gathered by these watches could be more accurate.
The pedometers tend to be the most accurate since they were the first ones to be developed. Everything else should be taken with a grain of salt, especially the data related to your sleep cycle.

Battery Life
The watch will be worn around your wrist, so it cannot depend on wires to give it life. Thus the things giving it the juice it needs to run will be batteries and not every battery was made equally - some can last weeks, or even years, while others need to be recharged every day or so. The more functions you use, the faster the batteries will drain, so if you want to use your fitness watch for as much as you can, you better turn everything you can off. But that's not exactly why you bought the watch in the first place.
It is why your watch has to have a good battery. Luckily, both Garmin and Fitbit create watches that have an exceptional battery life, even when you use every possible feature. The shortest-lived watches have a battery life that lasts about 4 days or so, while one device can last more than a year! Turning off some features that are not so necessary can prolong the life of the watch even more, like the nonstop heart-rate monitor, or data related to your sleep. Even if you use everything and the device ends up shutting off fast, it needs to be recharged for an hour or so, so you don't also have to wait that long to use the watch again!

Features
Every option on our list has plenty of features that make tracking your progress very easy. They will all track the number of steps you took every day, your heart rate, the number of calories you've burned, how long you've worked out for, and many more features unique to the bands.
So, as we mentioned before, the most basic feature of every fitness watch is step counting. But not every pedometer out there is equal, and do not be very surprised if you see numbers on different devices that do not match! Besides the actual technology used, the number that you see on the screen can also be affected by your height, weight, age, and the actual location of your fitness watch. Some devices can be set off by movements of the wrists, while others can count a bumpy ride as walking! Tracking the quality of sleep is also popular, but it's the least accurate information, just like we explained in our Accuracy section. The brain waves are the ones that dictate your sleep cycles, not the movements of the wrists! The heart rate is also measured, either non-stop, or when you tell the watch to do so. These measurements are pretty accurate, but they can be even more accurate if your device can be paired up with a chest rate monitor! So one more feature to look out for is good connectivity, either helped by ANT+, Bluetooth, or even wi-fi.

Weather Resistance
You will probably wear your watch every day, through thick and thin, until the malfunction of the watch do you part. It is why both Fitbit and Garmin made sure to create exceptionally durable and hardy watches, made to resist every element of nature out there, and of course, resistant to the sweat and moisture that you create.
Of course, some watches are more resistant than others, with the Instinct created by Garmin taking the crown, thanks to the military-grade protection it has. The company that created the watch will usually let you know just how resistant their watches are, telling you that you can swim with it for 50 meters or something like that. But sometimes, they won't exactly say just how resistant the device is, and will instead offer a grade that should tell you how hardy your watch is. This grade is reflected in two letters and usually two numbers. Those two letters will almost always be IP, which is just the name of the standard measurement created by the International Electrotechnical Commission, or IEC. The first number that follows these letters tells you how resistant your watch is to dirt, dust, sand, and much more. This number will usually be six. The number after that defines the water resistance rating. It will usually be six, seven, or even eight. So, technically you can submerge your watch, or even leave it underwater for a specified period, but you still shouldn't risk losing it to water damage!
Expert Interviews & Opinions
Most Important Criteria
(According to our experts opinion)
Experts Opinion
Editors Opinion
Users Opinion
By Default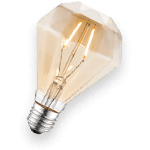 Release Date
Technology evolves every day, and so do fitness trackers. The newer the watch you're buying is, the more features it will have, and it will probably be more accurate than its predecessors! But the newer models will also be pricier, sometimes even much pricier. Also, the new features sometimes aren't that stable, simply because people had no time to test them out. Older models won't have that many readings to offer, but they will be stable, budget-friendly, and well-tested. What you decide to go for will depend on your budget, your needs, and how adventurous you are, at least towards the newest technology!
Handy Apps
The newest fitness trackers on the market today are incredible, and many of them can be connected with apps that provide you with even more accurate results.MyFitnessPal seems to be the most popular one, as it allows you to track your calorie intake through the food you eat. Lose it is a similar app, and these apps will enable you to connect with a wonderfully diverse community fitness where you can compare yourself with others and share your progress with them. But both Fitbit and Garmin have their apps, The Fitbit app, and Garmin Connect. They offer incredibly detailed insight into the data they gathered, and they also have a large fitness community that supports you and keeps you going. Connecting your watches with these apps will be beneficial for your fitness progress, and there's nothing to lose by giving them a chance!
Other Factors to Consider

Brand
The two brands we mentioned here both have their set of benefits and drawbacks, and which brand you decide upon will reflect your personal preferences, and nothing more. Still, here are some basic facts about both of these brands.
Fitbit is an American company operating out of San Francisco. They have been operating in the fitness tracker market since the late 2000s. Fitbit offers everything from entry-level trackers right up to the top of the line Surge, which retails for $250. In addition to wearable wrist monitors, they also produce clip-on activity trackers and a digital scale that connects to the FitBit A00 (the Aria).
Garmin is an American multinational company operating out of Switzerland. The company was founded in 1989 and established itself as a leader in the global positioning satellite (GPS) market. They have developed GPS systems for use in automotive, outdoor, marine, and sports applications.

Fit
The way your watch fits you is essential, but the fit can easily be adjusted, so we decided that this criterion is not so important, but it's still something we should mention. The fit can always be manipulated, thanks to the clasps these watches have. The clasps can either be plastic or metal. The more durable watches have stainless steel clasps that keep your watch secure through the toughest situations, while some have a simple buckling system that's still pretty secure. There are holes present on the bands that make the fit so adjustable, and you can adapt it fast. Our wrists do not change their size too much, but if they swell-up, or if you lose weight, you can comfortably accommodate this change without worrying about having to throw out your watch completely!

Color
The color of your band will not determine the final value of the fitness tracker, yet it's still something that many people value, simply because they like to mix-and-match colors while expressing their individuality. Both Fitbit and Garmin offer you plenty of colorful options, and even if you get bored of one color, you can easily take the main compartment out and replace the band for a different color. Some watches are always the color you first chose, so you better make sure that you got a color you like!

Bottom Line
Having put three of the best from Garmin and Fitbit head to head, what do we conclude? For the general fitness enthusiast, Fitbit offers the features, styling, and app analysis to provide what you're looking for. But, if you are more of an athlete or a hardcore workout warrior, the Garmin range is going to offer you the extra features, such as GPS and chest strap capability, to keep up with the demands of your training. So, go with Fitbit for general fitness. But step up to Garmin for a more severe workout tracking experience.
Click to see our review for the MisFit wearable range and read the complete guide to products from this manufacturer before making a purchase.
Frequently Asked Questions
q:

Can I wear my fitness smartwatch at night?

a:

If it's comfortable enough not to bother you while you sleep, sure, why not! Both Fitbit trackers and Garmin watches will offer you insight about your sleep cycles while measuring your heart rate as well. Although the sleep cycle data is not so accurate, the heart rate measurement is, and it can tell you how healthy your heart is, how the rate changes throughout the night, and you can even determine how well you slept thanks to all of that data! But if you do not feel like wearing the watch while you sleep, nobody is stopping you from doing so, and your fitness progress won't suffer as a result.
q:

How accurate are these fitness smartwatches?

a:

Both Fitbit and Garmin are the most accurate fitness watch brands out there, and you can rely on them to provide you with precise data. Their measurements will never be 100% accurate (except maybe the pedometers), but they will be only slightly off. Still, take the data you see with a grain of salt and try to compare the data you've gathered with your deductions to see how accurate the devices truly are. The only thing not to rely on is the sleep cycle tracker like we already said multiple times over, and sometimes the calories burned, so make sure that you track this by yourself as well!
q:

Can I turn off my smartwatch?

a:

It seems like the most basic function of every device ever to exist, yet not every smartwatch can be turned off. Surprisingly enough, it's rare when you find a smartwatch that can be turned off! If the reason why you wonder about this is preserving the life of your battery - do not worry. Garmin vs Fitbit fitness trackers, especially the ones created by these two brands last a very long time, and you can save the battery life by turning off some of the features provided. Even when the batteries drain, they will be recharged quickly, and you can resume use!
q:

Can I connect other devices with my smartwatch?

a:

If your watch has Bluetooth, ANT+ or wi-fi, go ahead! The connections will be stable, and by connecting your watch with other devices, you will be able to gather more data, see the data you've gathered, and share it with others. You will also be able to connect the watch with a chest strap heart rate monitor, for example, and have an even more accurate heart rate reading. You can even try connecting headphones with the watch, so you can listen to your favorite tunes while you sweat it out at the gym!
q:

Garmin vs Fitbit, which brand is better?

a:

Fitbit works better for people that take tracking their fitness not so seriously, and do not need so much data, while Garmin offers in-depth information about everything that happened during your workout. In the end, there is truly no winner here, and the only person that can decide which brand is better is you!
Subscribe to our newsletter