Top 10 Garmin Fitness Trackers
last updated:
Feb 12, 2020
The Fitness tracker industry has become hugely competitive in recent years. Two leaders have emerged to dominate the pack. The first, Fitbit, were the innovators. The second, Garmin, has come on strong since 2013 to provide a worthy challenge to Fitbit for those demanding innovation, style, and quality. In this article, we'll delve into the world of the Best Garmin Fitness trackers. Keep reading our in-depth Garmin Fitness Tracker reviews to find out if it is worth the investment.
In a Hurry? The test winner after 12 hrs of research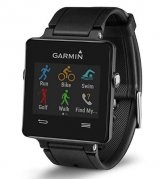 Garmin Vivoactive
Why is it better?
GPS and GLONASS
Lightweight, thin and comfortable
Full-color screen with ambient light sensor
8 cardio workout programs
24/7 activity tracking
42
Researched Sources
15k
Reviews Considered
12
Hours Researching
14
Products Evaluated
Features
Ease of Use
Comfort
Durability
Battery Life
By Default
10 Best Garmin Fitness Trackers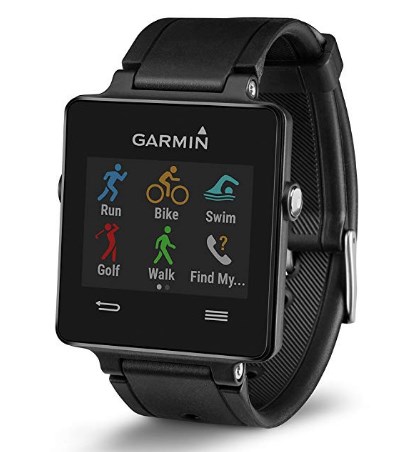 GPS and GLONASS
Lightweight, thin and comfortable
Full-color screen with ambient light sensor
8 cardio workout programs
24/7 activity tracking
Construction is not overly robust
Light on sleep analysis
The Garmin Vivoactive is lightweight, thin, and comfortable on your wrist. It has a full color, sunlight readable touch screen. The face of the device is large but, because you are constantly swiping it, is prone to smudges and finger marks. It has a modern, attractive look and you can customize the band.
Read more
The Garmin Vivoactive will track your 24/7 activity. It will also monitor your cardiovascular workouts and it can also act as a Smartwatch. In terms of activity tracking, it will monitor your steps, calories burned, and distance traveled. It provides you with a daily steps goal. It also has an auto goal, which automatically adjusts your steps goal based on your recent activity. The device also has an inactivity monitor that vibrates if you have been sedentary for too long.
The Vivoactive will automatically log your sleep. However, the sleep analysis is pretty lightweight.
​In terms of monitoring your cardio workout, the Vivoactive has eight built-in workout apps: running, cycling, swimming, walking, golf, indoor running, indoor cycling, and indoor walking. It shows your cardio data as you are training. For running, that means time, distance, pace, cadence, and laps. For swimming, it records laps, distance, stroke count, and calories. The Vivoactive is waterproof up to 50 meters.
​You can connect the Vivoactive to external sensors such as chest based heart rate monitors and foot pods. As a GPS watch, it will map your running and cycling activity. It also gives you access to the Russian form of GPS, known as GLONASS. The downside is that GPS puts a real strain on the battery life of the unit. In watch mode, you'll get 3 weeks, but just 10 hours of battery time on GPS mode.
​As a Smartwatch, the Vivoactive will provide you with your social media notifications, a full day's calendar, weather, and the ability to control music playback. Garmin is working with a whole host of developers to bring more widgets to market that can be used with their monitors, so these devices are only getting smarter.
From our list of Best Garmin Fitness Trackers, this product is highly rated.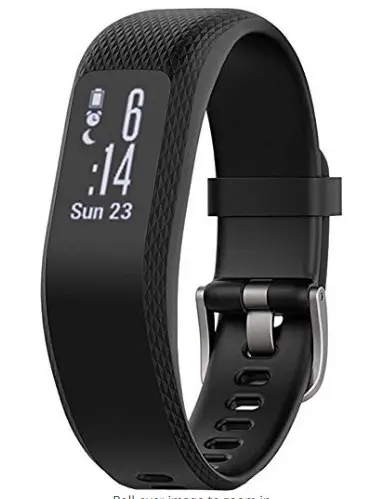 Slimline and lightweight
OLED Display
Very stylish interface
Provides social media message notifications
Difficult to see the screen in the sun
The Garmin Vivosmart 3 is exceptionally slimline and lightweight. It is made of silicone and is very smooth, with no ridges. It easily snaps on and off your arm. It comes in six colors. The Vivosmart 3 does not have a clickable button on the side. To operate the device, you tap on the screen twice. The display then operates as a touch screen. The display is OLED and measures 1.3 inches x 0.14 inches. It has a low resolution at 128 x 16 pixels, but it is easy to see and easy to read.
Read more
The first display is time and date. The next swipe takes you to your actual steps taken. Next, you will see your auto steps goal based on your daily activity level. The next screen will show your move bar. After one hour of inactivity, it will vibrate to let you know that it is time to get up and move. It will display the calories you have burnt, and how many miles you have traveled. It also provides a media control setting for your music.
The Vivosmart 3 connects to your technology via Bluetooth. It will vibrate every time you get a message. You can also receive email notifications, Facebook notifications, and calendar notifications. On the menu bar, there is a stopwatch and sleep mode. However, unlike FitBit, you do not have an auto-sleep mode. You have to input when you are going to sleep manually.
The Vivosmart 3 is water-resistant up to 50 meters. There is also a heart rate monitor on this new version of the device. There is also only one alarm on this device.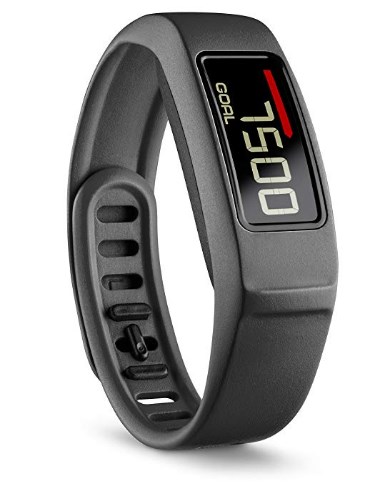 Transflective display
Very lightweight
Waterproof to 50 meters
Can be paired with Garmin vivo
Fit heart rate monitor
The Garmin Vivofit2 is a fitness wrist band with a transflective display. It comes with a one-year battery life. The Vivofit2 will track your steps, your calories burned, distance traveled, as well as sleep tracking. The device has a red time to move the bar on display, but it does not signal inactivity so unless you are looking at the display, you will not be compelled to act.
Read more
The Garmin Vivofit2 fitness tracker is waterproof up to 50 meters. The transflective display on the device is excellent, allowing you to see the display even in bright sunlight. This updated version of the Vivofit has a backlight making it easy to see in the dark. Bands come in a range of colors and are easily replaceable.
The Garmin VivoFit2 heart rate monitor is a separate unit that can be purchased to pair with the VivoFit2. It is a chest strap monitor. It will provide an accurate reading of your pulse rate.
The Garmin Vivofit2 activity tracker will not automatically sync to your technology. You have to manually do this by opening the Garmin app, pushing down a button and then waiting for everything to sync. It happens automatically with the Fitbit range of devices.
This new and improved model has an audible time to move alert, and it will automatically sync with your mobile device.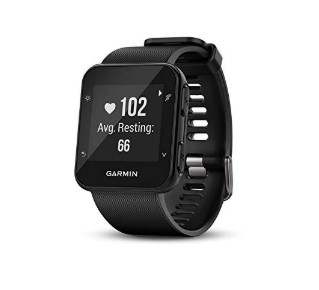 Built-in GPS
Vibration alerts
High-resolution display
Smart connectivity
Some issues with the pace feature
The Garmin Forerunner 35 is an attractive tracker which comes in a choice of four band colors. It will monitor your heart rate day and night using Garmin Elevate technology. The built-in GPS will keep all kinds of information for you, including how fast you are running, how far, and where. The information uploads to Garmin Connect and includes live tracking and music.
Read more
These garmin fitness trackers are perfect for your active lifestyle. It features the built-in GPS which matches up to satellites even under tree cover and does not require a phone. The water rating is 5 ATM, which means it is resistant in water up to 50 meters deep.
The display is easy to see in sunlight and has vibration alerts to tell you about running prompts, activity tracking, and smart notifications. This watch is compatible with iPhone or Android and works with Garmin Connect Mobile.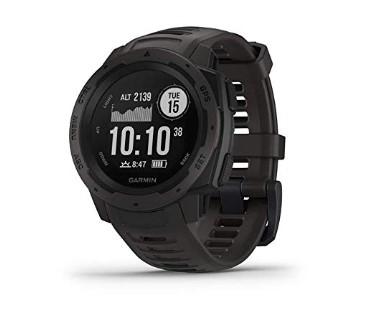 Features 3 axis compass
Built to withstand tough environments
Has preloaded activity profiles
Long battery life
Garmin Instinct is made to military standards for shock, thermal, and water resistance. It has a 3-axis compass built into the design as well as a barometric altimeter and global navigation support to help track more challenging environments. It also monitors your heart rate, your activity rate, and stress.
Read more
The Instinct is a beautiful rugged watch with GPS designed to withstand the roughest environments. These Garmin fitness trackers have a built-in 3 axis compass with many types of global navigation.
You can train with activity profiles that are preloaded into the tracker. Smart notifications help keep you connected and your data uploads to an online community. It has a long-lasting battery and will help keep you informed.
6

. Garmin Vívosport Smart Activity Tracker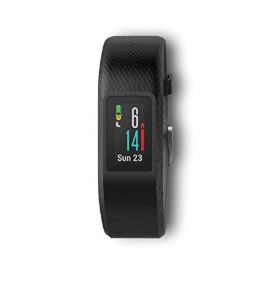 Tracks your stress levels
Clear color display
Bright and stylish
The Garmin Vivosport has a lot packed into a fairly small watch. It features a built-in GPS with great accuracy. It will track your activities indoors or out with fitness monitoring tools and tracking your stress levels as well.
Read more
These garmin fitness trackers work inside or out and are smartphone compatible. It helps you monitor your physical response to stress. The color chrome display is always on, easy to read, and slim.
Smart notifications keep you connected. The slim and vibrant design looks great with your style. It is perfect to wear every day.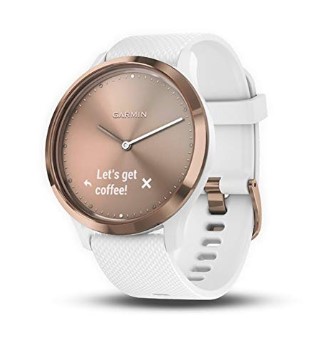 Stylish and fashionable
Tap the display to see stats
Helps you manage your stress
Great battery life
No good for outdoor exercises
The Garmin Vivomove HR is a very fashionable fitness tracker for women. This hybrid smartwatch is stylish and has a touchscreen with a sweet display. It keeps time but swipes away when you need to check messages or get other information.
Read more
The Vivomove helps you stay on the move with features like music controls and notifications of incoming calls or messages, calendar reminders, and so much more. It monitors your heart rate and estimates it with special technology.
It tracks your health and wellness throughout the day, including your stress and relaxation timer as well as monitoring your sleep. Accessory bands are available so you can switch your look anytime.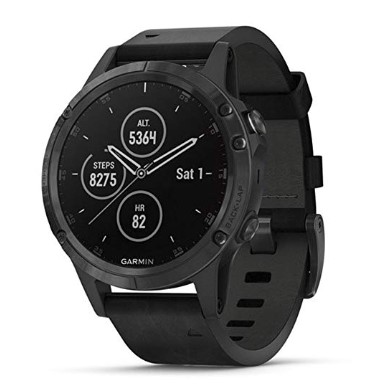 Includes TOPO maps
Stores and plays music
Built-in navigation sensors
Open water tracking does not work
The Fenix 5 is a premium multisport watch that will keep track of your heart rate and includes TOPO maps to help you find the best paths. The rugged design features excellent style and features. Easily store up to 500 songs and play them.
Read more
This is a multisport smartwatch that is fit for an adventure. The design is rugged featuring stainless steel buttons and rear cases. Use it to store and play music or connect it to Bluetooth headphones.
This watch even lets you conveniently make payments from your watch. It also has a built-in navigation system. The battery will last up to 10 days in Smartwatch mode.
From our list of Best Garmin Fitness Trackers, this product is one of the most expensive.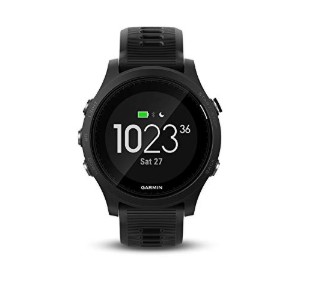 Perfect triathlon watch
Very lightweight
Evaluates your training
Make sure you don't get the Asian model
The Forerunner is the premium running/triathlon smartwatch. It offers advanced features in a comfortable watch that you will feel good about wearing every day. It is lightweight and gives you a built-in altimeter, barometer, and compass which will help you keep track of your goals.
Read more
These Garmin fitness trackers are lightweight, sleek, and perfect for a person who runs triathlons. It features a premium GPS and smartphone compatibility. It is a comfortable watch you can feel good about wearing all day every day.
It has a barometer, compass, and altimeter which will help you keep your bearings. It also keeps track of your training and lets you know if you are overdoing it or under-doing it.
From our list of Best Garmin Fitness Trackers, this product is one of the most wanted from triathlons.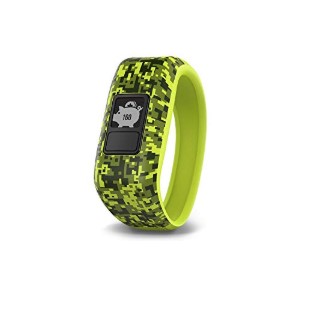 Water resistant
One piece slip-on band
One year battery life, no charging needed
May not be durable enough
The Garmin Vivofit Jr is a perfect gift that will encourage your child to be active. It features a battery that lasts for an entire year and does not need to be recharged. They will love the stylish design which is comfortable to wear, durable, and water-resistant for swimming.
Read more
It is a watch you can get for the child you want to encourage to be more active. It has an excellent sized display, which is easy for them to ready. It is water-resistant and can be worn day and night.
The Vivofit Jr. is tough enough to live through a busy kids' day. The band stretches to fit over their wrist. It will also connect to a parent mobile app with fun adventures for kids and chore management for parents.
From our list of Best Garmin Fitness Trackers, this product is one of the lowest rated.
Criteria Used for Evaluation

Features
Only chose extra features if you are going to use them
When deciding which Garmin watch to get, it is essential to do your research because Garmin offers so many different features to choose from. You will be able to find one which matches your lifestyle. Are you a runner? Do you need to monitor your heart rate? Is playing music an essential part of your day? These are things to think about.
Many Garmin fitness trackers feature color display screens. Also many Garmin fitness trackers have built-in workouts. It tracks activity, calories, heart rate, time, blood pressure, and so many other things. You have to decide what you want to know. Some have message notifications and alarms and play music. All of Garmin fitness trackers have so much to offer.
We are aware that there are many different choices for watches, some will offer an extensive selection of features which though impressive, you might never use, and some of those features require battery power. With this thought in mind, we selected a range of Garmin fitness trackers covering basic features right up through to high-tech features. It means our guide has a watch for all people depending on which types of features they want.

Ease of Use
More features are good but ease for use is important.
What makes your fitness tracker easy to use? First, you want to make sure it is easy to see. The display should be clear and easy to see, even in the bright sunshine. It needs not to be bulky but should be big enough to read. Consider how easy it is to get to the features you will be using the most.
You also want a watch which connects easily to an app on your phone. Are the instructions easy to understand and are the two easy to link to each other? Does the app give you the information you need, and is it an app that will help you to reach your goals?
More features can be useful if you need them and during our research, we identified Garmin fitness trackers which will give many more features than standard watches, but at the same time, the designers kept true to ensuring that more features to make the watch overly complex to use.
We wanted to see, and we found Garmin fitness trackers which when giving more features, they provide very easy to follow systems for moving through and using extra features.

Comfort
Comfort from a watch is reassuring.
You want a watch you will be comfortable wearing every day and very possibly even at night while you are sleeping. It should have a comfortable band which stays snug with a clasp that does not catch on everything. Make sure it is made of a material which will not irritate your skin.
We looked to ensure that the straps are made from materials which will not absorb and retain sweat because this would create a breeding environment for unwanted bacteria and potentially lead to skin irritation and possibly infections.
It is nice to have a fitness tracker which is easy to on your eyes to read and is not bulky or will not catch on everything. You should be able to read it easily in the bright sun, but it should not randomly come on at night when you are trying to sleep.
When we considered and reviewed comfort, we took into account that this can also cover ease of mind while wearing and using the watch because a durable watch which can withstand knocks during sports does give psychological comfort.

Durability
A sports watch must offer durability
Since your fitness tracker is something you will be wearing all the time, of course, it needs to be durable. The band should be breathable but also sturdy and well connected to the face of the watch. The clasp should also be durable and able to withstand daily wear.
It is also helpful to have a tracker, which is water resistant. The tracker will last longer if it can stand up to a sweaty workout or a simple splash of water will not ruin it. It is also handy to be able to wear it in the shower instead of having to pull it off every time.
We took into our reviewing that sports people are very active and will encounter a wide range of weathers and conditions. Therefore we looked to see that the Garmin fitness trackers are capable of performing in all types of weather through the year and that they are durable enough to continue to function.
Sports means lots of knocks and bumps which means the watch will be subjected to conditions which are challenging; we were happy to see that this selection of Garmin fitness trackers are built from very durable materials so that they can withstand daily knocks, bumps, and shocks.

Battery Life
When a battery stops, so does the watch
Battery life is an important consideration because it will affect the convenience of your fitness tracker. We want your garmin fitness trackers that you will be able to use without spending a lot of time thinking about keeping them charged.
So there are a couple of different options which will be equally helpful. If your fitness tracker has a battery in it, the battery should be long-lasting and only need to be replaced maybe once a year. If it is a fitness tracker that you can recharge, it should be easy to plug in. It should also charge quickly.
We looked for garmin fitness trackers which indicate that a battery is running low so that the right action can be taken reasonably quickly to ensure the battery either get replaced or recharged. For recharging we looked for features will allow fast recharging, for example charging via a USB which is quick and popular.
During our research, we were focused on choosing garmin fitness trackers which either offer an excellent long battery performance or can be easily charged up, and we found an excellent selection for you, thesegarmin fitness trackers are all offering good quality batteries and easy to recharge systems.
We also factored in the cost for:
Replacing a battery can be expensive if you use your watch often and place a heavy demand on power. Therefore we checked and chose garmin fitness trackers which use batteries which are reasonable in terms of cost for replacing.
We have selected garmin fitness trackers which when offering recharge capability, any extras required such as recharge plug-ins are set at a reasonable price to avoid over expense.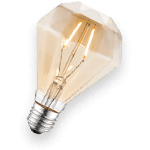 Check out the course creator
It is a fantastic feature if you are in a new city after a move or trying to stay fit on vacation and you are not sure where to go running. It is excellent if you are tired of the same old trails as well. You tell it how far you want to go and what general direction, and it gives you the course.
Use the heart rate variability test
This feature will help you keep track of how your body is doing on any given day. It listens to your body and let you know if it is ready for an intense workout. It is a nice easy way to be safe with your health while working out.
Frequently Asked Questions
q:

How do you edit steps on Garmin Connect?

a:

Sign into the program on your computer. Go to Activities and All Activities. Pick the activity you want to edit. Click on the pencil icon and do a full edit. It is pretty easy.
q:

Can a Garmin watch be tracked?

a:

To have your system tracked, even though it is a GPS, you need to make sure your watch sends and receives signals.
q:

What is Garmin Live Track?

a:

Garmin Live Track lets your family and friends track where you are. Invite them to join through Facebook, Twitter, or email, and they will get a link to a webpage. From there, they will be able to see when you are exercising, how far, how fast and what elevation you are at in real time.
q:

How do I avoid skin irritation while wearing my Garmin?

a:

You should wear your watch loosely enough so it will move back and forth on your wrist. It is best to wear it two finger widths above your wrist. You can wear it snug during your workout and then loosen it afterward. Rinse and dry it after a sweaty workout to keep it from irritation your skin.
q:

What things should I avoid having on my tracker?

a:

To help keep garmin fitness trackers looking good you should avoid getting foreign substances on them like insect repellents, lotions, moisturizing creams or oils, perfumes, sunscreens or soaps. These things may irritate your skin if they are on or under your tracker.
Subscribe to our newsletter