Best Weightlifting Shoes for Flat Feet
last updated:
Feb 19, 2021
Power should always be driven from your forefoot and heels, not your arches! If you have flat feet, you may be surprised by the difference a pair of weightlifting shoes for flat feet can make. By properly supporting your arches, you can effectively dig into your lifts through your toes box and heels, and potentially lift more than you ever thought possible.
The designs that we selected for our list provide you with just enough support in your arches while maintaining contact with the ground and ample support at the top of your feet and in your ankles as well.
In this guide, we have gathered some of the best weightlifting shoes for flat feet to help you generate power without putting additional strain on those arches.
This is the best product on our list that is currently in stock: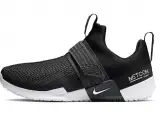 Nike Metcon Sport
Why is it better?
Great arch support
Padded heel collar
Lightweight
Versatile
In a
Hurry? Editors choice: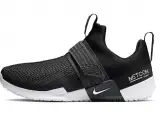 Test Winner: Nike Metcon Sport

30
Researched Sources
11723
Reviews Considered
30
Hours Researching
10
Products Evaluated
Application
Breathability
Comfort
Durability
Motion Control
By Default
10 Best Weightlifting Shoes for Flat Feet
Criteria Used for Evaluation

Application
A lifting shoe should set you up for safe and effective lifting.
In this review, the lifting shoes should also provide extra arch support. We specifically looked for those that do. Arch support can come in the form of padding, inserts, or even the wedge-shaped heel inside the shoe that you often find on squat shoes.
Since we were looking for lifting shoes for flat feet, we did not include many that don't have the wedge. The ones we did include are lower in the list.
We noticed these shoes also tend to be trainers, or cross trainers, good for other activities besides lifting. We provided them because we know many of our readers will want to cross train in their lifting shoes.

Breathability
If your feet sweat enough to make the shoe smell, bacteria can grow.
We do not want any of our readers to have that problem. So we made sure the shoes on our list will all allow airflow. Many of them have mesh uppers or quarter panels for this reason. We think synthetic materials have leather beat as far as breathability.
This is why lifting shoes are rarely made completely of natural leather. The leather has good freedom of movement, and it is durable, but by itself, the leather cannot breathe to the level you need for cleanliness. Often, leather or partial leather lifting shoes will use synthetic leather, because it is more porous.

Comfort
If the shoe fits, you will wear it and get the benefits.
You could probably lift in a pair of boots. This was popular at one time in the powerlifting community, and in some gyms you still see people working out in boots. It is frowned upon at most gyms though, because the boots are loud and can leave marks on the floor.
We caution against using boots too, but for different reasons. Mainly, the boots are not designed for comfort during heavy lifting. Work boots are not made to help you beat your PR on the squat or deadlift.
All the shoes we have reviewed here have superior comfort and will keep your feet feeling protected over time.

Durability
Leather was once the preferred material for many kinds of footwear.
But in modern times, sporting footwear is rarely made completely of leather. It is heavy, expensive, and not very breathable, as we mentioned. Most makers have switched to synthetic materials, or a synthetic and textile blend. The synthetic materials are made by combining other fabrics strengthening polymers in a lab. This makes for a long lasting shoe that gives a good performance.
We are confident that every shoe on this list will give you long-lasting performance and will still be strong after periods of long use.

Motion Control
A lifting shoe's number one job is to lock your foot down.
The feet are the foundation of any Olympic weightlifting move, and this is also true for things like standing rows or standing barbell curls. If your feet move the wrong way, you can pull a tendon or lose control of the weight.
While the shoe is keeping your foot as still as possible, it also has to keep you comfortable. Uncomfortable shoes do not lead to good results. So the lifting shoes for flat feet we prioritized are ones that keep your feet still, giving you stability, while also being flexible enough for freedom of movement.
Expert Interviews & Opinions
Most Important Criteria
(According to our experts opinion)
Experts Opinion
Editors Opinion
Users Opinion
By Default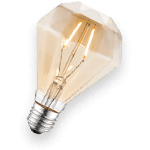 When Not To Get Lifting Shoes
Not everyone needs to put forth the expense of getting a pair of shoes that they will only use for lifting weight at the gym.
This is especially true of beginners. If you join a gym, take up a sport, or just decide to be more active after a period of being sedentary, the most important thing you can do is show up. Make a routine and stick to it daily. Your favored activities may not include weightlifting, and that's okay. You can do a lot with the weight stack machines and body weight exercises.
If you do decide to lift, it is wise to learn the proper forms, techniques, muscle groups and different exercises. Once you know what to target and how, and once you are able to get through a few weeks of a lifting regimen without injury or layups, you may be ready for your first pair of lifting shoes. We suggest not going out and spending the money if you either aren't going to use them or don't have the knowledge base to use them effectively.
What Lifting Shoes Are
The main point of difference, what makes a lifting shoe a lifting shoe, is the lifted heel. You can see these on the back of a lifting shoe. Some of them resemble the honeycomb or waffle sole plates on a pair of Nike Shox, but the ones on lifting shoes will be a lot more pronounced. The raised heel, in fact, can feel unnatural for walking and standing when you try on your first pair.
What the heel does is to give your ankle an enhanced range of motion. That is important because if you can stretch that Achilles, you can go deeper into your squat. This will lead to greater strength and flexibility and, over time, less likelihood of injury.
The other thing setting lifting shoes apart from regular gym shoes is the flat sole. The flat sole, which comes into more contact with the ground, gives you a stronger foundation and a platform with more surface area. This feature can actually help you lift a bit more weight.
Other Factors to Consider

Upper
The outsole is the part of a shoe that comes into contact with the ground. On lifting shoes, these are almost always made of hard rubber, perhaps with a plastic heel lift cup in the back. Everything above the outsole is called the upper of the shoe.
Materials and design of the uppers are important factors in the effectiveness of any lifting shoe. The material determines breathability, flexibility, stain fighting properties, and even how durable the shoe is. The design of an upper is important because it impacts stability.

Weight
Weightlifting shoes don't have to be heavy to help you lift heavyweight. In fact, shoes made from heavier materials can cause leg fatigue and make you want to finish your routine early. Heavier materials, also, will not be as breathable and can cause moisture problems inside the shoe.
In picking and studying shoes for our guide, we looked for those that are lightweight enough to allow you movement. Lifting shoes are not as light as running shoes, but wearing them should not feel like you are in a pair of combat boots, either.
Frequently Asked Questions
q:

Why wear weightlifting shoes?

a:

Some powerlifters may tell you the best shoes are no shoes at all. And while that may work for them, it may not be ideal for everyone. A good pair of weightlifting shoes not only supports your feet and ankles (which can cut down on injuries), but they can also help shift the weight so you can engage in a lift with the proper form.

A shoe with a slight lift in the heel and a stable ankle is a great option for squats, for example. A stable ankle prevents your ankles from bending inwards, and a slight lift in the heel naturally pivots your hips forward for a more stable form that reduces the risk of dumping all of the weight on your lower back.

We suggest trying both ways to find what works best for you! If you feel that lifting in your tube socks feels more natural and easy, go barefoot! At the end of the day, the gear you wear depends upon what works best for your frame.
q:

Is there a difference between a squat shoe and a lifting shoe?

a:

There really is, even though the terms get thrown around and are used interchangeably. A squat shoe, by definition, must have heel lift and a wedge-shaped insert for the arch. These are the mechanical tools that give you an advantage in doing squats, because of the increased ankle flexion.

Lifting shoes are those with flat soles, ankle straps, padding, and good traction, but that may or may not have the raised heel or the insert. Often, lifting shoes are preferred because you can wear them for other activities. Squat shoes are so stiff that they can only be safe or effective while lifting free weights.
q:

How should weightlifting shoes fit?

a:

The fit of weightlifting shoes is no different than your favorite pair of running shoes. It is important that they fit snugly on your feet to create a stable base and prevent them from slipping around on your feet as your workout. A loose shoe is a recipe for injuries, so be sure that they fit on your foot like a glove (without cutting off circulation, of course!)
q:

How do straps help?

a:

Straps help by giving you a more snug fit. They are one tool, along with the laces or, sometimes, along with a patented closure system. You almost never see a lifting shoe with straps and no laces. That is because the strap alone is not strong enough to keep your foot still by itself. The laces aren't, either, so they are reinforced by the straps unless the manufacturer made other arrangements.

The straps also save you from feeling like you have to pull the laces in so tight that they hurt your feet.
q:

Are lifting shoes worth it?

a:

If you have progressed in your training program enough to start questioning whether you need lifting shoes or not, the answer is probably yes. The shoes really will help prevent injury and encourage your body to lift more. With so many on the market, too, you can always find something that will give you what you need without you having to overspend.
q:

Will the shoes make me squat more?

a:

They can help you squat more, and the results can be pretty dramatic at first. In addition to the increased ankle motion, a good pair of squat shoes will also drive your heel into the ground, giving you an extra boost and ensuring that all the effort is coming from you, not from the shoes.

The other benefit of squat shoes is that they encourage you to keep your torso and spine straight. This will give you a lifting advantage and will also protect you from serious injury.
q:

Is it good to use wrestling shoes for lifting?

a:

Yes, it is, and in fact, Otomix, a brand we feature in our guide, is known for promoting their shoes as both for lifters and for martial artists. Otomix shoes are well known and come from a trusted brand.

Wrestling shoes will specifically help you with deadlifting. That is because of how lightweight and grippy they are. Wrestlers need good traction, more than almost any other athletes do.
Subscribe to our newsletter