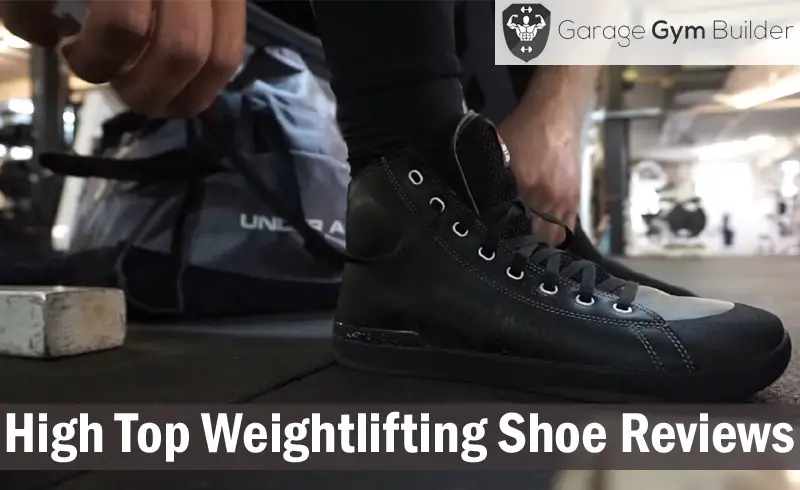 Best High Top Weightlifting Shoe Reviews 2018
Say "high tops" to weightlifters of any age and they'll no doubt think of Converse Chuck Taylors; such is the reputation and influence that shoe has achieved since its introduction waaay back when. But there's more to high top weightlifting shoes than any single brand and recent advances in materials and design have provided high top fans with a plethora of effective, attractive choices. Here we'll select our favorite from among three top quality shoes.
Our 3 Best High Top Weightlifting Shoes
There are two main functions powerlifting shoes must fulfill. First, upward force must be effectively transferred through them to the lifting platform. And second, they must help you maintain control of your feet throughout the lift; which is done largely through lateral support. Some lifters require extra support for their ankles as well. High top lifting shoes can provide that additional support. Here are three that do so effectively.
The CrossFit Power Lite is a relative newcomer to Reebok's line of CrossFit shoes and it's made quite an impression in the short time it's been around. Reebok's trademark high build quality is evidentthroughout and produces enhanced stability from ankle to sole where a multi-surface grip patternallows you to dig into any surface. Other features include:
4mm drop
Rubber outsole
Excellent lateral suppor
Anti-friction lining to mitigate heat generation within the shoe
The Power Lite TRs manage to feel much lighter than they actually are and provide a foot to floor relationship that can best be described as 'intimate'.
---
Sabo deadlift shoes have also proven their mettle during squats and for 2015 feature an array of technical enhancements. Their high cut provides additional ankle support during extreme lifts and their robust metatarsal strap will keep you glued to the floor where you want to be. Sabo has decided to keep the entire focus of the shoe on powerlifting and as a result has produced one of the best shoes on the market for that particular purpose. Features include:
Reinforced eyelets
Lateral strapping for precise fit
Side reinforcements prevent rollouts
High density, non-compressible outsole
---
The Titan Olympian was recently redesigned and now sports the wider toe box that is becoming increasingly popular among Oly lifters who believe it provides for more natural forefoot behavior when under extreme pressure. Visually the shoe retains the simple, all-business design ethos of earlier models which many traditionalists will no doubt appreciate. At $250 you would expect a shoe that delivers outstanding performance and the Olympian is surely that. Key features include:
Zero drop sole
Enhanced arch support
Real leather upper and Cambrelle lining
Sockliner made of high-density materials
Our Favorite for Best High Top Powerlifting Shoes
While the Sabo Deadlift Shoe is a fine piece of powerlifting kit it lacks the versatility of the Power Lite, which you can confidently wear not only on the platform but with any number of WODs and for a range of other CrossFit activities. The Titan Olympian, while a great shoe, bows to the Power Lite in the value department by a significant degree.
Bottom line: the Reebok CrossFit Power Lite TR will give you countless hours of effective weight training and should be the go-to shoe for any lifter requiring enhanced ankle support. It also looks great. One more thing on its side.
---
You may wonder why after the build-up we neglected to include Chuck Taylors on our list of the top 3 weightlifting high top shoes. The reason is that this venerable workhorse has simply been outclassed by many of today's other high tops. However, it remains highly functional and you can't go wrong with the price so we're sure this classic will continue to have its supporters for many years to come.
High top lifting shoes are not everyone's cup of tea but not everyone's skeletal structure is the same. Some folks simply need an added element of ankle support in order to safely and securely achieve their lifting goals. While we have determined our choice for best high top powerlifting shoes in this review, any of the shoes listed here will in fact do a fine job and which one you choose will be subject as much to your budget and taste as anything else.
If you would like to learn more about different types of weightlifting shoes currently on the market, check out this article where we do a comprehensive breakdown. We answer any question you could possibly dream up. Other great brand of weightlifting shoes are Otomix and VS Athletics. You can read our reviews for those brands here and here. I highly recommend reading these articles for more information.