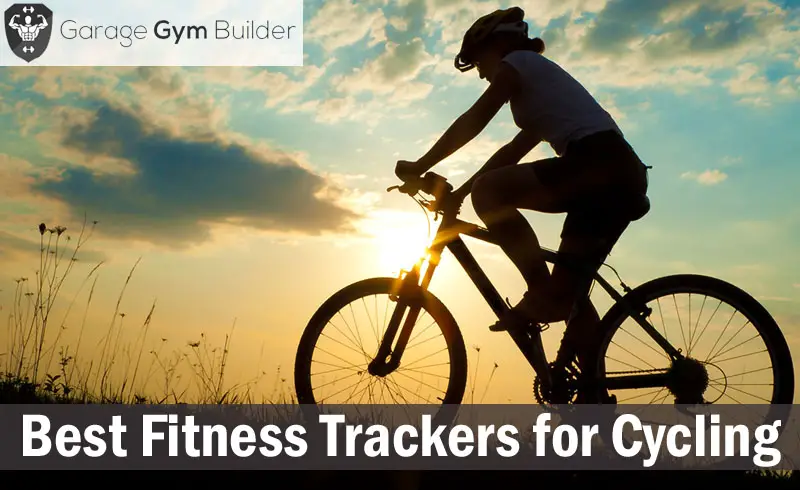 Best Fitness Trackers for Cycling Review 2019
When it comes to tracking their activity, cyclists need a device that is accurate, reliable and comfortable. While there are plenty of fitness monitors that will do a great job when you're walking or doing moderate activity, the field narrows considerably when it comes to specialized training for serious athletes. In this articles we zero in on the best fitness tracker for cycling.
Best GPS Watch for Cycling
The FitBit Charge 2 HR is the most powerful device in the Fitbit stable. It is fitted with GPS capability. It has a large LCD wrist display, and will efficiently cycle through your stats. The screen is backlit, has a touchscreen and is also controlled by three side buttons.
The Charge 2 HR features a heart rate monitor, and provides real time workout data. FitBit have packed eight sensors into this device, allowing it track more metrics than you get with most other devices. A built-in altimeter will allow you to track the floors climbed. The GPS technology will allow you to track your cycling route. At the same time, it will track your performance with step-by-step graphs for elevation, pace, heart rate and calories burned.
GPS allows you to get all of your detailed tracking done without having to carry your phone with you on the ride. You get exercise shortcuts, including cycling, weights, elliptical, spinning, yoga, circuit training, martial arts and kickboxing.
When you are ready to cycle, you first select Exercise on the FitBit Charge 2 HR. You then choose 'Bike'. The Charge will then acquire a GPS signal. While you are cycling, it will show you your time, your average speed and miles per hour, your heart rate, the calories burned during the ride and a clock. When your ride is over, simply push the 'finish line' button. It will then display a summary of your time, distance traveled, speed, max speed, average beats per minute, calories burned and elevation gained or lost.
Once you've finished your ride, you can log into the app to see a summary. This will show you the distance, the time it took, and your average speed. You'll also be able to see a map of where you went, a graph of your speed, your time in the different heart rate zones, peak cardio and fat burn. Below that you'll see a graph of your heart rate. Scroll down further to see the calories burned during the ride. The last thing you'll see will be the impact on your day - the calories burned and the number of minutes that you were active.
The process of monitoring is exactly the same for any other type of exercise. This gives you a pretty good idea, then, of the level of detailed analysis that you can get with the FitBit Charge 2 HR.
Apple Watch Sport

Apple Watch

Apple Watch Edition
The only difference between the three editions is the materials that they are made of and the bands. The Apple Sport is the best for cycling. Every watch comes in two sizes, a 38 millimeter and a 42 millimeter, designed as a men's size and a women's size.
The Apple watch is an accessory for your iPhone. It is not a stand alone device or a replacement for your phone. It is a companion. It's four primary functions are:
A watch

A relayer of phone notifications

A remote control for your phone

It acts as a fitness activity and sports tracker
The built-in heart rate monitor on the underside of the watch is very good. It will take your heart rate every ten minutes and automatically log that information into Apple's health app. It also tracks your heart rate continuously during exercise if you are using the native Apple workout app.
The workout app allows you to leave your phone behind when you are doing a workout. It will estimate your distance, calories burned and heart rate. If you have a playlist, you can cycle with just your Bluetooth headphones and your watch.
For cardio workouts, such as cycling, the optical heart rate sensor is very accurate. This is in contrast to many other brands out there where you find a dropoff inaccuracy as the exercise becomes more intense. However, for activities such as weight lifting, cross training and rowing, the Apple watch is not that accurate. However, the optical heart rate sensor is not the only way to monitor your heart rate data. You have two other options:
Pair a Bluetooth chest heart rate rate monitor to your watch

Pair a Bluetooth sensor to your phone and use a third party app such as 'Map My Fitness'
The activity app is clean, simple and easy to use. You get a daily calories burned goal plus and exercise goal. You also get idle alerts and a silent alarm. All of your activity and workout data syncs to your Apple iphone. You can then review your data in detail.
The Apple watch features most of the favorite sports apps. You can start and stop workouts on your wrist and then view your workout data. There are a lot of running and cycling apps available. You can also get health apps such as 'My Fitness Pal' and 'Lose It'.
The band on the Apple watch is easily interchangeable and there are a large number of band options to allow you to change up the look of the device. The watch has a touchscreen on the front and two physical buttons on the side of the device. One is a knob called the digital crown, which also presses in as a button with the other being more tactile. On the screen you have your watch face. When you press the digital crown button, you get access to all of your watch apps.
​From the watch face, you swipe down to view all of your iPhone's notifications. Swiping up from the bottom will put you on the 'glances' screen. These are little cards with glanceable information, which come from the apps that you have installed on the watch. It also gives you music controls for iTunes or Spotify or whatever music platform you use.
The apps on your Apple watch are not stand alone apps. They are basically the apps from your iPhone with a watch counterpart. You have to activate the app on your iPhone to get it to appear on your watch. All of your organization is done from the Apple watch app on the iPhone.
The Apple watch has a very good built-in haptic engine for vibration alerts. It uses a subtle, but clear, tap vibration not only for notifications, but also for activity reminders.
​There are no third party watch face provisions with the Apple watch. However, this watch has a very impressive LCD display (290 pixels per inch). It looks extremely bright and sharp in all sorts of light conditions. The watch is very comfortable to wear. Even though it is rather thick, it is one of the best fitting Smartwatches out there. It will not move on your wrist as you are cycling.
​The Apple watch battery will last about a day and a half. It also has a very good built in gyroscope, which will put the device to sleep when you are not looking at it.
​With the Apple Watch, you have two cycling options. Firstly, you can use the native Apple workout app. Alternatively, you can use a third party service. The distance, calories burned and heart rate is very accurate using the native app. However, the Apple app will not graph your workout data or your pace. You just get a list of the data points.
​The Apple watch relies on the GPS from your phone to collect your workout data. That means that you need to carry your phone with you when you're cycling if you are using a third party service such as Runtastic.
The Wilfull Fitness Tracker provides a sleek, slimlined band that is unobtrusive. The band is hard plastic with an outer layer of silicone. The status button lights up a beautiful LED display. When you detach the central tracker from the straps you will have a unit that can fit into your computer's USB port for data transfer and charging.
This tracker supports 14 sports modes including walking, running cycling, hiking and badminton. It is Io67 waterproof, allowing you to wash your hands and ride your bike in the rain with no problems for your device. You also get a sedentary reminder that prompts you to keep active throughout the course of the day. The watch can also act as a remote control for your phone' camera.
The Wilfull Fitness Tracker provides you with 24/7 heart rate monitoring. It also automatically record and analyses the quality of your sleep. It will connect to your phone' GPS so you can accurately track your cycling route.
The Wilfull Fitness Activity doesn't focus heavily on counting calories or carbs. However, for tracking how active you are, and for getting yourself more active, this band will definitely do that for you.
Want to check out a low cost fitness tracker option that gives you all the features you need at half the price? Be sure to read our review of the Itek activity tracker.
The Garmin VivoFit 2 features slimline interchangeable bands. The device is waterproof up to 5 meters, meaning that you can swim with it on. The band is super soft, lightweight and it fits on your wrist very securely.
The Garmin VivoFit 2 uses a cell battery that lasts up to a year. That gives the VivoFit a huge advantage over other competing products. The screen is very visible both indoors and outdoors. It does have a backlight to help you at night time. On the display you have time, date, steps taken, steps remaining to hit your daily goals, estimated distance, estimated calories burned for the day and activity minutes.
The VivoFit 2 can be paired with an ANT Plus heart rate monitor for more accurate heart rate monitoring. Through the Move IQ function, the VivoFit will auto detect such functions as walking, running, biking, swimming and using the elliptical trainer. It will also automatically track sleep, and provide auto goal, which adjusts your goal up or down according to what you managed to achieve on the previous day. This device also has a move bar to give you prompts to get active. However, there is no vibrate alarm function.
Conclusion
The best all round fitness tracker for cycling is the FitBit Charge 2 HR with inbuilt GPS. It will provide you with all the detailed monitoring of your cycle that you could ever ask for - and you won't need to take your phone along for the ride.
​If you've been wondering what Nike have got to offer in terms of fitness trackers, be sure to check our in depth review of the Nike Fuelband.
My name is Jim Roose. I'm a former competitive power lifter and gym owner. I've bought millions of dollars of fitness equipment over the last 20 years. This site is my way of giving back to the fitness community that's done so much for me. Every article on here is carefully researched and written by me. Leave a comment if you have any questions.