Best Elliptical for Home Use Reviewed and Rated
last updated:
Mar 23, 2020
In this guide, we will be evaluating a popular piece of workout equipment known as an elliptical machine. The best elliptical trainers are the fantastic pieces of equipment for low impact cardiovascular exercise.
This exercise unit is perfect for use at home, it can be set up out of the way in a house room or the garage and will be a great natural source for regular training which will give considerable benefits to the cardiovascular system.
We have outlined the benefits, as well as the proper technique below. However, if you are just here for the best elliptical machine reviews, you can find that below.
Some people say this product works on a similar principle to an exercise bike or rowing machine, the principles may well be similar, but an elliptical machine offers much more.
In a Hurry? The test winner after 14 hrs of research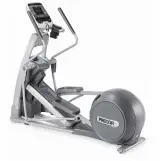 Precor Elliptical Fitness Crosstrainer
Why is it better?
350 pound max user weight
Long stride length
20 resistance levels
35
Researched Sources
8k
Reviews Considered
14
Hours Researching
10
Products Evaluated
Accessories
Ease of Use
Effectiveness
Value
By Default
10 Best Home Elliptical Trainer Reviews
1

. Precor Elliptical Fitness Crosstrainer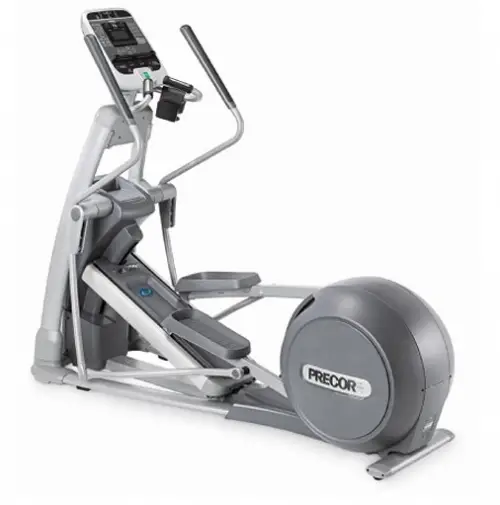 350 pound max user weight
Long stride length
20 resistance levels
The Precor EFX 576i provides you with the most significant stride width of the elliptical machine that we've seen, with between 21.2 and 24.7 inches on each stride.
You can also increase your intensity by inclining the angle between 15 and 40 degrees.
Read more
You get 20 levels of variable resistance, along with 14 pre-set programs, a fitness test, and a customizable workout.
A hand-held heart rate monitor gives an accurate pulse recording.
This elliptical machine has a heavy-duty frame that is capable of handling a max user weight of 350 pounds. It features a unique 6 phase generator system that significantly reduces friction and wears, making the action glide free and smooth. The two-part powder coating process gives you a rust-resistant finish.
From our list of the best elliptical machines for home use, this product is highly rated.
2

. Schwinn 470 Elliptical Machine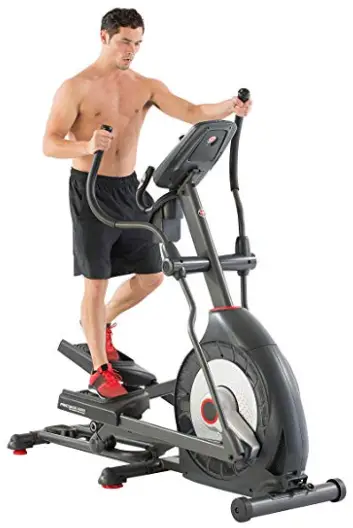 29 workout programs
25 resistance levels
Dual track LCD
The Schwinn 470 Elliptical trainer has high-speed inertia weighted perimeter flywheel. This elliptical machine provides you with 29 workout programs, including two user settings that allow you to create your programs. You also get in-built goal tracking to keep you motivated and on-track.
Read more
The high spec computer system provides you with 25 resistance levels that are aligned to your ability level.
The dual-track LCD of the Schwinn 470 Elliptical trainer allows you to view 13 display settings at any one time. It is a very sturdy unit that looks great.
It has a USB charging port and data exchange and is presented in a compact, stylish look. Schwinn Connect goal tracking allows you to export all of your training data.
Schwinn 470 is the second-best home elliptical on our list because this product is one of the most expensive.
3

. Exerpeutic 1318 5000 Magnetic Elliptical Trainer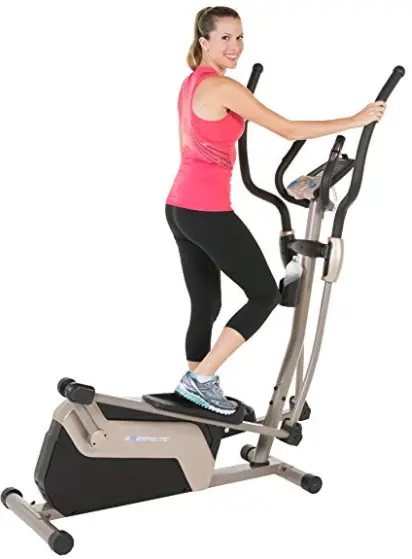 Good accessories
Sturdy build
Sleek Design
Hi tech features
Easily supports weight up to around 270 pounds, if you have a tablet or smartphone, want to read, or check emails, do some research, you can on this elliptical machine all while you are getting fit.
It has a high performing computer which you can program, a drive system, double transmission, magnetic-tension, designed in hand sensors to keep an eye on heart rate.
This model easily fits in with our top three choices for high quality and high-performance elliptical machine, which is one of the best elliptical units for home use.
Read more
It is what you get.
A sturdy exercise unit taking the weight to 270 pounds, this means a strong, reliable high performing elliptical machine.
The stride distance goes to eighteen inches, so this is good for all lower muscles, a choice of twelve excellent programs for you to use for workouts, so you go forward becoming more fit.
Double action handlebars innovatively designed and fitted with non-slip grips. For stability and support, this equipment has a large size pedal for striding. Discretely designed hand sensors so that you can keep a watchful eye on your heart rate while exercising, the device is a sleek design with top quality engineering, top performance via a three-piece crank system.
A high-performance elliptical machine which gives of a modern design which fits in nicely with home decorations.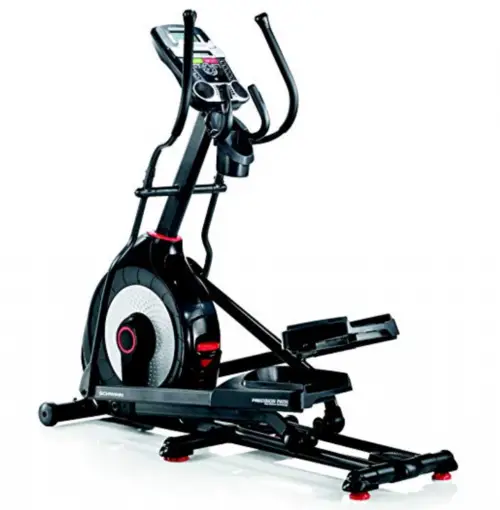 22 workout programs
20 resistance levels
Dual track LCD
The Schwinn 430 Elliptical trainer has high-speed inertia weighted perimeter flywheel.
It also provides you with 22 workout programs, including two user settings that allow you to create your programs. You also get in-built goal tracking to keep you motivated and on-track.
Read more
The high-speed computer system provides you with 20 resistance levels that are aligned to your ability level.
The dual-track LCD of the Schwinn 430 Elliptical trainer allows you to view 13 display settings at any one time.
It is a very sturdy unit that looks great. It has a USB charging port and data exchange, and I presented it in a compact, stylish look. Schwinn connects goal tracking allows you to export all of your training data.
Very friendly and good performing elliptical machine is offering a good range of step by step exercises.
5

. Stamina in Motion Elliptical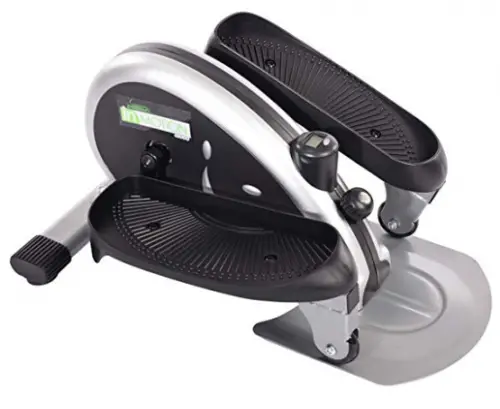 Compact, lightweight and versatile
Low impact
Adjustable tension knob
Not suitable for tall people
The Stamina In-Motion Elliptical Trainer is a compact, lightweight mini trainer that is ideal for use at the office or while you are watching TV.
Although it has no upright supports, it provides you with a great mechanism for a seated elliptical experience.
Read more
The foot pedal only chassis is exceptionally lightweight and compact so that you can unobtrusively place it under your desk or kitchen table.
The Stamina In Motion Trainer has a very low impact design that reduces pressure on the joints, making this a perfect choice for people with knee and back problems.
A centrally located electronic monitor tracks your strides, workout time, and calories burnt. An adjustable tension knob provides smooth variable resistance.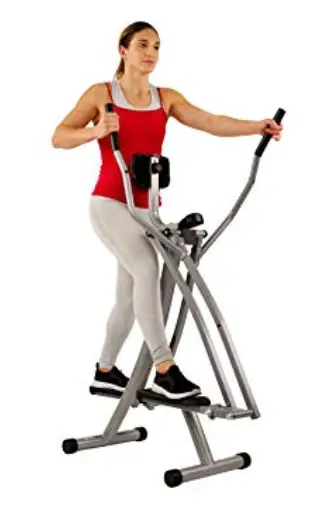 8 tension levels
Large, anti slip foot pads
Micro tension controller
The Sunny SF E-902 provides a smooth, fluid glide walker with a micro-tension controller.
This trainer features more extensive than normal, anti-slip foot pads for a more comfortable fit. It also has adjustable arms to provide you with an upper-body workout.
Read more
A hand pulse monitoring system provides you with heart rate readouts. It is a very robust, sturdy unit that has a maximum weight of 220 pounds.
The Sunny E-902 comes with a multi-function workout computer.
The LCD gives you critical training information on your vital workout stats. You get 8 tension levels to allow you to progress your workouts.
It is a compact, manageable elliptical machine that weighs in at a lightweight 68 pounds.
The low price of this product make it the best elliptical machine for home.
7

. Nautilus E614 Elliptical Trainer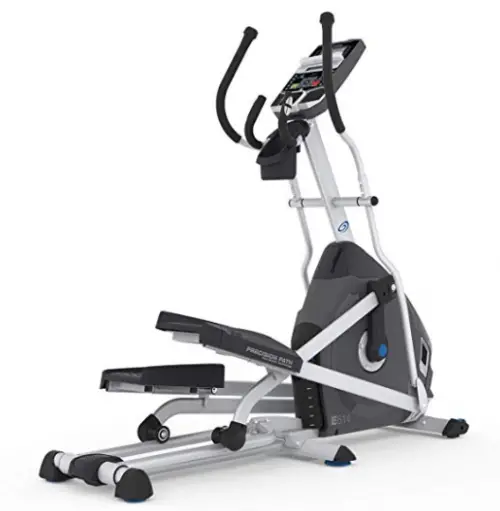 20 inch stride length
22 workout programs
20 resistance levels
The Nautilus E 614 elliptical trainer includes a high speed, high inertia flywheel to power the unit in a very smooth manner.
The 20-inch stride length allows you to burn more calories. You get 22 workout programs, allowing you to work at any level of fitness.
Read more
You also get 2 user profiles. 20 resistance levels also allow anyone to work at their required intensity level.​
The Nautilus E 614 comes with a dual-track LCD that presents all of your vital training data, including an elliptical calorie counter.
You can export all of your workout stats to the Nautilusconnect website for later analysis. There is also a charging USB port.
This trainer also features a high-quality acoustic chambered speaker system.
8

. ProForm 150i Elliptical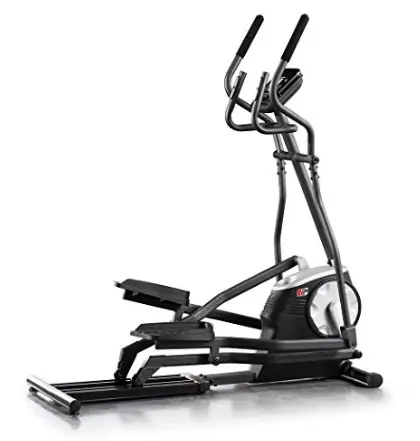 CROSS CIRCUIT Program
Zero impact
Short footprint
The ProForm 150i Elliptical is a premium grade elliptical machine that provides you with a zero impact motion.
This Proform elliptical machine features a heavy-duty inertia weighted flywheel for the smoothest range of motion. A low pivot point on the handle-bars allows for greater upper body recruitment.
Read more
The handle-bars also feature heart rate sensors to allow you to monitor your pulse as you train.
The large LCD monitor provides you with a full range of training programs. Octane uniquely offers its CROSS CIRCUIT program, providing you with a blend of cardio and strength programs for inclusive development.
ProForm 150i Elliptical has a compact footprint, making it easier to get on and off the elliptical machine. The compact design allows it to fit into most areas, including those with low ceilings.
9

. ProForm 520E Elliptical Trainer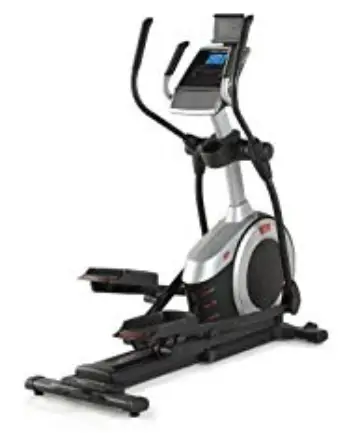 Powerful LCD display
Frictionless magnetic brake system
18 built in workout program
Not ideal for tall people
The ProForm 520E Elliptical Trainer is a sturdy cross-trainer that is packed with features to provide you with a top-quality cardio workout.
The backlit LCD provides a high-resolution readout of your crucial workout data.
Read more
A programmable computer provides you with 18 great workout programs, including a heart rate program. It measures your heart rate three ways, including telemetric hand grips and an infra-red ear-lobe clip.
The ProForm 520E Elliptical Trainer gives you a 19-inch elliptical stride length, with the footplates traveling 21 inches. A frictionless, magnetic motorized brake system provides an exceptionally smooth movement arc.
There are 18 variable resistance levels, providing challenging workouts for beginners, intermediate users, and pro athletes.
This elliptical machine comes with a lifetime frame warranty.
10

. Gazelle Glide Trainer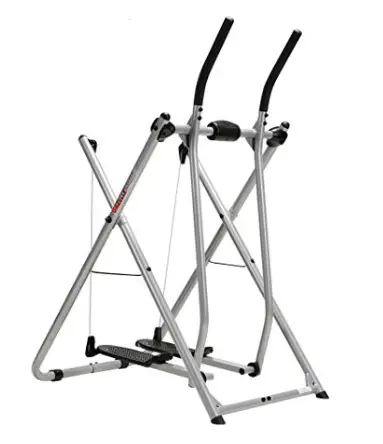 Full stride action
5 function computer
Extra wide non-slip foot platforms
Solid framing
Max user weight limited to 250 pounds
The Gazelle Glide Trainer is a non-motorized glide trainer that allows for a full stride, non-impact walking action.
The great stride motion that you get on this elliptical machine is a highlight. You also get an easy to use, 5 function computer which tracks your speed, distance and time.
Read more
The design is tech simplicity, and the benefits of keeping fit are excellent.
It is a basic design that focuses on walking stride, distance, stamina, and muscle exercises. The other function offers an excellent robust system for training the arms.
This Gazelle elliptical model will give very good cardio work-outs while toning up muscles.
You also get extra-wide non-slip foot platforms. You also get 1.5 inch rolled steel framing and padded handlebars for increased comfort. The max user weight on this glider is 250 pounds.
Criteria Used for Evaluation

Accessories
Accessories offer more choices
Many models offer accessories in the form of tech; high-end devices come with a programmable computer.
This means the WWW is at your fingertips, you can access your emails to keep up with correspondence, catch up on the real news via independent websites, check out the latest fashions, movies, book a trip, and importantly, you can download training programs which can be chosen by you to suit your aims.
Accessories can be tech for monitoring your heart while you train to keep an eye on your cardio performance, in this current high-tech age if you shop around you will find elliptical trainers with amazing technology designed for use by you while you are at home either enhancing or just simply maintaining your fitness and muscle tone.
A common feature but unknown several years ago are the now ever-present display screens with large reader-friendly up to the moment graphics to keep you fully informed.
Accessories also can include extras such as peddle straps, or other large pedals for better stability for working out.
We have come up with a mixed selection of something for all preferences due to our similar product research; if you like fitness combined with extra accessories, you will find a model here to suit your tastes.

Ease of Use
Ease of Use is helpful on the path to fitness.
The elliptical machine benefits you will get is that you will be able to tone your body, according to how you wish it should look like. Almost all elliptical machines have their elliptical machine techniques to work out with, but you must never forget to record all your sessions with it. The devices mentioned above have specified that it comes with programs that will help guide you to achieve the kind of toned body you wish to have.
The elliptical machines are the most used and misused piece of equipment in the gym. If all you are going to do just steadily focuses on a twenty to thirty-minute workout, you are only missing out the most amazing potential the elliptical machine has to offer. If you keep doing the same workout each day, your body will become accustomed to it. The more your body adapts, the lesser your body burns calories instead of improving it.
Mixing up elliptical machine workouts will make you burn more of your stored calories and at the same time, gain the fitness you always wanted to achieve faster than before. The best workouts you can do with your elliptical machine include High-intensity Short Intervals, Hill Climber, Mile Repeats, and The Ladder.

Effectiveness
If you are serious about buying one of the elliptical machines from our list and place it in your home, you should consider a couple of things first. The most obvious reason would be how much you are willing to spend on a single elliptical machine. If you have no qualms about how much the best elliptical machine, there is in the market, you move on to what kind of workouts you are trying to achieve and what it is going to be used for.
If you tend to use the elliptical machine intensely and almost every day, you need to buy the high quality and extra durable machine. You should also consider putting up warranties on your device, too, as this will save you money by paying more in the event your elliptical machine gets broken one day. One of the most overlooked factors that buyers never consider is the available space for their new device. You can find new models today that fold like the treadmills do, which could be a better option for those households that do not have enough room to spare.
To decide which of the best elliptical machines are right for you, you need to look at each of its features, and the workout programs that are very important to you as this will help you get to the perfect elliptical machine.

Value
Value brings a nice balance for fitness training
Our comparative research looked for the best elliptical machines which offer different levels of performance; we chose this approach because we wanted to present a guide with a choice for all preferences and all personal fitness targets.
At the upper end of the market, there is a dazzling choice of elliptical trainers with so many options for extra accessories. The type of tech now designed into the most costly models gives so much value in terms of adding recreation to the training, monitoring the bodies performance and gaining access to online technology for leisure or for finding training programs to suit your aims.
All this information is presented via reader-friendly readout screens with up to the second information.
Middle range machines offer accessories through design features, functions, and better ease for use, this can be better-designed walking-stride features, more magnetic resistance levels, better gearing or motion systems.
Basic models offer the basics required from an elliptical trainer; they function, they work, they are built for quality, easy on the money, and ideal for home use.
Expert Interviews & Opinions
Most Important Criteria
(According to our experts opinion)
Experts Opinion
Editors Opinion
Users Opinion
By Default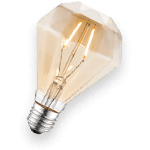 When choosing an eliptical machine.
When choosing a machine, you need to first think about how often you will use it, where it can be easily assembled in the home for regular use and exactly what your fitness aims will be.
Ask yourself if you will need accessories or extra features, including high-tech features, or are you looking for mid-range features or just the basic model for regular fitness training.
Go online, visit reputable buying guides, look at brand maker websites, gather information, this way, you will be much better placed for choosing precisely the right machine for using at home.
Durability
Think about durability; these best elliptical machines do look robust, sturdy, and built from strong materials.
However, there are models on the market which are offered at a comfortable price, but these savings have a value implication which goes further than money. To produce a product, so it looks good but is made of necessary materials will mean the product is more prone to wear out or break.
Look closely at which materials are best for building these machines and giving excellent durability. It can save you hitting problems in the future after buying the product.
Frequently Asked Questions
q:

Which should I chose, go running or use a machine?

a:

The choice is not balanced because elliptical machines cover more than the benefits for health offered by running. The best option would be to blend both activities and push up your level of fitness.
q:

Which muscles get the benefits?

a:

The quadriceps
The hamstring muscles
The heart
The chest
The biceps
Back muscles
Gluteus maximus
Core muscles
An excellent range of vital muscles all which need to be kept toned.
q:

Can I burn off unwanted fat?

a:

The answer is yes, as hard as you train and as often as you train, you will be burning up body fat.
q:

Are warranties given with this product?

a:

Yes, they are but look closely at the wording in the warranty, you don't want a dodgy 90-day deal where the machine fails on day 91.

I'm always tempted to think that short term warranties tend to suggest that the maker of the product either knows something they are not sharing, or they have little confidence in the durability of the product. Six months or longer are better warranties.
q:

Are these just glorified excercise bikes without a saddle?

a:

Bikes and elliptical machines are great for cardiovascular health, but after this, they offer somewhat different though at times similar health benefits.

The muscles used for cycling while seated are exercised differently than a standing machine and elliptical machines cover exercise for more different types of muscles.
q:

Are they as good as real running?

a:

Running outside does give you a nice view at times, but a machine will give you a total body workout, lower and upper body, you can even set the resistance levels on these to simulate different inclines or challenges.

You get to move or work your arms more on a machine if it includes those features.

Many of us are constrained by the weather when we want to go out running, but some of the best elliptical machines do not limit you, they are ready and waiting no matter what the weather is like.
Subscribe to our newsletter