Top 10 Agility Ladders Reviewed and Rated
last updated:
Mar 31, 2020
Agility is the ability to change position quickly and be able to control your body in mid-flight. It is the mark of a skilled sportsperson. Agility training will make you fitter, faster - and it will burn body fat like crazy. An agility ladder is an inexpensive plastic multi rung ladder that can be used on any flat surface. In this article, we review the 10 best agility ladders in today's market.
In a Hurry? The test winner after 225 hrs of research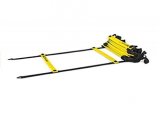 SKLZ Agility Ladder
Why is it better?
Lies very flat
Training DVD
Stakes to pin to grass
Very rugged rung construction
6
Interviewed Experts
18
Researched Sources
9k
Total Readers
11k
Reviews Considered
225
Hours Researching
14
Products Evaluated
Materials
Adjustability
Ease of Use
Portability
Features
By Default
10 Best Agility Ladders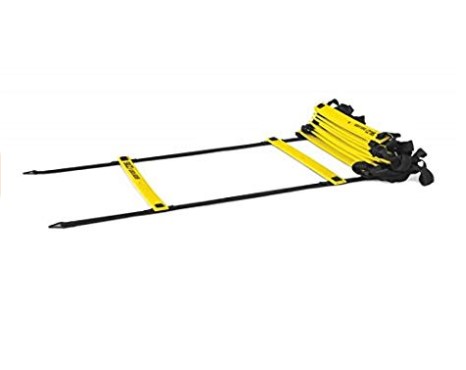 Lies very flat
Training DVD
Stakes to pin to grass
Very rugged rung construction
The SKLZ Agility Ladder is a powerful tool for improving your workout. This will help you improve responsiveness as well as technique. The ladder has an elite design with heavy-duty plastic rungs.
Read more
The SKLZ quick ladder is a flat style device with bright yellow rungs and black side straps. It provides you with a total of 11 rungs and is 15 feet in length. The package contains stakes to pin the trainer down when working outside on the grass and a handy carry case. You also get a very handy training DVD.
The rungs on the trainer are extremely durable and, unlike fewer sturdy models, won't overlap and get caught up with one another. The tote back allows you to bundle the athletic ladder together for easy transport. The stitching on the seams of the straps is very high quality. It is easy to fold and lightweight, and well priced, making the SKLZ the ideal agility training solution.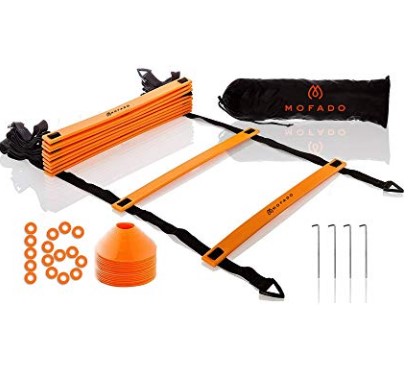 Pegs and D rings secure ladder to the ground
16 durable plastic cones
Adjustable Rungs
Heavy-duty nylon straps
Not pre-set and ready to use
Mofado has created this high-quality ladder made with 12 adjustable rungs which are perfect for athletes of any age. There are 16 field cones included with this set. They are easy to use and convenient, perfect for the professional athlete or the kids' soccer coach.
Read more
This high-quality ladder will help you get to the next level. This will help you increase your speed and stamina. It will also help you with balance and coordination. Agility will also improve.
This set is high quality and ready to use right out of the box. The ladder is 19 feet long with 12 rungs that are adjustable. It also includes 16 field cones and 4 metal pegs to keep your ladder from sliding around. All this comes with a convenient bag to carry it in.
3

. Yes4All Durable Ladder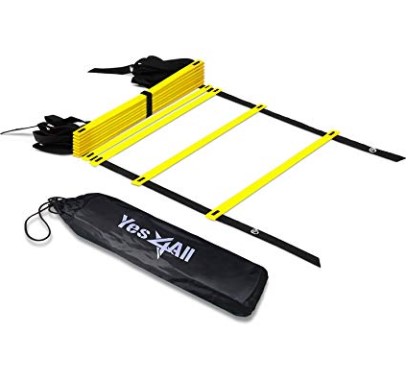 Range of rung options
Twist free straps
Ability to snap-lock more rungs on
Best value for money
Rungs are slightly curled at the ends
This ladder comes in two colors and a choice of how many rungs you want, as well as three different lengths. All of this comes with a convenient carry bag so you can take your workout with you.
Read more
The Yes4All Agility Ladder is a heavy-duty training device that is available with 8, 12 or 20 rungs. The distance between each rung is 15 inches and the black straps along each side are thick and twist free. You are able to choose yellow or blue rungs. The package comes with a carry bag to make it easy to transport.
The length of this Yes4All Agility Ladder ranges from 11 feet for the eight rung model to 25 feet for the 20 rung version. You have the ability to snap more than one ladder together in order to make one longer trainer. This is the best value high-quality ladder that we came across.
4

. Endurance Pro Endurance Agility Ladder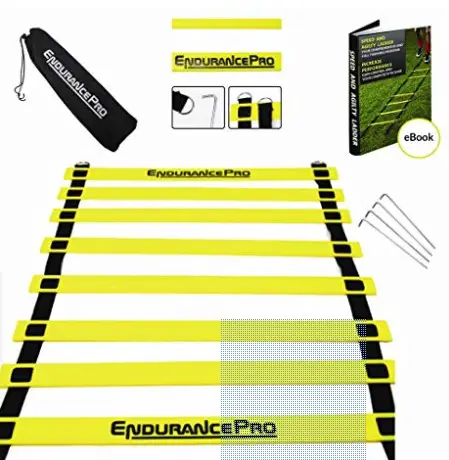 Adjustable, heavy-duty rungs
20 inches rung width
Training e-book
No hooks or enclosure loops to secure them
This is a durable ladder that is easily secured and ready to use. It includes a free drills ebook. If you use this equipment, you will see a difference in your team. They will have better leg strength, balance, and speed.
Read more
The Endurance Pro Agility Ladder provides 11 bright yellow rungs that are completely adjustable to allow you to customize your workout. The rungs have a width of 20 inches, making them longer than most and giving you more room to work within. Once in place, the rungs will stay in position even if you knock them with your foot.
The heavy-duty nylon straps are 15 feet long and securely attach the rungs. A carry bag is also provided to make it easy to transport the ladder. In addition, you get an informative training e-book that contains a number of plyometric drills. This a very well built product that will not bunch up or curl when you are performing your agility drill training.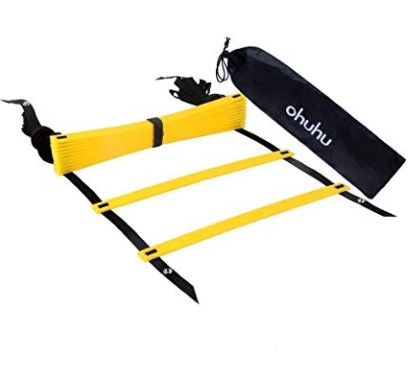 Removable rungs
Rugged construction
Velcro storage straps
Difficult to adjust rungs
The Ohuhu ladder is easy to set up and use. You simply unroll it where you need it. You can also hook a couple of them together if you want a longer workout space. This ladder is made of high-quality materials and comes with a handy carrying bag.
Read more
The Ohuhu 8 rung agility trainer contains rungs that are made from thick, durable plastic that is placed 15 inches apart, though they are adjustable to allow you to do different drills. Rungs can also be easily removed if they are damaged and need replacing. You also get a bonus carry bag with this purchase.
Ohuhu 8 rung agility trainer sits very true and flat on the floor. If you miss your step, they will not rise up and get caught in your foot. When your workout is over, the device can easily be rolled up and enclosed with a handy velcro strap before slipping into the carry bag.
6

. GOLME PRO Agility Ladder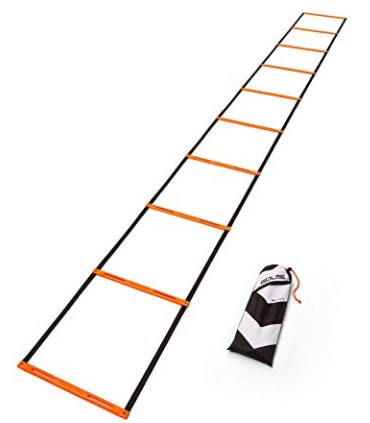 3-D strong construction
True Fit geometry for flat surface placement
Instant twist design
The pins are not really long enough
Golme Pro has a special geometry that helps you increase your speed and strength. You have a choice of three sizes, whichever will work best for your individual workout. It also comes with stakes and a carrying bag.
Read more
The GOLME PRO ladder is a double agility trainer with 10 large rungs that are made from 3-D strong run construction. The sturdy rungs are bright orange and the thick, well-sewn straps are jet black. It comes with stakes to allow you to pin it down when training on the grass and a handy carry tote bag.
GOLME PRO ladder is designed with True Fit geometry to allow for a perfect square setting on the floor. The 3-D rungs are made to sit very flat on the floor without curling or rising up if touched when you are running through them. The instant twist design allows you to set the device up instantly.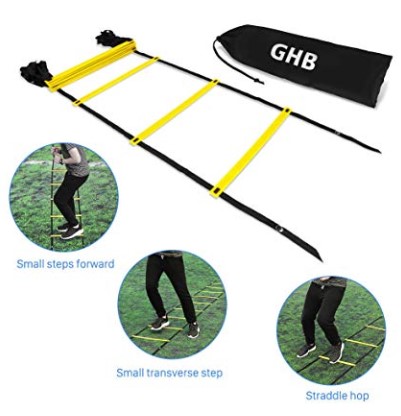 12 heavy-duty rungs
Lightweight and portable
Very durable straps
No pins to secure the ladder outside
The GHB Agility Ladder is 20 feet long with 12 durable plastic rungs. It also comes with a handy carrying bag. This ladder is great for improving your foot quickness. It comes in two different colors and is handy with all kinds of drills.
Read more
The GHB Agility Ladder is an extra-long product that provides you with 12 heavy-duty yellow rungs, which are spaced 15 inches apart. Each rung is 17 inches wide and designed to sit perfectly flat on the surface so as not to get caught up with your foot. You also get a carry bag for ease of transport.
The total length of the GHB Pro Agility Ladder is 20 feet, making it the ideal length for most agility training workouts. The straps are very durable and use quality heavy-duty stitching to secure the rungs. The whole thing is very lightweight and portable, allowing you to take it anywhere for a great workout on the go.
8

. Pepup Sports Super Flat Agility Ladder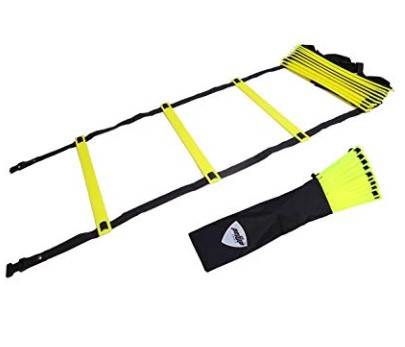 10 adjustable, flat rungs
Fasteners to attach extra rungs
Twist free design
Difficult to fit the ladder into the carry bag
The Pepup Agility Ladder is a fantastic speed and agility workout, helping with your core strength and flexibility. It is great training for any field sport and will help athletes of any age with coordination training.
Read more
The Pepup Sports ladder offers 10 adjustable flat yellow plastic rungs that are held together by black nylon straps. The standard distance between each rung is 16 inches. The ends of the straps have fasteners to allow you to snap additional portions on to extend the run. You also get a waterproof tote bag to carry the equipment.
The design of Pepup Sports ladder ensures that the straps will not easily get twisted up in the device. Once set and laid flat, the rungs will stay in place, without curling up or getting caught in your feet. It has a very good price point and provides you with everything you need for a solid, quality workout.
9

. Cintz 30 Foot Fixed Rung Ladder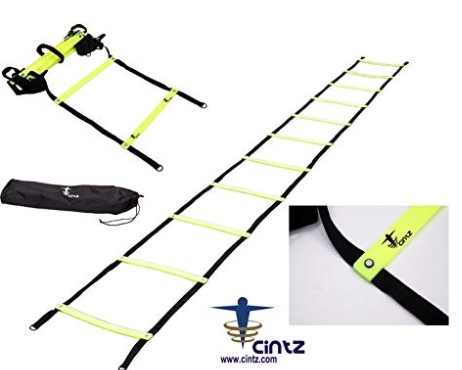 22 rungs over 30 feet
Can be separated into two ladders
Large stacking handles
Under heavy use, the rungs begin to slide
The Cintz ladder is 30 feet long but can be broken into two 15 foot ladders for an easier workout. It is made of rigid nylon and strong plastic. It is handy that you can just unroll this ladder and it is ready to go.
Read more
The Cintz ladder provides an extra-long 30 foot of training space, with a total of 22 spaces. The device can be pulled apart to provide you with two 15 foot length ladders. They reattach by way of velcro tabs. You also get four metal spikes to hold the trainer in place when training on the grass. The rungs are made from hardy yellow plastic and the straps are thick nylon.
The Cintz trainer comes with large stacking handles, allowing you to easily roll up the device and place it in the convenient carry bag that comes as an extra. Although not sewn into the side straps, the rungs will sit securely in place while you are training, without curling up.
10

. World Sport 30 Foot Flat Rung Agility Ladder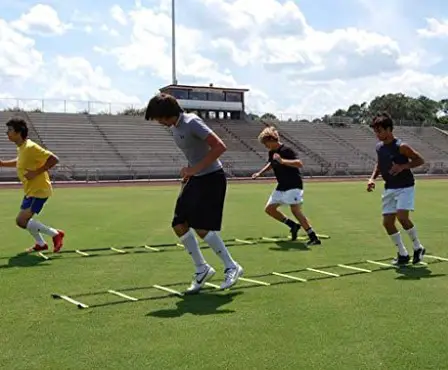 30 feet long
Can be divided into two separate ladders
Extremely rugged
Ideal soccer training ladder
Rungs may move around under heavy use
The World Sport is a 30-foot ladder with fixed rungs that can be broken down into two 15-foot ones. This a perfect ladder for football training, one that the whole team will find useful. There is a carrying bag included so this set will quickly become your coaching best friend.
Read more
The World Sport 30 Foot Flat Rung Agility Ladder is extra long, making it an ideal football training ladder. It provides perfectly flat yellow rungs, which will sit true on any flat surface. A cool feature of this device is that it can be broken down to give you two 15 foot ladders. The rungs are fixed in place and are very securely sewn to the heavy-duty black straps.
This package comes with a convenient carry bag to allow for ease of transport. Essentially two ladders for the price of one, the World Sport 30 is a very durable, reliable performer that will not bunch up while you're training, providing you with exactly what you need for a great agility session.
Criteria Used for Evaluation

Materials
Paying attention to what materials your ladder is made of is important because you need a piece of equipment that is extra durable. This is something which is going to be laying on the ground and people are going to be walking on it, so you want something which is going to last.

Adjustability
Pay attention to the adjustability on your ladder. Do you want rungs that move and can be adjusted or ones which stay in one place? It all depends on what type of workout you are doing. Some of the ladders are longer than others and many on this list are short but can be attached or are long but can be broken into two halves. It is nice to have that versatility.

Ease of Use
You do not want to hassle with setting it up every time you are ready for a workout. Find one you can just roll out and be ready to go. After you have had your intense workout you want something you can pick up easy and be ready to go.

Portability
Being portable means you can take your equipment wherever you need to be working out. This is perfect for coaches especially because you need to be able to easily roll it out onto the field for practice and then roll it back up and put it into a convenient carry bag at the end of the practice.

Features
When looking at features for these ladders you will be considering things like how durable the material is, are the rungs adjustable, and does it come with pins so you can secure it to the ground? Sometimes you have the choice between different colors too. Take your time and do some research.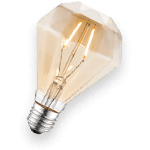 Use your agility ladder to push past your comfort zone.
Many athletes know how to do ladder drills but they are not taking full advantage. The reason you do these drills should be to challenge your body. You want to develop new muscle patterns and use those muscles to improve balance and agility.
Use ladders for warm up drills
Your warm-up goals are to increase your heart rate and improve your reaction time. There are traditional warmups but many of them tend to be monotonous. Using the ladder instead can make warm up a little more fun which will get you a more positive reaction.
Frequently Asked Questions
q:

What is the best way for a beginner to use the agility ladder?

a:

Start by doing some sideways shuffles up and down the ladder just to practice your foot movements. Then try skipping through the rungs and other movements going up and down the ladder.
q:

Will an agility ladder help me develop my legs?

a:

When you work out with the agility ladder it will help to strengthen your legs including your joints along with the ligaments and the tendons. It will also help your focus and coordination.
q:

Could an agility ladder help shape up my legs?

a:

On top of boosting your metabolism and helping you burn calories, a ladder will help slim down your legs. Hamstrings, quads, and glutes are challenged more than any other muscles in your body.
q:

Is training with an agility ladder good for heart health?

a:

Ladder drills get your heart rate going and they provide great cardio. This will help keep your heart young and healthy. Use it to get about 150 minutes of cardio per week and you will be doing your heart a great favor.
q:

Is agility training good for mental health too?

a:

Agility training with the ladder is great for your brain too because it keeps you thinking fast. It requires you to concentrate and keep your focus on what you are doing.
Subscribe to our newsletter