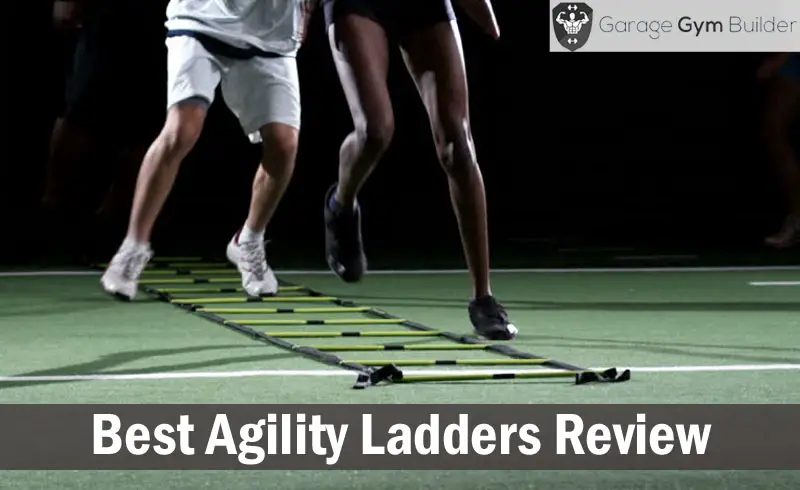 Best Agility Ladders 2018 Review
Agility is the ability to change position quickly and be able to control your body in mid flight. It is the mark of a skilled sports person. Agility training will make you fitter, faster - and it will burn body fat like crazy. An agility ladder is an inexpensive plastic multi rung ladder than can be used on any flat surface. In this article, we review the 10 best agility ladders on today's market.
A Brief Glimpse at the Top Agility Ladders
The best speed and agility ladder on the market right now is the SKLZ flat design ladder, which comes with 11 stable rungs, stakes to pin the device when training outdoors and a comprehensive training DVD. Our second favorite is the Trained Plyo Ladder, with it's rugged 112 rung fully adjustable system, cones, training ebook, carry case and lifetime warranty.
Rounding out our top three favorites is the Yes4All trainer, which you get in 8, 12 or 20 rung versions. This is the best value high quality agility running ladder that we came across.
We have rated the top 10 agility ladders on a 1-5 rating scale based on price and durability, and then given an overall rating for each one. This makes it easy for you to compare them.
The Top 10 In Depth
The SKLZ quick ladder is a flat style device with bright yellow rungs and black side straps. It provides you with a total of 11 rungs and is 15 feet in length. The package contains stakes to pin the trainer down when working outside on grass and a handy carry case. You also get a very handy training DVD.
The rungs on the trainer are extremely durable and, unlike less sturdy models, won't overlap and get caught up with one another. The tote back allows you to bundle the athletic ladder together for easy transport. The stitching on the seams of the straps is very high quality. It is easy to fold and lightweight, and well priced, making the SKLZ the ideal agility training solution.
Lies very flat
Training DVD
Stakes to pin to grass
Very rugged rung construction
The Trained Speed Agility Ladder is a full sized training device with 12 rungs, each of which are constructed from 20 inch by 1.4 inch bright yellow plastic. The rungs are fully adjustable along the length of a black, non-twist strap and are 17 inches in width. They sit flatly and are very sturdy, even when stepped on by people over 250 pounds.
Trained Speed Agility Ladder comes complete with 6 low density polyethylene training cones, an extensive training ebook and a handy carry tote bag. The manufacturers stand behind this product with a lifetime replacement warranty. They also provide an excellent level of customer service and feedback. This is a quality, tangle free soccer agility ladder that will give you a reliable workout every time.
Fully adjustable rungs

Very sturdy rungs

Training ebook

Lifetime replacement warranty
No pegs to secure to the ground
The Yes4All Agility Ladder is a heavy duty training device that is available with 8, 12 or 20 rungs. The distance between each rung is 15 inches and the black straps along each side are thick and twist free. You are able to choose yellow or blue rungs. The package comes with a carry bag to make it easy to transport.
The length of this Yes4All Agility Ladder ranges from 11 feet for the eight rung model to 25 feet for the 20 rung version. You have the ability to snap more than one ladder together in order to make one longer trainer. This is the best value high quality ladder that we came across.
Range of rung options

Twist free straps

Ability to snap lock more rungs on

Best value for money
Rungs are slightly curled at the ends
The Endurance Pro Agility Ladder provides 11 bright yellow rungs that are completely adjustable to allow you to customize your workout. The rungs have a width of 20 inches, making them longer than most and giving you more room to work within. Once in place, the rungs will stay in position even if you knock them with your foot.
The heavy duty nylon straps are 15 feet long and securely attach the rungs. A carry bag is also provided to make it easy to transport the ladder. In addition you get an informative training e-book that contains a number of plyometric drills. This a very well built product that will not bunch up or curl when you are performing your agility drill training.
Adjustable, heavy duty rungs

20 inches rung width

Training e-book
No hooks or enclosure loops to secure them
The Ohuhu 8 rung agility trainer contains rungs that are made from thick, durable plastic that are placed 15 inches apart, though they are adjustable to allow you to do different drills. Rungs can also be easily removed if they are damaged and need replacing. You also get a bonus carry bag with this purchase.
Ohuhu 8 rung agility trainer sit very true and flat on the floor. If you miss your step, they will not rise up and get caught in your foot. When your workout is over, the device can easily be rolled up and enclosed with a handy velcro strap before slipping into the carry bag.
Removable rungs

Rugged construction

Velcro storage straps
Difficult to adjust rungs
The GOLME PRO ladder is a double agility trainer with 10 large rungs that are made from 3-D strong run construction. The sturdy rungs are a bright orange and the thick, well sewn straps are jet black. It comes with stakes to allow you to pin it down when training on the grass and a handy carry tote bag.
GOLME PRO ladder is designed with True Fit geometry to allow for a perfect square setting on the floor. The 3-D rungs are made to sit very flat on the floor without curling or rising up if touched when you are running through them. The instant twist design allows you to set the device up instantly.
3-D strong construction

True Fit geometry for flat surface placement

Instant twist design
The pins are not really long enough
The GHB Pro Agility Ladder is an extra long product that provides you with 12 heavy duty yellow rungs, which are spaced 15 inches apart. Each rung is 17 inches wide and designed to sit perfectly flat on the surface so as not to get caught up with your foot. You also get a carry bag for ease of transport.
The total length of GHB Pro Agility Ladder is 20 feet, making it the ideal length for most agility training workouts. The straps are very durable and use quality heavy duty stitching to secure the rungs. The whole thing is very lightweight and portable, allowing you to take it anywhere for a great workout on the go.
12 heavy duty rungs

Lightweight and portable

Very durable straps
No pins to secure the ladder outside
The Pepup Sports ladder offers 10 adjustable flat yellow plastic rungs that are held together by black nylon straps. The standard distance between each rung is 16 inches. The ends of the straps have fasteners to allow you to snap additional portions on to extend the run. You also get a waterproof tote bag to carry the equipment.
The design of Pepup Sports ladder ensures that the straps will not easily get twisted up in the device. Once set and laid flat, the rungs will stay in place, without curling up or getting caught in your feet. It has a very good price point and provides you with everything you need for a solid, quality workout.
10 adjustable, flat rungs

Fasteners to attach extra rungs

Twist free design
Difficult to fit the ladder into the carry bag
The Cintz ladder provides an extra long 30 foot of training space, with a total of 22 spaces. The device can be pulled apart to provide you with two 15 foot length ladders. They reattach by way of velcro tabs. You also get four metal spikes to hold the trainer in place when training on the grass. The rungs are made from hardy yellow plastic and the straps are thick nylon.
The Cintz trainer comes with large stacking handles, allowing you to easily roll up the device and place it in the convenient carry bag that comes as an extra. Although not sewn into the side straps, the rungs will sit securely in place while you are training, without curling up.
22 rungs over 30 feet

Can be separated into two ladders

Large stacking handles
Under heavy use, the rungs begin to slide
Want to get the most out of your agility ladder? Get up to speed with master trainer Shaun T and this informative training clip . . .
The WorldSport 30 Foot Flat Rung Agility Ladder is extra long, making it an ideal football training ladder. It provides perfectly flat yellow rungs, which will sit true on any flat surface. A cool feature of this device is that it can be broken down to give you two 15 foot ladders. The rungs are fixed in place and are very securely sewn to the heavy duty black straps.
This package comes with a convenient carry bag to allow for ease of transport. Essentially two ladders for the price of one, the Worldsport 30 is a very durable, reliable performer that will not bunch up while you're training, providing you with exactly what you need for a great agility session.
30 feet long

Can be divided into two separate ladders

Extremely rugged

Ideal soccer training ladder
Rungs may move around under heavy use
Awesome Agility Ladder Workouts
Agility ladder training opens up a whole new world of physical challenge. It allows you to train like an athlete, improving your agility, speed, coordination and flexibility. This will translate to vastly improved performance on the basketball court, football field or running track. It will also make you fitter and leaner faster than almost any other form of training.
The benefits of agility training are, of course, dependant in two things; getting the right and equipment and performing the right moves. In his articles we've got that first base covered. To discover the best quick step ladder workouts on the planet, check out our awesome article on how to increase foot speed with 5 agility ladder workouts - are you up to the challenge?​
Make Your Own Agility Ladder
​An agility quick feet ladder is an awesome inexpensive piece of training equipment. But, why spend money on a commercial ladder when you can easily make one yourself. It's easier than you think. You can save cash and have the satisfaction of training with a great piece of gear that you have made with your own hands.
Check out our How to Make Your Own Agility Ladder 2018 guide for complete instructions that will have you completing your very own agility trainer in no time!​
Conclusion
The SKLZ Ladder comes out on top of our rankings as the best overall agility ladder on today's market. It is extremely durable, sits flat and comes with stakes, and a training DVD. Our next preferred plyometrics ladder is the Trained Agility Ladder, which is bundled as a package with 6 quality training cones, a comprehensive training ebook and carries a lifetime guarantee.
The best cheap agility trainer in the market is the Yes4All Trainer, which comes in 8, 12 or 20 rung options, providing a rugged, flat rung ladder that will prove to be a stable, slip free training companion.