Top 10 Myofascial Release Tools Reviewed and Rated
last updated:
Feb 12, 2020
Neck and shoulder pain is a common complaint among both athletes and recreational exercisers. That pain can be a major distraction in your workout and negatively impact your game. In this article, we will provide self-massage neck and shoulder reviews of the best products to bring relief. Check out our list of the best myofascial release tools.
In a Hurry? The test winner after 18 hrs of research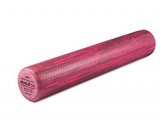 OPTP Pro Foam Roller
Why is it better?
Built to withstand heavy repeated use
Easy to clean
High versatility for a variety of exercises
42
Researched Sources
12k
Total Readers
18
Hours Researching
14
Products Evaluated
Features
Ease of Use
Portability
Durability
Effectiveness
By Default
10 Best Myofascial Release Tools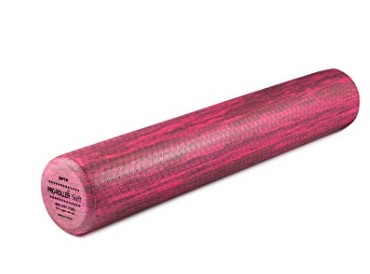 Built to withstand heavy repeated use
Easy to clean
High versatility for a variety of exercises
The OPTP Pro Foam Roller comes in different diameters of quality foam. It is one of the best myofascial release tools and has a soft and comfortable compression.
The myofascial release tools are made of EVA foam which is cross-linked and closed-cell to make it durable. This roller is perfect to work on those trigger points, soften the knots in your neck, shoulders, and areas of increased muscle density. It is soft and durable.
Read more
The OPTP Pro Foam Roller is a high quality, long-lasting foam roller that will maintain its shape, even with heavy use. It is constructed with a closed-cell structure and cross-link foam technology, providing both comfort and durability.
The OPTP Pro Foam Roller is smooth, with no bumpy surfaces, making it ideal as a neck massager. The lightly textured, marble surface of the OPTP Pro provides a tactile feel that eases tight and/or sore areas in the upper back and shoulder area.
The OPTP Pro roller is available in a range of densities according to the color of the roller. The green marble and blue marble rollers are made of the same moderately firm yet comfortable density. This makes them great for self-massage of the neck and shoulders, along with core strengthening exercises.
The pink marble pro roller soft is softer in density and provides more gentle compression of your spine. This makes it the ideal introductory roller to use if you have neck or shoulder pain. The OPTP silver roller has a smooth surface and standard density. This is a great eco-friendly roller for people beginning foam roller exercise and for general home use.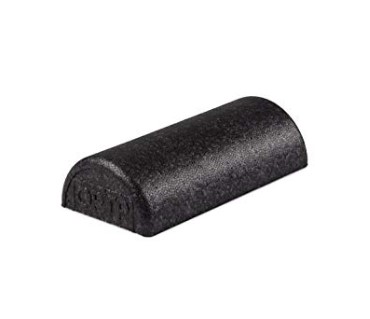 Made of close-celled EPP foam
The heat-molded design is durable
Easy to clean with soap and water
The Axis foam roller is a firm density roller and is used by many athletes to bring relief from neck pain. This roller provides intense myofascial release tools. It will not lose its shape, even after heavy use and extreme workouts. The Axis roller is available in the standard 36-inch length, as well as the shorter 12-inch and 18-inch lengths. These are portable enough to fit in your gym bag or in your suitcase for travel.
The Axis foam roller also comes in a half-round shape. This makes it ideal to fit snugly under your neck when you are lying on the floor.
Read more
The OPTP foam roller is a high-density foam roller that can help athletes get relief from their neck pain. This roller is made of closed-cell EPP foam of the highest quality. You can use it to massage sore, tight or injured muscles.
It is built especially for myofascial release to help you roll out those muscle adhesions in your legs and other larger muscle groups.
This myofascial release tools roller is heat molded which will not lose shape or break down even after heavy use. It is available in lengths of 36 inches or shorter so they are very portable. They come in versions that are half round with a flat side to help with balance, stability, and core exercise. It is also easy to clean with soap and water or wipes which are antibacterial.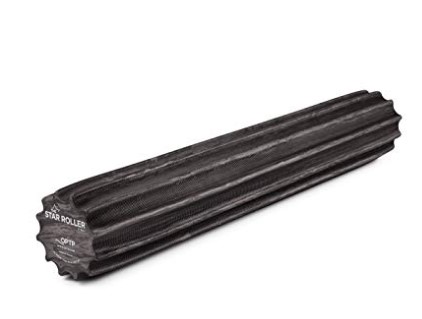 Ridged surface for more compression
EVA foam for durability
36 inches long
The OPTP Star Roller is the most innovative product in the OPTP range. From the end, it looks like a star and features multiple ridges or channels that run down its length. The ridges keep the roller stable while getting on and off, yet it rolls easily to allow you comfortable, variable amounts of pressure to release tightness and tension in the shoulders and neck. The softness of the Star Roller allows for the relaxing and releasing of soft tissue restrictions. A firmer version provides increased pressure and sensory feedback.
Read more
OPTP STAR ROLLER is a foam roller which has a firm density. It is made from closed cell EVA foam and heat-molded which makes it durable.
The ridged surface of the roller compresses which helps it get in and release the tight tissues. It helps to mobilize the connective tissues and helps to rehydrate the fascia. It will also help you increase your range of motion.
The ridges give different pressures and textures, which increases awareness of how your body feels and moves, which gives you a balanced and efficient movement. This foam roller gives you tremendous control over massage and movement techniques.
4

. Mount Plus M12 Neck Massager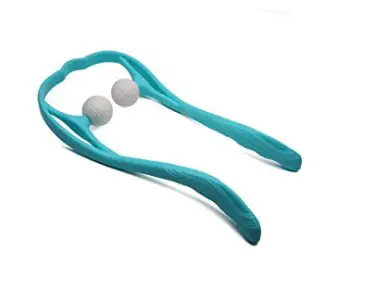 Lightweight and portable
Ergonomic handles
Dual head design
The Mount Plus M12 Neck Massager has two firm silicone balls that help to loosen the tense muscles in your neck. They focus on your main trigger points to pressure. It will help to improve your blood circulation and your quality of sleep. It can also help you get rid of headaches and migraines.
Read more
The Mount Plus M12 Neck Massager is a "U" shaped plastic device that you put around your neck and squeeze. It has two massage nodules that dig into the side of your neck when you apply pressure by bringing the handles together. You can change the angle by manipulating your hands to pinpoint specific trigger points in your neck.
The large curved back portion of the massager allows you to apply pressure at the point where the spine meets the skull, which is often where the pain originates from. The Mount Plus M12 is a very handy, compact tool that you can carry with you anywhere to bring instant relief to your neck. You can use the massager while watching TV. It is very light and thin, making it ideal to carry with you when you travel.
You can purchase the Mount Plus M12 neck massager for less than ten dollars, making it a very low-cost way to gain relief from neck pain.
5

. The Muscle Stick Original Massage Roller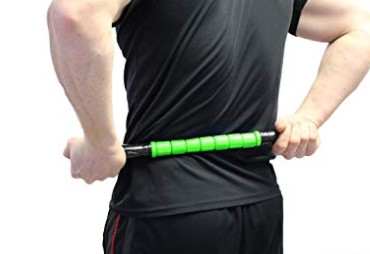 Free exercise guide
Comes in fun bright colors
Ergonomic handles
The plastic roller can catch hair
The Muscle Stick is the perfect alternative to rolling on the dirty gym floor with a foam roller. It is also better than just stretching your muscles which can actually weaken them. This stick has a stainless steel core with nine smooth rollers.
The Muscle Stick comes with an unconditional guarantee that it will not squeak, bind, or break.
Read more
The Muscle Roller Stick is an ideal tool for creating more muscle circulation and recovery in the muscles of your shoulders and neck. This is a gripping hand-held roller that is squeak free. The tough core center is covered with a comfortable rubbery material to provide comfortable contact with your skin. The stick features a series of rollers that help to break up the fascia in the muscles of your neck and shoulders, allowing you to stretch out and lengthen them.
Using the Muscle Roller stick allows you to more easily apply pressure to the trigger points in your shoulders than if you were lying on a foam roller. This deep tissue bar will penetrate further than any foam roller on the market.
The Muscle Roller stick comes with a comprehensive free exercise guide.
6

. Tiger Tail Massage Stick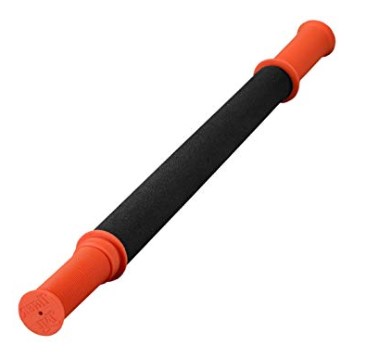 Easy to use
Easy to clean with soap and water
Durable and will not break or bend
Hard to use with larger hands
The Tiger Tail Massage Stick does wonderful things for your muscles. It helps with muscle pain and increases circulation. The Tiger Tail will also help get rid of soreness and pain after a workout.
Read more
This bar helps with a myofascial release for your whole body. It can help to restore and rehabilitate sore tight muscles. It will help get rid of tension and soften knots which will help with blood circulation.
This stick is portable, recommended by professionals and used by serious athletes. Use it before or after workouts to help prevent injury and get rid of lactic acid buildup.
The Tiger Tail is easy to use and you can take it anywhere. It will fit into a carry on bag so you can take it with you. It is also convenient. Just use it while you are sitting on the couch, standing, or laying down.
You control the perfect amount of pressure depending on how well you tolerate pain. It is a durable piece of equipment with a sturdy stick and a comfortable, nonstick handle. The rollers run smoothly and the gap between the rollers keeps your hair from getting pulled.
7

. Etekcity Rechargeable Neck Back and Shoulder Massager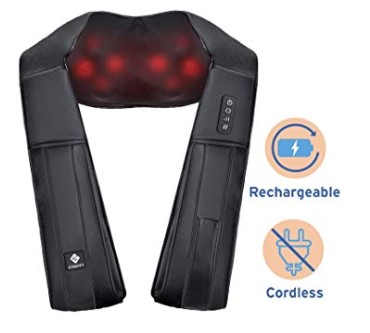 Cordless and rechargeable
8 kneading massage nodes
3 levels of heat control
Lots of warnings to keep in mind
The Etekcity Cordless Shiatsu Neck & Shoulder Massager is designed to be like a traditional shiatsu massage. This massager has a rechargeable battery and is cordless so you can relieve back pain and relax anywhere. The speed and heat are adjustable and it has an automatic shut off feature. This is a fantastic accessory and is a perfect companion for anyone who is always on the go.
Read more
Etekcity Neck and Back Massager will help you on the go. It features a rechargeable battery which lasts up to 3 hours. Relax, get rid of stress and relieve your sore muscles anywhere.
The massager has 8 strong 3D kneading massage nodes that mimic a deep-shiatsu massage. There are 3 heat settings to choose from and 3 intensity modes.
It has extra-long straps that help you better control and use it, but there are also inner shorter straps so it is designed to fit any size. The outer straps let you position it and keep it secure right where you need it.
This massager is also designed to be safe. An auto-off protects it from overheating and it comes with a quality insured AC adapter and a DC adapter you can use in your car.
8

. Body Back Buddy Self Massage Tool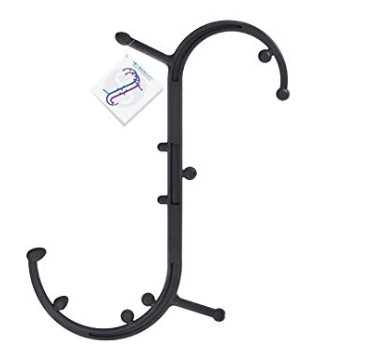 Original, sturdy design
Light and easy to handle
Recommended by medical professionals
Different shaped knobs
The Body Back Buddy is specially designed to help anyone who is looking for relief from chronic pain or just wanting a little stress relief. Professionals and therapists have worked together to create the ideal tool to help with muscle pain.
This massage cane is strong, rigid, and easy to use. It is made from glass-filled polypropylene which is premium high density so it is three times stronger than others like it. The glass bonded fibers provide this tool with a unique finish. It light, convenient, and comes with a nice instruction manual. You can use it anywhere.
Read more
The Body Back Buddy has a perfect s-shaped design which helps you get to all those muscle knots that are hard to reach from head to toe. You can reach any muscle spasms or pressure points. It is guaranteed or your money back.
This massage cane is specially designed with the more rigid shape made from a mix of plastic and fiberglass which makes this tool lighter. It is strong and easy to handle.
It has a reflective finish and has swirls of color. They are not defects or scratches. This massaged is recommended by medical professionals. Their input helped create this ideal tool. If you have fibromyalgia, this cane may become your best friend.
The Body Back cane originates in Ashland, Oregon, It is made from glass-filled polypropylene which is domestic. It has no PBDE, BPA, TBBPA materials and is subject to safety and health standards. It is hypoallergenic, waterproof and earth-conscious.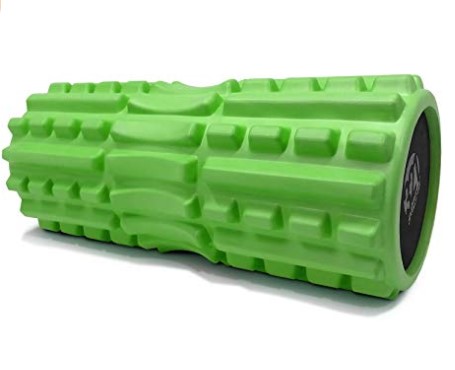 Lightweight and easy to transport
High density and comfortable
Used by many different types of athletes
The 321 STRONG Foam Roller has a solid core. The extra firm roller uses a patented technology that will give you a therapeutic massage. It has 3 unique zones to create an intense massage, a moderate alternative, and one for focused relief. These help with blood circulation to problem areas, help with muscle recovery time, improves mobility, flexibility, and range of motion.
Read more
The 321 Strong foam roller is a little over 12 inches long and about 5 inches around. It is lightweight with a solid core made of EVA plastic. It has a triple grid 3D massage zones which are similar to a therapist's palm, finger, and thumb.
This roller is comfortable and easy to use so it is perfect for beginners. Use it to penetrate the soft tissue layer in your tired and sore muscles. It is firm enough to give you help with sciatica, lower back pain, and plantar fasciitis.
Use this tool to help increase performance, flexibility, and relief any muscle pain. You can use it before and after your workout. It will help increase blood flow and help flush out the lactic acid in your system. Use it at home or at the gym because it is easy to carry with you.
10

. Supremus Sports Massage Stick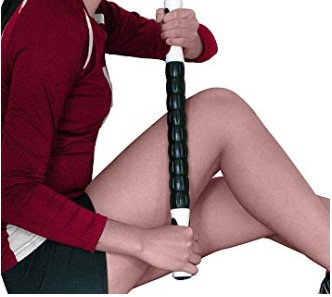 Easily portable
Sturdy with comfortable handle
Comes with money-back guarantee
Supremus Sports Massage Stick helps to increase the blood circulation in your body. It also works to reduce any pain or soreness from your workout. Use it to warm up your muscles before you start your exercise to keep you from injury. This will save you money by helping you get a myofascial release without having to pay a physical therapist. ut paying a physical therapist.
This muscle roller stick will help you apply pressure to the exact problem areas in your muscles and this product is guaranteed.
Read more
This self-massage bar works on your whole body. It rehabilitates and restores your sore, tight muscles. It will help you get rid of tension and muscle knots, improve your blood circulation, and improve your flexibility.
This is a portable tool recommended by professionals, personal trainers, and athletes. It will help prevent injury, get rid of lactic acid build-up and help with muscle recovery.
This handheld muscle roller is compact to fit into your gym bag or carry on so you can take it wherever you go for quick relief.
Criteria Used for Evaluation

Features
There is a lot to consider when you are shopping for the perfect neck and shoulder fascia massage tool. You want to find the best tool which is going to match your needs. There are different kinds of myofascial release tools to choose from.
There are foam rollers that you roll along with your muscles. They come in different colors, shapes, and textures. They also come in different levels of hardness. There are designs that are designed to ease any hand fatigue.
There are neck massagers that you just put around your neck and squeeze. They have nodules on each side which press into your neck and provide relief with the benefit being able to target right at the base of the cell.
There are also massage sticks. These are created to stimulate good circulation in your muscles and help them recover. The tough core is covered with comfortable rubbery material. These are a little easier to use because you hold it in your hand instead of having to roll on it laying on the floor.
If you are ready to go a little more high tech, there are options. The Etekcity model is a cordless, rechargeable model that you lay over your shoulders and the nodules inside give you a deep shiatsu type massage on your neck, back, and shoulders.
The other option on our list is the Body Back Buddy which is a large s-shaped cane that has different sizes and shapes of nubs to get the right muscle massage to all of your different pressure points.

Ease of Use
Ease of use is an important criterion when it comes to these massagers because they can play a very important part in your daily routine and workout. If you choose the foam rollers, you will need a mat or carpet to use it correctly. If you work out at home that will probably not be an issue, but you might want to give a second thought if you tend to work out in a gym.
The sticks are convenient because you do not have to lay on the floor. They are handheld so you can roll them wherever sore muscles are while sitting on the couch or standing up. This makes them pretty handy because they are a lot more versatile, but you have to be a little flexible and good hand strength to use them properly.
There is also the small version you put around your neck which is very convenient but not very versatile as far as the parts of your body you can use it on. There is also the body buddy which is very versatile with different tips you can use to reach different areas. They are all definitely dependent on your abilities and your taste.
The obvious choice for the easiest to use would be the Etekcity. It is battery operated. You lay it over your shoulders, adjust it to fit just the right areas and turn it on. This model is fantastic for people who are not as flexible or to have a massage while traveling or while watching television.

Portability
Portability is important for myofascial release tools as well. It is very convenient if you can carry your massager with you. It is nice if your tool is short enough to fit into your gym bag so you can bring it to your workout with you. It is very helpful to have it there so you can use it before your workout to warm up your muscles and you can use it after your workout to help the muscles recover and work out the knots.
It is nice to have a massager which is lightweight and easy to carry. If you are a frequent traveler, find one which will fit in your carryon so you can use it on the plane during long trips. This is a handy tool you want to be able to have with you wherever you go.

Durability
This is going to be something you use a lot to help your muscles so you want myofascial release tools that are going to last. If it is a foam roller, you want one made of high-density foam which is durable. The ones on our list are made of EVA foam or closed celled EPP foam. They are solid enough not to lose their shape, even after intense workouts and a lot of use.
The sticks have a durable solid core with foam outside and solid construction on the handles. You want the stick you choose to be one that will not bend or break.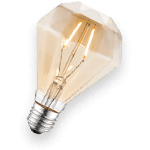 How to use a foam roller for SMR.
Place the foam roller on a mat or carpet and roll on it until you feel a trigger point. You will know it because it will hurt you. Once you find it, stop and rest on the roller for around 10 to 20 seconds.
It is actually the pressure on the area which smooths the fascia, not the rolling. Make sure you only apply pressure on the muscle and not bones or joints. Make sure afterward you drink lots of water.
Getting rid of runner's knee
Runner's knee is a tightening of your iliotibial band (IT band). It is a thick fascia band running along the side of your leg from knee to pelvis. Massaging it can loosen up the tightness and help you prevent future injuries. It hurts at first but will get better.
Frequently Asked Questions
q:

What are the benefits of myofascial release tools?

a:

Myofascial release tools help you get rid of knots and muscle tightness. SMR will also help prevent future injuries. It also helps you physically de-stress your body and help it work more efficiently. It will also help increase flexibility and circulation, which helps you recover fast after your workouts.
q:

Why does myofascial release hurt?

a:

When you are using myofascial release tools on tight muscles you will experience pain or even just discomfort. Sometimes the nerves that surround will be affected and the fascia will thicken. That makes for pain. If you are new to SMR, it can be uncomfortable at first.
q:

What does SMR mean?

a:

SMR stands for Self Myofascial Release which is a treatment. The pressure of the treatment attempts to get the tension out of the fascia caused by trauma, bad posture or inflammation. Restriction points in the fascia can place pressure on your nerves and muscles which can cause you chronic pain.
q:

How many sessions does myofascial release need?

a:

A lot of people say when they go to a physical therapist to have myofascial release tools done, their pain decreases after just one session. Depending on your situation, many people have bi-weekly, weekly, or every other week for anywhere from 4 to 12 weeks.
q:

Is myofascial release safe?

a:

Myofascial Release Tools are safe and very effective. It is a hands-on technique of putting gentle sustained pressure on the connective tissue restrictions which help to get rid of pain and restore motion.
Subscribe to our newsletter