Top 10 Foam Rollers Reviewed and Rated
last updated:
Feb 12, 2020
In this article, we will bring you reviews of the best foam rollers on the planet.
We'll also give an overview of just what you need to be looking for when buying a foam roller. Also, we'll show you how you can make your home roller and give you advice on how to get the best out of your foam roller.
These are easy to use and highly effective, perfect for use at home.
Keep reading our in-depth Foam Rollers review to find out if it is worth the investment.
In a hurry? The winner after 13 hours of research: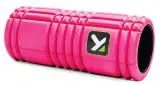 Triggerpoint GRID Foam Roller
Why is it better?
Super Long
Five Ridged Zones
3 in 1 Roller
Multi-density Surface
Super Sturdy
42
Researched Sources
8k
Reviews Considered
16
Hours Researching
14
Products Evaluated
Model
Features
Materials
Durability
Comfort
By Default
10 Best Foam Rollers
1

. Triggerpoint GRID Foam Roller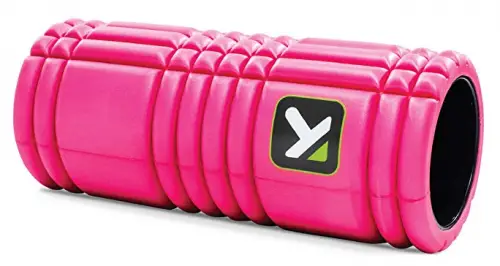 Super Long
Five Ridged Zones
3 in 1 Roller
Multi-density Surface
Super Sturdy
The Triggerpoint GRID Foam Roller is about twice the length of a normal foam roller. It gives you so much more material to work with. You don't have to worry about falling off the roller or not finding the right spot. These foam rollers come with a series of five ridged zones that typify the Triggerpoint range of rollers. These are divided between longer horizontal ridges and concentrated dot point ones. It allows you to find the ideal spot on the roller that will work for you. In effect, the innovations that you get on the Triggerpoint GRID Foam Roller it into a 3 in 1 foam roller.
Read more
The Triggerpoint GRID Foam Roller is reinforced in the middle to make sure that it survives daily use. This roller is sturdy enough to last for at least a couple of years of daily use. When it does eventually pop, it will do so on the edges, rather than in the middle.
The multi-density surface of the Triggerpoint allows you to break up knots and increase your mobility. It has a weight limit of 500 pounds. It can provide you with the very best in in-home foam roller physical therapy.
​The Triggerpoint GRID Foam Roller will give you a fantastic rolling experience that will allow you to work deep into your muscles. It is especially good at getting to hard to work areas such as the inner part of your thighs. This roller will take a little more space in your gym bag, but the extra functionality will make it well worth it. The Triggerpoint GRID Foam Roller is the best muscle roller on the market right now. We also believe that TriggerPoint is the best foam roller brand in the current market.
2

. Lux Fit Speckled Foam Roller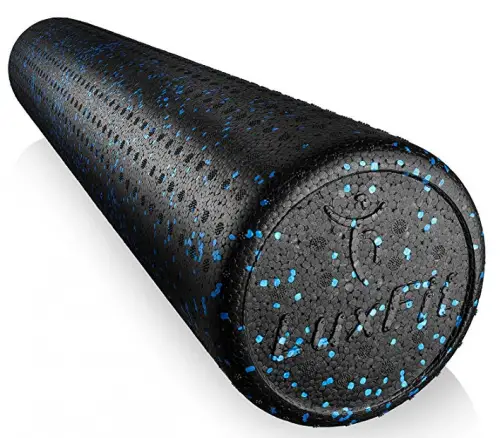 Molded Polypropylene
Extra Firm
Four Different Sizes
Three-year Warranty
The Lux Fit Speckled foam roller range is made from molded polypropylene and features a 2-inch per cubic foot density and a smooth surface. It has a 10-inch diameter.
The Lux Fit is available in a range of four sizes:
12 inch
18 inch
24 inch
36 inch
Read more
The Lux Fit Speckled is very durable. It is one of the best foam rollers out there. It will not lose its shape after heavy use. It comes with a full 3-year limited warranty. You will get a very smooth feel on the muscle when using the Lux Fit foam roller, which makes it a very good foam roller that comes in at a very good price point.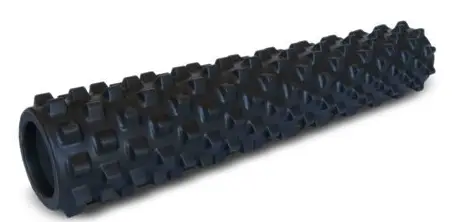 Hundreds Of Nodules
Very Accurate
Two Different Versions
Advanced Polymers
Portable
The Rumble Roller looks a bit like a medieval torture device. It has a patented nodule surface which is like having hundreds of flexible thumbs massaging your back all at the same time. It is the best back roller. As you roll, all the flexible nodules go to work for you, kneading in and around muscles and soft tissues. By working in multiple directions, the Rumble Roller allows for more accuracy and pinpoints those hard to reach spots and trigger points.
Read more
The Rumble Roller will also get much deeper into the underlying tissue than would a standard roller. It makes it an excellent foam roller for sore muscles.
It's easy to be intimidated by the Rumble Roller due to the scary-looking appearance of this foam roller with bumps. However, you are totally in control. You can exert as much body weight and as much pressure as you want onto the roller.
The Rumble Roller comes in two versions. The blue roller is recommended if you are switching from a conventional roller to a Rumble Roller. It has a medium level of density. The black roller is recommended for those who have already been using the original Rumble Roller. The black roller will help to break up deeper, more dense muscle tissue knots. The black roller is 36% firmer than the original Rumble Roller.
You can also get the Rumble Roller in two different sizes. You have the standard size and also the compact. The compact is designed for portability. You can throw it in your gym bag or your carry on luggage. It is tiny and super light, yet it gives you all the benefits of the standard size model.
The Rumble Roller is made from advanced polymers and a built-in anti-bacterial additive to prevent the growth of bacteria. It is waterproof, repels dirt and is tear-resistant. It has been designed to retain its shape permanently and is guaranteed to outlast and out-perform all others.
One problem with the Rumble Roller is that, because the noduled and ridged exterior makes it a textured foam roller, it doesn't roll as effectively or smoothly as an essential foam roller. To get deep into your muscle fiber, however, it doesn't need to roll.​
4

. Rolling With It Eco Friendly Roller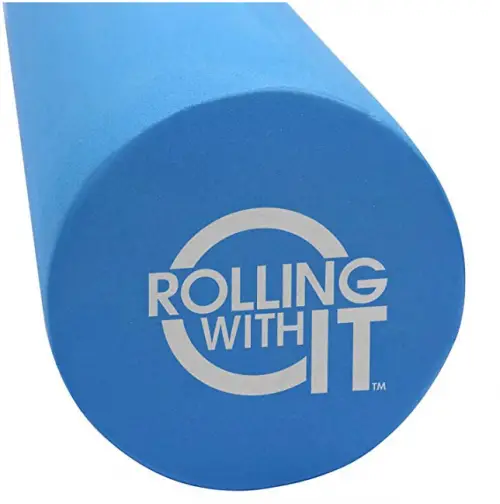 EVA Construction
Retains Shape
Third-party Testing
Soft Exterior
Firm Core
The Rolling With It Eco-Friendly Roller is possibly the most eco-friendly foam roller on the market. It is constructed with environmentally friendly yet durable EVA and ABS materials. It is high quality and lightweight device that has been scientifically engineered to provide deep muscle tissue relief as effectively as possible.
Read more
The Rolling With It Eco-Friendly Roller features a dual-pressure zone designed to target key muscles that could easily be overlooked when using a conventional flat foam roller. The dual pressure zones make this an ideal roller for both new and experienced users. Unlike other foam rollers that are made from polyethylene foam, Rolling With It foam rollers are made out of premium materials that are non-porous, with a super cushy exterior and a strong core, giving you just what you need to relieve the pain.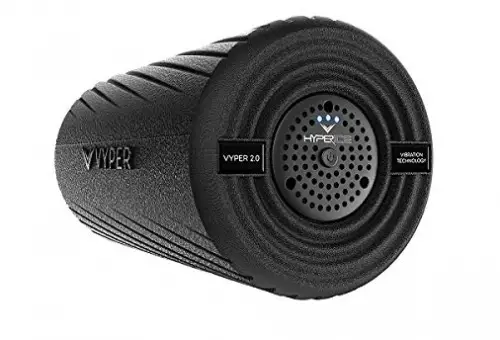 Patented Design
Super Durable Shell
Fully Rechargeable Li-On Battery
Three Vibration Levels
The Vyper is a patented technological advancement that brings together the benefits of optimal frequency vibration and deep tissue trigger point therapy. This unit retains all of the benefits of traditional foam rollers, including ease of use, compactness, and portability. Then it adds an extremely durable polypropylene shell that houses a fully rechargeable lithium-ion battery.
Read more
The vibration rate of the Vyper can be set at three different levels to provide a progressive intensity of relief. You will get more than two hours of use out of each charge. However, over time, the battery life of the Vyper tends to diminish. After a couple of months of use, you'll probably find that the life of the battery runs out too quickly and you may want to replace it.
The fact that The Hyperice Vyper vibrates helps your muscles to massage and provide trigger point relief at the same time. It speeds up the rolling process. The combination of vibration and rolling also makes the experience a lot more enjoyable than traditional foam rolling. The lowest setting of 15 HZ feels like a hum, where the highest setting at 38 HZ feels like a buzz.
The constant vibration effect of the Vyper allows you to position the roller directly under your trigger point and then stay in that position while the vibration works deep in the muscle fiber to relieve your pain.
Because this device features electronic components on the inside, it cannot be dropped on the ground or treated with the careless abandon that you would show to other types of foam rollers.
The Vyper is very solidly built. Even the heaviest of people will not cause it to lose its shape when they lie down on it. The firmness and vibration effect of the device takes away a lot of the pain that is usually associated with the foam rolling experience.
The Hyperice Viper is very pricey. It is easily the most expensive foam roller-like device that we came across. Also, because it carries internal electronics, it is a lot heavier than other foam rollers on the market.
The company behind the Vyper is rock solid. Hyperice works with many professional athletes, many of whom have given endorsement to the Vyper. You can buy this product with confidence, knowing that the company will stand behind their 100% money-back guarantee.​
From our list of Best Foam Rollers, this product is the most expensive one.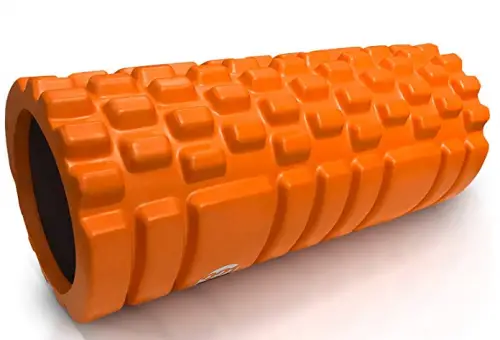 Eco-friendly
Non-toxic
Anti-slip Foam
Ergonomically Designed
Solid EVA Core
The 321 Strong Foam Roller is a top-quality budget roller. It is made from real eco-friendly non-toxic, anti-slip foam. This exceptionally comfortable roller is designed to massage and stretch the muscle and soft tissue in a multitude of directions.
Read more
The 321 Strong Foam Roller features a series of bumps and ridges that are ergonomically designed to simulate the effect that a massage therapist's fingers would have on your muscles. That means that these foam rollers are soft and supple while being rigid enough to work into the deep layers of your muscle tissue. It has a solid EVA core that will keep your device firm even after years of use.
The 321 Strong Foam Roller is 12.75 inches in length and 5.4 inches in diameter. That makes it the ideal size to fit into your gym bag or carry on luggage so that you always have it on hand.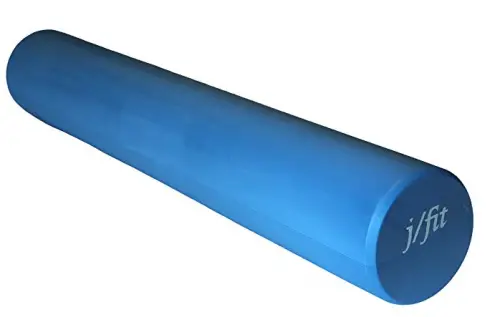 High-density
Simple, Yet Useful
Durable And Versatile
Two Different Lengths
There are many generic brands of foam rollers on the market. The foam rollers look much like a floating device used in a swimming pool. The two types of generic foam rollers are the EVA roller and the EVE higher density roller.
Read more
EVA Foam Rollers are the softest type of roller that you can buy. They will generally mold to the shape of your body. Over time they will begin to lose their basic shape leaving them flat and rather useless after about a year of regular use. Most EVA foam rollers are either white or blue.
EVE Foam Rollers will last longer. That's because they are far denser than an EVA roller. However, you can get EVE foam rollers that are black. To tell the difference between an EVE and an EVA roller, take a look at the makeup of the foam. An EVE roller will be made up of thousands of small pellets, while the EVA roller will be smooth.
8

. AmazonBasics High-Density Roller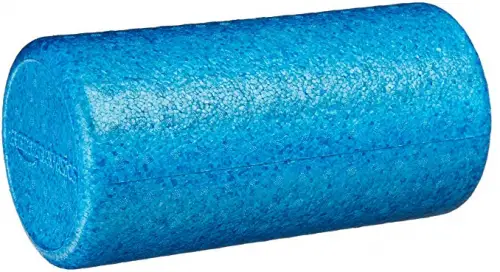 Molded Edges
Very Lightweight
Easy To Clean
Portable
Maintains Shape
Although AmazonBasics is just an Amazon brand, that doesn't make their products less worthy, and these foam rollers prove that. This high-density foam roller has molded edges that will keep their shape and form no matter how much weight you apply to them.
Read more
The roller is made out of molded polypropylene, which is the sole reason why this roller maintains its shape for such a long time. The polypropylene also makes it quite light and portable, so you can take it with you no matter where you go. It's easy to clean too, and you don't have to worry about bacteria and bad odors sticking to it!
9

. Brazyn Morph Trek Foam Roller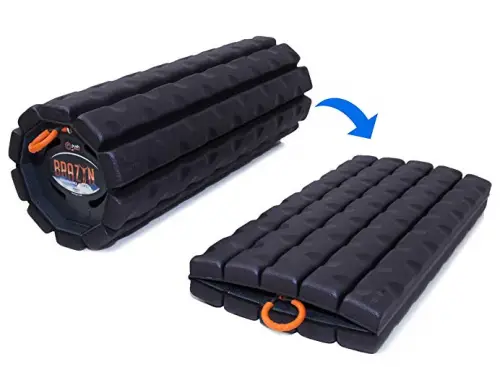 Super Portable
Comes With Pouch
Very Lightweight
Collapsible Core
This super-high-tech looking roller will bring you relief just like any old run-of-the-mill roller, and it can do an even better job at it if you give it a chance! Right off the bat, what makes this roller so special is the collapsible core that makes transporting it an even easier job. The core won't give in under your weight, so you can roll on it without worrying.
Read more
These Foam Rollers come with a travel pouch, and a mobility deck comes with it, making it the ideal travel partner. It has only 1.5 lbs and is almost two-inches thick when collapsed. The surface is smoother, giving it the traditional foam roller feel, making it great for both beginners and experts. All you need to do to collapse it is push the tabs on the sides, and a quick tug at the convenient strings will bounce it back to its original shape!
10

. FITINDEX Electric Foam Roller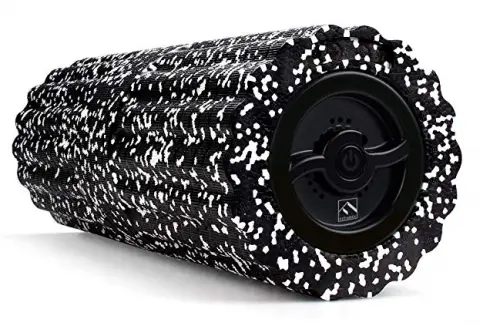 Vibrating Core
4 Hour Battery
Recharges Quickly
Lightweight And Portable
The FITINDEX Electric Foam Roller is the second roller on our list that features an electric component. This component vibrates in four different settings, allowing you to choose just the right amount of pressure you need to feel ultimate relief.
Read more
The outer shell is made out of high-density foam that will keep its shape and keep the vibrating component safe and sound. After it's been charged fully, the FITINDEX foam roller can be used for 4 hours, which is much longer than just one foam rolling session. This gives you a better experience and less chance that it will stop vibrating when you need it the most. This foam roller might sound like a heavy one, but it's surprisingly light. It has a one-year warranty, and a 100% satisfaction guarantee, so even if you end up not liking it you can always safely return it!
From our list of Best Foam Rollers, this product is one of the lowest rated.
Criteria Used for Evaluation

Model
Different models give different options
​Normal foam rollers are just a length of foam of varying densities. The basic problem with one of these foam rollers is that, over time, the shape of the roller will change. It will become somewhat squishy and indented in the middle with the firmness only really remaining on the outer edges of the roller.
The grid-type roller is a lot harder than the foam roller. It usually has a polyethylene inner core and a stronger, more textured outer surface. These types of foam rollers will not compress when you lie on it to exercise. The Grid roller will have a longer shelf life than a conventional foam roller and will not lose its shape over time.
Another option is the quadballer, which is a little bit harder again than the Grid. It is a small device with rollable wheels that connect by way of an oval-shaped length of the roller. This unit allows you to specifically target problem areas and to get deep into the affected muscle tissue.
The quadballer is especially good at getting rid of pain in the calves.
The Rumble Roller is a high-end version of a Grid roller. It comes in two options. The original blue Rumble Roller is a medium-density roller. The black runner is an extra firm. Both foam rollers come in two sizes; the standard 31 inches or the smaller one at 12 inches. The full-length roller has a six-inch diameter, whereas the smaller version has a five-inch diameter. The extra firmness that comes with the Rumble Roller will mean less time to activate your trigger points.
The inside of the Rumble Roller is made of a very hard PVC-like material. The pikes are hard enough to deeply penetrate the muscle, but not so hard that it will hurt when you rub against them. The black Rumble Roller is 36% more rigid than the blue one.
When you start using a heavy-duty roller like the Rumble Roller, everything else you have ever used will feel lightweight in comparison. At the start, you will be in a lot of pain. But, as you get used to it, your pain level will balance out.
The smaller version of the Rumble Roller does everything that the larger model does. It is a lot more affordable (nearly half the price), and it is very convenient for transport. It will fit into your gym bag so that you can use it before, during, and after your workout.
The Rumble Roller is an excellent choice for anyone who is experienced at trigger point therapy through self-massage. If you are new to the whole foam rolling thing, however, you will probably want to avoid it in favor of a plain foam roller.​

Features
Foam rollers range in length from 12 to 35 inches (30 to 90 centimeters). They also come to a range of densities. You need to be particular in choosing the right density for your body. A roller that is too soft won't effectively sculpt and tone fascia and muscle. A roller that is too dense will be too aggressive for the restorative and calming effects that you need from the device.
You want a versatile roller that will give you just the right balance between shaping and restoring. You also want a durable roller and that won't break down with regular use. Fitness foam rollers are not overly expensive, so it is well worth the investment to spend an extra few dollars to get one that will last, rather than a roller that will need replacing in a few months.
The ideal IT band foam roller will have a medium-density that works well for both sculpting and restoration. It needs to be highly durable without being too aggressive. It should have a textured surface that has been specially designed for the multifunctional use of clearing blockages and stimulating the lymphatic system.

Materials
Materials aid performance
There are three types of foam rollers you can choose from, and they are polyethylene rollers, molded foam rollers, and EVA rollers. All of these materials have their own set of benefits and drawbacks, but what connects them all is the fact that they are made out of synthetic, human-made materials, namely - plastic.
Polyethylene is a thermoplastic material that is quite environmentally friendly - it's recyclable, and when it burns, it leaves no residue at all. Polyethylene is made out of ethylene gas, derived from petroleum and natural gas. These two ingredients are then cracked, and polyethylene is created. There are many different types of PE out there, but the PE used for foam rollers is usually one that has a higher density. Since it's strong and stiff, and you need to have a hardy medium to be able to roll on it. The more you use PE foam rollers, the softer they will be, and this is something you should keep in mind! Molded foam is just polyurethane, a less dense but sturdier version of PE. And EVA is arguably the best material out there for foam rollers. EVA is a copolymer or said a blend, of ethylene and vinyl acetate. EVA creates foam rollers that are soft to the touch and resemble rubber, both in flexibility and resilience. EVA can be both stiff and soft, depends on how it was made, which makes it a great option for foam rollers!

Durability
As we said, foam rollers are made out of three different types of materials, and depending on what you choose; the durability will change. You need your roller to be durable since you will rely on it to help you feel better. The foam rollers will lose their shape and density over time, although some will do it faster than others, so it's vital that you choose a roller made out of the right materials.
If you are using your foam roller several times per week, avoid purchasing a generic EPE or EVA roller. Both of these will quickly elongate and lose their shape. If you plan on using your roller daily, spend the money to get a higher-quality device. EVA is an excellent material overall like we mentioned before, but it might not hold up well either is used all the time. Your foam roller needs to be adequately constructed, and every additional feature needs to be integrated the right way because otherwise, you will end up with a cracked and flattened roller after only a few uses!

Comfort
When you start using a foam roller, it will be quite painful. You will want to start with a standard EPE roller, which isn't very dense and will start to break down scar tissue and lengthen your muscles. As you get used to the roller, the pain will subside, and you can then transfer to the less soft varieties.
If you're a newbie to foam rolling, you should start with a softer roller. The white foam rollers are usually the softer ones, but they do come in different colors. The soft rollers will inevitably feel like rocks under your spine, which is all part of the standard foam roller experience. Softer foam rollers will also lack ridges and grooves, which massage you even more, but they can be too painful for you if you just started using the foam rollers. Higher density rollers may come with ridges or grooves. You should not use a ridged textured foam roller until you have been rolling for quite some time. These will provide you with the best tension relief, and ultimately, they will give you the most comfort after you've used them! A roller is not supposed to be such a comfy experience, so be ready for that!
Expert Interviews & Opinions
Most Important Criteria
(According to our experts opinion)
Experts Opinion
Editors Opinion
Users Opinion
By Default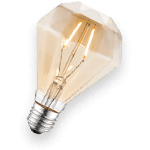 Alternatives
In addition to the variety of foam rollers on the market, there is also an extensive range of other devices designed to bring you relief from muscular pain. Balls can serve as very useful trigger point manipulatives when placed between your body and a hard surface, such as the floor. Balls allow you to place a specific focus on one spot. The smaller and harder the ball, the more intense the effect will be on the trigger point.
Range of Options
You can use softballs, cricket balls, LaCrosse balls, tennis balls, and golf balls. There is also a large range of commercially available balls that you can purchase for this purpose. Some of them feature spikes, while others are two balls connected by a bar. There are several different types of massage sticks on the market that allow you to manipulate hard to get to areas of your back. Many of them feature an "S" design that will enable you to hold one end and manage the other end, which is looped over your shoulder and digging into your back. They feature a series of massage nodules on their ends and at strategic points along their base.​ Some stick devices feature a series of free-spinning wheels that run along a flexible shaft. They will give an ongoing level of pressure to the target muscle that more closely simulates the effect that you get from a foam roller.​
Other Factors to Consider

Value
Rollers start in the 10-15 dollar range. It makes it a relatively inexpensive way to experience the benefits of deep tissue massage in the comfort of your own home. The more you pay, the more versatility and balanced density you will get.
In addition to a foam roller, you can also use a medicine ball. A medicine ball can work your muscles differently and can get into your muscles in a more intense way. A medicine ball would be used by somebody who has quite a bit of experience with foam rolling.
The smaller the ball, the more intense it is going to be. Harder balls will also be more intense than softer ones. You can advance yourself to a Lacrosse ball, a softball, a baseball, a cricket ball, and a tennis ball. These balls are perfect to use on a smaller muscle group, allowing you to get deeper into the muscle and feel it.​

Bottom Line
If you know how to use them properly, foam rollers are quite handy tools that can help you relieve muscle soreness and pressure created after working out, or simply after doing something for a long time. If you need a stretching aid, or if you need a massage without actually going to a therapist, then a foam roller is the right choice for you! We hope our guide has helped you understand foam rollers better, and that you will enjoy using them!
Frequently Asked Questions
q:

How often should I use my foam roller?

a:

If you feel like it, you can use them every single day! If you spend using the roller just 10 minutes before your exercise, you will warm up your muscles and prepare them for the oncoming struggle, and using it afterward will help with fatigue and soreness, although sometimes the rollers can make us feel even sorer. If this feels like too much for you, you can use the rollers after you've finished with your gym session, and you will surely feel the benefits!
q:

What kind of foam roller do I need?

a:

It will all depend on what you want to use the roller for. For hitting hard to get to areas such as the hip flexors you'll wish to a roller with grooves on it. Large rolling muscles, such as your IT bands, require longer strokes, so you'll want a longer length roller for this purpose.
q:

How do I use a foam roller?

a:

When you're rolling the roller over the muscle you want to help, make sure that you're rolling it over the whole length of your muscle! If you're working on longer muscles, make sure that you use long strokes, and do not stop over painful spots! If the muscles you're helping relax or warm-up are shorter, like the bicep or the glutes, shorter back-and-forth motions are what you need to do!
q:

Can foam rollers be harmful?

a:

If you spend just a few minutes working on that one very painful knot, you won't hurt yourself. But if you concentrate on just that one spot, and if you try to use your whole body weight to sink that roller into the knot, you can hurt a nerve or damage the surrounding tissues! It can create bruising, soreness, and even numbness, so make sure that you use the roller the right way, and not for a long time, and you'll be good to go. Spend only 20 seconds on every tender spot you have, and don't use your whole body weight!
q:

Can I become sore from using foam rollers?

a:

Foam rolling should never leave you feeling sorer than when you started using it! If you do feel sorer than before, the chances are that you're doing it way too aggressively, for way too long, or that you have a condition or a disease that is not paired well with foam rolling. If you feel sore even after you've used the foam rollers the correct way, stop immediately, because you could be hurting yourself!
Subscribe to our newsletter