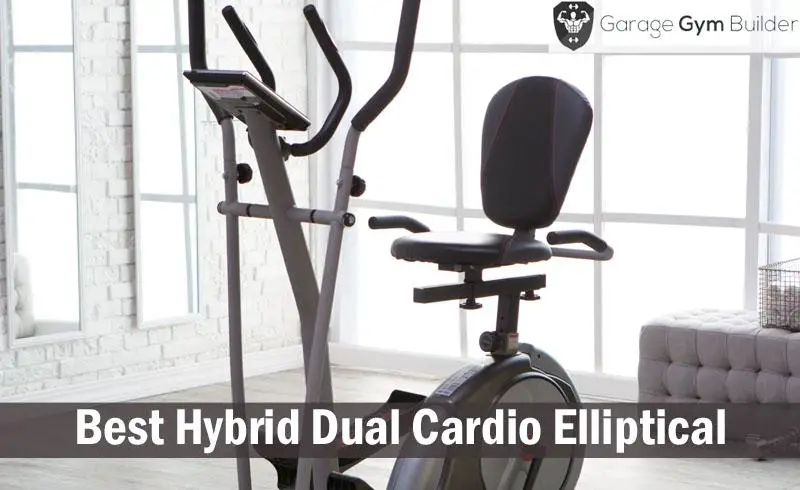 Best Hybrid Dual Cardio Elliptical Reviews 2018
Two of the most effective cardio trainers for your home gym are exercycles and ellipticals. Purchasing both separately can be very expensive and very space demanding. Fortunately, you don't have to. You can purchase hybrid trainers which combine these two great cardio machines. However, the quality of these trainers differs markedly. In this article, we take a close look at the Top 10 Hybrid dual cardio elliptical machines on the market.
A Quick Snapshot of the Top 10

The best hybrid elliptical machine on the current market is the ProForm Hybrid Trainer, with its easy two step adjustment, free range of motion and 16 levels of resistance. Our second favorite is the GoPlus 2 in 1, which feature a sturdy chain driven resistance fan, felt brakes and 250 pound user capacity.
Rounding out our top 3 hybrid elliptical trainers is the Akonza 2 in 1 elliptical, which has a solid steel frame, quick change between functions and easy transport wheels.
To make it easy for you to compare and contrast the best hybrid trainers, we've rated the top 10 on the basis of price and durability, along with an overall rating out of 5. In the following section, we'll go in depth on each product.​
The ProForm Hybrid Trainer provides you with a combination elliptical trainer with a recumbent bike, allowing you to get two metabolism boosting workouts in one. This machine is fitted with iFit technology, so you can simulate training anywhere in the world. You also get access to unlimited workouts with some of the best trainers in the business. It take just two simple steps to transform the ProForm from an elliptical into a cycle.
The ProForm Hybrid provides you with a smooth frictionless resistance, thanks to it's SMR technology. You get 16 resistance levels and 16 different workout apps. The soft grip handles feature pulse tracking sensors. An adjustable cushioned seat and large format foot pedals add to the comfort level.
iFit enabled
2 step adjustment
16 resistance levels
Stride limited to 15 inches
The GoPlus 2 in 1 Elliptical is an upright cycle with elliptical handles that allow you to get in an effective upper body workout as you pedal. It is driven by a chain driven fan, providing a very smooth, jerk free movement. Felt brakes provide a very secure, efficient stopping mechanism. The LED display provides a readout of all of your vital training data, including calories burned, distance, speed and time.
The GoPlus 2 in 1 elliptical cross trainer and exercise bike is a compact unit that is surprisingly sturdy. It has a maximum user weight of 250 pounds. You also get a comprehensive exercise guide with your purchase. This machine is very low impact, making it ideal for children and the elderly.
Chain driven fan
Felt brakes
250 pound user capacity
The Akonza 2 in 1 Elliptical is a cross between an upright cross trainer and an upright bike. Changing between the two is quick and easy. The magnetic tension levels are easily adjustable to provide a smooth movement between intensity levels. The frame is made from sturdy steel to provide a rigid base to work from. The chain driven chain resistance ensures a very fluid exercise movement.
The Akonza 2 in 1 Elliptical has a fully adjustable seat, along with foot straps to keep your feet securely in place. It also has large wheels for easy transportation. The max user weight is 250 pounds. End caps on the feet ensure that this hybrid unit stays stable throughout your entire workout.
Sturdy steel construction
Chain driven resistance
250 pound max user weight
Wobbles under intense exercise
The FDW Elliptical 2 in 1 trainer is a very compact unit that is ideal for apartments and other confined spaces. The FDW has been ergonomically designed to provide an extremely natural elliptical motion. This makes it much easier on your joints. Variable resistance is provided by way of a centrally located easy dial operation. The combination between an upright cycle and an elliptical provides you with a great upper / lower body workout.
The FW 2 in 1 elliptical recumbent bike combo is capable of both forward and backward motion on the elliptical and the upright, allowing you to work your muscles in unique ways. A chain driven fan resistance provides a very smooth, whisper quiet motion. The saddle of the bike is especially comfortable.
Impact free
Chain driven fan resistance
Forward and backward motion
The Body Rider 3 in 1 Trio Trainer utilizes a unique patented design to provide you with a combination recumbent, upright and elliptical trainer. The transitions between the function is quick and easy, with no pedal adjustment required. You get a decent amount of lower back protection in the recumbent position. The console is completely programmable, allowing you to choose from 17 different workout apps.
You get a good stride length on the elliptical and a free range of pedaling range on the cycle functions. Integrated pulse and hand rail monitors allow for an accurate tracking of your heart rate. Comfortable cushioning on the seat and back add comfort and security. You get 16 levels of resistance on all 3 functions.
300 pound weight capacity
Upright and elliptical trainer
16 resistance levels
The Merax Elliptical 2 in 1 exercise bike provides an outstanding entry into the home cardio fitness market. You get an upright cycle, an upper body motion hybrid, and a standing upright elliptical. The rigid steel frame provides the stability that is missing from many machines in this price range. A large resistance fan keeps you cool as you work out. The dual action on the elliptical allows you to work all of the muscles of your lower body.
The Merax 2 in 1 bike has a max user weight of 250 pounds. The centrally located computer monitor provides you with readouts of your key performance indicators, including calorie burned, speed, distance, and time. The LCD display is large and clear.
Large resistance fan
250 pound max user weight
Rigid steel frame
The Body Champ 2 in 1 hybrid trainer provides you with an upright bike and standing elliptical trainer cross. Unlike many such units, you get a free and full range of motion on both moves. The patented elliptical motion gives you a very natural, smooth action, and the programmable magnetic system allows you to intensify your workout as you get fitter. 17 pre-set workouts provide you with a decent range of exercise options.
The Body Champ 2 in 1 elliptical stepper combo has a space saving footprint. It also features a number of comfort enhancing features such as a gel covered seat cushion, padded dual action handle bars and a full range ergonomic stride. The max user weight is 250 pounds.
17 pre-set workouts
Compact
Gel covered seat
The Palm Springs 2 in 1 is an upright bike, elliptical hybrid. It provides a smooth, natural action on both functions. The LCD monitor provides you with ongoing monitoring of your training data, including your time speed, distance and calories. Because you can stride both forward and backwards on the elliptical and the bike, you get a great workout for your hamstrings and calves.
The Palm Springs 2 in 1 cardio dual trainer elliptical comes with a full factory warranty. It has a solid frame that is capable of a 250 pound max user weight. A handy instructional manual also comes with your purchase. You get a very low impact, versatile workout with this product.
Forward and backward motion
250 pound max user weight
Low impact
The Body Rider Deluxe flywheel dual trainer provides you with a 15 pound flywheel for a natural, jerk free exercise motion. You also get a double set of handle bars to provide you with lot of options regarding the positioning of your upper body. The smooth, nylon flywheel belt ensures a smooth operation. You are able to adjust the seat both vertically and horizontally.
The Body Rider Deluxe dual elliptical and exercise bike has adjustable tension settings to allow you to intensify your workout as you get fitter. The electronic computer monitor gives you feedback on your training heart rate, distance, time and speed. A manufacturer's warranty accompanies your purchase.
15 pound flywheel
Double handle bars
Manufacturer's warranty
The Gracelove Elliptical 2 in 1 trainer is a very compact hybrid between an exercise bike and a standing elliptical machine. It provides you with dual handle options so you can either use a motion or stationary hand hold. This unit has a solid steel main frame that keeps it sturdy during all exercise applications.
The compact nature of Gracelove Elliptical 2 in 1 , along with its lightweight design and travel wheels, make it easy for you to roll away for storage. The centrally located LCD monitor provides you with feedback on your training data, including your training heart rate. A tension knob allow you to adjust your training intensity to suit your requirements.
Very compact
Dual handle bars
Travel wheels
Conclusion
Our favorite combination elliptical is the ProForm Hybrid Trainer, which provides 16 resistance levels, easy function interchange and a full motion range. We also loved the GoPlus 2 in 1, with its chain drive mechanism, resistance fan and 250 pound user capacity.
Our bronze medal hybrid trainer is the Akonza 2 in1, providing you with a smooth exercise motion, sturdy frame and easy transportation.​
---