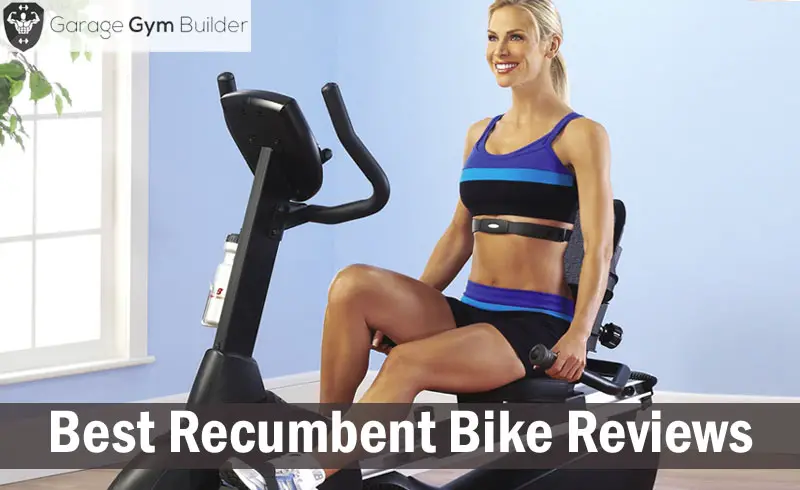 Best Recumbent Bike Reviews 2017
Cycling offers all of the cardiovascular benefits of running, but without the impact. For people with lower back issues, however, sitting on a conventional upright bike just isn't feasible. That's where the recumbent bike comes in. A recumbent exercycle will provide you with total back support while you cycle, while activating your glutes and hamstrings more than an upright does. In this article, we identify and review the top 10 recumbent bikes of 2017.
A Quick Snapshot of the Best Recumbent Bikes
Number one among the best rated recumbent exercise bikes is the Exerpeutic 900XL. The 900XL provides a superior level of back support, along with an extremely smooth, fluid pedal motion thanks to the balanced fly wheel and V-belt drive system. Our second favorite is the Schwinn 270 recumbent cycle, which delivers an amazing 29 workout programs, along with 25 level eddy current and a 10 year frame warranty.
The best value recumbent bike that we reviewed is the Sunny Health and Fitness Folding Recumbent, which provides high performance in a compact, foldable and very well priced design.
To make it easy for you to assess the top bikes on the market, we have rated each of the Top 10 on the basis of price and durability and then provided and overall score out of 10.​
| Product | Product Name | Price | Durability | Overall | Product Link |
| --- | --- | --- | --- | --- | --- |
| | | 4.5/5 | 4.75/5 | 4.75/5 | |
| | | 4.5/5 | 4.5/5 | 4.5/5 | |
| | | 5/5 | 4.25/5 | 4.5/5 | |
| | | 4.25/5 | 4.25/5 | 4.25/5 | |
| | | 4.5/5 | 4/5 | 4.25/5 | |
| | | 4.25/5 | 4.25/5 | 4.25/5 | |
| | | 4.25/5 | 4/5 | 4/5 | |
| | | 4/5 | 4/5 | 4/5 | |
| | | 4.5/5 | 4/5 | 4.25/5 | |
| | | 4/5 | 4/5 | 4/5 | |
The Best Bikes In-Depth
The Exerpeutic 900XL offers a generously wide back-rest to provide comfort for people with spinal problems. The seat is adjustable both fore and aft for customization. You get 9 levels of magnetic resistance, with centrally located control knob. The bike has a very solid steel frame base, providing a max user weight of 325 pounds. A balanced flywheel and v-belt drive provide for a very fluid, natural pedalling experience.
The Exerpeutic 900XL is a budget bike that offers top level performance. The console is basic but functional. The LCD screen is easy to read, giving a rolling read out of your speed, time, distance, calories burned and heart rate. There are no inbuilt programs on the 900XL.
PROS
Wide, comfortable seat
8 levels of resistance
Rigid construction
CONS
Computer readouts not totally reliable
The Schwinn 270 Recumbent Bike is a very impressive looking exercycle. The seat and console look like an airplane cockpit and are complimented by sleek black lines and smooth curves. But this bike doesn't just look good. The seat is ultra comfortable, with a ventilated contoured back support. Thick padding on the seat bottom allows you to exercise for hours without discomfort. The seat is adjustable in all directions.
The console of the Schwinn 270 provides you with a truly impressive 29 workout programs, including 2 fitness tests and a recovery program. The split screen display allows you to view 13 different analytics at one time. In addition to the normal data, you also get a readout of RPM, calories, intensity and heart rate.
PROS
29 exercise programs
Dual track LCD display
25 level eddy current
10 year frame warranty
The Sunny Health and Fitness folding sitting exercise bike is a lightweight, foldable model that provides you with a quality workout and comes in striking pink. The total weight is just 35 pounds and the unit collapses into about the size of a regular ironing board. However, when set up, the cycle is surprisingly rigid, providing you with a safe, solid riding experience. It has a maximum user weight of 220 pounds.
A functional yet simple LCD screen provides you with all of the training data that you need. The seat on the Sunny recumbent foldable is extra wide and well padded for comfort. You also get 8 levels of variable magnetic resistance. The bike is also completely noiseless.
PROS
Compact and foldable
8 levels of resistance
Wide, comfortable seat
CONS
Resistance levels not challenging for advanced users
The Exerpeutic 400XL is regarded as a semi-recumbent exercise bicycle. It is half-way between a recumbent and an upright cycle. This is due to the fact that the angle of your legs when pedalling is about 25 degrees. This provides a more intense leg workout than a traditional recumbent bike, while protecting the lower back. A solid, rigid model that will stay secure when you are pedaling, the 400XL is a very well priced model.
The key difference between the 400XL and the 900 is that the 900XL provides a better level of back support. It has a precision balanced flywheel and offers you 8 levels of magnetic resistance for a smooth, variable workout. The max user weight is 300 pounds.
PROS
Folds for quick storage
Smooth resistance
Very rigid
CONS
No pre-programmed workouts
The Velocity CHB-R2101 from CAP Barbell features a 2 crank braking system to provide the smoothest pedaling experience possible. The angle between the seat and the pedals has been ergonomically engineered to provide a great workout for both the thighs and the hamstrings, while keeping your back safe. This is solidly constructed bike with a tubular steel frame that has a max user weight of 250 pounds. The high back seat provides effective spinal protection.
The Velocity CHB-R2101 gives you 8 levels of smooth magnetic resistance. The large foot pedals are padded and come with adjustable straps to secure your lower body in place. The console is simple but functional, providing a clear readout of your vital training data.
PROS
8 levels of magnetic resistance
2 crank braking system
Very solid frame
CONS
Shorter people may not reach pedals
The Progear 190 recumbent bicycle is a budget model that operates well. Offering a high back seat and giving you an ergonomically designed pedalling position. The large pedals provide adjustable safety straps to allow for a secure setting. The handles that are positioned alongside the seat are fitted with hand pulse monitors. The v-belt drive provides for a very smooth cycle operation that is also extremely quiet to operate.
The Progear 190 is a foldable cycle, able to compact up to half its original size. It is completely adjustable so as to fit any body size or shape. An 8 level magnetic tension system provides for a fluid, variable resistance. The maximum user weight on the Progear 190 is 275 pounds.
PROS
High back seat support
Smooth operation
Foldable and compact
CONS
Needs more resistance at top level
The Marcy ME 709 is a stylish customizable recumbent stationary bike with 8 levels of preset resistance, controlled by a smooth central knob. The seat has a high back with thick cushioning to protect the lower back and add comfort. The angling between the seat and foot pedals provides an ideal lower body position for pedalling. Pedals provide a comfortable grip along with secure foot straps to hold you in place.
The console on the ME709 is large and centrally located, providing a running readout of your time, distance, speed, and calories consumed. The frame is constructed from 2 inch, 14 gauge molded ABS steel on a step through frame design to make easy to get on and off the cycle.
PROS
8 levels of pre-set resistance
High backed seat
Very strong frame
The Nautilus R614 is a stylishly constructed sitting bike machine with a lot of back support to provide a relaxed, natural position while exercising. The console on the R614 is truly impressive, featuring 20 levels of smooth resistance and 22 in-built programs. It has a dual track, LCD display, Nautilus Connect goal tracking and data export and a USB charging port.
The body and frame of the Nautilus R614 is rock solid, providing two integrated levelers and a support center to provide the ultimate in rigidity. Added stability is provided by a large crossbar tube. The handlebars are ergonomically designed to provide ideal upper body positioning. You also get acoustic chambered speakers and a 3 speed fan with this exercycle.
PROS
Lots of back support
20 levels of resistance
22 in-built programs
Schwinn are among the very best cycle manufacturers. But how good really are their home cycles? Find out with our Schwinn Exercise Bikes Review 2017 - you may be surprised!
The Velocity Exercise Dual Motion machine is a unique recumbent exercise bike with arm workout built in. It provides a hand rower that is positioned at head level and within convenient reach. The pedal action is by way of a 5 kg fly wheel and one way bearing belt drive. You get 8 levels of magnetic resistance and a quick stop brake system for ultimate control.
The Velocity reclining exercise bike has a solid structural steel tube frame. The rotating handles of the upper body exerciser are tension adjustable to provide a progressive level of resistance. A centrally located monitor provides readouts of your vital training data on a clear LCD screen. This hybrid trainer elliptical and recumbent bike is an effective total body trainer.
PROS
Upper and lower body trainer
8 levels of magnetic resistance
Clear LCD screen
CONS
Top arm resistance not very fluid
Now that you know all about the best reclining stationary bikes, get the lowdown on the top exercycles across the entire market with our Best Exercise Bikes Review 2017 - it's essential reading!
The Stamina 1350 Magnetic is a budget recumbent bike that provides you with a basic, yet solid cycling experience while seated. The seat padding adds comfort, while the high back protects your spine. You get multiple levels of magnetic resistance and a smooth pedalling motion thanks to the adjustable heavy weighted flywheel. Oversized foot pedals make sure that you have a firm grip while exercising.
The Stamina 1350 Magnetic features the Stamina In Touch monitor which provides a large LCD screen that provides clear readouts of you distance, speed, calories consumed, distance covered, and time all from a one touch control. The maximum user weight is 250 pounds. The unit rolls away for easy storage.
PROS
High backed seat
Oversized foot pedals
Transport wheels
Not sure which type of exercycle is right for you? Check out this clip which compares recumbent, upright and spin cycles to allow you to customize your bike to your needs . . .
Conclusion
The best recumbent stationary bike that we found is the Exerpeutic 900XL, which provides an extra wide back ands eat for a superior level of back support and a balanced flywheel and V-belt drive for a fluid smooth pedalling action. We were also very impressed with the Schwinn 270 recumbent exercycle, with its multi display, extra seat padding and back ventilation.
​The best value reclining stationary bike is the Sunny Health and Fitness Folding Recumbent Bike. The Sunny is compact, foldable machine which is amazingly rigid, providing a smooth pedal action free of any stuttering or awkwardness. It comes in at a great price point.