Best Schwinn Stationary Bikes Reviewed and Rated
last updated:
Feb 11, 2020
Schwinn established a reputation as a premium supplier of outdoor cycles before launching into the exercycle market a decade ago. They are now recognized as one of the leading brands, with a line of high-end recumbent bikes, upright bikes, and foldaway bikes. In this article, we review 5 of the best Schwinn bikes, so you can discover if the reality matches the reputation.
In a hurry? The test winner after 10 hours of research: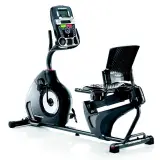 230
Why is it better?
22 built-in programs
Provides workout feedback
20 levels of resistance
USB Port
Very Adjustable
13
Researched Sources
16k
Reviews Considered
40
Hours Researching
11
Products Evaluated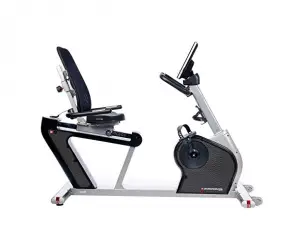 Diamondback 510SR
Very Solid Frame
Excellent Back Support
Sculptured Seat Base
Price:
ProForm Hybrid Trainer
Hybrid Model
EKG Pulse Grip
Lightweight And Portable
Price: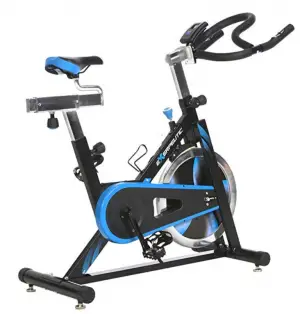 Exerpeutic LX7
Racing Bike Style
Dual Pulse Sensors
Not Jerky
Price:
Features
Durability
Value
Size
Comfort
By Default
Best 10 Schwinn Exercise Bikes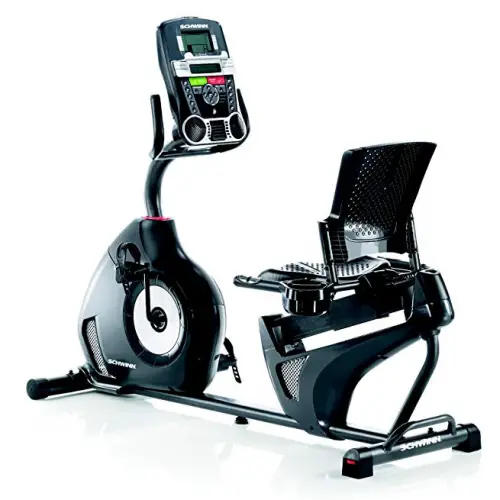 22 built-in programs
Provides workout feedback
20 levels of resistance
USB Port
Very Adjustable
The Schwinn 230 Recumbent Exercise Bike is almost fully assembled right out of the box, so you won't need to waste a lot of time setting it up. The bike's computer allows you to store user information. This is used to track your workout activity and then provide feedback on the effectiveness of your workout session. There are 22 inbuilt programs in this exercise bike on the computer that come with pre-set features and smooth transitions to help maximize your workout.
Read more
A USB port is provided on the console, enabling you to connect and charge a mobile device. Built-in speakers allow you to listen to your favorite music while working out. You also get a fan with 3 different settings. There are 20 levels of resistance, controlled by a heavy-duty perimeter weighted flywheel that gives a smooth, natural riding experience.
The ventilated, contoured seat provides robust back support. It is completely adjustable in fore/aft positioning by way of a sliding seat rail, allowing it to accommodate a range of body sizes. The ergonomically designed pedal and handlebar placements allow you to ride for maximum efficiency with minimum discomfort.
A shortcoming with the 230 is that you can only set up profiles for a maximum of two users.​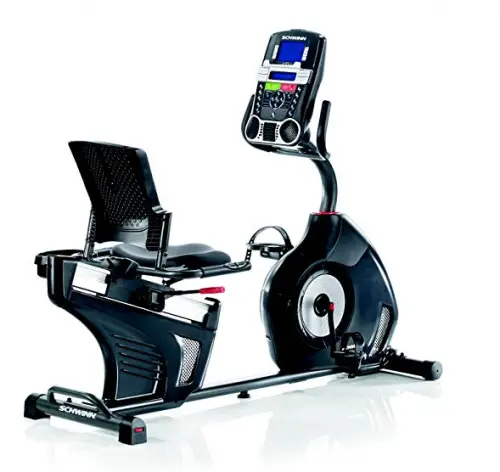 29 exercise programs
Visually impressive
Dual-track LCD display
25 level eddy current resistance
10-year frame/2-year mechanical warranty
The Schwinn 270 recumbent is a very impressive looking bike. It's sleek black curves, thick padding seat and cockpit-like display panel give a look of quality and rigidity. It has solid steel frame construction and is easy to assemble. Schwinn has taken seat design to a new level with a ventilated contoured back support and an extra layer of padding for you to sit on. This provides maximum riding comfort while reducing heat build-up.
Read more
The 270 Schwinn workout bike is ergonomically designed to allow for an effective lower body workout without placing undue pressure on the spine. The angle between the seat and pedals engages the hips, quads, and glutes while protecting the lower back.
You get a massive 29 workouts with the dual-display computer system. Included are 12 profile programs, 9 heart rate control, 4 custom user workouts, 2 fitness tests, and a recovery test. The dual-track technology provides a display of 13 training parameters at any one time.
This bike provides an impressively smooth ride by way of its 25 level eddy current which is connected to a heavy-duty high inertia perimeter weighted flywheel. This provides a very realistic, jar free riding experience.​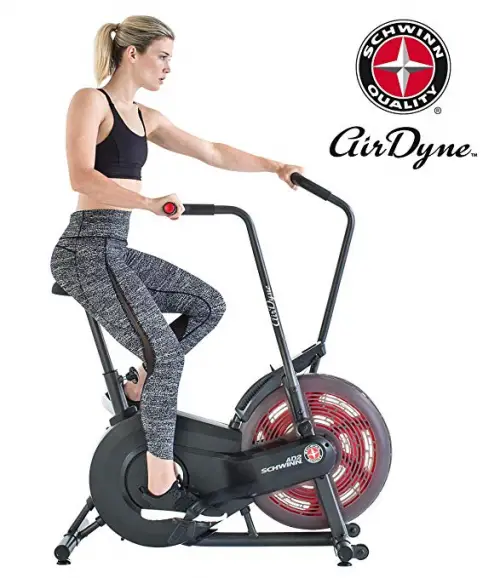 Provides arm and leg workout
Infinite fan-based resistance levels
40-pound flywheel
Smooth pedaling
The AD2 Airdyne Schwinn exercise bike provides you with infinite levels of resistance to provide a constant challenge. The AD2 has a synchronized arm and leg motion, providing a true upper and lower body combined workout. The simple to use LCD console shows speed, rpm, distance, time and calories. The bike is lightweight (total packing weight is 96 pounds) and has wheels for convenient transportation.
Read more
The AD2 is fitted with a heavy-duty 40 lb flywheel. This provides the smoothest of pedaling experiences that perfectly simulates riding on an outdoor cycle. If you want to focus on just working the upper body with the arm rower, you can set the pedals to lock with a unique peg system.
The pedals are ergonomically designed for ideal leg positioning and have adjustable straps for a secure fit. Because this is an air resistance model, the faster you go, the harder it gets. Airflow from the unique, quieter fan provides a comfortable, cooling effect as you're working out. The fan displaces the air effectively for an infinite number of resistance levels.
The seat of the A2 is super hard, though it does get more variable the more you use it.​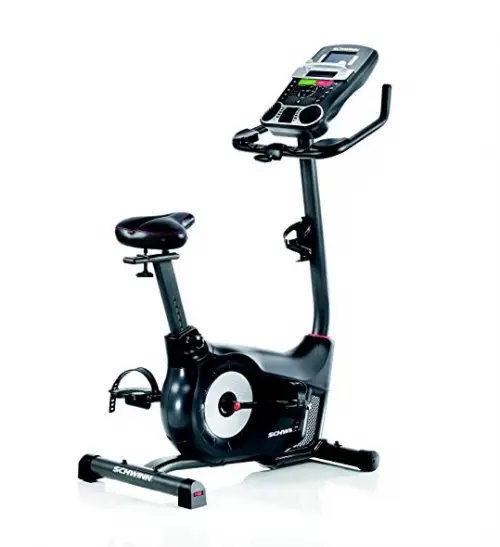 25 levels of resistance
29 workout programs
300-pound max user weight
Synchs to Schwinn website
User manual not very clear
Takes two people to assemble
The Schwinn 170 is an updated, rebooted version of an earlier model which packs in a host of new features. This bike looks great, with its black matte finish and red accents. It features a sturdy steel frame and a robust, heavy-duty flywheel that provides a smooth pedal revolution. The bike is fully adjustable for all sized riders and has a maximum user weight of 300 pounds.
Read more
On the Schwinn 170, you get 25 levels of eddy current resistance, making this exercycle suitable for everyone in the family. Even the most experienced rider will get a challenging workout on this bike. You also get 29 built-in exercise programs, including heart rate programs, user select programs, and fitness tests. The control panel provides you with twin displays; one gives you your workout data and the other shows your progress in the program.
The 170 provides an extremely comfortable ride. It has oversized pedals with adjustable foot straps. The seat is thickly padded and a 3-speed fan provides ventilation. Integrated heart rate sensors on the handles allow you to track your training pulse. Schwinn integrated technology allows you to sync your workout to the Schwinn website.​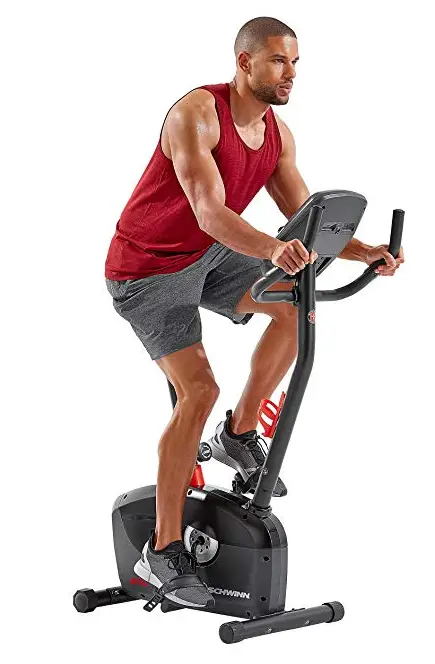 Large LCD Screen
8 Levels Of Resistance
7 Programs
Smooth and Quiet
Seat not very comfortable
The Schwinn A10 Upright exercise bike is a mid-priced model with features that you normally don't see at this price point. It has an easy to read, large LCD window which accurately tracks your speed, time, distance and calories. 7 workout programs are built in to keep you motivated and progressing. You also get 8 levels of magnetic resistance to keep you challenged.
Read more
The A10 runs smoothly and quietly. You can also pedal backward on this model. A grip heart rate monitor allows you to track your working pulse rate. The adjustable t-knob angled handlebars are adjustable to different riding positions and it has a fully adjustable padded seat. The adjustable leveling feet allow for better stability.
The A10 includes a transport set of wheels for enhanced mobility. It supports up to 275 pounds on the saddle. You also get speakers and a built-in fan on this bike. The high speed, high inertia perimeter weighted flywheel provides a very natural cycling motion which is free of the jerkiness that you get with many bikes in this price bracket. It comes with a 2-year frame Schwinn warranty with 6 months on parts.​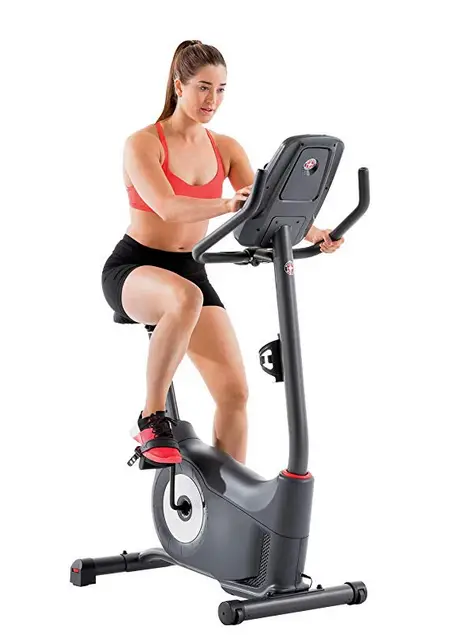 Dual track LCD windows
22 workout programs
Data transfer
USB Charging Port
The 130 offers you plenty of exercise choices, making it a very versatile tool. This bike has top-level technology integrated into its construction - there are two LCD monitors on dual tracks, that show you valuable data about 13 different parameters it measures as you pedal! There are 22 programs to choose from, and two of them allow you to set your own preferences.
Read more
The Schwinn 130 looks good and lasts even longer, so expect to see this bike grace your home for a long time. There are two integrated levelers that keep the bike anchored and steady, preventing it from toppling over with you on it. The flywheel is heavy and makes pedaling smooth, thanks to the high speed and inertia it has. The seat is padded and contoured to keep your mind off of finding a comfortable spot on the seat. The USB port allows you to collect all the data you need and see it laid out on the Schwinn website!
Criteria Used for Evaluation

Features
Exercise bikes are usually packed full of features. But arguably the most important feature of the exercise bike is what keeps it going, or in other words, the motor. The flywheel is the part of your bike that is responsible for powering it up and giving it resistance. The flywheel is usually one enormous wheel made out of metal, sitting at the front of the bike, although it can be found at the back sometimes. When you start pedaling, the wheel begins to turn, and a chain or a belt helps it move.
The more massive a flywheel is, the more you will have to pedal to keep it going, and you will have to spend more time to get it to come to a haul. Before exercise bikes had flywheels, they didn't actually resemble exercise bikes at all. They were to easy to use and provided no benefits an outdoor bike can provide you with, so make sure to go for bikes that actually have a flywheel before everything else.
The flywheel quality increases with its weight - the heavier it is, the better! Heavy wheels create the same conditions as when you ride an outdoor bike, all the trouble and effort you actually need to go through to keep the bike going remains true. The lighter the wheel is, the jerkier the ride will be, and it also won't be gentle to your joints! Spin bikes are the ones that are packed with the biggest wheels, followed closely by upright bikes. A good flywheel should weigh around 30 pounds, giving you fluid motions and plenty of resistance levels to choose from. If you never used an exercise bike before though, you might be better off with a wheel that weighs about 20 pounds in order to learn how to use it properly.
The resistance type your bike has is also something you need to consider. The wheel is powered by electromagnets, magnets, or friction. The best wheels have electromagnetic motors, using the power of electric currents to keep the bike going. Magnetic resistance is the most common one and is usually seen in most mid-range bikes. A computer controls a lot of ferrous magnets placed all around the wheel. This kind of resistance is actually the one you can rely on the most. Friction is the worst kind of resistance you can get, and it can be seen in many cheap bikes. These wheels create jerky and unstable movements.

Durability
Be prepared to spend a lot on a proper, high-quality bike. This is why that very same pricey bike must last a long time! You should expect the bike to survive at least two years of vigorous use. There are a lot of factors that affect the durability of the bike, like the way it was constructed, what it was constructed out of, how much you use the bike, its weight capacity, and much more.
The bike should have a sturdy frame, before everything else. It should be A-shaped because those frames give the most stable support and they absorb shock and impact forces quite well. The more solid the frame is, the less chance is there for it to jiggle and fall apart. Always make sure to see if the weight capacity matches what you need. The weight capacity of the bike should never be less than what you weigh, and it should ideally be 50 pounds more than what you weigh. The better the weight capacity, the higher the price will be, so keep that in mind when shopping for bikes. The base of the bike must be wide and stable to support you when you get into the intense bits!
But the frame is not the only part that has to withstand all that damage. The upholstery, screws, bolts, pedals, and everything else holding the bike together also has to be able to live through the damage. Make sure that you've assembled the bike properly because it could fail before its time comes if you're not careful! Make a mental note of what noises and movements are natural for the bike, and as soon as you see that something is out of order, check the bike out thoroughly to avoid injuring yourself.

Value
We all like to think that money does not matter, but it almost always does, and the more you spend on your bike the sturdier and better it will be. We're not saying that you can't find excellent mid-range bikes, we're just saying that you can expect top quality out of the priciest bikes, at least most of the times. If you want to spend 200 dollars or less on your bike, be prepared to see it fail or disappoint you if you're a seasoned athlete. Beginners can actually do quite good on these bikes since the flywheels will not be heavier than 30 pounds. But as you advance you will need a better bike to save your joints and wallet! These budget-friendly bikes also lack a lot of features their pricier counterparts have. These features will not affect the performance of the bike, although it does feel nice to see how well you're doing.
If your bike falls in the 200-500 price range, the flywheel will probably be heavier, and you will have more features to enjoy. Mid-range bikes are usually just enough, even for the most experienced users. If you want more advanced features or a bigger and heavier wheel though, you will need to invest in your bike even more!
Paying more than 500 dollars for a bike that will not be used commercially, say in a gym, can be considered unnecessary, although there are plenty of features you can enjoy on these bikes. The frames and parts of these bikes are supremely made, and they will be able to withstand a lot of different users adjusting them to their liking. If you're a serious user, or if you just want more things to play with, go for these bikes!

Size
Building a home gym can be quite tricky, especially if you lack space. The amount of space you have is probably limited, so you will need to take the size of your bike into account. Of course, the smaller the bike is, the easier it will fit into your home, but little bikes are usually not so stable, and they have lightweight flywheels. Foldable bikes are also a good option, but they may have weak points that will make them more unstable than not!
Luckily, most bikes out there are foldable, and they are quite sturdy, to begin with, so you won't have to worry about ruining them when you fold them over. You can disassemble other bikes easily if you seriously lack space, although you will need to put them back up carefully. Transportation wheels also make moving the bikes around easy, so if you lack the strength to move them around there's no need to worry!

Comfort
Exercise bikes must be comfy to use, otherwise, you might be too distracted by discomfort and pain to actually get a good workout session. Most of the comfort of the bike is determined by the shape and size of the seat. You must be able to adjust the seat to your standards. It has to move in every possible direction to account for the shape and size of your legs and body. If you have back problems, you will have to move the seat closer to the handles, and you can't exactly do that if the seat is non-adjustable!
The height at which the seat is matters a lot as well. A properly adjusted seat height saves your knees from pain and ensures that the angle of the knees and pedals remains natural. The knees must remain in line with the pedals because if they go over the pedals a lot of stress is placed on them and you will end up with knee pain. The padding of the seat has to cushion you and it must be able to withstand a lot of wear and tear damage. Saddle sores are the last thing on your list, so make sure that your seat is comfy! You can usually swap out the seat for a comfier one, or you can add covers that make riding them much easier on your body.
Expert Interviews & Opinions
Most Important Criteria
(According to our experts opinion)
Experts Opinion
Editors Opinion
Users Opinion
By Default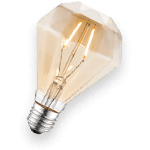 Use
Exercise bikes are very easy to use. All you have to do is sit on it, strap yourself in and get to pedaling! Adjusting the bike before you actually sit on it is where the trouble is. If it's not properly adjusted, you may hurt yourself, and that's the last thing you need. The seat height and distance from the pedals have to be properly measured. Your knees should never sit further than the pedals are! Always sit upright, and avoid leaning forward too much to save your back.
Height
Exercise bikes can usually accommodate people between 5'2 and 6'. If you're shorter or taller than that, you might have issues with adjusting the bike to your liking. You must be absolutely sure that you can fit on the bike before you actually buy it! If you're getting the bike online, check plenty of reviews to see if you can fit on it. Schwinn bikes can be adjusted to a lot of different height settings though, so don't worry about not being able to fit on them!
Other Factors to Consider

Bottom Line
Schwinn is an American fitness company with an outstanding stable of home exercise bikes. The 270 recumbent bike offers a huge 29 exercise program and 25 levels of eddy current resistance, provided unrivaled choice in its price range. The 170 is an excellent mid-priced upright bike that mirrors the program and resistance options of the 270 recumbent, with the bonus that you can sync your workout data to the Schwinn website. The alternatives we mentioned are great choices if you cannot find a Schwinn bike near you, or if you want to give other brands a try!
Frequently Asked Questions
q:

Which exercise bike type is the best?

a:

There are a lot of different exercise bike models out there, and they all have their set of pros and cons. Spin bikes are the most similar to regular bikes, and they mimic the pedal movements of outdoor bikes. Upright bikes are the ones we're all used to seeing in gyms, and they are what a lot of people actually want when buying an exercise bike. There is no definitive winner here though, and what is best for you will depend on what you need the bike to do!
q:

Are stationary exercise bikes effective?

a:

You can't find a gym without an exercise bike today, and there's a good reason why that's how things stand! Exercise bikes are a great way to work on both your strength and endurance while giving your heart and lungs a great challenge. Riding bikes outdoors is a great way to remain fit, and the same thing rings true for indoor bikes, so don't worry about losing your shape if you decide to use an exercise bike!
q:

How high should my saddle be on these Schwinn exercise bike?

a:

This depends on how tall you are. If you get the wrong saddle height, your knees and back may suffer as a result. Remember to never let your knees go over the pedals if you want to save them from the pain. Do not place the seat too far away from the handles either, because you can easily damage your lower back that way!
q:

Shoul I get a chain or belt-driven bike?

a:

Both of these systems have their own set of pros and cons. Chain-driven bikes are very hardy, but as one may expect, they are also super loud. The chain drive does make pedaling both backward and forward a possibility though. Belt-driven bikes make the pedals move even after you've stopped using them, so you will need to stop them yourself, and the belt itself does tend to wear down fast, so you will need to replace it every now and then.
q:

What kinds of bikes can I choose from?

a:

You can find three different kinds of exercise bikes out there today. Upright bikes are the most recognized ones. Spin bikes and recumbent bikes are also popular, but they are not as common as upright bikes are. Hybrid bikes combine the best of all of them and are best suited for people who want to try out a whole variety of things but don't want three bikes taking up their space. Choosing the right bike model will depend on what you want to work on and how you want to work on it, so research these kinds well and you will have a great experience!
Subscribe to our newsletter