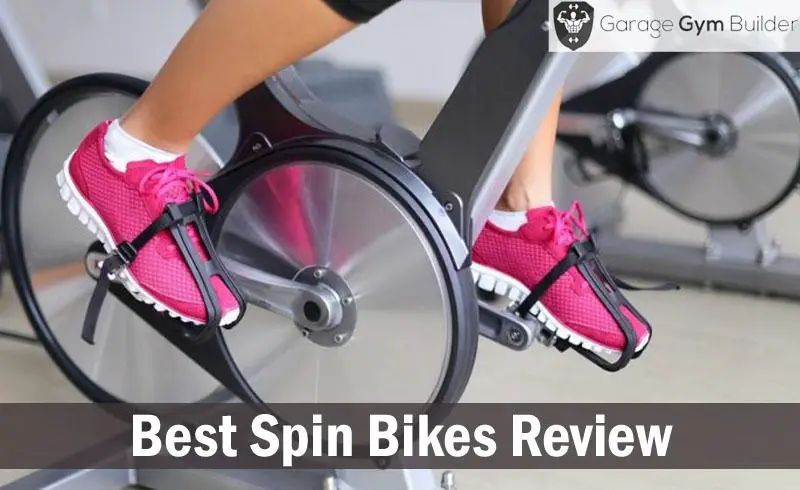 Best Spin Bikes Review 2018
If you're after the most effective calorie burning, fat shedding, leg blasting workout you can do on two wheels, then you need to be training on a spin bike. Spinning will build cardio endurance, while churning through 1000 calories per hour. Once the domain of commercial gyms, spin cycles have entered the home fitness market. Discover the right spin bike for you with our analysis of the Top 10 spin cycles on the 2016 market.
A Quick Glimpse at the Top 10 Spin Bikes
Our favorite spin bike is the Exerpeutic LX7, featuring a heavy duty 40 pound flywheel, solid frame construction and multigrip handles. We were also impressed with the Sunny Health and Fitness Pro Indoor, with it's solid three piece crank system, smooth chain drive and comfortable fittings.
Completing our top 3 is the Bladez Fitness Fusion GS11, which has a heavy duty flywheel, multiple variable resistances and a 3 piece crank system to improve durability and performance.
To allow you to easily compare and contrast the Top 10 Spin cycles, we've rated them in terms of price and durability and then provided an overall score out of 5. In the next section, we provide an in-depth analysis of each cycle.
| Product | Product Name | Price | Durability | Overall | Product Link |
| --- | --- | --- | --- | --- | --- |
| | | 5/5 | 4.75/5 | 4.75/5 | |
| | | 4.75/5 | 4.75/5 | 4.75/5 | |
| | | 4.5/5 | 4.75/5 | 4.5/5 | |
| | | 4.5/5 | 4.5/5 | 4.5/5 | |
| | | 4.25/5 | 4.5/5 | 4.25/5 | |
| | | 4/5 | 4.5/5 | 4.25/5 | |
| | | 4.25/5 | 4.25/5 | 4.25/5 | |
| | | 4/5 | 4/5 | 4/5 | |
| | | 3.5/5 | 4.5/5 | 4/5 | |
| | | 4.25/5 | 4.25/5 | 4.25/5 | |
The Top 10 In-Depth
With a user weight capacity of 300 pounds, the Exerpeutic LX7 is a solidly framed, rugged yet stylish home spinner. Unlike most spin cycles, it has a fully functioning monitor to allow you to track your training data. The 40 pound chrome rimmed flywheel provides a very natural, smooth pedaling experience. The multi grip handles bars allow for ideal upper body positioning and the bi-directional foot pedals give you secure toe cages.
The Exerpeutic LX7 comes with floor stabilizers to allow you to train on a level surface regardless of where you are. The cushioned ergonomically designed seat has four-way adjustment to allow you to customize your position. The LX7 is a quietly operating cycle that provides a superior riding experience at a budget price.
PROS
40 pound flywheel
Monitor
Great price
The Sunny Health and Fitness Pro Indoor cycle has 40 pound flywheel, which provides you with commercial gym level smoothness and fluidity while riding. The heavy duty crank and smooth chain drive system of this bike add to the rider experience. With both seat and handlebars being adjustable fore and aft, you are able to customize your positioning. The adjustable resistance gives you a variable level of intensity.
The heavy duty steel frame of the Pro Indoor means that this unit is very rigid and will sit securely while you are pedaling at maximum intensity. This is an ergonomically designed unit with a comfortable seat and secure foot pedals. It comes in at an unbeatable price point.
PROS
40 pound flywheel
Heavy duty crank
Excellent price
CONS
Clicking noise when pedaling
The Bladez Fitness Fusion GS11 is a new and improved version of a previous model, which features a new and improved handlebar post and stem. This allows the rider to position themselves ideally when pushing it on the cycle. The 40 pound flywheel provides an extremely smooth, natural riding experience. The saddle is a genuine riding model and features 4 way adjustment for perfect positioning.
The Bladez Fitness Fusion GS11 comes with an LCD console to allow you to monitor your time, distance, calories burned, and speed. The heavy duty framing is made from oval steel, providing a secure base. A conveniently located top down resistance lever and quick stop brake add functionality. The 3 piece crank system adds to the durability of this top performer.
PROS
40 pound flywheel
LCD console
3 piece crank system
CONS
Seat not very comfortable
The Marcy XJ-3220 is a very stylishly designed spinner with a solid steel frame. Resistant to rust and corrosion, it is finished in a green and black powder coat. The seat and handle bars have been ergonomically positioned for the most effective body positioning while working out. The handle bars are fully adjustable and you get basket cage pedals for the most secure foot placement.
The Marcy XJ-3220 has a 40 pound flywheel to give you a very smooth riding experience. An easy brake lever allows you to instantly stop the motion of the pedals and the centrally located resistance knob provides a range of intensity levels. Transportable wheels make it easy to move the unit round.
PROS
40 pound flywheel
Easy brake lever
Basket cage pedals
CONS
Cage pedals may be too small for some users
The XtremePower US is a budget spin bike that offers the fluid movement and smooth pedaling that normally only comes with much more expensive cycles. It operates a 22 pound flywheel in concert with a chain drive mechanism, providing a very smooth, quiet riding action. This is a stylish looking unit, with its curved steel jet black frame and red accents. The seat and handle bars are ergonomically designed for ideal body positioning.
The XtremePowerUS bike is completely adjustable to allow for a custom fit. The seat moves forward and back as well as up and down. The pedals have basket cages attached to allow you to secure your foot positioning. A centrally located knob allows for fluid resistance adjustment.
PROS
Chain drive mechanism
Quiet operation
Well priced
CONS
Seat not very comfortable
The IronMan 510 provides a massive 44 pound aligned and balanced flywheel to give you the smoothest, most realistic riding experience you'll find in a home spin bike. This is coupled with a 3 piece crank system to provide a superior overall mechanism. The pedals of the 510 have basket cages and adjustable straps to secure your position. You also have bi-directional and stand up pedal functionality with this bike.
The multi grip handles of the IronMan 510 feature heart rate sensors, which provide data by way of the LCD monitor. The padded saddle is adjustable both fore and aft. When you buy this product you get a bonus waterproof mat to place it on! It also comes with transport wheels.
PROS
44 pound flywheel
3 piece crank wheel
LCD Monitor
CONS
Unreliable heart rate monitor
Know that you know which spin cycle to but, find out how to set it up for maximum performance with this great clip . . .
The ProGear 100S gives you a 22 pound flywheel with provides a smooth and consistent ride. The cycle is chain driven to give you a very natural pedaling cadence. You get an easy dial tension adjustment to easily increase your intensity. A top down emergency brake also provides safety. Toe cages on the pedals provide for a secure, comfortable foot placement. The bike also has bi-directional pedal capability.
The ProGear 100S is sturdily constructed from corrosive resistant tubular steel. The cycle has a very smart appearance and is compact enough to allow for easy transportation. Heart pulse sensors on the handle bars allow you to track your training heart rate. The max user weight is 250 pounds.​
PROS
Chain driven
Emergency stop brake
Cage pedals
Find the best home cycles across all categories with our extensive review of The Best Exercise Bikes in 2016 - it's got the inside scoop on the bikes you need to know about.
The FitLeader FS1 comes with a heavy duty crank system and magnetic flywheel, which is perimeter weighted for a natural cycling experience. You get 8 levels of adjustable resistance by way of a centrally located resistance lever. There is also a handy dual action safety brake. A large screen LCD monitor allows you to track you time, distance, calories burned, speed and heart rate. The padded saddle is fully adjustable.
The FitLeader FS1 has a durable, steel frame which is surprisingly light weight. This bike has a sporty, stylish appearance. It comes with a water bottle holder and transportation wheels and has a max user weight of 293 pounds. The flywheel is just 13.2 pounds, so may not give the power that experienced spinners require.​
PROS
Heavy duty crank system
8 levels of adjustable resistance
LCD monitor
CONS
Flywheel only 13.2 pounds
If you have lower back or knee problems, you have got to check our Best Recumbent Exercise Bikes Review 2016 - it showcases the best bikes to provide a great workout while protecting your vulnerable back and knees.
The Spinner Sprint Premium has a very impressive 43 pound signature weighted flywheel to provide the smoothest, most realistic pedaling experience of any home spinner we have encountered. This bike is very solid, with a commercial grade steel frame and foot levelers to provide an even priding platform. The saddle is contoured and features soft padding. Handlebars are ergonomically designed for rider comfort.
The Spinner Sprint Premium features a leather top down brake pad that keeps you in in control. It also has a range of variable resistance levels. It has an optimized Q-factor at 155mm that is the equal of most road bikes. The user weight limit is 250 pounds.
PROS
43 pound flywheel
Commercial grade frame
Contoured saddle
If you struggle to find time to exercise, you have got to check out our Best Pedal Exercisers You Can Use At Your Desk article - it will lead you directly to the best pedal exercisers on the market.
The Tauki Indoor Upright is a stylishly designed spin bike that gives you a commercial grade workout in your home . The frame and components are made from heavy duty steel and the 30 pound flywheel allows for a smooth, even pedal motion. The saddle is well padded and allows for four-way adjustment. With a 300 pound max user weight, this unit is built to perform.
The Premium has an LCD monitor to track your time, speed, rpms, calories and heart rate. The monitor is backlit and has an extra wide screen for easy viewing. The belt drive allows for an extremely quiet operation. The weight of this bike ensures that it will stay steady despite the energy that you put into your workout.
PROS
30 pound flywheel
Max user weight 300 pounds
Press down brake system
CONS
Not suitable for very tall people
ProForm are one of the leading home cycle manufacturers. Find out how good they really are with our ProForm Exercise Bikes Review 2016 - it gives you the knowledge you need to make a smart decision!
Conclusion
The best Spin Cycle that we came across is the Exerpeutic LX7, with its 40 pound chrome rimmed flywheel, multigrip handles, fully functioning monitor and exceptional price point. Our runner up is the Sunny Health and Fitness Pro Indoor, which features a heavy duty crank system, 40 pound flywheel and smooth chain drive to give you a very smooth ride.
Rounding out our top 3 is the Bladez Fitness Fusion GS11, with its heavy duty flywheel, 3 piece crank and top down resistance system.​