7 Best Folding Exercise Bikes – 2023 Buying Guide
last updated:
Oct 18, 2021
Finding the space for a compact stationary bike to work out at home can be a real challenge for many. Apartments, basements, and bedrooms often have just a few feet of space that can be used for a short time. The folding exercise bike is the perfect solution.
Thankfully there are some great stationary exercise bikes to meet this requirement. In this guide, we reviewed the best compact exercise bikes for small spaces that provide you with a quality workout and can be stored away inconspicuously. Be sure to check out all the great information about the best folding exercise bikes we have here for you!
In a Hurry? The test winner after 10 hours of research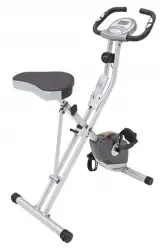 Exerpeutic Folding Magnetic Upright Bike
Why is it better?
Compact design
Noiseless operation
High torque cranking system
Large LCD
3
Researched Sources
10
Hours Researching
14
Products Evaluated
Features
Comfort
Durability
Value
Size
By Default
13 Best Exercise Bikes for Home
1

. Exerpeutic Folding Magnetic Upright Bike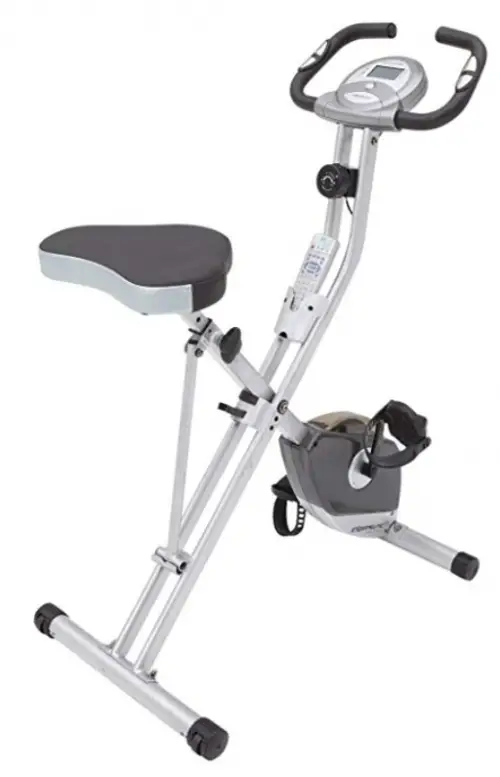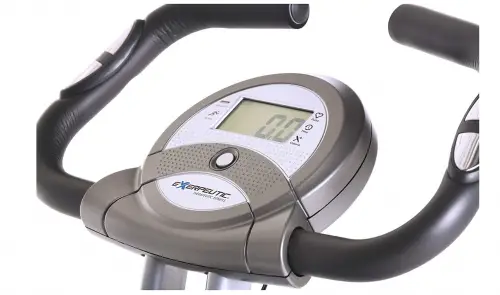 Compact design
Noiseless operation
High torque cranking system
Large LCD
Pedals are too far forward
The Exerpeutic folding magnetic bike is the best stationary bike for home on our list. It is solidly constructed with a strong frame that can handle up to a 300-pound user weight. Leg stabilizers ensure that the workout bike will sit upright, and the framing is made from robust steel tubing.
Read more
You get 8 levels of adjustable resistance, along with dual pulse sensors which provide an accurate heart rate reading. It is a rare thing on a cheap exercise bike.
A three high torque cranking system ensures that you get a very smooth cycling motion with the Exerpeutic folding. This small stationary bike collapses like an ironing board and weighs just 43 pounds. It is also very quiet to operate.
The large LCD monitor allows you to track your training data.
2

. Sunny Indoor Exercise Cycle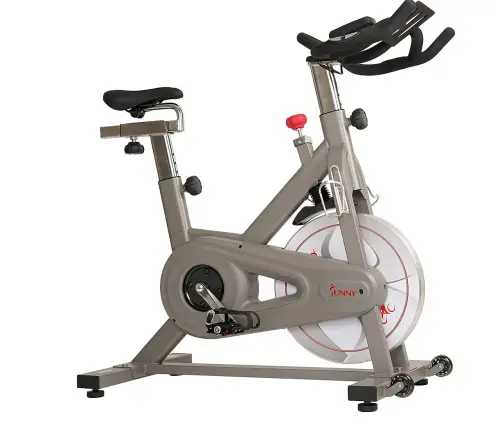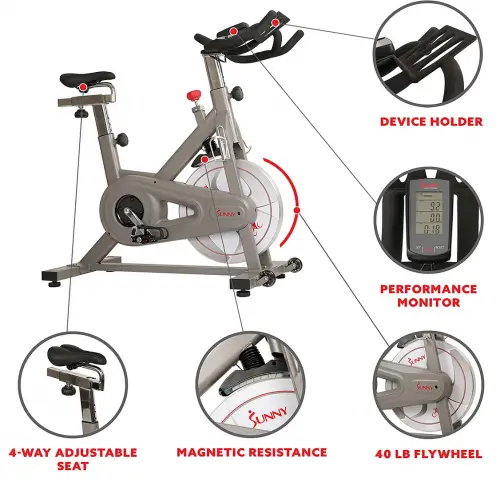 Large, comfortable seat
8 levels of resistance
Very lightweight
Rubber foam handles
The Sunny Indoor Exercise Cycle is a very simply designed, functional, lightweight exercise bike. It has an oversized seat with comfortable padding. You simply twist the knob to adjust the level of resistance.
Read more
The LCD screen is large and bright, providing you with readouts of your time, speed, distance, and calories burned. The maximum user weight of 220 pounds is little light, compared to the likes of the Exerpeutic small exercise bike.
The Sunny cycle is exceptionally lightweight, with an overall weight of just 61 pounds, which includes a durable 22-pound flywheel. It folds to a very compact size, which can be stored in a closet or under a bed. The frame construction is solid, and this compact spin bike is secure when set up.
All of the facts listed above make this product the second-best home exercise bike on our list.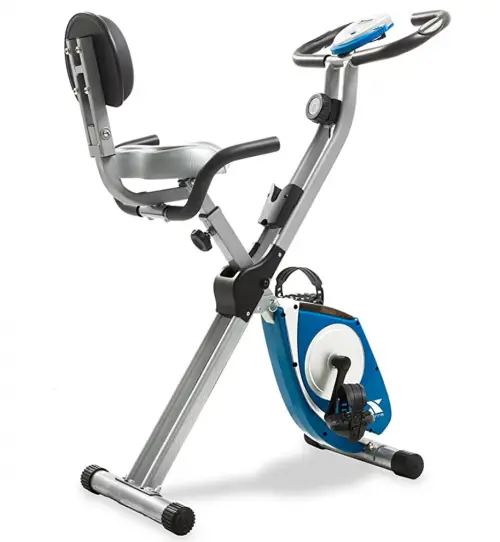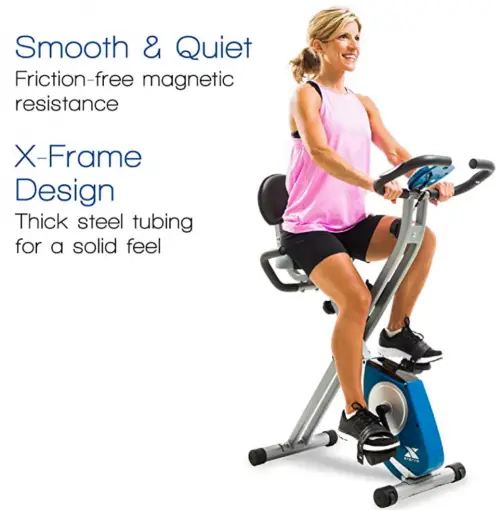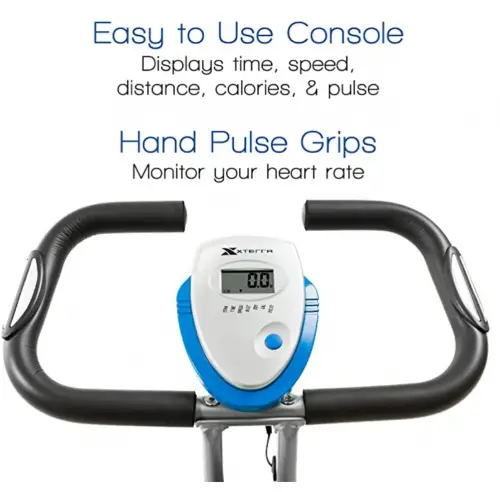 Large, comfortable seat 
Lower back pad
8 levels of resistance
Very lightweight 
This XTERRA Fitness FB350 Folding Exercise Bike is a lightweight, thick steel tube bike that is very compact.
Read more
The bike has a large padded seat with handles, plus a lower back pad that provides additional comfort and support. The ride is extremely smooth thanks to the magnetic resistance. You simply twist the knob to adjust the level of resistance.
The LCD screen is easy to use, providing you with readouts of your speed, distance, calories burned, time, and pulse. The maximum user weight of 225 pounds is little light. 
The XTERRA Fitness FB350 bike is very lightweight, with an overall size of just 42.3lbs which includes a 3.3lbs flywheel with friction-free magnetic resistance. The x-frame design folds to just 20.5" X 20" so it can be easily stored in a closet using the transport wheels. It has a 3-piece pedal crank for added durability and is powered by 2 AA batteries. 
4

. Marcy Foldable Exercise Bike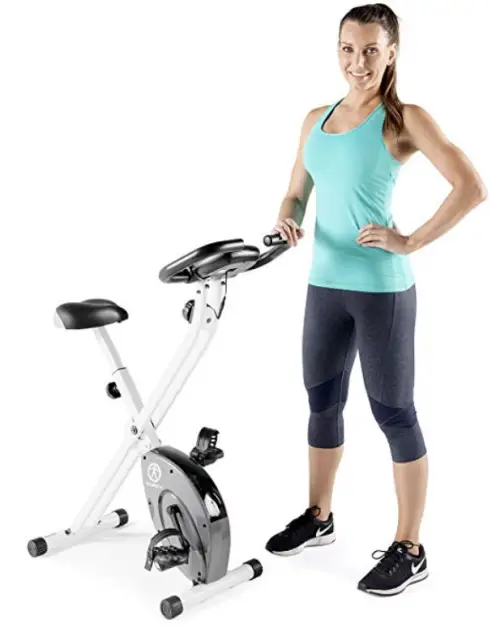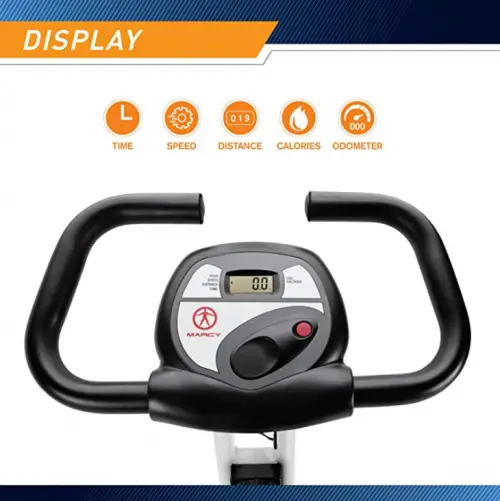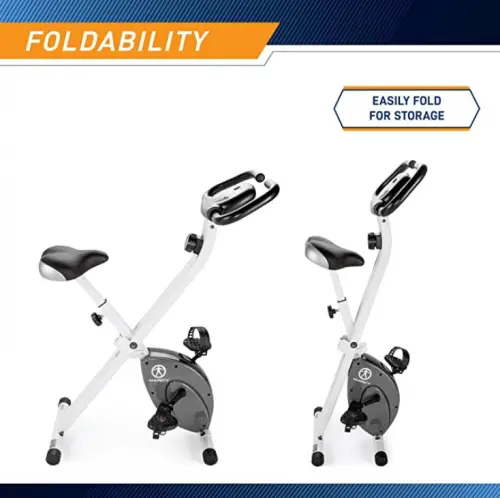 14 gauge steel construction
Oversized seat
Stylish monitor
Manually adjustable resistance
The Marcy foldable exercise bike is constructed from 14 gauge steel to provide you with a very sturdy yet compact and lightweight unit. The ride is quite smooth thanks to the magnetic resistance and multi-level adjustable resistance.
Read more
The oversized seat is ergonomically designed and allows for adjustment in both directions. The gripped pedals provide basket cages to will enable you to get a secure foothold.
The stylish monitor of this stationary exercise bike provides a bright LCD that gives you with the readout of your speed, distance, time, calories burned, and time of exercise.
The compact design allows you to train in even the smallest of space, and then store the bike away in a closet.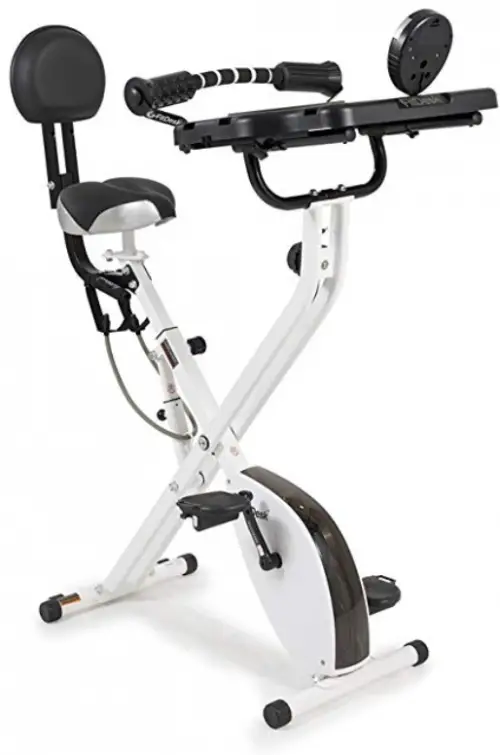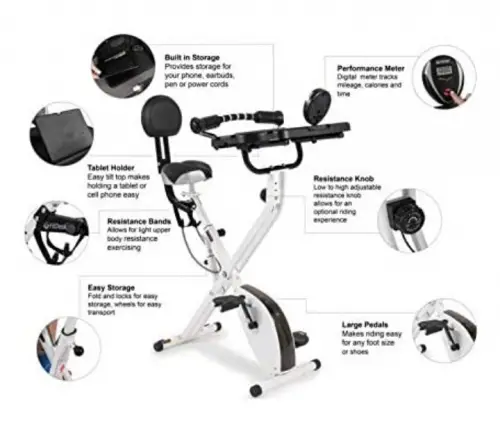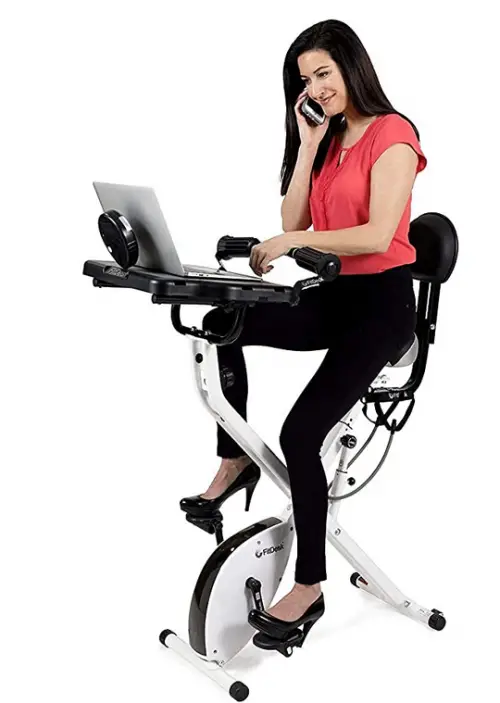 Adjustable desk surface
Twin-belt flywheel
Thick padded seat
Digital resistance meter
The FitDesk exercise bike is a durable upright magnetic bike with a built-in shelf, or 'desk', for you to work while you work. You get an oversized, extremely comfortable and thickly padded seat. The magnetic tension system gives a relatively smooth riding experience.
Read more
A twin-belt high-velocity flywheel provides you with a smooth cycling motion. Brackets are included which can act as a stand for your tablet. This indoor exercise bike folds up like an ironing board to half its size.
This folding exercise bike has a large, centrally located LCD screen which provides a scanning readout of your training time, distance, speed, calories burned, and heart rate. This folding exercise bike has a reliable non-slip adjustable desktop that can house your laptop, phone, magazines, and more.
6

. ProGear Foldable Magnetic Upright Bike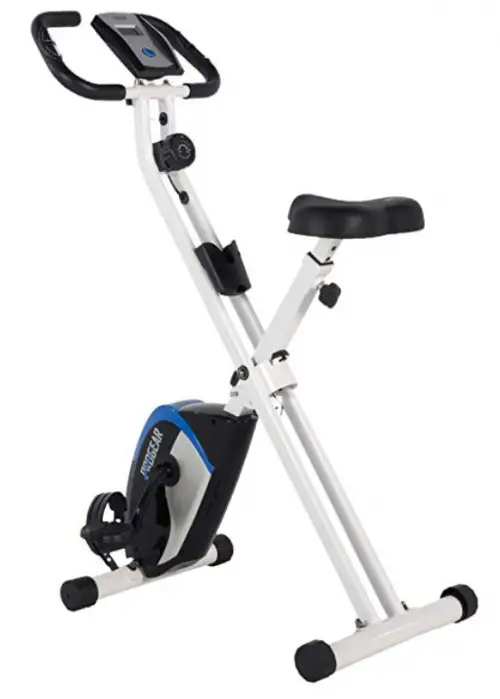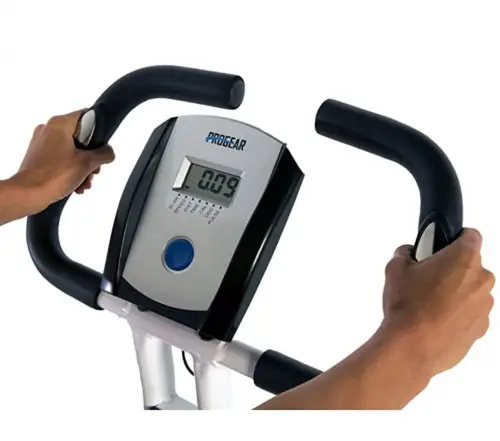 8 levels of magnetic resistance
Dual transmission flywheel
Smooth pedal motion
Ergonomic contoured seat
The ProGear foldable magnetic upright bike is a robust, secure foldable bike.
Read more
This folding exercise bike provides you with 8 levels of magnetic tension control, an ergonomically contoured seat cushion for extra comfort and a dual transmission flywheel for very smooth and natural pedaling motion.
The LCD provides you with a readout of your time, calories, speed, pulse, and scan.
7

. Flexispot Home Office Standing Desk Bike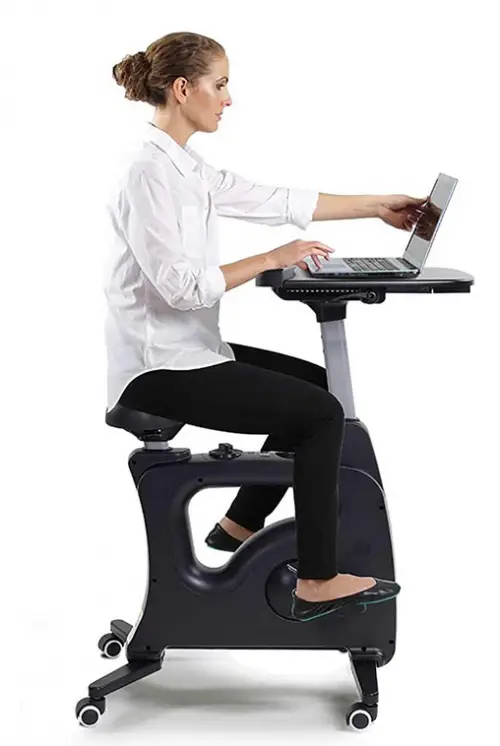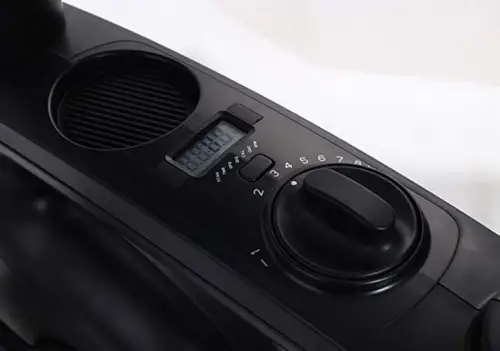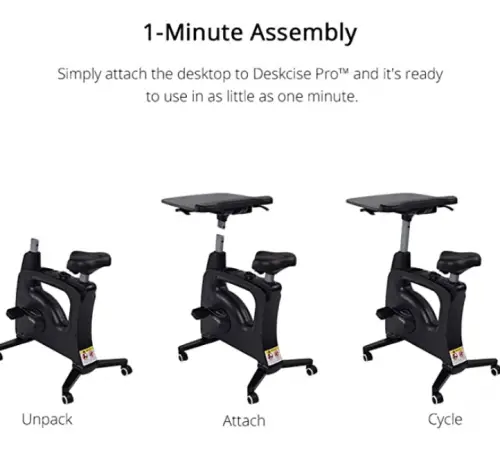 Padded back support
7 resistance levels
400 pound user weight
Pneumatic adjustment lever
The FlexiSpot home office standing desk is a part exercise bike and part standing desk. It features whisper quiet pedaling that makes it ideal for working out while watching YouTube or the TV. Adjustment of the seat is simple thanks to a gentle press of a button.
Read more
The generous desk on this folding exercise bike is exceptionally secure, so you will have no problems placing your tablet on it. The fully adjustable oversized padded seat is fully adjustable and very comfortable
The FlexiSpot desk bike has a large LCD that tracks your training time, speed, distance, and calories burned. This unit is very lightweight. When setting up, however, it is impressively sturdy.
Criteria Used for Evaluation

Features
The flywheel is the powerhouse of any cycle. It gives you resistance and determines the fluidity of the pedaling action. As the name suggests, it is a big wheel, made of metal, that is positioned at the front of the bike. When you turn the pedals, the flywheel also turns. A chain or belt drive connects the flywheel to the pedals.
The more massive a flywheel is, the harder you need to pedal to get it moving and the more revolutions it will make before slowing down once you stop pedaling. Before flywheels were introduced in the 1980s, exercise bikes did not produce the natural pedal motion that you get with a bike. If you get a bike without a flywheel, you will find it way too easy to pedal and you won't get a good training experience.
Flywheels are measured by weight with the more substantial, the better. It is because heavier flywheels replicate the hard pedaling that you need to do get started when cycling an outdoor bike. If the flywheel is too light, you will always be having to increase your resistance level to keep the pedal motion natural and fluid. It can produce a jerkiness that is not only frustrating; it's also hard work on your joints.
Spin bikes have the heaviest flywheel weight, followed by upright. A flywheel weight of around 30 pounds (18kg) will provide you with a fluid motion and plenty of resistance. As a beginner, you will want to get a bike with a flywheel that is at least 20 pounds. Any less than this and the motion is not very smooth.
Flywheel weight is a big contributor to both the weight and the cost of a bike. As a result, more budget bikes and those that are foldable will have lighter flywheels. However, it would be a mistake to compromise on this critical feature to save a few bucks or to get a lighter bike.
One more feature to look out for is the resistance type. Exercise bikes will use either friction, magnetic, or electromagnetic resistance. The best most expensive is electromagnetic resistance, which uses a copper coil wire and electric current which is controlled through the bike's console.
Next, best is magnetic resistance, which is what you will find in most mid-range bikes. It features a series of ferrous magnets placed around the flywheel which are controlled by the computer console. Of the three resistance types, this is the most reliable and the one we recommend.
Friction resistance is the least desirable of the three. It features a felt pad which contacts the flywheel and can be tension adjusted. It often produces a jerky action and will wear comfortably.
The monitor is a handy feature almost every bike has. Many bikes will market the multi training programs that are built into their monitors. However, most people hardly use such programs, so don't make several programs a deciding factor. An upright that provides 5-10 programs is plenty. However, your monitor should provide the following training diagnostics: Speed, RPM, workout time, pulse rate and distance. These allow you to keep an eye on how you were progressing in terms of fitness from one session to the next.

Comfort
The seat will determine the comfort of your bike. The seat should provide you with the means of custom adjustment. You should be able to move it both fore and aft (up, down and sideways). Being able to move the seat closer to the handlebars is essential if you have lower back niggles as it relieves the tension on the erector spinal muscles that run alongside your spine.
Getting the right seat height will allow you to maintain a proper knee to heel angle when pedaling. It prevents the knee from coming out excessively past the line of the pedal, which places undue stress on the knee joint.
The seat of your bike should also provide you with a decent level of comfort through its padding. You will be spending a lot of time on your bike seat.
Sometimes you may find that you don't see it comfortable and are wanting to replace it with another that is more to your liking. You need to know that many bikes under two hundred dollars do not easily allow you to swap out the seat. You should check whether the bike has a quick mechanism for removing the seat before buying.

Durability
Since you will probably be paying more than enough for your new bike, it's vital that the bike you get lasts at least two years or more, with regular use of course. Many things will determine the durability of your bike - the material it's made out of, how it was constructed, how much you use, what your body shape and size is, and much more.
Look for a bike that has a solid, stable, steel frame. An 'A' shaped frame provides you with an excellent base with all of the pressure being driven into the ground: the fewer separate parts, the better as there is less that can go wrong. Look for a bike that has a max user weight of about 50 pounds more than your weight. Keep in mind, though that the more sturdy and weight resistant a bike is, the more it will cost. So, if you are 145 pounds, you don't need a bike that is more than 200 pounds (unless you are buying it for other users who are 200+ pounds). The bike should have a stable, wide base that prevents it from sliding around when you are going all out with high intensity.
The upholstery of the seat and the screws, bolts, and pedals are also something you should consider before buying the bike. The seat cover will likely be made out of synthetic leather or vinyl, although genuine leather can also be seen from time to time, it will make the bike pricier. The padding inside will likely be some foam, most commonly high-density foam, or gel. If the seat you have does not work well for you, you can always replace it with another one, or get a seat cover that doesn't leave you saddle sore.
The screws and bolts should all be screwed in tightly, and to make sure they stay that way, you should check them out now and then. If your bike rattles and squeaks when you ride it, it's time to look at the construction! If it did that ever since you got it, likely, it was cheaply or poorly constructed, and you should either replace the parts making all of that noise or replace the bike altogether. The pedals and the chain must withstand constant turning, so it's vital that they stay lubricated for a smooth ride.
Make sure to check your bike for flaws now and then, and we're confident that it will help you achieve your fitness goals for as long as you need it to!

Value
The amount of money that you pay is going to determine the weight of the flywheel, the sturdiness of the frame, seat comfort, fluidity of pedaling motion, and the quality of the monitor. Here's what you can expect in the various price ranges.
Under $200 – You can get quality beginners or intermediate bike for under $200 with a flywheel around 30 pounds in weight and a smooth pedal motion. As your intensity level goes up (for example when doing HIIT workouts), these bikes may get a little stutter in their pedal action, which can be a bit hard on your joints. The biggest compromise in bikes under $200 comes in the functionality of the monitor. It will be pretty basic and will probably lack built-in exercise programs. While these are nice to have, they will not affect the performance output possible on the bike.
$200-$500 – In this price range, you can expect a heavier flywheel that will allow you to get a higher level of riding intensity. It should be enough to meet the needs of all but the most advanced of riders. However, those who are after challenges such as extreme hill climbs for a bike under $500 should be able to find what they're after in a mid-priced spin bike. In terms of a computer monitor, in this range, you will get a good range of inbuilt programs and one press resistance levels (usually between 6 and 12 of each).
$500+ - Bikes in the 500 plus range are often designed for light commercial use. As a result, they will have a more durable frame, enabling them to take more punishment, and the seat and handlebars will be fully adjustable to suit a range of users. Flywheel weights will range between 25 and 55 pounds, providing the experienced high-end user with plenty of grunts. The monitor on a bike in this range will feature more in-built programs and resistance levels, with some providing dozens of each. The monitor will probably also be paired with an app so that you can download your training data to your computer for future analysis. Bikes in this price range are best suited for experienced cyclists or high-intensity advanced fitness trainers. Beginners should be able to find everything they need for a lot less of an outlay.

Size
We are talking about the best stationary bikes here, so their size is something you should consider. The smaller the folding exercise bike is, the easier it will be for it to fit inside of your house or apartment. But smaller bikes cannot withstand a lot of weight, so they don't have a high maximum user weight threshold. What you need to do is find a bike that is large enough to withstand your weight and your demands, but still small enough to fit into your space.
Luckily, even the most giant bikes on the market today are foldable, or at least they can be taken apart so you can easily store them away. Most of them allow you to remove the seat and pedals, which you can just put away in a closet or under the bed, while the frame can also easily fit in a small amount of space. If the bike is a way to heavy for you to move it around, you shouldn't worry, as many of them do come equipped with transportation wheels. These wheels will make moving them around wherever you want an easy task, so you will be able to store them away even faster and easier!
Exercise bikes are not that large, to begin with, so you shouldn't have trouble finding a small one. If you do, consult our list, and we're sure you'll find just what you're looking for!
Expert Interviews & Opinions
Most Important Criteria
(According to our experts opinion)
Experts Opinion
Editors Opinion
Users Opinion
By Default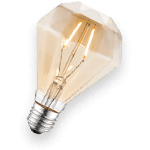 Tall Or Short
Most exercise bikes are designed to be adjustable for people in the height range of between 5'2" and 6'. People who are taller or shorter than that will have more difficulty in finding the bike that is right for them. If buying online, check the reviews to see if people your height can adequately use the bike. If you are under 5'2" or over 6', the Sole B94 will adjust to your user specs. It is a light commercial bike that is rather pricey (just over $1000). It will provide you with a consistent, smooth ride but the flywheel weight is only 20 pounds, and it doesn't provide you with that many inbuilt workout programs for the price.
Other Factors to Consider

Bottom Line
The best compact space-saving folding exercise bike on the market is the Exerpeutic Folding Magnetic Upright Bike, which features a high torque crank system to provide a smooth ride at a great price, and yet is surprisingly lightweight and portable. We also love the Sunny Indoor, with its large ultra-comfortable seat and heavy-duty 22-pound flywheel. Rounding out our top 3 compact exercycles is the Innova XBR450 which comes with such handy extras as a tablet holder, backrest and dual precision flywheels.
Frequently Asked Questions
q:

Is there a difference between upright and spin bikes?

a:

Yes, there is, but it may not be as apparent as the differences between these two and the recumbent bike. The regular, run-of-the-mill upright bike has a magnetic flywheel that stops spinning as soon as you cease pedaling. The upright has many features, like consoles, a full comfy seat, programs, and much more. A spin bike, on the other hand, is made to look as similar to the road bike as possible.

The wheel here will not stop sinning as soon as you stop pedaling - instead, it will go on as long as the pedals are going. These bikes are ideal for high-intensity interval training and cycle training too.
q:

How effective are exercise bikes?

a:

If you ever rode any bike before in your life, be it indoor or a regular bike, then you know just how good the bikes are at building up your endurance and strength. The bike, no matter which type you choose, will work on your lower body, and an air bike will work on your upper body as well, thanks to the moving handles. This way, you will work on your leg muscles and your cardiovascular health, making the bike a very effective way to stay fit!
q:

How do I know that my saddle height is correct?

a:

Getting the correct saddle height might not seem like such a big deal, but it can mean the difference between a successful and pain-free session and injured joints and muscles! The way your seat is positioned will largely depend on how tall you are, and slightly on how big you are.

The general rule of thumb is that your saddle should be locked into place when your knees are only slightly bent, with your foot resting on the lower pedal. The seat should also be close enough to the paddles, so you don't have to struggle to reach them!
q:

Should my bike have a chain drive or a belt drive?

a:

Both of these drive systems have their set of benefits and drawbacks. A chain drive is more durable, but it's also much louder, so if you are someone who is bothered, you might want to go for a belt drive. The chain drive will also make pedaling both backward and forwards a possibility. The pedals are linked to this system, so they will keep on spinning until you press the brakes.

On the other hand, a belt system allows the flywheel to keep spinning on and on, no matter when you stopped pedaling! The belt will eventually wear down, so you will need to replace it, but it's quite a modest investment, and you can do it easily by yourself.
q:

What are the different types of folding exercise bikes?

a:

There are three main types of folding exercise bike you can get, and all of them are brilliant ways to become fit or stay fit. There's the upright bike, the recumbent bike, and the spin bike. There are of course different variations of these styles, and hybrids as well, like the semi-recumbent, which is a mix of the upright and recumbent bike. What people usually think of when they say folding exercise bike is the traditional upright bike. It works by keeping you upright, like the name suggests, while the pedals are below your torso, just like a regular bike.

A recumbent bike has a large seat with a high backrest to which you should stay glued to, the handsets are next to your bottom, while your legs extend in the front to pedal. The spin bike is the modern version of the upright bike - it has a small saddle, low handlebars, a flywheel that is weighted, and a bike chain to power it instead of a belt.
Subscribe to our newsletter