The 7 Best Air Bikes – 2023 Reviews
last updated:
Mar 07, 2021
If you are on the hunt for a killer cardio machine, air bikes are worth checking out. These machines are a great way to work your upper and lower body for a full-body cardio experience. Many even provide stationary pegs at the base for your feet so that you have the option to isolate your workouts to train your lower body, upper body, or both.
What makes air designs unique is that they automatically adjust the tension on the pedals depending on how fast your move. This design feature makes it a great option for interval training because you won't have to fiddle with knobs or buttons to adjust the difficulty level.
In this guide, we have gathered some of our very favorite air bikes to help build muscle and burn fat!
This is the best product on our list that is currently in stock: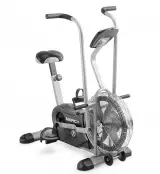 Marcy AIR 1
Why is it better?
Dual action system
Comfortable seat
Adjustable levelers
Premium steel framework
High-tech LCD monitor
5
Researched Sources
3k
Reviews Considered
6
Hours Researching
10
Products Evaluated
Ease of Use
Effectiveness
Features
Durability
Stability
By Default
Top 7 Picks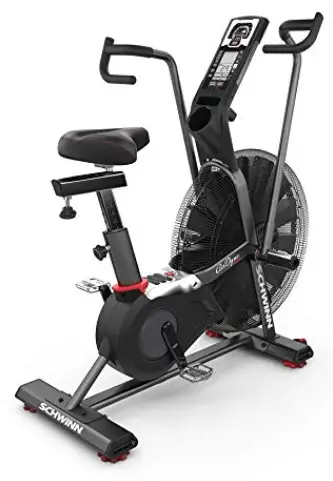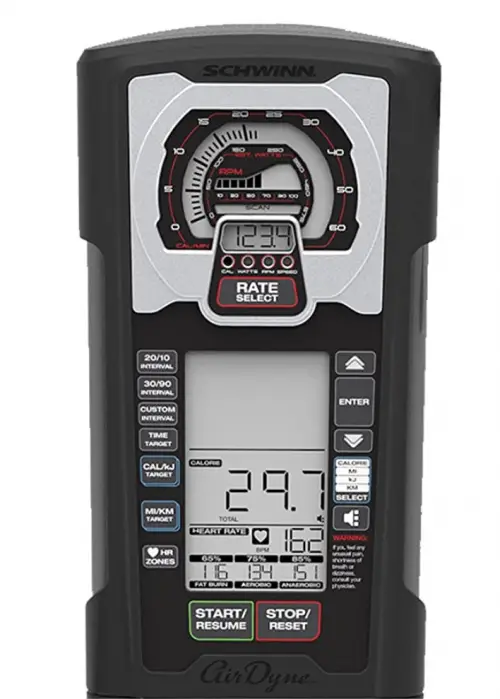 Multi handle positioning
9 workout programs
Footrests
Instant activation
The Schwinn Airdyne Pro is the top air bike in the Schwinn stable. It provides you with multi-position handles so that you can place your hands either vertically or horizontally. Being an air resistance bike, the level of resistance is unlimited - the harder you pedal, the more resistance you will get.
Read more
As with the other Schwinn bikes, you get dual resistance on this bike, so that you can work both your arms and legs. With the Airdyne Pro, however, you also get footrests that allow you to rest your lower body while working your upper body.
The console on the Airdyne Pro is easier to view than many competitors, including the Schwinn A2 and A6. The Airdyne Pro provides you with 9 built-in workout programs, including interval and target goal programs.
One negative is that this bike is a little noisier than the other bikes in the Schwinn stable.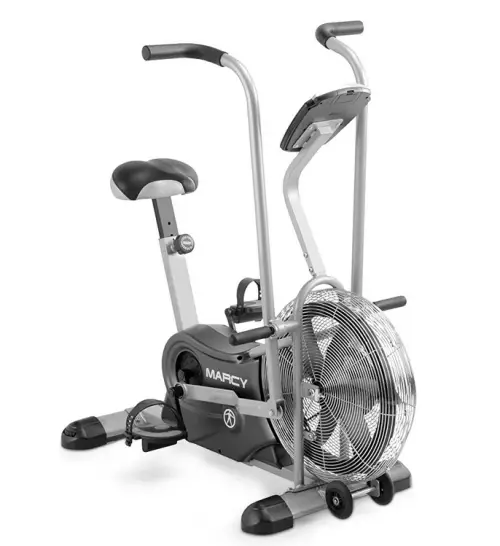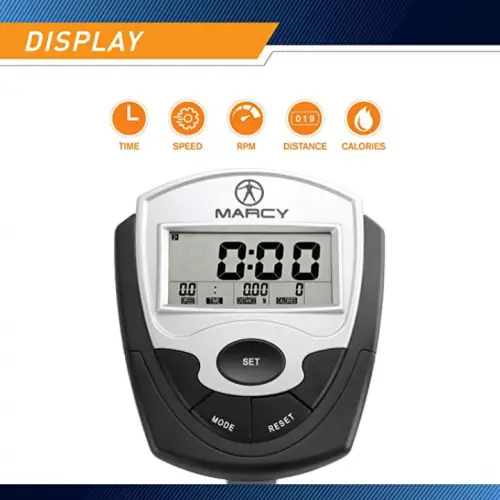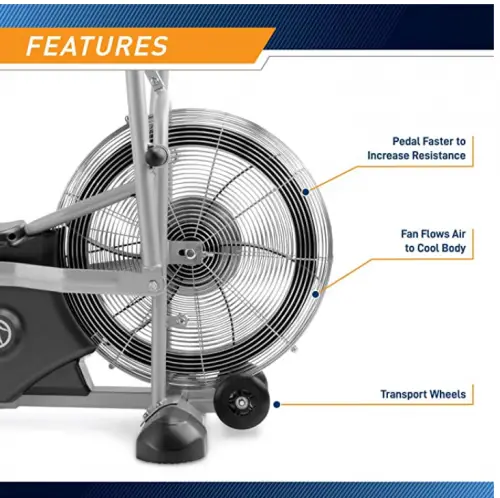 Dual action system
Comfortable seat
Adjustable levelers
Premium steel framework
High-tech LCD monitor
The Marcy AIR 1 fan bike is an entry-level air bike that provides you with a dual action system. You are able to row with your arms while you're cycling, or, if you prefer, you can just pedal. The monitor on this bike is pretty basic, running off of two AA batteries. It provides you with speed, time, distance and calories burned.
Read more
You do not get a heart rate monitor on this bike. Neither does the monitor provide you with any built-in exercise programs. However, you wouldn't expect any on a budget-priced air bike.
The seat on this bike provides you with comfortable cushioning and provides you with quite a large seating area. The seat is adjustable and the bike comes with transportation wheels. Adjustable levelers on the feet of this bike allow you to stabilize the bike regardless of what surface you are on.
The air bike comes with a manufacturer's limited two-year warranty. This is a solid, functional yet basic air bike that is great for beginner and intermediate exercisers.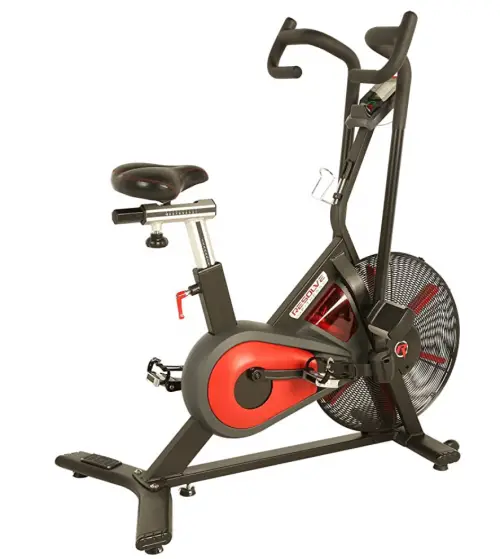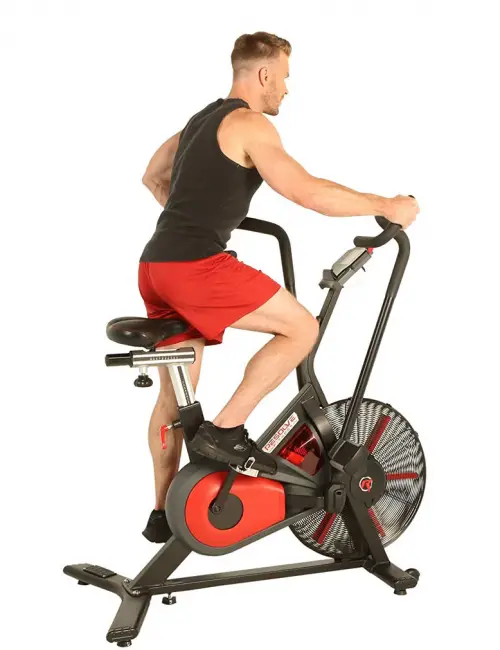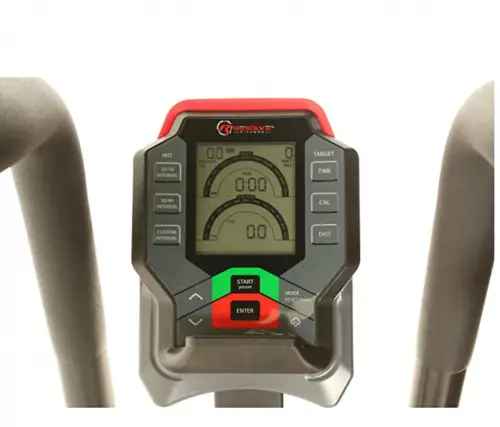 Strong wobble-free frame
Preprogrammed HIIT programs
Smaller footprint
If you are willing to pay a little bit more for the best of the best, this design from Resolve Fitness provides you with all of the features of bikes found at your local gym. It has a strong and sturdy frame that won't wobble, even as you turn up the intensity. Plus, it has a detailed progress screen that is super easy to read and track your progress.
Read more
The very first thing that we noticed about this design is that it is composed of commercial-grade steel that won't wobble even in high-intensity workouts. It boasts a pair of stationary pegs to place your feet for a killer upper body workout, and secure pedals to help train your total body.
Users also love that it boasts a detailed progress screen that tracks your progress in easy-to-read numbers. This design tracks distance traveled, calories burned, time, and RPM. what makes this design special is that it also comes with pre-programmed HIIT programs to provide you with a little guidance.
If you are in the market for something that is strong and secure, this design from Resolve Fitness is a great choice. It boasts a small and compact design, yet weighs about 125 pounds that will not wobble under high intensity. It may cost a little bit more than most, but we feel that it is worth every penny!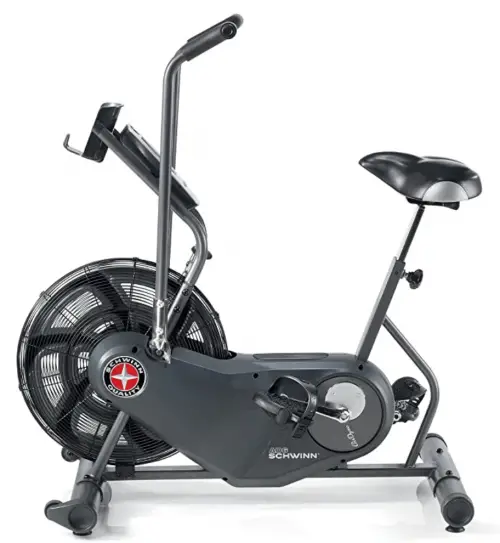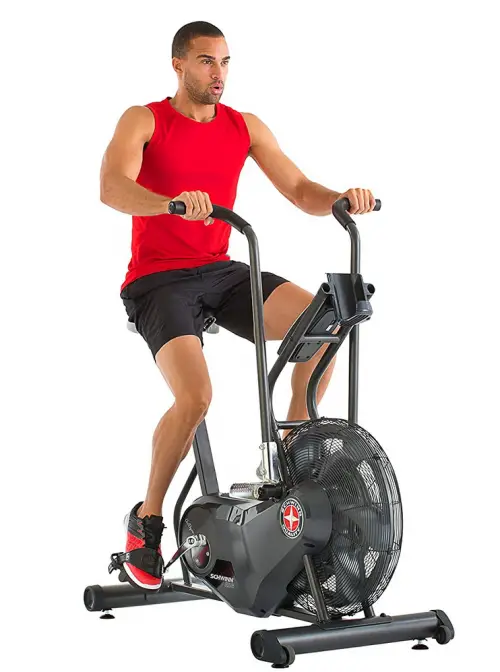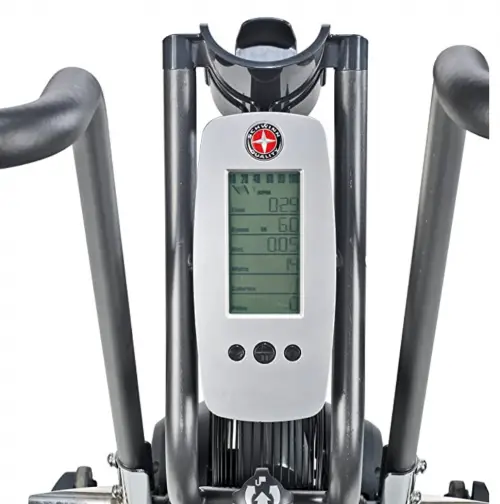 Very quiet
Comfortable seat
RevMeter RPM
Self-balancing foot pedals
The Schwinn AD6 Airdyne provides you with a dual-action system that works both the upper and lower body. You can work your arms through the movable handlebars along with your legs. However, you may find that your upper body struggles to maintain the ace that is set by your legs. You can, if you chose, work the upper or lower body independently.
Read more
The AD6 uses a dual stage super torque belt drive. This provides a smoother and more natural pedaling experience. This bike also comes with an integrated heart rate monitor.
The mad weight allowance on this bike is 300 pounds. The console on the AD6 provides you with 6 continuous workout metrics, along with an RV meter RPM. The fan on this bike is quieter than most and completely frictionless.
You get transportation wheels and base stabilizers to ensure that you are always exercising on a flat surface. Seat and pedals are extremely comfortable, with recently redesigned foot straps to provide an extra foothold.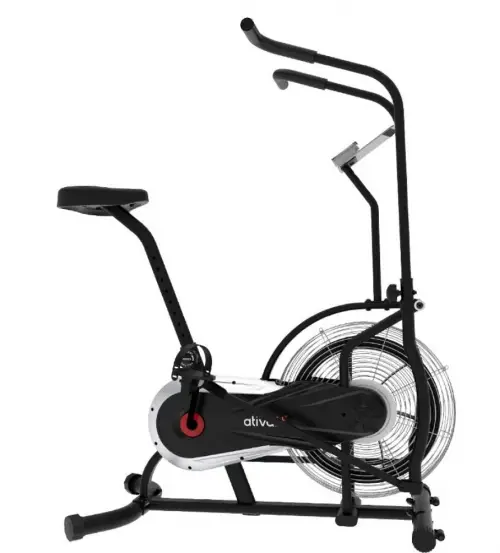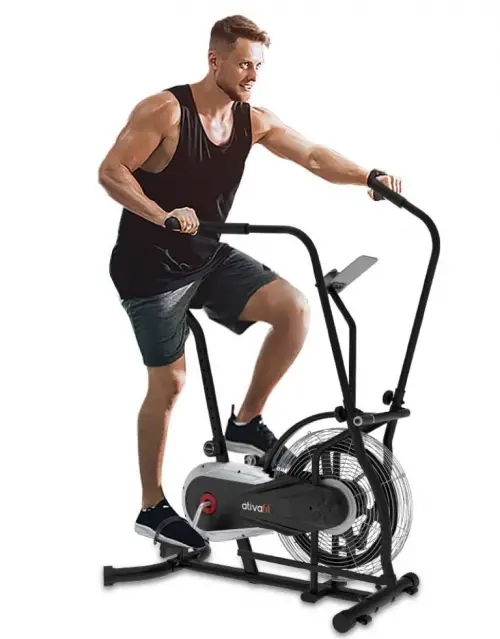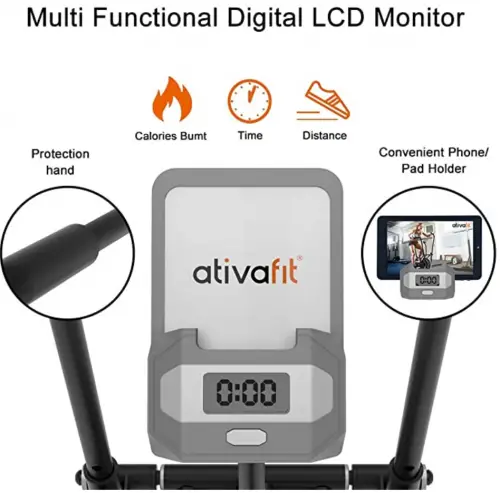 Easy to assemble
Small and compact
Comfortable handlebars
Secure pedal straps
Many of the fan designs out there on the market require quite a bit of space to use effectively. However, the frame from Ativafit is much more compact than many of the models that we have seen, making it a great choice for those that have a smaller workout space. Plus, this compact design comes in at one of the most affordable price points out there on the market!
Read more
Simplicity is the name of the game when it comes to this design from Ativafit. It boasts a solid black steel frame that is able to accommodate up to 250 pounds. Users are also able to adjust the height of not only the seat but also the handlebars to provide a comfortable ride for users of all shapes and sizes.
We also love that this design comes equipped with a super simple progress screen that details your time traveled, distance, and calories burned in large and easy-to-read numbers. It also has a wide shelf to place your smartphone or tablet to watch TV or follow along with your fitness apps. The frame is lightweight and has wheels along the base that makes it easier to move when needed.
If you are in the market for something small and compact that makes it easy on your bank account, this simple design from Ativafit is a great option. Users love that it is super easy to assemble, and isn't bogged down with unnecessary features that often inflate the price tag.
6

. Sunny Health & Fitness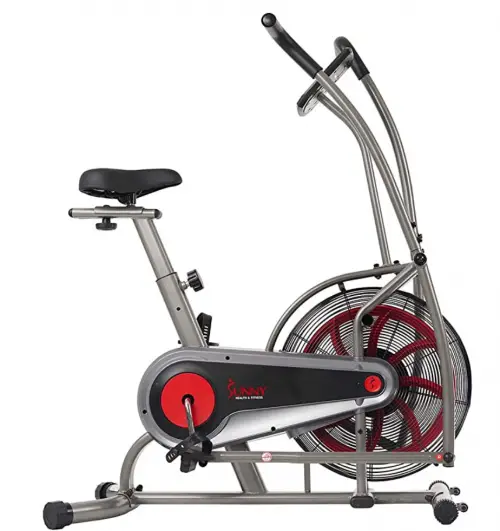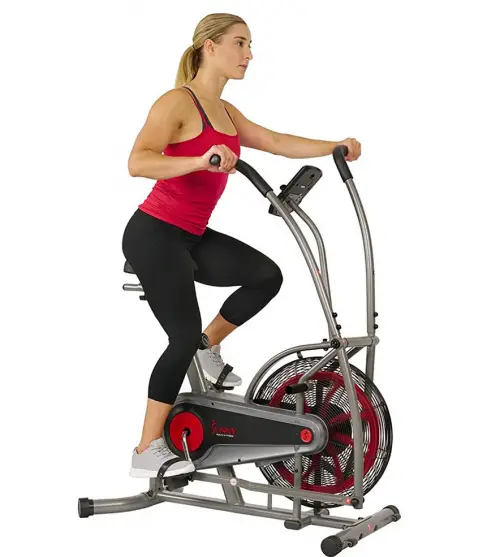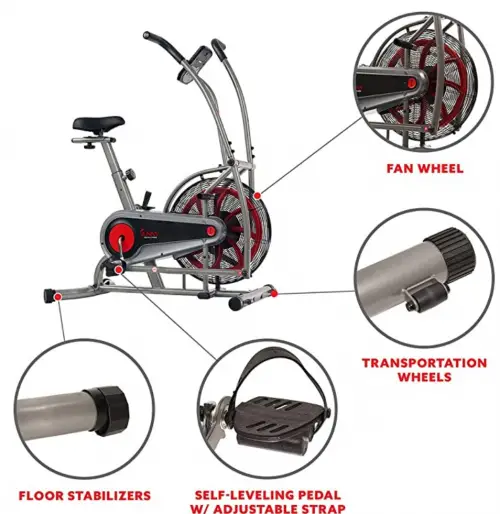 Adjustable resistance
Convenient scan mode
Textured non-slip foot pedals
Three year warranty
This air bike from Sunny Health & Fitness is quite a versatile tool, as it works on both your arms and legs. The unique fan design lets air work as additional resistance, alongside the belt, giving you a proper workout. The chain drive mechanism makes sure the ride stays smooth and quiet and makes the workout reliable.
Read more
Micro-tension systems add additional resistance with a simple turn of the knob, that just tightens the belt mechanism. As you pedal, the handlebars will move as well, forcing your arms to move whether you like it or not!
The wide cushy seat is adjustable and is good for users of all shapes and sizes. It moves both up/down and forwards/backward. The exercise meter lets you know how long have you been pedaling, how much distance have you covered, and how many calories you burned.
The textured non-slip pedals keep your feet in place and let you pedal until you tire yourself out completely. Feet of all shapes and sizes can fit in, and you will remain stable and secure no matter how vigorous your session is. The built-in wheels make the bike portable and easy to store away.
The bike comes with a three-year warranty, so you will have plenty of time to try it out without worrying about it.
7

. Octane Fitness Airdyne ADX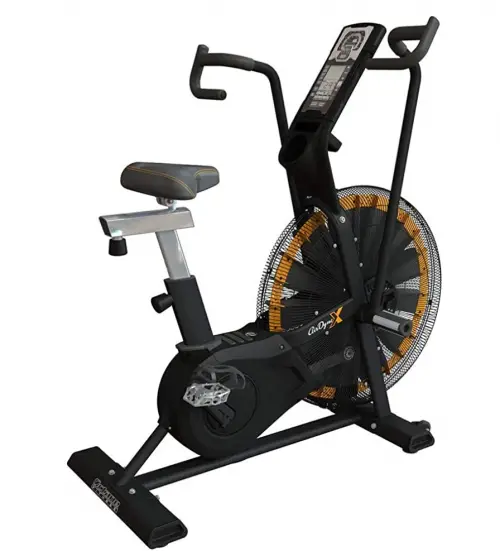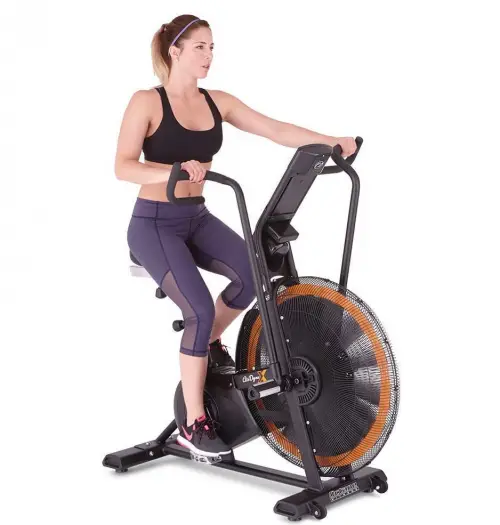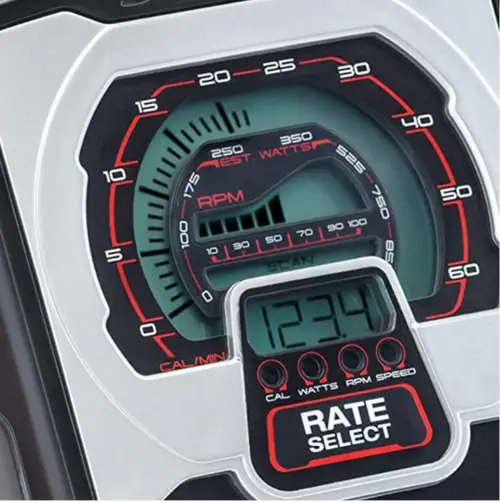 26 blade design
Wobble-free
Wide padded seat
Detailed LCD console
Is comfort super important to you? If you are looking for a smooth ride with comfortable features to help you push yourself to your limits, this design from Octane Fitness is worth checking out. While it boasts sleek and modern features that work out your entire body, users really appreciate the oversize cushioned seat that comforts your rear end on those long training days.
Read more
One of the very first things that we noticed about this design is the large central console that tracks your progress. This design is similar to the expensive designs at your local gym, and it is super easy to use and program. It tracks your distance, RPM, calories burned, and even your heart rate. Plus, it is super easy to navigate and tracks your progress at the touch of a button.
The open fan design hosts an impressive 26 blades, which allows for higher air resistance and difficulty levels. It has a wide padded seat that is able to be adjusted to the perfect height, and comfortable padded handles to work your upper body. It also provides users with a pair of pegs to place their feet if you simply want to work your upper body.
If you are in the market for a commercial-grade machine for your home or garage, this design is a great option. It boasts commercial-grade durability and design, and it is super easy to use. It is important to note that this design comes in at a pretty steep price point, but we feel that it is well worth it for a machine that is sturdy, easy to use, and packed with helpful features.
Criteria Used for Evaluation

Ease of Use
Every gym machine must be easy to use.
This is because most people will be discouraged or just give up completely on a machine that requires way too much thinking - after all, you want to work on your muscles, not your brain! Lucky for us, the air bike is quite easy to use.
As you pedal, you will rotate the fan at the front, which will rotate at various levels of resistance. This resistance is key for muscle building, and as you go up the resistance latter, your muscles will grow. The handlebars of the bike will also move as you pedal, so the air bike is an effective workout machine for both the lower and upper body.
The air bike is a great low-impact alternative to running, simply because it does not put so much strain on your joints, and it keeps you out of the cold or inclement weather.
All you've gotta do is sit on the bike, and then adjust the seat and pedals to your liking, until you are comfortable on it and secured safely.
Remember to keep your back straight! Leaning forward will hurt your back and cause aching. Some bikes have a knob, and you will need to adjust the resistance manually, which is quite simple because all you have to do is simply turn it until you are satisfied with the results.
If you want an aerobic exercise, simply pedal the bike for 30 to 60 minutes. If you want a sprint workout, pedal as fast as you can for bursts of 15 to 30 seconds, with rests of 30 to 60 seconds in between. It's as simple as that!

Effectiveness
The air bike claims to work on both your upper and lower body and is sometimes regarded as the only tool needed to keep you in your prime. But how truly effective is an air bike?
First things first, let's discuss what actually happens to your body while you ride the bike. Anytime you work out, your body will produce waste. As you exercise, you will start to lose energy, and to make up for it your body will start to break down glucose in order to keep you going.
An air bike will push you into intense exercising, and you won't have enough oxygen to break down the glucose, so your body creates lactate to compensate for it. But the lactate or lactic acid can build up in your bloodstream faster than your body can burn it off. When this happens, the extra lactate will migrate to your rested muscles to disperse there.
When you sit on an air bike, you will be working on your whole body, and the lactic acid will have nowhere to go. The air bike is ideally designed to tire down your whole body!
Remember that you must maintain proper posture while you ride the bike. We all probably leaned forward or to the sides when we rode the bike, either because we are uncomfortable or are looking for some way to give our body a break. This is okay if you are sprinting on the bike since you will be moving much more anyway. But if you want to ride for a longer time, you have to sit upright. This allows us to ride in a safe and efficient manner.
Something that an air bike can certainly do is push you into the HIIT region of training. This is simply because the air bike works on your whole body instead of on just your legs. It does this simply by using the resistance from the air fan, and as an added bonus the cool air that the fan expels cools you down and keeps you safe from overheating!

Features
An air bike can either be a simple tool for cardio, or a complicated machine with many features all geared towards keeping us fit and healthy.
To better understand just what the bikes offer us, we have explained some of the main features found on most air bikes today.
If you are someone that exercises casually and do not feel like you need all those fancy gimmicks, a simple air bike will do you wonders. But if you are someone who is dedicated to working out, you are going to need a bike that is sturdy and durable. One thing every air bike has is a sturdy steel frame that holds it together for at least three years.
The adjustable ball bearings also prolong the life of your bike, and a solid bike like this should weigh something between 90 and 130 lbs.
Also, the fewer separate parts the frame has, the better. Look for a bike that has a max user weight in excess of 300 pounds. The bike should have a stable, wide base that prevents it from sliding around when you are going all out with high intensity.
The seat should provide you with the means of custom adjustment. You should be able to move it both fore and aft. It should also provide you with a decent level of comfort through its padding.
If you like to monitor your progress during your session, then a bike with a monitor is just what you need. Most of the bikes offer digital displays, usually LCD, that give you insight into how many calories you've burned, the distance you've crossed, how many rotations per minute you are achieving, the resistance level, your heart rate, and so much more.
In addition to this, many bikes will market the multi-training programs that are built into their monitors. However, most people hardly use such programs, so don't make a number of programs a deciding factor.
An upright bike that provides 5-10 programs is plenty.

Durability
It is most likely that you will spend a lot of money on an air bike, so it's important that your bike lasts a long time, otherwise you won't be getting your money's worth.
A sturdy bike is defined by a durable steel frame, a seat that has resistant padding and coating, and supporting parts that don't rumble and screech as soon as you start riding your bike. If your bike starts to buzz or it sounds like a drum only after a few sessions, you most likely won't be using that bike for a long time!
Although an air bike is a relatively low-maintenance piece of equipment, your sweat and intense exercising can wear it down quite quickly. If you want to simply clean your bike, all you need is a damp rag with a small amount of mild detergent on it to keep your bike squeaky clean.
For daily maintenance, you will want to clean the bike frame and fan cover from dust, sweat, and moisture. By doing this, you keep the fan working to its full potential, and you get to sit on a clean bike.
For weekly maintenance, you will want to pedal the bike and check for any clunking and screeching. Also, make sure that the rpm signal on the monitor is consistent and correct. If there are crank and bell crank bolts, make sure to tighten them bi-weekly. You should also check to see whether the pivots and nuts are starting to become loose, and if they are, make sure to tighten those as well.
When one month passes, check if your chain has proper tension. You could technically do this two times a month, just to be on the safe side. Check your pedals for tightness as well, you don't want them flying off just when things start to heat up. Tighten them up and you will be safe and sound.
And for quarterly maintenance, make sure that your seat is stable, tight and aligned with the rest of your bike. You can also lubricate the chain every two months or so to ensure a smooth ride. And if your batteries have died, or if the monitor is not showing accurate information, make sure to replace them to be properly informed!

Stability
Your air bike needs to be stable!
When you pedal the bike moderately, chances are that you won't be able to feel the stability of the bike in the first place, because you simply won't be using that much force to make it wobble and creak under all that pressure.
But once things start to heat up the story changes, and it's very important to make sure that your bike is where it needs to be throughout your workout.
An unstable bike is a recipe for disaster. When you start to pedal intensely, the bike will need to endure much more, and if it starts to wobble, it might even fall over!
This will result in you falling down with the bike, and possibly injuring yourself. The injury can either be something that is not so serious, so you might even get back on your bike, or you might need to take a break from exercising, which is something that no one who is serious about their fitness wants to do!
By buying a stable bike, you ensure that you stay injury free and on the right path to your fitness goals.
Expert Interviews & Opinions
Most Important Criteria
(According to our experts opinion)
Experts Opinion
Editors Opinion
Users Opinion
By Default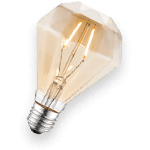 Brief History
Stationary bikes have been around ever since the 1700s. It wasn't until much later that the air bike was born - they saw the light of day only in the 1970s! And we have the rising popularity of resistance-based home gym machines to thank.
Air bikes were especially popular in the 1980s, because people didn't have enough space for plenty of machines, and any machine that combined more than one exercise together was an instant winner.
Surprisingly, elliptical bikes weren't introduced until the 1990s, which made the air bike even more popular because they were the only resistance machine that gave both the upper and lower body a proper workout.
Other Factors to Consider

Weight
Let's face it - a good quality air bike will definitely pack more than enough pounds. A super-heavy bike will be tough to move around, and if you are petite or not so strong, this might be an issue for you.
Luckily, some bikes do not weigh all that much, so you will be able to move it around by yourself. And even better, most of the bikes have built-in wheels that let you move it around with ease, without needing to actually lift it off the ground!
A good bike will be heavy, which is something you should always remember if you come across a lighter bike and think about buying it - it probably won't last that long, and you won't enjoy using it.

Bottom Line
Air bikes are an excellent tool for a full body workout. There are many different models of air bikes available today, and we can only hope that our guide has made selecting an easier task.
We found that each and every bike from this list will definitely be a challenge, and with so many different levels of resistance, even the fittest people will be tired out pretty fast!
An air bike is a versatile tool that every home gym should have.
Frequently Asked Questions
q:

Is an air bike a good workout?

a:

Absolutely! Few cardio machines are able to effectively work your upper body and lower body in the same way as an air bike. One of the best features of these bikes is that they automatically adjust the resistance depending upon how hard you pedal.

Many other styles of bikes (such as friction and magnetic resistance) require users to manually adjust the tension on the line, and somethings that transition is a little inconsistent. If you are working out on a room with air, you have all of the tools you need to amp up the difficulty.
q:

Are air bikes worth it?

a:

We know that many of these designs on our list clock in at pretty steep price points, but they are well worth the extra cost for those looking for a killer cardio workout. What makes these bikes unique is that they do not require users to manually adjust the tension on the line.

The harder you pedal, the more tension develops on the pedal. This makes these machines the perfect companion for interval or HIIT because you don't need to fiddle with knobs or buttons to adjust the intensity.

Plus, they work your upper and lower body at the same time (or independently) which few cardio machines can do.
q:

Is an air bike hard to assemble?

a:

An air bike does seem like a complicated machine at first glance. So many parts and little pieces, the assembly must be tougher than normal!

Lucky for us, this is not true, at least not most of the time. There aren't actually that many parts to handle, and more often than not, the manufacturer includes a handy guide on how to assemble the bike, and sometimes they even include the right type of tools needed to assemble it.

Even if you have no previous experience in assembling a bike, the guide will make it easy and you will have your bike ready in no time.
q:

Can I connect my device to the air bike?

a:

Connecting your device, say your mobile phone or maybe your cardio tracker can have many benefits. You will have a detailed report of your progress, and you can even connect it with useful apps that give you an insight into your exercise. But not every bike can be connected to a device.

Usually, the bike needs to have Bluetooth in order for you to achieve a connection, and not many manufacturers considered this an important detail that they should include.

If you want to be able to connect your device to your bike, make sure that you read the description of the machine properly and we are sure that you will be able to use them both at the same time!
q:

How fast does an air bike go?

a:

Again, this all depends on the specific machine, but usually, it's somewhere between 50 and 100 rpms. Depending on the rider, and the resistance level, the speed of the bike will change, and this is what makes the exercises performed on the bike so effective.

A beginner rider will pedal somewhere between 50 to 60 rpms, while an experienced rider can go as fast as 100 rpms!
q:

Are air bikes loud?

a:

The bikes often get a reputation of being a little noisy. While they do create some noise when in use, the noise produced isn't too loud that your downstairs neighbors will be banging on the ceiling with a broom handle. Most designs create noise that clock in at around 70-75 decibels, which is about the same as using a vacuum.

While this may wake up sleeping partners in the next room, it won't disturb your neighbors or drown out the sound of a television.
q:

How many calories does one session on an air bike burn?

a:

The number of calories you burn on your bike will bank on how long and how hard you pedal and move your arms. Technically, the bike will burn much more than a regular bike would thanks to the inclusion of the upper body. The current world record for most calories burned on an air bike in a minute is held by personal trainer Rob MacDonald, and he burned an incredible 87 calories!.

This might not seem so amazing, but a simple can of coke has 150 calories - imagine burning down your whole can in less than two minutes!
q:

Is an air bike better than a stationary bike?

a:

It is if you are looking for a good way to burn down fat and include your whole body in one exercise. Also, air bikes also focus on muscle-building, as opposed to regular bikes that just burn down fat. Air bikes also keep the air in your room flowing and cool you down, keeping you safe from overheating.

The inclusion of both the arms and legs and the muscle-building properties certainly make the air bike superior! But if you want a simple cardio routine, all you really need is a stationary bike.
Subscribe to our newsletter