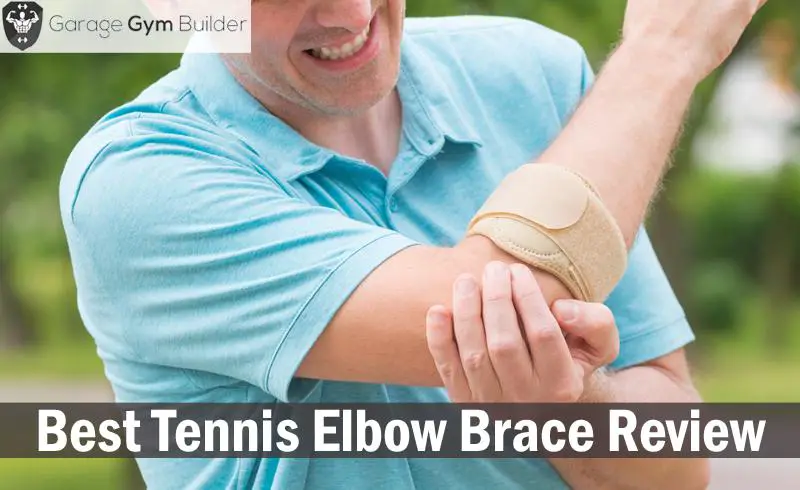 Best Tennis Elbow Brace Review 2018
Tennis elbow is a painful condition caused by overuse of the elbow and forearm. The symptoms of tennis elbow are inflammation of the tendons joining the muscles of your forearm to the outer elbow. Tennis elbow is not just caused by playing tennis - repetitive weight training also causes it. An elbow brace can bring immediate and ongoing relief from tennis elbow.
​In this article, we bring you the Top 10 tennis elbow braces on the current market.
The Best Tennis Elbow Brace at a Glance
​The best elbow brace for tennis elbow is Emerge Tennis Elbow Compression Pad which is well made and comfortable to wear. Our second favorite elbow brace for tendonitis is the McDavid 489, which provides you with a dual Sorbothane pad, strong neoprene construction, and features an adjustable hook and loop fastening system.
Rounding out our top 3 is the Nike Pro Combat brace, with its strategically placed padding and secure elastic strap.
To make it easy for you to compare and contrast the best compression sleeves for tennis elbow, we have rated the Top 9 on the basis of price and durability, and then have given each an overall rating out of 5. We'll provide an in-depth review of each product later in this article.

| Product | Product Name | Price | Durability | Overall | Product Link |
| --- | --- | --- | --- | --- | --- |
| | | 4.75/5 | 5/5 | 4.75/5 | |
| | | 4.75/5 | 4.75/5 | 4.75/5 | |
| | | 4.5/5 | 4.75/5 | 4.5/5 | |
| | | 4.5/5 | 4.5/5 | 4.5/5 | |
| | | 4.5/5 | 4.5/5 | 4.5/5 | |
| | | 4.5/5 | 4.25/5 | 4.25/5 | |
| | | 4.25/5 | 4.25/5 | 4.25/5 | |
| | | 4.25/5 | 4/5 | 4.25/5 | |
| | | 4/5 | 4.25/5 | 4/5 | |
| | | 4/5 | 4/5 | 4/5 | |
How to Prevent Lateral Epicondylitis (Tennis Elbow)
Tennis elbow is a repetitive strain injury in the extensor muscles of the forearm. It can be caused by tennis playing and by weight training. In terms of tennis, the cause if usually improper stroke technique. In addition to getting your technique analyzed by a coach, you should use a light racket and the correct grip.
Exercises to strengthen and stretch the forearm will also help to prevent lateral epicondylitis. An excellent exercise that targets the forearms involves extending your arm in front of you, gently pushing the wrist down with the other hand. Hold for 30-60 seconds. Follow this up with a flexor stretch where you pull the extended hand back toward your body. Hold for a further 30-60 seconds.
In the gym, you should perform reverse curls and wrist curls to strengthen the forearms.
Tennis Elbow Treatment
Tennis elbow is considered a type of tendinitis because it can cause swelling within your tendons. The swelling can cause pain in both the elbow and the arm. If you are feeling the effects of tennis elbow, there are a few treatments that can help the tennis elbow heal on its own, while providing you with some comfort and relief from the pain it is causing.
Icing the elbow for twenty to thirty minutes every four hours for the first three days has been found to decrease the presence of pain and swelling. An elbow strap or elbow brace will also help to protect the tendon from any more strain during the healing process.
NSAIDS or nonsteroidal anti-inflammatory medications like ibuprofen and aspirin can also prove to be helpful in managing the pain associated with tennis elbow. Consult with your doctor before using any medication to ensure that you will not suffer from any additional side effects. Use of certain medications may cause bleeding and ulcers.
Physical therapy is also an effective treatment for tennis elbow. The physical therapy will assist you in strengthening and stretching your muscles and can ultimately help reduce the pain and swelling.
No matter what method of treatment you and your doctor decide to take, it is important not to try to rush your healing and recovery process. If you try to speed up the process, you can potentially cause even more injury to the area, and it will be harder to return to your normal routine and the former levels of activity you were able to maintain prior to the injury.
How to Buy the Best Tennis Elbow Brace
A tennis elbow brace is effective at promoting and facilitating the healing process. Compression braces, as long as they can be worn comfortably, will help increase blood flow and can help control your pain. There are several different kinds of elbow brace styles available:
A Tennis Elbow Strap, otherwise known as a forearm compression strap, is one of the most common types of tennis elbow braces available. They are adjustable to provide you with a better fit, and the variable compression is convenient, especially if you experience different levels of pain and need different amounts of pressure.
Tennis elbow straps also include an air pocket that is designed to align with your forearm muscle so that the pressure is hitting you at the right points. Tennis elbow straps will not limit your elbow mobility, they have customizable compression levels, and are made with a high-quality Velcro strap. Since they do not inhibit movement, however, they are not useful at keeping the injured elbow still to promote healing, and there is not heat retention.
Elbow Compression Sleeves are a more versatile option for tennis elbow and come in a variety of different sleeves that can offer you a different balance of compression, support, heat retention, as well as additional protection. The compression is mild to moderate and these tennis elbow braces can be worn for longer amounts of time and can help retain heat and induce blood flow to help reduce any elbow inflammation.
The compression sleeves can be worn overnight, they are made from breathable materials such as nylon and neoprene weave which makes them lighter and more comfortable, and they do retain heat to promote healing. However, compression sleeves are not adjustable, and they only provide you with a mild amount of support.
Adjustable Elbow Braces typically come equipped with straps and this type of brace will provide you with a full range of support. The straps are located on the upper arm and forearm and can be adjusted for customizable compression. They also retain heat to help reduce inflammation and are made of a comfortable and breathable material. However, these tennis elbow braces may inhibit your motion and can become warm and uncomfortable to wear for longer amounts of time.
The Top 10 Up Close

​The Emerge Tennis Elbow Brace Compression Pad features a thick, firm EVA pad designed to direct targeted pinpoint pressure to the affected area; this targeted pressure provides immediate pain relief for on the spot treatment.
Emerge Tennis Elbow Brace Compression Pad is the most durable we've found, with top quality hook and loop fasteners, and a dual Velcro adjustment system which makes this tennis elbow brace very easy to move.
The Emerge Tennis Elbow Compression Pad is an extremely comfortable and easy to wear tennis elbow brace that will instantly relieve your tennis elbow pain. It looks great and comes in at an extremely competitive price point. It is easily our favorite tennis elbow brace.
PROS
Thick EVA Pad
Immediate pain relief
Very comfortable
​The McDavid 489 Elbow Brace provides targeted pressure to help bring relief from tennis elbow pain. It makes use of McDavid's unique Dual Sorbothane pad to apply specific pressure in order to apply the pressure.
​McDavid 489 Elbow Brace is completely latex free, providing you with a totally safe way to bring relief to your elbow. The neoprene material is very strong and flexible. It provides a high thermal effect, coupled with compression and soft tissue support.
The McDavid Elbow Brace comes with an adjustable hook and loop closure system to ensure that you get the tightest, most compressive fit. The flat seam construction makes sure that the brace fits comfortably and smoothly. This tennis elbow brace fits on both the left and right arm.
PROS
Dual Sorbothane pad
Strong, flexible neoprene
Adjustable hook and loop
CONS
Some may find it too tight
​The Nike Pro Combat Tennis brace brings relief to sufferers of persistent forearm and elbow pain by applying strategic pressure. It does this by way of a secure elastic strap, supported by padding to bring about immediate relief.
​Unlike many competing brands, the elastic band of Nike Pro Combat Brace is lightweight, breathable, and will provide comfort for the whole duration of your training session. The padding is strategically placed to provide comfort at key stress points.
The Nike Tennis elbow band is machine washable and dryable. It has unisex sizing and can be worn on both left and right arms. The Nike Pro is especially beneficial as a protective brace to wear as you are performing repetitive barbell exercises.
PROS
Secure elastic strap
Strategically placed padding
Unisex sizing
CONS
Hard to keep the tightening strap secure
​The Mueller adjustable elbow support provides extended coverage to support the entire elbow and upper forearms areas. It is made from a soft neoprene blend which is very flexible while extremely breathable. The full coverage also adds to compression and increase circulation; this will also help to relieve pain and promote the healing process. This tennis elbow brace is very comfortable and can be easily worn under your clothing.
​The Mueller adjustable elbow support provides a hydra mesh pad on the elbow area to enhance breathability and to wick away moisture. The straps are also adjustable and feature a very strong Velcro fit; this brace has an easy slip-on design to make it easy to get on and off. It comes with a full manufacturer's warranty.
PROS
Full coverage
Hydra mesh pad
Adjustable straps
​The DashSport arm brace for tennis elbow provides instant relief from tennis elbow pain with the aid of a gel pad. You can now buy this brace as a single, rather than as a pair. It provides targeted compression on your key pressure points.
DashSport Elbow Brace is fully adjustable so you can target the compression to the specific area that needs it. High-quality Velcro enclosures provide you with maximum durability and tension.
The bands of the DashSport brace are very durable, while the special gel pads provide you with both softness and firmness. This tennis elbow brace is constructed from 65% neoprene and 35% nylon and comes with a free eBook on treating tennis elbow and a 100% money back guarantee.
PROS
Gel pads
Sold singly
Free ebook
​The ACE tennis elbow support provides you with an air cushion to provide the compression that you can't get with other methods; this will greatly help to reduce elbow and forearm pain. The air cushion technology also provides a great deal of comfort and support, allowing you to improve your range of motion more rapidly. The ACE bandage for tennis elbow is completely adjustable to provide you with a custom fit.
​The ACE armband for tennis elbow has hook and loop fasteners that provide an extremely secure level of support. ACE has a proven track record and reputation of bringing relief to joint pain, and this tennis elbow band lives up to that standard. It is very effective when worn during weight training workouts.
PROS
Air cushion
Completely adjustable
Hook and loop fasteners
​The Futuro Infinity elbow brace provides high-performance support to bring relief to your forearm and elbow while you are training. This tennis elbow brace is odor resistant, so it will not give off the stench that you often get with used braces.
Futuro Infinity Elbow Brace is compatible with both the left and right arm. Adjustable straps and tension knobs allow you to really customize your fit and put focused compression on your areas of pain.
The Futuro Sports Tennis elbow support has new and updated technology that increases breathability to provide a very effective fat wicking mechanism. The easy sleeve design makes it easy to slip this tennis elbow brace on and off. While not a heavy-duty brace, it works well for long, medium endurance training.
PROS
Odor resistant
Adjustable straps and tension knobs
Enhanced breathability
CONS
Not sturdy enough to stabilize the elbow
​The Kunto elbow compression brace is a full-length brace which covers half of the bicep and forearm; this provides even pressure all the way across the elbow joint.
Kunto Elbow Compression Brace has a very rigid construction, allowing you to enhance comfort, compression, and support without affecting the mobility of the arm. The compression fabric is very breathable, providing you with an effective moisture wicking ability.
The Kunto Fitness elbow brace compression support sleeve provides you with a true fit so that you won't have to worry about the brace slipping halfway through your workout. A special fabric form fit provides a very snug fit around the elbow. This product is unisex and fits both arms. It also comes with a no questions asked 100% money back guarantee.
PROS
Full length brace
Extremely breathable
Fabric form elbow fit
​The Tommie Copper Elbow brace is made from 57% copper nylon, 29% nylon, and 14% spandex. There is a silicone band on both ends of the brace to ensure that it hugs the arm securely. The light, low profile of this tennis elbow brace allows it to fit easily under your workout clothing. An anti-odor feature prevents odor build-up. The patented 4D patented lycra stretch fabric has anti-microbial properties.
​The Tommie Copper elbow brace comes in 7 colors and 5 sizes, all the way up to 2XL. It features UPF50+ sun protection to provide skin health benefits. The Tommie Copper Elbow Brace is a very effective brace for people with tennis elbow who are cross training. It comes with a money back guarantee.
PROS
Copper nylon infused
Lycra stretch fabric
Silicone bands on ends
CONS
Branding easily peels off
​The Siemens Tennis Elbow brace provides you with a very compressive and secure band to target your hot spots and provide relief while you are training. It is a compact and lightweight unit that can easily fit under your training clothing. This band is very effective when worn during weight training to prevent hyperextension. The construction material is 65% neoprene and 35% nylon. It is a very durable tennis elbow brace that is made to last.
​The Siemens Tennis Elbow brace package provides you with two braces and includes a free sweatband. You also get a bonus eBook on how to treat tennis elbow. In addition, you get a 100% money back guarantee.
PROS
Compact and lightweight
Free sweat and ebook
100% money back guarantee
​Want an effective self-treatment for tennis elbow? Check out this informative clip:
Conclusion
​The best tennis elbow support is the Emerge Tennis Elbow Compression Pad that covers all you need but at a surprisingly affordable price. We also loved the McDavid 489, with its robust neoprene design, adjustable hook, and loop and dual Sorbothane pad.
Our third favorite tennis elbow brace is the Nike Pro Combat brace, featuring a special padding for extra support, and secure placement.