The 10 Best Moisture Wicking Socks Reviewed
last updated:
Mar 25, 2021
Nothing can make you uncomfortable and ruin your confidence faster than sweaty wet feet while you are working out. It can be frustrating and embarrassing. Sometimes even washing your feet and taking off your shoes whenever possible do not help.
The problem is in your socks. Wearing the right socks can keep your feet much more dry and comfy. You just need to find quality socks which are made with the right materials. In this article, we will discuss some of the best moisture-wicking socks on the market, and how you can keep your feet cozy and dry during your workout.
This is the best product on our list that is currently in stock: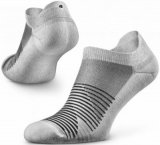 20four7
Why is it better?
Breathable mesh zones
Added cushioning
Arch support
Seamless toes
Lifetime guarantee
42
Researched Sources
11k
Reviews Considered
20
Hours Researching
14
Products Evaluated
Features
Comfort
Materials
Durability
Breathability
By Default
10 Best Moisture Wicking Socks
Seamless construction and extra padding
Reinforced padded heel
Made with merino wool
Rockay Accelerate is the first brand that comes to mind when discussing the highest quality moisture-wicking socks. These socks were created specifically for running, designed for the highest quality as well as being fashion conscious. They use trademark technology to bring you a product that is durable, comfortable and reliable mile after mile.
They are made from organic merino wool sheared from sheep in South America. It is mulesing-free and provides good breathability for your feet. This material helps prevent blisters and keeps away sweat.
Read more
These socks have received kudos from Runner's World, Business Insider, Runnerclick, and many others. They are trusted by leading experts and are guaranteed for life by the manufacturer with no conditions and no questions. You can trust them in extreme activities like obstacle course races and ultra-marathons.
The Rockay socks have comfortable padding in the heel and toe areas. You will not have to worry about chafing or blisters while wearing them. They are perfect for walking, running, and hiking. You can also enjoy good compression in the arch of your foot and tight elastic around the top. They lower the chances of your feet getting irritated from dirt or grit. Put them on and your feet feel cared for.
When it comes to moisture these socks wick away sweat. They are made from organic merino wood and have breathable ventilation zones. They are built to keep your feet bone dry and blister-free.
Breathable mesh zones
Added cushioning
Arch support
Seamless toes
Lifetime guarantee
Whether you are an avid runner, a gym enthusiast, or just starting out, finding the perfect pair of socks that offer comfort and effectiveness is imperative. That's where the 20four7 athletic socks come into play. Made from 100% recycled materials, added performance cushioning, and mesh zones that offer breathability, your feet will thank you so much, that you might be reluctant to take them off!
Read more
If you are looking for a pair of athletic socks that work as hard as you do, then the Rockay 20four7 socks are the perfect fit for you. Equipped with breathable mesh zones in all the perfect places, you won't have to worry about your feet getting sweaty or your socks getting damp. They have moisture-wicking properties that keep the moisture at bay, allowing you to focus more on your workout.
The 20four7 socks also come with added performance cushioning, meaning that your feet will not only stay dry, but they will stay comfortable and pain-free regardless of how intense your workout is. The seamless toe only adds to the comfort level, eliminating any of that painful pinching or bunching that may occur with other socks on the market.
These socks also have built-in arch support and have reflective logos on the back of each sock, so you can feel safe while running at dusk or dawn. Backed by a lifetime guarantee, take a step in the right direction! You can't go wrong and your feet will thank you.
Ultra-light design
Arch support
Breathable mesh zones
Made from 100% recycled material
Lifetime guarantee
If you are looking for more of a lightweight sock that keeps your feet dry and comfortable, then the Agile Thin Running Sock is the perfect fit for you. Made with comfort and effectiveness in mind, these ultra-light socks made from 100% recycled materials will work wonders for your feet.
Read more
The Agile running socks come with breathable mesh zones in the perfect areas allowing your feet to breathe, even during the most intense workouts. Wicking away moisture is only one of the amazing qualities you will find in this pair of socks. Even though these are thin socks, they still come with added arch support, leaving your feet comfortable and pain-free.
These socks also have seamless toes, which means that you won't have to deal with the socks bunching up around your toes, allowing you to focus more on your workout and focus less on having to readjust your socks for comfort. Made from a combination of Econly regenerated nylon, recycled polyamide, and recycled elastane, you are not only doing your feet a favor when purchasing these socks, but you are helping out the environment as well. These socks are also backed by a lifetime guarantee by the company, so you really can't go wrong with this choice.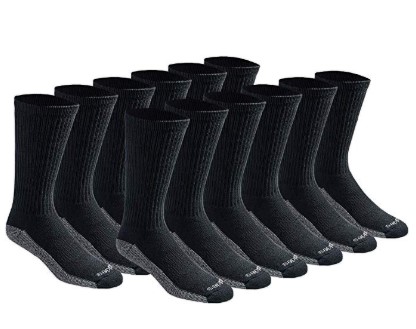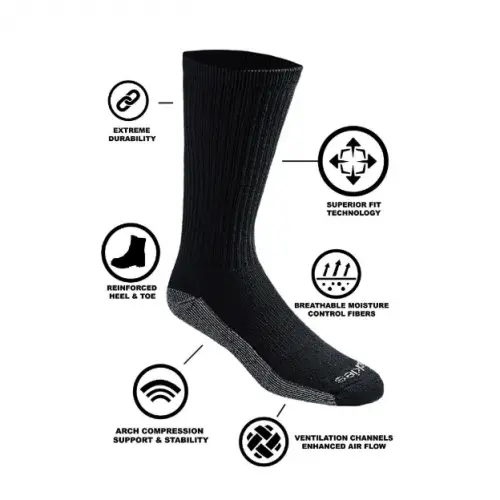 Breathable moisture control fibers
Arch compression for support and stability
Come in a wide variety of colors
Some say they fall down too easy
The Dickies socks are comfortable, which moisture-wicking fibers are designed to keep your feet dry through the most intense workout. They have engineered ventilation channels to help with moisture control and air circulation. There is compression that hugs your feet and keeps your socks from slipping. They also give you in step support to keep your feet good comfort. They are 74 percent cotton and machine washable. The heel and toe are reciprocated and designed to be especially durable.
Read more
The moisture management technology offered by The Dickies Dri-tech socks allows you to focus more on your workout and less on your feet. The Dickies are designed for men and women who work hard and sweat a lot. They are made tough, so you can wear them during an intense run, a long hike, a full marathon, or even a lengthy workout at your favorite gym. Dickies are innovation, value, and quality at a good price.
Due to the Dri-tech moisture management technology, your feet can enjoy the mesh ventilation channels which help with breathability and airflow for wonderful comfort. These socks will provide your feet with perfect arch compression which will help with stability and give you an even better fit. These socks have superior fit technology with reinforced heel and toe.
5

. Under Armour Resistor No-Show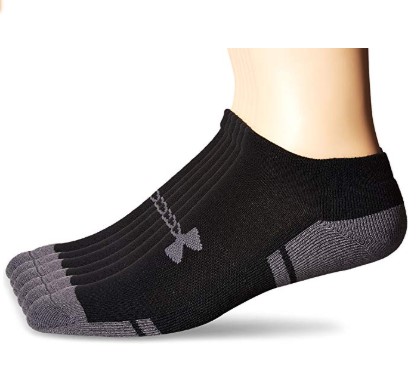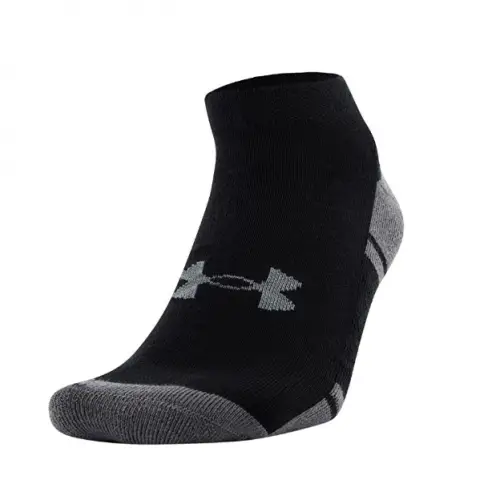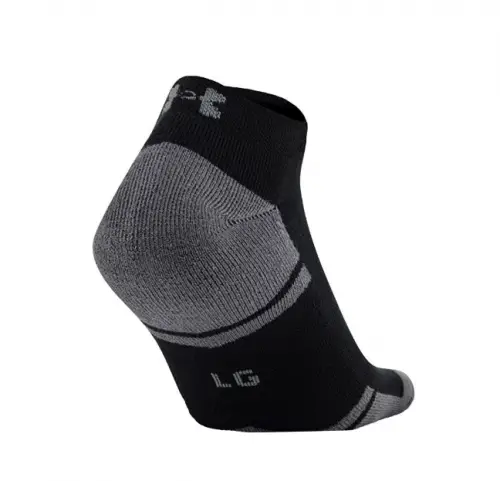 Strategic cushioning built into socks
Y heel which contours against your foot
Seamless toe prevents chafing
They tend to wear out quickly
Under Armour socks are made by a recognized leader in the fashion industry. They are made of nylon, spandex, and polyester. They are designed to fit well, be comfortable as well as durable. Under Armour socks have strategic cushioning created to protect the areas of your foot that are high impact. The best part is, the material repels sweat and dries very fast. They are made from an anti-odor technology that keeps the odor-causing microbes away.
Read more
These UA Resistor Socks have a unique fiber blend that is slip-resistant and gives you better traction inside your shoe. They have a signature moisture-management technology. That means you can look forward to having socks that keep moisture away from your feet, speeding up evaporation and keeping your feet comfortable and dry.
These socks offer technology that helps keep away the growth of odor-causing microbes. This helps keep your socks and your feet fresher during your workout. They also provide arch support designed to help encourage blood circulation and wrap around your foot to give you a perfect fit. The cushioning is strategically built into the socks, ready to give you maximum protection and shock absorption. They have a "Y" heel, which is contoured against your foot for a perfect fit. The seamless toe is free from chafing.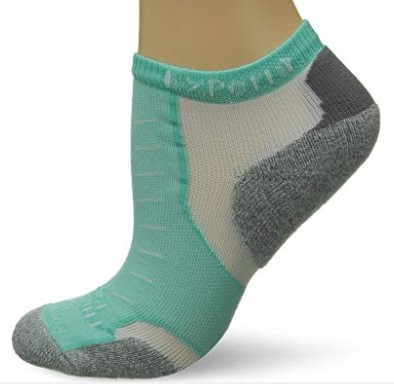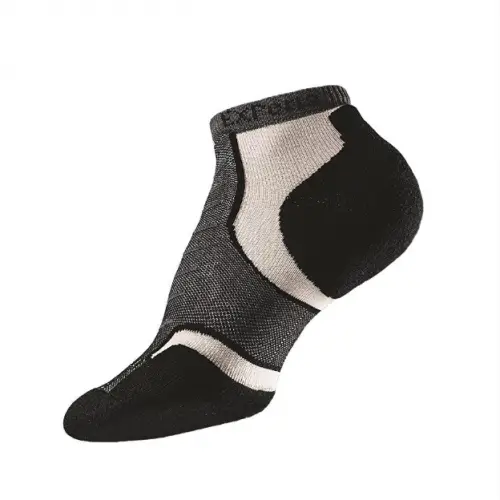 Thin cushioning in heel and ball of the foot
Made with Thor-WICK cool fiber
Elastic bands throughout the sock
They develop holes quickly
Thorlos heads straight to giving your feet the best comfort using 65 percent Thor-Wick cool polyester. They are easy to machine wash by turning them inside out and use fabric softener. They also have unique cushioning only in the areas where you need it.
These socks will keep your feet extra dry and help you avoid blisters. Runners World calls them the "best of both worlds." They also have great sizing for a perfect fit.
Read more
Runners have been choosing the Experia XCCU since 2009. Thorlos quality is legendary for their excellent fit and special cushioning in the heel and forefoot. The Experia gives you that quality cushioning and super thin fibers which give you great fit. They are made from Thor-WICK Cool fiber. It keeps your feet dry and comfortable.
All socks are not the same. The engineers at Thorlo designed Experia, the ones who invented the activity-specific sock. This company knows their socks. They understand how they work, how the fit should be, how they can be kept in place, and to construct them for maximum performance. These socks come with a sizing chart that is unique. Each size only fits a couple of shoe sizes so you know you will get a perfect fit without scrunched heels or toes.
These socks have thin cushioning in the heel and the ball of your foot which is the biggest impact areas when your feet hit the ground. It is not real thick, just enough to give your feet good protection. They are made with elastic bands all through the socks to make sure you get a great fit. It also makes sure your socks do not slide.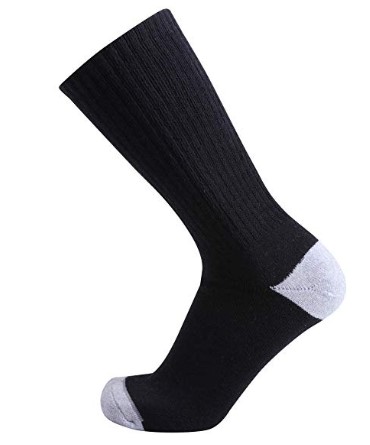 Reinforced heel and toe
For sizes 6 to 12
Made of a soft cotton blend
Enerwear Cushioned Crew Socks is made of 80 percent cotton. The sock sizes are 10-13 which is the equivalent of shoe sizes 6-12. They are made with heavy cushioning to keep your feet relaxed and comfortable all day. The socks are especially durable with a reinforced toe and heel. The crew socks are cushioned with ribbed leg and toe closing which is done stitch by stitch.
Read more
These socks are the ultimate in comfort for your feet made of a super soft cotton blend. They have a cushioned foot bottom and easy toe seam. It has an extra durable toe and heel. Since they are made with spandex, they fit better than most socks. They are also designed to stay up without being uncomfortable or too tight on your lower legs. There is a ventilation zone that is made to help improve the air circulation around your feet, keeping them cool and dry.
The reinforced toe and heel not only gives you extra durability in high-stress areas, but it also greatly improves and extends the life of your sock. They have good stretchiness made with high-quality spandex, which gives you the perfect fit. They also have maximum cushioning in the high impact areas to reduce pain in your feet during activity.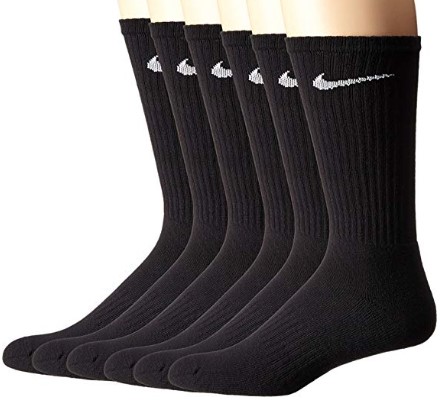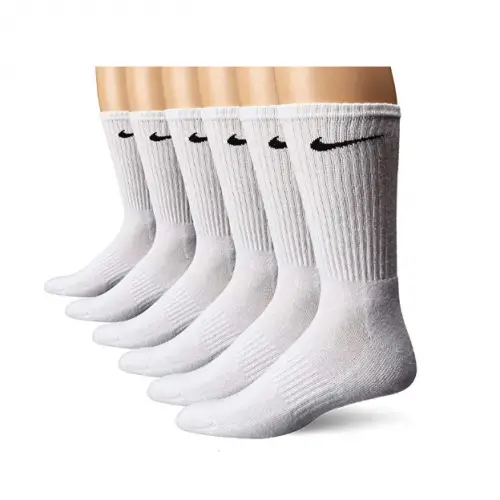 Reinforced heel and toe
An Alternative stitch pattern for ventilation
Cotton polyester blend
NIKE is excellent when it comes to any kind of sporting apparel, and these socks are no exception. They are made of a durable cotton blend which is machine washable. The heel and toe are reinforced which makes your socks even more durable in high-wear areas. There are also rib cuffs to provide a comfortable snug fit on your feet, along with good arch support.
Read more
NIKE offers the perfect blend of durability and comfort. These socks are made of a cotton-polyester blend combined with spandex to give you a great fit which will not lose their shape. The stitch pattern is designed to provide better breathability and ventilation so your feet and stay dry and cool during your workout. They have a half cushion design and the ribbed arch band leaves you with comfort and support which is unmatched.
The specialized fabric pulls sweat away from your skin so your feet stay comfortable and cool during your workout. They are made with a special blend of material with a 1 by 1 alternative stitch pattern to give you feet better ventilation. There is cushioning at the ball of your foot and a good blend of material which conforms to your foot but also keeps its shape.
9

. Saucony Women's Sports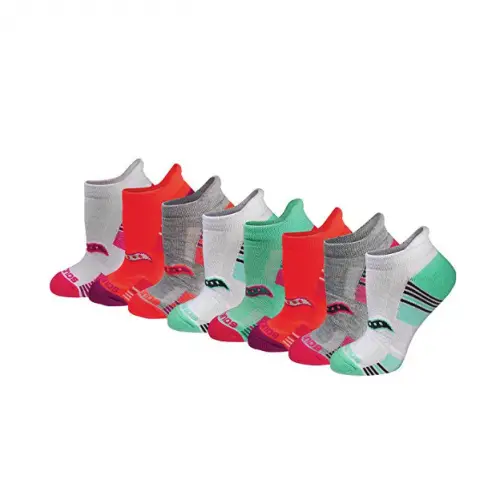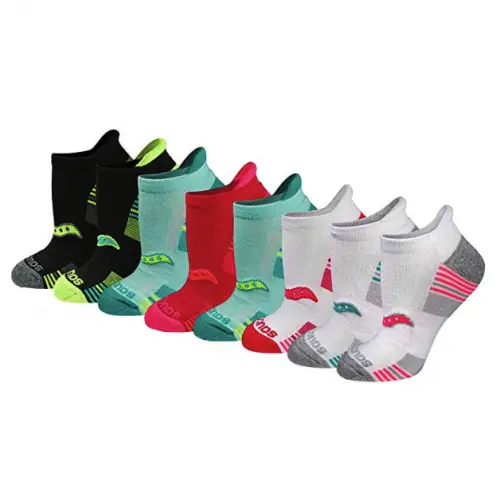 Good arch support
Mesh ventilation
Targeted zone cushioning
The Saucony no show socks are a quality combination of support for your feet and comfort for your peace of mind. They take care of your feet during your toughest workout sessions. These socks give you fantastic arch support. They are made with air mesh venting and a cushioned sole which will give you lasting comfort. Saucony believes in the power of running and wants you to enjoy the experience with them.
Read more
Saucony socks are made with 98 percent polyester with spandex to help them create the perfect fit which wraps around your feet. They are machine washable and also come equipped with a convenient heel tab design which gives your feet more protection and comfort.
Your feet will stay dry with Rundry moisture management. They have arch support which works to give your feet a more improved and secure fit around your foot. Your socks staying in place gives you a better chance at avoiding blisters.
They also offer mesh ventilation which is there to give your feet even more comfort and breathability to help avoid moisture. The impact areas in your foot are targeted for zone cushioning which will protect your feet during high impact and they have a comfort toe seam which will help reduce irritation.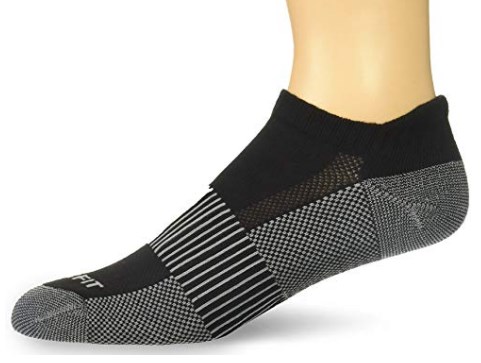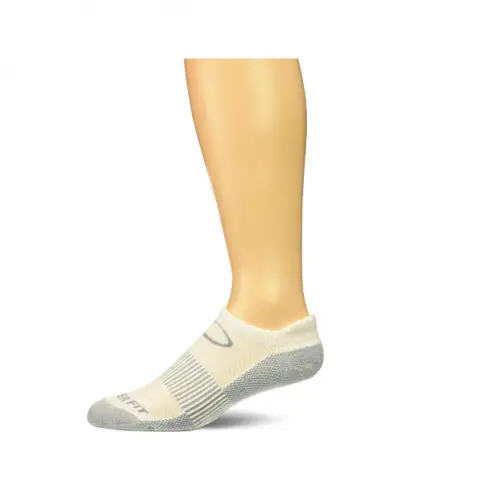 Activated with high-density copper
Machine washable
Has a heel tab
The Copper Fit socks bring you the best benefits during your workout. They have activated copper which is woven into the material. The socks are naturally resistant to odor so no matter how much your feet sweat, you will not have to worry about them smelling up your shoe.
They are also extremely durable, able to stand up to your most intense workout or even for just daily wear. Thanks to a quality made sock, you can enjoy a secure fit which is breathable for your foot that you can wear every day.
Read more
These socks are 100 percent polyester which is machine washable. They have a dynamic compression in your arch area which gives your foot added support. The footbed also has extra cushioning for excellent comfort.
The socks feature mesh venting which makes your socks breathable to keep your feet nice and cool while you are exercising. There are heel tabs so your socks will not slip inside your shoe. The socks also have a reinforced toe and heel to make them more durable.
These socks have high-density copper which is activated and woven into the fabric. They are naturally resistant to odor and very durable. They can stand up to some of the most intense workouts or just for casual daily wear. They are designed with comfort, durability, and activity in mind. With the added reinforced heel and toe, the activated copper in the material, and the mesh ventilation, your feet will thank you for making this choice!
Criteria Used for Evaluation

Features
When it comes to moisture-wicking socks, you are focused on something which is going to keep your feet dry and comfortable. You need socks which have some breathability with good ventilation so your feet can feel some air while they are sweating. They should have mesh or a stitch pattern which provides the air. They need to be made with materials that dry quickly and help to get the moisture away from your skin.
There are other features to consider as well. The socks come in many different colors to choose from, whether you are someone who enjoys bright colors in your wardrobe or you like the more subtle blacks, grays, and whites.
There is also a choice of different lengths. You can choose from crew socks which go partway up your calf, a low cut which has a top that hugs your ankle or the 'no show' socks which are designed to stay almost flush with the top of your shoe. They usually have a tab that holds them in place.
You also want a sock that is going to be durable. Look for designs that have a reinforced toe and heel. They should have a secure band that holds them in place while you are working out.
If they have seams on the toes, you want to make sure they are designed in a way that they will not irritate your toes and also will not come undone after a few washes. Speaking of which, you want socks that are going to be machine washable and able to stand up to being washed over and over as well as they do during your workouts.

Comfort
When you are busy getting in a good workout, the last thing you want to deal with is uncomfortable or sweaty feet. They need socks which are comfortable. The material needs to be soft as well as being something that will ventilation your feet and keep the sweat away from them.
It should dry quickly and not cause your feet to slip around inside your shoes. If your socks have seams they need to be strategically placed so they do not interfere with keeping your feet comfortable.
Your socks should also fit well, be form fitting to your feet. They should have precise sizes so you can get the one which is your perfect foot size. You want a sock that has a nicely contoured heel so your foot fits into it without bunching.
The toe area should be roomy with any seams placed where they will be comfortable. The socks should get you good arch support to help protect your foot from the impact of exercising. It is also nice to have extra cushioning in the high impact areas to help protect your muscles from any constant jarring when your feet hit the ground. Having comfy feet will definitely make your workout a much better experience.

Materials
Investing in your socks is extremely worthwhile. You want to take care of your feet because they are the foundation you stand on or workout with. Take a look at what materials the socks are made out of and made sure they are good quality and perfect for socks.
The first one that comes to mind is merino wool. The merino sheep have wool which is fine and soft so it is comfortable against your skin. It is naturally longer so the fiber is stronger.
Fabric made of too many short fibers can get holes easily. Usually, when you think of wool, you think of winter normally, but merino wool is extremely breathable and can be worn year-round. It is cushiony, highly durable, and will not make you itch. It also resists shrinking or odors. It is definitely coveted for your socks because it wicks away and quickly evaporates moisture.
A large amount of cotton may not be as good for athletic socks, depending on the other materials and the design. It is nice and soft as well as being affordable. However, cotton traps moisture so if your socks are not ventilated well you will end up with very wet feet.
Nylon blended into the mix adds strength and durability. It also dries quickly. Some of the socks add spandex, elastane, or lycra to their material mix. This adds some strength so it helps your socks fit snugly around your foot, keeping them from slipping and even giving the arch a light compression.

Durability
If you have an intense workout schedule, you need socks that are going to keep up. They need to protect your feet, provide some cushioning against the pounding they take, and be durable enough to stand up to your workout as well as being washed between the exercises. They need to be made out of materials that are strong and not going to fray or melt after repeated wear and washing. The elasticity of the band holding them up needs to stay strong wash after wash.
Look for a reinforced heel and toe, something which is going to stand up to intense use without getting holes in the material. The seams which attach both of these parts need to be strong and strategically placed where they will not bother your foot. The stitching on your entire sock needs to be durable and form-fitting at the same time.
The sizing should keep the heel and toe place around your foot correctly, so there is no shifting or bunching, which could cause blisters. You also want some arch support, some padding, or compression, which is going to help them absorb the blows from hitting the ground during a run. This will help your socks last longer as well as your feet.

Breathability
Probably the most important aspect of these moisture-wicking socks is breathability. They need to be designed in a way that keeps the moisture away from your feet so they stay dry and comfortable. The first way this is accomplished is the material that is used, such as the merino wool we talked about earlier.
Some of the socks have mesh ventilation which is helpful to get some air to your feet. They also have moisture control fibers which help to pull the sweat away from your feet. Some of the socks use an alternative stitch pattern which provides durability while still giving some airways that will help to keep your feet dry.
Expert Interviews & Opinions
Most Important Criteria
(According to our experts opinion)
Experts Opinion
Editors Opinion
Users Opinion
By Default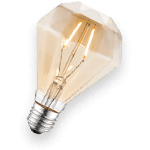 Do Not Scrimp On Your Feet
If you have ever come in from a run and have to nurse a blister, you know that your athletic socks are a part of your gear you do not want to scrimp on. Some of these socks are a little on the spendy side, but you have to compare that with how you intend to use them and how intense your workout is. If your feet are going to need that kind of protection, then it is worth a little extra cost.
How Tall Is Good?
Choosing the size of your socks is dependent on what type of activity you engage in. The ankle socks which are the shortest and the quarter sock work well for biking, running, and any other activity in which you use low-top shoes. The crew socks work best for outdoor sports like backpacking or hiking when you are wearing tall boots. There are also socks over the calf which work well for skiing.
Other Factors to Consider

Fit
How well your socks are vital in how well they are going to work for you. You need socks that are going to be large enough to be comfortable but small enough that they are not going to slip around on your feet while you are exercising. You do not want them to bunch up or fall down. The top band should be strong enough to hold your socks up without cutting off circulation.
The heel should be contoured to your foot and ergonomic. The toe area needs to be the same and be cozy around your toes without cramping them. They should be cushioned without crowding your feet and offer good arch support. You want to take a careful look at the sizing charts, measure your feet, and know your standard shoe size so you can get the perfect fit.
Frequently Asked Questions
q:

What are moisture-wicking socks?

a:

Moisture-wicking socks are designed to keep the sweat away from your feet while you are exercising, either by the material they are made with or by using ventilation techniques with mesh or special stitching. It is perfect for athletes who need shoes that do not shift, to people who are prone to get blisters, or anytime when moisture is a factor. The synthetic fibers help with the socks' abilities to keep away moisture with natural fibers.
q:

How do the moisture-wicking socks work?

a:

Clammy feet can make your day miserable. It happens when moisture cannot escape and builds up in your boot. Moisture-wicking socks promote the evaporation by letting the moisture travel along with the material rather than be absorbed so it can evaporate quickly and easily.
q:

How is copper oxide yarn different from silver?

a:

The copper oxide yarn is much more effective at being antimicrobial and antibacterial qualities, much more than silver. It is a mineral that happens naturally in the body. Silver is not natural in your body and there is a potential it could have negative effects on your health.
q:

How thick should your socks be?

a:

How properly thick your socks are will depend on quite a bit on how your footwear fits. If your foot is low volume, you will probably want to wear thicker kinds of socks. If your feet are high volume, thinner socks will work.
q:

Are arch reinforcements important?

a:

Some of the socks on our list are tighter with a weave that is reinforced in the arch area to help give your foot more support. This is most helpful for high arches, but they are useful for people who have regular arches or even flat feet. If your arches do not get proper support, you can develop pain or even conditions like plantar fasciitis, which can bring severe pain to heels.
q:

How do you know if you have the right fit?

a:

In order to get the right size, you want to be sure to study the sizing charts thoroughly as well as measuring your foot and knowing your shoe size. You want to pay attention to how they are designed around the toe and heel to be sure they are ergonomic. Getting the correct length is very important. If your socks are too long, they will bunch up down by your toes. If they are too short, they will slide down in your shoes.
q:

Should your socks be padded?

a:

Padding in the ball of your foot and the heel will give you great protection and cushioning. You want enough padding that it is going to protect your feet from the impact from running or working out, but you do not want so much that it is going to cram against your toes and make your shoes tight. The padding is made by increasing the weave density in these areas or in some of the socks the weave is done with long-wearing materials. This padding can really help your feet on long runs or rough terrain.
q:

What are advantages and disadvantages of Merino Wool?

a:

The fibers of merino wool socks are so much better than the scratchy wool from previous generations. Probably the biggest advantage is that they are great at regular temperature so your feet will stay comfortable in lots of different temperatures.

This wool can absorb as much as 30 percent of its weight in water. Your feet will stay dry. The pros of socks made with merino wool are in keeping your feet comfortable in cool or warm weather, they wick away and absorb moisture, and they cushion your feet. They do not itch like old wool. The only cons are that it dries a little more slowly than synthetics and it is a bit more expensive.
q:

What are the advantages and disadvantages of some synthetics?

a:

There are several synthetics that are useful in giving your socks a greater fit and making them more comfortable. Socks with nylon or Lycra spandex will help your socks keep their shape even after being washed over and over. They will give you a much better fit. In some of the socks, these materials give your feet good arch support. The polyester and some other materials are fibers that can wick away the moisture, keep your feet dry and odor-free, and prevent blisters.
Subscribe to our newsletter