Top 10 Compression Socks for Women in 2023
last updated:
Mar 25, 2021
Just about everyone can benefit from wearing compression sleeves and socks. Athletes and fitness enthusiasts can wear them during heavy activity, and use them on recovery days to relieve soreness. Working people, in jobs like nursing or driving, can counteract the effects of either being on their feet all day or sitting all day. And people with medical conditions that affect blood circulation in their legs may be given compression fittings by their doctors. Compression can help with managing diabetes, thrombosis, edema, and varicose veins.
The biggest benefit is that increased blood flow from the gentle squeezing. How gentle should that squeezing be? Can compression socks really do all the things their manufacturers say they can? In this buying guide, we help you cut through all the buzzwords surrounding the best compression socks for women so you can make an informed buying decision.
In a Hurry? The test winner after 20 hours of research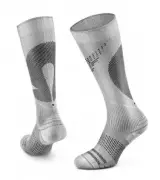 Rockay Vigor
Why is it better?
Consistent compression throughout
Helps with improved recovery time
Helps to reduce fatigue
Constructed from recycled materials
30
Researched Sources
11743
Reviews Considered
20
Hours Researching
10
Products Evaluated
Application
Breathability
Comfort
Compression
Materials
By Default
10 Best Compression Socks For Women
Consistent compression throughout
Helps with improved recovery time
Helps to reduce fatigue
Constructed from recycled materials
Not many styles to choose from
One of the recently released products from Rockay is their Vigor compression socks. These have, so far, exceeded our expectations as far as the vital points of fit and graduated compression go.
Read more
Vigor provides consistent compression throughout the sock, instead of being super tight in some spots and not so snug in other parts. The seamless construction offers a comfortable fit, without the discomfort of seams across the toes and heel, especially with a sock that is snugger because of graduated compression.
These also provide decent arch support in the midfoot compression, which helps with a variety of support and stability issues. It will be nice when the brand releases more color and style options, but the overall performance worked well enough that it didn't matter.
Merino wool is uber comfy and breathable
Stretchy without using additives
Short, so won't overheat even in summer
An easy sizing chart fits true
Not tall enough to help with calf pain
Our top pick for runners, travelers, and those in physical professions is a quarter sock with solid compression in the arch, to overcome all that pavement or trail pounding that runners do.
Read more
The socks are made of organic merino wool, which has natural moisture-wicking and stretchy properties. The wool is also exceptionally durable. Merino wool is known for its natural ability to breathe, while also providing warmth and gentle comfort to your feet and ankle. Merino wool also fights odors and prevents itching, all without any chemical enhancements.
The socks are suitable for constant wear. They will help especially during periods of heavy activity, including moving, traveling, running errands or attending a work event. The socks come in a few different colors, including solid color choices to go with practically any professional work attire. They will keep you comfy and dry while looking like any dress sock when hidden behind slacks, trousers, or a work-appropriate maxi skirt.
The graduated compression will soothe varicose veins and help give you more energy by fighting leg fatigue. The wool and other yarns in the socks are maximally strong and the compression won't diminish even when you stretch the socks out with daily wear.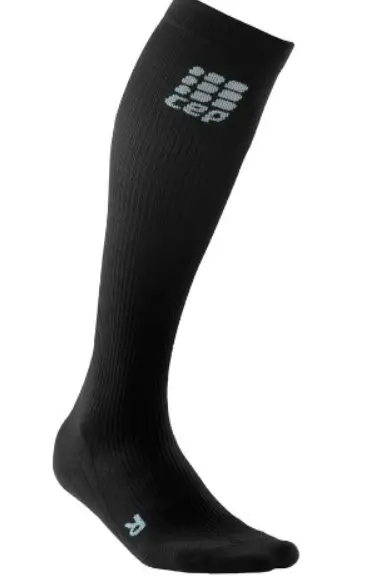 Circular compression thread spreads out benefits
Protects most of your lower legs/feet
Can wash in the machine
Extra Achilles support
Only comes in a few colors
Extra support in the Achilles area is just one of the things that make this a special sock worth checking out.
Read more
The Achilles support will keep you from getting sore tendons, even if you don't have flat arches. The socks are made for heavy activity, as well as to help you with recovering after a 5K, training run, or other activity that keeps you on your feet for an extended period. Compression at just the right level keeps your feet, shin, and calves safe and protected.
One interesting point of difference with the CEP is the stitching. The makers use a circular pattern to intertwine the thread used for compression, so the squeezing action spreads its way throughout the whole sock without excessive tightness. For convenience, you can wash these in the machine and also dry them.
CEP offers a 30-day money-back guarantee and, interestingly, a 180-day guarantee on the compression. These are carefully made socks that will last a long time and help you avoid the worst post-workout soreness and fatigue.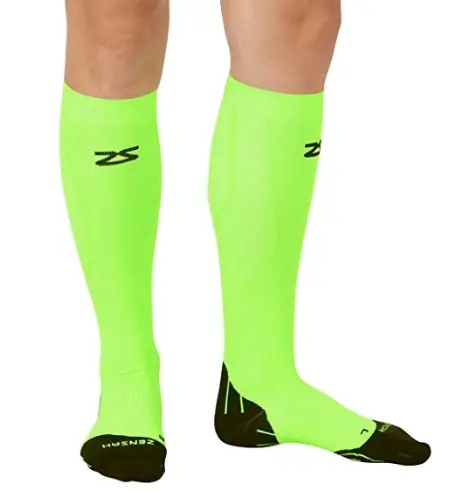 Built to treat shin splints
Nylon material
Moisture prevention
Targeted graduated compression
Not all reviewers said socks fit to size
These socks are made of a little Spandex and a lot of Polyamide, which is another name for super durable, stretchy, and comfortable Nylon.
Read more
The socks come in at least fourteen colors and are unisex for wear by members of all genders. The knee-high socks are designed to protect you from injury and provide shin splint relief. Compression centers around your shin and calf, where shin splints often settle in and cause the most pain.
The increased blood flow, from the compression, will also aid with cramped calves. The toe, stitched with no seams, will not move around, chafe, or give you blisters even during sustained activity. These socks are great for distance runs, and you will want a second clean pair for a recovery day, too.
Finally, at the bottom of the socks, you will find ribbed arching and an elastic band to tightly hold the foot during wear. Graduated compression actually targets your ankle for shin splint prevention while fitting less snug around the calf so blood can flow freely.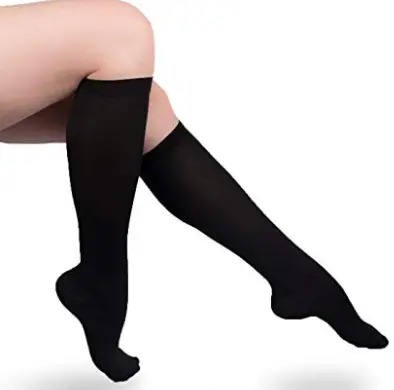 Treats several different conditions
No fall top stays
Reinforced toe, heel
95% nylon fabric
Socks are very tall and could get hot
These knee-length compression socks for women are almost pure nylon with 5% spandex to aid in stretching.
Read more
These socks will compress, comfort, and even simulate massage action on your sore and fatigued legs. The fabric is ultra-smooth, which you can feel when you touch it. The socks will help with swollen legs, shin splints, vein problems, and shin splints associated with running. The socks are even useful for blood clots and plantar fasciitis.
You can wear these during activity, on recovery days, or just as general daily socks. The tops are cuffed so they will stay all the way up to your knees with no bunching or moving. The socks are thin enough to fit inside any of your shoes, and the material is tight and compressive without leaving red marks on your skin.
You will want to consult the sizing chart with these socks. You have to take several measurements to determine the proper fit. Toes and heels are reinforced, making sure the socks will last a long time even if you wear them often.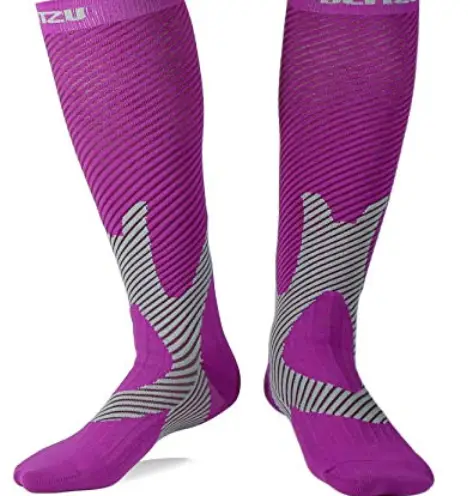 Suitable for almost any leg problems
Provides graduated compression and shock absorption
Can keep your legs from cramping during extended sitting
Suitable for blood clot prevention
Socks are made of thick material; so they might be hard to get on
These socks are tough enough to treat medical conditions like diabetes, and will also help you rest up from a long run by squeezing and heating your shin splints and ankles.
Read more
The socks will encourage blood and oxygen movement, preventing cramping during times of activity. They are also good for traveling and will keep your legs from going to sleep or cramping when you have to sit for long flights. You get a shock-absorbing benefit, which you can feel as soon as you put the socks on.
Blitzu made their socks to emulate sports tape, holding everything in place and aiding the compression. Swollen legs and varicose veins will get relief from these sturdy socks. They are also suitable for preventing blood clots while recovering from surgery.
Another use for these socks is to wear them during work. Especially if you have a physical job, where you are on your feet all day, the socks will give you added support and have an energizing effect. The socks have a circular knit stitching to make the socks durable and allows them to stretch to accommodate larger calves.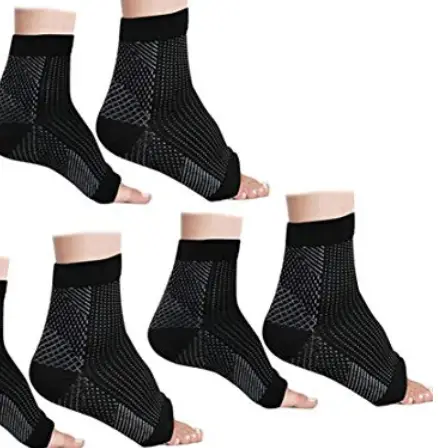 Helps with the foot, ankle swelling
Good for plantar fasciitis
Extra bottom of foot support
Moisture-wicking nylon/spandex fabric
Most of the socks on our list are as tall as your ankles or knees, but this offering from the oddly named OhYeahUs is an actual sleeve, with an open toe.
Read more
The sleeves are the length of quarter socks, so they end at the bottom of your ankles. They are specifically for plantar fasciitis relief, but will also alleviate swollen feet while increasing your blood flow and reducing pain in your heels.
The socks provided targeted support to your arches and heels. These are excellent socks for any kind of foot pain. They leave your feet and legs free enough for all sorts of athletic movements, and also are suitable for daily wear away from the gym. They will not interfere with any boots, sneakers, dress shoes or other footwear.
The sleeves come in separate sizes for women and men. You will need to use the size chart provided by OhYeahUs. The company does offer a mild warranty in case you are not satisfied with the sleeves.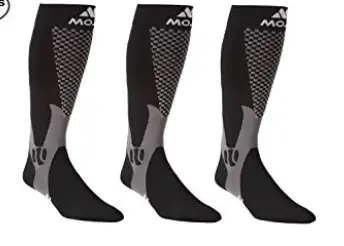 Thinner and lighter feel
Unisex sizing
Will reduce lactic acid during activity
Medical grade construction
Mojo makes a variety of compression socks, all with firm consistency, moisture-wicking properties, and medical-grade construction to help increase your blood flow.
Read more
The socks are stretchy but firm, with reviewers saying they were easy to get on and off. The Elite style socks, which we reviewed, are thin and have a tight, secure wear experience. Graduated compression targets shin splints, varicose veins, and other troublesome areas.
The socks are airy and breathable. You won't overheat when you wear them for activity including your outdoor exercise. The Elie is a knee sock, so you get pain relief and soreness alleviation all the way up to your calves. Mojo makes its socks in an array of sizes to accommodate those with larger ankles or calves.
You can wear these socks after working out, too, to speed up your recovery and keep you from getting too sore. Wearing the Mojo Elite will have the same effect as elevating your legs, giving you more blood flow and increased oxygen delivery. The socks concentrate their greatest compression at your ankles and are designed to be anatomically friendly by following the shape of your foot.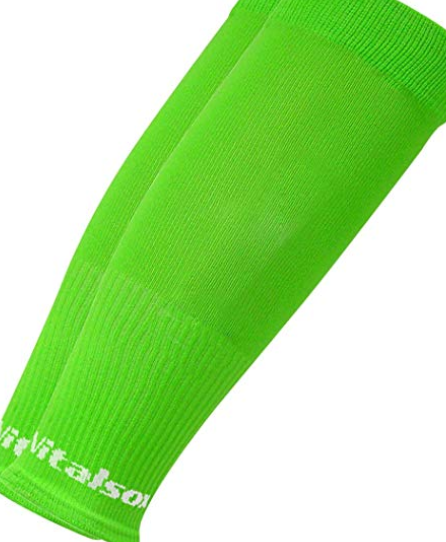 Fits true to size
Antibacterial fabric
Low odor
Suitable for all-day wear
An actual sleeve- no lower part or toe
These socks provide comfort and pain relief whether you are running a trail or getting some sleep.
Read more
The fabric used is called Silver Drystat, and it is exclusive to Vitalsox. It has antifungal and antibacterial properties. The fabric also has good moisture-wicking properties. It is breathable and helps you avoid blisters.
The main use of these socks is for tennis players. Tennis is a sport of constant movement and can be tough on joints and muscles. Vitalsox also recommends their product for running and walking, as well as maternity. The socks are suitable for daily long term wear, including sleeping with them on.
The fabric and padding include terry cloth, which is known for its softness and ability to repel moisture. Padding gives the socks a shock-absorbing benefit, too. Vitalsox is part of a group that began in 1998, patenting its compression system and also making socks under several different names all ending in Sox.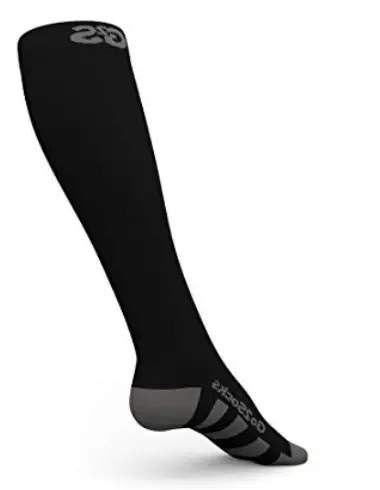 Comes in fun colors and patterns
Extra long-comes up to the knee
Machine washable/dries in drier
Suitable for physical jobs
Not everyone will want a sock this long
Fitness buffs will enjoy the compression and comfort of these socks, but so will those who stand on their feet all day at their jobs.
Read more
That is because any physical jobs can cause leg fatigue. These socks will keep your blood flowing so your ankles, feet and calves don't swell or get numb. Wearing the socks during physical activity will cut down on shin splints and the appearance of varicose veins.
Extra features include cushioned foot pads to help your feet carry the weight of supporting you without getting strained or weighed down. Long flights, marathons, and driving long distances are all occasions where these socks will help you recover as you resume your usual activities. The increased circulation gives you a slight performance advantage when you wear socks during intense activity.
The socks come in single pairs or in packs of two. There are a number of colors and patterns you can choose from. The fabric has some odor and bacteria-fighting properties and can be both washed and dried in the machines.
Criteria Used for Evaluation

Application
Compression socks only have to do one or two things well.
Those include, of course, providing compression, which will reduce swelling and increase blood flow. Compression should be graduated, meaning it is stronger in high use areas. Some socks will have more compression in the ankles. while others may compress the feet for plantar fasciitis relief.
We did not include any socks or sleeves that we felt you could not count on for compression. Socks that carried other benefits got higher rankings, But many socks that look stylish and may be comfortable during workouts are still not actual compression socks. We did not include those.

Breathability
If your feet have airflow, they will not sweat as much.
Not sweating is a good thing, because it means less odor and less chance for bacteria to grow. Some of the socks on our list have antibacterial treatments, and that is good, but socks still have to be breathable for best results. Breathable fabrics include nylon, merino, wool, and polyester. Spandex is not particularly breathable, but it is often needed for compression reasons. This is why you will often see 90% nylon/10% spandex and other configurations in compression socks.

Comfort
We want you to feel confident in wearing your socks all day if you desire.
After all, you are the one spending money on them and seeking the pain relief or recovery benefits of women's compression socks. So we prioritized socks that are true to fit, and that have comfort features like padded foot areas and roomy toe areas. It is true that socks have a simple design, without much room for extra features and without the ability to really cause discomfort. Still, things like thickness and flexibility are important and will vary between manufacturers.

Compression
Compression means pain relief and cooling for sore ankles or calves.
Socks that compress your legs typically do so through the use of spandex or other stretchy synthetic fabrics. Construction has to be thick enough to hold you tight, but thin enough to breathe and let you enjoy the freedom of movement. The idea is to get your blood circulating, without squeezing so tight that you feel discomfort. The increased blood flow is what relieves pain and swelling.
There is a rating system that exists for compression garments. You often see products listed as 20 to 30 mmHg, or something similar. This is an attempt to measure approximate blood flow increase using millimeters of mercury measurements. Basically, 20 to 30 mmHg is the tightest compression, with 10 to 20 mmHg being moderate. The measurements are a good guide, but not everyone will feel the same amount of compression.

Materials
The fabric of the sock or sleeve is important.
Compression socks for women can be made of spandex, lycra, microfiber, and sometimes cotton, or blends containing any number of these fabrics. Spandex and lycra are essential for the stretchiness that gives the sock its compression abilities. But the elastic fabrics are not suitable for the bulk of the sock's composition. The cotton or other fiber is necessary for retaining shape.
Although cotton blend compression socks are rarer, many users prefer them because cotton is so naturally breathable.
Expert Interviews & Opinions
Most Important Criteria
(According to our experts opinion)
Experts Opinion
Editors Opinion
Users Opinion
By Default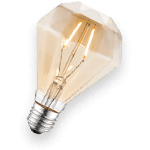 Compression Socks 101
We all know that compression socks work by squeezing your blood vessels to encourage circulation, but is that all there is to them?
The benefits of better circulation include more energetic legs, so you will not tire as quickly, in addition to reduced soreness and a reduction in swelling. Pregnant people often seek compression socks for that last reason, since ankles can swell during pregnancy.
Most of the compression socks you see online top out at between 20 and 30 mmHg of blood pressure. The vast majority of athletic users will not need more compression than this. However, people with diabetes, edema, and certain other medical conditions can get higher compression fittings at medical and specialty stores.
While the material is important, we think it is better to look at the sock's overall performance and value rather than going mainly on composition.
Getting Your Socks On
Putting on a pair of socks seems so simple that it is hardly worth talking about. Most of us wear socks every day. But when dealing with painful or swollen legs, or the whole body soreness you sometimes get from sustained physical activity, just bending over and pulling the socks on becomes difficult. After all, the socks are made for tightness.
We can suggest a few things to help you with donning the socks.
You can put a bit of either talcum powder or cornstarch on your feet before you try to put the socks on. Somehow the small amount of particulate helps the fabric to travel up your ankles better.
For a better grip, try wearing those rubber texturized dishwashing gloves to put your socks on. Don't go too thick, with the gloves, because then you will have trouble grabbing anything with your fingers.
Finally, as with any sock, just rolling your compression socks up will make it easier to get them started.
Other Factors to Consider

Protection
Many of the socks on this list promise to reduce or prevent certain sport-related injuries. Those include shin splints, soreness, and swollen ankles.
But these claims are a little hard to support. If you don't get shin splints after a run, how do you know the socks were the only reason? We did not make protection one of the main factors, for this reason. It is almost impossible for a maker to prove their socks prevent conditions. However, we did not want to discount it completely, because there are usually enough positive reviews to make the case that, generally, people who suffer from these conditions were able to go for a run without experiencing their usual problems.
Frequently Asked Questions
q:

Why the emphasis on graduated compression?

a:

Graduated compression means the sock or sleeve is tight at the ankle and becomes less so as the sock goes up your leg. This is so the part at the knee or thigh will not cut off circulation. Graduated compression delivers the greatest blood circulation benefit in your ankle area, where many problems often start. So most physicians concur that graduated compression is best.
q:

How much compression do I need?

a:

That depends on your reason for wearing the compression sock or sleeve. The lowest level of compression, around 12 mmHg, will relieve tired legs and some swelling. Most of the socks on our list are in the firm area, from 20 to 30 mmHg. Anything past 30 mmHg is reserved for serious medical problems, like thrombosis, lymphedema, and venous ulcers.
q:

How do I get the right size?

a:

The best way to get a tight fit, of course, is to try several pairs of women's compression socks on at the store. If you buy online, make sure to use the sizing guide from the maker. The directions may have you measure the width of your ankle and calf, your calf length, and maybe your whole leg. Here's a tip: if you have swollen legs, measure for your compression socks when swelling is at its lowest. For most people, this will be in the morning.
q:

I used cornstarch and I still can't get my compression socks on! What do I do?

a:

If the sock is a stocking, with a full toe, you can try this:

Reach into the sock, grab the heel, and turn just the heel inside out.

Put your foot into the opening you just created with the heel.

Now you can just pull the stocking all the way up, flattening out any wrinkles on the way so you get a tight fit.
q:

Is compression gear good for traveling?

a:

Yes, it is! Sitting on a plane for hours can really decrease blood flow and cause problems. Wearing your compression socks for the entire flight will decrease your risk of deep vein thrombosis, a serious medical condition that creates blood clots. This is according to the National Health Service in the UK.
Subscribe to our newsletter