Top 10 Massage Balls for Muscle Relief
last updated:
Feb 11, 2020
Massage balls may not look like much, but they have the power to bring instant relief to your aching muscles. They are the most effective means of getting deep within your muscle tissue to work out the knots and bring relief to pressure points. Here is our selection of the best massage balls for 2019. But not just any massage ball will do the job. You need to choose the correct size massage ball for purpose, consider the weight of the massager, look for a massage ball with a surface which allows grip, finally consider the firmness of a ball and the level of durability.
In a Hurry? The test winner after 16 hrs of research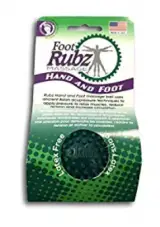 Due North Foot Rubz
Why is it better?
Flat nubs on the spikes
Oblong shape
Sturdy
42
Researched Sources
7k
Reviews Considered
16
Hours Researching
14
Products Evaluated
Ease of Use
Effectiveness
Durability
Portability
Value
By Default
10 Best Massage Balls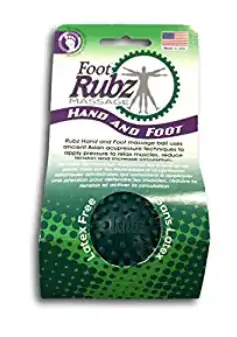 Flat nubs on the spikes
Oblong shape
Sturdy
May not have enough diameter for larger people
The Due North Foot Rubz massage ball is a sturdy massage tool with nubs on its ends.
This allows you to penetrate deeply into the muscle tissue. As opposed to dryer balls, which have sharper ends, the nubs on the Due North ball have flat points.
This produces a soft needling sensation that feels fantastic. The diameter of the ball is approximately 2 inches.
Read more
Due North Foot Rubz is made from hard rubber.
Rather than being perfectly round, the massage ball is oblong. This prevents the massage ball from rolling around or slipping.
You can control the depth of massage by the pressure you apply.
This rubber ball with spikes will give you a very effective massage anywhere, anytime, making it a very cost-effective massage tool.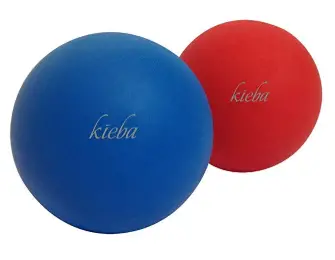 Smooth surface
100% solid rubber
Improves lymph flow
No protrusions to get into trigger points
The Kieba massage balls are smooth round lacrosse style balls. They are made from 100% solid rubber and provide firm support to help you to get into those hard to relieve pressure points.
Your purchase includes two massage balls, which are small, portable and easy to carry with you when you travel.
Read more
These balls are ideal for trigger point therapy, yoga and relieving muscle knots. Because they are the official size and weight, you can even use for your game of lacrosse!
Very versatile, you can apply your body weight onto this, tension and knotted muscles will get relief, due to the convenient size, this ball is easy to tuck away in a pocket or bag and that means you can use it anyplace.
By using your body weight, you can judge the amount of pressure needed to un-knot muscles, relax tensed muscles, if you apply a lot of pressure the effect goes deeper if you apply minimal than the pressure is more to a surface area on the body.
The materials used are skin-friendly and durable, the outer skin has a smooth skin so that it feels comfortable during contact with your skin.
A nice investment and very useful.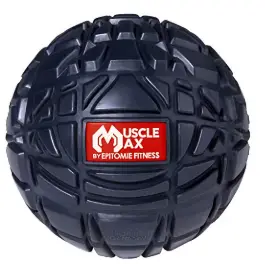 5 inches in diameter
EVA foam rubber construction
Raised design pattern
The Muscle Max Massage Ball is a smart massage ball that provides a concentrated massage for targeted areas of the body due to its multi-directional roll.
The massage ball is 3.2 inches in diameter and constructed from a firm and sturdy high-density rubber. It features a raised design pattern which more effectively gets into deep tissue than does a flat ball.
Read more
The Muscle Max ball's 3.2-inch diameter is the perfect size to work its way into the deep, inner muscles of the upper and mid-back.
Smaller balls cannot get into these areas. It also provides a great deal of leverage to allow you to more effectively work the muscles of your hamstrings, hip flexors, and adductor/abductor group.
Your purchase comes with a free carry bag.
4

. Trigger Point Foam Massage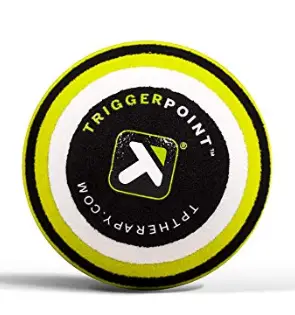 Layered construction method
Foam surface
Very hygienic
The ball will change shape over time
The Trigger Point Foam Massage ball has a unique layered construction that provides a great level of deep tissue penetration.
This makes it a great choice to target the hard to get small muscles of your body, such as the inner calf and the piriformis. The foam surface of the ball makes it very hygienic and easy to keep clean.
Read more
The diameter of the Trigger Point ball is 2.6 inches weighs just 1.2 ounces. Each layer of the ball has a different density, making them very effective at breaking up the adhesions in the muscle and more effectively stimulate blood flow in the area. The surface of the spiky massage ball is an extra firm, to provide a deeper level of penetration.
5

. Physix Gear Massage Balls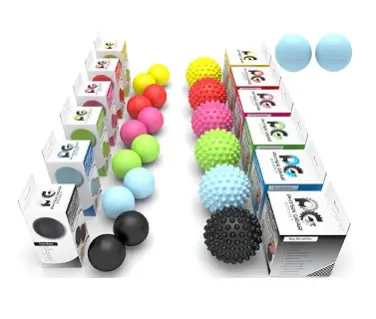 Solid core
Non-slip grip
Combination of firmness and springiness
The Physix Gear Sport trigger point massage ball offers a unique springy yet firm consistency that very effectively gets into those tricky and painful knots within the muscle.
Balls come in pairs and you can choose from spiky or smooth surfaces. The ball has a solid core and a non-slip surface. This provides a very solid message base along with a permanence that ensures that the ball doesn't roll around or slide around under your body.
Read more
The Physix Gear Sport massage ball is grippy, lightweight design makes it an ideal portable massage device.
This massage ball provides just the right balance between firmness and springiness, making it one of the best balls we have found to quickly bring relief from tension knots. The product comes with a money-back guarantee and a free ebook.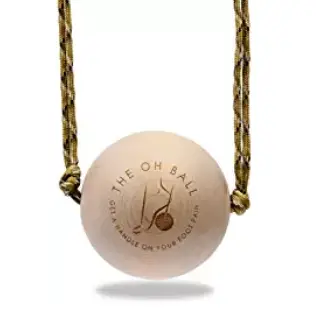 3 inch ball
Unique cord design
Strong 500 paracord
The Oh Ball is a unique product specifically designed to address foot pain. It consists of a 3-inch maple sphere massager that has a length of rope attached to each side. This allows you to have full control over the amount of pressure placed on a specific area of the foot.
Aching tired feet will really appreciate a good going over or under with this ball, massage away the fatigue, this is very portable, can be carried so that you can use it at home, at work or out relaxing in the park. This gives a nice deep penetration to bring on quick soothing relief.
Read more
Providing the perfect combination of strength and flexibility. The Oh Ball is made in the USA.
The cord of the Oh Ball foot massage ball is pre-knotted, allowing for a variety of hand grips to provide different amounts of pressure. This device is the most effective we've found for plantar fasciitis, providing you with a superior level of control. Just be aware that the rope may rub against your leg.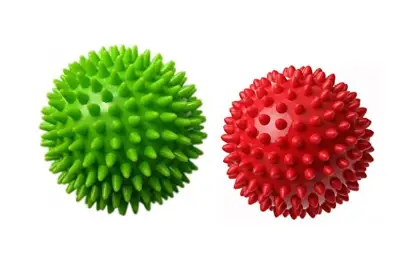 Comes in a set of 2
Spiky
Very durable solid rubber
Feels a little awkward to use
Therapist's Choice Massage balls come in a set of 2 that provide you with great variety. You get a pair of spiky massage balls in two different sizes, allowing you to get deep into those painful trigger points.
With a choice of two sizes this doubles up the chances for getting at those tricky trigger-points, the effect is deep when you apply enough weight, you can through your own weight control how deep the effect will go.
Read more
This yoga massage therapy spiky massage ball is constructed of a very durable, solid PVC. The two balls are 3 inches and 3.75 inches in diameter. The spiky balls have sharp edges and are relatively firm, though they do have a measure of giving.
Balls are red and green.
These are great for a needed foot massage and even help for plantar fasciitis, the spiky coat ensures maximum skin and muscle stimulation which in turn promotes the flow of blood to tired and fatigued tissues.
8

. King Athletic Muscle Set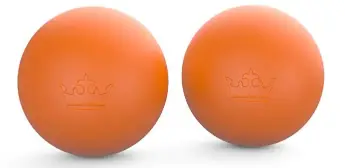 Set of 3 massagers
Firm rubber construction
Good grip ability
he King Athletic Muscle Roller Ball set provides a set of 3 balls in a convenient carry case. The set of 3 deep tissue massage balls is constructed of high-quality rubber and are the same diameter.
These balls are made from stronger rubber than a lacrosse ball. They have a better ability to grip to the skin.
Read more
You get two green and one black ball with this set. The green therapeutic balls are not as hard as the black one. This makes them better for use on the body. The black is best for the feet. Having three balls allows you to put one in the car, have one in your gym bag and another at work. There is a lifetime warranty on this product.
The black massage ball is more specific for foot relief, puts pressure on it and moves your foot, this way it easy to manipulate into the best position, apply enough weight till you feel relief.
The other two can be used on different parts of the body as the users see fit for massage. No instructions with these so you need to figure out how they work for you.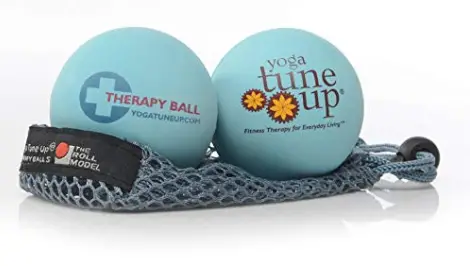 Set of 3 massages
Firm rubber construction
Good grip ability
The Yoga Tune Jill Miller's Physical Therapy balls come as a set of two in a handy carry bag. They are made of a special rubber that is designed to grip and grab the skin.
This makes them more reliable and stable than many other items on the market. Each ball is 2.5 inches in diameter.
Read more
These Jill Miller yoga balls provide just the right blend of firmness and flexibility. This allows you to effectively address small trigger points that are hard to reach.
They are especially beneficial in bringing relief to muscle pain in your feet.
However, Jill Miller therapy massagers have been known to deflate after a few months of use, making their durability questionable.
These are very well designed and when you get to master how to use these they are effective.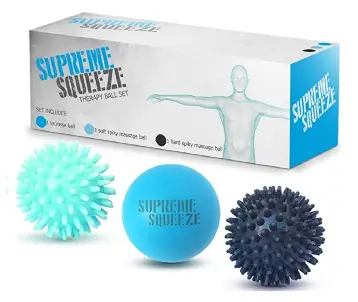 3 Balls
Includes spiky, soft porcupine and flat balls
Instructional guide
The softest ball is too soft
The Supreme Squeeze massage ball roller set consists of a set of 3 units. Two of them are spiky and one is flat. You get a hard, spiky massage ball that is designed for those troublesome, hard to get to knots.
A soft porcupine ball is also included. This is a great tool for loosening muscles up and providing a gentle massage experience.
Read more
The final item in the set is a lacrosse-style massager.
It is ideal for targeting sensitive areas like the neck and shoulders. Included with your purchase is an informative instructional guide which will help you to choose the right ball for the task.
This is a good value set that will provide you with all the deep massage tools you'll ever need.
Criteria Used for Evaluation

Ease of Use
Ease of use for massage matters
When using a massage ball ease for use is very important, all users want a ball that hits the mark, is easy to handle and effective.
Size matters for ease, for example, we looked at those designed for different parts of the body.
Feet
For the feet, the massage ball needs to be compact and dense so that when body weight is applied it can return with a well-balanced pressure response. When massaging the feet the effect will depend on how much pressure you apply. If you apply a lot of pressure using bodyweight you will get a deep penetrating massage which will promote blood circulation, relax muscles and even help un-knot muscles. When applying light pressure, the message is more distributed over the surface area of the underfoot and still great for pumping up blood circulation and pushing away tension.
The surface of massage balls can vary, some are designed with bumps and nodules which are very good for a deeper message, while some are smooth on the surface and tend to iron and massage muscles and give a very nice soothing effect.
Arm and legs muscles
Yes, these can be used for arm and leg muscles and again the same principles apply, the more pressure applied, the deeper the message. For ease and effect, these balls come in a variety of sizes and can be rolled along the entire length of an arm or leg muscle.
Other parts of the body
These work really well on all parts of the body, the rule of thumb is to be creative in how you use these on the body. Most of these products come with instructions for different ways to get different massage effects. You can follow the instructions and be a little creative for how you get the most beneficial effects.
Our research has been extensive and we are confident that the massage balls offered in our guide will put forward something for every person.

Effectiveness
Effectiveness is very important
Our research showed that these balls are highly effective and this is why they are growing in popularity among home users.
We noted that brand makers have clearly researched the effectiveness standards and continue to move forward with innovative designs.
Particularly popular among users are the massage ball designed with surfaces which stimulate blood supply, these designs include nodes and nobbles which increase the effect of deep massage and reach deeper into knotted and tired muscle tissue.
The balls are generally designed to be dense so that a lot of pressure can be applied while using partial or full body weight, the materials used in the construction are strong and can take a lot of body weight. If a massage ball loses density then after a while it will be less effective because it will give-way when pressure is applied and the surface will flatten out so that contact with the body is much less effective.
How do we know when effectiveness is happening?
Users will know because after a few minutes of use, the muscles will start to feel more relaxed, in the case of knotted muscle they tension in the muscle should start to decrease and continue decreasing till such time the muscle is no longer knotted and uncomfortable.
The blood supply to muscle tissue will have been stimulated and this will mean a better supply of vital oxygen and nutrients which feed muscles and ensure recovery is taking place.
After a challenging training session, muscles may well feel tired-fatigued and at such times these products can be used for massage to bring a good level of relief and recovery. When using the balls in this way, give thought to which types of results you need, if you need a deep massage to get deep into muscle tissue, go for a ball that does not have a smooth surface. If you are looking for a massage effect that is not deep, use a ball with a smoother surface.
We did not personally try out all these massage tools, instead, we carried out extensive comparative research to ascertain exactly how effective the different types of balls will be when correctly used. Be sure to pay close attention and follow any instructions provided when you purchase a massage ball.
Substantial research has gone into producing these home-use therapeutic aids and we believe if you follow the instructions, choose the correct size ball with the right type of surface, you will get good results.
However, this does not mean you cannot experiment with these in order to achieve benefits. Enjoy our selection of varying massage tools, there is a choice here for all people who want to try out home massage-therapy.

Durability
Lack of durability leads to lack of effectiveness.
Comparative research was used for the purpose of establishing a good level of durability.
This means that we looked at extensive reviews by users to see what they had to say in terms of how effective these can be when used at home. These come in different sizes but we wanted to see consistency regardless of size for reliable durability. To establish this we looked at review content to establish, how long a user had used the balls because we know that in an inferior product, durability is tested by time. Therefore, the longer a massage ball is used and remains effective the better the level of therapeutic durability.
We also examined the sourcing of materials, to look at the materials allowed us to establish if the materials were appropriate and known or created with durability in mind. The density level of a ball means that it must support a lot of applied body weight and not lose shape over time because if it does not retain its shape it will cease to be effective.
We did see examples of balls which users pointed out did not retain shape and that over time they became less effective and these types were generally massage balls which looked the part in terms of design and were offered at low prices, but in reality the materials for construction were cheaply sourced at failed in terms of durability.
This guided our review methods to select a choice of balls which we believe offer very good durability and long term effectiveness for massage.

Portability
Portability provides convenience.
While portability might not seem a big point in terms of being able to carry a massage ball that fits in a hand, it is actually important.
A set of massage balls.
If you buy a set of these balls, they typically come in different sizes from small up through to large and they also have different types of surfaces, some for a shallow message and some for deeper therapy.
A set of these massage tools will be provided in a container, this means larger proportions and not so easy to slip into a pocket and carry to the office, etc. The options for portability would be to select which massage ball you want to use and only carry it with you. If you want the whole set then you will be looking at putting the pack into a small bag so that you can conveniently carry the set with you.
Just one ball and portability
If you have purchased only one ball for a specific type of massage, for example, for office workers, a discrete foot massage at the office desk, these products are exceptionally portable, it really is as simple as pop the ball into a pocket and carries it to wherever you will use it.
Our conclusion for choosing this range of massaging balls is that they are highly portable and you will not encounter difficulties for taking them out of the home to use at other locations.

Value
Value is evident through effectiveness and ease
We assessed the level of value through price, in terms of you will get more durability and effectiveness if you are willing to pay a higher though not uncomfortable cost, this approach means you are very likely to get an effective massage ball for use as a home massage option.
If you opt for what seems like a budget price, it will be likely that the ball looks exactly like other massage balls, but appearance here can hide the fact that it is made from materials that are substandard and will not offer durability. The performance for effectiveness is likely to be short term and you can find yourself in the position of having to go and buy another massage ball.
With this type of massage ball product, consider looking at brand options that have a long history and are known to provide a good model, you want durability and effectiveness and the best choice is to go with a brand name.
Our offerings in this review and guide have focused on brands that have proven they can hit the required standards.
Expert Interviews & Opinions
Most Important Criteria
(According to our experts opinion)
Experts Opinion
Editors Opinion
Users Opinion
By Default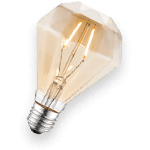 Size is important
You must take into account the size of the massage ball.
These are offered in different sizes and that is directly related to how effective the ball will be. For example, if you are looking for a massage ball to use on your feet, you should consider if you want a deep or shallow therapeutic massage. If you want a shallow surface underfoot massage it is evident that you should not go for a small ball on which you will place your body weight while you manipulate the ball underfoot. In this situation, you will get a penetrating deep massage.
Do some research covering home massage products, read customer comments online, if need be, seek out a physiotherapist and get advice, this way you will select a model which will be the right size for your needs.
Materials
Materials matter very much so be sure you go for quality because quality leads to the use of good materials and durability, these factors together result in an effective product.
You have two options, go with a popular trusted brand and they will already have done their homework-research to ensure the ball is constructed from durable materials.
Your second choice is for you to source out information which will be in the form of comparative reviews and also provide feedback from users. Pay attention when it comes to materials because in this type of ball you want the best materials or you will not get effectiveness or durability.
Other Factors to Consider

Application
Get the technique correct and you will get results.
We reviewed the application for these in the sense of how you use and apply the massage ball for massage and where to use it on the body.
It is clear that application for use combines with a required technique, so the first challenge for a user is to master the technique or how to use these.
These come with instructions though at times for the basic versions these may not have instructions if that is the case, the technique is clear, apply the ball to the muscle area, put on pressure and roll the ball on the muscle.
The designs do vary, the variation in design will require the correct technique and that is when the instructions need to be followed, by following those instructions, you will be using the technique for which the massage ball has specifically been designed, if you don't use the correct technique you will impair the performance of the ball.
Frequently Asked Questions
q:

Are these safe for home use?

a:

These are very safe for home use so long as they are used in the context for which they are designed. Ailments that can be covered by these for massage therapy should be basic, such as knotted muscles, fatigued muscles that need help for recovery, tired muscles which require invigorating. If you have any injury which requires expert massage as a therapy treatment, you should consult with a therapist and let a professional help you.
q:

Why the surface nodules on some balls?

a:

This skin design on the massage ball gives a deeper message, loosens up stressed, tight or knotted muscles. The nodules are like multiple mini-fingers which work to give a penetrating effect which not only works on muscles but will also promote a better blood supply, this means that while your muscles are being massaged, they are also receiving nutrients and oxygenation via a good flow of blood.
q:

Which ball is the best option?

a:

This cannot be answered in a way that suggests a specific ball design as being the best.

The variations in different designs are because variations on massage for different muscles are the norm. What you have to do is identify your massage needs and then do some checking or effective research to identify which massage ball is needed for your specific needs. Your research can be quick and effective by simply visiting reputable buying guides, reviews, and user reviews and taking on board all information, this way you will select the best ball option for yourself.
q:

Pay a therapist or use a ball, which is better?

a:

If you have sustained a serious injury you should consult a massage therapist, this way you will get a clear professional opinion for your options.

Home massage tools are certainly not suitable for serious muscle injuries, in fact using them out of context could make the injury more problematic. These are designed for basic needs and tend to come with instruction for the best technique for effective use.
q:

Are these worth the money?

a:

If you have tired muscles, muscle fatigue after workouts and want to promote recovery, these are a good option. For those that experience knotted muscles, there are even designs that can help alleviate such discomforts.

These are worth the money if used correctly with the correct technique.
q:

Are the materials safe on the skin?

a:

Go with a reputable ball brand, the makers will only use skin-friendly materials which are safe on the skin. At the same time, the materials will be durable and the design will be safe but please do follow any instructions for use and technique of the massage ball.
Subscribe to our newsletter