Best TENS Units Reviewed and Rated
last updated:
Feb 12, 2020
A TENS unit stands for transcutaneous electrical nerve stimulation which is a battery-operated unit that is used to treat pain. It delivers tiny electrical impulses through the electrodes that are attached by adhesive pads to your skin. They are used to treat joint, neck and back pain and can be useful to treat sports injuries. Athletes find them helpful handy because they are noninvasive and do not require you to take any drugs which could affect your performance. These are handy to use as well because they are portable. In this article, we will introduce you to the best TENS units on the market and tell you a little more about them.
In a Hurry? The test winner after 24 hrs of research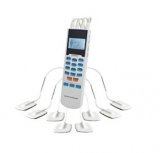 HealthmateForever YK15AB
Why is it better?
20 levels of intensity
4 outputs
Equipped with a belt clip
15
Researched Sources
10k
Reviews Considered
24
Hours Researching
14
Products Evaluated
Features
Ease of Use
Effectiveness
Durability
Comfort
By Default
10 Best TENS Units
1

. HealthmateForever YK15AB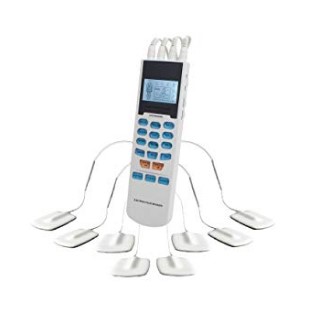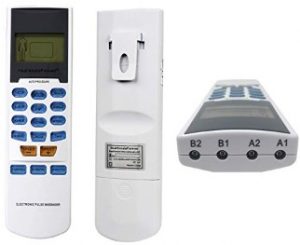 20 levels of intensity
4 outputs
Equipped with a belt clip
Does not have a rechargeable battery
The TK15AB brags to being the all-time best seller. This unit has mode buttons which are specifically designed to make managing your pain quick and simple to use. It is non-invasive, all-natural, and drug-free. This is a power unit with 20 levels of intensity that you can adjust to give you long-lasting relief. The mode buttons are easy to read to get targets relief with modes that are like a nice massage. You can adjust the speed to give you the most comfortable pain relief. It also has a belt clip so you can take your pain relief with you.
Read more
When you get this package it includes the control unit with dual lead wires in four sets. You will also receive inserted pin electrode pads in four pairs. It also has a pad holder, three batteries, and a user manual.
This is a unit you can take to the gym. Getting that workout is fantastic for you mentally and physically but being overactive without giving your muscles time to recover can lead to injuries or strains. A tired body can have a hard time performing tasks and makes your workout nearly impossible. It is important to stay healthy. Spending time in an office can be a danger to your muscles and nerves while you are working. Your body is upright in a position that can strain your lower back, as well as your shoulders and hands.
This is where TENS can help. You can relax your muscles after a long day in the comfort of your own home with the massage-like modes in this system. It offers you modes which can be pre-programmed for your pain relief and will give you the perfect massage. You can customize your relief mode and intensity to relax.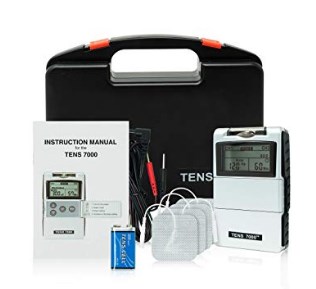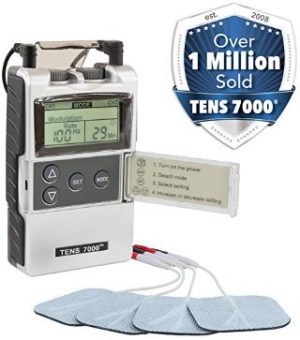 Comes with lead wires and reusable pads
5 modes of therapy
Comes with a 9V battery
Very strong so you need to start low and work up
The TENS 7000 is an electric massager and muscle stimulator that will give you quality pain relief as a shoulder and muscle massager. It is great for muscle recovery and drug-free pain relief for your back, neck, tennis elbow, or bursitis. This machine includes a variety of therapy modes to give you instant relief. It is a leader in electric massagers. This machine will help as a muscle and nerve stimulator as well as an electric massager that has independent dual channels.
Read more
The TENS 7000 unit is a muscle stimulator and recovery device that will give you a prescription-strength relief from pain. This unit is durable and powerful, powered by a 9V battery. It works by sending comfortable stim impulses that stimulate the nerves. It is an electric massager that calms the nerves. You can have this treatment on-demand or in therapy sessions of up to 60 minutes.
This package comes with the unit, lead wires, and reusable unit pads. It also includes a battery, an instruction guide, and a hard carrying case. It comes equipped with five therapy modes that are powerful and easy to operate. The modes are normal, burst, modulation, and strength-duration 1 and 2. The intensity is controlled with two knobs that let you control the stimulation power of the pulses in dual channels. The package comes with four starter pads.
3

. NURSAL Muscle Stimulator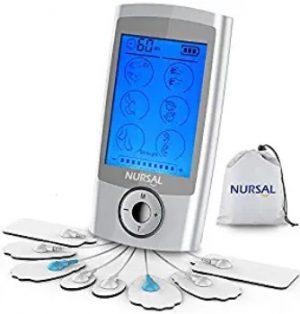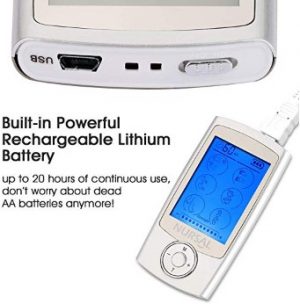 Rechargeable lithium battery
8 reusable conductive pads
Comes with dust-proof pouch
The controls are complicated
The NURSAL Tens Unit is an electronic pulse massager for pain management. It can help with a multitude of different conditions that cause pain by relaxing muscles and relieving tensions. It effectively and safely gets right to your pain, whether acute or chronic. By using the pads right where the pain is, you will get speedy relief and not have to rely on pain meds. This unit uses technology as well as a control system that simulates a range of massage methods. You can pick one of several massage modes to help your pain or tension.
Read more
This unit uses electronic pulses for stimulating muscles with multiple massage modes that help with pain relief and muscle stiffness. This will be helpful for people with neck or back pain, arthritic or inflamed joints or tension. It has a lithium battery that is rechargeable and built in to give you 20 hours of use. The massager comes with 8 reusable conductive pads. They stick firmly on your skin and use different sized electrodes to help at different parts of the body.
This machine is pocket-sized and comes with a dust-proof pouch. It is easily portable so you can enjoy a relaxing massage anytime. It is small enough to fit in your pocket with enough power to bring you total relaxation on your back and shoulders, ankles, wrists or elbows, and anywhere you fight chronic pain. This unit is backed by a limited lifetime warranty.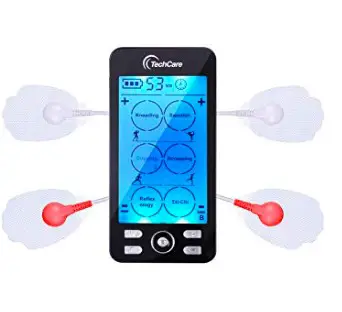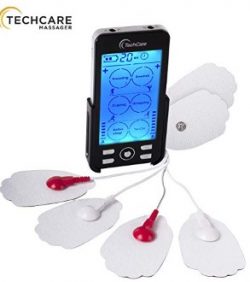 Combination of TENS and PMS
24 pre-programmed modes
Rechargeable lithium battery
It is a little big and bulky
The TechCare unit has a dual-channel and is a multi-function device that has both TENS and PMS (Powered Muscle Simulator) qualities. It has a large LCD display with multiple modes and two outputs. It features a timer that is adjustable and a lithium battery that is built-in. It will stimulate some of the most popular massages and lets you have two massages of different intensities at the same time. This product includes the controller, electrodes, cables, USB cable and charger, the user's manual, a plastic holder and a belt clip.
Read more
The TechCare is a combination of a TENS and PMS device. It features 24 different pre-programmed modes of massage including acupuncture, taping, deep tissue, cupping, and more. You can adjust the number of minutes with the press of a button. It also has a rechargeable lithium battery for up to 20 hours of use.
The TechCare contracts your muscles to imitate different types of massages. It is designed to help you relieve your pain or muscle tension without having to use expensive or addictive drugs. This unit has one of the most powerful batteries. It is a rechargeable lithium-ion battery that delivers good strong pulses. You can charge it from any USB outlet in about 20 minutes and it will last a long time.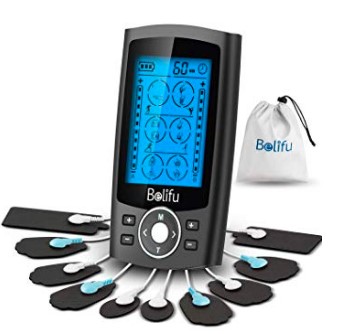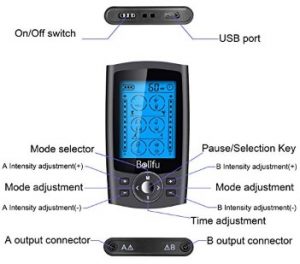 24 different massage modes
20 different intensity levels
Built-in chargeable battery
The directions are small and hard to read
The Belifu TENS unit will help you get relief from chronic or acute pain. It is non-invasive and helps you feel better without using drugs. It works with your body using technologies in simulation, bioelectricity, electromagnetic bionic and microcomputer intelligence. The machine simulates a wide variety of massage methods like acupuncture, cupping, and others. This unit will help in relieving back pain, arthritis, shoulder tension, or muscle stress.
Read more
This TENS massager has 24 massage modes preprogrammed in their system for muscle and pain relief. It will help you relieve pain and muscle spasms caused by many conditions including arthritis, neck and back pain, sports injuries and so much more. It is a powerful tool in your fight against pain. It comes with a free dust-proof storage bag with a drawstring closure, ties for fastening cables, and 10 pieces of conductive reusable pads that are self-adhesive. The cable ties will be the perfect solution to taking care of ten lead wires.
This is a great device for pain management that you can use at home. It has dual channels with 24 different modes, 20 different intensity levels, and time control. You can use it to relax anywhere anytime since it is pocket-sized. Each of the channels can work at different intensity levels. Use it at the office, in your car, or while traveling on the go. It will give you a total body relaxation.
It comes with a powerful lithium rechargeable battery built right in which is good for 20 hours of continuous use. You can charge it with the power bank, wall charger, or laptop USB port. You will not have to worry about interrupting your treatment with dead batteries.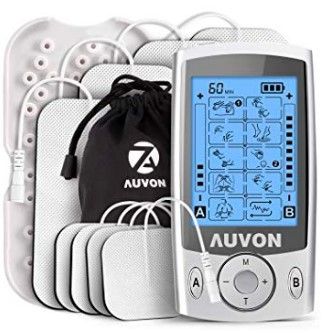 Two different sizes of pads
20 preset modes for different massages
Is USB rechargeable
The instructions are very small
The Auvon TENS Unit has a dual channel system so you can massage more than one muscle at the same time. There is a separate operation area for each channel. It comes with 20 different modes of massage so you can work on different kinds of pain or soreness. There are also 20 different intensity levels so you can build up as you need it. Start on the lower level and slowly work your way up. This unit is USB rechargeable and keeps a steady current. It comes with medical grade electrodes.
Read more
This unit is an electric massager for your muscles to help stimulate the sensory muscles and nerves to activate a specific pain gate mechanism. You can use this to relax the muscles in your body and get quality pain management at any time. There are 20 preset modes like kneading, hammering, shiatsu and more. You will get help with body aches and fatigued muscles.
This unit has two channels that can work independently of each other. You can set separate intensities and modes. The electrode pads which come with the kit can give you self-sticky for about 20 to 30 uses. The 2-inch size is recommended for compact areas like elbows or knees. The bigger ones are good for larger areas like your back. When you order this kit you will receive the machine, two different sizes of pads, lead wires, a USB charger and cable, an instruction manual, a pad holder and a pouch. You also get a 12-month warranty and good customer service.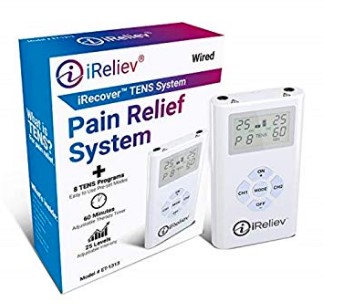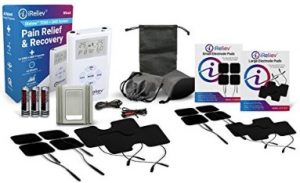 Comes with a tote bag and belt clip holder
8 preset therapy modes
25 intensity levels
Does not have a wall plug
The iReliev TENS Bundle is designed to give you a durable system with good quality, easy portability, and affordability. The factory where these are made is ISO-9001 certified. That means it conforms to international standards of manufacturing excellence. The iReliev is also cleared by the FDA to be used and sold over the counter. You can order this kit with confidence. It can help to give you temporary relief from the pain associated with sore muscles due to strain or sprain.
Read more
The iReliev pain relief system that gives you a drug-free and non-invasive way to handle pain. It produces pulses which are low-voltage and that wake-up nerve fibers to create a block of the pain signals to your brain. It may also help increase your natural endorphins which is the feel-good body chemical. This unit has functionality with dual channels and 8 therapy modes programmed into it. It works great for chronic or acute pain systems. It also has 25 levels of intensity which is much more powerful than most units of this size.
iReliev is one of the most popular TENS units available. It is affordable, portable, and effective. It has 8 modes which are preset and is easy to use. It is also quicker to navigate to whatever feature you are looking for. This unit is compact and completely portable, perfect for pain therapy on the go because it has a holster and belt clip. You can wear it work, while you are on the go or even just relaxing at home.
It also has some special features. There is a way to lock your settings while you are on the go so they do not get changed on accident. The unit comes with three non-rechargeable batteries. The digital LCD display is good sized and shows you program modes, the power level, your battery life, an adjustable timer, the level of intensity you have going for each channel, and a setting for auto-lock out. This system includes the device, batteries, two lead wires, electrode pads, a compact tote bag with a drawstring closure, a belt clip holder, instruction manual, and quick start guide.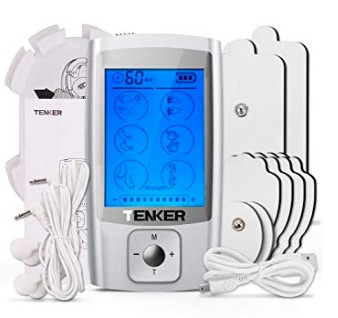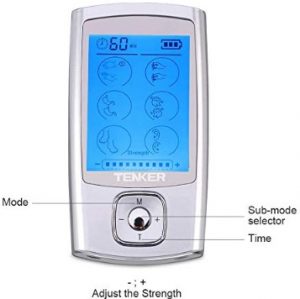 16 massage modes
Dual output for two people
Has a rechargeable battery
The screen is a little confusing
The Tenker unit is lightweight, compact, and will target your pain precisely. It has enough power to use electrical muscle stimulation at low frequencies to give you a thorough body massage. You can put the pads at the exact site of your pain and get quick relief without having to rely on prescriptions. It is compact so you can take it anywhere. This unit is easy to operate and will handle your pain wherever it is located.
Read more
Tenker has everything you need for the best TENS therapy. It has 16 different massage modes to take care of any needs dealing with pain or muscle tension. They are created by professionals using a wide range of technologies to treat your muscle groups at a deeper level and with more effectiveness. This unit has an adjustable timer so you can keep track of your treatment. There is also adjustable intensity with twenty different levels so you will get what you need.
The design has a dual output so it can be used by two people or in two different areas of your body. It has a double set of sockets and leads, allowing you to use four pads at a time. It has a rechargeable lithium battery that is built in to give you about ten hours of use. Then you can use a wall socket or USB outlet to give it a new charge. The level indicator lets you know when it is time to charge it again. This is a powerful weapon you can use in fighting chronic pain, anytime and anywhere with a portable pocket-sized relief.
9

. Massage Therapy Concepts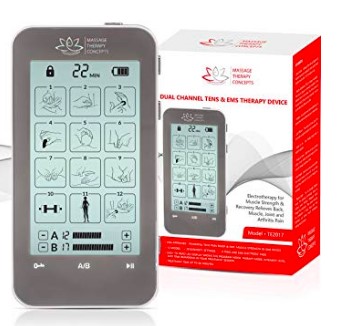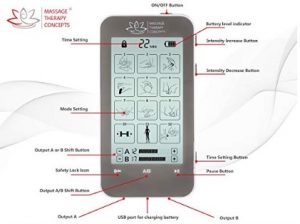 Works as TENS or EMS unit
Latex-free electrode pads
Large LCD display
The screen times out fast
Massage Therapy Concepts is a unit with two channels which can each be controlled separately as far as their intensity level. It is easily used as reflexology, relaxation, or acupressure to get the best in pain relief. It has twelve programs and as many as twenty settings for intensity. It also includes six electrode pads and a large LCD display. You can set the timer to control your treatment length with an automatic shutoff at the end. This is a portable unit construction with quality grade.
Read more
This unit works for either TENS or EMS functions. The EMS function is helpful for serious athletes because it is a great tool to develop strength, muscle performance, and help with muscle recovery. The TENS function helps you relieve muscle pain. Together this makes a great physical therapy and occupational aid. Massage Therapies Concepts designed this unit with two channels and four electrode pads. The intensity of each channel is separately controlled. The 12 programs give you a variety of therapies to choose from and the adjustable timer lets you pick the length for best results. The shutoff works automatically which helps to prolong your battery life.
The package includes the TENS/EMS device, latex-free electrode pads, lead wires, a pad holder, and acupuncture chart as well as the instruction manual and registration instructions. There are eight TENS modes and seven EMS modes, then four of the modes use both of the functions together. This unit gives you an easy safe way to get rid of tension and muscle pain. It is lightweight and compact so you can take it with you anywhere easily.
You can use this unit to enjoy a massage that is rejuvenating and refreshing while you are on your way to work, while you are relaxing at home or during road trips. This also makes a great gift for anyone who works out or has muscle tension. You can use this to help with tension or soreness in your back, neck, or shoulders.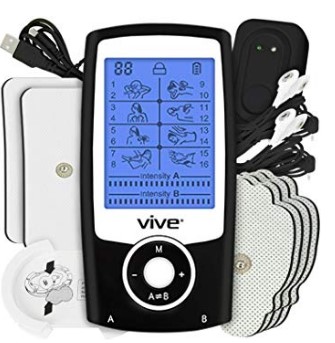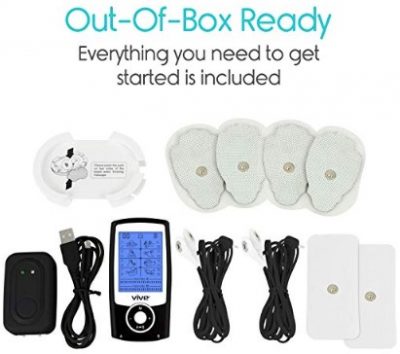 Dual channels
There are 8 therapeutic modes
Comes with 6 reusable electrodes
The instructions are a little hard to understand
Vive designed their unit with eight main modes which cover therapies like acupuncture, massage, cupping, beat, sole, scraping and many other options for relief. Each of the modes has variations preprogrammed for more options so you can have a personalized experience. It can give you targeted relief for aching muscles. It can also help improve your circulation and promote natural healing by breaking down inflammation.
Read more
The Vive Stim Machine is a great therapy tool for helping you with chronic pain or muscle tension. It has a backlit screen which is bright enough to use day or night. It is simple to read and navigate. The display shows mode, session time, and intensity for the A and B outputs. The package includes the Vive device as well as six reusable electrodes and a charging cable. The electrodes are self-sticking and pre-gelled. The pads come off your skin without leaving any sticky residue.
There are eight modes including acupuncture, massage, cupping, beat, scraping, sole, ear, and a combination mode. Each of them has a preprogrammed variation to give you more options for a more personalized experience. This unit provides you targeted relief right where it hurts to help aching muscles and helps to improve your circulation. The easy to read screen and self-sticking electrodes that will not leave a residue to make this unit so convenient.
Criteria Used for Evaluation

Features
These units have some basic features which are going to give you the best effectiveness and flexibility for different uses. You want a unit that will allow you to take care of a couple of different locations at the same time. There are models available that have dual channels so you can treat two separate areas at different intensities at the same time. You also want one which is going to have a variety of built-in modes like acupuncture and different kinds of massage so that you can take care of different types of pain or tension in your body. Pain in your leg may not take the same type of treatment as having tenseness in your lower back. There are also many intensity levels available which are important so you can take care of your levels of pain. If you have intense pain or a spasm, you might want an intensity starting small and move it up or if you have muscle tension you may not need something quite as strong. It is probably smart to use a unit that is cleared by the FDA to be effective and safe. It is handy to find a TENS unit that has straightforward buttons that are simple to understand as well as an easy to read displays. It is also convenient to have a unit that is portable so you can take it to the gym or work and use it whenever you need it.
There are a few extra features that are nice to have as well. Some of the units can work as TENS or EMS to give you added options in treatments or therapy. It is nice to find a unit that is wearable, maybe with a clip for your belt. It is nice to have one which is wireless with Bluetooth compatibility. You can also find some that sync up to a mobile app. There are even a few which have heat combined with the muscle stimulation treatment which can be even more soothing on your muscles.

Ease of Use
When you are in pain you are going to want a solution that is going to be easy to use right out of the box. That was our focus when looking at these products. To start with, you will want a large LCD display that is easy to read and understand. Most of the units come with a digital display that shows you the strength and intensity as well as what mode you are using. It will have a timer to help you track your treatment. It also helps you keep track of your battery so you will be prepared when it is time to recharge or change out the batteries. Some of the units have thumbnail pictures of the different modes so it is extremely easy to pick the one which is going to help you the most. Others have a display of the body that you can toggle through until you come to the one you need. Both of these methods are easier than focusing on the instruction manual when you are in pain, although it is nice to have an easy to understand manual included.
The TENS machines have a variety of knobs and buttons on them. It seems like the buttons you have to deal with, the more complicated the process becomes so fewer buttons and a simpler design is definitely preferred. Having a touch screen is even handier so you can just see the mode and level you need and touch them. It is also convenient if you have a unit that is compact and portable. Some of these come with a belt clip so you can wear it and use it anywhere. It is nice to have a carrying bag or case as well so you can keep all the pads and wires organized in one place for easy use.

Effectiveness
Obviously, to be effective, the device needs to actually work. It needs to be sturdy enough and strong enough to actually help with back or neck pain. It should help with conditions like tennis elbow, arthritis, bursitis, or so many others. If you want an effective machine, you should look for a trusted brand so you know you are going to get good quality. A known brand is going to put the research and science into their products to make sure you are getting the best quality.
A great way to determine the effectiveness of a product is by browsing the reviews and we went through hundreds of them. We look to make sure the products lasted for a while, that they were easy to use and strong enough to really dig in and help with muscle pain. Many people reported the units worked even better with ice baths, Epsom salts, and some easy stretching. You also need them to have a strong enough battery life to last through your treatment session. Some of the units have batteries that need to be switched out. Others are rechargeable and can be plugged into the wall or a USB port to charge. Probably the most important aspect in this regard is having an indicator to let you know the battery level before you start your therapy.

Durability
If you are going to get good effective pain relief from your unit, you need one that is durable and will stand up to repeated use possibly by more than one member of the family. The unit itself should be sturdy with a nice display that will stand up to fingerprints or sweat. You want wires which will stay sturdy and not crimp easily or pull apart. Since they are carrying electrical current they need to stay covered and not be easily frayed. The pads should be reusable and able to stay sticky through multiple uses. You should be able to take them off without ending up picking the sticky stuff off your skin.
The battery always needs to be durable. The devices range from using AAA batteries to 9V batteries to rechargeable lithium batteries. Many can be plugged into recharge or the user can charge them with any USB port. Whatever method they use, you need a TENS that is going to last through your therapy easily so you can get the relief you need from the pain or soreness.

Comfort
It is hard to imagine anything to do with electrical shock is going to be comfortable. There are a few features that will help with this though. The electrode pads are a big one. You want them to stick securely to your skin without being too sticky. It should not feel like you are ripping off a bandaid everything time you take them off. It is also important to have different sizes of pads to choose from so you can get the correct one for the area you are needing treatment for. Having the belt clip is nice too so you can comfortably use this device anywhere you need it.
Expert Interviews & Opinions
Most Important Criteria
(According to our experts opinion)
Experts Opinion
Editors Opinion
Users Opinion
By Default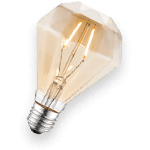 Tips for Placing The Pads
You want to start by taking note of just where your pain is located. Pinpoint the most specific and tender area where the pain is located. Make sure you always use either two pads, which is one channel, or four pads, which is two, at the same time depending on what kind of unit you have. They need to be used in pairs, not just one pad. You can adjust the electrical sensation if you either change the distance between the pads or change the direction of them or both.
A Few Things Not To Do
There are a few things to keep in mind when you are placing the pads for your treatment. They can be placed in one of three different directions either vertical, horizontal, or angulated. The pads should not touch and should be placed at least an inch apart. The farther apart you put them, the less effective they will be. You should probably not put the pads right over a joint like your knee or elbow. Its movement can make the pads harder to stick.
Other Factors to Consider

Adjustability
Adjustability is important because you need to be able to personalize your treatment to match your needs. You should be able to adjust which mode you want to use whether you have acute pain or just need to massage some tense muscles. You could go from cup massage to acupuncture or many other modes in between. You should also be able to control the intensity of the treatment. Start at a lighter intensity and then slowly build it up as needed. For intense pain, you may need to go higher than you would for just some muscle soreness.
Frequently Asked Questions
q:

How long does the pain relief last?

a:

How long the relief lasts can vary widely. Some people say their pain returns as soon as they finish using the device. Others say they keep the relief from pain for as much as 24 hours. A review that came out in 2012 indicated that the pain relief lasted longer after more repeated TENS treatments. The only bad thing is that the repetition can make it more likely
q:

How do I know where to put the pads?

a:

When your pain goes across a significant amount of your body, place one at the top of the painful area and the other vertically at the bottom of the area. If the pain is more focused at a small area, put the pads parallel on either side of the area. When the pain you are experiencing overlaps over a joint, place the two pad on the soft tissue below or above the joint. When the pain is wide, like between your shoulders, put the pads on either side of your spine vertically.
q:

How long should you use this type of device?

a:

Athletes can get started with 15-minute sessions. If that does not help, try repeating for another 15 minutes if needed. You should not use it more than three times per day. As you go through the process, set a rating before your session and then after from 1 to 10 so that you can gauge how well your pain is reduced and can adjust it accordingly.
q:

Are there any side effects to using a unit like this?

a:

Most people can use one of these devices without any side effects. There are a few users who have allergies to the pads used, but you can get latex-free pads to help with that. Most other side effects would be from overuse or setting the intensity too high. Overuse can lead to the treated area becoming sore and setting it too high can cause your muscles to twitch.
q:

What if I get pain in different parts of my body?

a:

If you have chronic pain in different parts of your body, look for a unit that has a range of options. Look for features like modes for arms, legs, and lower back. Massage-like mode options which also be helpful. You will want a wide range of power levels for different intensities. You should also look for pads and modes which are designed for multiple body areas.
q:

What should you do after your treatment?

a:

Turn the knobs off and unplug the wires from the unit. If you have another treatment soon, you can leave the pads on but if not you should remove them. Wash your skin where they were placed. Then wash the electrodes with mild soap to remove the gel. You will not want to use alcohol because it can damage the rubber. Remove the battery from the unit and put a charged battery in so it is ready for your next treatment.
Subscribe to our newsletter