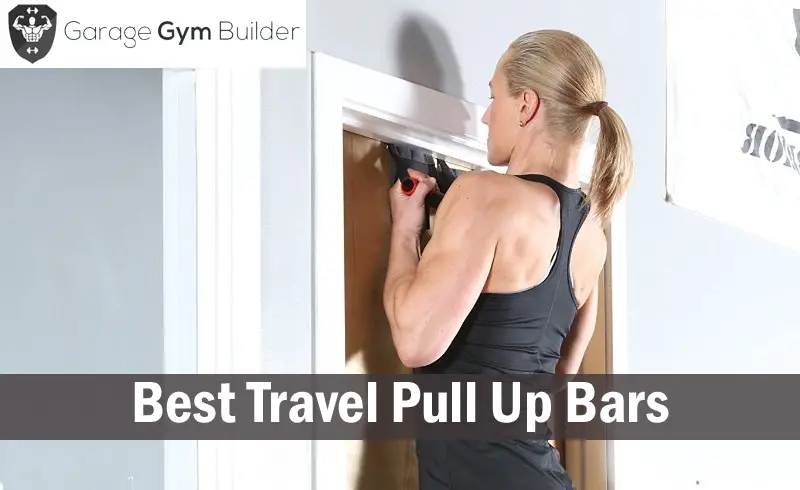 Best Travel Pull Up Bar 2019
updated January 1, 2019
Getting your workout in when you're on the go can be challenging. Most of the time, though, you can find a piece of ground to do your body weight pushing exercises such as push ups and lunges. When it comes to pulling moves, like the chin up or pull up, however, things get a little trickier. Unless you want to be running around looking for a low lying tree branch from which to hang, you're going to have to pack your own equipment. Fortunately, there is a market segment catering to that very need; the travel pull up bar.
In this article we'll investigate what you need in a reliable travel pull up bar. You'll discover the features to look out for as well as the varieties of bars to avoid. We'll also undertake the best travel pull bar reviews of 2019 so you know precisely what you're best buying options are.
What is a Travel Pull Up Bar?
The pull up is a non negotiable exercise for any serious trainer. It is the single best exercise that you can do to strengthen, shape and tone your upper body. When you're travelling you need a device that will allow you to continue with your pull up regime on your travels. A travel pull up bar is the answer. It is a home pull up unit that can be attached to a doorway with no screwing, bolting or other adjustments to the doorway surrounds. The unit must also be light enough and compact enough when disassembled to easily fit into the user's luggage.
What Are the Key Requirements of a Travel Pull Up Bar?
Compactness -

a user friendly travel pull up bar will break down into an easily storable size that the user can conveniently pop in their travel bag. It should come with a string tightened carry bag. The fewer pieces that the unit breaks down into the better.

Mark Free -

If you're going to be using the pull up bar in a motel or hotel, the last thing you want is to leave nasty smudge or scratch marks around the door frame. That's why you need to be confident that te abr you buy is smudge free before you lay down your cash.

Rigid -

You need to be totally confident that the pull up bar, though compact and detachable, can provide the stability and rigidity that you need to be ablet o get in a decent workout.

Lightweight -

You don't want to be lugging around a bulky piece of equipment when you're on the go. Your pull up bar needs to be as unobtrusive as possible.
Your Travel Pull Up Bar Options
When it comes to a travel pull up bar, your choices are limited by the requirement that the bar cannot in any way be affixed to the structure of the building. That means that you will require either a doorway pull up bar that mounts on the top rear door surround or a telescopic bar that sits between the uprights of the door opening.
The overhang doorway pull up bar
This is the sturdier of the two options, with most models providing for between 250 and 300 pounds of weight on the bar. The unit has a plate which sites on the top lip of the door frame. It requires a straight edged frame that comes out at least an inch. The force of the body pulling down as you perform the pull up locks the unit in place. You need to be extremely careful about scratches and scuffs if you choose to use such a pull up bar on your travels.
Overhang doorway pull up bars will disassemble for transportation. However, they will normally break down into a minimum of five pieces, with nuts and bolts as extras. These can take up quite some considerable space on your travel bag.​
Telescopic Doorway Pull Up Bar
The telescopic pull up bar simply consists of a single bars with arms on either end that can be screwed to either reduce or enlarge the length of the bar. The unit comes with two screws which are suggested to be screwed into the door frame at the point of contact. Obviously, when you are travelling this is not an option, and the bar works perfectly well without using the screws. You simply place the bar in the door gap above your head hard up against one side. Wind the other side out until it connects with the opposite side of the door opening. Make sure that the bar is straight and continue turning until you get a steady, firm grip. It will probably pay to place some sort of protective barrier between the end of the bar and the door frame, such as a piece of flat cloth.
Separate Handles
An innovative solution to the pull up on the go dilemma has been provided by the folks at Lifeline Gym. They've come up with a device consisting of two separate handles that are wedged between the back and front of a closed door. There is no connecting bar, so they can be spaced as far as apart as required. These handles take up next to no space in your travel bag. an extra bonus is, because you are essentially sliding up and down the door, your form is improved, preventing you from swinging for momentum.
Best Travel Pull Up Bar Reviews 2015
The Sunny Fitness bar is a telescopic unit that extends to be enclosed within the top of your door frame. The chrome tubing will fit between a door that is up to 34 inches wide. Rubber pads at the ends of the bar provide tension to keep the bar secure while training. The unit provides comfortable hand grips. The Sunny telescopic bar will allow you to do the standard pull up or chin up with a variety of hand spacings. It does not, however, allow for the range of hand placements that higher priced models that feature the door overhang attachment allow.
The Sunny Bar is a piece of cake to install. It has a maximum load of 220 pounds and can also be utilised for sit ups and push ups. After your workout, the bar comes down with a simple twisting motion.
Very good value
Bar extends from both ends to keep the middle centered
Great tension can be achieved very quickly with a simple turn
Rubber ends for door from protection
Does not allow for neutral or angled hand grips
Maximum weight is just 220 pounds
---
The J-Fit Deluxe is another telescopic bar that is easy to transport (it weighs less than a pound) and can be installed in a matter of seconds. This bar is expandable from 26 to 40 inches, making it usable on virtually any door that you are ever likely to encounter. The sturdy steel construction will give you years of faithful service wherever your travels happen to take you.
The J-Fit bar comes with adjustable grips to allow you to feel confident that your hands won't fail before your back does. Small sit up attachments are also included for when you want to set the bar low to work your core.
Very lightweight and portable
Solid design ensures a safe, rigid support base
Expandable bar from 26 to 40 inches to fit all door widths
Removable adjustable grips
Sit up
Limited hand grip options
Rubber hand grips move off center when the bar is extended
---
#3. Gold's Gym Doorway Pull Up Bar
The Gold's Gym bar is a door overhang locking model that will set up in seconds on the majority of doors. It has more components than a telescopic bar but also offers a whole lot more workout options.
It comes complete with ab and core straps to allow you to hone your midsection as well as your back and arms. Also included is a workout DVD, nutrition guide and exercise chart.
Curved design

provides for extra rigidity and sturdiness - the combined effect of the push / pull motion of your body provides extra lock in on the bar, allowing for a more sturdy, rigid fit on the doorway.

Multi grip options

- take a look at the video in the section above and you'll see a total of 25 different variations of pull ups that can be done on the Gold's Gym Pull Up Bar - that is impressive!

Quick assembly

, clear instruction guide.

Durable foam grip

handles at all gripping points - you don't want your grip to fail before your muscles do and the provision of quality foam grips will help to make sure this doesn't happen.

Rubber pads

at all doorway contact points - this ensures that there will be absolutely no scuff marks or scratches on your doorway surrounds.
Much heavier and bulkier to transport than telescopic bars
Bar is not adjustable
Of the three bars we reviewed, the best travel pull up bar was the Sunny Health and Fitness chin Up Bar. The Sunny Chin Up Bar was the best priced, the most lightweight and the bar that took up the least amount of travel bag space. It is simple to install and adjust, allowing you to create a good deal of tension immediately. This results in a sturdy bar that will allow you to exercise with confidence no matter where you happen to be. Another article about The Ultimate Body Press Wall Mounted Pull Up Bar may give you more choice and this article will guide you through the best doorway pull up bar available out there.

My name is Jim Roose. I'm a former competitive power lifter and gym owner. I've bought millions of dollars of fitness equipment over the last 20 years. This site is my way of giving back to the fitness community that's done so much for me. Every article on here is carefully researched and written by me. Leave a comment if you have any questions.