Top 10 Compression Socks for Men
last updated:
Mar 25, 2021
If you're a guy who spends a lot of time on his feet, plays a sport, runs or works out, you should definitely consider wearing compression socks.
Compression socks provide a gentle graduated compressible squeezing to the lower leg. They will provide you with increased blood circulation, with the effect that they reduce pain and weakness, prevent swelling and regenerate damaged tissue. In this article, we review the best men's compression socks on the market.
To make it easy for you to compare and contrast the best men's compression socks, we've rated the top performers on the basis of price and effectiveness and then given an overall rating. In the next section, we provide in-depth reviews of each product.
In a Hurry? The test winner after 10 hours of research: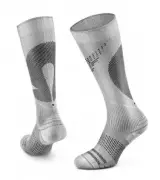 Rockay Vigor
Why is it better?
Well DesignedGraduated Compression
Made From Recycled Material
Midfoot Arch Support
39
Researched Sources
7.5k
Reviews Considered
15
Hours Researching
13
Products Evaluated
Fit
Effectiveness
Materials
Durability
Compression
By Default
10 Best Compression Socks For Men
Well DesignedGraduated Compression
Made From Recycled Material
Midfoot Arch Support
There are so many more uses for compression socks than believed years ago when you would see them worn mostly by pilots, diabetics, or even select patients in nursing facilities. What is it though that makes them good for sports too? Well... that's easy... compression. Graduated compression applied to the lower legs allows better blood flow throughout. Rockay has developed a sock that does just that, and well too.
Read more
From research over the years, we know that improved blood flow can offer reduced recovery times post-workout. In addition, the snug fit provides a bit more overall support to the calf and ankle.
When we breakdown the Vigor from top to bottom, besides well designed graduated compression, we actually see more that apparently went into the overall design and construction.
The construction is nearly seamless, or at least you can't feel any seams when you have them on. Also, the midfoot support seems to be a little better fitting than some others out there. Often you get a compressed fit around the calf and ankle, then a super tight, almost uncomfortable fit at midfoot. That discomfort can be a bit distracting. We didn't have this with Rockay's Vigor.
2

. Travelsox Flight Sox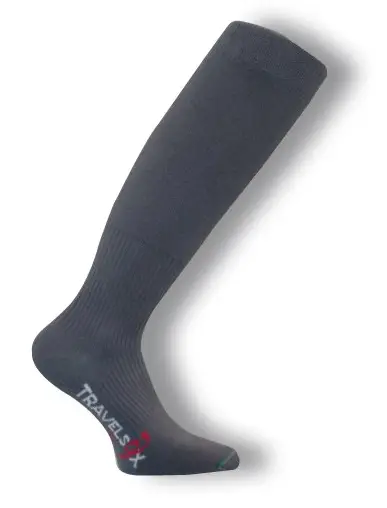 Great Travel Sock
CoolMax Fiber Technology
Super Breathable
Stretches A Lot
These men's compression socks are marketed as a travel sock and provide your best defense against deep vein thrombosis (DVT). Its secret ingredient is the use of a patented design which makes use of CoolMax Fiber to stimulate a deeper level of compression and support. The graduated compression runs from 10-18 mmHg, with the higher level concentrated around the arch and plantar area.
Read more
This is an ideal range to stimulate enhanced oxygen and nutrient uptake, while also reducing swelling.
These men's compression socks are very effecting socks to counter the effects of varicose veins and will provide support against edema. The sock is impressively lightweight, making it very breathable. It has anti-moisture and anti-odor properties, enhancing your comfort level as it provides the relief that you need.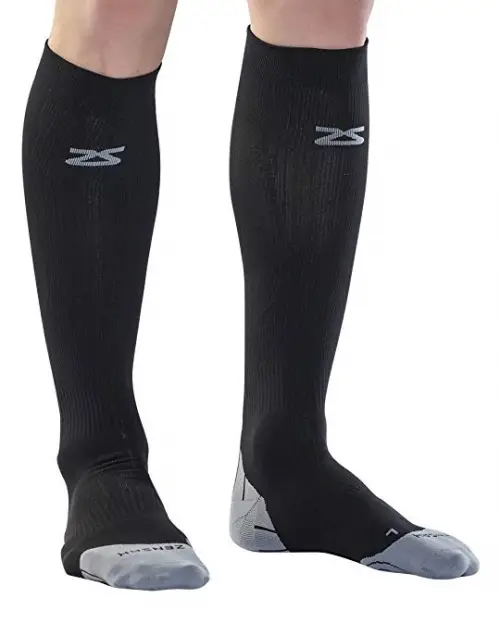 Mesh Zones
Ankle Zone Ribbing
Non-slip Cuff
Knee-high
The Zensah Tech+ Compression sock is a full length graduated compression sock that has strategically placed built-in mesh zones to deliver enhanced compression around the calf muscle. The mesh also greatly enhances the ventilation of the sock. The addition of a comfort sole and a lightly cushioned toe and heel provides just the right level of support from heel-strike without compromising your range of motion.
Read more
The ankle zone ribbing of this men's compression socks provides a built-in level of support around the vulnerable areas such as the arches and ankles. These socks have been engineered and tested by athletes, so you know they will provide the level of support and protection you need. They feature a non-slip cuff that keeps them from slipping down or bunching up.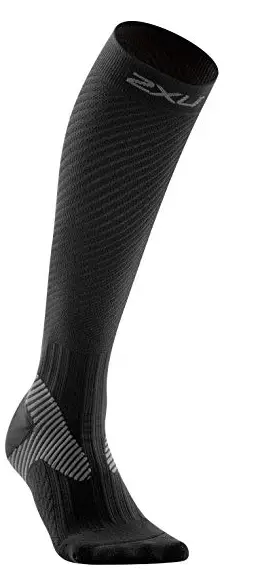 Extra Compression Panels
Anatomically Engineered Footbed
Vented Toe Panel
Lycra Blend
The 2XU Men's Elite compression sock is an extremely comfortable wearing sock that does a great job of controlling your lower leg temperature. It features built-in channels to direct moisture away from the skin, has a high level of ventilation, and has anti-odor properties. The fabric is extremely responsive and flexible, making it a great choice for sportspeople and athletes who need complete 360-degree freedom of movement.
Read more
These men's compression socks provide a high level of compression to drive extra oxygen and nutrients to the lower leg while, simultaneously, getting rid of built-up lactic acid. It features extra compression panels, which provide extra tension to key areas around the ankle and arches. The anatomically engineered footbed makes this is a very comfortable sock to wear.
A vented toe panel adds to the comfort and prevents abrasion against the surface of your shoe. It works effortlessly with any shoe design.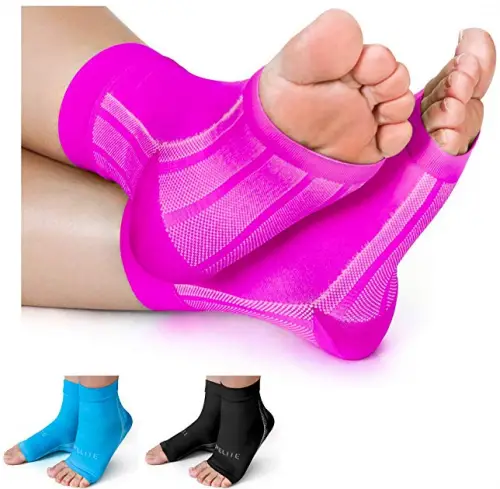 Graduated Compression
Toeless Design
Exciting Colors
Heel & Arch Wrap
The 1st Elite graduated compression sock is an ankle sock with a toeless design. This makes it a very minimalistic sock that has a high degree of flexibility, breathability, and motion. The graduated compression is centered around the plantar area of the ankle to bring relief to this high impact area of the foot.
Read more
You get a surprising level of support considering the low profile of this shoe. This men's compression socks have built-in moisture-wicking properties to remove sweat and keep your lower leg cool and dry. This sock is available in a range of cool colors and is supported by a 100% money-back guarantee.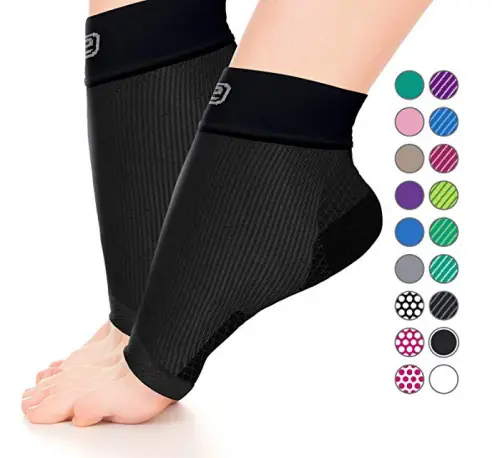 Ankle Centered Compression
Toeless Design
Ankle And Heel Support
Anti-odor
The GR8 Sport compression sock is the ideal sock for the active guy who suffers from plantar fasciitis. It features graduated compression that is strongest around the plantar region of the foot to deliver maximum protection while getting rid of the lactic acid that brings on irritation.
Read more
This men's compression socks are a toeless design sock, which enhances the comfort level while increasing the breathability of the sock. This gives it a high moisture-wicking ability, as well as preventing odor build-up.
These men's compression socks are a top choice for sportspeople, who love its flexibility, range of motion, and ankle and plantar support. Your proprioception is enhanced when you play sports in this sock, making you more aware of where your legs are in space.
7

. Copper Compression Recovery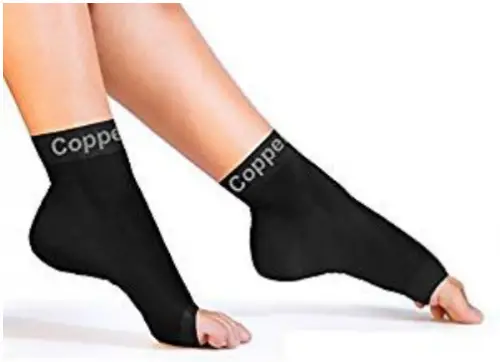 Copper Infused
High Compression Level
Odor Proof
Static Free
The Copper Compression Recovery Foot Sleeve delivers a dual lower leg support and recovery action by way of both graduated compression and copper infusion. These men's compression socks feature the highest level of copper infusion of any compression sock on the market, bringing immediate relief to varicose veins, nagging ankle pain, and deep vein thrombosis.
Read more
The graduated compression is greatest around the ankle, fast-tracking nutrients, and oxygen to this hot spot.
These men's compression socks do not compromise your range of motion, making it a good choice for athletes and sports players. The lightweight fabric has a good level of ventilation, being able to wick away moisture and prevent odor and static. These men's compression socks will stay in place throughout the day without you having to worry about them bunching up or slipping down.


Very Lightweight
Y-stitch Heel Design
Right-left Specific
Nylon Spandex Blend
The Compressionz sock is a full-length sock that provides support to your entire lower leg. It is made from an extremely lightweight, breathable fabric that effectively wicks away moisture and sweat. Mesh panels provide an even greater level of ventilation. The flexible and responsive nature of these men's compression socks makes it very comfortable to wear. It will fit in with any type of shoe design.
Read more
The Compressionz 20-30 mmHg sock features a Y-stitch heel design to deliver greater protection against abrasion and support when turning. The graduated compression delivers the most tension around the ankle and plantar regions of the foot. These men's compression socks have reflective elements that make it visible at night time for extra safety. Socks are specific to the right or left foot.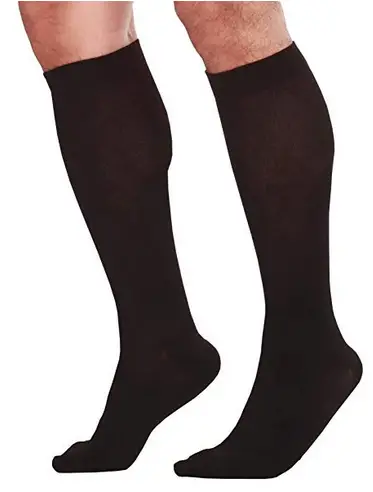 2-30 mmHg Compression
Soft Microfiber Nylon
Rib-knit Pattern
Comfy Top Band
The Mojo Men's Compression Travel Sock is a high compression designed sock, with 20-30 mmHg of graduated compression from the toe through to the upper calf. It is made from very soft microfiber nylon, which is more breathable and ventilated than normal nylon. It is also very easy to get these men's compression socks on and off. The sock is finished in a very stylish rib-knit pattern which makes it ideal for any setting.
Read more
The Mojo men's compression socks have an enhanced level of compression, which makes it a smart choice when you are traveling in the air. It will help to prevent the onset of deep vein thrombosis (DVT). The balloon design on the toe makes it more comfortable for men to wear.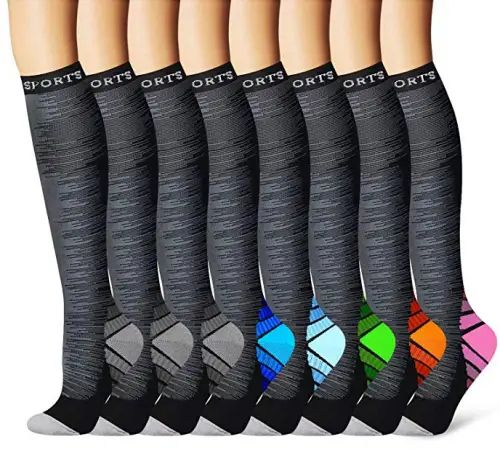 Great Material Blend
3D Knitting Technology
Supreme Moisture-wicking
Vibrant Colors And Patterns
Bluemaple Men's Compression socks are made out of nylon, polyester, and elastane blend, giving them just the right amount of both firmness and stretch. The blend will comfort and relax your feet and legs, no matter what you opt-out to do in them. The compression rate these socks offer ranges from 15 to 43 mmHg, enough to keep fatigued, and bulging veins at bay throughout the day.
Read more
These men's compression socks are available in only two sizes, so be careful before you make your choice. The patterns and colors on them are vivid and happy, or they can be simple and dark, but just remember that you always have an option. The fibers wick away moisture like champs and keep you dry and odor-free. They let air circulate all around your feet and legs, giving your skin a chance to breathe. The 3D knitting technology makes them super comfy, so don't worry about them digging into your skin!
Criteria Used for Evaluation

Fit
We stand on our feet every day, and they are generally one of the most used parts of our body. This is why it's very important that the socks we wear fit us right, especially if they are compression socks. Compression socks will feel tighter than regular socks though, so it's vital that you keep that in mind when trying them out. They might feel less tight around your calves and tighter around your feet and ankles, but that will depend on what type of compression you've chosen to go for.
No compression sock will have the same fit, nor do they follow traditional shoe sizes. What you need to do in order to find the right fit for you is to grab a ruler and get to work! You will also need a measuring tape, and you will need to take the measurements of your feet, ankles, calves, and thighs, depending on how long your socks are.
How high your knees sit from the floor is also something to consider. The optimal length for you will be decided by what you're going to use the socks for, and how long you're going to wear them for. If you don't know how long you want your socks to be, just go for knee-highs since they tend to be the best beginner compression sock length. If you do not like how long, or short, they are, you can always just switch them out for different men's compression socks.
If you have any kind of medical disorder though, you're better off consulting your physician first. If you have severe swelling or problematic circulation, you can even wear the socks during the whole day, and at night if you feel like they are helpful then as well. Generally speaking, you don't need to wear them when you sleep, just put them on as soon as you wake up to get there before any swelling occurs.
Men's compression socks are tight and firm, so you will probably have issues with putting them on. There are a few things you can try to put them on easier, but if those don't work, you probably have a pair that is too small for you.
First, make sure that you wash the socks by hand. This will slightly soften them up, and they will be easier to put on. You can buy two pairs at once, so you can wear one pair while the other is being washed (if you can pull them over). Do not put the socks on any kind of open wound!
Make sure that it has been cared for and protected before you pull the socks on. Sit on a chair, and flip the socks inside out, but grasp the toes with your fingers, and do not flip them over. This is where your toes will go, and once you've placed them, there, simply roll the sock over the rest of your feet and legs. Be gentle to the top band, because too much pulling can tear it open. If you still struggle, rubber gloves can give you a more secure grip so you can work with the socks more easily.
Your skin could be the problem too - too much moisture can affect putting the socks on, so try applying chalk or silicone to your skin to soak up excess moisture. Skip the morning lotion, since this can cause problems as well. If you still have trouble, your pair could be too small for you, so you should go for a bigger pair!

Effectiveness
Men's compression socks are excellent at keeping swelling, fatigue, and problematic veins at bay, which is what anyone who has ever worn them will happily tell you. Read on to discover some of the many benefits men's compression socks provide us with.
If the purpose of your socks is to stave off swelling and fatigue, you will definitely feel the effects as soon as you put the socks on. Compression socks can successfully fight off varicose veins, spider veins, and if the compression is strong enough, deep vein thrombosis. These problems can cause itching, swelling, burning, and a whole myriad of other symptoms.
These magical socks can prevent all of that just by squeezing your feet! They can even keep these problems at bay, not letting them develop even more. This is done by promoting better blood flow to your heart, fighting the strength of gravity along the way. They can even fight off clots! Just make sure that you've got the right pair on, and your problems will gradually go away.
If you're someone who stands on their feet the whole day, or if you're a gym dweller, the socks can have even more benefits for you. Muscle soreness can be much less severe if you had a pair of compression socks while you were standing or working out. These socks can stabilize the joints and surrounding tissues too, minimizing the chances of sprains and strains happening. If you're already injured, then the socks can help you again by promoting healing. The oxygen levels in your blood will increase too, thanks to the improved blood flow!

Materials
The fibers that make up your socks will affect many things about them, namely the way the fit, how comfy they are, how long they last, and everything else in between. Men's compression socks will never be made out of materials that are way too stretchy, like nylon, but it can still be seen in a blend with other materials because it has helpful properties. Synthetic fibers are the way to go when it comes to compression socks, but cotton can be seen sometimes as well.
Synthetic fibers are manmade, and usually come to us from plastic, or it's relatives. Do not be afraid to wear plastic on your feet - after all, almost every sock today has some level of plastic fibers in them, and they help create a better sock.
The plastic we're talking about is polyester, nylon, spandex (also known as lycra), and some special fibers created by specific brands, They will rarely be used alone - rather they come to us blended together since these blends help their individual properties shine. They will make the socks stretchy, durable, moisture-wicking, breathable, and most importantly, compressive, so what kind of blend you end up choosing will affect your whole compression sock experience!

Durability
The price of compression socks can be quite high, so it's important that they stand the test of time. A cheap pair cannot compress you the right way, nor will it give you the support you crave, while some remnant of the properties they do have will gradually worsen over time. The fibers which make up the socks need to be good and sturdy, and they need to be stitched together properly in order for the pair to last a long time.
The best kind of compression sock will have premium fibers intertwined together. Try to avoid a high percentage of cotton in a compression sock pair, since it's not really that compressive, nor will it last a long time. Make sure that the stitching used to bring them together is high quality, but you also need to make sure that they do not create discomfort! Toes and heels tend to sprout holes the quickest, so a reinforced heel and toe area is a good recipe for a durable sock!

Compression
Last but not least, the compression level is something you should always look out for when buying compression socks!
Compression socks will give you the option to choose from five different compression levels. These levels tell you just how hard the socks will squeeze you, or to say it better, how much pressure is applied to your feet when you wear them. The amount of pressure applied to your feet is measured in mmHg, or millimeters of mercury, the same measurement for blood pressure. The bigger this number is, the tighter the socks will be.
Some socks do not have equal levels of compression throughout their whole length, and they are called graduated compression socks. These socks hug your feet and ankles the most, while the calves and thighs enjoy less pressure.
The levels of compression you need will depend on how healthy you are and what you need the socks for. If you have zero health problems and just need some help with fatigue and swelling, you shouldn't go above 15 mmHg. This is also helpful if you're pregnant, but since this is an article describing men's compression socks, it's highly unlikely that you are.
Compression levels that range from 15 to 20 mmHg help with minor vein issues. It's also commonly used by people boarding planes, to help the blood flow against the pull of gravity. If you suffer from serious circulation issues, you need a high level of compression, which ranges from 20 to 40 mmHg, and levels that are 40 mmHg or even more are if you need help with recovering from medical interventions, or if your disease is debilitating.
Expert Interviews & Opinions
Most Important Criteria
(According to our experts opinion)
Experts Opinion
Editors Opinion
Users Opinion
By Default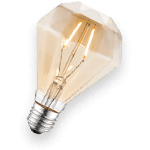 Size
The size of your compression socks is something to look out for. Most of the time, the company that made the socks will let you know how to choose the right size for you, but just in case there are a few things you should remember.
Men's compression socks will not be a one size fits all, because they are so specific. You can refer to your shoe size, but most of the time this isn't so accurate. If you have wider feet, however, make sure that you get a wider size! A sock that is too small will make your feet feel numb, tingly, tired, and your toes can even start spasming, which is really not recommended for anyone! It's vital that you choose the right sock size for the most health benefits.
Levels of compression
Carefully consider the level of compression you want.
If your needs for support are light or moderate then you should choose a product designed for that capacity. This way you will get the maximum positive results.
Men's compression socks vary in purpose and design, if you want to wear them for work, the design, capacity, and compression level can vary, shop carefully and be aware of exactly what you need.
Other Factors to Consider

Bottom Line
During our review, we were very comparative but also highly focused and selective.
The needs for men's compression socks do vary and we felt that these are not just about athletes, people wear this for other reasons, including nurses at work.
Therefore we have selected a diverse range of socks offering variations on compressive performance and purpose.
Frequently Asked Questions
q:

Who can feel the benefits of compression socks?

a:

If you stand or sit around the whole day, if you're pregnant, have circulation issues, travel frequently, and especially if you are a nurse, then compression socks are just what you need to help you feel better! Even sedentary people can benefit from compression socks because they enhance the blood flow and help it get into the heart faster. If you're a fitness enthusiast, the socks can help keep you safe from injuries, severe muscle soreness, fatigue, redness, and swelling, so literally, anyone can feel the benefits of compression socks!
q:

Can a tight pair of socks work the same way as compression socks do?

a:

Even though your pair is tight, it doesn't make it automatically compressive. Truth be told, tight socks can actually inhibit blood flow and cause issues that compression socks never do! Compression socks apply gradient and controlled pressure to your feet while being comfortable at the same time, while a tight pair of socks will not let you use your feet normally, nor will they feel nice strapped around them!
q:

How do I know that I've got the right size on?

a:

If you managed to put the socks on, you probably have the right size. Compression socks make it feel like your feet are just very well supported - they shouldn't feel overly tight and uncomfortable. If your feet lost their color, if they are numb, tingly, or even twitchy, you have the wrong size on and should swap that pair out for one that is bigger!
q:

Can I wear my compression socks to bed?

a:

Wearing compression socks to bed cannot hurt you, but if you do not have any serious issues you should probably skip out on this since gravity will do the work your socks do when you're standing up. If you want to make sure that you've kept the swelling and fatigue at bay, put the socks on as soon as you get up, and you will have no problems afterward.
q:

How do I care for my compression socks?

a:

The care for your compression socks is similar to caring for your regular socks, although there are some extra steps you can take to make sure that they stay durable and working. Your best bet is to wash the socks by hand unless the manufacturer stated that you can wash them in the machine. Do not dry the socks in a dryer, since it can shrink the socks and you can kiss them goodbye! Air drying is the best option, and as we mentioned before in one of our men's compression socks review, you can buy more pairs so you can wear one while you wait for the other to dry
Subscribe to our newsletter