Dr. Motion Compression Socks: The Best On The Market
last updated:
Feb 12, 2020
Dr. Motion has built a reputation by injecting a sense of fun and style into the often staid compression sock market. Their range of highly functional compression socks come in a range of colors and designs to add style to your lower leg supports. In this article, we review the best of the Dr. Motion range. We then compare three leading competitor brands.
This is the best product on our list that is currently in stock: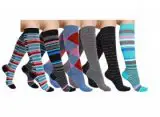 Women's Graduated Compression
Why is it better?
Reflexive and lightweight
Excellent value
Cool patterns and colors
42
Researched Sources
10k
Reviews Considered
20
Hours Researching
14
Products Evaluated
Compression
Overall Fit
Features
Durability
Materials
By Default
10 Best Dr. Motion Socks With Alternatives
1

. Knee High Women's Sock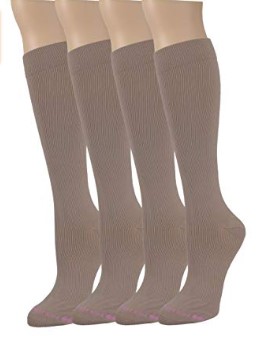 Non-binding comfort band
Seamless toe design
Moisture wicking
Compression level may be too low for some
The Knee High Women's Sock has graduated compression which means there is more compression in the ankle area and less in the calf. This helps to push the blood flow back to the heart. These fit a women's size 4-9. They have comfort band construction and are nonbinding.
Read more
The Dr. Motion Knee High women's sock is a low /mild compression over the calf full-length sock. The highest compression level is centered around the ankle but travels right up to the base of the knee. This fast tracks the supply of blood, which brings oxygen and nutrients while wicking away lactic acid. The non-binding comfort band construction of this sock ensures that it stays in place, without bunching up or slipping down.
The Dr. Motion Knee High for women features a smooth, seamless toe to provide a comfortable, abrasion-free fit. This sock also conforms easily to the leg and is very well ventilated. It has moisture-wicking properties that keep it from becoming too hot. The sock also has a built-in odor and bacteria control. The compression range of this sock is 8-15 mmHg. It is constructed from 87% microfiber nylon and 13% elastane.
2

. Women's Graduated Compression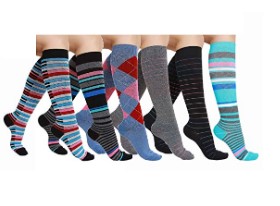 Reflexive and lightweight
Excellent value
Cool patterns and colors
Compression level may be too low
The graduated support of these compression socks will help relieve tired legs and feet. They are made of cotton and spandex which help them feel good on your feet. The heel and toe are reinforced and they are machine washable.
Read more
The Dr. Motion graduated compression socks for women come in a six-pack to provide you with a great deal of variety and cost savings. These socks come in a great range of patterns and colors. They provide you with 8-15 mmHg of graduated compression. The socks are made from an extremely soft blend of microfiber nylon blend made up of 14% acrylic, 24% cotton, 35% nylon and 27% spandex.
The Dr. Motion Graduated Compression sock for women is very reflexive and lightweight. This makes it a breathable and airy sock that won't become too hot or induce sweat build-up. It has built-in moisture-wicking abilities, as well as anti-odor and anti-static treatments. These socks are provided in a range of sizes from 9-11.
3

. Pro Compression: Marathon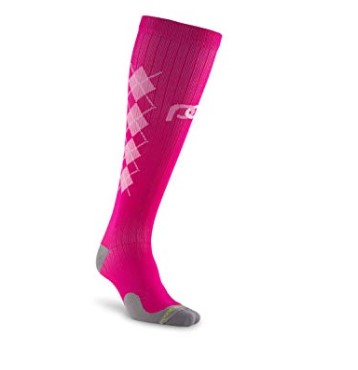 20-30 mmHg graduated compression
Extra foot padding
Top band
A little tight in the toe box
Pro Compression Marathon sock will give your feet a healthy blood flow for less fatigue and a faster recovery. They will reduce your inflammation and will help critical muscles and tendons.
Read more
The Pro Compression socks give you more compression than you get with anything in the Dr. Motion range, at 20-30 mmHg of graduated compression. This gives it an enhanced ability to bring relief to lower leg pain by bringing in more nutrients and oxygen while removing lactic acid. The sock is made from a blend of 92% nylon and 8% lycra spandex. It is extremely lightweight and provides great ventilation to keep your legs cool and dry.
The Pro: Compression Marathon sock has moisture wicking ability, while also having antibacterial and anti-odor properties. It also features a nonbinding top band which keeps the sock from slipping down or bunching up throughout the day. Enhanced foot padding gives you protection on every heel strike.​
4

. Mojo Elite Winter Endurance Compression Socks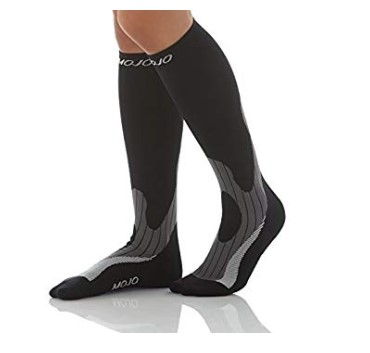 Ventilation panel
Enhanced foot padding
4 flex zones
May not be warm enough for some
The Mojo Elite Endurance Compression Socks are made of medical grade compression which will help blood circulation. The design creates a pumping action. These socks feature reinforced toe and heel.
Read more
The Mojo Elite Winter Endurance Compression sock provides you with a number of enhanced features that bring added protection to your feet. Extra padding around the heel and arch give protection against foot strike. Extra padding is also provided around the calf area. The unique 3-dimensional design of the Mojo Elite allows it to conform perfectly to your feet and legs. This makes it a very comfortable sock to wear, which is also well ventilated.
The Mojo Elite Winter Endurance Compression sock features unique flex zones that provide a gentle massage to the leg to complement the graduated compression provided. It also has a compression band which provides extra support for the achilles tendon.
5

. Blitzu Performance Compression Socks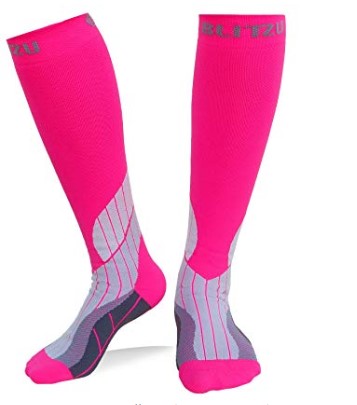 Kinesiology tape design
Extremely comfortable
360-degree range of motion
The Blitzu Performance Compression socks come in fun, bright colors. They give graduated compression to help prevent fatigue, cramping, and swelling. They use the stability of kinesiology taping of fabric. Enjoy quality foot support and a good fit.
Read more
The Blitzu Performance Compression sock is an excellent choice for athletes and sportspeople. It gives you a complete 360-range of motion thanks to its unique fabric design. This sock has a unique construction, which features a kinesiology wrapping tape design. It also delivers a good level of graduated compression. This combination gives you a high level of protection and support for foot, ankle and lower leg pain.
The Blitzu Performance Compression sock is a very lightweight and responsive sock. It is easy to get on and off and is very well ventilated and breathable. Moisture-wicking along with anti-bacterial and anti-odor properties enhance the comfort level of this sock.
6

. Soxland Women's Compression Socks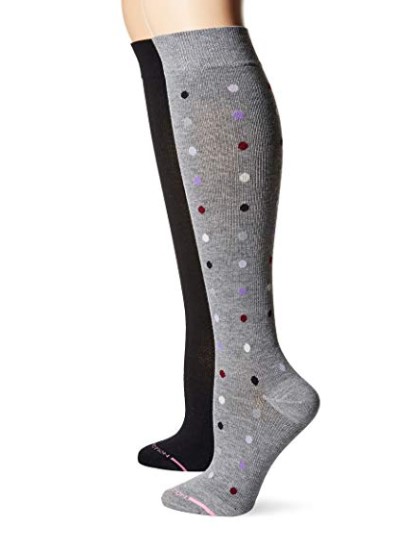 Machine washable
Designed for comfort fit
Designed to prevent moisture and odor
Graduated compression
They are tall for some people
The Soxland Compression Socks come in lots of fun colors and are machine washable. They will help with circulation and swelling. The microfiber nylon and elastine helps support your tired legs.
Read more
These socks are perfect for work, exercise, travel, or pregnancy. These socks offer a mild compression level which make them extremely comfortable. They are perfect for travel or athletes or people who sit a lot all day.
These socks are designed with a band which does not bind and a toe seam which is nice and smooth to make them super comfortable. The yarn they used is chosen especially for comfort and to keep your feet dry and odor free.
7

. Dr. Motion Women's Compression Ultra Thin Liner Knee High Socks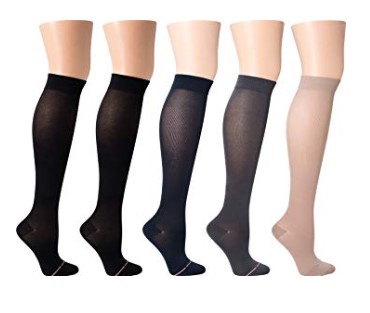 Offers mild compression
Designed and knitted by an expert team
Ultra-thin mesh
Super soft microfiber nylon
These socks are designed with mild compression you can wear all day. They have made of high-quality materials and knitted by a team of experts with a cuff that does not bind and a smooth toe seam.
Read more
The Ultra Thin socks are designed with a lower compression level, just enough to help with circulation and support. They are knitted with three different zones of compression to ensure the perfect pressure point for each area.
These socks help reduce the risk of blood clots or varicose veins. They also comfort sore, tired feet and legs. Each pair is specially knitted with a comfortable cuff and an ultra-thin toe seam. You can wear them comfortably even on the hottest of days.
8

. Physix Gear Compression Socks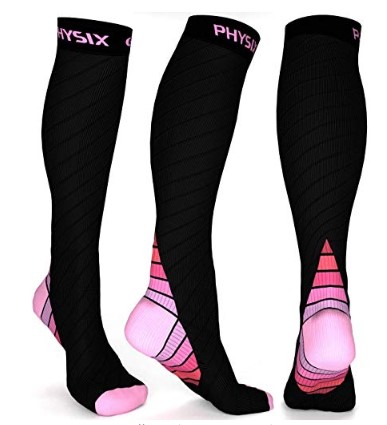 Comes in brilliant colors
Double stitched seams
Quick dry breathable fabric
Physix Gear Stamina Socks have gradient compression. They are ready to support you during any activity which pushes your legs to the limit. They are put together with the most recent in compression technology. These socks are designed by a small family company who put their customers needs first.
Read more
These socks have a great durable design without giving up comfort or quality. They are made of double stitched fabric and have a remarkable design. The stitching is quality and they are easy to get on even though they are compression socks.
They also wash well without losing the compression qualities. These socks will truly help your tired feet. You can use day or night, even to help prevent blood clots. They are designed to keep your feet from getting sweaty or they also protect against odor.
9

. SB SOX Compression Socks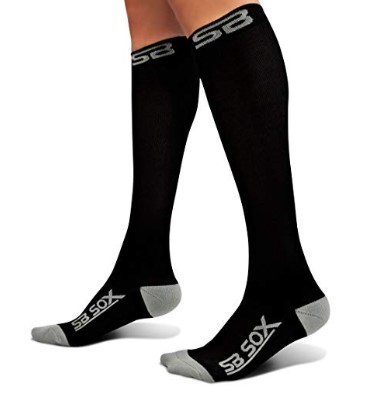 Come in a wide variety of color
Offers different calf circumference sizes
Reinforced heel and toe
The SB SOX Compression Socks improve your blood flow and help get oxygen delivered to your muscles. They will help with reducing injury from strains or shin splints. They are lightweight made of the best quality nylon and spandex which is breathable and has good conditioned support.
Read more
This is a compression sock which fits perfectly. They are designed to provide perfect compression and fit your calves and legs. Improve your circulation with the latest technology. They will help lower lactic acid retention and aid your muscles with recovery.
This recommended design is the highest quality construction and comfort. They are recommended by doctors with a reinforced cushioned heel and toe. They are carefully manufactured. These socks are lightweight and fit your foot, made of breathable fabric.
10

. Copper Compression Socks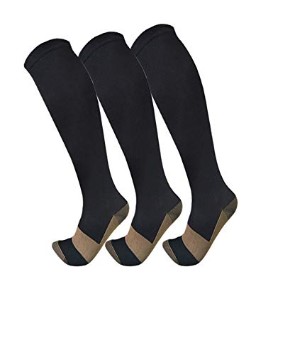 Copper-infused material
Help with pain management
Moisture-wicking fabric
Reinforced heel
Copper Compression is known for being durable. They will help with muscle and joint recovery and give arthritis relief, and relief from aches and pains. Get your oxygen airflow to your muscles. They will help you avoid injury. They can be worn comfortably during the day or at night.
Read more
Copper conducts electricity and these socks bring that natural property to step up your blood circulation using copper fibers providing compression. They will keep your feet and legs refreshed throughout the day.
These socks provide a mild squeezing for warmness and circulation. They will remove stress from your legs and relieve symptoms of fluid retention and varicose veins. The material in these socks is unique, infused with copper to be breathable and keep moisture away from your feet while keeping them warm.
Criteria Used for Evaluation

Compression
It goes without saying that the most important aspect of these socks is going to be compression. Be sure you note how much compression you are looking for. Do you need just a mild amount to keep your circulation going while you are sitting at work? Or do you need something stronger to help support an injury or help prevent blood clots?

Overall Fit
Overall fit is vital to keep your feet comfortable. The heel should be well-formed and the toe should fit without having a seam in your way. It is nice to have the right compression snug against your calves and ankles. Make sure you check size guides carefully.

Features
When you come to features you would not think socks have many, but the ones they do have are important. Features include the amount of compression and the amount of padding the socks have. Take a look at the seams and enjoy the colors. Find the ones perfect for your lifestyle and personality.

Durability
Compression socks need to be durable because they are going to be supporting busy feet. Make sure the sewing is strong and the seams will stand up. You want a sock which will be able to be washed repeatedly and still be able to hold the strength of the compression.

Materials
You want durable, versatile materials in compression socks. They need to be made of things like nylon and spandex which will help hold their shape after being washed repeatedly. You want a material which is quality enough to keep the compression for extended amounts of time so they will last at least 6 months or so.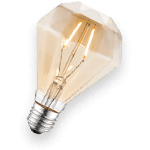 Get your legs ready
You can apply a thin layer of lotion in the winter to help your legs when the weather is dry in the winter. Baby powder will also help the stockings slide easier. If you still have issues getting them on, try using rubber gloves to help with your grip.
How to check fit
Check your socks to make sure the pressure is correct. It should feel tightest around the ankles and then getting less as they go up the calves. They should also be around two inches below your knees and the heel should match.
Frequently Asked Questions
q:

Who can benefit from compression socks?

a:

They are helpful for so many reasons. People who sit at a desk to work all day or pregnant ladies will find help with swelling. Frequent travelers, nurses (take a look at the best compression socks for nurses), athletes, people with varicose veins or blood clots, almost anyone could find a use for them.
q:

What range of mmHg do I need?

a:

Most wearers will benefit from wearing around the 15-20 mmHg range. Socks with 20-30 mmHg are considered medical grade and used by those who have special medical conditions. They are usually recommended by a doctor.
q:

Isn't wearing tight socks good enough?

a:

Just having a tight sock does not offer compression, in fact, it might have the opposite effect and cut off your circulation instead of helping. Compression socks are designed with special pressure knitting technology which helps your blood flow improve.
q:

How should the compression socks feel on my legs?

a:

Your ankles and calves should feel supported. They will feel slightly tight but should not be painful in any way. They might even feel energized.
q:

How do I clean the socks?

a:

Most compression socks can be machine washed in cold water. It is usually advised to have them air dry so they keep their strength and shape.
Subscribe to our newsletter