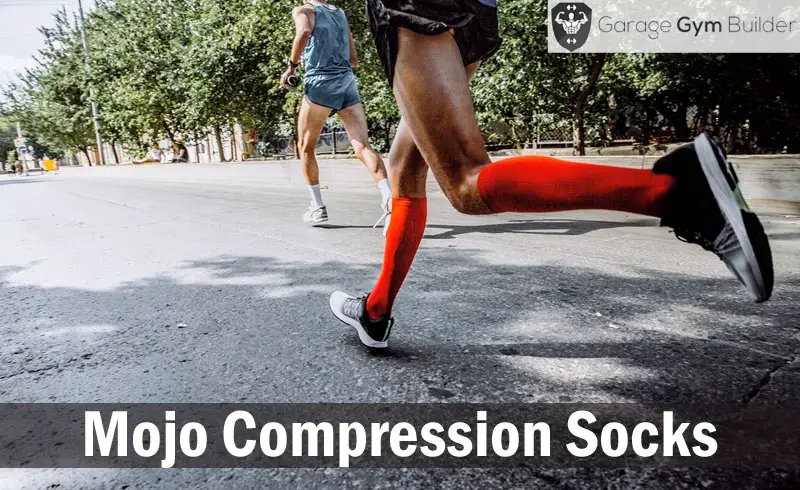 Mojo Compression Socks Review 2019
Updated January 11, 2019
Mojo are an established producer of compression products who are based in Brooklyn, New York. They offer a wide range of compression socks for both men and women, having gained a market reputation of excellence. In this article, we go in depth into the Mojo range, as we provide full reviews of their 4 top selling products. We then compare Mojo's top offerings with three leading competitor products.
The Mojo Recovery and Performance sock is a mid length sock which provides you with 20-30 mmHg of graduated compression. The greatest level of compression is centred around the heel and ankle area. It also provides zone construction to deliver targeted compression and selective enforced cushioning. It has been ergonomically engineered to follow the contour of your foot. Special compression bands have been inserted to support the achilles tendons.
The Mojo Recovery and Performance sock is an extra comfortable wearing sock. It features flat seams, which avoids the pressure against the skin which you get with many competing sock brands. The reinforced heel and toe and enlarged toe box enhance the comfort level. The latex free fabric does a great job of wicking away moisture as well as being odor and static resistant. There are four flex zones to provide a very high level of flexibility and responsiveness.
Graduated compression
Removes lactic acid
Contours to the foot
The Mojo Compression Plantar Fasciitis Foot Sleeve makes uses of high compression and zone technology to bring immediate and lasting relief to plantar fasciitis pain. It delivers a high 30-40 mmHg of graduated compression to speed up blood circulation and bring more nutrients and oxygen to the affected area. It also removes built up lactic acid and toxins.
The Mojo Compression Plantar Fasciitis Foot Sleeve is designed to lift and stabilize the plantar fasciitis. The sock has a thin, breathable design which allows for air-flow and ventilation. It has excellent moisture wicking properties as well as anti odor and anti bacteria treatment. The soft, circular knit microfiber nylon and spandex material is very comfortable to wear as well as being extremely flexible, allowing for a full range of motion.
This sock will not move around, bunch up slip down, thanks to a non binding top bind to keep it in place. It also features reciprocated heel pockets to provide a better fit.​
30-40 mmHg graduated compression
Thin, breathable design
Top band to prevent slipping
Some may find the sock too short
The Mojo Elite Winter Endurance Compression sock is a winter sports sock specifically designed to speed up recovery and enhance performance in cooler weather. The foot area has been enhanced with extra padding for enhanced support in high impact areas. It uses only flat seams to make sure that your lower legs and feet are blister free. A unique compression band provides direct support to the achilles tendon. It also provides additional support to the shin.
The Mojo Elite Winter Endurance Compression sock features a ventilation panel below the tibia. This provides for a very high level of ventilation, ensuring that the sock doesn't over-heat or become filled with sweat. These socks are manufactured using a 3-dimensional process that makes sure that it contours perfectly to your lower legs. The flex zones make the sock very flexible and responsive, as well as making it a very easy sock to get on and off.
Ventilation panel
Enhanced foot padding
4 flex zones
May not be warm enough for some
The Mojo Compression Calf Sleeve provides you with 20-30 mmHg of graduated compression to bring direct relief to shin splint and calf pain. This is an ideal support for runners and other athletes. Mojo provide a range of cool designs and colors to ensure that your lower legs are stylish while they're well supported.
Mojo Compression Calf Sleeve is made from very high quality materials, being a blend of 75% nylon and 25% spandex. This provides you with a very responsive and flexible support that will not impede your range of motion. This is a latex free, odor free and anti bacterial sleeve. It is fitted with a two inch top band which prevents the sleeve from bunching up or sliding down. A seamless design means that you won't get any irritating itching against the skin.
The Mojo Compression calf sleeve is the product of choice for many of the world's top triathletes.​
20-30 mmHg graduated compression
Nylon / spandex blend
Seamless design
The Vitalsox VT1211 provides a high level of graduated compression to bring direct and immediate relief to your lower leg pain. This Italian made sock makes use of Drystat fabric technology to deliver a more flexible, form fitting and lightweight sock than the Mojo Compression Calf Sleeve. Extra padding is provided around the heel and arch, which are the high impact areas whether you're performing sport or going about your everyday activities.
The Vitalsox VT1211 is a very responsive sock which delivers a full range of mobility. This makes it a great option for playing sport as well as for people, such as nurses, who spend all day on their feet. The sock has very good moisture wicking ability as well as anti odor, bacteria and static properties.
Extra arch and heel support
Made in Italy
Drystat fabric
Bitly Plantar Fasciitis socks are the top selling socks specifically for plantar fasciitis pain on the current market. It delivers a high level of graduated compression, which the highest level around the lower foot area. This fast tracks blood and oxygen into the area to bring immediate relief for plantar fasciitis pain. The toeless design makes for a very flexible, responsive sock. It also makes the sock more breathable and lightweight.
The Bitly Plantar Fasciitis does an effective job of keeping your feet in a neutral walking position, thus help to prevent under and over arching problems. It effectively wicks away moisture to prevent heat build up. It will also remove odor and has anti- bacterial properties.
Toeless design
Stretchable and flexible
Provides plantar fasciitis relief
Sizing chart not accurate
Mens and women's legs are very different. That's why it's important that compression socks are made specifically for each gender. Discover the top picks for ladies with our Best Compression Socks for Women Review 2019 feature article.
The Sockwell Men's Elevation Form compression sock provides you with 20-30 mmHg of graduated compression. It features Sockwell's own Acufit technology which places spandex inserts that have been placed around the sock at key areas in order to make it more flexible and providing a greater range of mobility. Acufit technology also makes for a very durable sock that will keep the sock true to its form all day long.
The Sockwell Men's Elevation Form compression sock has a lot of comfort padding in the high impact sole and heel areas. This makes for an extremely comfortable sock that is lightweight and breathable. While not providing flex zones, such as those in the Mojo winter compression sock, it is a high performing comfortable and flexible alternative.
Acufit technology
Light compression sole
Enhanced heel box
Socks are a little too high
Under Armour provide top quality compression gear for athletes. Find out what sets them apart with our Under Armour Compression Socks Review 2019 in depth analysis. We review and compare the best of their range.
Conclusion
Mojo provide a high quality range of compression products for the entire body. Their top performers are the Mojo Recovery and Performance sock, which delivers a high level of graduated compression along with four flex zones and does a great job of contouring to the foot. Our second favorite Mojo compression support is the Mojo Compression Plantar Fasciitis Foot Sleeve, providing you with 30-40 mmHg graduated compression in a thin, breathable design and with a top band to prevent slipping.
Rounding out our top 3 Mojo compression socks is the Mojo Elite Winter Endurance Compression sock, with its enhanced foot padding, ventilation and flex zones for extra flexibility and movement.
In terms of Mojo alternatives, we rated the Vitalsox VT1211 our top option. It provides enhanced arch and heel support and uses very responsive Drystat fabric technology. We were also impressed with the Bitly Plantar Fasciitis sock, with its directed plantar fasciitis graduated compression, is stretchable and flexible and has a toeless design.​
My name is Jim Roose. I'm a former competitive power lifter and gym owner. I've bought millions of dollars of fitness equipment over the last 20 years. This site is my way of giving back to the fitness community that's done so much for me. Every article on here is carefully researched and written by me. Leave a comment if you have any questions.
---