Mojo Compression Socks Review
last updated:
Jan 07, 2021
Mojo is an established producer of compression products who is based in Brooklyn, New York. They offer a wide range of compression socks for both men and women, having gained a market reputation of excellence. In this article, we go in-depth into the Mojo range, as we provide full reviews of their 4 top-selling products. We then compare Mojo's top offerings with some leading competitor products.
In a Hurry? The test winner after 10 hours of research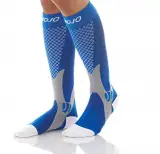 Recovery & Performance
Why is it better?
Graduated compression
Removes lactic acid
Contours to the foot
Wide Toebox
12
Researched Sources
16k
Reviews Considered
10
Hours Researching
11
Products Evaluated
Fit
Effectiveness
Materials
Compression
Durability
By Default
10 Best Mojo Compression Socks
1

. Recovery & Performance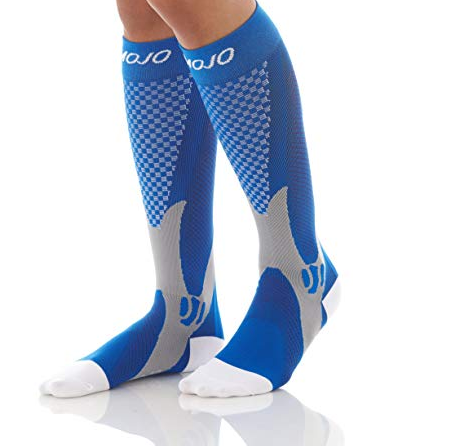 Graduated compression
Removes lactic acid
Contours to the foot
Wide Toebox
The Mojo Recovery and Performance sock is a mid-length sock which provides you with 20-30 mmHg of graduated compression. The greatest level of compression is centered around the heel and ankle area. It also provides zone construction to deliver targeted compression and selectively enforced cushioning. It has been ergonomically engineered to follow the contour of your foot. Special compression bands have been inserted to support the Achilles tendons.
Read more
The Mojo Recovery and Performance sock is an extra comfortable wearing sock. It features flat seams, which avoids the pressure against the skin which you get with many competing sock brands. The reinforced heel and toe and enlarged toe box enhance the comfort level. The latex-free fabric does a great job of wicking away moisture as well as being odor and static resistant. There are four flex zones to provide a very high level of flexibility and responsiveness.
2

. Compression Plantar Fasciitis Sleeve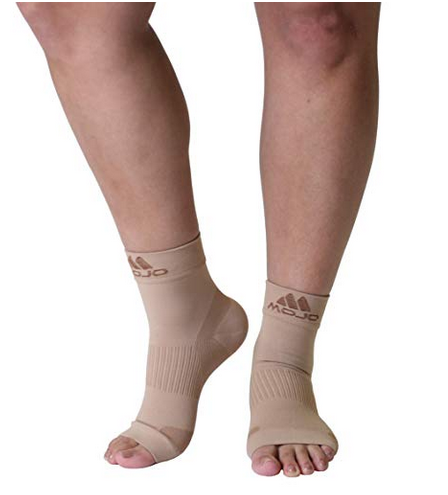 30-40 mmHg graduated compression
Thin, breathable design
Top band to prevent slipping
Moisture-wicking
The Mojo Compression Plantar Fasciitis Foot Sleeve makes uses of high compression and zone technology to bring immediate and lasting relief to plantar fasciitis pain. It delivers a high 30-40 mmHg of graduated compression to speed up blood circulation and bring more nutrients and oxygen to the affected area. It also removes built-up lactic acid and toxins.
Read more
The Mojo Compression Plantar Fasciitis Foot Sleeve is designed to lift and stabilize the plantar fasciitis. The sock has a thin, breathable design which allows for air-flow and ventilation. It has excellent moisture wicking properties as well as anti-odor and anti-bacterial treatment. The soft, circular knit microfiber nylon and spandex material is very comfortable to wear as well as being extremely flexible, allowing for a full range of motion.
This sock will not move around, bunch up slip down, thanks to a nonbinding top bind to keep it in place. It also features reciprocated heel pockets to provide a better fit.​
3

. Elite Winter Endurance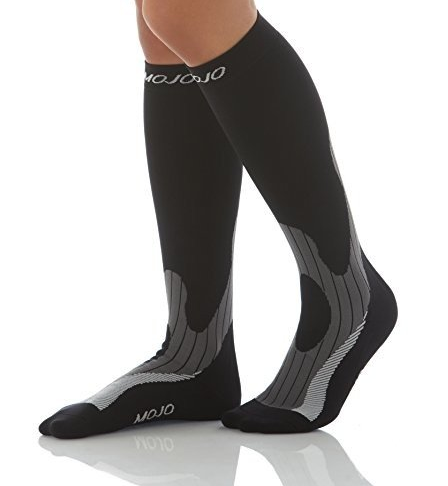 Ventilation panel
Enhanced foot padding
4 flex zones
Flat seams
The Mojo Elite Winter Endurance Compression sock features a ventilation panel below the tibia. This provides for a very high level of ventilation, ensuring that the sock doesn't over-heat or become filled with sweat. These socks are manufactured using a 3-dimensional process that makes sure that it contours perfectly to your lower legs. The flex zones make the sock very flexible and responsive, as well as making it a very easy sock to get on and off.
Read more
The Mojo Elite Winter Endurance Compression sock is a winter sports sock specifically designed to speed up recovery and enhance performance in cooler weather. The foot area has been enhanced with extra padding for enhanced support in high impact areas. It uses only flat seams to make sure that your lower legs and feet are blister-free. A unique compression band provides direct support to the Achilles tendon. It also provides additional support to the shin.
4

. Compression Calf Sleeve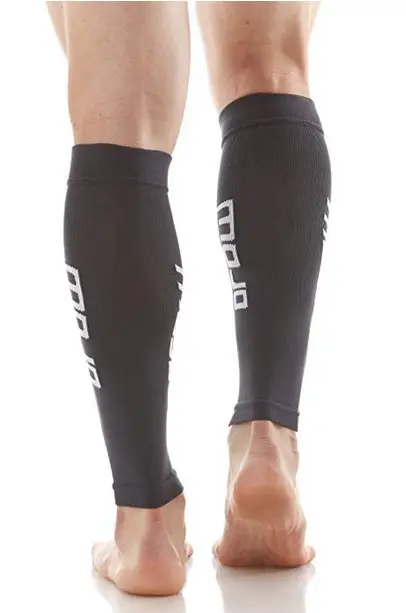 20-30 mmHg graduated compression
Nylon / spandex blend
Seamless design
Latex-free
The Mojo Compression Calf Sleeve provides you with 20-30 mmHg of graduated compression to bring direct relief to shin splint and calf pain. This is the ideal support for runners and other athletes. Mojo provides a range of cool designs and colors to ensure that your lower legs are stylish while they're well supported.
Read more
Mojo Compression Calf Sleeve is made from very high-quality materials, made out of a blend of 75% nylon and 25% spandex. This provides you with very responsive and flexible support that will not impede your range of motion. This is a latex-free, odor-free and antibacterial sleeve. It is fitted with a two-inch top band which prevents the sleeve from bunching up or sliding down. A seamless design means that you won't get any irritating itching against the skin.
The Mojo Compression calf sleeve is the product of choice for many of the world's top triathletes.​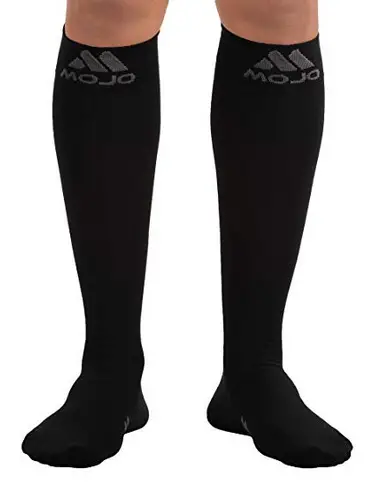 Easy To Get On And Off
Firm Support
Soft Coolmax Fabric
Cushioned Terry Foot
If you have ever worn compression socks before, then you know how difficult it can be to actually take the socks off. Mojo socks take that out of the equation with their easy to take on and off construction, saving you a lot of valuable time! With that being said, the top band is still firm enough to keep the socks in place as you go about your day.
Read more
The terry foot is cushioned, making the socks super comfy, and you won't even know you have a pair on until you see the swelling and pain go down! The graduated compression is the strongest around the ankles, guarding them against injury, and then it slowly lessens in intensity as the socks reach the knees, allowing the blood to flow freely upwards. The Coolmax fabric lets air circulate in and out, keeping you safe from bacteria and odors.
6

. Vitalsox Graduated Compression VT1211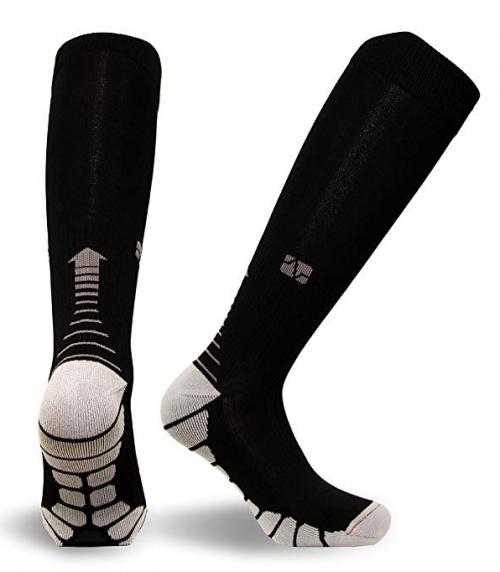 Extra arch and heel support
Made in Italy
Drystat fabric
Antibacterial
The Vitalsox VT1211 is a very responsive sock which delivers a full range of mobility. This makes it a great option for playing sport as well as for people, such as nurses, who spend all day on their feet. The sock has very good moisture-wicking ability as well as anti-odor, bacteria, and static properties.
Read more
The Vitalsox VT1211 provides a high level of graduated compression to bring direct and immediate relief to your lower leg pain. This Italian made sock makes use of Drystat fabric technology to deliver a more flexible, form-fitting and lightweight sock than the Mojo Compression Calf Sleeve. Extra padding is provided around the heel and arch, which are the high impact areas whether you're performing sports or going about your everyday activities.
7

. Bitly Plantar Fasciitis Socks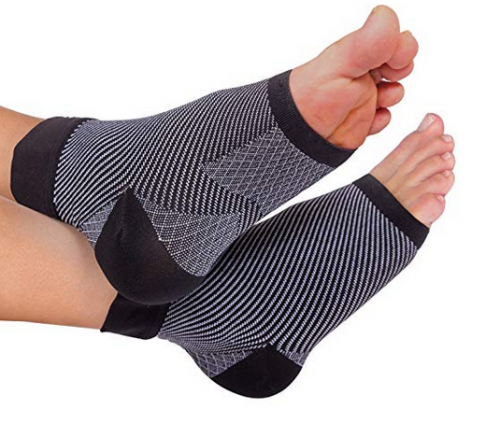 Toeless design
Stretchable and flexible
Provides plantar fasciitis relief
Range of colors
Sizing chart not accurate
The Bitly Plantar Fasciitis does an effective job of keeping your feet in a neutral walking position, thus help to prevent under and overarching problems. It effectively wicks away moisture to prevent heat build-up. It will also remove odor and has antibacterial properties.
Read more
Bitly Plantar Fasciitis socks are the top-selling socks specifically for plantar fasciitis pain on the current market. It delivers a high level of graduated compression, which the highest level around the lower foot area. This fast tracks blood and oxygen into the area to bring immediate relief for plantar fasciitis pain. The toeless design makes for a very flexible, responsive sock. It also makes the sock more breathable and lightweight.
8

. Sockwell Men's Elevation Firm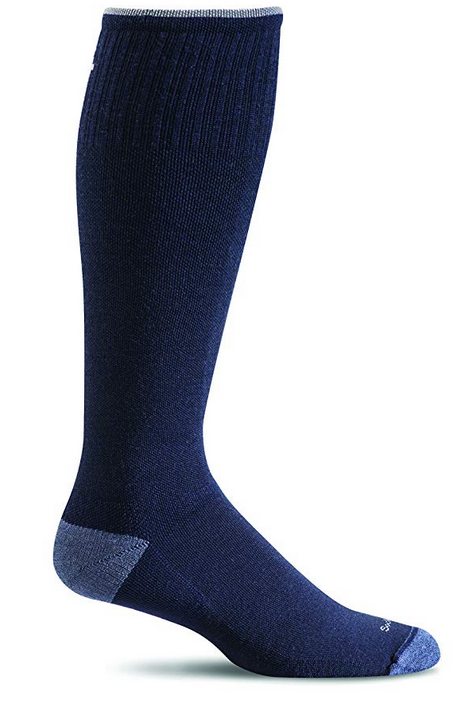 Acufit technology
Light compression sole
Enhanced heel box
High impact sole
The Sockwell Men's Elevation Form compression sock has a lot of comfort padding in the high impact sole and heel areas. This makes for an extremely comfortable sock that is lightweight and breathable. While not providing flex zones, such as those in the Mojo winter compression sock, it is a high performing comfortable and flexible alternative.
Read more
The Sockwell Men's Elevation Form compression sock provides you with 20-30 mmHg of graduated compression. It features Sockwell's own Acufit technology which places spandex inserts that have been placed around the sock at key areas in order to make it more flexible and providing a greater range of mobility. Acufit technology also makes for a very durable sock that will keep the sock true to its form all day long.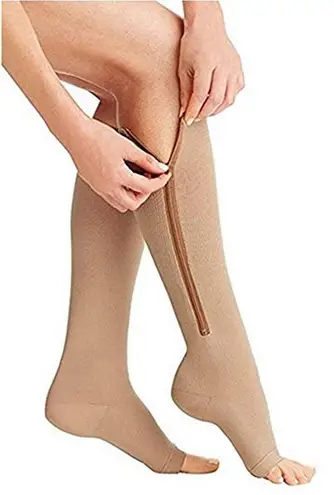 Zipper Design
Pinch-free Zipper
Nude Color
Open Toes
Money-back Guarantee
Compression socks are tough to put on, especially if you have existing health conditions that make pulling the socks on difficult. This is why zippered compression socks exist! They are much easier to put on, as you don't have to think of complicated ways to fit your feet in - all it takes is one motion downward and your foot is in! These socks are also nude-colored and are quite invisible, so you can wear them wherever you go.
Read more
The zipper is invisible and thin, hiding perfectly underneath your clothes. It is also pinch-free, giving your skin a break from tiny wounds and irritation. The toes of these socks are open, giving your toes some wiggle room and offering superb breathability. If you end up not liking the socks, you can always return them and expect a 100% money-back guarantee!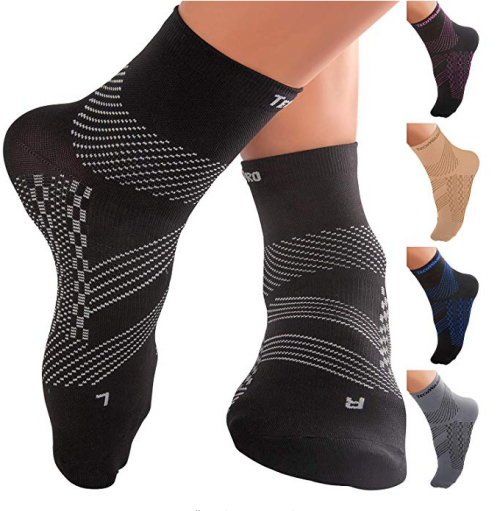 Achilles Tendon Support
Lightweight And Thin
Stabilizes Heel
Ankle Length
TechWare Pro graced us with shorter compression socks that do not squeeze our legs all the way up to our knees since this is not something we always desire. The TechWare Pro compression socks come in five different colors all made to fit well with our everyday clothing choices, so don't worry about the socks ruining your style!
Read more
The fabric of these socks is thin and lightweight enough to fool you into thinking you got yourself a pair of regular socks! The top band is relaxed and slightly flared making putting these socks on a breeze. These socks, besides offering plenty of arch support, also support your Achilles tendon thanks to their unique design. The anatomical left and right foot construction makes the pair very comfy.
Criteria Used for Evaluation

Fit
We spend most of our lives on our feet - even when we're sitting, we're still leaning on them, and when we sleep we do it mostly because our feet cannot carry us anymore throughout the day. This is why it's vital that the socks you end up fit you perfectly because if they don't you can create a lot of problems for your poor feet! You must be aware that compression socks will definitely not fit like regular socks do. Compression socks are designed to compress or simply said, they were made to hug your feet and legs tightly, and that is exactly what they will do. You just need to learn when this squeezing is too intense, and when it starts to create problems! We will also tell you what you can do to make putting these tight socks on much simpler to achieve.
First things first, you need to find the right size. This can be more difficult than finding the correct size of regular socks, mostly because the sizes vary from manufacturer to manufacturer. Compression socks are rarely one size fits all, and most producers will instruct you to measure your feet in some places in order to determine the right fit. You will need to measure the circumference of your ankles, your calves, and even your thighs if the socks reach them. The distance from the floor to your knees also matters if you want the correct sock length. The length you end up choosing is affected by the purpose of the sock, and how bad your issues are. Ankle socks work great for running, but if you want to prevent shin splints, you might want to go with knee-highs. Knee-high compression socks are generally the best choice for beginners, as they are the easiest to get used to, and there will be nothing there to squeeze your thighs or cut into your ankles, so if you don't know which length to go for, opt-out for knee-highs.
One very serious compression sock drawback is how insanely difficult it can be to put the socks on. Even healthy people struggle a lot to get them on because they are so tight, so if you suffer from any joint disorder, or you just lack the strength to pull them on, expect to be annoyed! Luckily, there are some things you can try your luck with to make this much easier. First things first, if you really struggle with regular compression socks, try to find socks that have a zipper. They are much easier to put on, although some people complain that the zip pinches their skin or leaves unsightly painful indentations. Then, put the socks on as soon as you get out of bed before the swelling has a chance to set in! The more swollen you are, the more trouble you're going to have with putting the socks on, so keep that in mind. Sit on a chair, lean into it comfortably, and grab your socks. Pull them inside out, but keep the toe area the way it's meant to be, with your fingers placed inside the area. As you flip the sock, place your toes in the toe area, and then slowly roll the rest of the sock over your feet and leg. You can also try washing the socks to soften the fibers up a little bit, and do it either by hand or in a machine, depending on what the manufacturer instructed you to do. If you still have issues, try using a pair of rubber gloves to pull the socks on. Do not pull on the top band though, because you can tear it and then the socks will be useless! Make sure that your skin is dry, and that you haven't used any lotion or cream, because the extra moisture can make putting them on very difficult. Cornstarch and silicone can make your legs super dry, thus lowering the difficulty of putting the socks on, so give that a try as well! If you still have problems though, it's likely that the size you ordered is too small. Do not attempt to put small compression socks on! If the fit is off, you can experience numbness, tingling, pain, and even toe spasms!

Effectiveness
There's a reason why compression socks don't seem to lose their popularity. They really do a great job of keeping us both healthy and well-rested, which is what most of us look for when buying the socks in the first place. First of all, compression socks keep swelling and fatigue at bay. They do this by helping the lymphatic system drain the excess liquid faster, and when the blood flow is boosted alongside that, you get fast and promising results. A lot of people who choose compression socks suffer from varicose veins, spider veins, deep vein thrombosis, and even clotting. These issues can cause swelling, itching, burning, redness, and leg cramps. Compression socks prevent all of this from happening, and their magic can even stop these problems from developing further. The socks assist the blood and help it fight the pull of gravity, which is something that cannot happen naturally if you have any of these issues.
Compression socks work like magic even for people who have no problems like these. If you stand on your feet the whole day, as nurses do, compression socks can make surviving the day easier. Muscle soreness will also be less pronounced if you've got a pair of compression socks on because they help break away lactic acid buildup. Compression socks are tight, and that tightness stabilizes your ankles and heels, preventing injuries and tissue damage when you exercise. The socks can promote healing of old injuries too, by helping blood bring more oxygen to the injury site!

Materials
It's essential that you select socks made out of the right materials. A lot can be affected by the fibers that make up your socks, including the fit, comfort and durability, all important for your well being! What your socks are made out of will depend on what the socks are being made for in the first place. Winter socks will almost always have wool fibers in their construction, while light summer socks need to have cotton there to make things easier for your skin. Compression socks can have both natural and synthetic fibers, but the essential part is that the materials must be blended - just one material is not good enough for compression socks!
Synthetic fibers used to create compression socks are usually nylon, spandex, polyester and much more, and sometimes even a little bit of copper or silver. Most of these materials are made out of plastic. Do not let that worry you a lot, as plastic is not always so bad. In this case, the plastic can make the socks lightweight, durable, and stretchy, which is what matters the most. This stretch is actually what allows the socks to stick to your feet so tightly, and then let them move around and act as normal, non-compressed feet do. These socks are also thin and lightweight, and they usually have excellent moisture-wicking abilities, keeping you dry and fresh throughout the day. Copper and silver are there to act as a boost to those properties, plus they enhance the benefits compression socks have, so it's not that bad to search for socks that have these kinds of fibers included!

Compression
The level of compression your socks have is a very important criterion, and you must make sure to go for the right intensity. We will go over the most common compression levels, and what they are usually used for.
The levels of compression socks vary a lot, and there are usually five different inte4nsities to choose from. The levels are described with mmHg or millimeters of mercury. If you measure your blood pressure often, you're probably used to seeing these letters, as it is the very same measurement. These numbers describe how tight the hug from your socks will be, and of course the higher the number the more compressed you will be. Most of the time, socks have graduated compression, which just means that the compression levels vary from one point of the sock to the other. The compression is usually the most intense around the ankles, helping stabilize them, and it slowly lowers in intensity as it reaches your knees. This promotes blood flow and helps with circulation issues.
If you have no health issues and want the socks just for their fatigue-fighting benefits, go for levels that are not higher than 20 mmHg. Sadly, most people today suffer from some kind of circulation issues, so we're all best off with socks that are in the 20-30 mmHg range, which is where most graduated compression socks fall into. These levels help fight against minor swelling and circulation issues while providing relief from fatigue and muscle soreness. They also stabilize the legs and act as braces, making them very useful for athletes. Levels that go above 30 mmHg are considered to be intense, and they should be used only if a doctor advised you to, and if you have some serious vein issues, like deep vein thrombosis or spider veins, and even clotting problems. Levels that are equal to 40 mmHg or go above that are for serious health issues, or for recovery after surgeries, and they should only be used for that and nothing more!

Durability
You will probably end up using your compression socks every other day, or maybe even every day, pausing only during the night to wash them and give your feet a chance to breathe and rest, and maybe not even that! This is why compression socks must be able to withstand constantly being walked on and washed! If your pair was constructed poorly, and out of poor material choices, do not expect them to last long. These socks won't even compress you the right way, and they will soon sprout holes that make the socks even less worthy of your time.
Look for socks made out of good material blends, like nylon and spandex. Make sure that the top band is durable, and that it can withstand being tugged from time to time. The stitching should ideally be reinforced, although it's not necessary. Sometimes the heel and toe area is reinforced as well, and since these areas are usually the first to tear and show holes, making them stronger or even cushioned prevents these holes from even occurring in the first place
Expert Interviews & Opinions
Most Important Criteria
(According to our experts opinion)
Experts Opinion
Editors Opinion
Users Opinion
By Default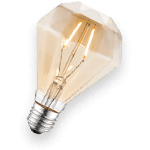 Style
Although the way your compression socks look may not be such an important feature, it does matter if you plan on wearing the socks every day. Combining their colors with your individual sense of style is important to a lot of people, especially in a professional environment. You probably noticed that compression socks do not come in a huge range of color and pattern variety, although there are some exceptions. This is mitigated though thanks to their versatile colors - they are usually black, grey, white or nude, and these colors can be incorporated with a lot of clothing options. Their length can also be a problem for many people. You can't wear a lovely dress and these socks together! This is why ankle length compression socks exist, or you can just survive a day without them if your problems are not that serious!
Breathability and Moisture Management
Make sure to buy compression socks that are breathable. After all, you will be wearing them the whole day, and your skin must be able to breathe. If it can't, expect to sweat a lot. This sweat will then be absorbed by the fibers of your socks, and if they are not moisture-wicking, that sweat will just keep piling on and on until bacteria make the socks their home. You will know this happened once you start to sense the smell emanating from your socks. But the smell is not the only bad thing that can come out of this - fungus can develop as well, and it can cause Athlete's foot, and those microorganisms can cause infections which none of us want! The excess moisture increases the friction in your shoes and once that happens you will be more susceptible to blisters, which are annoying as all hell, and painful too! So make sure to choose the right kind of sock to avoid a world of trouble!
Other Factors to Consider

Bottom Line
Mojo provides a high-quality range of compression products for the entire body. Their top performers are the Mojo Recovery and Performance sock, which delivers a high level of graduated compression along with four flex zones and does a great job of contouring to the foot. Our second favorite Mojo compression support is the Mojo Compression Plantar Fasciitis Foot Sleeve, providing you with 30-40 mmHg graduated compression in a thin, breathable design and with a top band to prevent slipping.
Rounding out our top 3 Mojo compression socks is the Mojo Elite Winter Endurance Compression sock, with its enhanced foot padding, ventilation, and flex zones for extra flexibility and movement.
In terms of Mojo alternatives, we rated the Vitalsox VT1211 our top option. It provides enhanced arch and heel support and uses very responsive Drystat fabric technology. We were also impressed with the Bitly Plantar Fasciitis sock, with its directed plantar fasciitis graduated compression, is stretchable and flexible and has a toeless design.​
Frequently Asked Questions
q:

Can I wear compression socks at night?

a:

It's easy to get addicted to these socks once you feel the benefits, and who's to blame you for wanting to wear them to bed? Technically speaking, there's no reason why you shouldn't wear socks to bed. They are not harmful if you have the correct size, but if you don't have any health issues, you won't experience any more benefits if you do end up sleeping in them. Once you are horizontal, gravity stops pulling blood downwards, and it can flow freely all throughout the body. Compression socks help blood flow better when you're standing or walking, but once you're laying down there's no need for this!
q:

Does the maker of my compression socks matter?

a:

It both does, and it doesn't. The brand often tells you what to expect out of the product right at the start. But sometimes an item can be very overpriced just because someone famous made it! Take designer items as an example - no one is saying that they lack quality, but these products usually cost a lot of money. A good brand name doesn't promise quality either, so it's important that you read reviews and consider everything before buying a certain sock. Sometimes the less familiar brands will offer amazing socks, so take everything into account!
q:

How do I care for my compression socks?

a:

Cleaning compression socks is a very important step that you must take if you want to remain healthy and clean, but how are you supposed to wash compression socks, does the process differ from washing regular socks? Well, sometimes it does, and sometimes it doesn't, depending on what the manufacturers stated. Some socks can be simply washed in a washing machine, and Under Armour, socks are like that. They will not shrink or lose their properties when they go through machine cycles. Some socks do need to be hand-washed and air-dried, out of the way of the Sun, since it can also harm the special fibers of the socks. Read the instructions for washing carefully, and if you can't find any, wash the socks by hand just to be on the safe side!
q:

Can I wear two pairs of socks at the same time?

a:

You can, if one of those socks is a regular pair, not a compression pair. If you need more compression, just go for a stronger compression grade. It will also be very difficult to put on two pairs of compression socks! Compression socks are super tight, and as such they tend to stick to your skin, almost acting like a second layer that is thin and not bulky. This is why you can wear both regular and compression socks at the same time without worrying about blisters and discomfort. Wearing two pairs of regular socks on att he same time creates a lot of friction, which in turn creates blisters and irritation. But you can easily hide compression socks with regular socks and have extra warmth as well! If the double sock layer bothers you though, wear just compression socks and nothing else!
q:

How compressive do my socks need to be?

a:

This all depends on whether you have any existing health conditions or not. If you're completely healthy and are just looking for the swelling-reducing and fatigue-removing benefits, you shouldn't go over 20 mmHg. If you have any circulation issues that are mild, you will benefit the most from levels in the 20-30 mmHg range. If your problems are serious, like deep vein thrombosis or clotting, ask your physician and go for levels that are in the 30-40 mmHg range. If you're recovering from surgeries or serious injuries, super-strong socks that are over the 40 mmHg range are what you're going to be looking for!
Subscribe to our newsletter