Top 10 Women's Compression Shorts Reviewed
last updated:
Feb 12, 2020
When it comes to athletic performance, weight loss and generally getting in the shape of our lives, we often focus on what goes into our body - and rightly so. But what about what we put ON our bodies? Fortunately, the garment manufacturers are on top of it - and the compression sports garment market is flourishing. In this article, we focus specifically on compression shorts for women.
We'll compare and review the top 10 pairs of compression shorts for women. Find out what you should look for when buying compression shorts and examine the different types of shorts for women that are available.
This is the best product on our list that is currently in stock: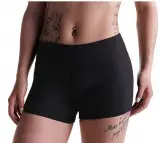 Tough Mode
Why is it better?
Polyester And Nylon Options
Feels Great On Skin
Moisture wicking
Matt Finish
Effectiveness
Materials
Fit
Compression
Breathability
By Default
10 Best Compression Shorts for Women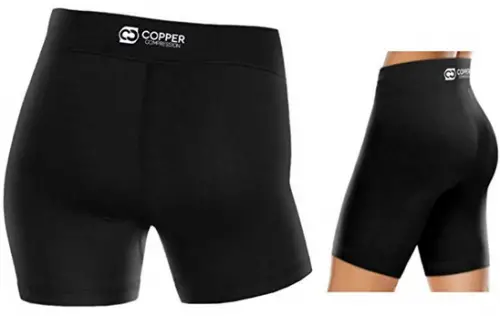 88% Copper Nylon
Supports Stiff And Sore Muscles
High Waist Band
Machine Washable
Copper Compression women's shorts provide you with double the effect of most other garments by combining compression with the copper infusion. This garment includes 88% copper nylon, making it easily the highest copper content of any shorts currently on the market. The combination of copper and compression will rapidly increase your blood circulation. The benefit of this is that it will quickly remove waste products from the working muscle while quickly bringing in oxygen and nutrients to replenish the exhausted muscle.
Read more
Copper compression women's shorts support stiff and sore muscles and joints. The form-fitting fabric is exceptionally comfortable. It provides the strong support you need to be as efficient as possible in and out of the gym while not restricting your natural range of movement. The high-quality fabric will withstand washing and will not lose its function over time, as is the case with many lesser competitors - nor will they shrink. These shorts for women feature a high waistband that will not roll or slides down.
"Copper Compression" is an editor's choice compression shorts for women!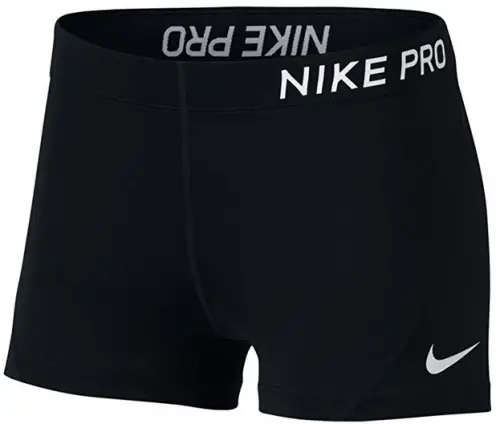 Polyester Blend
Sweat And Moisture Wicking
Triangular Gusset
Very Comfortable
Flat-Seam Construction
Sizing Is Inaccurate
Rides Up
The Nike Women's 3 Inch compression short is a base layer garment for gym training or sports play. It features a polyester blend, making it ideal for extended outdoor wear. It features a close to the body fit and a 3-inch inseam. The Dri Fit fabric is extremely comfortable against the skin. It makes it the right choice for people who are prone to skin irritation.
Read more
This garment does a great job of wicking away sweat from the surface of the skin to the outer edges of the fabric where it can be evaporated. The body-skimming fit of the Nike Women's 3-inch compression short makes it the ideal base layer garment to unobtrusively provide you with the competitive edge that you need to perform at your best. A triangular gusset allows for a full range of motion to excel your performance even further while that flat elastic waistband provides a secure fit that will stay in place. These shorts are ultra-comfortable - and they look great besides!
"Nike Women's Pro Bash" is one of the best women's compression shorts on our list.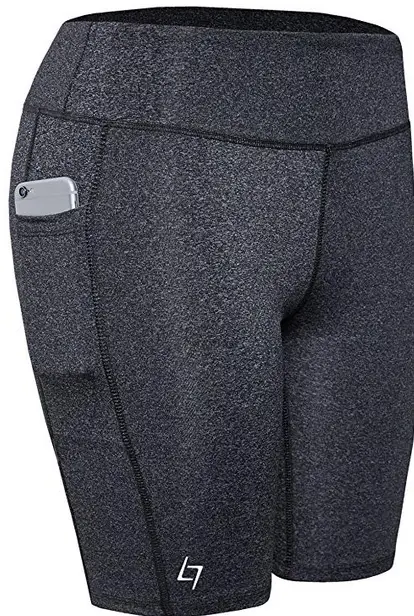 90% Polyester / 10% Spandex
Very Breathable And Lightweight
Moisture Wicking
Right SIde Pocket
FITTIN Women's Active Compression shorts are a 90 percent polyester / 10 percent spandex blend of performance fabric. This combination makes them great for outdoor training while also providing the flexibility you need for such activities as yoga and CrossFit. This garment has been engineered with functional fabric, making them versatile, breathable, and lightweight.
Read more
They have been infused with moisture-wicking technology to prevent sweat build-up and resulting chafing. A quick-dry treatment has also been applied to these shorts to keep them comfortable and dry as you train. The overall result is that these compression shorts fit like a soft second skin. If you want the best compression fit on these, you are advised to order one size down. It is one of the few pairs of compression shirts to feature a pocket, which is located on the right side of the garment. It is ideal for carrying your phone. However, it does not have a pocket on the left side. The FITTIN Women's Active compression shorts come in at a great price point and has a high level of functionality and durability.
FITTIN Active Fitness" is one of the best compression shorts for women!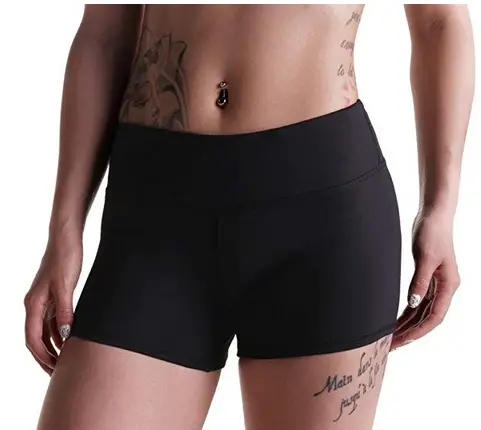 Polyester And Nylon Options
Feels Great On Skin
Moisture wicking
Matt Finish
Doesn't Prevent Thigh Chafing
Tight Mode Women's 3-inch compression shorts are a short pair of shorts that are designed to be worn as a base layer garment. They are made from a functional, active fabric blend that provides comfort without restricting the range of movement. The rich matt finish feels great on the skin and will not cause any irritation to the skin.
Read more
Moisture-wicking technology has been applied to move sweat away from the body's surface effectively. However, these short shorts do not come low enough to have any effect in terms of preventing inner thigh chafing while exercising. There is no see-through aspect to the Tough Mode Women's 3 Inch Compression Shorts. That gives you the freedom to wear it as either a base garment or an outer garment. These shorts are made from two different cutting patterns and material. The pattern shorts are compressed polyester, making them great for outdoor use, while the solid color shorts are compressed nylon, which is best for activities such as yoga or CrossFit. 3 Inch Seam
Keiryo Fabric
4-Way Stretch
Inner Or Outer Wear Option
The IAB Women's Compression short, otherwise known as the IAB Booty Short, is an entirely new and redesigned take on an older model of this product. It provides you with extreme functionality and protection during your training in a minimalist design that looks great.
Read more
The IAB Booty 2.0 comes with a 3-inch inseam to provide the best protection and length while keeping your body tight and on the form. The patented Keiyro fabric technology used here provides a maximum level of moisture-wicking in a very breathable fabric. It also offers a 4-way stretch to allow for a complete 360-degree range of movement. The body slimming properties of the IAB Women's 3 Inch Compression shorts will enable you to move freely during your workout. These shorts are not see-through, giving you the option of wearing them as outer or innerwear.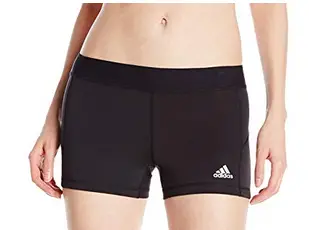 100% Polyester
Figure-hugging
Saddle Gusset
Techift Build
Climate Fabric Technology
The Adidas Performance is a simple pair that will surely keep you on track. They are completely made out of polyester, giving you maximum freedom from sweat and moisture. They might not be so breathable, but at least you won't bathe in your own sweat!
Read more
They are figure-hugging, tight and brought together with flatlock seams that protect your thighs from chafing and rashes. A saddle gusset, combined with the premium brushed elastic waistband improves your range of motion, no matter how restricting the shorts may feel. The tech-fit build makes the shorts comfy, compressive, and supportive while protecting us from the harmful rays of the sun. A 3" inseam and side panels make the fit even better. Climate Fabric Technology, combined with the light and soft fabric, keeps heat and sweat away from your skin.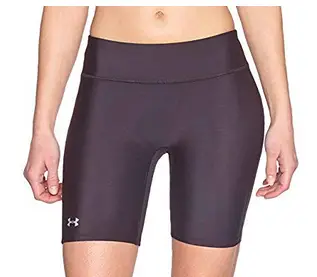 HeatGear Fabric
Heat Transport System
Anti-Odor Technology
Exposed Elastic Waistband
Internal Pocket
Awkward Waistband
Sizing Is Not Consistent
Under Armour has been long known as a company that produces quality fitness gear, and these shorts are no stranger to that. They are a blend of synthetic fibers, namely polyester and nylon, containing no cotton whatsoever.
Read more
The HeatGear fabric they are made out of is super light, hugging your thighs tightly, yet gently. Under Armour's signature heat transport system keeps sweat and heat at bay, keeping you dry and light. The shorts are lightweight, with a 4-way stretch construction that keeps its shape and gives you plenty of mobility. The anti-odor technology does not let microorganisms thrive, effectively preventing bad odors and infections. The exposed elastic waistband keeps the shorts in place, while an internal pocket hides your personal belongings.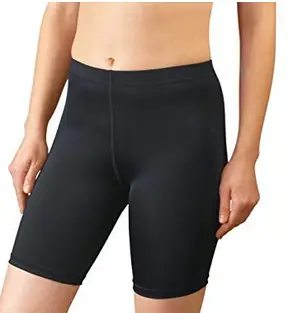 Tricot Knit
Seams And Hems Covered
Prevents Riding Up
Bar-Tacked For Durability
The tricot knit of these shorts combined with a great material blend makes them an excellent choice for working out. The soft one-inch elastic waist does not let the shorts slide down, while the stitches are smooth and covered to protect you from itching and prickling sensations.
Read more
The leg hems are also covered with a smooth material. The waist and legs are bar-tacked, giving these shorts a long life. The shorts are long enough to prevent riding up and chafing. The tricot knit is made out of tightly wrapped pliable nylon yards. The shorts have a four-way stretch, allowing you to move naturally. You can safely throw these shorts in your machine and wash them just like regular clothes.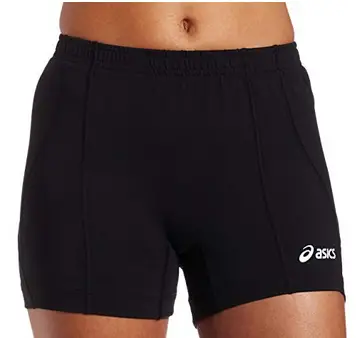 Coolmax Fabric
Mesh Inserts
Asics Flat Seam
Asics Atomic Wash
Tag-Free
Loose Around Legs
Awkward Waistband
ASICS is probably one of the most well-known sports brands out there, so it's only expected of them to create a line of compression shorts. These shorts are a combination of nylon and spandex, that wrap around your legs but still leave enough room for air to circulate and for you to move around.
Read more
The seams are flat, and so are the stitches, so do not expect these shorts to be a bother. The waistband is elastic and tight, with an inside finish so you can roll it over without looking out of place. The Coolmax fabric wicks moisture away and keeps you nice and chilled. The mesh inserts provide you with even more breathability. Each pair goes through an atomic wash that ensures you get a durable one.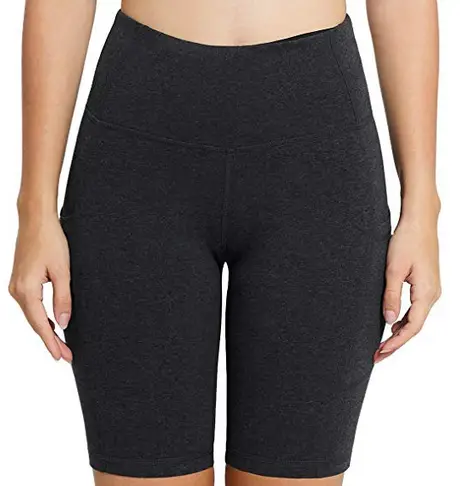 Multitude Of Colors
Not See-Through
Big Pockets
Gusseted
Ergonomic Seams
Slightly Flimsy
Runs Small
The Baleaf High Waist compression shorts are made out of a great material blend, that is colored solid, and comes in all kinds of hues. Each color has its a combination of materials, so choose wisely before clicking that order button.
Read more
Many women worry about the transparency of their shorts - no one wants other people to know what they hide under their shorts! So Baleaf made sure that their shorts are not see-through. The fabric is breathable and stretchy, with moisture-wicking properties that change in intensity, depending on what blend of material you choose. These high waisted compression shorts have big pockets in which you can easily place your phone or cards. The longer inseam gives you a lot of coverage and prevents your thighs from rubbing. The crotch area is gusseted to provide you with freedom, while the ergonomic seams do not constrict your movement.
Criteria Used for Evaluation

Effectiveness
Compression clothing is designed to increase blood flow and lymphatic activity to specific parts of the body. In the case of compression shorts, these muscle groups are the glutes, hamstrings, and quadriceps. Here are some specific benefits of wearing compression shorts during exercise or sports training and gameplay.
Increased Recovery
Compression is well known as an ingredient in post-exercise or injury recovery. Scientists understand that when a muscle group is compressed or tightened, blood flow activity is increased. It results in faster transportation of blood and nutrients to the muscle group. At the same time, it will carry away waste products such as lactic acid more quickly from the muscle area.
A study that was published in the Journal of Strength & Conditioning Research looked at athletes who had a 24-hour gap between two 40 km time trials. Those who wore compression shorts were able to recover faster and performed far better in the second time trial than another group who were given a placebo pair of shorts to wear. Wearing compression shorts after your workout is also a good idea. The compression will speed up the blood flow of nutrients to get the amino acids that your muscles are crying out for into the cell as quickly as possible.

More Muscle Control
When you wear compression shorts, the muscles in your quadriceps, glutes, and hamstrings are more tightly controlled. It allows you to perform such exercises as squats and lunges with better form and greater efficiency.
Enhanced Performance
A research project conducted by the Australian government found the following specific exercise-related benefits of wearing compression shorts:
Enhanced blood circulation,
Reduced blood lactate during peak exercise,
Increased skin temperature which enhances warm-up,
Increased jumping height,
Improving the number of jumping reps,
Lowered muscle oscillations when the ground is reached,
Increasing joint flexibility, lowering the chances you will hurt yourself while enhancing your performance,
Faster recovery rate after a tough session, by getting rid of the lactic acid,
Reducing the harshness of muscle soreness, even a few days after you completed the exercise, and
Improved good sensations in legs both during the session and afterward.
Research that was conducted by the Australian Institute of Sport revealed that athletes who wore compression garments had a 10.6-second improvement on their time over a 10km run compared to when they ran the distance wearing conventional shorts.
A 2013 meta-analysis of more than 30 individual studies found that compression shorts were especially beneficial for improving the vertical leap of an athlete. That is why you see so many professional basketballers and volleyballers wearing compression shorts under their uniforms. The same meta-analysis showed that compression clothing was also great for improving an athlete's performance when moving explosively.
If you are exercising outdoors, then you need to think about protecting yourself from the Sun's rays while you are exercising. Compression shorts, especially those made from polyester, offer a high degree of protection from the sun's z UV rays. Some of the better brands offer sun protection of up to UPF50+.

Materials
Compression shorts will almost always consist of a blend of two or more fabrics. Each fabric has its properties. Here are the key things you need to know about the most popular fabrics used in compression shorts.
Polyester is not as thick as some of the other fabrics used, but it is the best choice if you are going to be spending a lot of time in the outdoors. As well as being water-resistant, it will provide you with excellent UV ray protection.
Nylon is second only to neoprene in terms of durability. You will usually find it blended with lycra (spandex) in a 2 to 1 ratio. It is a very smooth fabric that feels great against the skin, so it's a good choice if you have a problem with skin irritation.
Lycra, otherwise known as spandex, is found in most pairs of compression shorts to some degree. Its popularity stems from the fact that it is amazingly flexible without losing any shape or functionality. As a result, it is mainly responsible for the form-hugging fit of compression shorts.
Neoprene is the thickest and most durable of all compression short construction materials. It is also extremely lightweight. On the downside is the least breathable of any of the materials listed here. That is why it is usually paired with another fabric. It is resistant to water and sunlight.

Fit
The way your shorts fit, you will mainly affect their comfort, but also the level of compression should change, so be mindful about their fit. If you never had a pair of compression shorts on, it's possible that you will consider the pair too small, thanks to the very tight nature they have. But this is what the shorts need to do! The tightness and compression is the magic of the shorts, and in time you will get used to it, and maybe even crave the form-hugging fit they offer.
Still, you must make sure that the pair you bought is not too small. There are a large number of benefits to wearing compression shorts as detailed in our guide. However, none of them equate to much if the shorts are so tight that you feel overly constricted. That's why your first consideration when looking for a new pair of compression shorts needs to be the tightness of the fit.
You need to find that sweet spot between maximum performance compression and uncomfortable restriction. The easiest way to find it is obviously to try a pair on. But you can only do that if you are in a brick and mortar store.
When you are shopping online, you need to be guided by customer reviews and the compression guide listing. If the size is too big, they will feel like regular shorts, or they might even hang around your thighs and scrunch up in weird ways. Keep in mind that compression clothes are supposed to be 15% smaller than the regular sizes are. If you can't cope with this, buy one size bigger, and you'll be okay.
You must make sure that none of the seams on the shorts bug you, and that the waistband sits nicely around your hips too. As a girl, particularly if you have big or muscular thighs, you might be familiar with chafing. It can also be prevented by shorts that are tight around your thighs, since they won't let the skin of your thighs rub, preventing rashes and itching.

Compression
Your new pair of shorts can do much more than compress you and make you look fine. First things first, let's talk about the actual level of compression your shorts can offer you. Usually, the level of compression is mentioned on the tag or the website of the product. Graduated compression is something you might stumble upon, and all that means is that the level changes in different parts of the shorts, which supposedly increases the level of compression.
Compression levels ranging from 20 to 30 mmHg are the best. Some compression shorts have special panels in them, located in specific areas, like between the thighs for better ventilation.

Breathability
Compression shorts must let your skin breathe and exchange moisture, and they should not impede this. Although it might seem highly unlikely that such a tight pair of shorts can provide even the smallest bit of air and coolness, it's possible thanks to the material blend and the gussets and mesh panels many of the shorts have.
Because of their tightness, compression shorts will get hotter and cause more sweat than conventional training shorts. As a result, it is essential that the compression shorts that you select can effectively deal with this issue. It should have moisture-wicking technology built-in that allows for the quick-wicking away of sweat. You should also look for a garment that has been treated with odor protection.
Now let's talk about how moisture-wicking works. You must consider how much an average person sweats to see how magical moisture-wicking truly is. One regular, everyday human sweats a gallon of sweat, at most, in one hour. When a tight piece of clothing is attached to your skin firmly, where do you think that sweat goes? Into the material, of course! Now think about working out with a damp, heavy piece of clothing stuck to your skin. Not pleasant at all! It is why your compression shorts need to be made out of unique materials, like polyester, that removes that sweat away from your skin and onto the upper layers of your shorts.
Cotton would be very bad at this job since it has excellent absorption properties, but it does not wick away moisture well so that you would be left with super-heavy and wet shorts. Polyester, on the other hand, drags the moisture away from the bottom layer of your shirt to the surface through a unique process called capillary action. These capillaries, similar to the ones found underneath our skin, let moisture escape through them to the upper layer of the shorts, and from there the moisture evaporates, leaving you dry and cool as a cucumber. By removing the source of moisture, the bacteria which thrive there cannot develop, so you are also left odor-free.
Expert Interviews & Opinions
Most Important Criteria
(According to our experts opinion)
Experts Opinion
Editors Opinion
Users Opinion
By Default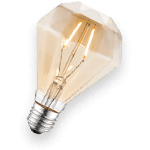 Healing Injuries
The compression clothing industry was in its infancy in 2001 when NBA bad boy Allen Iverson scored 51 points in a game while wearing a full-length compression sleeve. That performance put compression garments on the map. It turned out that Iverson had bursitis of the elbow and the compression sleeve had done wonders in helping him to play through the injury. Compression is the perfect way to treat swelling or reduced blood flow. It can help control muscle cramps and restless leg syndrome as well as helping to alleviate lower body blood clotting and venous issues.
Other Factors to Consider

Style
The way your shorts look might not be such an important factor, but it will determine how well your skin is protected, whether your thighs will chafe or not, and it will offer you more or less heat. When the weather is hot, the last thing we need are leggings, but even plus size shorts can do you wonders since they do regulate temperature well. But it's more of a reflection of your personal preferences than anything else. Your options when buying compressions shirts are the following:
Seven-inch compression workout shorts for women
Three-inch compression workout shorts for women
Crossfit Compression Shorts for women
Plus Size Compression Shorts for women
Running Compression Shorts for women
Padded Compression Shorts for women
No matter which style of shorts you choose, they will still offer the same level of compression and support. The style of your shorts will not affect your performance, and no matter which one you choose, you will always experience benefits.

Bottom Line
Compression shorts are a great way to allow your legs to have a great range of motion, to enable brisk air to cool you down when the heat starts to rise, and of course to get all of those benefits while wearing them. Compression shorts will also hug your figure and can be worn underneath your clothes for extra warmth and security. They are something every athlete should own, and we can only hope that our guide has helped you understand them better and that you managed to find a pair you like!
Frequently Asked Questions
q:

Can compression shorts help with loose skin?

a:

Loose skin is a hard reality for many people who successfully managed to get rid of their pounds. The skin droops when we lose a lot of weight rapidly, and when it starts to lose the natural elasticity, it has when we are young. The folds that appear once the skin starts to look this way can harbor many harmful organisms, and they can cause rashes, sores, and infections, so loose skin is not only unsightly, it's also dangerous! Thankfully, there are ways to manage loose skin, and compression shorts is just one way you can do your skin a favor. The shorts won't cure your loose skin - only cosmetic surgery can do that. But the shorts can keep the skin in place, reducing the rubbing between the folds and the risk of infections and sores.
q:

Can I overheat in compression shorts?

a:

Compression shorts can bring on the heat - everyone who's worn a pair knows that. The tight clothing, combined with the heat of our bodies while we work out is a surefire way to warm up. But thankfully, compression shorts have ways to manage that heat, pulling it away from you and keeping you safe. It is one important property of many pairs of compression shorts. So you shouldn't worry about compression shorts making you overheat, they will probably be the ones cooling you down!
q:

Can I wear compression shorts in all kinds of weather?

a:

Compression shorts are an obvious choice for warm weather. The lack of material enveloping the skin of our legs will let our bodies regulate temperature, and we won't be so warm and sweaty. But you can also wear your shorts when winter comes! Just make sure to wear something over them, because you could very well freeze. The extra layer on your thighs will keep you even warmer, and you won't be so sweaty, to begin with, so the air won't be able to cool you down so much.
q:

Which sport can I use compression shorts for?

a:

Compression shorts do not have one specific sport they should be worn for. You can even wear shorts every day when you are doing your chores or just chilling in the comfort of your own home. With that being said, some pairs were made for specific sports, and they will bring even more benefits to the table. You've got shorts made for yoga, aerobics, running, and much more, so keep that in mind when you go to buy your next pair!
q:

Can compression shorts reduce the risk of injuries?

a:

As we mentioned before, compression shorts for women became famous thanks to this property. They are tight around our bodies, and it's thanks to this tightness that we gain extra support and stability that keeps our body in check. This additional support can lower the risk of injuries, but shorts are not the magic cure for not experiencing injuries at all. If an injury does happen, it won't be less severe, but the shorts will keep it safe until you can safely stop doing what you are doing, and it will help the injury heal faster!
Subscribe to our newsletter