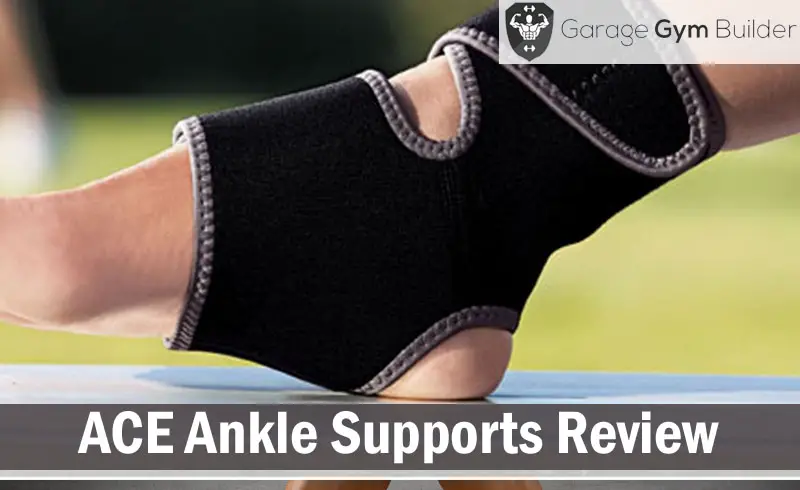 ACE Ankle Supports Review 2018
The ACE brand of yellow boxed sports support products are probably the most recognized on the planet. For decades, ACE have been providing athletes and recreational sports players with the support they need to accomplish their goals. ACE offer a huge array of support products for every part of the body. In this article, we focus on the top performers in the ACE ankle support range. We then compare the 3 top rated offerings from the competition.
The Best of the ACE Range

The ACE ankle wrap product range stretches to an impressive 35 items. In this section we take an indepth look at their top four performing items:
The ACE Deluxe Ankle Stabilizer is the company's main product that is designed to provide support, comfort and relief for stiff, weak and injured ankles. It features reinforced side stays which provide rigid lateral support to keep the ankle properly aligned. This is a key to preventing inversion or eversion problems when running. The closures are adjustable, allowing you to fully control the level of support and compression provided.
The ACE Deluxe Ankle Stabilizer is made from soft yet durable materials that are moisture wicking and comfortable on the skin. They are fully breathable, allowing for air circulation and preventing sweat build up. The open heel design increases the breathability and provides for a greater level of natural mobility. They will not bunch up or roll down. Their is no latex used in the construction of this product.
The low profile design means that this support is not bulky and will fit seamlessly into any footwear application.​
Reinforced side stays
Adjustable closures
Low profile
One size fits all not accurate, especially for large footed people
The ACE Knitted Ankle Support provides optimal support and compression in combination with a very secure fit. It features a unique seamless design that eliminates discomfort, bunching and slipping of the sleeve as you exercise. This support has been ergonomically contoured to the shape of the foot to make it more unobtrusive, comfortable and functional. It delivers a rigid level of support while also allowing for natural foot flexion and mobility.
The ACE Knitted Ankle Support is made from lightweight, breathable materials that prevent over heating and sweat build up. It provides a good level of compression to enhance circulation and oxygenation to the affected area. A comfort panel has been situated behind the heel to prevent bunching in that area, and the dual stretch power knit material provides durability with practicality. This is a completely latex free product.
Seamless design
Contoured to the shape of the foot
Heel comfort panel
Fits too tight on large feet
The ACE Neoprene Ankle Support is designed to provide maximum support to people who are suffering with weak, injured or arthritic ankles. The lightweight neoprene material makes this an extremely breathable brace that allows for air circulation through the entire ankle area. This prevents odor and bacteria build up, and keeps the area free from moisture. This brace comes in a one size adjustable design, which makes it easy to get just the right fit for you.
The ACE Neoprene ankle support has been sprayed with an antimicrobial treatment to keep you safe from any bacterial problems. There is no latex used in the construction of this brace. The adjustable compression puts you in charge of the tension level provided. This allows you to adjust the compression as your ankle heals over time. The lightweight design allows the support to easily slip under your shoe.
Lightweight neoprene design
One size adjustable
Antimicrobial treatment
The ACE Ankle Brace with Side Stabilizers provides a high level of comfort and support to keep your ankle properly aligned as it heals. The side stabilizers provide a flexible yet sturdy support to maintain lateral / medial stability without impairing flexible movement. This is a tremendous help in avoiding the inversion and eversion problems that can lead to ankle roll over. This is a one size adjustable model, allowing for a customized fit.
ACE Ankle Brace with Side Stabilizers has been lined with terry cotton to provide the maximum comfort level while also providing a moisture wicking role. This keeps the inside of the brace airy, preventing heat and sweat build up. The secure strapping mechanism puts you in control of the amount of tension applied to the ankle. This ACE ankle stabilizer also features a quick lace up system which can be placed over either the front or back of the unit, according to your preference.
Flexible side support stabilizers
One size adjustable
Adjustable strapping system
Top ACE Alternatives
In this section, we offer three alternatives to the ACE range;The Aircast A60, the Protec Athletics Gel Force and the Futuro Sports Deluxe. We'll highlight their strengths and compare them to the best of ACE.
The Aircast A60 provides a mild level of support to the lower foot. This makes it ideal for people who have chronic ankle instability or are over or under pronators when running. It is also suitable for people who are looking to avoid ankle injury. A highlight of this product is that its closure system is built around a single strap. This makes it a lot faster and easier to secure than anything in the ACE range.
The Aircast A60 features stabilizers which have been strategically positioned at 60 degree angles on either side of the ankle. This helps to ensure proper alignment with every step you take. The low profile and lack of bulk makes it an easy brace to wear under your normal footwear.
One strap closure system
60 degree side stabilizers
Low profile
Sold by shoe size which may not conform to ankle size
The Protec Athletics Gel Force Ankle sleeve offers a unique level of support by way of a thick gel insert, which takes the dynamic impact of movement away from the ankle. This provides a superior level of support to anything in the ACE range. It is made from a four way stretch material which provides a very secure, custom fit. It also delivers a good level of compression, allowing for enhanced circulation and oxygenation.
The Protec Athletics Gel Force Ankle sleeve is lightweight and sleek in its design. This provides you with an unobtrusive support that will easily fit in with your normal footwear. It is also breathable, moisture wicking and odor resistant. You can even wash this brace in your machine.
Thick gel insert
Lightweight and breathable
Machine washable
ASO are highly respected for their innovative ankle support products. Find out why they're different with our ASO Ankle Brace Review 2018 where we review and compare their premium offerings.
The Futuro Sports Deluxe ankle support features reinforced side stabilizers to keep your ankle properly aligned as you walk, run or play sport. It will prevent the ankle roll over which is the cause of so many foot problems. The closures are adjustable, allowing you to control the level of tension applied. The ergonomic design of this brace means that it will contour to your foot. It can be worn over the sick and under the shoe.
The Futuro Sports Deluxe offers a comparable level of lateral / medial support as the ACE Ankle Brace with Side Stabilizers. It has the advantage of being a bidirectional sleeve, so it can be used on either the right or left foot. The durable construction ensures that it will last for years.
Moisture wicking
Adjustable closures
Reinforced side stabilizers
Want a great overview of the best ankle support products on the market? Don't miss our Best Ankle Braces Of 2018 super feature - we've ranked and reviewed the top performers.
Conclusion
ACE ankle supports are among the most well known and highly regarded in the industry. Of their 35 products, the most popular is the ACE Deluxe Ankle Stabilizer, which features reinforced side stays, adjustable closures and a low profile design. The ACE Knitted Ankle Support is contoured to the shape of the foot, and features a heel comfort panel. We were also impressed with the ACE Neoprene Ankle Support, which comes in a lightweight neoprene design, is one size adjustable and is antimicrobial treated.
When it comes to ACE alternatives, we feel that the Aircast A60 is a top option, with its one strap closure system and 60 degree side stabilizers. The Protec Athletics Gel Force features a thick gel insert and is lightweight and breathable. Finally, the Futuro Sports Deluxe provides dual side stabilizers, moisture wicking ability and adjustable closures.
---