Mueller Ankle Brace Review 2023
last updated:
Jan 07, 2021
Mueller Sports Medicine has been at the cutting edge of athletic support products for more than 50 years. Over that time period, they have established a reputation as market leaders and innovators who work closely with athletes to devise the best solutions to their needs. Mueller excels in the area of ankle support, with braces, wraps, sleeves, and supports for every need.
In this article, we go in-depth on the best that Mueller has to offer. We have chosen our ten favorites to share with you.
In a Hurry? The test winner after 25 hrs of research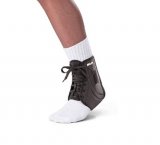 Pro Level ATF2 Ankle Brace
Why is it better?
Self adjusts
Lightweight and breathable
Latex-free
Bi-directional
41
Researched Sources
12k
Reviews Considered
25
Hours Researching
14
Products Evaluated
Features
Comfort
Durability
Ease of Use
Materials
By Default
10 Best Mueller Ankle Braces
1

. Pro Level ATF2 Ankle Brace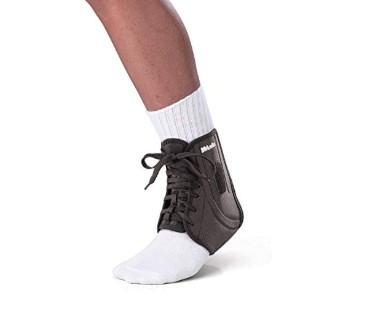 Self adjusts
Lightweight and breathable
Latex-free
Bi-directional
Difficult to get on and off
The ATF2 Ankle Brace feature patented straps which are self-adjusting. They support your anterior talofibular ligament while at the same time helping to protect against rolling your ankle. They still allow you to jump without restricting speed or agility. This brace is lightweight and comfortable. You can use it if you have weak ankles or if you have sprained one. It also fits comfortably over a sock with a single layer of fabric over your ankle bone to make it more comfortable.
Read more
The Mueller ATF2 is a compact lace-up brace that actually self adjusts to deliver maximum support to the anterior talofibular ligament. This is a major protection against rolled ankle, which is a common injury suffered by runners. It affords max protection without impeding your ability to run, jump skip or move laterally.
Mueller ATF2 is a very lightweight, breathable Mueller ankle brace that has the built-in moisture-wicking ability, so it won't build up with sweat, slide around or produce a foul odor. It provides a single layer of fabric over the ankle, making it less cumbersome and more comfortable. It also features a pair of rigid plastic stays on either side of the ankle, which acts as guide bars to support lateral movement patterns.
The ATF2 is both latex-free and bi-directional. That means that you can wear your brace on either foot. Reinforced eye-lits ensure the durability of the lacing system.
2

. HG80 Rigid Ankle Brace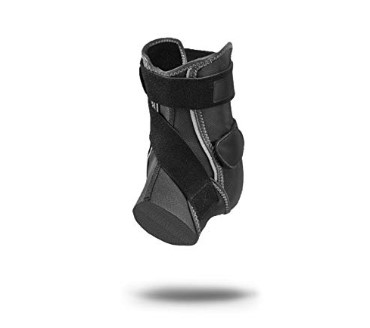 HydraCinn high-performance fabric
Anti-microbial barrier
Interior cushioning Aircast air cells
Figure 8 strapping design
A little tricky to lace up
The HG80 is a rigid ankle brace with a hard shell and pre-inflated air cells which cushion your ankle and give you superior medial-lateral support. This brace will help prevent you from injuring or ankle or prevent re-injury. It has a step in design with an open back rear entry which makes it easy to take on and off. The cross strap gives you extra lateral support and supports across the talar joint as well. The straps are adjustable to you can lock your brace into position.
Read more
The Mueller HG80 ankle brace is made from Mueller's own HydraCinn high-performance fabric. It does a superior job of wicking moisture away from your ankle, avoiding irritation, sweat build-up and slippage. A built-in anti-microbial barrier eliminates odor problems, keeping the area safe and bacteria-free. The materials in this product are both latex and neoprene free. Stirrup straps are provided to allow you to get the maximum level of support.
Mueller HG80 ankle brace allows you to be in control of the level of tension that is applied to the ankle. It has a dynamic criss-cross figure 8 strap design that delivers the tension you need while also providing the freedom of movement your sport or workout demands. Your purchase includes a handy carry bag.
Interior cushioning air cells provide you with a comfort level that is miles ahead of the competition. The back entry easy on design makes it a simple and quick process to get the support on and off.
3

. XLP Adjustable Brace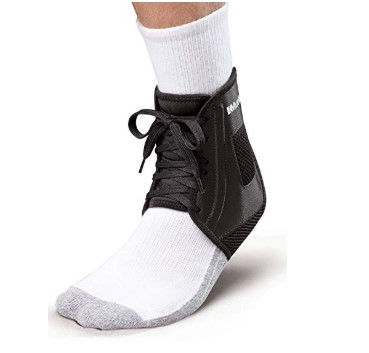 Lightweight polyester
Rigid plastic stay
Latex-free
The XLP Adjustable brace features an elastic panel on the back which gives unrestricted motion. There is a single layer of brace fabric over your ankle bone so it is more comfortable. The rigid plastic outside helps to support the sides of your ankle. The brace also has an antimicrobial treatment which will help control any foot odor. The brace is not constructed with natural rubber latex but it is designed to give you maximum support.
Read more
The Mueller XLP Adjustable brace is lightweight low profile support that features an elastic rear panel to deliver a superior range of movement. The ankle bone is covered with a single layer of fabric, providing more comfort and flexibility. Rigid plastic stays on either side of the ankle act as guide wires, keeping the ankle properly aligned and enhancing your proprioception.
Mueller XLP Adjustable brace features an antimicrobial treatment to keep your foot safe while also eliminating any nasty odors that may build up. It is completely latex-free. You get Level 3 protection with this brace, which is the highest level available. This makes it ideal for people who are dealing with moderate to severe injuries and still want to continue playing basketball, football, netball, tennis, and racquetball.
4

. Sport Care 4-Way Stretch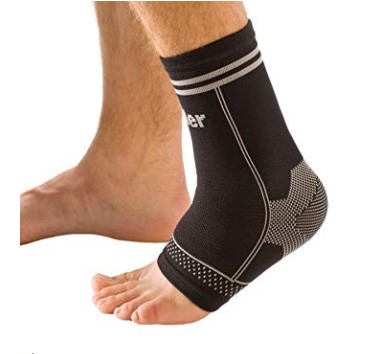 Full-length ankle sleeve
360-degree compression
Nylon / spandex material
A little too tight around the ball of the foot
The Sport Care brace offers you 360-degree compression to give your ankle full support from all angles. It has a 4-way stretch design which will keep your ankle in position during any activity you are ready to put it through. This brace comes in two colors and is the ideal choice if you need protection and support of your entire foot area.
Read more
The Mueller Sport Care 4-Way Stretch support sleeve is a full-length cover that stretches from the base of the toes to the mid-calf area. This provides a great deal of protection to the entire foot area. It is made from breathable nylon fabric, making it extremely lightweight and stretchable.
The Sport Care 4-Way Stretch features built-in moisture-wicking ability, keeping the irritation of both sweat and odor at bay. You will also have no problems with the sleeve bunching up or sliding around as you wear it. You get 360-degree compression, which increases the blood flow. This will deliver more oxygen and nutrients to the affected area in order to fast track the healing process.
The product is made from a nylon/spandex material which is completely latex-free. You'll immediately notice the difference when you wear 4-way stretch support because it won't pinch your skin the way that many competing products do.
5

. Adjustable Ankle Support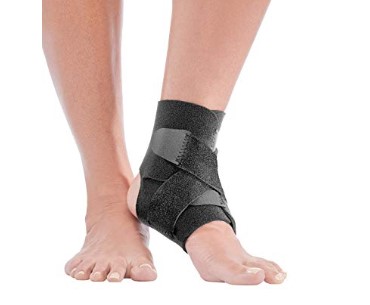 Lightweight and fits in a shoe
Seamless design
Fits either foot
The sectional design of this adjustable ankle support brace helps protect against slipping and bunching. It helps you get a custom fit around your arch area as well as around your ankle. It has a seamless design so you do not have to worry about skin irritation or chafing. The open heel works to give you a snug comfortable fit you can enjoy all day. It is lightweight and will fit into most styles of shoes. It is also bi-directional and can be used on either foot.
Read more
This ankle support brace is created from a soft neoprene blend that keeps in your body heat and uses that warmth to soothe your sore ankle.
Soft neoprene blend retains body heat for soothing warmth. It is perfect to support your ankle if it is weak or after a sprain. It is also good to help with arthritic ankles. The brace has seamless edges that give your ankle extra comfort and helps you prevent skin irritation.
This brace has a patented design of criss-cross straps. They imitate having your ankle taped which gives you adjustable support and tension. The sectional design on top and bottom helps to keep the brace from slipping and bunching. It is also comfortable enough to wear over your sock and will fit comfortably into most styles of shoes.
The microbe shield is designed to control and get rid of odors, stains or your brace suffering from deterioration which can be caused by bacteria and microorganisms.
6

. THE ONE Ankle Brace Black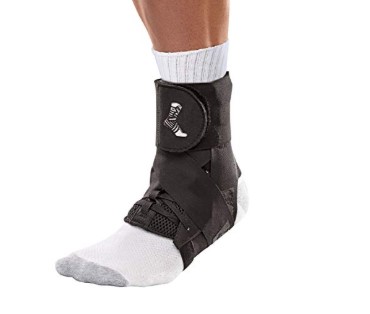 Light and low profile
Seamless construction underneath the foot
Fits on either foot
THE ONE ankle brace is comfortable to wear in cleats or most any shoe during competition. The anti-slip crisscross straps on the sides protect against ankle sprains. The stirrup straps pull from the side and imitate the effects of taping your ankle. This brace has a seamless construction under your foot which helps to get rid of that annoying skin irritation. The elastic finishing straps on top will lock down all straps. It is a super light, low profile brace which will work on either foot and has a cushioned breathable tongue.
Read more
If you are serious about your ankle support this brack is definitely The One. You may have pain along the outside of your ankle, on the inside or on the Achilles tendon. You may have a sprain or be healing from a fracture. This brace helps with strains, sprains, twisted or swollen ankles. They are built for comfort and have a tongue which is cushioned and breathable. There are no metal eyelets to irritate your skin.
This brace has a seamless construction on the underside of your foot with smooth finished edges. It is neoprene free and latex-free. The strapping system is simplified so it is easy to use and gives you all of the benefits of having your ankle taped as well as the adjustable flexibility you enjoy in a soft strap brace.
You get the benefits of taping your ankle with the side pulling stirrup straps. There are also crisscrossing side straps which are anti-slip and will help protect you from inversion and eversion ankle issues. You can adjust them any time you need to so you will prevent slippage and keep a tight fit. On top of that, there are finishing straps which lock down everything else and give you a clean finish.
This brace has a super-thin, very light profile which is comfortable to wear in shoes or even in cleats during competition. The brace is treated with an antimicrobial agent which protects it against odor, unsightly staining, and deterioration which could be caused by bacteria and microorganisms.
7

. Adjustable Ankle Stabilizer - OSFM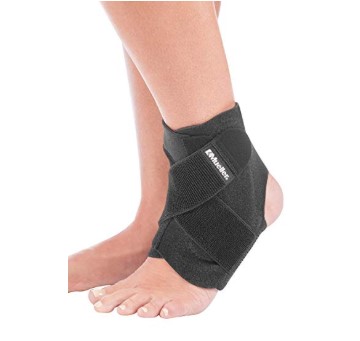 Soft neoprene blend
Crisscross straps
Top and bottom sectional design
The Adjustable Ankle Stabilizer is a fully adjustable brace which gives you a good fit and firm compression. It is perfect for a sprained or strained ankle or if you suffer from arthritis. It is made of a soft neoprene blend which will keep in your body heat and provide soothing warmth. It has a sectional design on the top and bottom which helps with slipping or bunching. The straps criss-cross to give you adjustable support and tension. It also features side stays and extended height which help to give you firmer lateral support.
Read more
The Adjustable Ankle Stabilizer gives you a figure-8 strapping system. It has a HydraMesh® fabric arch panel which gives you firm support of your foot. This brace helps with weak ankles, injured ankles or ankles bothered by arthritic pain.
The bottom arch panel of this brace is made of HydraMesh® which makes it breathable. It will fit either ankle. The design features criss-cross straps which resemble taping your ankle. They give you adjustable tension and support. The sectional design helps to minimize bunching or slipping and you will get good lateral support from the side stays.


Padded rigid side supports
Fits either foot
Adjusts with just one strap
Not good with high top basketball shoes
The Lite Ankle Brace is very lightweight and helps to protect your injured or weak ankles. It is padded with a semi-rigid shell which helps you protect against sprains. The hinged pivot points let your ankle have some flexibility as well as full mobility. It has one strap which has hook and loop fasteners, making it easy to put on and take off.
This brace goes a long way to protect your ankle and allow full vertical mobility. It also protects against rollover injuries. Since it is so slim, you can fit the hard shell design into nearly any shoe and not have to worry about dealing with an awkward bulk.
Read more
This brace is made with polypropylene, foam, and nylon. The padded rigid side supports helps to guard your ankle against sprains with the hinges still letting you have a full range of motion. It has one strap making it easy to take on and off. It will fit in most styles of shoe. This brace will work on either foot.
You wear this brace over your sock. Put on your sock and then put the brace into the shoe. Markings on the brace show you the proper placement. Then you just step into the shoe, align the pivot points with your ankle bones and secure it with the strap. It is easy to protect your ankle.
9

. Sports Medicine ATF3 Ankle Brace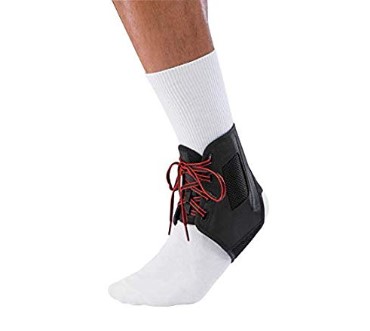 Patented internal strapping system
Improved lacing design
Comfort mesh fabric
The Sports Medicine ATF3 is designed to be easy to put on and take off. They want you to wear it when you are supposed to. It will keep you from rolling your ankle. This brace is made to be lighter and less bulky. The ATF 3 Ankle Brace has an internal strapping system which will self-adjust, designed to support your anterior talofibular ligament. The brace helps keep you from rolling the ankle yet it will not restrict you from jumping, having speed or agility. It fits either foot.
Read more
The ATF3 has a patented internal strapping system. It adjusts itself to keep you from rolling your ankle. In this new version of the brace, the lacing has been improved so it is faster and more comfortable on the top of your foot.
The side stabilizers are re-engineered to give you firm support while still letting you keep a full range of motion. The mesh fabric is comfortable and vented to help with heat and moisture on your skin.
10

. Ankle Support Neoprene Blend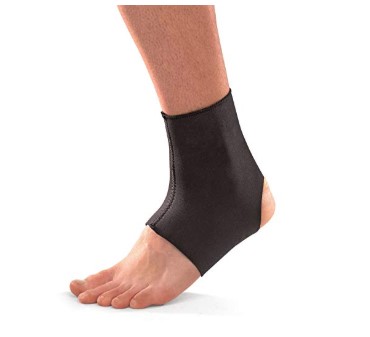 Stretchy nylon on both sides
Fits either foot
Comfortable enough to wear all-day
This Neoprene Blend Ankle Support is probably Mueller Sport's most basic design. It is made with stretchy nylon on both sides you can put it on and take it off easily. It is comfortable enough to wear all day. The simple design will fit on either foot and take care of providing extra support for weak ankles.
Fits either foot
Read more
This ankle support works perfectly if you have a sprained ankle but still need to lead an active lifestyle. It is a simple sleeve which you do not have to struggle with tightening and adjusting. It fits well into shoes.
This ankle support is nice and thin while still offering good support. It offers good moderate compression. It will help you to get back to work after an injury. It will help you stand without as much pain and help with swelling. It gives you a full range of motion.
Criteria Used for Evaluation

Features
Mueller ankle braces are high quality, designed to keep your ankles supported and protected. They have lots of useful features. They are made with good materials including hard shells which hold your ankle in place and air cells to provide comfort. They have durable straps which help make the brace adjustable and easy to wear. You want a material which is stretchy and keeps its strength. It should be breathable and able to keep moisture away from your skin.
Your brace will give your ankle the support it needs so it will be stronger or can heal. It is handy that most of these models will fit on the left or right foot.
These braces have different methods of giving you the support and compression you need. Some of the ankle braces have laces. Most of them have straps which can be adjustable to fit any size foot at the right angle and compression you need.
Some of the braces are designed to completely immobilize your limb so it can heal. Others are not quite as stiff and are designed to be worn as added protection for a healing joint or to help a weak joint. Take all of this into consideration before you decide which design is best for you.

Comfort
Mueller knows comfort is mandatory when it comes to a brace for your ankle. If you are nursing an injury you do not want a brace which is going to make it hurt more. The brace should be made of a material which is easy on your skin. It should feel good against it without causing any irritation.
The materials are comfortable and the brace can be worn over your sock and fit in your shoe. Some of the models have pre-inflated air cells which help to keep your sore ankle cushioned.
The braces contour around your ankle to hold it steady. Most of these braces are made of a material which is breathable and moisture-wicking, keeping the sweat away from your skin while holding on to the comfortable heat. Keeping your skin dry helps prevent odor and bacteria.
Most of these braces have a variety of straps which help to hold them in place. The straps should be long enough to use easily without getting in the way. You should be able to use them to adjust your brace and get it at just the right angle and with just the right amount of compression.
There are a few other things which some of the braces have to help with comfort. They have seamless edges which help to keep your feet comfortable. Some of them have bilateral hinges to help your ankle stay in place. It is nice if you find ankle braces which will fit into your shoe so you can still workout. Probably the most important point about these braces? You want to be comfortable by having one which does not slip or bunch up.

Durability
Durability is important when it comes to a brace. This is something you may be wearing for long periods of time and they will have to stand up to workouts, sports, or everyday life. The fabric should be something which will be stretchable and still hold its form for long periods even after being washed. It should not tear or fray easily. The material in most of these braces has an anti-microbial treatment to protect from odor, staining, and deterioration caused by bacteria and microorganisms.
The straps should be durable as well. They should be double stitched and not able to fray or tear, able to be connected over and over without falling apart. Some of the braces have Velcro to attach these straps. The velcro needs to be durable as well and able to stick over and over without tearing or ripping up the material it attaches to. They should have reinforced eyelets.

Ease of Use
When you have to wear a brace on your ankle you need to be able to use it easily. It should be easy to take off and on. Mueller has kept this in mind with their braces. The straps are easy to adjust and use to get the perfect angle and compression. Some are even designed to put into your shoe and then just slip in your foot.
A couple of these models open rear entry or the top and bottom separate panels so you can situate and adjust the brace in sections to be sure you have the perfect fit.
The ankle braces have a cushioned sole and soft linear design. They will not bunch up or slip. These braces are nice and comfortable, lightweight and easy to fit in your shoe. They will not cause your foot to sweat so it becomes uncomfortable.
It should also be easy to clean when you are done using it to help keep bacteria at bay. The Mueller braces are designed with HydraMesh to be more breathable. They are also designed with an anti-microbial treatment to protect them from odor, staining, and deterioration from bacteria and microorganisms. These braces are simple, basic and get the job done.

Materials
Mueller uses the high-quality materials needed to build a brace which is going to take care of your ankle and last for a long time. Some of the designs have rigid plastic braces to help keep your brace in place. They have lightweight polyester models and some which are made of nylon and spandex.
Mueller braces feature exclusive HydraCinn fabric which is latex and neoprene free. It is stellar in its ability to keep moisture away from your skin. These braces also have anti-microbial treatment which helps protect against odor, staining, and any deterioration caused by bacteria or microorganisms.
To help with comfort, some of these braces have air cells to help keep your ankle protected.
Mueller also features HydraMesh which is a trademarked fabric used for its breathability and kindness to your skin. This company is truly all about comfort when it comes to taking care of your joints and protecting your skin.
Expert Interviews & Opinions
Most Important Criteria
(According to our experts opinion)
Experts Opinion
Editors Opinion
Users Opinion
By Default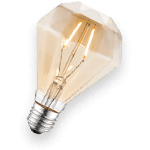 Not For Bedtime
Ankle braces are good to protect your ankle during the day but they really do not need to be worn at night. A heavy-duty brace would be very uncomfortable to sleep in. They are not great for circulation at night. If you need the support at night the best idea would be to wear a compression sleeve.
Not Too Much
Ankle braces immobilize the joint. If you are nursing a weak ankle from an injury, they are to perfect way to keep it stable during your rehab. Be mindful though, if you wear it every day to prevent injury you may risk weakening your ankle. Be sure to use it in moderation.
Other Factors to Consider

Breathability
These braces use HydraMesh which is trademarked by Mueller Sports. This material gives your skin a chance to breathe while you are wearing the brace, even during intense activity. This is important to avoid skin irritation or odor. They can be worn over your sock to be comfortable and still be breathable. This is an important part of the Mueller family.
Frequently Asked Questions
q:

What is an ankle brace good for?

a:

Ankle braces help with swelling, pain, and to avoid future injuries. Mueller is a high-quality brace which provides the support you need. Be sure to educate yourself about how to wear it properly. It can help with some conditions and can definitely make a lot of physical activities easier.
q:

Should I wear a sock with my brace?

a:

Yes, it is a good idea to wear your athletic sock under your brace. This will make the brace much more comfortable on your foot. It will protect your skin against irritation and prevent rubbing while you are moving during activity.
q:

How do I know if it is fitting correctly?

a:

Take your time when putting on your brace to be sure it is on correctly. Once it is on, check the fit. When it is all laced up, go to the bottom and gently pull everything up once again to make sure it is snug. You may want to stretch it a little too by using your finger under the seam to make sure it is comfortable.

Make sure you check the heel of your brace. It is crucial to make sure it is comfortable. Once you checked the laces, go to the heel. Make sure your skin will not be rubbing against the brace.
q:

Can I stop worrying once my ankle does not hurt anymore?

a:

In a word, no. Even if the pain has stopped this does not mean your ankle ligaments and muscles have healed. If you stop your treatment too early, it could lead to more injury.

Sprains should not be taken lightly. Be sure to take care of them immediately so your injury does not get any worse. Be sure to have a doctor take a look at it, just to be safe.
q:

How do I choose a comfortable ankle brace?

a:

There are a couple of things to take a look at when you are making sure the brace is going to be comfortable for you. First, make sure you have a brace which has the proper fit. It should be the right size. Be sure you follow the chart to make sure you have the right size for the best fit.

Take a look at the material the brace is made out of. Neoprene is flexible and will give you a close fit and will give you good support and heat insulation to provide you from ongoing pain. It does not breathe well though and may get too hot for all-day use.

The fabric and knit material breathe easier and will keep your foot cool but it will not provide the heat which is therapeutic.
Subscribe to our newsletter