Top 10 Sandbags For Training and Exercise
last updated:
Feb 11, 2020
If you've ever been bored at the gym, thinking about how you can change up your weekly routine, sandbags are something to consider for extreme weight training. Whereas free weights on target certain muscle groups and remain constant and unchanging, exercising with a sandbag introduces intensity, agility, and laser-focus to a workout. It's hard to believe that a heavy-duty bag can revolutionize an entire workout, but it's tried, true and tested by Strongman competitions and military training.
So if you're ready to take the plunge and see what weighted bags have to offer in terms of your personal fitness, we've got everything you need to know. We've researched the toughest, most durable bags for lifting as well as those with additional features for an even more extended sweat sesh. So check out the best workout sandbags and see how to double your gains without expensive equipment and gym memberships.
In a Hurry? The test winner after 4 hrs of research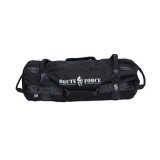 Brute Force
Why is it better?
Comes with additional options
Used by the US military
Filler bags come in two sizes
In a
Hurry? Editors choice: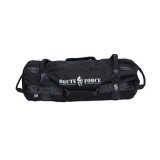 Test Winner: Brute Force

Capacity
Durability
Effectiveness
Weight
Stability
By Default
Criteria Used for Evaluation

Capacity
As with any bag, workout or otherwise, capacity is always a big question. When it comes to weight training, there are many different theories on how to train, what to train with, and how much to train with. In weight lifting, it's fairly easy to figure out when you're lifting too much and what your limits are. Therefore, this was a variable that we needed to exclude from our research. With that excluded, it became quite obvious that we needed to search out weight training bags that would be good for all levels of training -- not just heavy lifting.
Therefore, we've put together a list that is compatible with many different levels, whether your weight limit is 40lbs or 200lbs and everything in between. We didn't want anyone to read this guide and think that weight training with sandbags isn't beginning or light-lifting-friendly, which is why it is such an extensive list. Capacity was a big factor in our research, because we needed to find all the bags which checked off our boxes, from light-lifting to heavy-lifting, casual lifting to daily lifting, along with Crossfit training, weighted running, and balance routines.

Durability
Perhaps one of the most important criteria was durability. The last thing anyone wants to do is look down and see that their weighted bag has started leaking, leaving an undesirable pile of sand in the gym, on their floor, or anywhere else it can't be easily cleaned up. Therefore, we looked for bags that contained the following: cross-stitching, zig-zig stitches, triple and quadruple stitching, as well as thick, nearly unbreakable materials such as nylon, kevlar, and heavy-duty rubber. We've listed them in order of strongest and most stitching as well as the overall best and less, making for a solid list of bags that won't simply fall apart at the seams.
Additionally, each bag should be able to hold up to any type of training. The reason weighted bags are so popular in workout routines is that they offer so much in terms of core training and balance. There are few sports or workouts which don't require these two things -- therefore, each bag needed to hold up to the test of exercise and various routines which might be more strenuous on the materials. Anything from dropping to throwing was considered, and what you're looking at now are the bags that made the cut.

Effectiveness
Just as a bag should be strong, it should also be effective in its usage. Weighted bags are designed to encourage the user to become aware of their body and their movements. As opposed to regular weights, a weighted bag will not remain stationary, nor will it always move in the direction that you're moving. This will cause you to move accordingly, building both your core strength as you adapt, as well as your speed when balancing with the bag. Lifting will become harder, but it will also force you to focus more in order to lift a bag rather than a solid weight. Because weight is more unevenly dispersed, lifting a weighted bag will target more than one muscle group at a time, sometimes randomly, thus generating more gain from a workout than with a regular set of dumbbell weights.
With that being said, it became increasingly important for us to find bags that could hold up to the challenge of these gains. If they weren't proving effective or backed up by a reliable source, we didn't consider them. A waste of your money is a waste of your time, which is something we don't want to lose when it comes to our fitness lives.

Weight
The criteria of weight was a fickle thing when researching these bags. We tried to err on the side of bags that had options; meaning, bags that could hold two or more filler bags, adding options to the amount of weight they were gain. Due to the fact that not everyone is on the same weight training and some people prefer light versus heavy lifting, we needed to find versatile bags that would allow you to customize your own weight limit.
In turn, we also wanted to include bags that could be built upon. By this, we mean bags that could be filled gradually while still feeling somewhat level and balanced. If a bag needs to be filled to its maximum in order to be stable enough to work with, then it was essentially useless to us and our top ten list.

Stability
That brings us to the issue of stability. Stability is another interesting theory when it comes to weighted bags. Because frankly, the point is that they're not intended to be stable. They're not meant to remain solid and unmovable -- if that were the case, we'd be telling you to skip the weighted bags and go straight for the Bowflex trainers. However, weighted bags go back to days before humanity was civilized, during times when men and women would throw bags of grain or rice over their shoulders and build muscle in the most natural way possible. It's this notion that has continued to make weighted back training so popular today, and not only in the gym. It's a method used by the military and many professional athletes, in order to focus on various core muscle groups and shake up their routines a bit.
So what's the point of all this? While bags shouldn't be completely stationary, they should offer a balance. They should be easy to pick up, but provide a challenge to lift. They should provide enough stability to work out with, but not be flopping over to the point where your routine is disrupted because a bag keeps slipping through your hands. This is often a problem that lies in the material used or the structure of the bag. Therefore, it's something that we considered when making this list because no one appreciates a half-empty bag escaping them in the middle of a burpee.
Expert Interviews & Opinions
Most Important Criteria
(According to our experts opinion)
Experts Opinion
Editors Opinion
Users Opinion
By Default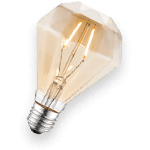 Best Workouts With Weighted Bags
You might be wondering how the heck to swing this thing around and still get a good workout from it, and we're here to help. These are the top five best workouts you can do with your weighted sandbag, and the best part is that they're versatile! You can do these with small bags, large bags, lightweight, heavyweight, sand or water. Ready?
1) Forward lunge. With both hands, step into a normal forward lunge. As you step into place, swing the bag - with control - to one side before bringing it back to the middle and stepping back. Repeat with the other leg and side.
2) Reverse lunch. Let the weighted bag hang below your back, over the top of your neck, while you hold it over your shoulders with the side handles. Step back into a reverse lunge, before leaning into your front heel to come back to a standing position. Repeat while continuing to hold the back over your shoulder (like a backpack).
3) Side lunge. Hold the bag by its top handles. Step to one side, and while doing so, raise the bag over your head. Remain there for one second before using your outward foot to push back to the center position, before switching sides.
4) Hammer Curl. While remaining in a standing position with feet a comfortable width apart, hold your arms slightly out in front of you, using the top straps to grip the bag. Raise your arms in a normal arm curl, bag in tow, for as many reps as necessary.
5) One-legged Deadlift. Holding the bag with both hands the same way you did for the Hammer curl, lean forward carefully on one foot. When you're at a 90-degree angle, lift the bag (similar to a hammer curl) and lower it, before propelling yourself back to a standing position.
Weighted Bag Safety Tips
It's not uncommon to make mistakes when trying different workout equipment for the first time, including weighted bags. For starters, you always want to anticipate that a weighted bag is going to operate differently than normal weight. It's a variable in your workout and should be treated as such. Secondly, don't overfill it! It's easier to add more than it is to take out, and trust us, when you're knee-deep in a routine and realizing the bag is too heavy, it's a pain to stop and pour sand out. Third, pay attention to your body. If you feel stressed or strained anywhere, cut the workout short. A weighted bag works differently than most weights and will encourage you to use various muscles, all at once, at different times. Without realizing it, you could be reaching your limit much more quickly than during a normal workout routine. Take it slow!
Other Factors to Consider

Portability
What many might not consider when it comes to a weighted bag is how easy (or not!) they might be to transport. The reason it's so important is that if you're planning to go from working out at home to hitting the gym, you want to make sure that you have a bag that's easy to transport from one place to another. This is true of people who like to work out on beaches, in parks, or even while trail running.
Weighted bags should, of course, be high-quality, efficient, and hold their value for the price you pay, but they should also be simple enough to pack up and carry. Therefore, this was yet another criteria to add to our list. It's one thing to carry a weighted bag when it's full to work up a sweat, but you shouldn't need to work up a sweat just to get it packed back up and travel-ready!
Frequently Asked Questions
q:

Can any of these be filled with water vs. sand?

a:

No, in fact, we'd recommend always sticking with sand if you're ever unsure. There are two bags on this list that can be filled with water, however, they have special filler bags that are waterproof. Sand vs. water is a personal preference and if you're looking for a bag to fill with water for training, we'd recommend either the Iron Core or Ultimate Body Press.
q:

What kind of exercises can be done with these?

a:

It's good to start out small if you're a beginner. Base the weight you need off what you'd lift in the gym on average, and start with just under that, at least until you get used to the bag weight. From there, start with things like kettlebell lifts, arm curls, and overhead lifts... but pay attention to your body! If anything starts to feel off or strenuous, tone it down a bit.
q:

Can I work outside with these?

a:

Most of them, yes. Since they're made with nylon, kevlar, and coated rubber, that means they should be waterproof. There are some that specifically state whether or not they are waterproof, so if you're planning on doing hardcore trail training, we'd recommend going with one of those. Better safe than sorry! This will also help to further prolong the life of your weighted bag.
q:

Can these be combined with weights?

a:

Sand only! The point of these bags is to enhance and provide a challenge to workout routines with the addition of a fluid substance (sand or water). By adding weights, not only is it dangerous, but it also defeats the purpose of having a weighted bag. These bags are also designed to have a max limit, meaning that anything adds that's over the limit could cause serious damage to the integrity of the bag.
q:

How do you clean the sand out?

a:

The filler bags that come with the weighted bag are designed to do most of the work for you. When you're done using them, simply dump the sand out and hang upside-down until the next use. This will ensure that gravity does most of the work and that every little bit of sand is out. You can also take a damp cloth and wipe out the inside of the bag -- just make sure to let it dry fully before adding more sand.
Subscribe to our newsletter