Top 10 Stamina Exercise Bikes Reviewed
last updated:
Jan 29, 2020
Stamina Products, Inc have a 30-year reputation for delivering quality fitness products at competitive prices. The people behind Body By Jake, and the Tony Little range of home fitness gear, Stamina is especially proud of their exercycle range. In this article we shine a spotlight on the best from the Stamina bike stable, providing in-depth reviews of their top two products. We also provide some standout Stamina alternatives to round out our top ten list.
This is the best product on our list that is currently in stock: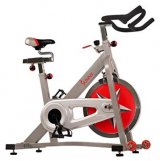 Sunny Health & Fitness Indoor Cycling Bike
Why is it better?
40-pound flywheel
Heavy duty crank
Heavy duty frame
25
Researched Sources
11k
Reviews Considered
24
Hours Researching
14
Products Evaluated
Features
Ease of Use
Durability
Portability
Comfort
By Default
10 Best Cycling Bikes Highlighting Stamina
1

. Stamina 1350 Recumbent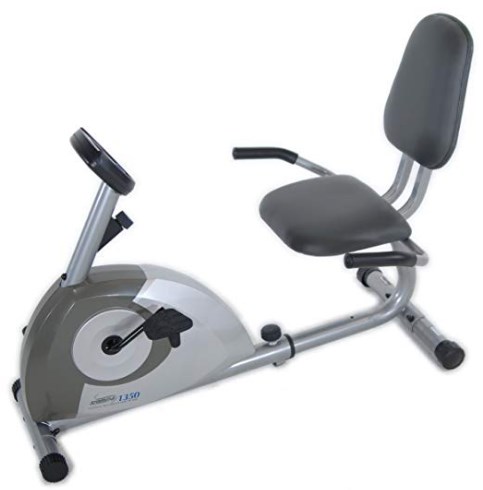 Excellent back protection
Heavy weighted flywheel
Leveling stabilizers
The Stamina Magnetic Recumbent 1350 Bike will give you a fantastic cardio workout without ever leaving your home. This bike is quiet and smooth so it will not stop you from watching television or listening to music while you are pedaling. There is also a built-in monitor that helps keep you motivated. The scan mode tracks your cycling progress and the tension knob will adjust the intensity.
Read more
The Stamina 1350 Recumbent bikes provide you with an effective cardio workout while offering generous protection to your lower back. The adjustable heavy-weighted flywheel and smooth pedal bearings ensure a natural, quiet cycling motion. The vinyl seat is comfortably upholstered and is matched by a back support which goes all the way up to your neck.
The Stamina magnetic recumbent 1350 exercise bike puts you in a recumbent position that supports your lumbar region while working the legs more effectively than an upright position would allow. You get larger than normal foot pedals with adjustable foot straps that make sure that you are secured in place. The resistance level is adjustable via a centrally located knob.
An LCD monitor provides you with readouts of your essential training data, including speed, distance, time and calories burned. By switching to scan mode you can track your training progress without having to push a button.
Leveling stabilizers allow you to perfectly balance the machine on any surface. The maximum user weight is 250 pounds.​
2

. Stamina 4825 Magnetic Resistance Bike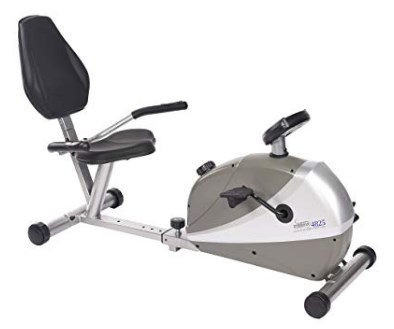 Fluid magnetic resistance
Six pre-set programs
Handrail pulse sensors
The Stamina 4825 Recumbent stationary bike which will give you an effective low-impact workout in your own home. It has a magnetic resistance with tension control at the easy turn of a knob. This bike includes six preset fitness programs and a pacing guide. Pulse sensors are built into the bike handrails so you can easily monitor your heart rate.
Read more
The Stamina 4825 features magnetic recumbent cycle with magnetic resistance to give a fluid cycling action. It is an update of the Stamina magnetic fusion 7100. The 4825 provides a more low impact workout than the 1350 recumbent. A dial-up tensioner allows you to change the resistance settings, to provide an ongoing challenge. You get six pre-set built-in fitness programs, set at all intensity levels and including speed targets set at different levels.
The seat backing on the Stamina programmable magnetic 4825 exercise bike is more contoured and thickly padded than the 1350 model. The handrails also feature built-in sensors to allow you to track your training pulse rate. The oversized weighted pedals ensure a secure fit. It also features wheels for easy transportation.
3

. Sunny Health & Fitness Indoor Cycling Bike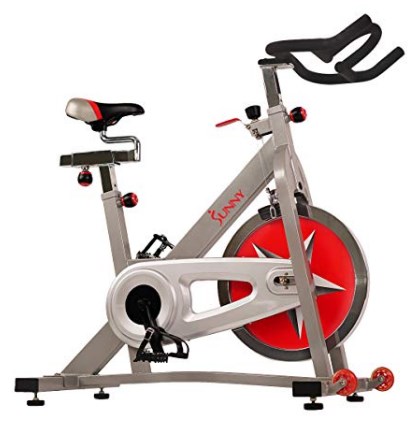 40-pound flywheel
Heavy duty crank
Heavy duty frame
A little hard to assemble
Sunny Health & Fitness is another big name in quality indoor bikes and this model is no exception. The sturdy 40-pound chrome flywheel will give you a smooth momentum. It features dual resistance with a felt pad system and a micro-adjustment knob to control the intensity of your workout. The ergonomic handlebars are designed to accommodate multiple riding styles. The bike adjusts to your height with the 4-way adjustable seat. This bike also has base stabilizers which keep the cycle stable on uneven surfaces and make sure the bike does not wobble or jerk while you are riding.
Read more
The Sunny Indoor Pro Cycling bike is a frills freecycle that delivers a powerful riding experience. Starting with a 40-pound perimeter weighted flywheel, the Sunny Pro delivers an impressive wheel rotation that is completely smooth and natural. The heavy-duty crank and chain drive mechanism support the flywheel in providing the smoothest motion we've come across at this price point.
The flywheel makes Sunny Indoor Pro Cycling bike heavier than most in its price range, but that is more than made up for by superior performance.
The Indoor Pro is made from heavy-duty steel tubing, ensuring that it performs for years. You won't realize that you are riding a low-cost bike when you get on board. A centrally located adjustment knob allows for a smooth transition between intensity levels. Both the seat and the handle-bars are completely adjustable, suiting all builds and body types.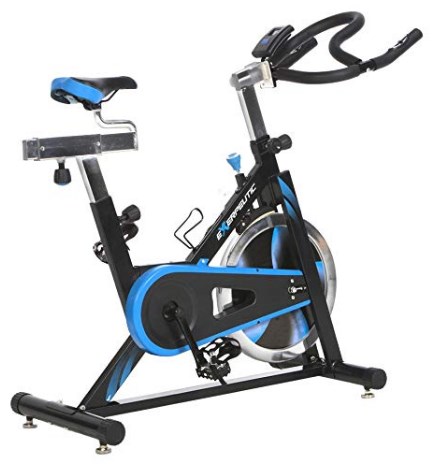 40-pound flywheel
Basket toe cages
3 piece crank
Onboard computer
The Exerpeutic LX7 has a 40 pound cast iron flywheel. It is smooth and consistent when you are pedaling. This bike also lets you stand up and pedal like you were going uphill. The handlebars are covered with soft foam and have heart pulse sensors and this bike has an ergonomic seat which adjusts four ways. The display is easy to read and gives you all the information you need about your workout. The bike has a solid crank system with a chain drive. It also has double-direction pedaling.
Read more
The Exerpeutic LX7 is a very smart looking spin bike which also gives you an onboard computer to track your training progress. Most spin bikes don't provide a monitor, but on this, you get a readout of the time, distance, calories burnt and speed covered. A 40-pound perimeter weighted flywheel, coupled with a chain drive and 3 piece crank system combine to give you superior riding experience. The seat and pedals are ergonomically designed to ensure the best riding position. You also get a very sturdy steel frame on this spinner allowing you to safely stand in the pedals as you climb up hills.
Basket toe cages on the pedals ensure a secure, non-slip foot grip. Exerpeutic LX7 also comes with a pair of floor stabilizers to make sure that you're pedaling in level ground.​
5

. Schwinn 270 Recumbent Bike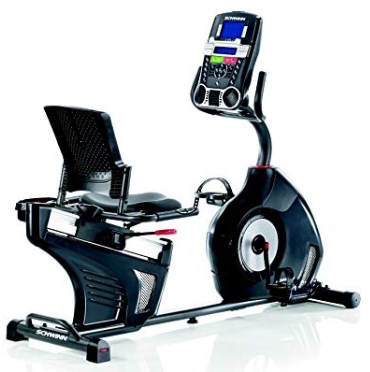 25 levels of resistance
29 programs
Very stylish
The Schwinn 270 Recumbent Bike has a dual track LCD window system. It lets you monitor 13 different display feedbacks. Schwinn Connect has goal tracking and data export which helps you keep up to date on your fitness goals. This bike has 29 programs and 4 user settings. It also has goal tracking. They will keep you challenged and motivated. It has 25 resistance levels which are aligned with a good high inertia perimeter weighted flywheel.
Read more
The Schwinn 270 is a very impressive looking recumbent cycle. Its console looks like something out of Star Wars and is complemented by sleek black curves and lines. But this bike is functional as well as stylish.
The onboard computer provides you with 29 different workout programs, set across the entire experience range. With 12 profile programs, 9 heart control workouts, 4 user input, as well as fitness tests and a recovery test, you will never be bored with the workout that you're doing.
A 25 level eddy current system powers this machine. Backed up by a heavy-duty high inertia perimeter weighted flywheel, it ensures a very smooth, natural ride. The unit is also very comfortable, with thick padding on the eat, generous back support and sweat-resistant, non-slip multi-grip handles. Overall, this is a top of the market recumbent bike that will not disappoint.​
6

. XTERRA Fitness FB150 Folding Exercise Bike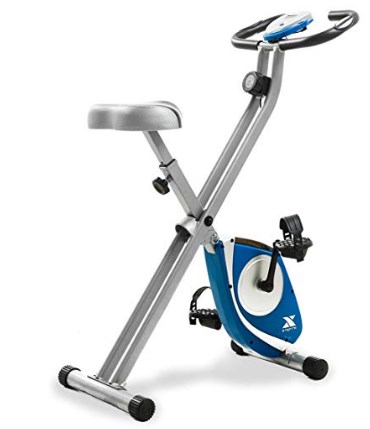 Folds up when not in use
Large anatomically designed seat
8 levels of resistance
Scanning panel does not switch off
The XTerra Fitness FB150 bike has a solid design which folds up to limited floor space when you are not using it. The seat is large and anatomically designed and the handlebars have multi-grip pads. They are designed for long lasting support and comfort. The large LCD display and easy to read with all the information you need about how far you have pedaled, how fast and all the other fitness information. The tension knob controls your resistance for all kind of fitness levels.
Read more
XTERRA FB150 Bike is a foldable bike that will not only help you burn calories, but also help you reach your fitness goals. It is compact and does not take too much space. It will fold into a much smaller space and has built-in transport wheels. You will also find it very convenient to store away between workouts.
An X-frame design of steel tubing and a silent belt drive system will make your ride sturdy and smooth. This bike gives you 8 levels of resistance and you can keep track of your workout data with the console. You will get feedback on distance, speed, time, pulse, and how many calories you have burned. Being able to monitor your heart rate will make your workouts more effective. This bike has a large thick padded seat and multi-grip handlebars to give you ultimate comfort during your workout.
7

. Exerpeutic Folding Heavy Duty Bike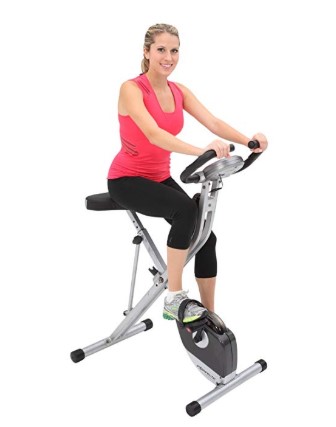 8 resistance levels
Large seat to sit on
Folds up to compact size
Mileage on console needs more digits
The Exerpeutic Folding Bike is a simple design which is heavy duty. You will enjoy a 300-pound weight capacity. The seat is large and will fit a user of any size. The display is easy to read and gives you all the fitness data you need to stay motivated. This bike has 8 levels of magnetic tension and hand pulse controls sensors. It also has a 3 piece crank system.
Read more
The Exerpeutic Folding Heavy Duty bike will support up to 300 pounds. It is very easy to mount and dismount. It will give you a comfortable and effective workout.
The LCD display is large and easy to read and will give you all of your fitness stats such as distance and calories burned. It also has hand pulse sensors to monitor your target heart rate. The seat is large and well-cushioned, comfortable for any sized people. It is also easy to adjust. The 3 piece cranking system gives you a more consistent and smooth pedaling motion. It is designed to be used on a hard floor.
If you do not have a lot of space to work with, this is the perfect model for you. It folds to about half of its assembled size so it is compact and you can move it easily with the transportation wheels.
This bike has eight levels of magnetic tension control so you can easily adjust resistance and get an easier or harder workout. This bike also runs quietly so it will not interfere with watching television or listening to music while you are pedaling.
8

. ProGear 225 Folding Bike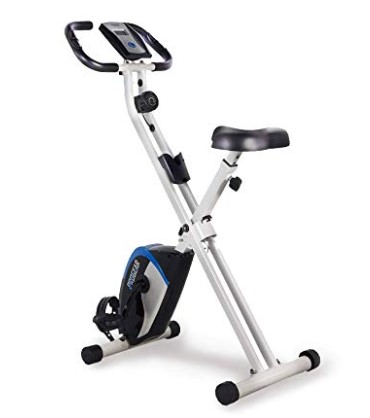 220-pound weight capacity
8 levels of magnetic tension
Compact folding design
Not good for really tall people
The ProGear 225 Folding Bike is a perfect low key cycle that will get the job done. It has a 220-pound weight capacity and heart pulse sensors which will let you monitor your heart rate while you exercise. The compact design will work great in limited spaces. It has 8 magnetic tension levels and an easy to read LCD display which keeps track of your fitness information.
Read more
The ProGear 225 is the answer if the question is how to find an indoor exercise bike which will fit in your small space and give you a good workout. Knowing your heart rate is important during your workout to make sure you are burning calories so there is a heart pulse monitor.
The crank system is also upgraded to give you a consistent and smooth pedaling. The bike also has transportation wheels so you can move it to a different room if you want or somewhere out of the way.
The dual transmission flywheel gives you a higher resistance workout while the three-piece cranking system with magnetic tension that provides a smooth pedaling motion. The seat is ergonomic contoured and adjustable to match your height. The large pedals have a safety strap which will keep your foot from slipping while you are exercising.
The flywheel is precision balanced and works along with the V-belt drive to give you a smooth and quiet operation. It folds nice and compact when you are not using it and the leg stabilizers are adjustable to prevent tipping or movement while you are working out.
9

. YOSUDA Indoor Cycling Bike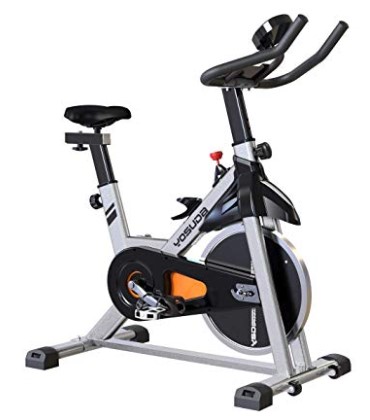 35-pound flywheel
Quiet, belt driven system
Has an IPAD bracket
Not good for a tall person
The YOSUDA indoor bike is durable, easy to maintain and will give you a smooth ride. This bike will help you surpass your limits. It has a steel frame, belt drive which is almost silent, and plenty of customizable settings. The flywheel is a hefty 35 pounds. The bike also has an LCD which you will find easy to read and it even has a holder which will take care of your water bottle. This bike is very adjustable with the handlebars moving two ways or the seat moving four ways. It also has wheels on one side so you can easily move it out of the way when you are not using it.
Read more
This bike has stability and a smooth quiet ride with a 35-pound flywheel, a heavy-duty steel frame, and a belt drive system. It features a non-slip handlebar which adjusts in two directions. It also has a comfortable padded seat which is adjustable in four directions. The range of resistance gives you plenty for comfortable indoor riding experience.
The LCD display tracks your speed, time, distance, odometer, and calories burned. It also has an IPAD bracket you can use to enjoy music while you are working out. It supports riders up to 270 pounds.
The pedals have anti-skid cages which are adjustable and an emergency brake lever. It also has a water bottle holder which you can use to help keep yourself hydrated.
10

. PYHIGH Indoor Cycling Bike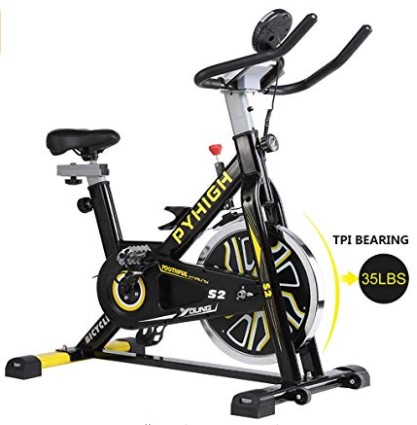 35-pound flywheel
Oversized, adjustable saddle
Anti-slip pedals with toe cages
The Pyhigh bike has a 35-pound bidirectional flywheel which is perfect for good stability. It has felt pads which give it adjustable resistance. When the flywheel is heavier it will give you a smoother ride. It has a leather transmission belt with TPI bearing. The monitor display lets you track your fitness numbers. You can set the resistance with the turn of a knob and the fabric brake pad system is smooth and quiet. Keep your workout smooth and effective. Then push it quickly if you want to stop.
Read more
Pyhigh offers you more momentum for a challenging workout experience with the 35-pound bidirectional flywheel. The LCD monitor tracks how fast you are going for how long and how far. It also tells you how many calories you have burned. There is also a holder for your phone.
The adjustable oversized saddle and the nonslip handlebars are both designed to give you the comfort you need. This bike has a unique resistance design which is adjustable as well.
This bike supports 280 pounds and comes with anti-slip pedals which have adjustable toe cages and straps to make your cycling safer. The front foot tube wheels help you move to help you to move the bike with ease.
Criteria Used for Evaluation

Features
These bikes are all basically the same yet they are also different. You want to pay attention to the features offered when you decide which one you want to invest in. You should check first what the weight capacity is to make sure it will hold you before you lose weight or after you start gaining muscle.
If the cycle runs with a flywheel, you want a good heavy one. The heavier the flywheel, the smoother your ride will be. Check out what kind of resistance the bike has and how you adjust it. If you want a more varied workout you are going to want a lot of resistance levels.
Check out the seat. It should be comfortable and well-padded with good stitching and plenty of padding. It should also be adjustable, and adjust to what your body type is. The handlebars should also be adjustable and padded. It is nice if they have padding in different areas so you can vary your workout by switching up where you put your hands.
Pay special attention to the pedals. They should be angled right to handle your feet. It is nice if they are textured so your feet do not slip around. Look for ones which have cages for your toes and straps, all of which should be adjustable.
And what do you plan to do with the bike while you are not using it? Can it stay where it sits or do you need to move it out of the way? If you have a small living space you will need to be able to move it, so make sure the bike you choose is foldable and maybe even has wheels to help with moving.

Ease of Use
If you want to inspire yourself to work out, you need a bike which is easy to use. The seat and handlebars should be adjustable so you can get them at just the right spot for your body type. The pedals should be easy on your feet and easily hold them while you are pedaling.
The resistance should be easy to adjust with a good amount of different levels so you can vary your workout. To make it easy, there should be a knob which is easy for you to reach and easy to turn. You should be able to adjust the resistance as your level of fitness gets better.
The display should be easy to read and work with so you can get the information you need to keep you informed and motivated. It should be easy to scroll through and find the information, easy to maneuver and to reset if you need to.
The bike should come partially assembled or easy to assemble with common tools you have in your box or come with the tools you need. It should come with easy to understand instructions.
Also, you want a cycle which you can transport when you are not using it. It is nice if the bike will fold up when you are not using it so you can put it into a corner or closet. It is even better if the bike has wheels which you can tip upon to move the bike where you need it to go.

Durability
To find a good quality cycle, you need one which is durable. Look for a good heavy duty steel frame. It should have a good weight capacity which will hold you easily. It should have a foot stabilizer which will help keep your bike level.
The flywheel should be heavy duty and have a good weight which will make it last longer and will keep your ride smooth. The seat should be made of high-density padding and be double stitched to last. The handlebars should be sturdy and adjustable with durable foam padding which will protect your hands and will last.
The pedals should also be sturdy even if you are standing on them, possibly made of alloy steel. They should hold your weight and not get bent out of shape but stay at the right angle for your feet. It is also nice if they come with durable straps or toe cages which are built to last.
The computer on the bike needs to be sturdy and able to take a beat of a beating without breaking down. It should also have a screen which is resistant to scratches or other issues and still be easy to read. The programs which are included in the computer should work well even years after you buy the bike.

Portability
The exercise cycles tend to be big and bulky, even awkward to move around, but most of them are designed to be at least slightly portable. If you have a limited living area you will probably want to look for these features most of all.
Look for a bike which will fold up when you are not using it so that it takes less floor space. Then you can push it against a wall or into a corner. It is even better if you can find one which has wheels on the side of it so that you can roll it out of the way when you are not using it.

Comfort
You need an exercise bike which is comfortable. First, it should have the weight capacity which will easily hold your weight both before you start losing weight and after your start building muscle. The bike needs to be designed for your body size.
The seat needs to be comfortable. It should be made with high-density foam and be ergonomic and anatomically designed to hold your weight while not affecting your workout or hurting your tailbone or back. It should also be adjustable in different directions so you can get the perfect height and angle.
The handlebars should also be adjustable to the optimal angle for you. They should be well padded to protect your hands with a variety of padded spots so you can switch up your grip. It is also nice if you have the heart rate monitor in the handlebars.
The pedals should be textured to keep your feet in place with adjustable toe cages or straps so you can adjust your feet comfortably and get a good exercise.
The LCD display should be easy to read and comfortable on your eyes so you can read it in whatever light and clear.
Expert Interviews & Opinions
Most Important Criteria
(According to our experts opinion)
Experts Opinion
Editors Opinion
Users Opinion
By Default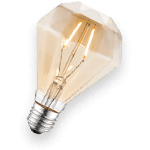 Watch Your Position
Adjust your bike according to your hip height. Most of the bikes have an adjustable seat. Once you are seated on the bike, your knee should be slightly bent when the pedal is all the way down. This will help your joints and back. The more you lean forward on the bike, the more power you will have but also the less comfortable you will be.
Warm Up Before You Ride
You should always warm up before you ride. Warming up is getting your muscles ready for some intense use. Slowly build up your cardiac rhythm and body temperature. Stretch out for 5 to 10 minutes by stretching quads, legs, abductors muscles and calves.
Other Factors to Consider

Accessories
These bikes have a few extra accessories. Look for a bike which has a nice water bottle holder. It is so important to stay hydrated while you are working out.
It is also nice if you have a bike with a place to keep your phone or IPAD so you can plug in your earbuds, turn on some inspiring music and pedal like crazy. It is also nice if you have a tray on the handlebars so you could set your media there.
Frequently Asked Questions
q:

What are the different types of exercise bikes?

a:

There are three major types of exercise bikes. You can choose an upright design, a recumbent, or a spin bike. The upright bike is the one that most often comes to mind when you think of a stationary bike. It is shaped like a road bike. The recumbent bike is a little different. It has a bucket seat with a backrest and the pedals are in front of you. A spin bike looks like an outdoor bike that people race on with the smaller seat and low handlebars.
q:

What are the different types of tension?

a:

There is air resistance which is created with a flywheel on the bike. The only adjustment is the more resistance is created by how fast you pedal. Mechanical resistance is created by a tension belt which wraps around a flywheel. It is adjusted with a knob. The most modern design is the magnetic resistance flywheel. There is also an electromagnetic resistant bike which is decreased or increased electronically.
q:

Which is better, belt drive or chain drive?

a:

There are pros and cons to both. The chain drive lasts longer but it is noisy. It can also go forward or backward. The pedals spin until you brake. With the belt drive system, if you stop pedaling the flywheel continues to spin. The belt on your cycle will eventually wear out and you will have to replace it.
q:

Is using an indoor exercise bike effective?

a:

The average user can burn close to 19 calories a minute or 1,140 calories an hour. Not only is it good exercise, but it is a great help in burning off fat.
q:

How long should I cycle?

a:

You want to burn as many calories as possible when you are working out so you can lose body fat. Starting at 30 minutes and working up to 60 minutes is perfect so you get good heart health benefits.
Subscribe to our newsletter