Exerpeutic Elliptical Trainer Machines Review 2023
last updated:
Jan 07, 2021
The Exerpeutic Therapeutic Fitness line of home fitness equipment sets the standard for rehabilitation and therapy training equipment. Exerpeutic elliptical trainers are among the very best on the market, providing affordable exercise machines that incorporate innovative technology to help users train more efficiently. In this article, we review the top Exerpeutic ellipticals.
This is the best product on our list that is currently in stock: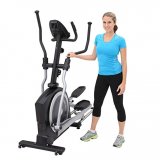 Exerpeutic Heavy Duty 21 Inch Pro Stride
Why is it better?
350 pounds max user weight
15 levels magnetic tension
3 year limited warranty
Up to a 21" stride length
15
Researched Sources
4k
Reviews Considered
8
Hours Researching
5
Products Evaluated
Value
Comfort
Durability
Features
Adjustability
By Default
Top 10 Picks
1

. Exerpeutic 5000 Magnetic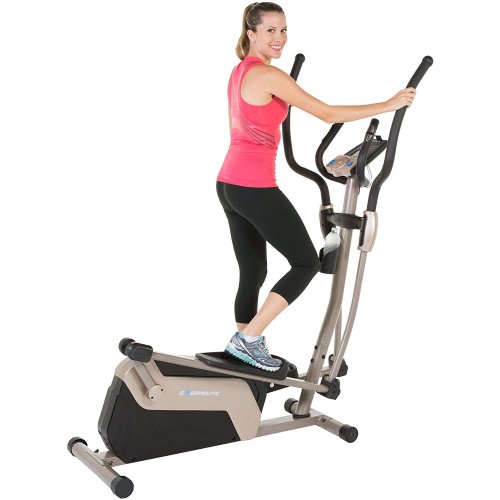 Double drive transmission system
Bluetooth enabled
Three piece cranking system
Extended leg stabilizers
Machine squeaks a bit when in use
This elliptical packs an array of useful features into an affordable elliptical machine for home use.
Read more
The Exerpeutic 5000 Magnetic trainer features a double drive transmission system with magnetic tension resistance. There are hand pulse sensors to monitor your heart rate. The 5000 has a 270 pound user capacity.
You also get mobile app tracking via Bluetooth. It is compatible with both Apple and Android applications. The stride length is 18 inches, providing a smooth, full range of motion.
There is just a six inch distance between the foot pedals, so you don't get any inner thigh stress. A three piece cranking system provides continuous momentum. The machine uses a two flywheel and two belt design system, providing you with double the gear ratio. Extended leg stabilizers provide you with a very secure platform to exercise from.
2

. Exerpeutic Heavy Duty 21 Inch Pro Stride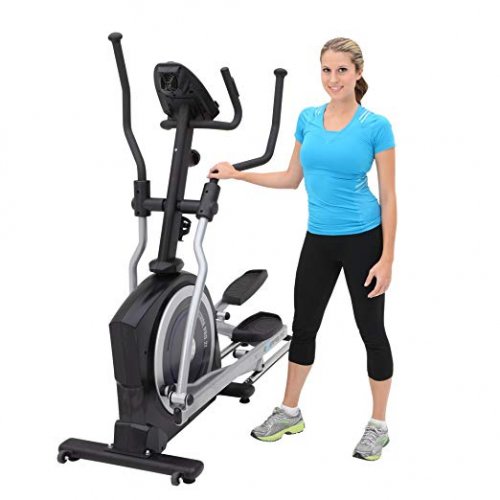 350 pounds max user weight
15 levels magnetic tension
3 year limited warranty
Up to a 21" stride length
A bit squeaky when in use
The Exerpeutic Super Heavy Duty 21 provides you with the longest stride length we've seen in any home elliptical - 21 inches.
Read more
This extremely robust and rigid machine is near commercial gym standard, being able to handle up to 350 pounds of user weight. A solid state, forged steel cranking system provides you with fail safe operation that is amazingly smooth and natural. This elliptical is aimed at larger fitness enthusiasts, although anyone can jump on and start working out. Exerpeutic also supplied a water holder and accessories storage.
The Exerpeutic Super Heavy Duty 21 provides you with 15 levels of ECM magnetic tension, so that you can train across all intensity levels. The dual direction flywheel allows you to stride in both a forward and backward motion. The patented Dura Tight tension system never needs adjustment. This product comes with a 3 year limited warranty.
3

. Exerpeutic Aero Air Elliptical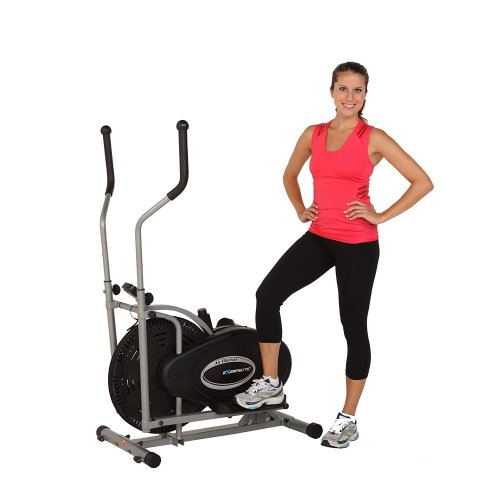 Reinforced crank system
Compact
Sturdy
Reasonable price point
Difficult to put together
The Exerpeutic Aero Air Elliptical trainer is a compact strider that is ideal for apartments and small home gym spaces.
Read more
The machine encourages a natural, fluid stride motion to give you an effective and injury-free workout. The Aero Air features a reverse stride motion to work all the muscles of the lower body. This simple strider is surprisingly sturdy and has a 250-pound max user capacity.
The reinforced crank system of the Aero Air Elliptical ensures a smooth, jerk free operation. The fan drive operation provides a quiet movement. Dial in your resistance with an easily accessible wheel. There is a computer and LCD screen, but features are sparse as this is an entry level elliptical. The computer will give you distance, time, speed, and calories burned, but not heart rate.
Large pedal construction includes a ribbed dot design to keep your feet firmly in place. Transportation wheels are provided for easy movement. This unit comes with a 12 month limited warranty. The stride length is just 12", which will discourage many users.
4

. Exerpeutic 1000XI High Capacity Magnetic Elliptical with Pulse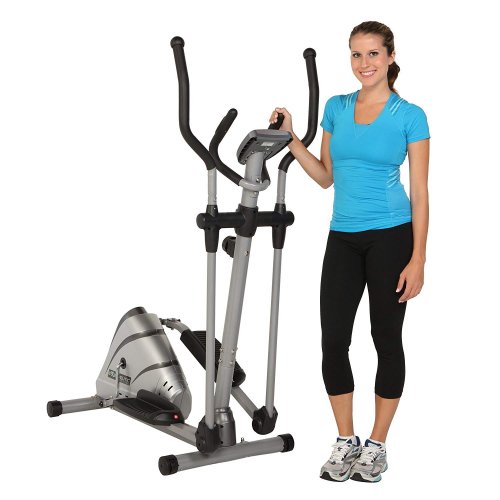 8 levels of magnetic resistance
Dual action arms
Pulse sensors
Stride motion is smooth
The Exerpeutic 1000XI Magnetic elliptical with pulse monitor gives you a zero impact workout for the lower body along with dual action arms to work your upper body.
Read more
There's no bouncing or jerkiness with this strider, thanks to the ergonomic design that delivers a natural elliptical motion. This is a solid unit, with a rigid steel frame. The max user weight is an impressive 325 pounds.
The dual direction flywheel of the Exerpeutic 1000XI Magnetic elliptical gives you an effective stride that won't hurt your joints. There are 8 levels of magnetic resistance to provide you with a range of resistance levels. Heart rate monitoring is provided by way of hand held pulse sensors. The operation of this unit is whisper quiet.
An installed LCD screen gives you essential data, including your heart rate if you hold the handles. This is a family friendly unit, safe and effective for people of all ages and fitness levels.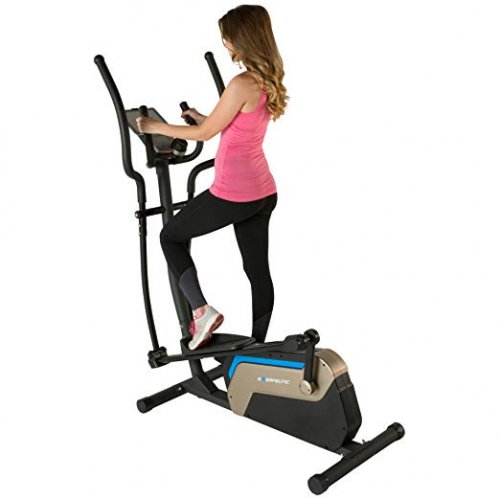 Double flywheel
14 resistance levels
Large stride pedal design
Good for beginners
A little shaky at high intensity levels
The Exerpeutic 4000 double transmission drive system provides you with a great workout without putting undue stress on your shins, ankles and knees.
Read more
The unit has two flywheels and two belts to provide smooth, fluid motion and increased momentum. The double transmission system is amazingly compact, providing you with a shorter overall length and width. You get 14 levels of magnetic tension which are controlled by the computer console.
Hand pulse sensors are built into the handlebars, allowing you to train within a targeted heart rate zone. The large stride pedal design prevents foot slippage and a gel pad support for mobile devices provides extra stability. The natural motion on Exerpeutic 4000 is smoother than on any single flywheel machine.
Unlike many lower-priced ellipticals, this one has armrests for a more comfortable ride. Stabilizer bars prevent any side to side motion of the unit. The rear stabilizer contains a leveler that you can use to make the machine level even on uneven floors.
Criteria Used for Evaluation

Value
Exerpeutic offers some of the best value in the industry.
Exerpeutic specializes in light home equipment with many gym-quality features, all at budget friendly price point. We tried to emphasize features in our reviews, but we understand that sometimes features are not everything. You wouldn't want to pay for a computer that you'll never use, for example.
So value is more than just price. If you could afford an elliptical with every imaginable feature, and you decided that was what you wanted, that would be fine. We encourage people to be wise shoppers and do comparisons, but in the end everyone's idea of value is subjective.

Comfort
Being comfortable means a greater chance of long term use.
All of Exerpeutic's ellipticals are comfortable. The company is know for that, since their main purpose is to treat injuries. People recovering and dealing with pain do not want to also deal with discomfort as they work to get better.
For some people, a padded seat will be enough comfort. For others, it could mean Bluetooth for music and a drink holder. Cooling fans are another feature you can find on some ellipticals. And of course, every elliptical is designed to combat discomfort by keeping strain off the joints and ankles.

Durability
Durability is important because it will affect you, and your equipment, for as long as the equipment is in good usable shape.
The flywheel and other internal mechanisms are often inaccessible on an elliptical. Unless you have training, you should not open the flywheel compartment. But there are plenty of things you can do to help the elliptical and its parts last longer.
Wiping down the body, seat, accessories and LCD screen are probably the best things you can do to extend the life of your elliptical. Sweat and moisture can seep in to the computer screen and cause problems. You can't make the frame any stronger than it is, but you can give your elliptical the best shot at longevity by wiping it down regularly.

Features
Features give you a more productive experience.
We have tried to outline all the features on each elliptical, so you can compare and decide on the features you need.
Not every elliptical user is after the same things. For the most part, you have to balance the features you find most essential with whatever your budget is for the elliptical. There's no reason to pay for something if you'll never use it. On the other hand, if there is an extra feature you really want, you may think about saving up to pay for the unit that has it. If you really want Bluetooth speakers, and you don't get them, you may look at the elliptical for a long time and feel that you compromised when you should not have.

Adjustability
The main concern with adjustability, for elliptical machines, is in stride length. A comfortable stride is absolutely essential for a good workout and for pain prevention.
Of course, you can also adjust resistance, sometimes with a knob and sometimes with a touch screen. Ellipticals are not one size fits all, so it is wise to try out all the adjustments, or at least talk to people who have owned the elliptical you want, before you buy.
Expert Interviews & Opinions
Most Important Criteria
(According to our experts opinion)
Experts Opinion
Editors Opinion
Users Opinion
By Default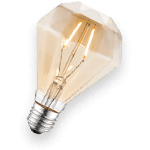 Benefits of an Eliptical
Using an elliptical will improve your cardiovascular strength and endurance. It can also do it without the calf and ankle pain some people experience on a treadmill. An elliptical trainer also strengthens your upper body, and it will do it without causing joint paint since the pedals and rotation design make the elliptical virtually zero impact.
Since they burn so many calories, and are so easy to use, an elliptical might help you lose weight when combined with a healthy eating plan and overall fitness program.
These are the common benefits of an elliptical trainer. What you may not be thinking about is your ability to customize your workout with one. You can change the speed and resistance at any time, including pedaling backward with most machines. This means an elliptical trainer can be a lot more fun than a treadmill. If you have fun doing something, you will probably want to keep doing it.
Ellipticals and Other Exercises
You don't have to spend all your time on the elliptical trainer. Consider doing short bursts with low resistance, then jumping off to hold a plank for a while or do some dumbbell flys on the bench.
You could even use the elliptical as the intense portion of a HIIT workout, jumping off to walk around the building or do a few yoga poses as your rest interval.
The elliptical trainer works out so many muscle groups and can be so easy to use, that we can get stuck in a pattern of only using the elliptical, or otherwise neglecting strength training or other forms of cardio. Look around and try to think of ways you can mix it up, and which other exercises appeal to you. If you only do one thing, and you do it for very long, it can lead to injury.
Other Factors to Consider

Stability
All of the elliptical trainers we reviewed have some kind of special attachment on the feet or stabilizers, to keep the machine flat on the floor so that the person using it can be confident they will not fall.
When you consider that the elliptical trainer is often favored by elderly people, because it eliminates joint pain, stability becomes even more important. An elderly person may have issues balance and can fall easily. A good foundation for the elliptical will reduce the chances of that happening.

Effectiveness
We've touched on how an elliptical trainer can strengthen your muscles as well as your cardiovascular system. But how long does it take for that to happen? What can you do if you bought an elliptical machine six months ago, have used it four time a week, and still are not seeing results?
We can't predict the future, but we can look at other reviews and the manufacturer's documentation. We can say with confidence that, if used properly, all the machines on our list will improve your overall fitness level.
Frequently Asked Questions
q:

Why did you focus so much on Exerpeutic?

a:

Exerpeutic has an excellent reputation in the industry. They are known for providing feature-rich machines at very reasonable prices. Many of our readers use Exerpeutic machines, or are interested in them, so we wanted to save everyone some work by putting five of the best in the same place.
q:

Can I bring a gym quality elliptical to my house?

a:

You can, but it will be extremely heavy and difficult to transport. It may even crack your floor.

In addition to this, a gym elliptical can cost more than $3,000. Some of the ones on the list are less than 200, and will provide you with similar cardiovascular benefits.

With the gym elliptical, you might have some advanced features, like changing a setting to target your hamstrings more. It may be worth it to you, but if you ever had to move the machine to a different room, it would be very difficult.
q:

Can I use my elliptical without the poles?

a:

If you are comfortable and balanced enough not to feel like you will fall, then yes. It will help you with balance while also making your legs work harder. Sometimes it can be fun, too, just for a change of pace.
q:

What's the point in walking backwards?

a:

It will target you calves and quads, give you a brief challenge, increase your heart rate, and break up the monotony of doing the same thing for so long.
q:

Are these better than manual ellipticals like the Gazelle?

a:

"Better" is probably not the word we would use, because nearly all fitness equipment is useful for the right person. But we can tell you that these elliptical units offer greater resistance, a smoother ride, more integrated features, and the capability to increase your heart rate more if you desire.
Subscribe to our newsletter