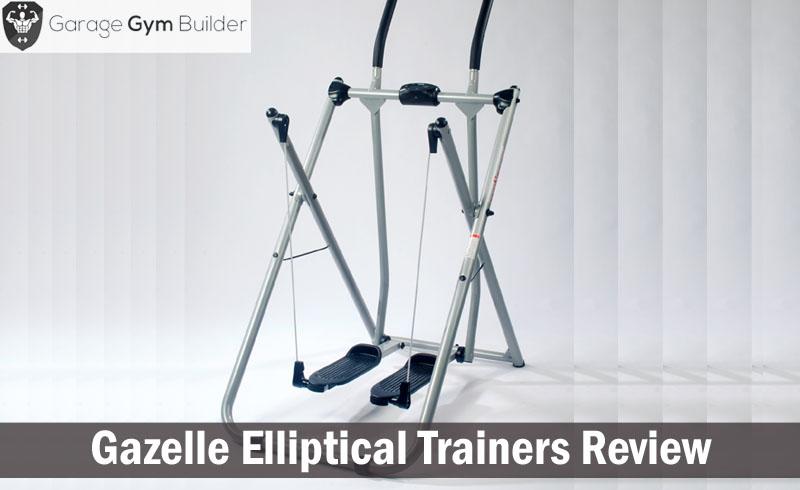 Gazelle Elliptical Trainers Review 2018
Gazelle Elliptical machines are non motorized machines that rely on your bodyweight momentum for movement. They do not have a set glide path, which allows you to get a much fuller range of motion than the majority of elliptical trainers. The machines support your body in mid air, making them extremely low impact and a great choice for rehabilitative exercise training. In this article, we review Gazelle's most popular elliptical along with 3 alternative reviews.
The Best Gazelle Elliptical Trainer
The Gazelle Freestyle Step Machine provides you with the ability to do 10 exercises that target both the upper and lower body, along with cardio fitness. On this unit, you can enjoy an unrestricted range of motion that fully engages the glutes, hamstrings and core. Unlike on a motorized elliptical, you go can smoothly move from a walk to a full sprint stride with no stops or jerky action.
The Gazelle Freestyle Step Machine elevates your body and has large secure foot pedals. The free range of motion is extremely joint friendly, so you will have no knee or ankle joint problems when working out. The centrally located computer module has an ongoing record of your speed, distance, time and calories burned.
A patented dual action split suspension system makes sure that you get a complete, natural elliptical stride motion on the Gazelle Freestyle. This machine can be folded up very easily for compact storage. The maximum user weight of this unit is an impressive 300 pounds. Along with your purchase comes a nutrition guide, a 22-oz water bottle and holder. You also get two excellent training DVDs.
Free, full range of motion
Dual action, split suspension
Max user weight of 300 pounds
Gazelle Alternatives
The Gazelle Freestyle stepper is an effective full range motion elliptical. However, it does not provide adjustable resistance as you get with motorized units. The Sunny Elliptical SF-E905 provides you with 8 levels of resistance, and is extremely lightweight and compact. The Body Rider Fan Elliptical trainer is a fan powered unit, with free arm motion and sturdy steel frame. The Akonza 2 in 1 Elliptical has a chain driven mechanism and a smooth, fluid cycling motion.
The Sunny Elliptical SF-E905 provides a magnetic resistance cross trainer that contains a micro controller. While your range of motion is not as free and extreme as with the Gazelle Freestyle Stepper, it does provide you with adjustable resistance to 8 levels. Oversized anti-slip foot platforms provide you with a good deal of foot stability and body positioning. This is a solid, sturdy unit with a 220 pound max user weight.
The Sunny EF-E905 provides you with a hand pulse monitoring control. The LCD screen monitors all of your essential training data. Dual handles provide you with the means to customise your body positioning. This is a lightweight unit that is very easy to move around.
8 resistance levels
Compact
Inexpensive
The Body Rider Fan Elliptical trainer is a motorized alternative to the Gazelle Freestyle Stepper that offers a combination of elliptical and exercise bike. You can both stand and sit while using the elliptical option. The frame is extremely solid so that you get a steady base to work from. The cycling motion is very smooth and fluid. The fan motion offers a cooling effect as you train.
The Body Rider Fan Elliptical trainer gives you a free arm motion to work both your upper and lower body. It provides easy tension adjustment with the turn of a knob. A digital display tracks your time, speed, calories, and distance traveled. The max user weight of the Body Rider is 250 pounds.
Fan powered
Free arm motion
Sturdy steel frame
The Akonza 2 in 1 Elliptical offers similar training options as the Body Rider Elliptical, but with slightly higher specs. Just like the Body Rider, you get two machines in one; an upright cross trainer and an upright exercise bike. The elliptical motion of the Akonza provides a very fluid exercise motion thanks to the chain drive resistance mechanism and magnetic tension levels. Maximum user weight is 250 pounds.
The digital motor functions of Akonza 2 in 1 Elliptical machine provides you with a readout of your time, speed, distance, calories and heart rate. Your heart rate is detected by way of sensors embedded in the handle bars. The seat of the Akonza adjusts both vertically and horizontally to allow for a custom fit.
Sturdy steel construction
Chain driven resistance
250 pound max user weight
Wobbles under intense exercise
Conclusion
The Gazelle Freestyle Step machine offers a unique training experience in comparison to the many motorized units on the market. This no motorized unit provides you with a greater range of motion and more impact free motion. It has dual action suspension and a maximum user weight of 300 pounds. If you're after a machine that provides adjustable resistance, the Sunny Elliptical SF-E905 provides 8 resistance levels, and is compact and inexpensive.
The Body Rider Fan Elliptical trainer is a combination elliptical an exercise bike which provides a free arm motion, a sturdy steel frame and is fan powered. Finally, the Akonza 2 in 1 Elliptical offers a chain drive resistance to power its dual functionality.
---