Best Pedal Exercisers You Can Use At Your Desk
last updated:
May 20, 2020
Finding the time to exercise is a constant challenge, especially when doing cardio work. By combining your workout with your work, however, you are able to conquer the time challenge in the most innovative of ways. Desk cycle pedal exercisers allow you to do exactly that.
With more and more people sitting at desks all day for their job, we decided to make the workplace a bit more fun and a lot healthier by looking into different pedal exercisers that can help you achieve your personal fitness goals. In this article, we point you to the 10 best desk cycle pedal exercisers on the 2019 market.
This is the best product on our list that is currently in stock: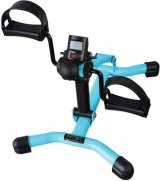 Fit Sit Deluxe
Why is it better?
Cool Rev Overheating technology
Anchor strap
Range of colors
Features
Versatility
Value
Durability
Ease of Use
By Default
10 Best Pedal Exercisers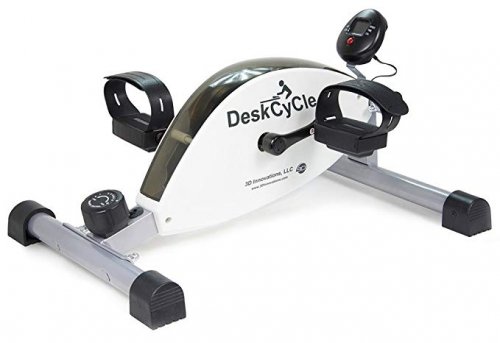 Compact to fit under any desk
8 resistance settings
Fluid pedal motion
The monitor on the Desk Cycle provides a clear display of your vital training data, including speed, distance, time, and calories burned. The pedals have adjustable straps to allow for a secure foothold. The bidirectional pedal motion allows you to effectively work every muscle group on your lower body.
Read more
The Desk Cycle pedal exerciser packs a lot of functionality into a small space. Being only 10 inches at its maximum height it can fit under any desk, even ones as low as 27 inches. With 8 calibrated resistance settings, you get twice as much capability as most other pedal exercisers on the market. The magnetic resistance of the Desk Cycle provides smooth fluid pedal operation without the stuttering that is common with pedal exercisers.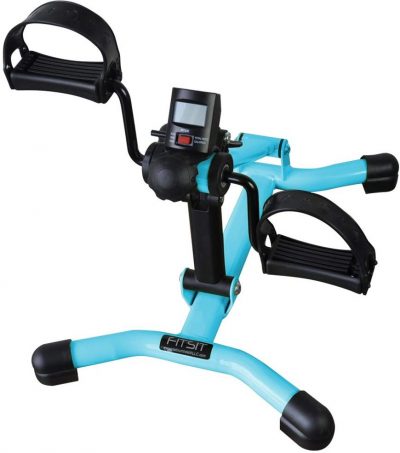 Cool Rev Overheating technology
Anchor strap
Range of colors
Fit Sit Deluxe uses a magnetic form of resistance to provide smooth operation. Includes is an anchor strap that will keep the unit securely in place as you are using it. The Fit Sit is available in a range of color options.
Read more
The Platinum Fit Sit Deluxe can be used to strengthen both the legs and arms, for both general fitness and rehabilitation. It has a centrally located LCD monitor that provides you with readouts of your time, distance, calories burned, rpm and speed. Patented Cool Rev technology ensures that the unit doesn't overheat, which is a common problem with pedal exercisers. The sturdy frame on this unit folds easily for compact storage.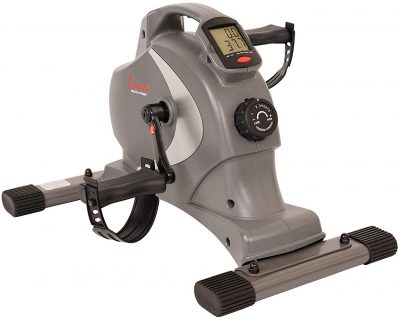 8 levels of resistance
Very solid unit
220-pound max user weight
A little noisy until it is 'broken in'
With a 220-pound max user weight, the Sunny Health and Fitness B-0418 is built to perform. It is easy to assemble and extremely portable. The Sunny pedal exerciser provides a smooth, natural pedaling experience that feels like you're actually riding a bike.
Read more
The Sunny Health and Fitness B-0418 pedal exerciser is a stylish unit that comes in grey and has a handy carry handle on top. It features 8 levels of micro-tension adjustable resistance by way of a centrally located front knob. Safety pedals have adjustable straps and are ergonomically designed to work with both the hands and feet. The unit is solid and has sturdy feet to keep it level and in place as you pedal.
4

. ANCHEER Pedal Exerciser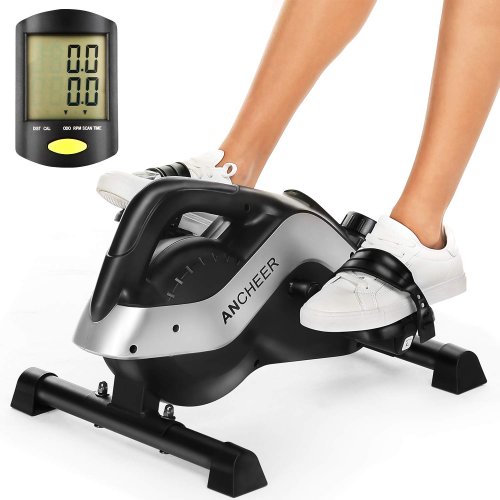 Extremely quiet
Compact in size
Offers 8 different resistant options
Might be better equipped for lighter workouts
The Ancheer pedal exerciser is equipped with a sturdy handle, making it ideal to carry with you when you are traveling and easy to store away when it's not in use. Made from high-quality material and backed by a 90-day satisfaction guarantee, your money spent is well worth the investment.
Read more
The Ancheer pedal exerciser bike is a sleek designed unit that is very functional and is equipped with smooth pedal technology that allows you to workout without distracting others. It has a tension control option that allows you to adjust the level of tension, with 8 different selections to choose from. The machine comes with straps and a non-slip grip, so you don't have to worry about your feet slipping around during your workout. It is also equipped with an easy-to-read display that helps you track your progress.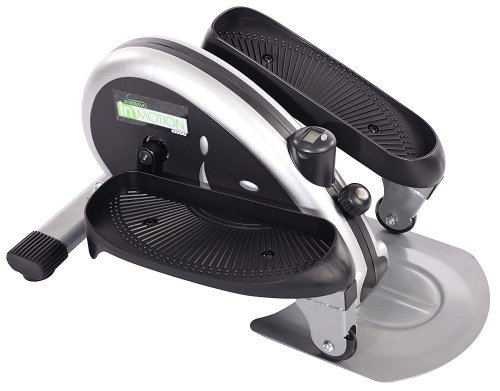 Textured pedals
3 color options
Multi-resistance
Needs lubrication to prevent squeaking
The pedals on the Stamina In-Motion are textured to provide a firmer grip to your feet. This means you can pedal harder without the fear of your foot slipping. You also get bi-directional pedaling so that you can work every muscle in your legs. This unit is available in three color options.
Read more
The Stamina In-Motion Elliptical Trainer is an extremely versatile, low impact way to get in your cardio workout when you're on the go. The multi-resistance tension knob allows you to smoothly adjust the resistance up or down to suit your desired intensity level. A conveniently located multi-function fitness monitor keeps track of your calories burned, speed, time, and distance, allowing you to scan through these statistics.
6

. EVA Medical Pedal Exerciser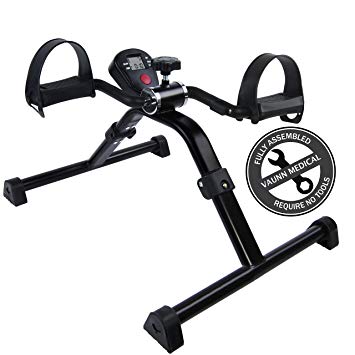 Designed for rehab use
Lightweight
Solid chrome frame
When pedaling hard, the unit may move
.The robust chrome frame of the EVA pedal exerciser has been ergonomically designed to provide stability and to give an effective rehabilitative workout. Unlike other pedal exercisers that have multiple parts connected by screws, this is a one-piece design that ensures solid, reliable performance.
Read more
The EVA Medical Pedal exerciser has a stylish chrome frame and comes pre-assembled. This unit is specifically designed for rehabilitative and physical therapy use and has been medically approved for those purposes. This is a basic unit that is very lightweight. It is just as effective as an arm exerciser as it is for legs. The tension is adjustable by way of a centrally located knob.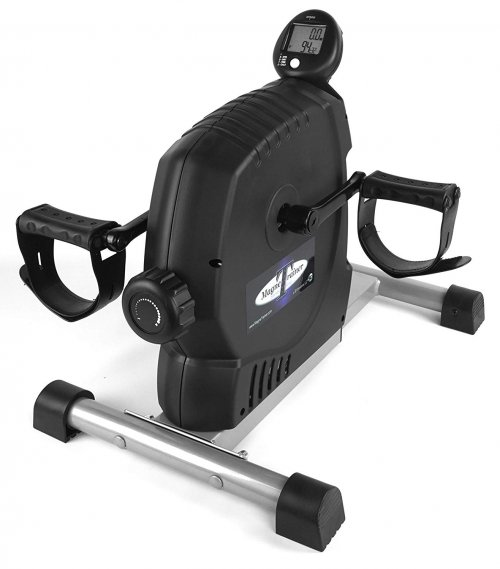 Very solid
Extensive range of resistance levels
Wide base
Heavy
Too tall for some desks
Adjustable Velcro straps on the pedals allow secure feet or hands placement as you are exercising. The monitor on top of the unit provides a readout of your vital training data. Magne Trainer-ER is an ideal unit for people who want a serious cardio challenge as well as those requiring physical therapy.
Read more
The Magne Trainer-ER is a sturdy pedal exerciser with a plastic-encased base. It provides a very smooth pedaling experience by way of the patented magnetic resistance system. In fact, it offers you up to twice the range of resistance levels that you get from most of the competition. The wide base and legs give this unit an unequaled level of stability, allowing you to go hard without fear of the machine moving around.
8

. Confidence Fitness Motorized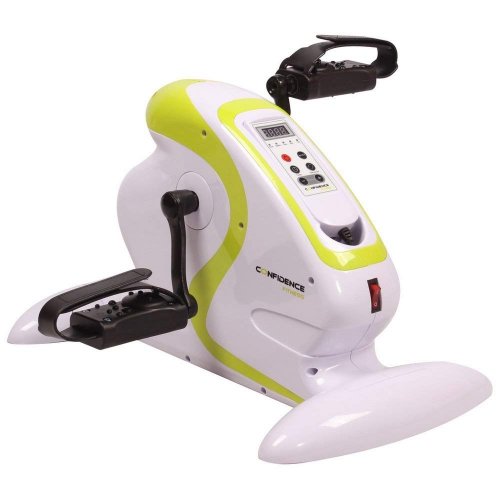 12 adjustable speed settings
Motor assistance option
6 exercise programs
May not have enough max resistance for some users
The built-in computer gives you 5 built-in exercise programs, that range from 5 to 30 minutes in length. There is also a manual program for you to set yourself. The monitor provides a rolling display of all of your vital training data. The pedals are non-slip and come with adjustable straps.
Read more
The Confidence Fitness Motorized pedal exerciser is a motor-assisted unit that is ideal for rehabilitative work as well as general fitness. It features 12 adjustable speed settings to give you the choice you need to exercise at the intensity you desire. When your fitness level increases you can switch the unit to manual setting to remove the electronic assistance. The Confidence exerciser works equally well with legs and arms.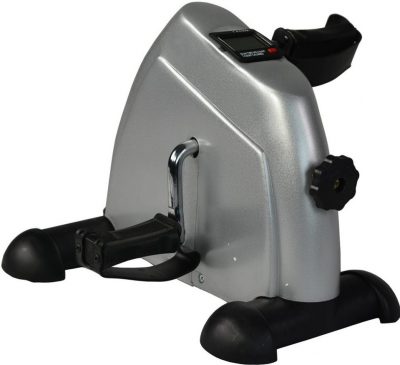 Solid yet lightweight
Smooth pedal motion
Range of resistance levels
Not enough resistance for experienced users
A monitor is featured on the top of the unit, giving you a readout of your time distance, calories burned, and speed. The Leopold mini cycle is a stable, robust unit that can be placed under a desk or on a table for use as an arm exerciser. It may not, however, provide enough resistance for seasoned exercisers.​
Read more
The Leopold mini cycle is a compact, solid, yet lightweight, unit that provides a gentle exercise solution for rehab purposes. It can also be used for general fitness, providing a range of resistance levels by way of a centrally located knob. The pedaling motion is low impact and smooth, being free of the jerkiness that is common with many pedal exercisers.
10

. Therapy Trainer Therapy Cycle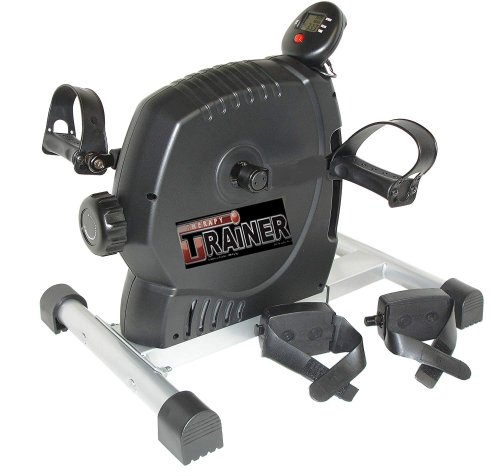 Specially designed by medical professionals for rehab
Huge resistance range
Smaller spindle size easier on the joints
The Therapy Trainer features a smaller spindle size on the pedals than you find on most machines. This makes the pedaling motion easier on your joints during rehab training. Even though designed for rehab, this cycle will provide a challenging workout for anyone.
Read more
The Therapy Trainer Therapy cycle is a rehabilitative, physical therapy cycle that is used and recommended by fitness professionals all over the world. This unit provides a huge range of resistance levels, from 0 to nearly 170 watts. The magnetic resistance ensures an extremely smooth, jerk-free pedaling motion. The wide base and solid componentry of the Therapy Trainer ensure that this unit sits solidly on the floor without wobbling as you are exercising.
Criteria Used for Evaluation

Features
When purchasing a pedal exerciser, it is important to know the different features the product offers and what features are best suited for your needs. That is why we took the time to go over the different types of features that are offered with these pedal exercisers, to help you get a clearer picture of what is best for you.
Most of us have goals in mind when it pertains to exercise and the equipment we decide to use. Whether you are looking into pedal exercisers to help with toning or to help alleviate medical issues that can come along with sitting at a desk all day, it is important to know what you are looking for.
Lucky for you, most of these pedal exercisers come equipped with display functions that help you keep track of your overall fitness. With easy-to-read displays that keep track of things like the number of calories burned, overall distance, the amount of time spent on the machine, and the number of revolution per minute, you will never have to worry about guessing your way through your workout. With easy-to-follow instructions and push-button technology, working out and keeping track of your fitness goals has never been easier!
If that wasn't enough to catch your attention, they also come equipped with different levels of resistance. This allows you to change the level of difficulty of your workout depending on your specific needs. From beginners to those on a more advanced workout regime, there is something for everyone!

Versatility
With nearly 80% of today's jobs being sedentary or requiring very minimal physical activity, it is important to find new, innovative ways to help with overall health and fitness. It can be challenging to say the least when you spend most of your day sitting at a desk. That's where the pedal exercisers come into play.
Pedal exercisers were designed for those of us who spend the majority of our day sitting at a desk. Since they are compact in size and have adjustable heights, you can place this exercise machine under most standard desks and work on maintaining a healthy lifestyle while you work.
The pedal exercisers aren't just for your legs either! They also work for your arms, so you can get a whole body work out from one machine, which only adds to the versatility and value of these kind exercisers. What was once designed with therapy in mind, has now become an easy, stress-free way to get your muscles toned and your body back into shape.

Value
It can be an overwhelming task to determine how much you should be spending on a pedal exerciser and what functions will best suit your needs. That is why we took the time to make look into the overall value of these exercise machines, so you can rest assured that you are getting your money's worth!
When shopping for the perfect pedal exerciser, there are a few things you will want to look for. The first thing you will want to keep in mind is your budget. With your budget in mind, you will then want to look for specific functions that will help you best reach your goals. If you are looking to simply add some exercise to your daily routine while sitting at your desk, then you won't necessarily need a machine with all of the bells and whistles, so to speak. You will also want to pay close attention to the size of the machine, to make sure that it will fit underneath your desk without causing your body any strain.
If you are looking for a machine that helps you continuously build off of your exercise goals and are looking to increase muscle tone, you will want to pay attention to pedal exercisers that offer more levels of resistance. The more levels of resistance, the more likely you are to achieve the muscle tone you are searching for.
There are also machines that are specifically designed for a more therapeutic approach. These machines are designed to help with rehabilitation for those who wish to continue their therapy at home or at work.
You can find a lot of the functions and features that you are looking for without having to burn a huge hole in your wallet. The pedal exercisers on this list were carefully researched to give you the most value for your dollar.

Durability
How important is it to pay attention to the overall durability of a pedal exerciser? We are here to tell you exactly how important it is and how it can not only impact the longevity of your machine but how it can impact its overall performance.
Finding the perfect pedal exerciser can feel a tad overwhelming, especially if you don't know what you are looking for. The overall durability plays an important role in the effectiveness and quality of the machine.
The durability of the exerciser depends on numerous factors. The first thing to pay attention to is the strength of the body of the machine. A lot of pedal exercisers are made lightweight due to the fact that most people would prefer to have them as portable as possible. Keep in mind that lightweight does not necessarily mean cheap since you will want to be able to easily carry it around for storage.
You will also want to pay attention to the pedals. Most come with adjustable straps and non-slip grips to help keep your feet sturdy while exercising. This will help keep you from injuring yourself and setting you back from your goals.

Ease of Use
Another important factor to keep in mind is the ease-of-use. There's nothing quite as frustrating as getting a new product and having no idea how to use it. This is why we took the time to make sure that the products on this list are easy to use and come equipped with easy-to-follow instructions.
Most pedal exercisers come equipped with a digital display that helps you keep track of your fitness. These easy-to-read screens provide self-explanatory instructions on how to operate and track your data, which takes the guesswork out of the equation.
Transitioning to different levels of resistance is also important. You will want to be able to switch the levels with ease of mind and without any unnecessary struggles. The same goes for the pedal straps and the overall motion of the machine. The easier it is to use, the less likely you will end up injuring yourself in the process.
Expert Interviews & Opinions
Most Important Criteria
(According to our experts opinion)
Experts Opinion
Editors Opinion
Users Opinion
By Default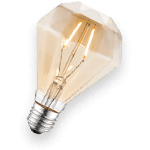 Positioning
When it comes to pedal exerciser's most people would think that it is pretty self-explanatory. And, yes, for the most part, they are. There are a few things that you need to keep in mind when using one of these exerciser's and educating yourself prior to using one can mean the difference between reaching your fitness goals and injuring yourself to the point of having major physical setbacks.
One of the most important things to keep in mind is the position. This not only refers to the machine itself but the position of your body as well. When you place the exerciser under your desk, you will want to make sure that it is placed in a comfortable position where you are not having to stretch and reach just to pedal. You will want the motion to feel as natural as possible. Doing so will help prevent injury.
You will also want to make sure that you are sitting straight up. Your back should be leaning against your chair with your hips directly underneath you. This will help prevent any tweaking in your back and will also help with strengthening your core. If your knees are hitting your desk while you are pedaling, you will need to adjust the pedal height accordingly. You should be able to have a fluid pedal motion while keeping your legs straight and your knees not bowed.
Proper Pedaling Motion and Resistance
Another way to prevent injury is to also pedal using a downward motion. This will not only help prevent injury, but it will also help keep your chair from moving and help you focus on keeping your body still. Your legs should be doing the majority of the work.
Starting out slow is key to overall success. This refers to tension, speed, and the amount of time you spend on your pedal exerciser the first couple of days. Depending on your physical activity level, you might want to start on the first level of resistance and at a lower speed. If your daily activity level is low, using the exerciser for no more than 30 minutes is advised.
Other Factors to Consider

Effectiveness
Essentially, we are referring to how well the pedal exerciser works. You will want to keep in mind the goals that you are trying to reach when making this kind of purchase.
Some exercisers are built more for physical therapy and less for overall toning. These exercisers work wonders for those who have to work up slowly to their goals, or for those who have medical conditions that prevent them from doing anything too extreme. The last thing you will want is to have any kind of setback from your progress.
If you are looking for a way to build muscle, improve circulation, and tone your muscles, then you will want to look for an exerciser that offers multiple levels of resistance. The more levels of resistance the machine offers, the more toned you will get, and the longer the machine will continue to help you work towards your goals. In doing so, you will find that reaching your fitness goals is just that much easier and a lot more effective.
Frequently Asked Questions
q:

Aren't all pedal exercisers the same?

a:

No, they can actually be quite different. The type of pedal exercise you will want depends on what you are using it for. If you are looking for something that just helps improve circulation from sitting at a desk all day, then you wouldn't necessarily need something that offers numerous levels of resistance. If you, however, are looking to help build muscle and tone, then you will want to look for one that offers the different levels of resistance to help you reach your desired goals.
q:

Can all pedal exercisers be used for arms as well as legs?

a:

Yes, most machines are designed to work both your arms and legs. Pay close attention to the style you are getting because some are just not designed ergonomically correct for you to use it for your arms. If you are looking for an overall workout, you will want to make sure that the machine is adjustable so that you don't end up injuring yourself.
q:

Can pedal machines be used while sitting in a wheelchair or bed?

a:

Yes, the majority of pedal exercisers can accommodate most sitting positions. This works perfectly for those who are transitioning into at-home rehabilitation or those who are wheelchair-bound.
q:

Do pedal exercisers come with straps?

a:

Yes, you will find that the majority of pedal exercisers come with straps on the pedals. This offers a lot more stability and helps prevent any injury from occurring. The straps are usually adjustable as well, so whether it is just you using the machine or your entire family, the straps can adjust according to whoever is using it at the time.
q:

Do you have to wear shoes?

a:

Some people have medical issues that may cause their feet to swell, making it uncomfortable to be wearing shoes. You don't necessarily have to wear shoes while using a pedal exerciser, but since the pedals aren't soft and have some form of a grip on them, it is recommended that you wear something over your feet so you don't end up with unnecessary bruising or injury.
Subscribe to our newsletter