Best Small Elliptical Machines in 2021
last updated:
Jan 07, 2021
Few pieces of gym equipment are as versatile, convenient, and comfortable to use as an compact elliptical machines. At the same time, few workout machines are as expensive and space-consuming as an elliptical either. So should you cross the elliptical off your wish list, and maintain a gym membership so you can have access to these dream machines? Of course not. There is a compromise between a pain-free workout and a healthy checking account. For less than five hundred dollars, you can get a compact elliptical, with only the essential features, that will be practically maintenance-free while also giving you all the cardio and strength benefits you crave. We did the work for you and researched the top ten best small elliptical machines for your home gym or even your workplace since most of these models are portable and unobtrusive.
In a Hurry? The test winner after 38 hours of research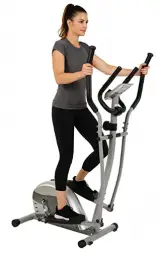 EFitment Magnetic Elliptical
Why is it better?
Adjustable foot pedals
Super quiet operation
Customized ergonomic positioning
Easy to move around
In a
Hurry? Editors choice: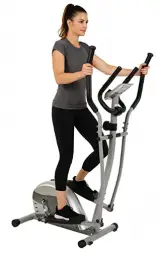 Test Winner: EFitment Magnetic Elliptical

35
Researched Sources
8k
Reviews Considered
17
Hours Researching
15
Products Evaluated
Advanced Features
Ease of Use
Effectiveness
Weight
Style
By Default
10 Best Compact Elliptical Machines
Criteria Used for Evaluation

Advanced Features
What is the difference between advanced and standard features?
It was a little difficult deciding what is an advanced feature for an elliptical, and what is a regular feature. We decided that speed, distance, calories and heart rate readings are all standard.
Since we only looked at budget-friendly compact ellipticals, bars are an advanced feature. In our reviews, we have pointed out which machines do not have the bars and which ones do, so you can make an informed decision.
The straps featured on some of these units were a nice touch, but not really an advanced feature since straps are readily available to you at many retailers. We decided that portability and syncing up with apps were both advanced features, for this particular review. Not every elliptical can be placed under a desk, so this is a special feature that larger commercial elliptical machines can never have.

Ease of Use
Your workout can be hard, but getting ready for it shouldn't.
At Garage Gym Builder, we go on the theory that, if something is unpleasant to do, you will not do it consistently. So, to achieve good results, it is important that your equipment be easy to use.
Some of the small elliptical machines we looked at taking longer to assemble when they first arrive. But after that, everything on this list will be easy to use. Of course, there are situations that will give difficulty, including a tall person using an under the desk elliptical and bumping their knee on the desk.
We have been open about these possibilities so that, again, you can have a safe, effective workout without having to worry about anything else.

Effectiveness
Effectiveness refers to what results you can expect to see from using a product.
While no compact elliptical is going to help you gain much muscle mass that's what lifting and bodyweight exercises are for--a good one will build your cardiovascular strength over time as well as strengthen your legs. How fast this will happen is also a factor in the effectiveness of the elliptical.
Effectiveness, for you, may be different because you have your own goals. Maybe you want an elliptical primarily for recovery days, so you can get a less strenuous workout with low resistance. Or maybe you will use the compact elliptical as part of a circuit, going from lifting to using the machine. No matter what your plans are, reading reviews is a good way to make sure your new elliptical will help you meet them.

Weight
An elliptical you can't lift on your own is really not a compact elliptical.
If we were discussing commercial elliptical machines, like those at a gym, the weight would probably not be a consideration. Once in place, often bolted to the floor, these machines are designed to be left alone and never moved for many years of use.
The life cycle of a compact elliptical is different. These pieces of equipment can come with you when you go to work or when you travel. You can put them away if you know you will not use them and then go back to them later. They are all compact, and some of them can fit in almost impossibly tight spaces while still being effective.
For this reason, we found and reviewed elliptical machines that were light enough to be portable. As a customer, you may sometimes decide on a compact elliptical machine with extra weight that has more of the features you want. We have done our best to make sure you have all the information you need to choose the correct weight, even if you order the elliptical online and do not get to pick it up first.

Style
It should fit with the rest of your house.
Style may seem unimportant, but most of us want consistency in the decor of our home or gym area. Colors and designs should match, or at least not distract from each other. So we think that the more pictures you can look at before you buy, the better.
You may also think about the aesthetic of your home gym. Do you prefer a classic look, with piles of free weights everywhere? Or do you want something sleek and modern, with a tubular metal elliptical?
Maybe you like things a little cluttered, and you want to make sure you will not trip over the compact elliptical. Thinking about size and appearance will be important in that case.
Expert Interviews & Opinions
Most Important Criteria
(According to our experts opinion)
Experts Opinion
Editors Opinion
Users Opinion
By Default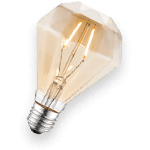 Effectiveness
How effective any piece of equipment is should always be a primary consideration in purchasing and using it.
So what makes an effective elliptical machine? One of these machines, over time, should absolutely be able to:
1. Put controlled levels of stress on your heart, so that it and your whole cardiovascular system become stronger over time and you achieve greater endurance. This is why the best elliptical machines always have a heart rate monitor.
2. You are able to lose weight on an effective elliptical machine if that is one of your goals. The elliptical should be highly effective at burning calories. This, in conjunction with a healthy eating plan, will help you take the weight off at a steady and safe rate.
3. Strength and muscular endurance gains. An elliptical is not a substitute for weight-bearing exercises that build muscle. But using one can give you more energy and increased strength, letting you stand or walk and perform your daily activities with less fatigue.
Ease of Use
Would you rather do standing curls with a straight barbell or one made specifically for curls? The one made for curls will spare you a bit of pain, but more importantly, it can give you a full range of motion for each repetition. This will make your weight training more effective, giving you better results and also helping you avoid injury.
So when we talk about ease of use, that's what we are really talking about. Injury avoidance and a full range of motion. Using the curl bar will help ensure you many more years of minimal pain and maximum progress in your fitness goals.
An elliptical is no different. So in our reviews, we avoided models with anything that seemed like an unnecessary feature. Most people will avoid something that is needlessly complex, especially if they have the choice to use other machines or equipment.
It is important to note also that complex or extra features do not always mean ease of use is compromised. There are elliptical machines with built-in virtual running programs and other interesting features. This does not compromise ease of use as long as the controls for the running program are intuitive and most users do not have to struggle with making it work.
Other Factors to Consider

Versatility
Versatility here means we looked closely for any extra features which through design inclusion, offer more for the user.
All the products certainly give the key performances expected from users, however, the market is hot and competitive and this means brand makers need to try to keep ahead.
They do this through innovative new designs and adding a few extra options, such options can be more a wider choice of exercise or the addition of useful technology.
We selected our list based on products which showed a thoughtful approach to versatility.

Value
Value is always something which we assess under our review criteria.
Value is not just the money we give to get the product, it is more.
Value covers the combination of top quality materials used, the level of durability is not only the materials but also the design and level of user-friendliness for covering exercise. We looked for thoughtful designs which showed that the product maker is looking to offer more than other brands in order to give the customer a high-value good deal.
These selected compact elliptical met the wider concept or capacity for value and we believe whichever product you choose, you will get value.
Frequently Asked Questions
q:

How is an elliptical bike different from an elliptical?

a:

An elliptical bike is essentially a bicycle with an elliptical machine framework. You stand, rather than sitting, and the elliptical motion of your legs is what pedals the bike. Other than that, the compact elliptical bike is just like any other bicycle you can take out for a spin or on your commute.

Elliptical bikes are still a new invention, so there is not a consensus on how effective they are or whether they are feasible as commuter bikes. There are people who love them, and people who say they are just too awkward and they'd prefer a traditional bike. If you are curious, you can probably find a bike shop in your area that will let you test drive one.

Of course, there are also stationary compact elliptical bikes. These are interesting because you can stand up or sit down. Either way, you will get the same benefits from one of these bikes that you would from a regular elliptical.
q:

Do I have any options if I do not want to assemble my elliptical on my own?

a:

Maybe. If you buy somewhere local, the shop probably has an employee who can come put together the compact elliptical for you. Always ask, because even if they don't have such an employee, odds are someone working there knows someone.

Another option is Amazon's Elliptical Assembly Program. This program, only a few years old, will connect you with someone close by who will do the assembly for a fee when you buy your elliptical from Amazon.
q:

What determines stride length?

a:

Stride length is calculated by measuring the distance between the heels and toes of your feet when you are in mid-stride on an elliptical. Imagine being stuck with one pedal in front of the other. The distance between your front pedal toe and your backpedal heel is your stride length.

Since most of us will never put a tape measure up to our feet during a workout, we can estimate our stride length by height. As a rule of thumb, anyone who is more than 5'7" will need to use a stride length of 18". Some people are tall enough to need a 20" stride length. While most compact elliptical machines will adjust that high to accommodate the long stride length, not all will.
Subscribe to our newsletter