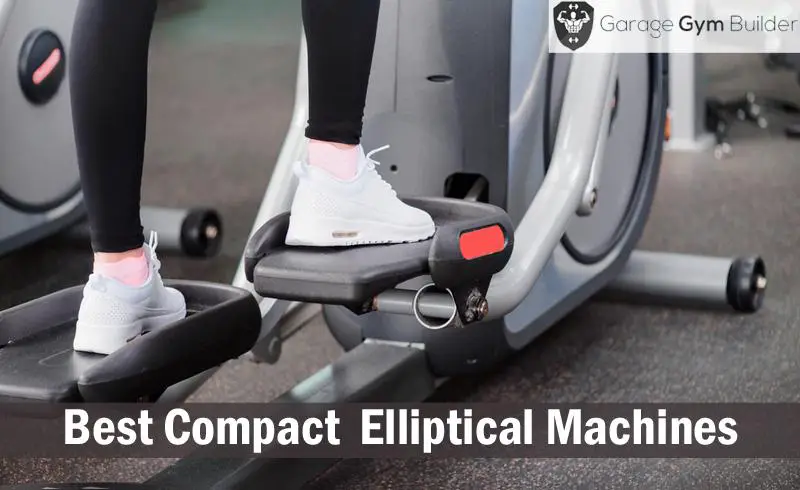 Best Compact Space Saving Elliptical Machines 2018
Having an elliptical trainer in your home gym will provide you with a fantastic cardio workout at any time of the day. For many of us, though, finding the space to fit an elliptical is a real challenge. Many of the machines on the market are bulky and cumbersome. In this article, we bring you the 10 best compact space saving ellipticals that will fit into even the most limited spaces.
A Quick Glimpse at the Top 10
The best compact elliptical trainer of 2018 is the jFit under desk trainer, which provides you with adjustable foot pedals, customized ergonomic positioning and whisper quiet operation. The second best portable elliptical is the Sunny SE-905, with it's two way striding, dynamic moving arms and great price.
Rounding out the top 3 compact ellipticals is the ProForm 10.0 CE, with it's space saver design, iFit technology technology and adjustable stride length.
To make it easier for you to compare the 10 best small ellipticals, we've rated them on the basis of price and durability. Then we've provided each one with an overall rating out of 5. In the following section, we provide in depth reviews of each product.
| | | | | | |
| --- | --- | --- | --- | --- | --- |
| | | | | | |
| | | | | | |
| | | | | | |
| | | | | | |
| | | | | | |
| | | | | | |
| | | | | | |
| | | | | | |
| | | | | | |
| | | | | | |
The Top 10 Up Close
The jFit under desk mini elliptical is the only desk model that functions also as a standing elliptical. That's because it has adjustable foot pedal angles. This versatility also provides you with customized ergonomic positioning. A series 1050 monitor records your vital training data, including calories burned.
The sturdy, compact design allows you to use the jFit anywhere without others even noticing. You also get a vary practical top handle for ease of carriage, along with an additional front handle. It also means that you can support a wheel with chairs. You get a super quiet operation with the jFit trainer, making it ideal for office applications. It grips to the floor very securely, so it won't roll away when exercising.
Adjustable foot pedals
Super quiet operation
Customized ergonomic positioning
Stride length a little short
The Sunny EF-905 is an extremely compact budget cross trainer that will fit into any space. It has a max user weight of 220 pounds and comes with a magnetic resistance. There are 8 smooth tension levels. Large anti-slip footplates provide you with safe foot positioning and has two way striding capability. A pulse sensor is built into the handlebars to allow you to monitor your heart rate.
The Sunny EF-905 lightweight elliptical gives you a very smooth workout for your upper as well as your lower body due to the dynamically moving arms. The LCD computer screen allows you to monitor all of your vital training data. It all adds up to a whole lot of performance at a very impressive price point.
Great price
Two way striding
Dynamically moving arms
Max weight only 220 pounds
The Proform 10 CE is a compact adjustable cross trainer that provides you with the ability to automatically adjust your stride length between 16 and 20 inches. You get 18 workout apps, to give you a huge range of training options. 9 of those programs are designed for weight loss and the other 9 are for fitness performance.
The Proform 10.0 CE is fitted with iFit Live technology, which allows you to train with Google Maps, get instruction from the Biggest Loser's Jillian Michaels and download a different personalized workout every day. There are 18 levels of variable resistance, along with an iPod compatible music port. The space saver design makes this is a compact unit.
Space saver design
iFit Live technology
Adjustable stride length
The Lifespan E2i Elliptical provides you with a whole lot of performance in a compact, space saving design. You get 20 grades of ramp level along with 20 resistance settings, allowing you to graduate your workout. The Active Trac app allows you to synch all of your training data. The frame of the E2i is very sturdy and features a 25 pound flywheel.
The stride length of the E2i is 20 inches, allowing you to activate the glutes on every stride. This machine is ergonomically engineered with Q-factor, providing a very smooth motion and a quiet operation. The large foot pads are fitted with CoreBalance technology, providing you with the perfect equilibrium to match your footwork.
Space saving design
Active Trac app
CoreBalance
The Stamina In Motion mini elliptical is a budget priced under desk foot trainer. It comes with a pair of resistance cords that allow you to work your upper body as you are getting in your cardio session. You're able to pedal both backwards and forwards and there is a convenient adjustable tension knob to allow you to increase the tension as desired.
The resistant cords on the Stamina In Motion space saving elliptical with handles help you to balance as you use the trainer in a standing position. Padded, adjustable handlebars provide comfort and better grip ability. There is a handle for easy portability. This is a very quiet unit to operate, so you can use it in the office without causing a distraction.
Resistance cords
Backward and forward motion
Very quiet
The Cubii under desk elliptical trainer is the first true mini elliptical Smart trainer. It is Bluetooth enabled so that you are able to hook up with Cubii's mobile app. You can also sync with other apps, such as the Fitbit. This unit has been ergonomically designed to maximise posture and provide optimal angles to engage your muscles. There are 8 levels of resistance to provide a variable intensity capacity.
The Cubii small elliptical exercise machine is very lightweight, slimline and stylish. This provides you with an unobtrusive, silent exercise option that can be used anywhere, anytime. It also has wheel stoppers to provide stability when used with chairs that have wheels. A built in handle allows for easy portability.
Bluetooth technology
Lightweight, and slimline
8 levels of resistance
Slides on smooth surfaces
The Schwinn A40 is a compact cross trainer that delivers some powerful performance features. It has a heavy duty perimeter weighted flywheel to provide you with a very smooth, fluid stride motion. The electromagnetic resistance system adds to the stutter free motion. You also get large stabilizers and levellers to make sure that you get a very stable, balanced workout every time.
The Schwinn A40 gives you 8 levels of resistance. The monitor provides feedback on six fitness metrics, including calories, heart rate, speed, RPM, time and distance. The integrated grip heart rate system provides very accurate pulse monitoring. The compact footprint of the A40 means that it will fit into even the most challenging of spaces. It is also lightweight and portable.
Heavy duty flywheel
Compact footprint
Stabilizers and levellers
The Sunny Twist Stepper is a compact upright elliptical. It is surprisingly sturdy and durable. The Twist Stepper comes with a solid upright and handlebars. The LCD screen provides you with readouts of your key performance indicators, including calories, distance, scan and count. The Sunny Twister is made from sturdy steel, yet remains lightweight and portable. It uses a hydraulic resistance to provide a smooth, fluid action.
The Sunny Twister small footprint elliptical provides you with side to side as well as up and down motion to engage all of the muscles of your lower body. The step height and handlebars are both adjustable. Textured non-slip pedals ensure a safe, secure foot grip. The max user weight is 250 pounds.
Non slip pedals
Sturdy and durable
250 pound user capacity
Tension adjustments too minimal
The Horizon EX 59-02 is a high spec cross trainer which provides you with six star frame design that molds to the way that your body moves. It has a low step on height, along with oversized foot pedals to make it easy to get and off. This machine is very low impact, thanks to a heavy duty flywheel, large drive pulley ratio and smooth, gliding motion.
The Horizon EX 59-02 features a large, user friendly console, which provides constant monitoring of your key training data. You get 10 exercise programs and is equipped with 10 resistance levels. Contact grips built into the hand grips provide accurate heart rate monitoring. You also get MP3 compatible speakers along with audio in-jacks.
Six star frame design
10 resistance levels
Heavy duty flywheel
The Best Choice Space Saver is a compact air strider foldaway elliptical. This strider is equipped with a cushioned ab support pad to provide comfort while it keeps your torso ergonomically aligned. With this machine, you get an extremely low impact workout that is ideal for people with joint problems. Unlike most ellipticals, your stride length is unlimited on this unit. This allows you to work all of the muscles of your butt and hamstrings.
The Best Choice Space Saver is a sturdily constructed unit that is lightweight and portable. An LCD monitor provides you with a readout of all of your training data. The max user weight of this unit is 220 pounds and it comes with a 12 month warranty.
Unlimited stride length
Impact free
Sturdy construction
Conclusion
The best compact elliptical for home use is the jFit under desk trainer, with its customization, adjustable foot pedals and silent operation. Our second favorite is the Sunny SE-905 that delivers a dynamic performance, including two way striding, at a great price.
Our bronze medal compact elliptical is the ProForm 10.0 CE, which gives you adjustable stride length and super space saver design.