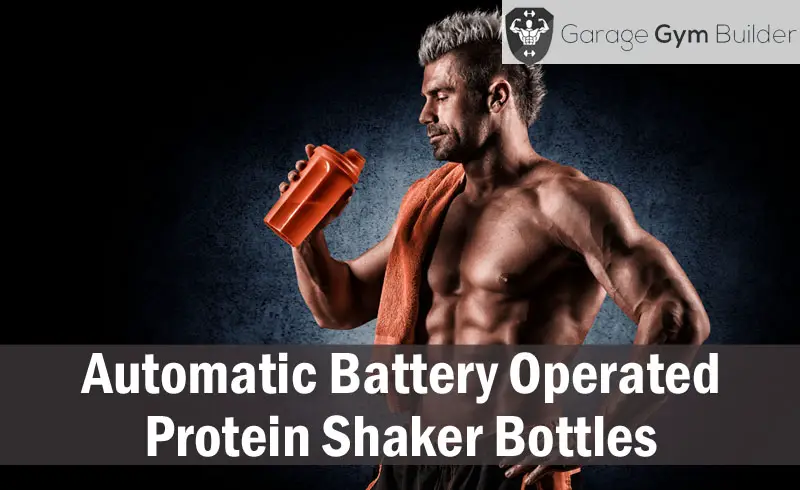 Best Automatic Battery Operated Protein Shaker Bottles Review 2018
Blender bottles have been around the gym scene for some time now. With their little wire balls and filters lids they generally do a decent job of mixing up your post workout shake. Still, they don't give you the type of frothy finish that you get with an electric blender. Fortunately, there's a recently new innovation that changes that - the battery operated electric shaker bottle. Electric shaker bottles create a funnel at the bottom of the bottle to deliver a delicious, milkshake like protein shake every time.
In this article, we review the 7 best automatic blender bottles for protein shakes on the 2018 market.
A Quick Glimpse at the Top 7

To make is easy for you to compare the Top 7 automatic protein blender bottle shakers, we've rated each one on the basis of price and durability. We've then given an overall rating out of 5. In the following section, we provide detailed reviews of each battery operated gym shaker bottle.
The Top 7 Automatic Battery Operated Protein Shaker Bottles In Depth

The All Ware F5 Typhoon Portable Mixer is a very powerful battery operated blender which is capable of mixing eggs! It runs on an 11,000 rpm motor and requires 2 AAA batteries. That will allow it to blend through whatever you throw into it. It is made from stainless steel and acrylic, making for a very durable unit.
The All Ware F5 Typhoon Portable Mixer is BPA and Phthalate free. It is leak resistant and has a very secure lid. This is the best mixer we found to get frothy, milkshake like protein smoothie results. As well as your protein drink, it can also handle hot liquids.
11,000 rpm motor
Stainless steel / Acrylic body
Takes hot liquids
Batteries go dead quickly
The ProMixx Vortex Blender Bottle has a powerful motor to deliver 12,000 rpm of power to mix up even the heaviest of protein powders. It is equally capable of blending all of your gym mixes and such hot beverages as coffee or hot chocolate. The athlete tested ergonomic design of the ProMixx fits naturally into your hand and is easy to pour and sip from.
The ProMixx Vortex Blender creates a unique vortex motion within the bottle to thoroughly blend up your powder, resulting in a creamy, frothy end product. This product has been tested and is preferred by professional athletes all over the world. The bottle is both impact and odor resistant, and is both BPA and DEHP free.
The ProMixx Vortex Mixer carries a 12 month warranty.
12,000 rpm motor
Ergonomic design
12 month warranty
Batteries not rechargeable
The Matana 2.0 Electric Blender is an ergonomically designed battery operated electric blender bottle. It will provide you with a quality mix with even the most hardy of powders. The tornado motor makes the base of this unit a little heavy, but it ensures that you get a very consistent, even blend every time. Self stirring cyclone blades create a vortex effect for you to pour your protein powder into.
The bottle is lightweight and molds easily into your hand. A rubberized seal and leak proof lid ensure that you will have no problems with leaks or spillage. It is BPA free and can be washed in your dishwasher.
High quality mix
Self stirring cyclone blades
Lightweight
The Panama USB Rechargeable blender bottle electric shaker cup is a stylish battery operated mixer. It comes with a detachable insulated motor box with a lithium battery and with a USB cable. The rechargeable nature of this blender makes it more convenient than most on the market. The bottle itself is lightweight and ergonomically designed for ease of handling.
The Panama USB Rechargeable blender has a detachable metal base which makes the unit easy to clean. It includes a protein capsule pod so you can carry your supplements all together. The cup and lid are BPA free and dishwasher proof. However, this product is not suitable for mixing, ice, fruit or other solid ingredients.
Rechargeable batteries
Lightweight
Protein capsule pod
The Tritan Personal Blender is a rechargeable battery powered blender bottle. It features a double speed button to provide you with a faster, more powerful mix. The food grade material used in the construction of this bottle is BPA free and provides baby bottle level safety. The blender is easy to pull apart for cleaning and is durable enough not to break if you drop them. You can also put it into the dishwasher.
The Tritan Personal Blender can be used for both hot and cold drink mixes.
Rechargeable
BPA free
Easy clean
The Fusion Protein Shaker is a very high quality battery operated blender bottle that will give you a perfect blend at just the push of a button. It makes use of cyclone technology to produce a vortex that will mix your powder extremely thoroughly. The blade of the blender creates a vortex which provides a channel for you to pour your protein powder into. It takes just 30 seconds to mix.
The Fusion Protein Shaker is easy to disassemble for cleaning and maintenance. In fact you can simply fill the unit with water and turn the unit on to watch it clean itself. This unit is 20% slimmer than most protein shaker bottles on the market. This makes it easier to store it in your gym bag and to handle.
Cyclone technology
Easy to assemble
Slim
Takes a lot of battery power
The PYD Electric Coffee Protein Blender battery blender bottle is a 16 oz mixer that uses 2 AAA batteries to blend up protein drinks on the go. The powerful motor is fitted with turbocharge technology to produce a high quality result. The detachable motor and battery powered design allows you to take and use this mixer anywhere.
The PYD Electric Coffee Protein Blender is a versatile automatic shaker bottle that allows you to mix everything from energy drink mixers to lemonade, eggs and juices. It can also be used as a water bottle. This blender can be easily cleaned and is dishwasher friendly. It is BPA and Phthalate free.
Powerful motor
Versatile
BPA and Phthalate free
Conclusion
The best electronic protein blender bottle on the market is the All Ware F5 Typhoon Portable Mixer. It provides you with an 11,000 rpm motor, stainless steel and acrylic body and can be used to make both hot and cold drinks. We were also very impressed with the ProMixx Vortex Mixer automatic blender bottle with its 12,000 rpm motor, ergonomic design and 12 month warranty.
Our third favorite favorite battery operated protein mixer bottle is the Matana 2.0 Electric Blender, which delivers a lightweight blend with self stirring cyclone blades.