Top 10 Protein Shake Bottles Reviewed and Rated
last updated:
Feb 12, 2020
Back in the day, getting your pre and post-workout protein was a real hassle. You either had to blend it up at home or pay through the nose to buy it at the gym.
Fortunately, times have changed, and we are now able to painlessly blend up our protein right there in the gym - thanks to the invention of the blender bottle. But not all blender bottles are alike; this is definitely one area where you have to be a discerning buyer.
In this article, we review the 10 best protein shaker bottle options on the 2019 market.
This is the best product on our list that is currently in stock: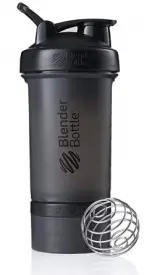 Pro Stak Blender Bottle System
Why is it better?
Two storage compartments
Loop top
Tight screw-on lid
30
Researched Sources
2,7k
Reviews Considered
14
Hours Researching
10
Products Evaluated
Ease of Use
Materials
Durability
Value
By Default
10 Best Protein Shaker Bottles
1

. Loop Shake Bottle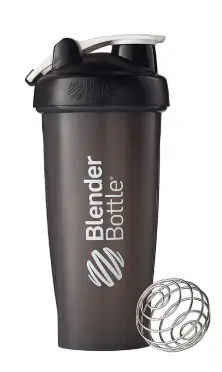 Ergonomically contoured
Embossed markings
316 surgical grade stainless steel wire whisk
The Blender Bottle Classic Loop provides you with an ergonomically contoured protein shaker bottle that comes with a wide mouth, making it easy to add scoops and pour in liquids. Embossed markings show MLS and oz.
Read more
The screw-on lid provides a leak-proof seal with the flip cap snapping securely shut. The patented mixing system uses exceptional top quality steel. It is BPA and phthalate-free while also being dishwasher proof.
The size sits as comfortable for those looking for a bottle with an average and good capacity.
The ease for using this bottle is impressive, it's a nice weight, good surface grip, and well designed to hold securely in the hand.
For value, the price is very comfortable for users.
2

. Pro Stak Blender Bottle System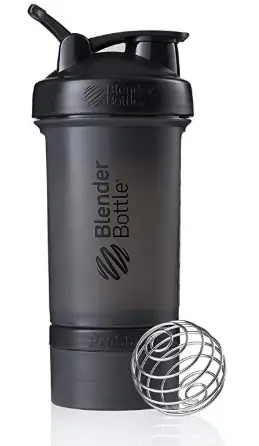 Two storage compartments
Loop top
Tight screw-on lid
A little tricky to hand wash
The Pro Stak Blender Bottles provides you with a very useful extra two good-sized compartments to keep your supplement capsules and protein powder. The two jars are interlocking and because they are detachable these can be used with the bottle or used separately. The blender has a Suresea designed flip-cap to prevent leaking, screw-down lid, and functional loop-top. The ultra-tight screw-on lid ensures that this bottle won't leak and the lockable flip top avoids spillages.
Read more
This bottle offers 2 compartments which you can use to stow store your shake mixes securely or carry capsules., these can be kept attached securely or removed.
The bottle has impressive anti-spill tech so you need not worry about leakage while making a shake or transporting it. This is a mixer which has already shown itself to be popular among users.
Internally you get a steel whisk which is ball-shaped for maximum effect during preparing a shake.
The bottle is BPA free and dishwasher safe. Your peace of mind is protected with an impressive lifetime warranty.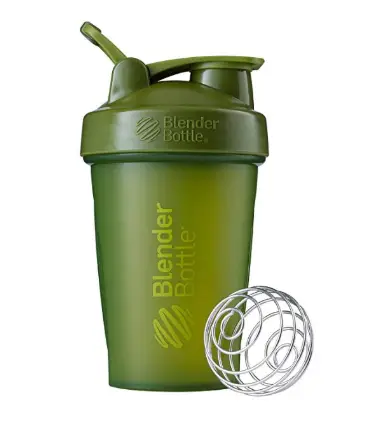 316 surgical grade stainless steel whisk
BPA free
Leak proof lid
Lid is hard to pop on and off
The Blender Bottle Classic Loop Shaker Bottle 20 oz provides you with a high-quality blend thanks to its 316 surgical standards stainless steel designed whisk. This allows it to work harder to mix up your favorite drink. The unique Blender bottle shape also provides for a more intense blend. And that means no clogs, clumps or residue. The screw-on lid creates a leak-proof seal and it has a loop top for easy carrying or for attaching your keys.
Read more
The Blender Bottle Classic Loop blender bottle features an improved leak-proof lid to ensure that you don't have any spillages into your gym bag. The ergonomic design makes it easy to hold. The Blender Bottle Classic loop comes in a range of colors and is BPA free and top-wash dishwasher safe.
This bottle gives a generous open top for loading up and is wider than general bottles so this has a more unique profile.
It is available in a lot of appealing colors, this is a nice purchase easily qualifying as good value.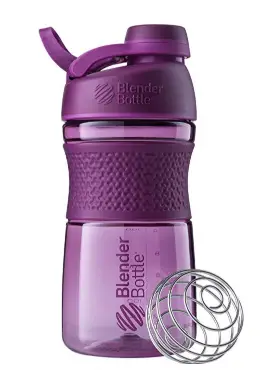 Odor-free
Efficient whisk ball
Secure twist cap
holds 20 ounces
A little bulky but not major issue
This is a bottle giving functionality blended with nice form, appealing style and lots of versatility. Featuring good quality materials. the artistic design gives this bottle a lot of appeals, very easy to open with a quick firm twist, Nice for making tasty nourishing shakes and keeping hydrated, the internal whisk ball is very high-quality steel which effectively whisks, it moves nicely inside the bottle to ensure a perfect mix for very smooth shakes which are easier to drink. You can also use it for setting up a smooth pancake mix, making dressings for salad or even preparing scrambled egg mixes.
Read more
This takes a nice twenty ounces even though the scale indicator states up to seventeen.. the seel bladed ball means you can mix up more than just protein shakes.
In fact, you can whisk up egg mixes, salad sauces, mix up the ingredients for pancakes. This mixer is about being versatile.
The fast-action twist off/on cap makes accessibility quick and easy and the makers do guarantee the bottle to not leak.
The materials are at a quality level which means no material leeching and no odors. The bottle sits comfortably in the hand and allows a secure grip.
The bottle is made to high BPA-free standards and does not present any phthalate issues.
5

. Radian Stainless Steel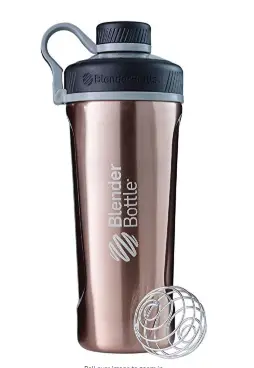 Durable
No odors
Easy to use
Effective
Stylish
looking for a classic style in stainless steel, this is built for longevity and dependable performance, offerring twin-vacuum features for great insulation. The spout is mounted at the top center of the bottle and a good extra feature is the durable carrying-loop. The seal system is a high-performance feature which offers a great seal, no leaks and a shake will be kept fresh until you want to drink it.
For those people looking for an alternative to molded plastic bottles, this durable steel bottle is a very nice option.
Read more
A look at the features shows a very good performing bottle, very effective whisk-ball, you get a twin vacuum insulation with this bottle, this is something not much offered by other brands.
The twist-on cap is quick and easy while giving a secure hold, being steel it is stainless and good because there is no odor which can be a negative feature for some plastic bottles.
The bottle features a loop carry which can be removed, and the bottle is very secure and comfortable for grip-holding. The mouth for the bottle is designed to a good size for easy loading and pouring out.
A nice value bottle which holds a good volume of mix and is fine for cleaning in an automatic dishwasher.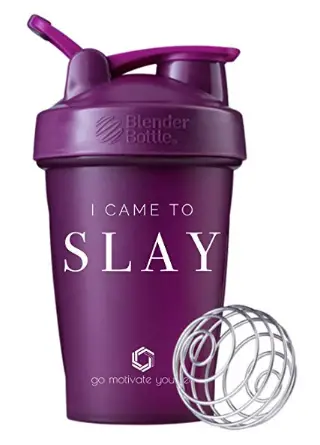 Blenderball whisk
Flip cap lid
20 or 28 oz version
The GOMOYO Shaker blender bottle features the Blenderball whisk inside, along with a convenient carrying loop and an ergonomic flip top and spout. This blender bottle is both BPA and Phthalate free, protecting both your health and the environment.
Read more
This material is dishwasher safe on the top rack. The flip cap stays open and there are embossed quantity markings along the side.
Though it is very similar in design to most plastic molded bottles, they do come in a wide choice of colors and the product is durable and effective.
The GOMOYO Shaker blender bottle is available in either a 20 or 28 oz version and is completely spill-proof. Your purchase comes with a 12-month warranty.
7

. Blender Bottle Classic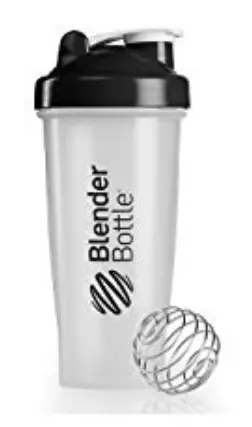 316 surgical grade stainless steel blender ball
Patented loop top
Lid not overly durable
The Blender Bottle classic is a 28 oz capacity shaker that uses a high-grade surgery quality stainless steel blender ball which is unique to the Blender Bottle brand. Updated features include a patented loop top, an ergonomic flip cap, and a tapered spout. The bottle is dishwasher safe, BPA and Phthalate free and it comes in three different sizes.
Read more
The name of this bottle sums it up.
This is the classic well-known style, no-frills or extra promises. It is functional, good for the purpose, holds a good twenty-eight ounces.
Most users will feel comfortable with using this for shakes and it does perform to stand classic performance.
It is available at a buyer-friendly cost when compared to many other brands.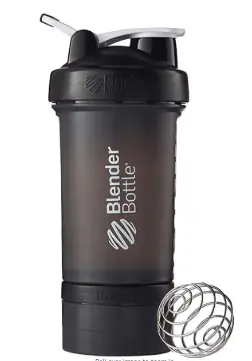 Storage in the base
Blenderball wire whisk
Leak-proof, sure-seal flip cap
The Blender Bottle Pro Stack incorporates storage capacity in the base to allow you to easily have access to your protein powder, soups and meal replacement. It has a 22 oz capacity blender bottle, a 150 cc jar, a pill organizer and a blender ball wire whisk. The whisk is made from surgical quality grade stain-free steel.
Read more
Offering a volume of twenty-two ounces which is comparable to most other blender bottles.
For functionality, the blender houses a whisk, ball which is fine for whisking up your choice of smooth shakes.
A durable bottle with reliable cap sealing system, this comes with a capsule/pill holder. Set at a gentle moderate price, this will serve well for the purpose, a nice value bottle which is there for purchase in a good range of colors.
9

. Sundesa Blender Bottle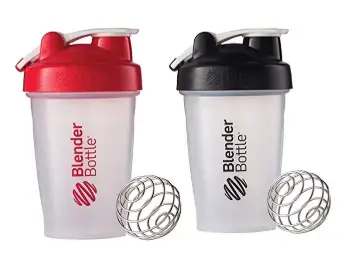 Compact size
DTwo for one
Measurements along the side
The Sundesa protein shaker bottle is a compact 20 oz capacity shaker that comes in a set of two. It features a very secure lid that will not open when you don't want it to. The wire ball whisk is made from very durable surgical grade stainless steel. It comes with measurements indicated along the side. This mini blender bottle is both BPA and Phthalate free. The compact size of the bottle makes it ideal from packing into lunch box.
Read more
Consider buying a set of two bottles and doubling your potential for making shakes, storing and transporting your favorite mixes.
These bottles meet all the familiar standards for phthalates safe, BPA safe, these bottles are compact and will even fit in a standard lunch-box which makes them very useful for regular use.
Along the side of the bottle, a measurement display lets you measure up for how much you want when preparing your shake.
The appeal for these is the reliable standard performance and the value in getting two bottles.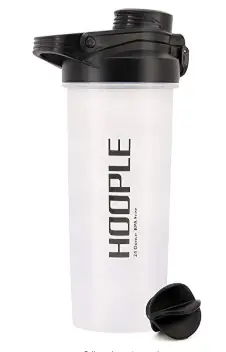 Auto flip lid
Leak proof
Wide mouth
The Hoople Auto Flip Lid Shaker Bottle comes in a 24 oz size, with side markings in both oz and ml. The ergonomic design provides you with TPE soft grips on the sides. The bottle is made from BPA and Phthalate free polypropylene.
Read more
It features a silicone gasket in the lid which allows for auto flip lid opening, which means that you can do everything with one hand!.
The secure screw-on lid avoids leakage and the unit has a wide mouth, making it easy to clean.
This is a basic and very effective blender bottle and offers great value.
Criteria Used for Evaluation

Ease of Use
Ease of use covers quick access
Ease for making a shake is really important, it should be a quick and an easy process.
The actual protein shaker bottle needs to have a spacious top through which ingredients can easily be put in but the top cap or fitting must be secure and not allow leakage because the key part of preparing a shake is a lot of vigorous mixing.
Cheap products seem like a nice deal but many of them cannot perform to standard, it is not surprising that during our review process we noted comments from users of very cheap bottles about them easily leaking, or the cheap material giving an unpleasant taste to a shaken drink.
Ease also results from the bottle design, it has to be designed so it is easily held under control in the hand and not uncomfortable or difficult to grip. Well designed bottles will be shaped deliberately to enhance how a hand can securely grip the bottle. The surface of the bottles may well have a textured surface so that grip is secure and non-slip.
Clear durable plastics are popular though you should ensure they are BPA free and they do not leech into the mixed drink due to using cheap low-grade plastics.

Materials
For materials, you want body and environmental friendly
Materials very much matter when they are connected to food preparation.
Where any silicone or plastics are used, we looked for bottles which are high quality and certainly BPA safe. The best bottles offer a good secure grip, a design which enhances grip and a surface which prevents grip slipping.
The bottles we evaluated were made predominantly of synthetic strong materials and the materials varied depending on their function.
The caps are a very heavy-duty, strong secure and reliable screw-down tech to ensure bottles do not leak. These types of caps can also be flip-top versions, they create a good seal when secured. Being a strong durable material they are very resistive to damage.
The actual bottles are mainly molded one-piece and this means that when dropped they are very strong and not at all easily broken or damaged.
We covered many potential bottles during our comparative research and we feel confident that we have found the best choice of shake bottles, there is a bottle here for all peoples choices.

Durability
Durability shows through a none breakable bottle
Durability was a leading factor for these bottles, they have to be durable due to the amount of use they will get.
Most users will use the bottle daily and when we looked at this regular use we noted the most potential areas for failure due to regular use will be the caps. But, these are also the part of the bottles which are made from the densest molded materials, so durability is very reliable.
There are bottles which include a steel ball which helps mix up the shake while the bottle is shaken, a steel ball is beyond question where durability is concerned. Whisk systems are also a nice feature and these are steel and tend to be incredibly durable.
We looked at a huge range of bottles, our conclusion is that if you pay for a good quality bottle and avoid the cheap version, you will get a bottle that is difficult to damage even if you try to damage it.

Value
We assessed the value factors for shake bottles through a variety of key points.
Naturally, we found that the less a user pays, the less the quality and the less reliable the features, this appears a constant with all products.
Very cheap bottles will be made from much lower quality materials, they are designed to look very good but they lack the durability, quality or reliable functionality. Cheap plastics may even leech into liquid and cause an odor or bad taste. Any blades or whisks will certainly be made from low-quality materials and certainly won't stand up to the challenges of prolonged regular use.
We selected bottles based upon comparisons meaning that the value you invest will mean that the more you invest, the better the bottle.
Shake bottles are not actually expensive so stretching to pay at a higher level for a tried and trusted brand bottle does seem like good common sense. Even the more expensive bottles are not at a price which feels overly costly.
We chose a range of shake bottles all of which give value, and we hope that the prices are very user or buyer-friendly.
Expert Interviews & Opinions
Most Important Criteria
(According to our experts opinion)
Experts Opinion
Editors Opinion
Users Opinion
By Default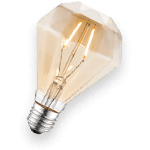 Capacity
Oddly enough, some people miss this point.
Think about your choice of activity or sport, then consider how much shake you will want to prepare, you don't want a too concentrated mix and too diluted will lose flavor. Capacity here is about how much fluid in the form you can prepare and safely carry.
It is worth your time fully considering the bottle capacity and getting the correct sized bottle for your carrying aims.
Materials
Materials for a bottle are so important, they make the difference between good value and a useless product.
Some cheap bottles are put out at a price which tempts people but the quality of the plastic has according to many a bad effect on the drink-shake liquid and some people say that cheap plastics leech into the shake mix. This must-have negative health implications.
High quality plastics will not leech into the water and offer more health safety. A great option is to choose safe, tried and tested heavy-duty glass. Check out online reviews for shaker bottles, see what others say about these products and this can help you choose a good bottle.
Other Factors to Consider

Bottom Line
We checked out so many types of bottles, the market is awash with shaker bottles in all sizes and shapes and the materials range from high-quality tough glass, strong easy to clean stainless-steel and molded plastics.
The plastic bottles are known to be durable and offer performance and longevity though some users suggest odor from plastic bottles. Steel bottles are odor-free and highly durable. Glass bottles look classic and are nice and easy to clean but caution, do not drop them as they will break.
As things stand so far this year, the best protein shaker mixer on the current market is the Blender Bottle 28oz Classic . But this can change as new bottles get offered on the market. This impressive bottle features an ergonomically contoured design, embossed markings in both ml and oz and a sharp surgical graded steel whisk in a wire design. We were also very impressed with the ProStack System Blender Bottle, with its Two storage compartments, loop top, and tight screw-on lid.
While reading our comparative review, you can note that the functions for a shaker bottle stay the same whichever brand you choose and the only differences are in minor additional features.
Whatever your aims for performance, durability, capacity for the volume we have carried extensive research on these bottles to be certain that in our review guide there is a shaker bottle version for everyone.
The price for bottles is moderate but keep in mind that very cheap bottles do have odor issues so be happy to just pay a few dollars higher for better bottle quality.
Frequently Asked Questions
q:

I hear some users mention odor? Is that serious?

a:

Plastic bottles can give off an odor, especially the cheaper plastics. It really is about the price and the quality of the materials used for making a shake bottle. If you want fully odor-free, a glass or steel bottle is a better option and you pay more.
q:

Stainless steel cost more but is it better?

a:

Molded plastic bottles are a mass production product and high-quality plastic will turn out a good bottle.

Stainless steel is a highly durable material, very easy to clean, does not cause any odor or taste issues and this type of material means you get a bottle that will last a very long time. The cost is higher because the bottle makers will source high-quality steel if you see a cheap steel shake bottle then it is logical to assume it is low-grade steel and that issues will occur.
q:

Do the bottles have other uses?

a:

Yes, users are very inventive, the bottles are of course great for mixing up protein shakes but you can be creative and make other mixes in a bottle, fruit drinks, pancake mixes, mix eggs for making omelets, if it can be mixed, you can probably find a way to mix it with a good quality bottle. though if she regularly mixes up hard fruits or vegetables, except the whisk to not perform as good as an electric blade blender? You can create other mixes but don't overdo the challenge.
q:

Are these bottles really worth buying?

a:

It is debatable, if you have an electric blender in your kitchen you might stay with that option. These bottles are about price, convenience and being able to store your shake for use later if need be.

For those without an electric blender, the bottles are a very good option and really easy to use while producing excellent mixes.
q:

Why are glass bottles popular?

a:

A bottle made from high-quality glass is a very good product ( so long as you do not drop it) very easy to maintain and keep clean. Glass will not leech any particles or odor into mixes and is very easy to clean to prevent staining or any bacterial growth. Many users say that clear quality glass looks better and is a better way of watching the quality of the mix.
q:

Any disadvanatges for shake bottles?

a:

Yes, cheap plastic versions can give off odors, some are difficult to clean. Glass bottles are good but can be damaged much more easily than a plastic bottle. High-quality silicones and plastics are very durable but keep them away from high heat sources.

Steel bottles are good and they offer good performance, any disadvantage? they cost more.
Subscribe to our newsletter