Sunny Health Exercise Bikes
last updated:
Jan 27, 2020
Sunny Health and Fitness are a California based home fitness company that has quickly established a reputation as a supplier of high quality, low cost exercycles, treadmills, elliptical trainers and rowers. The home cycle range offered by Sunny is especially impressive. In this article we take an in-depth look at the best Sunny exercise bikes, comparing them to the best of the rest.
In a Hurry? The test winner after 13 hours of research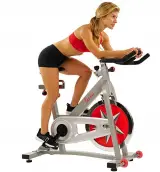 Indoor Cycling Bike
Why is it better?
40 lb Flywheel
Able To Fit All Sizes
Variable Resistance
Solid Construction
Very Well Priced
12
Researched Sources
14k
Reviews Considered
13
Hours Researching
14
Products Evaluated
Features
Comfort
Durability
Value
Size
By Default
Best 10 Sunny Health Exercise Bikes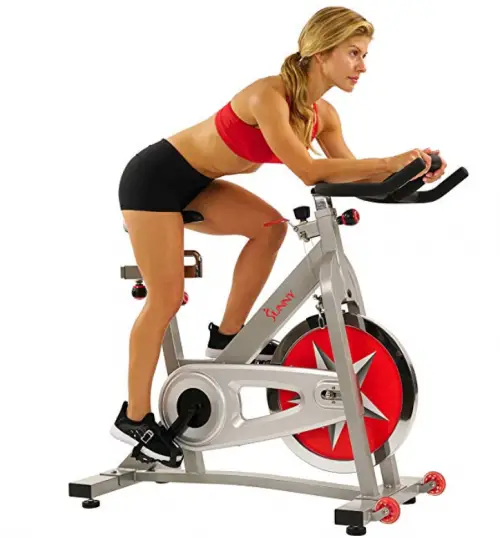 40 lb Flywheel
Able To Fit All Sizes
Variable Resistance
Solid Construction
Very Well Priced
The Sunny Health & Fitness Indoor Pro Cycling Bike comes with a heavy-duty 49-pound flywheel to give you natural, smooth riding experience. A heavy duty crank and smooth chain drive mechanism combine to provide a jerk-free wheel revolution, which is a welcome change to bikes in this price range. You get a wide range of variable resistance levels, which are controlled by a centrally located knob.
Read more
The seat and handlebars of the Sunny Health Fitness Indoor Cycling Bike are fully adjustable, both fore and aft, to allow for user customization. The seat is well padded for comfort and the pedals are ergonomically placed for ideal lower body placement. The frame of this bike is made from heavy-duty steel, providing an extremely rigid support base to work from. The dimensions are 48.5" x 20" x 46.5".
The Sunny Pro arrives partly assembled, with the balance being able to be done solo without too much of a problem within about 20 minutes. The total assembled weight of the SF-B901 Pro is 111 pounds, but you get transport wheels to make it easy to move around.​
2

. Folding Recumbent Bike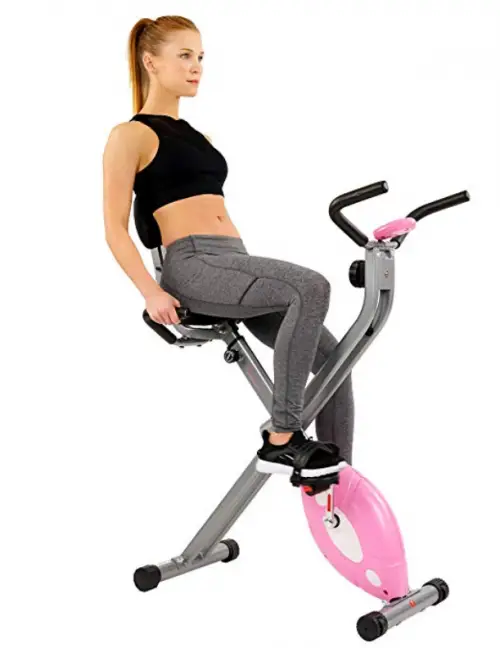 Lightweight and compact
Sturdy
8 resistance levels
LCD display with essential data
Noiseless
The Folding Recumbent Bike is a sturdy but lightweight exercise bike that has a folding frame for ease of storage. Yes, there are a number of foldable bikes that are lightweight in nature on the market these days, but a lot of them, are not just lightweight in reference to pounds, but also in their overall features and performance. Let's take a look at how Sunny's folding exercise bike pairs to others.
Read more
Weighing in at 35 pounds, this lightweight exercise bike can be easily moved from one location to another by anybody, making it easy to store away when not in use. The space-saving dimensions of this bike are 32" x 19.5" x 46". It effortlessly collapses to roughly the size of your standard ironing board. This allows you to store the Folding bike in the smallest corner of your home that you have available.
Lightweight doesn't have to mean that you should have to deal with flimsiness. This stationary bike has a solid feel to it from the moment it is set up. It obviously won't have that sturdy feel as the more permanent and expensive bikes that are on the market, but it does offer the support most people are looking for during even some of the most intense, calorie-burning workouts. This bike can also withstand a max capacity of 220-pounds, so don't let its size fool you.
For those who are on a low budget, and are looking for a bike that gives you the workout you desire, having 8 different levels of resistance is really quite impressive, but that is exactly what you get when you purchase this folding bike. This feature allows you to gradually increase the level of resistance during your workout, offering you the ability to reach those fitness goals in no time at all!​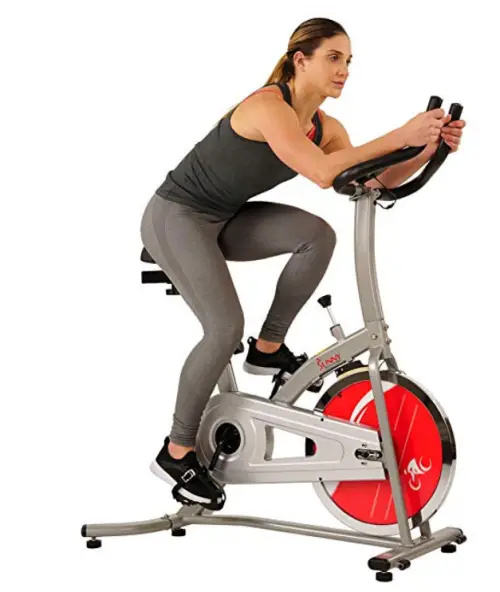 Simple to Use
Caged Pedals
Rubber Handles
Ergonomic Seating
This bike was designed with your comfort in mind, and the ergonomic seat shows that. The road-bike-style seat can be adjusted to your shape and size very easily, moving in all directions.
Read more
The SF-B1203 is highly adjustable. All you need to do is twist the knobs to set the bike to fit you to the tee. The LCD monitor offers simple features that track your fitness, showing you the calories burned, time, distance, and speed. The flywheel is 22 pounds, making it a bit lighter than what more advanced users might need, but it's still good enough for almost everyone. The chain drive mechanism might rattle a little bit, but the ride will be smooth and stable. The handlebars are covered with rubber foam to save your fingers from unsightly corns and blisters. The caged pedals prevent your feet from slipping off.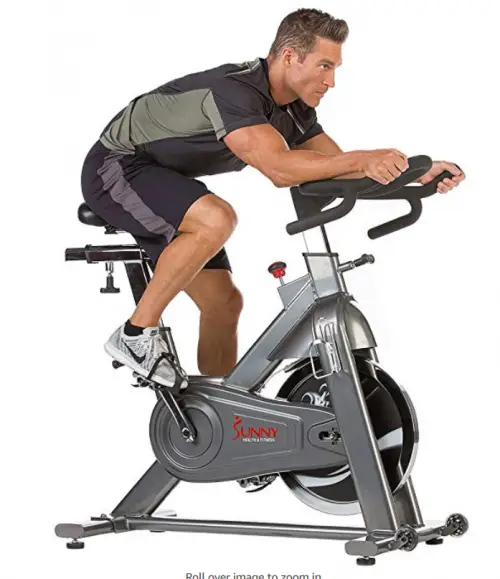 48.5 pound flywheel
Contoured seat
Max user weight 300 pounds
Adjustable handlebars
The SF-B1516 is a heavy duty commercial grade Sunny exercise bike that delivers high-quality exercise performance. It has a huge 48.5 cast iron flywheel to provide the smoothest, most natural riding action you can get. The addition of the micromagnetic adjustable resistance system coupled to a press down braking control knob ensures that the riding action you get on this bike is very close to on-road performance.
Read more
The Sunny SF-B1516 has a very natural body positioning, thanks to the ergonomic positioning of the seat, handlebars, and pedals. The pedals have basket toe cages to keep your feet securely in place. The contoured seat is of a racing bike style and has a pleasing level of padding. The multi-grip handlebars provide a solid grip. Both the seat and handlebars are fully adjustable to allow for a custom fit. The maximum user weight is 300 pounds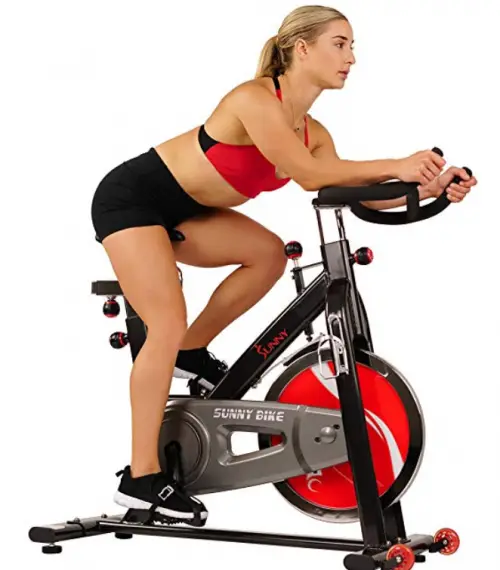 49 pound flywheel
Heavy duty crank system
Chain drive
Sturdy Frame
A little noisy at top speed
The seat and handlebars on Sunny SF-B1509/C spin bike are fully adjustable in all directions, allowing you to customize the settings to your needs. A press down brake system allows you to smoothly adjust the resistance to suit every member of the family. Transportation wheels allow for ease of transport.
Heavy duty crank system
Chain drive
Read more
The Sunny SF-B1509/C is a commercial grade spin bike that offers what you'd get at your local gym for a budget home price. The smooth chain drive mechanism ensures that you get a fluid, natural cycling motion. A heavy-duty crank system and impressive 49-pound flywheel further enhance the fluid motion provided by the chain drive. The frame is very sleekly designed and of heavy duty steel to provide a very solid riding base.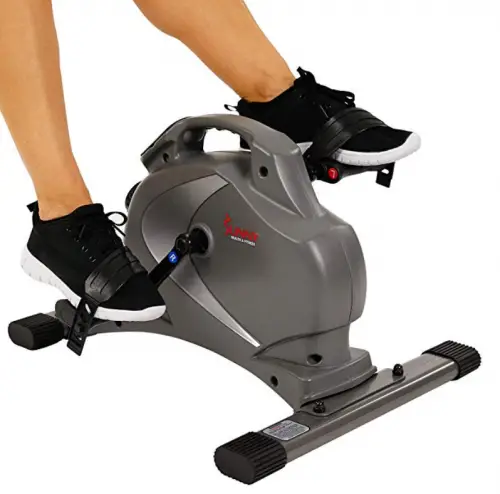 8 level micro tension
Solid construction
Top carry handle
Safety Straps
The SF-B0418 is a Magnetic pedal exerciser that allows you to work while you work out. It can be placed under a desk or the table so that you can bike while you're working. You can also place the pedaler on a table and use it to give your arms a challenging workout. It provides a very convenient top carry handle for easy portability.
Read more
Sunny Health & Fitness SF-B0418 is very solidly constructed with a plastic encased central unit. An 8 level micro tension controller provides you with a fluid resistance adjustment that is jerk free and natural, which is a rare thing on a mini pedaller. The LCD monitor on the front of the unit provides an accurate readout of your key training data, including time, distance, speed, and calories burned.
The SF-B0418 Sunny Health and Fitness mini cycle is the best quality, well-priced desk pedaller that we have come across. It is stylish and functional, and with a maximum user weight of 220 pounds, it is built to last.​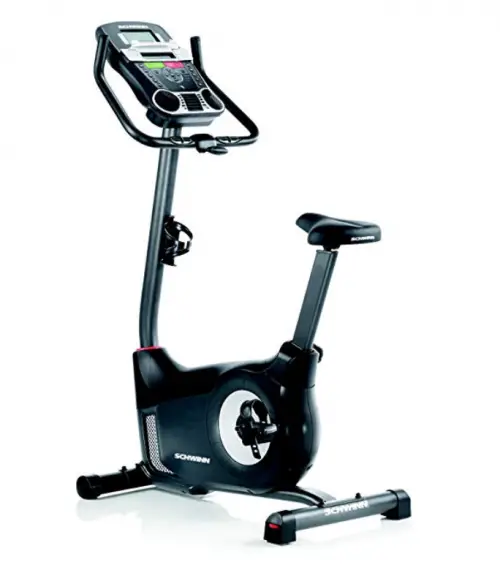 Dual track LCD windows
22 workout programs
Data transfer
USB Charging Port
The Schwinn 130 Upright provides a level of choice and training motivation that you don't get with the Sunny range. Schwinn is right on top of computer technology integration, with this model offering a dual track, two LCD window system that will provide readouts on 13 different training parameters at the same time. You also get 22 workout programs, two of which allow for user self-programming.
Read more
The Schwinn 130 is a very stylish looking exercise machine, that is also extremely sturdy. Two integrated levelers ensure that the unit is stable on any surface. The high speed, high inertia perimeter weighted flywheel provides the smoothest of resistances, while the padded and contoured seat gives total riding comfort.
A USB charging port and the ability to transfer your training data to the Schwinn website are an extra plus with the Schwinn 130 Upright.​
8

. Exerpeutic Folding 400XL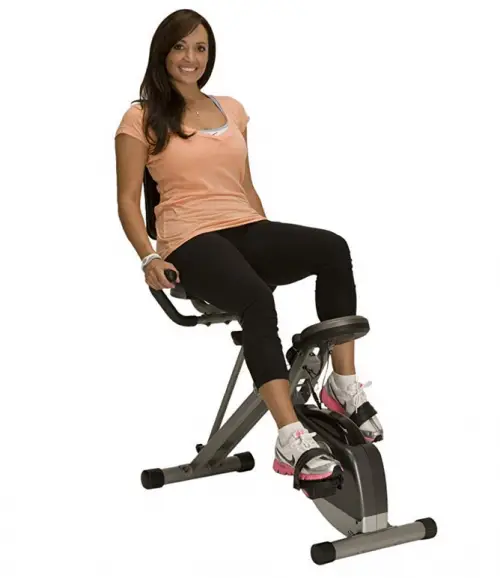 Lightweight yet strong
300 pound max user weight
3 piece cranking system
Balanced flywheel
The Exerpeutic Folding 400XL is a rare combination of compactness, lightweight, and strength. Although able to quickly fold until half its original size, this unit can easily handle user weights up to 300 pounds. You get a pair of leg stabilizers to make this foldable even more secure, along with the high-quality steel tubing from which the frame is constructed.
Read more
With 8 levels of adjustable resistance and dual pulse sensors to track your training heart rate, the Exerpeutic 400XL is no ordinary foldable. It even comes with a 3 piece cranking system to make sure that you get an ultra smooth riding experience. You're able to keep the pace of your training stats with a large, easy to read LCD screen.​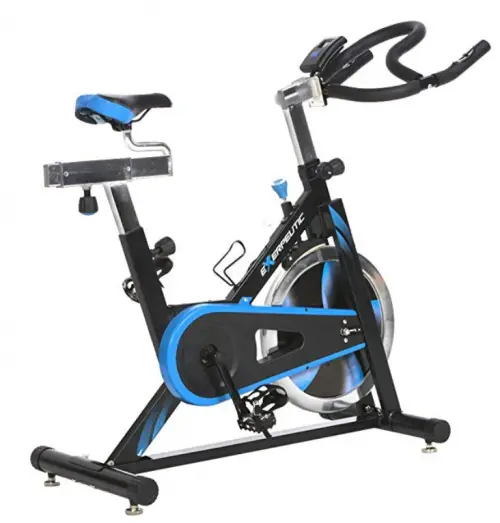 Racing bike style
Not Jerky
Dual pulse sonsors
Floor stabilizers
The Exerpeutic LX7 features a 40-pound chrome rimmed flywheel to provide you with a smooth, natural riding experience, free of any jerkiness. You also get 8 levels of adjustable resistance and dual pulse sensors to track your workout pulse. Often sin bikes don't have monitors, but this one does, allowing you to track your time, speed, distance, revolutions per minute and calories burned.
Read more
The seat is a racing bike style but is still comfortable enough for an extended workout. Ergonomically designed pedals are fitted with basket toe cages to allow you to get a secure lower body position. Floor stabilizers will make sure that the bike is always standing on level ground. Exerpeutic LX7 is a standout spin bike that gives you both performance and feedback.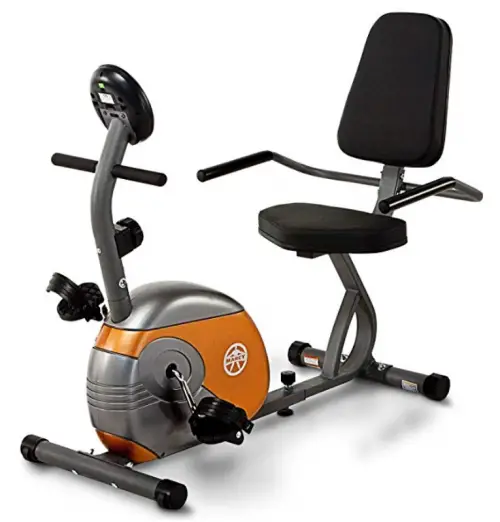 Ergonomically Designed Comfy Seat
Contoured Handles
Step-through Design
Easy-to-read LCD Screen
Counterbalanced Pedals
The recumbent bike is a great low-impact bike that is still strong enough to challenge your body and muscles. The heavy construction of this bike, powered by 14-gauge steel tubing, lasts a very long time, while the step-through design allows for quick mounting and dismounting while not affecting your range of motion.
Read more
The flywheel powered by magnets has eight different resistance levels to keep you going. The levels can be easily changed by using tension knobs. You can even simulate riding on various terrains with these knobs! The LCD screen is big and easy to read, so you won't have to stop to lean into the screen to read what's on it. The side is very large and padded, ergonomically designed and equipped with high-density foam. The handles are contoured and covered with foam as well to make riding this bike super comfy. The pedals are weighted for your comfort, allowing you to control them with ease. The foot straps are adjustable, creating a perfect fit every time you use the bike.
Criteria Used for Evaluation

Features
There are many features an exercise bike can have, but the motor that powers it is arguably the most important one. The flywheel is what powers up your bike. You have the flywheel to thank for the resistance levels and for the smoothens of the ride. The flywheel is a massive wheel made out of metal, positioned at the front of the bike. As you pedal, the wheel turns, and it's connected to the pedals by a belt or a chain.
The bigger your flywheel is, the harder you will have to pedal to get it going, and you will need to go through more revolutions to get it to stop. Before flywheels were introduced, exercise bikes did not feel like actual bikes at all. If the bike you're opting for does not have a flywheel, the exercise will be too easy and you won't get any results.
Flywheels are measured by their weight, and the more weight a wheel has, the better it is. This is because heavy flywheels emulate the toughness and hard work needed to get an outdoor bike going. If the wheel is lightweight, you will constantly need to up the resistance levels, which will result in jerky motions and unstable rides. It's also hard on your joints.
Spin bikes have the biggest flywheels and are followed closely by upright bikes. Look for a wheel that weighs about 30 pounds, since that is the limit when fluid motions and good resistance levels happen. If you're a beginner though, go for a bike that has about 20 pounds in order to learn how to properly use it.
One more feature to look out for is the resistance type. Exercise bikes are either powered by magnetic, friction, or electromagnetic resistance. The best ones have electromagnetic resistance, using a copper coil wire and electromagnetic current to keep the bike going. The comes magnetic resistance, which is present in most mid-range bikes. The flywheel has a lot of ferrous magnets placed all around it, controlled by the computer console. Magnetic resistance is the most reliable one out of the three types. The worst kind you can get is friction. A felt pad is connected to the wheel, and the tension of it can be adjusted. These flywheels create jerky rides while wearing down fast.
The monitor is the last thing to look for. This is a convenient feature that every bike has. A lot of bikes have plenty of features built-into the monitors, like your pace, how long you were riding for, what was your heart rate, and some have multiple programs to keep you busy. Do not worry if your bikes have a small number of these programs, or none at all because in the end no people even use them. Just 5-10 programs are plenty enough to keep you satisfied.

Comfort
The comfort of your bike is determined by the seat. First things first, the seat must be adjustable. The seat must be able to move in all directions so you can adjust it to your liking. Moving the bike closer to the handles is vital if you have lower back issues, as this will relieve the tensions on the muscles supporting your spine.
The seat height also matters a lot. The proper height ensures that the angle between your knees and the pedals remains stable and good for your height. This keeps the knees in line with the pedals because if they do go over the peals, a lot of stress will be placed on your knees, resulting in knee pain.
The padding on your seat should also be good enough to support your weight and give you a comfy ride. You will spend a lot of time pedaling away on the bike, and it's vital that you don't get saddle sores. Bikes that are mid-range or higher allow you to swap out the seat for something comfier you are not satisfied with them. But cheaper bikes are not that way, so keep that in mind, as their seats will also usually be less comfortable.

Durability
Good, high-quality bikes cost a lot. This is why you must find a bike that will be able to survive at least two years with constant use. A lot of things affect the durability of the bike, like what the bike was made out of, how much you use it, its construction, the weight capacity and so on and so forth.
Search for bikes that have solid, steel frames. Frames that have an 'A' shape are an excellent base that absorbs all of the impact forces and gives stable support. The more solid a bike is, the fewer chances are there for the bike to jiggle and fall apart. Make sure to check out the max user weight capacity before buying the bike. The weight capacity should be about 50 pounds more than what you weigh, just in case. But the sturdier and more resistant a bike is, the pricier it will be! So, if you weight 150 pounds, your bike doesn't need to support more than 200 pounds, unless other people will be using the bike as well. The base of the bike should be wide and stable enough to keep it from sliding around when you go full force on the bike!
The upholstery that covers the seat, plus the screws, bolts, and the pedals all have to be durable and constructed well. The material that makes up the seat will be either vinyl or PVC, although sometimes the seat is leather or synthetic leather. This makes keeping the bike clean much easier, and you won't sweat as much when you sit on the bike. The padding should also keep you safe from the metal construction, so high-density foam is usually chosen to fill the seat up. The gel is also one more option, although it's often an infusion. Some bikes allow you to swap the seats out, or add a cover when the foam gets worn down. Make sure that the bike is easy to assemble because you could make a mistake that could lead to an injury. If your bike is too loud when you use it, it's likely that some of the parts keeping the bike together are loose, and you should tighten them up to avoid having the bike collapse underneath you. The chin will turn all the time, and so will the belt, while the pedals must withstand constant pressure and turn. They cannot do this if they are poorly constructed, so make sure to find a bike that has a good drive system.

Value
How much you spend on the bike ends up being a big determining factor of how sturdy your bike is, what it can do, how much it will last, and much more, so the price is really one important criterion. We will tell you what you can expect at different price ranges.
If your bike costs under $200, do not expect a lot out of it. Although you can find some hidden marvels, this is often not the case. Bikes for beginners that are actually quite good can be found in this price range, with flywheels that are not heavier than 30 pounds. As you progress and move onto HIIT, or just very intense exercises, these bikes might struggle with pedaling motions that fast, and that can put a strain on your joints. The biggest problem is the features these bikes have to offer. They will be the most basic ones, a simple monitor that doesn't have that much to offer. These are some features that we all wish we had, but this will not affect the overall performance of the bike
If the price ranges from 200-500 dollars, consider your bike to be mid-range. Expect the flywheel to be heavier, giving you the chance to do intense exercises on the bike. These bikes should be just enough to meet the needs of the most advanced users. But if you want to experience extreme hill climbing or some unusual but very handy features, you will need to spend more than 500 dollars on your bike. The built-in monitors on bikes in this price range will have good features and plenty of training programs for you to choose from.
Bikes that cost more than 500 dollars are made for commercial use, built to withstand a lot of use and abuse. Their frame will be more durable, able to withstand a lot of weight variations and exercise intensities. Both the seat and handlebars will be highly adjustable so that users of all shapes and sizes can use them. The flywheel will be heavy, it's weight ranging from 25 to 50 pounds, enough to challenge even the most advanced users. The monitor will have plenty of features and programs to enrich your exercises. These bikes are meant for serious users and people searching for thrills, but beginners should get just what they need out of mid-range bikes!

Size
Since you are building a home gym, the amount of space you have is limited, so you must consider the size of your bike. The smaller the bike is, the easier it will be to fit it into the most crowded spaces. This is especially true if the bike is foldable. But these bikes cannot support a lot of weight, nor will they be that durable, so you must find a bike that is somewhere in between if you lack space in your home.
But even the biggest bikes we can find are usually foldable, so once you're done using it you will be able to store it away neatly. Or they are easy to take apart and assemble back up again, so you will just need to leave the solid frame out and store other parts away. Big bikes are also heavy, especially if the flywheel weighs more than 30 pounds. Do not worry though, as most of them are equipped with transportation wheels so you can just slide the bike around the room if need be. Do not worry too much about the size, as exercise bikes are one of the smaller gym machines, but still make sure to check out just how large it is before you buy it!
Expert Interviews & Opinions
Most Important Criteria
(According to our experts opinion)
Experts Opinion
Editors Opinion
Users Opinion
By Default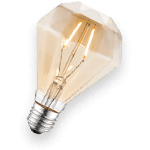 Height
Exercise bikes can usually be adjusted for people whose height ranges from 5'2" to 6'. If you are taller or shorter than that, you might have trouble with adjusting the bike to your needs. If you're getting the bike online, read the reviews carefully to find out if you can fit on the bike or not. Some bikes are very adjustable though, and Sunny Fitness bikes are one of them. Their affordable price makes them available to everyone, so you'll have a choice!
Ease of Use
Using an exercise bike is quite simple. There's not much to be done there - you just have to sit on it, place your feet on the pedals and work your heart out! But, you must adjust the bike properly before you use it though because you can hurt yourself if you don't. The seat height must be well adjusted, and your knees must not cross the line of the pedals, because if they do you can put a lot of strain on them. Remember to sit upright, and do not lean forward too much. The monitor is also quite easy to use because all you have to do is follow what the monitor says, or read instruction manuals that many companies provide you with!
Other Factors to Consider

Bottom Line
The Sunny bike range has quickly become amongst the most popular on the internet. Sunny's top quality offerings, their great pricing structure and their outstanding after-sales service have all contributed to their success. Our favorite is the Sunny Health Pro Indoor Cycling bike, which provides all of the high-end features you demand, including a 40-pound flywheel, at a price you can afford.
As alternatives to the Sunny range, we believe that the Exerpeutic Folding 400XL and LX7 spin bike are strong contenders, largely due to their unrivaled computer features. The Schwinn 130 upright also outshines the Indoor Pro in terms of screen capability.​
Frequently Asked Questions
q:

What's the difference between different kinds of exercise bikes?

a:

There's actually a lot of differences between them, although it might not seem that way. Regular bikes, the upright ones, have magnetic flywheels that will stop spinning as soon as you take your feet off the pedals. These bikes also often have a lot of great features, like consoles, super comfy seats, exercise programs, and much more. A spin bike looks quite different, and it's made to look like a regular bike. The wheel will not stop turning when you stop pedaling, making them excellent for super intense exercises.
q:

Are exercise bikes effective?

a:

There's a reason why they are so popular! If you ever rode a bike, either an indoor or outdoor one, you will know just how well it sculps you, and how fast it does that. The bike builds up your strength and endurance while pumping up your leg muscles, and sometimes even your core. You will burn a lot of calories when riding a bike, resulting in fat burn and less body fat percentage!
q:

How do I know if I have the correct saddle height?

a:

This is actually a very important thing that you should get right because your back and knees can suffer as a result. How your seat stands will depend on how tall you are, and also a bit on how big you are. Your knees should never go over the pedals, as we said a few times before, and when you find that sweet spot locks the seat up! Move the seat close to the handles, so you don't struggle and throw your back out to reach them!
q:

Should my bike be propelled by a chain or belt?

a:

Both the belt drive and the chain drive system have their own set of benefits and drawbacks. Chain drives are super durable, but they are also very loud. The chain drive also makes pedaling both forward and backward possible. The pedals of a belt driven bike will keep spinning unless you physically stop them or hit the brakes! The belt will inevitably wear down, so you will need to replace it every now and then.
q:

How many kinds of exercise bikes are out there?

a:

There are three main types of exercise bikes on the market today. The upright bike is something we're all familiar with, and we have the spin bike and the recumbent bike. There are hybrids out there too, combining the best of these bikes to create the ultimate blend. The upright bike is what people usually refer to when talking about exercise bikes. Recumbent bikes have a very large seat with a backrest for your comfort, the handles are next to you, and your legs actually extend straight from the seat, so you pedal in an almost horizontal position. The spin bike usually has a little saddle, handlebars that are positioned low, a weighted flywheel, and a drive system powered by a chain.
Subscribe to our newsletter