Sunny Health Elliptical Trainers Review 2023
last updated:
Jan 07, 2021
Sunny Health and Fitness are premiere distributors and importers of leading home fitness equipment that is manufactured in China and Taiwan. Sunny is able to source directly through their huge network of manufacturers, meaning that they can bring the best prices to the market. The quality of their products is second to none. In this article, we review the best of the Sunny Elliptical range and tell you about our favorites
In a Hurry? The test winner after 25 hrs of research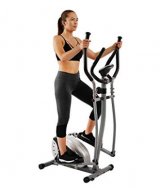 Magnetic Elliptical SF-E905
Why is it better?
8 resistance levels
Compact
Inexpensive
20
Researched Sources
11k
Reviews Considered
25
Hours Researching
14
Products Evaluated
Features
Ease of Use
Durability
Portability
Effectiveness
By Default
10 Best Sunny Health Elliptical Trainers
1

. Magnetic Elliptical SF-E905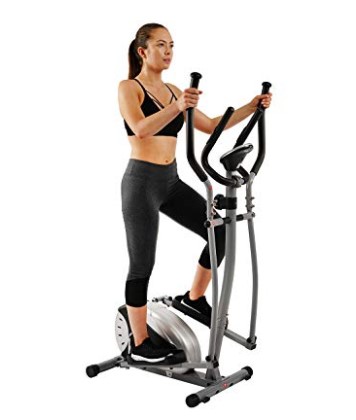 8 resistance levels
Compact
Inexpensive
The SF-E905 model has eight levels of adjustable resistance. The monitoring system with hand pulse lets you control your heartbeat. The monitor keeps track of your time, distance, speed, and how many calories you burn. You can increase or decrease the workout resistance so it can stay challenging and effective. It has a weight capacity of 220 pounds so it will work for almost anyone.
Read more
The Magnetic Elliptical Trainer gives you a low-impact, cardio training from the comfort of your own home. It is designed to provide you a smooth upper and lower body workout and you will not jar your knee joints,
This elliptical has large anti-slip foot platforms to give you good stability. The arms move dynamically so your upper body is engaged as well. It has a system of magnetic resistance which will give you a smooth, flowing motion. It has a hand pulse monitoring system which will let you take your heart rate readings while you are working out.
This machine has a built-in computer which gives you scan, speed, time, distance, calories, and pulse functions so you can track and meet your fitness goals. It is designed to easily fit into a corner of the home. It weighs only 68 pounds.
2

. P8300 Pink Magnetic Elliptical Trainer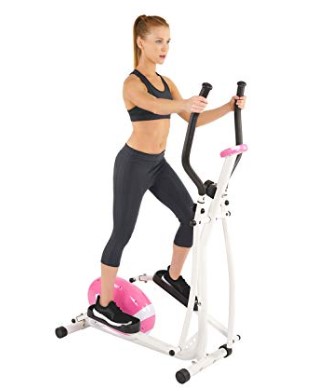 8 level tension controller
Large anti-slip foot platforms
Lightweight
The P8300 Pink Elliptical helps you express yourself. Sometimes it is just fun to express yourself. This machine will help you with aerobic exercise and cardio fitness. Just 20 minutes a day and you can be on your way to lose, control or maintain weight. It is lightweight so you will not wear yourself out moving it around. It only weighs 51 pounds
Read more
The Sunny Pink Magnetic Elliptical is an entry model, a lightweight trainer that comes in at a great price. It has an 8 level tension controller, along with a smooth and silent magnetic resistance level. The meter function scans time, speed, distance, calories, and total distance. Large anti-slip platforms provide a secure base from which to exercise. The max user weight of this machine is 220 pounds.
The Sunny Pink Elliptical is a lightweight machine that weighs in at just 51 pounds. The striking pink makes a bold statement. This is a great low impact toner that is easy on your knees and ankles. It comes with a full manufacturer's warranty.
3

. SF-E3609 Elliptical Trainer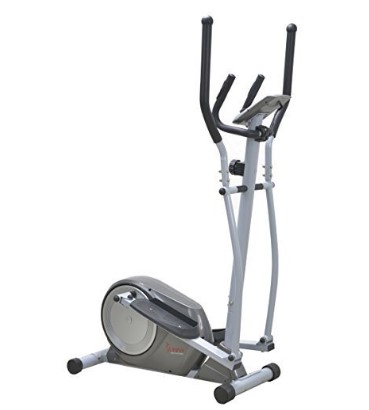 Solid frame
Max user weight 265 pounds
8 levels of resistance
The SF-E3609 Elliptical Trainer has an easy to read display which gives you the time, distance, speed, calories, and odometer. The sensors on the handrails give you accurate heart rate readings. It has built-in wheels so you can move it easily.
Read more
This compact elliptical machine is a more solid, sturdy and rigid version of the pink magnetic trainer. It features a variable resistance magnetic system that is quiet and operates very smoothly. As with the other two models we've considered, you get 8 levels of adjustable resistance. The LCD monitor displays the time, distance, calories, pulse, and odometer. Hand pulse sensors give you an accurate readout of your training heart rate without letting go of the grips.
The Sunny SF-E36-09 has a maximum user weight of 265 pounds and weighs in at just 71 pounds, making it easy to position and move around the room. The dual action handles allow you to get the ideal upper body positioning, so you can effectively work your arms and torso.
4

. SF-E902 Air Walk Trainer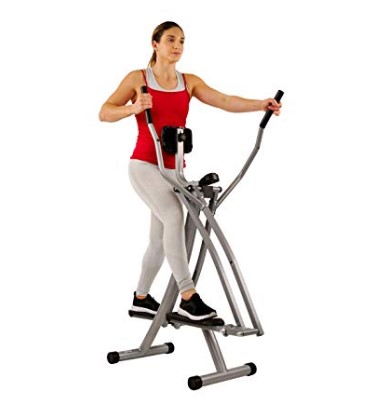 Folds up when not in use
Easy to read LCD display monitor
Works arms and legs
Resistance is not adjustable
The SF-E902 Air Walk Trainer gives you an aerobic workout with the benefits of stretching, running and aerobic dancing without having the jarring impact on your body. When you are not using it, this trainer folds to about half the size so it is easy to tuck into a closet or corner. The stride motion creates a slight twist in your midsection so you are exercising both your upper and your lower body.
Read more
The SF-E902 is ready for a good aerobic workout. The pedals are non-slip and designed to simulate walking or work up to a full run with a continuous motion. It has a long 30-inch stride and a weight capacity of 220 pounds.
This machine targets muscles in your arms and your legs. As you stay upright on the machine, your ab muscles work as stabilizing muscles so you naturally increase your stability and endurance. When you are not using the machine you can fold it up to about half the length.
The LCD monitor is informative, give you all the metrics you need to keep track of your workout. You can increase your comfort with the adjustable abdominal pad which moves up and down for the proper support and placement.
This machine will help you increase your cardio and respiratory fitness. Just using it for 20 minutes a day can help you lose or maintain your weight.
5

. Elliptical Machine w/Tablet Holder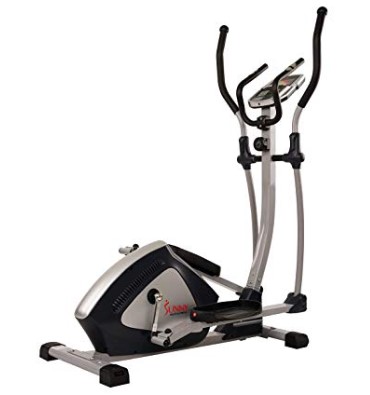 13.5 stride length
8 levels of magnetic resistance
Transportation wheels
You can get the results your body deserves with the SF-E3804 elliptical trainer. This is a high interval elliptical. It gives you a full-body workout, exercising your arms and legs with weight-bearing aerobic exercise. The pedals are large and textured. The handlebars are sweat-resistant and high-density. You can activate muscles throughout your body. There are 8 levels of resistance which will give you an excellent cardio workout.
Read more
The SF-E3804 gives you a high-intensity cardio workout with a dual action of forward and backward pedaling. The stride is 13.5-inch stride length gives you a workout for your whole body. There are 8 levels of magnetic resistance which give you a quiet and smooth workout.
This trainer is portable with transportation wheels to make it portable. The pedals are slip-resistant pedals to give you the stability you need to get a good workout. The stabilizers help you maintain your balance during your exercise.
This machine has a performance monitor which is easy to read and records your speed, RPM, time, and other workout metrics. The convenient pulse grips monitor your bpm.
This elliptical has a heavy-duty frame which supports up to 287 pounds. The frontal handlebars let you work your legs better than most traditional exercises.
6

. SF-E3628 Elliptical Trainer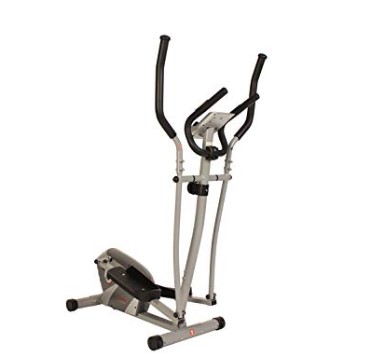 An LCD monitor with tablet holder
Large textured footpads
Easy to use resistance knob
The SF-E3628 has 8 levels of magnetic resistance which you can use easily with the large anti-slip footpads. The LCD monitor displays your speed, time, distance, calories, and odometer. Your pulse is monitored in the handrails which give you accurate heart rate readings. It has built-in for easy portability.
Read more
You can keep your fitness going with the SF-E3628 Elliptical Trainer. This machine is versatile and reliable, as well as easy to use and convenient. You can control the intensity of your workout with 8 levels of magnetic resistance. It has good sized anti-slip pedals. They will help you have the confidence for a fast and hard workout.
The LCD display monitors speed, time, distance, and calories. There are pulse sensors in the handlebars which give you an accurate heart rate reading. It also has a tablet holder which you can use to hold your mobile device while you work.
7

. SF-E3607 Magnetic Elliptical Bike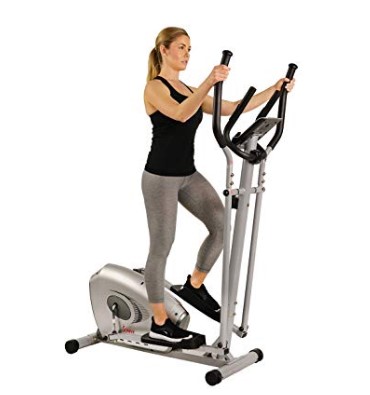 Large anti-slip footpads
8 levels of magnetic tension
Build-in transportation wheels
Instructions are hard to understand
This magnetic elliptical trainer gives you a smooth workout of your whole The hand pulse monitor which is built into the stationary bars helps you keep track and maintain your target heart rate. It has 8 levels of resistance so you can a workout aimed at meeting your fitness goals. The LCD display gives you the fitness metrics of your workout so you can see how you are doing and stay motivated to do more. This machine also gives you large, slip-resistant foot pedals and handlebars to keep you safe and balanced.
Read more
This machine is a magnetic elliptical trainer with good-sized anti-slip footpads. There are 8-levels of adjustable magnetic tension. The hand pulse sensors are in the handlebars to give you accurate heart rate readings. It has built-in transportation wheels to help you be able to move it around the room or store it away between workouts.
This machine has great leg stabilizers which are adjustable to prevent the trainer from tipping, swaying, or rocking on uneven surfaces. It works for carpets and hardwood floors. You just turn the knob until it is level.
It is important to monitor your target heart rate. It is an important tool for doing your workout correctly and efficiently. Keep your heart rate steady and prolonged and you will burn more fat. This piece of data will help you understand your health and fitness status better.
8

. SF-E1405 Flywheel Trainer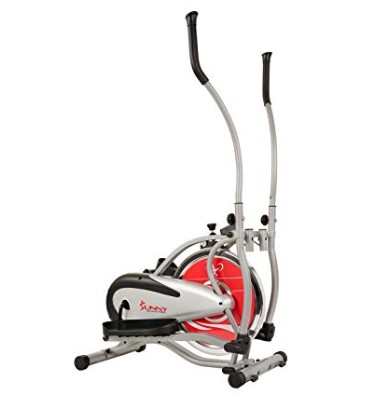 16-pound flywheel
Felt brake pad resistance system
Large, anti-slip pedals
The machine is a little small
The Flywheel Elliptical Trainer gives you a great cardio and full-body workout. It targets your arms, legs, buttocks, and more. This machine has a 16-pound chrome flywheel which gives you a smooth feel created by the continuity of the spin. You will have less stress on your joints. The handlebars have dual action to allow swing and fixed handle positions so you can target either single or multiple body areas. It also has a brake pad system made with felt fabric to let you have various tension levels.
Read more
The highlight of the SF-E1405 trainer is the 16-pound flywheel. It stays balanced to give you power and precision while you are working towards your fitness goals. It is very accurate and gives you a variety of resistance levels.
The flywheel also lets you have an easy momentum to start-up and safer momentum for slowing down which lets you stop easily after your workout. This machine will help you build lean muscle with the consistent resistance you are building with each stroke.
This machine also has a unique resistance system using felt brake pads. It gives you a fluid motion which quiet and stable. It lets you start up and slow down easily. Using this elliptical helps you build excellent muscle with the consistent tension resistance you build as you exercise.
Leg stabilizers keep the machine from rocking, swaying or tipping on uneven surfaces. They will keep you steady on carpets or hardwood floors. You simply turn until your machine is level.
9

. Magnetic Elliptical Trainer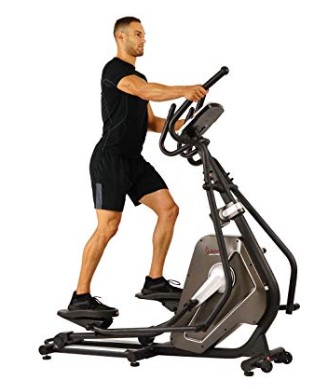 Has 24 preset workouts
Hand grips monitor your pulse
Includes a tablet holder
Does not fold for storage
With this elliptical, you can challenge yourself to a varied workout with 16 levels of magnetic resistance. The levels are adjustable using the digital display. The preset programs will adjust the resistance levels automatically during your workout.
You can easily monitor your heart rate using the pulse grips. They will help you to accurately determine your heart rate so you can assess your performance.
Read more
This machine has a tablet holder so you can enjoy entertainment while you workout or watch workout videos. The machine also works without electricity. You can stride on the elliptical with the last resistance setting the machine was using before it was turned off.
The SF-E3862 Circuit Zone has textured pedals that are designed to give you superior grip and stability. The pedals actively adjust to your natural foot movement while you exercise. The full-motion handlebars help you engage muscles in your arms, chest, shoulders, and back.
When you rotate your legs on the stride length, you are stimulating muscles in your lower body. You can vary your exercise with 16 levels of resistance which is computer-controlled. Each level pushes you to work harder toward your fitness goals.
The digital meter is used to track distance, time, speed, heart rate, and calories burned. There are 24 presets you can use to mix up your workouts. The pulse grips monitor your heart rate.
10

. Stride Zone - SF-E3865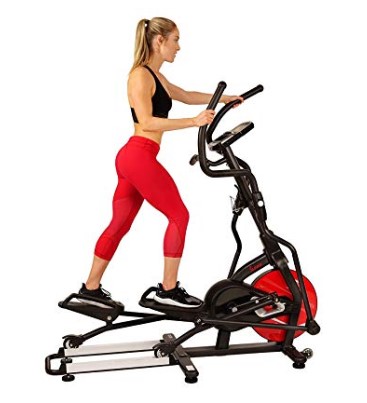 12-inch stride length
7 basic workout modes
Tablet and water bottle holder
The Stride Zone SF-E3865 Elliptical gives your body a total workout. The foot pedals are non-slip and designed with an inner rim that helps keep your feet firmly in place. Equipped with a 20-inch stride length, it offers you a large range of motion. Your workout comes from moving the flywheel that weighs 44 pounds.
The upper portion of your body will get a workout as well with the handlebars that are designed with curved multi-grip. You can increase the intensity of your workout on the lower portion of your body with 24 different levels of belt drive resistance. Each individual level works your glutes, calves, thighs, and core which helps you work on achieving your ultimate fitness goals.
Read more
You can really open up your stride with a fluid gait motion of 20 inches. This will increase your joint range of motion so this will help you stimulate your larger muscles.
The computer has 12 programs that are pre-loaded to give you more of a variety of intensity while training or working out. There are also 7 primary workout modes, which will also help you along your fitness track. This elliptical can help you work towards a targeted heart rate or heart rate control. The manual mode can control the different variables that you wish to choose.
You have a tablet holder so you can control your entertainment while you are working out when you put your favorite device, phone or tablet, on the convenient built-in holder. It also has a water bottle holder so you will have your favorite workout beverage nearby to encourage you to stay hydrated.
Criteria Used for Evaluation

Features
Sunny Health and Fitness are dedicated to bringing their customers the highest quality fitness equipment. They are made of sturdy construction.
The foot platforms are large so there is plenty of room no matter how big your feet are. They are also textured so your feet will stay in place during your stride. Some of them also have a ridge on the edge to help keep your feet in place. Different machines have different stride lengths so that maybe something you will want to pay special attention to, especially if you are very short or very tall.
Most of these models also have dual action handles which help give you a good body position. They help you get a full upper and lower body workout, as well as good cardio exercise. Some of the models have handrails which have pulse readers in them so you can keep track of your heart rate.
Most of the models have magnetic resistance at different levels so you can vary your workouts as your fitness grows. Some of them have flywheels for resistance with felt brake pad systems. Others have resistance which is controlled by the computer, along with preset programs and different workout options.
It is also nice that the machines have an LCD monitor. They help you track your fitness metrics so you can monitor how well you are moving towards your exercise goals. They will also help you stay motivated so you can keep pushing yourself to do better.

Ease of Use
Sunny has made their elliptical machines easy to use. To begin with, the machine arrives assembled or mostly assembled. When you use it, the elliptical runs smoothly and quietly so you can enjoy your workout.
Having nice handles makes your elliptical easier to use. They should be at the right angle so you can stay at the proper body position. It is handy if they are multi-grip and are covered with high-density foam.
The foot platforms need to be big enough to fit your foot and textured so that your feet will stay in place while you work out. You should also take a look at the length of the stride for the machine you are considering. The taller you are, the longer stride you will probably need so you are going to want one which fits your needs and is going to be easier for you to use.
Your elliptical should have an LCD display monitor which gives you the information you need to keep track of your fitness routine. It should tell you how long you have been working out, how many calories you have burned and the other information you need to make sure you are achieving your goals.
The computer can also have preset programs for exercising which is nice because it can vary your workout some. A couple of the models have built-in fitness programs too. Whatever the computer offers, it is important that it is easy for you to understand, operate and use while you are working out.

Durability
Sunny Health and Fitness know how vital it is that the elliptical be durable. This is a fairly costly piece of equipment so if you are going to invest that much, you want something which is going to last for years. That means you need an elliptical which has solid steel construction and secure welds.
It should be solid, sturdy and rigid. This machine needs to be able to hold your entire body weight while you are moving through an intense workout day after day.
The footplates should be textured and be attached securely so they stay firmly in place use after use. The handles should also be firmly attached yet move freely and easily. They should be covered with high-density foam to keep your hands protected and comfortable.
The LCD display and computer need to be durable as well. They need to continue to give you the information you need to monitor your workout or provide the preset workout programs.

Portability
Portability is important since you may not have a lot of extra room to just leave it in place all the time. If you are working with limited space, check out the models we have listed which have good portability.
Some machines can be folded when they are not in use so they take up less space. In the case of most of these though, the portability factor is having wheels. It is nice if you can find one with wheels on one side so you can lift up the other side and roll the machine into a corner or against a wall. The wheels should be good sized so they roll easily and hopefully made of some sort of material which will not scratch the floor.
It is also nice if the machine has a handle on the opposite side to make the lift and move motion even easier. Look for a machine which is more lightweight as well so you will be able to maneuver it easily when you need to.

Effectiveness
These elliptical machines are effective at giving you excellent cardio and full-body workout. The striding works on your legs, calves, thighs,
and buttocks. You want to choose one with a stride length which will match your body type so you get a good workout.
The handles with dual action will help to work your upper body including your arms, shoulders, abdomen, and back. They keep your body in the right position to be the most effective.
Your machine can also be effective by offering a good adjustable resistance which can vary as your fitness level improves. It is also effective by having preset programs in the computer you can workout to, and by having access to the metrics you need to monitor your workout. That is the best way to determine how you are progressing with your fitness, as well as keep you motivated to continue pushing yourself.
Your effective unit will be lightweight with built-in wheels so that when you are not using it you can move it out of the way and get on with your day. But even if you have to leave it where it is, an elliptical machine is a great way to exercise with a ton of benefits in a relatively smaller space.
Expert Interviews & Opinions
Most Important Criteria
(According to our experts opinion)
Experts Opinion
Editors Opinion
Users Opinion
By Default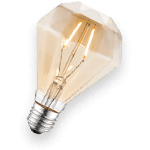 Keep Feet Flat On The Pedals
When you are striding during on an intense workout, there is a tendency to get up on your toes when you are trying to push the pedals down. You need to resist the temptation because being on your toes will not give you the good stretch to work the muscles you are targeting.
When To Use The Handles
When you use only your legs only without the handles, the focus is on your lower body. If you drive through your hamstrings and glutes, you put pressure on your lower body. Not using your hands also helps with core focus exercise as well. Once you have mastered that, you can switch it up.
Other Factors to Consider

Comfort
If you are going to get 20-30 minutes at a shot at least on your elliptical, it needs to be comfortable. The footplates need to be big enough to fit your foot and textured so you do not slip during your workout. The handlebars should have multiple places padded where you can grip them so you get the perfect angle for your body design.
Frequently Asked Questions
q:

What is an elliptical machine?

a:

An elliptical machine is an exercise machine which is stationary. It can be used to mimic stair climbing, walking, or running with the benefit of not putting excessive pressure on your joints. It can also have moving handles for your hands so that you get an upper body workout as well.
q:

Is an elliptical better than a treadmill?

a:

The elliptical is better for a low impact alternative to running on the treadmill. The elliptical also has the benefit because it is a full-body workout, not just your legs. It also lets you go back so you can target your hamstrings more.
q:

What is stride length?

a:

Stride length is the distance between the toe of the pedal in the front to the heel of the pedal in the back when they are fully extended. It should be similar to a walking stride. Because of this, the taller you are, the larger stride length you will want on your machine.
q:

What is the difference between front drive or rear drive?

a:

On a rear-drive, the drive axle is in the back of the machine. This gives it a somewhat smoother ride with a smoother feel on the pedals. They tend to be more expensive. Even though a front-drive elliptical might be a little rougher, the price will be more affordable.
q:

Is an elliptical with a heavy flywheel a good idea?

a:

How much the flywheel weighs can directly influence how smooth your workout is. Heavier flywheels produce higher inertia, which makes your workout smoother.
Subscribe to our newsletter