Best Triathlon Gear Pieces in 2023 Reviewed
last updated:
Mar 25, 2021
Competing in a triathlon will be the most challenging event you can put your body through. It will push both your body and your mind to the limit, and you must be properly geared up to survive this test. There's a lot of gear you can wear to a triathlon, but some pieces are truly essential while others serve to improve your odds. Read on to discover our list of the best triathlon gear, how you can prepare yourself for the upcoming challenge and why you need the gear we described!
This is the best product on our list that is currently in stock: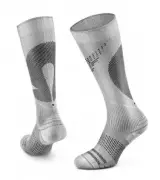 Vigor Compression Socks
Why is it better?
Offers 16-23 mmHg of compression
Seamless toe
Added cushioning
Arch support
100% recycled materials
Lifetime guarantee
17
Researched Sources
14k
Reviews Considered
10
Hours Researching
12
Products Evaluated
Use
Effectiveness
Features
Durability
Value
By Default
Best Triathlon Gear
Elastic Top
Reflective Logo
Seamless Construction
Extra Padding
Lifetime Guarantee
It's important to keep your feet protected while you run and cycle and the best way to do that is by wearing the proper pair of socks. Some people choose to go barefoot, simply because it saves them the precious time they would lose putting the socks on. And this does work for a portion of the people because they can handle going barefoot, but a lot of participants are rendered a blistering hot mess, unable to function and compete properly. If your skin is sensitive and you know that you can't handle the friction of your sneakers against your bare skin, your best option is to wear athletic socks like the Accelerate.
Read more
Rockay is a brand that excels in creating gear made for running. Their products were engineered by runners for runners, and they got every problem runners experienced fixed with their amazing socks and sleeves. The materials they use are high-quality and eco-friendly, made to last the mile to save you money and to save the planet. Accelerate is an ankle sock that has every feature you may need to help you last longer. But it is an ankle sock, and ankle socks tend to slip into our shoes and cause friction, which in turn causes blisters. And blisters are the last thing you need when you're competing in a serious event such as this one!
But luckily, Rockay is very aware of this problem, so they did everything they could to prevent this from happening, and they succeeded. The tight elastic top was engineered to keep the socks in place while you run, and it also prevents dirt and rubble from falling into your socks. A reflective logo sits at the back of the top band, and it alerts people of your presence when they pass you by. The top portion of the sock is padded, as are the toes and heels. This amount of padding is a surefire way to maximally protect your feet from all kinds of damage, and they also distribute the weight and pressure evenly around the surface of your feet so you can handle the constant shock of running with ease. Some areas of the sock have an extra light mesh that increases breathability, keeping you cool and sweat-free. The best solution for the fight against blisters is the seamless construction of this sock. If the sock has no seams, there will be no parts of the sock to irritate your skin and make blisters rear their ugly heads. The heels of the Accelerate are reinforced to help them last longer, and they extend over the heels, above the line of your shoes to guard the sensitive Achilles tendon against, you guessed it, blisters. Finally, the anatomically fitting arch compression increases the support and improves blood circulation to the feet so you don't feel fatigued and in pain. Rockay offers a lifetime guarantee for every product they sell, so even if something goes wrong or you're not satisfied, you will get a new pair to test it out and see if it fits you better!
2

. Vigor Compression Socks
Offers 16-23 mmHg of compression
Seamless toe
Added cushioning
Arch support
100% recycled materials
Lifetime guarantee
If you are a person that deals with leg pain while running and are looking for a sock that offers the benefits of an athletic sock along with the performance of a compression sleeve, then the Vigor Compression Socks are the perfect fit for you! Made with graduated compression, mesh zones for extra breathability, and added arch support, you can participate in any triathlon knowing that your legs will feel amazing.
Read more
The Vigor Compression socks are one of a kind. Offering 16-23 mmHg of compression, these socks work as hard as you do while you run, so you can say goodbye to leg pain and cramping. They also offer breathable mesh zones throughout the sock, which means that your feet stay dry, cool, and comfortable the entire time they are on your feet. Also designed with fit in mind, these socks stay in place, preventing you from having to worry about being distracted from a sock that falls down while you run.
These socks are also equipped with added performance cushioning, keeping your feet ache-free and comfortable. The seamless toe prevents any unnecessary pinching or bunching, allowing you to stay focused on the task at hand. When you slip these socks on, you will also notice the added arch support, which is an important attribute, especially when you will be on your feet running for a longer period of time. Made from 100% recycled material and backed by a lifetime guarantee, you really can't go wrong with this choice!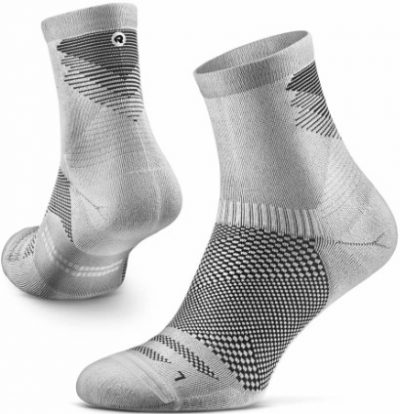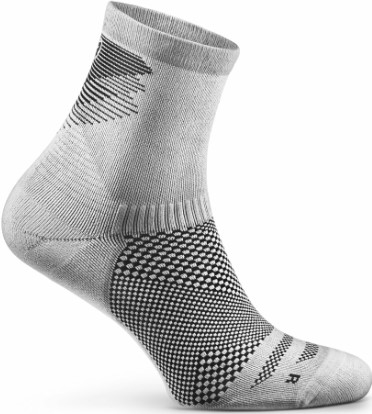 Added performance cushioning
Arch support
Seamless toe
100% recycled material
Lifetime guarantee
If you are in the market for a sock that offers quality, comfort, and effectiveness, then the Razer Trail Running Sock is the perfect fit for you. Made from a combination of Econyl regenerated nylon, recycled elastane, and recycled polyamide, these socks are not only amazing for your feet, but they are amazing for the environment too! Read on to discover more great features this sock offers.
Read more
The Razer Trail socks come equipped with breathable mesh zones that are placed strategically throughout the sock. This design will help keep your feet cool and dry, even during the most rigorous activities. They also offer the perfect amount of compression, keeping you from having to deal with those aches and pains that can come along with running longer distances or intense workouts.
These socks were also designed to fit anyone and work for any type of athletic activity. They come with a seamless toe, which helps prevent any pinching or chaffing on your toes. The added arch support and extra performance cushioning will help keep your feet feeling comfortable and pain-free, which is an absolute must when participating in a triathlon. These socks will work just as hard, if not harder than you do!
Made from 100% recycled material, these socks are not only amazing for your feet, but they are amazing for our environment as well. Backed by a lifetime guarantee by the company, take a step in the right direction and you won't be disappointed.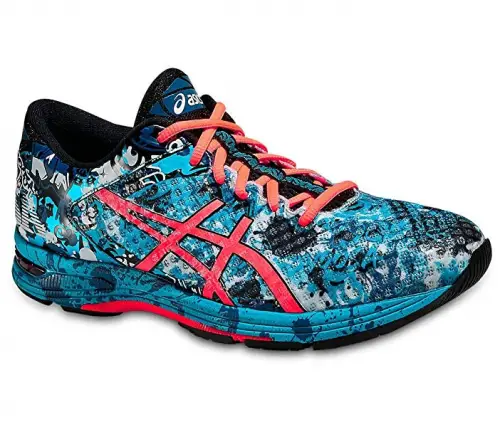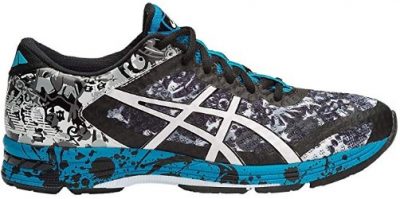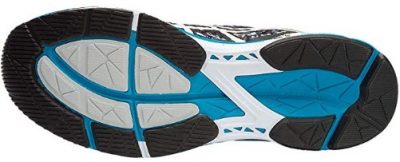 Seamless Construction
Elastic Laces
Very Lightweight
Dynamic Duomax Support System
Gel Cushioning
You will need to spend a good amount of time running and cycling, where your feet will do most of the work. This is why you need to prepare them by wearing the right pair of sneakers. Although you can wear both running and cycling shoes, you can save time by going only for a good pair of running shoes that won't affect your cycling that much, and the GEL-Noosa is a pair that can give you that satisfaction.
Read more
These sneakers are made by ASICS, a universally recognized sports brand that creates outstanding footwear and other sports apparel. The GEL-Noosa is a sneaker with a busy, colorful upper that simply shines with energy and brightness, giving you great looks while pushing you to reach your goals. The colorways are either blue or green, with clashing splats of colors that complement them well, creating a sneaker that is a joy to look at. The GEL-Noosa has a seamless construction, and if you pair them with seamless socks, you seriously lower the chances of having blisters. But the mesh that makes up the upper of these sneakers is engineered in such a way that you can skip wearing socks in the first place, giving you the chance to save even more time while competing. The tongue will grip your feet and keep them in place, while the adjustable elastic laces glue you to the shoes and stabilize your joints. This allows for a very quick transition! The sneakers are very lightweight, so there won't be anything about these shoes that will slow you down.
Both the rearfoot and the forefoot have a gel cushioning system. These cushions absorb the shock as your foot moves through the natural motions of running, allowing your feet to move in multiple planes unaffected. The dynamic duo max support system stabilizes your feet and gives them all the support they need. The platform support is increased, and the weight is drastically reduced. The solyte midsole material is much lighter than any midsole found in ASICS sneakers, and the cushioning and durability are enhanced as well. The outsoles have a specific pattern, called the Propulsion truss tic, that mimics the connective tissues in your feet. This creates tension while you run to propel you and help you run faster.
5

. Synergy Triathlon Tri Suit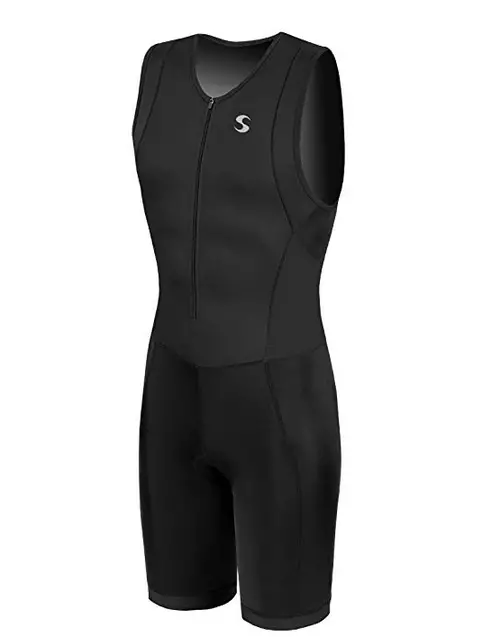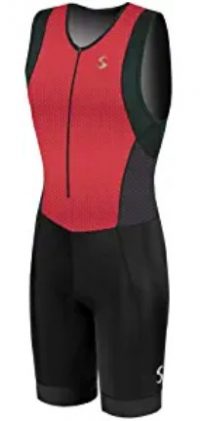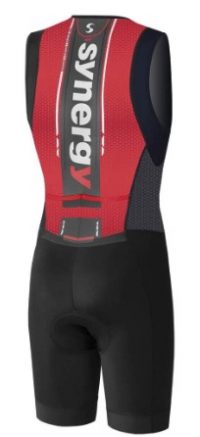 Semi-lock Long Zip
Flatlock Stitching
Silicone Leg Gripper
High-performance Poly Spandex
Two Mesh Pockets
A tri suit is your ultimate triathlon outfit designed to protect you through every phase of the challenge. It can be worn in water and outside of it as well, warming you up when the water is cold and cooling you down when you start to heat up. Putting on the tri suit could be problematic, but luckily you only have to do it before you start competing! If you're really struggling, you can use vaseline to minimize the friction and just slide into the suit effortlessly.
Read more
The Synergy suit is equipped with an advanced neo gel pad that is lined with anti-microbial fleece that supports you while you run and hugs your skin comfortably. The suit is held together by flatlock seams. These seams are designed in a way to minimize irritation and friction. The shorts are kept in place thanks to leg grippers that are gentle but strong. A modesty panel keeps everything in check. The suit is made out of semi-compression materials that glue the suit in place. The soft bias reduces chafing and leaves a lot of room for your skin to breathe. A semi-lock zip in the front makes taking the suit on and off quickly. It's extra-long to allow you to shimmy in the suit effortlessly. The colorfast sublimation protects the suit and the colors from weather damage. The tri suit has two mesh pockets in case you need to bring valuables with you. The ultra-light quick-drying perforated chamois pad is the cherry on the top, making this suit the ideal partner for every aspect of the triathlon! Just make sure you have the right size.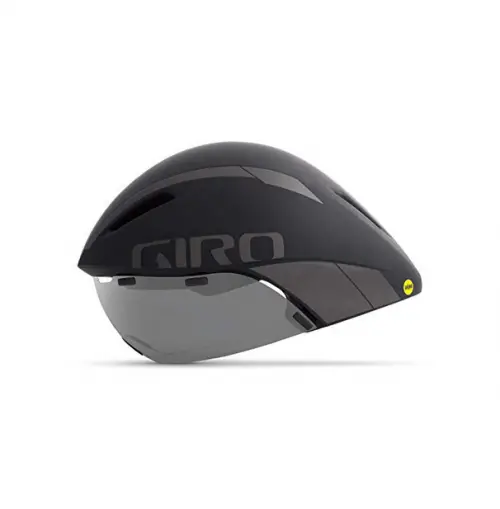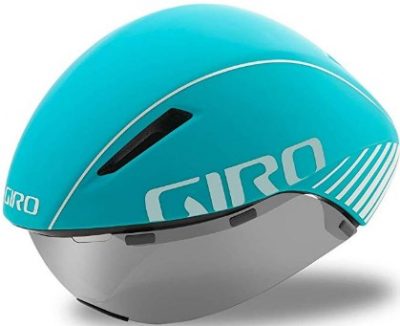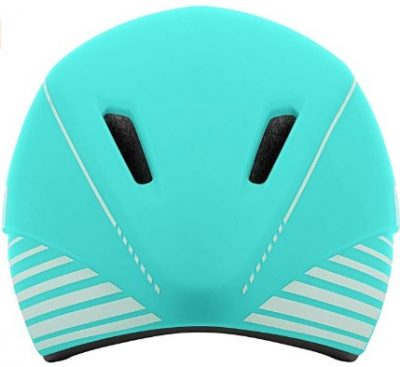 In-mold Polycarbonate Shell
Lightweight
Four Wind Tunnels
Over-brow Ventilation
Magnetic Lens Anchor Attachment
The cycling portion of the triathlon is probably the most dangerous one. Falling off your bicycle is never fun, and you can get seriously injured if your head is not properly protected. if you don't wear a helmet when you cycle, it's time to start wearing one! You might not like the sensation of something sitting on your head at all times, but once you get used to it you will find it impossible to even get on the bike without wearing one.
Read more
The Giro Aerohead is an aerodynamic helmet that perfectly balances speed and cooling. The helmet really improves your aerodynamics and the lightweight polycarbonate shell feels as light as a feather while you ride. The helmet has four strategically placed vents, called wind tunnels. These tunnels have internal channeling that cools your head and helps you stay focused on the road in front of you. The over-brow ventilation prevents sweat from clouding your vision and increases the breathability. If you somehow forgot your sunglasses, the Aerohead has got you covered - it has a magnetic lens anchor attachment. The shield has a wraparound construction that protects you from everything mother nature throws at you without blocking your field of vision. You can easily flip the visor up to transition quickly from one phase to another.
7

. Arena Cobra Core Swim Goggles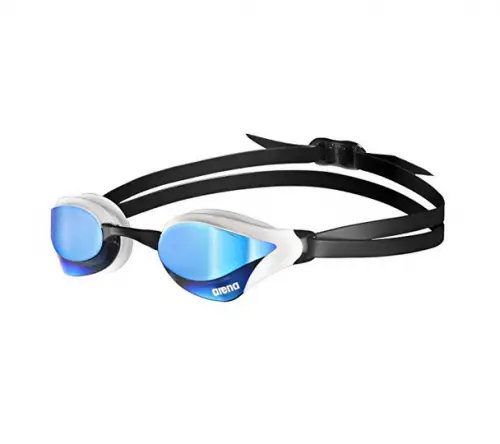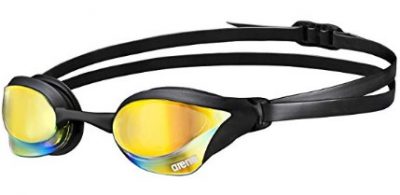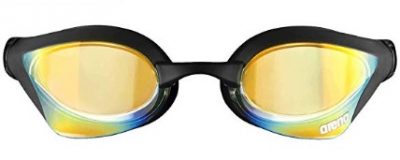 Anti-fog
Max Comfort
Dual Silicone Head Strap
Polycarbonate Lenses
No Water Leak
You might believe that goggles are an extra piece of gear that is not that important for your success. But choosing to go without goggles, or just choosing the wrong style can ruin your swim before you even contact the water. Without goggles, your eyes will start to sting fast and your vision will be clouded, so you won't really know where you're going, and goggles that fit you poorly will either cause a headache or they will fill up with water and slow you down. But wearing the right pair will grant you vision, and you can even grab a tinted pair to keep the sun out of your eyes.
Read more
The Cobra Core has a streamlined design that improves hydrodynamics and makes you look good while you own the water. The extended lateral vision helps you stay on track. The goggles are made out of ultra-premium Japanese TPE, with a dual silicone strap, a nose bridge with five different levels to fit every shape, and high-performance polycarbonate lenses that are impact-resistant and as clear as day. An adaptive soft seal glues itself to your face on specific areas that will not lose the suction. This way, the vacuum remains intact and you don't have to worry about water clouding your vision. A special coating on the lenses eliminates vapor and prevents water from condensing on your lenses. The silicone strap has a specialized shape that avoids areas on your head that do not respond to pressure well and paired with the nose bridge, they create a perfect fit that saves your vision without causing you any stress. The lenses can be mirrored or non-mirrored. They have extra shading to protect your eyes from the sun's glare.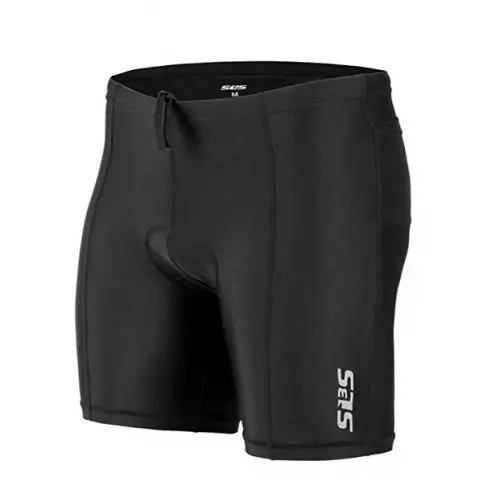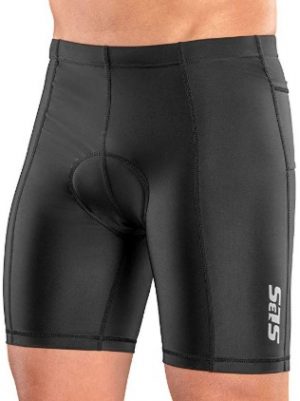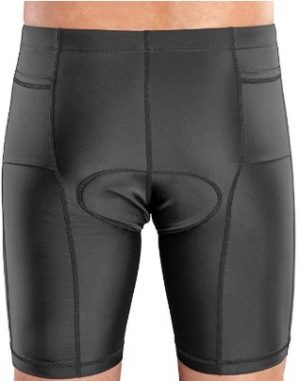 Flatlock Seams
Two Hip Pockets
Softleg Finish
Triathlon Pad
Waistband With Drawstrings
If you don't like to wear full tri suits, and many competitors don't, you can choose the best triathlon shorts for a lower price. These shorts are similar to cycling shorts, but they are designed to dry off faster, and their seat pad is not as heavy or thick. The reason why is very simple - you will wear these shorts in water and while you cycle, and sitting on a damp pad while you try to maintain your pace is the last thing you need. Triathlon shorts are not as expensive as a tri suit, and they can be worn outside of the competition, while the suit is really only meant for the competition, and nothing more.
Read more
These shorts are made out of a material blend that makes them comfy and supportive. The compression level they create is medium, enough to support your muscles without constricting your limbs. The flatlock seams prevent chafing, while the waistband is improved and equipped with a drawstring so you can create the optimal fit for the true chafing-free experience. The pad is lightweight but dense, made out of durable foam that will protect you from saddle sores and irritation. The inseam is 7" long, covering your muscles and helping them fight off fatigue and pain. The fabric stretches in all directions, acting as a second layer of skin, giving you the freedom to move in any direction you need. There are two hip pockets that hold your valuables next to your body, preventing them from bouncing around and distracting you.
9

. Aduro Bike Storage Bag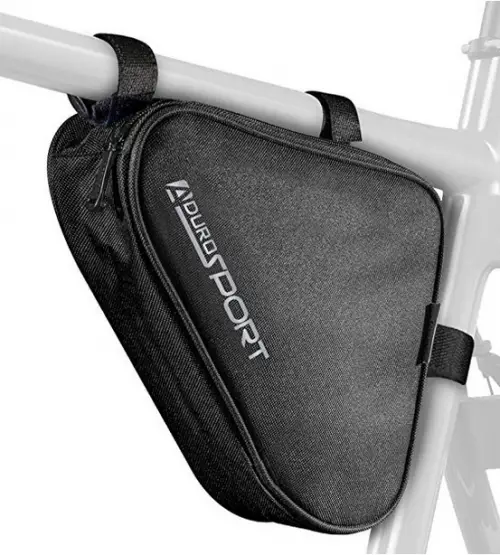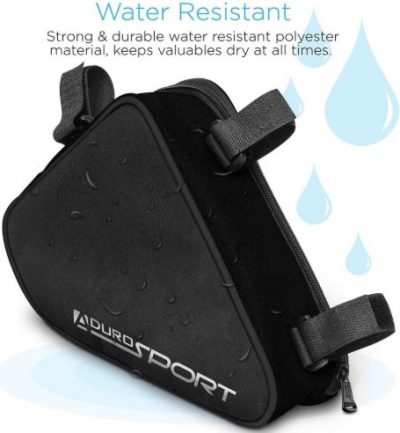 Mounts To All Bikes
Strong And Durable
Adjustable Velcro Straps
Inner Netting
Water-Resistant
Wearing a backpack while you're in a competition where every second matter will only slow you down, so you need a bag that is lightweight and compact yet still functional enough to carry all of your essential belongings. Wearing a bag on your back is not a good idea, but attaching it to a bike where it won't affect your speed is where the solution lies. A storage bag can fit your keys, wallet, smartphone, and piece of a first aid kit if you get injured.
Read more
The Aduro Bike Storage Bag can be mounted to any bike model out there, so don't worry about not being able to strap it to the frame of your bike. The bag is attached to the frame with ease thanks to adjustable velcro straps. The mouth of the bag is wide and zippered, allowing you to squeeze every last bit of your important triathlon gear in it. The bag is slim and lightweight, minimizing wind resistance. It's made out of durable polyester that resists both the sun and the rain, and it protects your belongings from damage. The bag has an inner netting that lets you keep your stuff organized so you don't waste any valuable seconds looking for the item you need. Aduro offers a lifetime satisfaction guarantee, so if you have any issues you will either get a replacement or a full refund!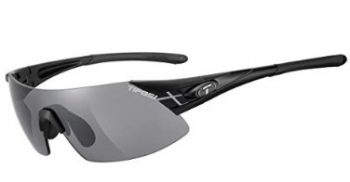 Grilamid TR-90 Frame
Adjustable Nose And Earpieces
Hydrophilic Rubber
Tight Fit
Full Coverage
We talked about why it's important to protect your eyes when you swim, but you also have to protect them when you're running and cycling, and there's no better way to do that than by getting a proper pair of sporty sunglasses. They won't only keep the sun out of your eyes - they will also keep the wind, rain, and bugs away from your eyes, letting you focus on maintaining the pace.
Read more
The Podium XC is a futuristic pair with a tight fit that can be customized to your shape, and an adjustable hydrophilic nose bridge and earpieces. The aggressively cut shield lens cover your eyes completely and protect you from danger. TR-90 nylon frame is incredibly lightweight and sturdy, able to resist UV and chemical damage. The frame will definitely survive being in the sun all day long! The nose pieces are made out of hydrophilic rubber, adjustable to fit every nose shape. Hydrophilic rubber increases the grip it has on your skin the more you sweat, so you don't have to worry about the glasses flying off your head when you start to perspire! The adjustable earpieces are made out of the same kind of rubber, so you can customize your fit until you're completely satisfied with it, and it will not change when you start to sweat! An additional pair of lenses are included so you can switch them out to fit the outdoor conditions. Every pair comes with care instructions, a hardshell case, and a cleaning bag.
Criteria Used for Evaluation

Use
Knowing what kind of gear to get for the triathlon is one thing, but knowing how to use it is just as important as preparing properly! The gear you bought must be easy to use, and you have to master using it completely before you start competing. Every second matters in this race and you cannot allow yourself to lose precious time fumbling about with your goggles or losing time trying to adjust the right helmet fit. This means that you have to put your socks and shoes on quickly, so you don't lose precious time. The triathlon suit might need to be broken in a bit before you start your race. You must adjust the sunglasses and goggles before you set on to test your luck, and the helmet has to be tested as well. You need to know whether the clothes fit you right, and you also have to learn how to take them off and put them on as quickly as possible. The only thing that is pretty straightforward is the bag because you can secure it onto your bike before the race and then forget all about it!

Effectiveness
How truly effective is all the gear we described here? There's a good reason why companies exist solely to create gear made for triathletes. The best triathlon shoes and socks protect your feet, prevent blisters from forming, and help you reach your goals. That can be next to impossible if you end up getting the wrong socks that either move around while you run or cause blisters. The helmet protects your head if you fall from the bike, while the sunglasses and googles keep your field of vision pristine. The storage bag has everything you might need while you compete, and it protects your valuables from inclement weather. The tri suit and the shorts are essential - the tri suit is effective for every phase of the triathlon, while you will need to put a shirt on if you decide to go for the shorts only.

Features
The features of your triathlon gear change depending on what the gear is. We will list some of the most important features your gear needs to have, but of course, there are many aspects we will skip because if we start listing everything in detail you would need to spend half of the day reading our article! Let's go from the bottom up. The socks need to be anti-blister and moisture-wicking. Blisters are the last thing you need when time is against you, and a moist sock is a perfect environment for blisters. Sneakers need to be properly padded, they need to give you support, and they must be lightweight so as to not slow you down. The shorts and tri suit must have flatlock seams that don't chafe your skin raw. They must be easy to take on and off, and the materials must be quick-drying and breathable. The sunglasses need to be adjustable and slip-proof, while the googles must have fog protection and the seal they create has to be fool-proof. The helmet has to be hardy but lightweight and breathable enough so you don't end up with a heat stroke!

Durability
Truth be told, if you're not a professional athlete or a complete fitness enthusiast, chances are that you won't do the triathlon often enough for durability to matter so much. Still, no one likes it when their brand new item they spent a ton of money on falls apart after just one race. You must test your gear before you compete, and durability is one more reason why you should do so. Imagine having your suit tear while you're swimming, or your helmet flying off as you gain significant speed? These are all situations you need to be prepared for, so you really have to invest in your gear if you want to remain protected at all times!

Value
Competing in a triathlon is definitely an expensive experience. Just buying the right bike alone can chip your budget, and when you consider the cost of everything else, you will soon realize that you will need to save up if you want to compete properly. And we didn't even mention the cost of travel, tickets, accommodation, food or medicine! Triathlons are something you need to plan ahead for - you can't just wake up one day and decide you want to compete. This is a pricey event, and the gear needs to be high-quality unless you want to tease fate and end up injured!
Expert Interviews & Opinions
Most Important Criteria
(According to our experts opinion)
Experts Opinion
Editors Opinion
Users Opinion
By Default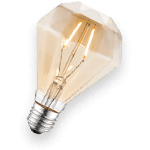 Portability
Chances are that you're not living in a country that holds a triathlon. So, you will need to pack your bag and carry every last item with you to the airport, and then to where the triathlon actually is. If the items you bought are robust, you will really struggle to carry them from place to place. Your bike will be the hardest one to transport, but luckily the rest of the gear is pretty small and convenient to carry around, and you can probably fit everything in one neatly sized travel bag!
Versatility
The products used in a triathlon are very pricey, as we already discussed, and you have to know how to get the most out of every item. Thankfully, the only product that is not so valuable is the tri suit, as it's only real purpose is achieved when you compete. You can wear the athletic socks when you train, the sneakers can be worn while you're preparing for the triathlon. The bike is an essential transporting vehicle, while the helmet and sunglasses offer protection at all times. You probably won't swim all the time so the goggles are not as versatile, but they can still be used outside of the triathlon. The bike storage bag can carry your essential all the time, whether it's while you are training for the big day or participating in the race.
Other Factors to Consider

Bottom Line
Choosing the right piece for competing is a very difficult task. Although we covered some essentials, and some extra items that can make the triathlon easier, the list of the items you need for this serious competition is so long that we would need to spend an eternity listing and describing the importance of everything. These products are just the bare minimum, and you will need to discover what else you need to achieve your best when you compete. We hope our guide has helped you find what you were looking for, and that you are ready to win the race!
Frequently Asked Questions
q:

Can I get injured in the triathlon?

a:

The triathlon will test your stamina and the limits of your body, and getting an injury is a very real possibility. Attempting to compete when you're not really ready is a very bad idea, so make sure you really know what you're doing before you attempt to compete!
q:

Do I need to carry my own bike?

a:

Having your own bike is a necessity. No one will offer you their bike there, nor will anyone have a bike you can rent for the competition. These bikes are highly specialized and very expensive, and you will need to bring your own if you wish to compete.
q:

How long does the Triathlon last?

a:

This all depends on your fitness level, your training, and your will to go on. The triathlon takes about 10 to 12 hours to complete, and the longest time it took someone to finish the race was 17 hours. Prepare to spend most of the day pushing your body to the limits!
q:

Should I buy a swimming cap?

a:

A swimming cap is not an essential triathlon piece, but it does help by increasing your hydrodynamics! You will gain more speed, and you will break the surface of the water easily, while the water glides off the slick surface of the cap.
q:

Do I need to buy a first aid kit?

a:

Many triathletes carry their own first aid kit, but they don't carry all the items that you can find in them. Usually, the products carried are bandaids, sunscreen, antiseptic creams or sprays, and maybe some bandaids if you develop blisters. You will see a lot of medical personnel throughout the competition, and if anything goes wrong they are always there to help you get back on track!
Subscribe to our newsletter