Best Women's CrossFit Shoes in 2023
last updated:
Jan 07, 2021
Crossfit started close to 15 years ago and it has become an international phenomenon with people actively seeking ways to destroy their body even more for that sweet release of endorphins and muscle gains.
No shoe survives long in the box unless it has incredible versatility and overall durability. So let's get started with our top three. CrossFit is a powerful combination of calisthenics, weightlifting, plyometrics, HIIT/high-intensity interval training and more. CrossFit athletes are often known to work until they drop, such are the demands of this type of workout.
When it comes to athletic shoes, the best 10 CrossFit shoes for women, we found that they land into two different categories: the good ones and the great ones. In our review, we will focus our attention on the top 10 women's CrossFit shoes, then narrow our results down to the best shoe overall.
This is the best product on our list currently in stock: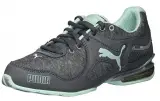 PUMA Women's Cell Riaze Cross-Training
Why is it better?
Comfy, snug fit
Tons of cushioning
Durable/Heavy Duty
Raised Heel
Edgy, modern design
13
Researched Sources
17k
Reviews Considered
30
Hours Researching
12
Products Evaluated
Effectiveness
Comfort
Fit
Drop
Breathability
By Default
Best 10 Crossfit Shoes for Women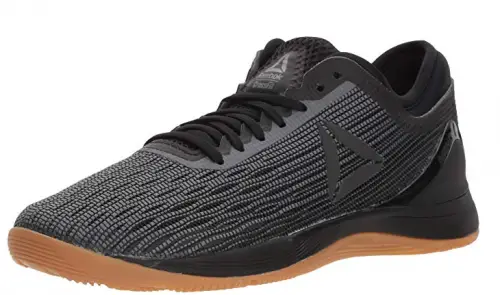 Excellent Breathability
Superb Stability
Leading Edge Styling
Extreme Versatility
Reebok's newest Crossfit shoe, The Nano, features high performance, extreme comfort, and long-lasting durability. The Nano - already one of the best women's CrossFit shoes - delivers the bite you need to handle ferocious maneuvers and the grip you'll need to fly up to the rope.
Read more
Distinguished by the aggressive cross-bracing on its exterior, the Nano is available in a dizzying array of color combinations sure to please the more fashion-conscious CrossFit enthusiast. The heel bootie construction keeps your feet tightly inside the shoes while providing you with an ultimate, comfortable fit. The soles have just enough cushions to keep your feet from feeling fatigued without affecting your performance.
The shoes are light as a feather and have great air circulation, making it seem like you have no sneakers on at all! Their low cut design gives you the freedom of movement you need when jumping and running around. The toes are usually the first area of footwear to sprout holes, but the story changes here thanks to the toe section that provides great durability in that very vulnerable area! The toe box is also quite wide to give your toes all the freedom they may need.
2

. PUMA Women's Cell Riaze Cross-Training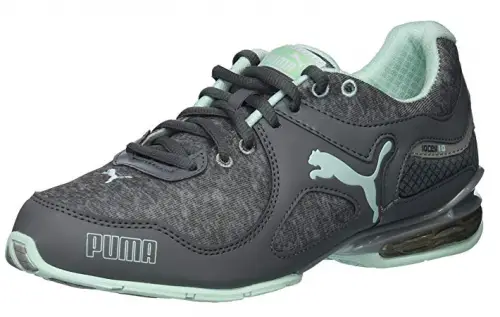 Comfy, snug fit
Tons of cushioning
Durable/Heavy Duty
Raised Heel
Edgy, modern design
The PUMA Women's Cell Riaze Cross-Training Shoe has been making a big splash since it's release not so long ago. Reviewers on Amazon LOVE the comfort of this shoe. Some reviewers even going as far as saying they never knew running could be so enjoyable. This shoe is PUMA's answer to the Reebok Crossfit series that is so popular right now.
Read more
These shoes are definitely more affordable and look great. However, there were complaints that those who find it most comfortable were those with narrow feet. If you are someone who has wider feet you may want to steer clear of these. There's plenty of cushioning present in the Riaze that is sure to keep you pain-free and well-rested. The sneakers are quite hardy and durable while maintaining a low weight at the same time. If you love to lift, then these sneakers are just what you need, and it's all thanks to the raised heel they are equipped with. Their design is also edgy and urban, so you can look and feel good all at once!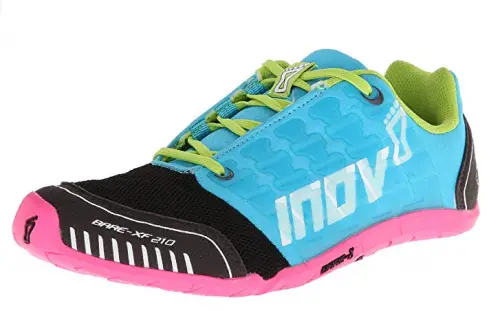 Lightweight but durable materials
A high degree of comfort
Excellent grip
Zero drop
The zero-drop on the Bare-XF 210 makes it an ideal shoe for Oly weightlifting tasks and an excellent performer on the track, where it really shines in the sprints. The XF 210 is also prized for its ability to propel you up the rope and cover you during even the most extreme workout of the day.
Read more
The shoe weighs about the same as the MX20V3 (which is to say not much) and provides cheetah-like agility and that rare feeling of being in complete control. Although the sneakers are lightweight, they are quite hardy and can withstand a lot of abuse. The breathable air mush upper makes them feel even lighter on your feet and keeps you safe from sweating and odors. The Bare-X outsole is excellent at surviving great impact forces, saving your joints from all that stress. The one-piece lacing TPu support combined with the tongue pull-loop makes adjusting and fitting these shoes to your feet easy and time-saving!
4

. NOBULL Women's Training Shoes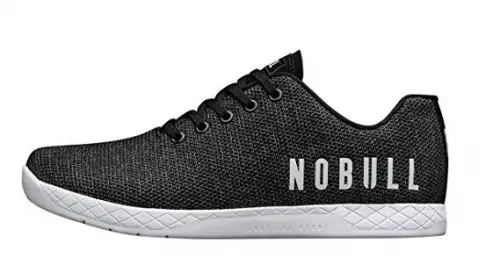 Very comfortable
Functional
Minimalistic
Super breathable
NoBull is a relative newcomer to the fitness show market who re getting some serious attention for their ultra-comfortable, high functioning crosstraining shoes. The one-piece upper design is very different from the flashy multi-piece looks of most of the competition. This shoe is extremely versatile. It will provide you with the rigidity and comfort you need when lifting heavy and then immediately give you the traction, grip, and support you need for running and agility work.
Read more
Even though it doesn't look like a running shoe, the No Bull trainer provides a great deal of comfort and support during your run. They have a good deal of cushioning in the soles to deliver shock absorption but not too much that it will negatively impact your heavy lifting in the gym.
NoBull is one of the most supportive all-purpose CrossFit shoes that we have ever come across. This is no doubt partly due to the one-piece upper design. The sole is very secure, providing you with a high level of grip and rigidity during your heavy lifting. However, it still provides you with the flexibility to perform such plyometric moves as box jumps.
The upper grip of the No Bull trainer is made from a super fabric that has been designed to provide a superior level of hold when doing rope climbing work. These shoes also have a high level of breathability, keeping your feet cool and sweat-free during your workout.
5

. Reebok Women's Speed TR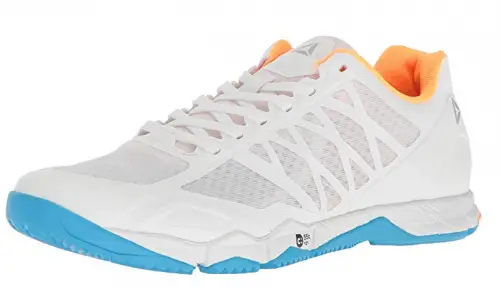 Great value
Super Comfortable
Quite Lightweight
Compression Sleeve Upper
The Reebok TR is a very comfortable, versatile cross-trainer that comes in at a very good price point. This is a very lightweight shoe that is extremely breathable. The one downside of the Reebok TR is that it does not provide the high level of support that you need for your heavy lifting moves. That's because it has slightly more cushioning than you need for ultimate rigidity and support.
Read more
The Reebok Speed TR excels when it comes to running. They provide you with a great balance between comfort and squishiness. This makes them ideal for running and light weight lifting. The shoe provides great balance and sensitivity. It also offers a good level of ankle support. The flared outsole provides a slightly wider base than you find in most shoes.
This shoe grips well on the rope when doing rope climbs. Thin mesh uppers re a great addition, as they do not add too much pressure to any one part of the shoe. Overall, this TR shoe provides you with the lightweight feel of a running shoe and the stability and support of a training shoe. It is a good all-purpose shoe but those who are planning on doing heavy work under the bar may want to go for a more supportive, less cushioning show like the No Bull trainer.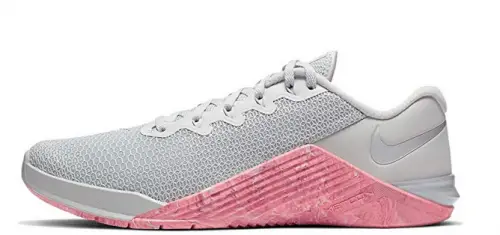 Ideal for rope climbing
Very Supportive
Adaptive Hyperlift Insert
Textured Print
Directional Traction
The Women's Nike Metcon 5 will provide you with a supportive, rigid base from which to lift weight but is not the best shoe for running or plyometrics. Nike seems to have fallen a little behind the competition when it comes to finding the balance between weight lifting and plyometrics since they introduced their first version of the Metcon in 2014. The big problem with this shoe is that it is too stiff. That's great for weightlifting but not so much when it comes to running and jumping.
Read more
The Metcon 5 really shines when it comes to rope climbing. It features a sticky rubber that wraps up the insole to provide great grip contact with the rope. This will help you to get up the rope faster than ever. The Metcon 5 has made the following advances over the Metcon 3: The upper is more durable with printed haptic star shapes printed on high wear areas, the upper has added cushioning and there is more fabric on the tongue, precise lacing with an added set of eyelets for precision fitting. The Metcon 5 is not an overly breathable shoe. Its best application is as a medium to heavy training shoe, rather than for use during workouts that involve running and plyometric
7

. ASICS Women's Conviction X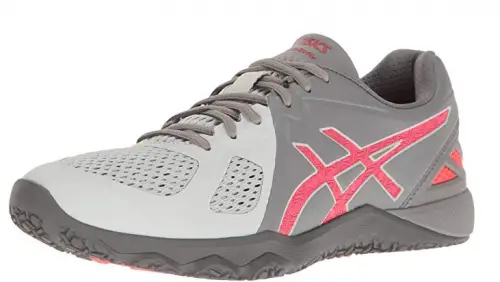 Light And Comfy
Solid Platform
Limits Side To Side Movement
Rhynoskin Upper
The Conviction X is a good general-purpose CrossFit shoe that you can pick up for a good price. They are great for light weight lifting and running but not so good when you are ready to go heavy on the weights. As such, this is a good choice for beginners to CrossFit.
Read more
You will be able to wear these shoes for your Metcon workouts on most occasions. However, when you are planning to incorporate some heavy lifts into the session, you will want to have a second pair in your training bag to change into. When it comes to running, the Conviction X provides you with a light, comfortable feel and good cushioning. However, it doesn't provide you with enough cushioning for longer runs.
This shoe provides a solid platform for lifting. At the same time, it limits side to side movement. This hoe has a slightly narrower feel than many of the competition. This helps the foot feel well-grounded in the shoe. The upper of the shoe is made from 'Rhynoskin' in order to prevent it from damage when doing rope climbs. However, this covering is extremely slippery on a rope. This prevents you from keeping your feet in place, making it harder to get up the rope. The Conviction X is a breathable shoe, with a mesh tongue and toe box that allows air to run through nicely.
8

. Asics Women's Gel-Fit Sana 2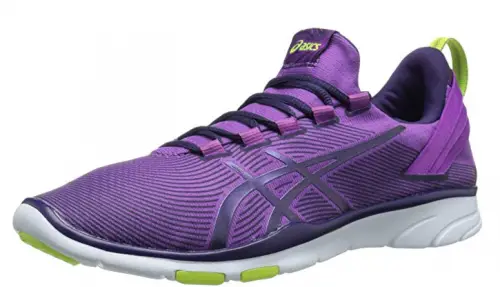 Rearfoot Gel cushioning
Low profile midsole
Lightweight upper mesh
High Abrasion Outsole
The Asics Women's Gel-Fit Sana 2 is a good all-purpose CrossFit shoe. It will allow you to transition seamlessly from weight lifting to plyometric training in the gym. However, it's not a great shoe for running.
Read more
This is an extremely lightweight shoe. It provides you with a soft mesh upper that reduces weight and increases breathability. A nice addition is the woven band heel cage to deliver support and comfort and the back of the foot.
Rearfoot gel cushioning supports your heels even more that are great for shock absorption. The low profile of the midsole enhances the snugness, comfort, and grip of the fit. The shoe features the AHAR high abrasion outsole. This makes for a very strong, durable covering. The overall build quality of the shoe is very good.
9

. Inov-8 Women's F-Lite 235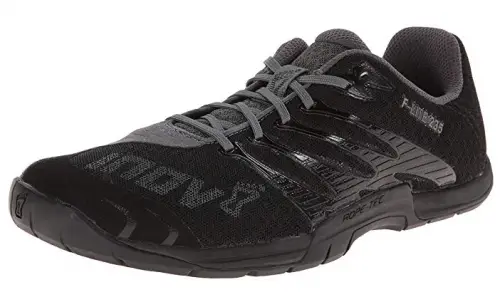 Compressed EVA midsole
TPU upper
Lightweight
Great Shock Absorption
The Inov-8 Women's F-Lite 235 provides you with a great level of functionality and support for all of the plyometric and running type movements that you will encounter in CrossFit. However, it's not so good for the weightlift part of your workout. The outsole of this shoe features a 33mm deep cleat to ensure a superior level of grip and traction. This makes them great for all of the agility type movement that is usually associated with CrossFit training.
Read more
The compressed EVA midsole of the 235 that delivers a good level of support, especially at the arches. You also get a high level of shock absorbency. The shoe features a slightly raised heel that suits well to running but does not provide enough height to put you in the ideal biomechanical positioning for squatting and other heavy lifting moves.
This is a very minimalistic shoe which is made from extremely lightweight mesh, along with TPU upper materials. It all adds up to very light and impressively breathable shoes. The mesh design of the shoe makes for a very strong build.
10

. Adidas Performance Women's Powerlift 3.1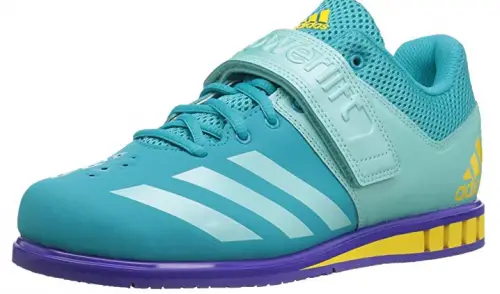 Breathable
Secure Strap
Forefoot cushioning
Air Mesh Collar
Limited forefoot flexibility
The Powerlifter range of weightlifting shoes from Adidas can be considered their budget line. That doesn't mean to say, though, that they are not a quality shoe – they are. They actually represent great value for money when compared to their market rivals. The Powerlifter 3 is the next step up from the old Powerlifter 2. It is essentially the same shoe but with some minor tweaks.
Read more
The strap on the Powerlift 3 is larger than on the previous version. This provides for better lockdown and a more secure hold when you are lifting heavy. This shoe also has a raised heel, to the height of 15 mm (0.6 inches). This is not as high as you get on some competing models, but it is sufficient to provide you with good biomechanical positioning when you are doing squats.
The sole of the Powerlifter 3 features a weight distribution plate which allows the sole to be made if a lighter material. This makes for a surprisingly lightweight shoe considering the substantive nature of the sole. You get a solid base to really grip the ground with this shoe.
The Powerlifter 3 provides for maximum energy transfer to prevent energy leaks as you are pushing the weight. While the Powerlifter 3 is a very functional weightlifting shoe, it has limited use when it comes to the plyometric and running side of CrossFit. It lacks flexibility in the mid and toe regions to comfortably allow for jumping and agility moves.
Criteria Used for Evaluation

Effectiveness
Truth be told, you don't really need specific shoes to enjoy CrossFit. But you'll get a great head start by actually wearing these shoes when you partake in this activity! You will feel less tired and in pain if you do get them. CrossFit sneakers are actually quite similar to volleyball shoes, and if you have volleyball shoes you may even wear these instead of other specific trainers!
The main reason why you should have Crossfit sneakers is that they will withstand a lot of impacts as you exercise when compared to regular footwear, and they will absorb shock as you land down, saving your joints from the stress. If your sneakers do not have these two features, expect to feel pain and aching by the end of the session! This type of workout does not have only lateral and quick movements though, and you will end up lifting heavy weights at some point, without a doubt. This is why these shoes need to have a good heel as well.
All of these features combined together make the Crossfit sneakers a very unique shoe, and you cannot really replace them with any other old sneaker. Take a look at running shoes. They have plenty of padding that makes running a gentler and less exhausting endeavor. Their drop is also much higher than what is seen in most of the Crossfit shoes. This does not work well for the overall intensity and movements that go along with this type of workout, and you cannot expect them to support you the same way a good Crossfit shoe would! Crossfit trainers are quite pricey, but you cannot put a price on your well-being, so do not skip out on this essential step!

Comfort
Your shoes, no matter what they are for, have to be comfortable. An uncomfortable sneaker will be everything you'll think about, and you won't be able to focus on actually exercising and keeping proper form. They will also cause irritation, blisters, corns, and of course, pain, which are all preventable if you manage to find a sneaker that fits you properly!
First things first, an uncomfortable sneaker will definitely hinder your progress, no doubt about that one! There's plenty of people out there walking in uncomfortable shoes, and they are all making very big mistakes. An uncomfortable shoe is much more than just that, and it can actually cause a lot of problems, which is even truer if you use them for working out. Expect to feel slight discomfort when you just buy your shoes though, and there's nothing wrong with that. But the keyword here is slight! Every sneaker that is new will feel stiff and tight, and it's your job to break them in properly. Wear them around the house for the first few days, and you can make this process faster by wearing a pair of thick socks.
Once you're comfortable with wearing them for more than just a few hours at a time, you can work out in them! The midsole and insole also affect the comfort of the sneakers. Having as much cushioning as possible seems like a neat idea, but the reality is not so cozy. Too much padding is as equally bad as too little padding. Thick, cushy pads let your feet sink into the shoe, and you don't want that since these shoes will lack support, a very important thing in Crossfit sneakers. The midsole should be lightweight, yet hardy and responsive.

Fit
One very important aspect of your sneakers that inevitably determines their comfort is how they fit you. Your foot shape and size, the way the shoe was constructed and what it was made out of and a lot more things determine the fit. So, before you head out to buy your Crossfit trainers, make sure that you know your actual shoe size. This may sound silly, but there's actually a lot of people out there wearing the wrong shoe size! When you head out to look for your new shoes, do not hold your size in your head and just blindly look for that number.
Shoe sizes are ever-changing, and as you grow older, or as you fall pregnant, it will change. You can always double-check your shoe size by measuring it yourself with a few simple tools you have around your house. A paper, a ruler, and a pen is all you need. Take off your socks, and place your foot on the plain piece of paper. Trace your feet, and then measure the widest and longest point of the shape. Compare these numbers to an online sizing chart, and voila! You have your new shoe size.
The toe box and the heel should snuggle you gently, as opposed to giving you a death grip. A shoe that feels way too tight will rarely stretch over as much as you need it to as time goes by. The width needs to be right as well, and your toes should feel scrunched up and tight when you wear the shoes. The heels shouldn't slip out as you walk, nor should they be pinched by the back end of the sneakers. Select your size carefully, and you won't have any issues with pain and discomfort!

Drop
You might not be familiar with the term drop, and maybe wondering what it actually is. The drop is actually the difference in height between the toes and heels. Running shoes have quite a big drop, measuring at about 8 mm, supporting the motion you mike when running. Crossfit does not need this, and the smaller the drop is, the better.
The drop in Crossfit shoes should not exceed 4 mm. The reason why is that you will move around in every possible direction very often, and you will also do some lifting, and lifting shoes do not have a big drop either. The little drop distributes your weight, whatever you're lifting, evenly and eases the stress you may feel. The arches shouldn't be sitting high either, although they should still be supportive. This way, the load won't be left for your toes and arches to handle all by themselves. The right drop will save you from a lot of trouble, so make sure that you make the right choice.

Breathability
Breathable sneakers feel as light as air, and that adds up to the overall comfort of the shoes. A poorly constructed shoe traps air in them and doesn't let it out, and once the air inside goes stale, you will start to feel the negatives quite fast. You will sweat too much too fast, and you will also feel flushed and hot. The sneakers then soak up this sweat, and bacteria then start to grow, causing bad odors, and maybe even fungus infections!
Crossfit shoes are equipped with strategically placed mesh areas that promote circulation and airflow. Most of the shoes on this list have some mesh elements, or unique materials that act even better than mesh do, never allowing you to feel way too hot or sweaty. Shoe manufacturers know where sweat and heat are most likely to accumulate, so they place special perforations and ventilation zones that get rid of this as you move around. Make sure you grab a pair that is breathable to avoid unnecessary discomfort!
Expert Interviews & Opinions
Most Important Criteria
(According to our experts opinion)
Experts Opinion
Editors Opinion
Users Opinion
By Default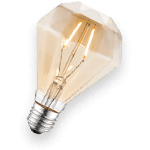 Shock Absorption
Crossfit is a high-impact activity, and it puts a lot of strain on your body. This is why your sneakers must help some of that strain go away, saving you from plenty of trouble. When you jump, run around, or just land on your feet, you absorb the full force of the impact if you go barefoot. A good sneaker must help you feel less of that impact to save you from the potential pain and aching. Properly cushioned insoles and midsoles absorb the shock as you land, and they are your only protection from the force your own body creates when it lands on the ground.
Support
Every sneaker made to help with working out or sports has to be supportive. The soles give you most of the support. Shoes made for weightlifting must have very good support powered by a hard sole, while running shoes have a cushy sole that supports you in a completely different way. Crossfit combines both of these activities, and the support they offer must be a good blend of both of these. Enough support as you exercise boosts your performance and helps you train better, helping you see the results faster than you anticipated!
Other Factors to Consider

Bottom Line
This is perhaps the closest contest we've had to determine a 'best of' shoe in any category. All three of these CrossFit shoes are the first-rate kit for your trials in the box and all are in a similar price range. With nearly everything else being even, our selection of the Reebok CrossFit Nano 4.0 came down to the incredible grip displayed by its combination of lightweight, and build quality.
While you will pay a premium price for these, you can rest assured that these will last for a very long time.
Frequently Asked Questions
q:

Can I use weightlifting shoes for Crossfit?

a:

Specialized shoes are very pricey, and paying that price two times may seem counterproductive and like a waste, but in reality, it's something that you need to do if you want to stay perfectly healthy. Weightlifting shoes are just not cut out for Crossfit. Their heels are flatter than what you need, in order to distribute the heavyweight load evenly. That flat heel is not what you need for this type of workout! Crossfit is much more than just lifting weights, and you will jump and move around so you will need shoes made for both of these activities.
q:

Can Crossfit shoes be used for any other sport?

a:

Crossfit shoes combine almost every excellent aspect of various shoes for different kinds of sports, so it's understandable that you don't want to take them off. This can seem like a good idea at first, but you can seriously hinder their duration this way, and it's in your interest that these pricey shoes last as much as they can! Wear the shoes just for Crossfit and nothing else, and you will see that they will last much longer and that they will be a much better partner!
q:

What features should I look for when buying Crossfit shoes?

a:

The construction of the shoe is the very first thing you must look out for. The heels should be firm and supportive, and the drop should be minimal, never exceeding 4 mm. They also have to be durable and firm, and able to withstand a lot of intense activities. The materials must be light and breathable. The sneakers also have to be flexible, to allow you to move and run naturally.
q:

When should I replace my pair?

a:

Surprisingly enough, Crossfit shoes are one of the hardiest sneakers out there, and they can last a seriously long time before it's time to say goodbye. They last anywhere from six months to one year, and that's with intense use. You will definitely know when they start to give in though. The upper will sprout holes and the outsole will begin to crack and lose its connection with the midsole. Their construction will change, and they just won't feel the same way when you wear them. Replace them as soon as you see and feel these signs to avoid potential problems!
q:

How snug should my sneakers feel?

a:

There should be almost no wiggle room in your Crossfit shoes. The toes, heels, and every other part of your foot should be hugged snuggly by the shoes, but never too tightly. Your feet must not slide out of the shoes since that can potentially create a risky situation where you could injure yourself. Too much wiggle room can also create unnecessary friction, and that creates blisters and irritation, which is the last thing you need when working out!
Subscribe to our newsletter