Powerblock Adjustable Dumbbells Review 2023
last updated:
Jan 07, 2021
Powerblock has been making fitness equipment since 1991, with a laser focus on easy to operate portable equipment, which can be adjusted and customized quickly and with no hassle. Powerblock's unconventional blocky dumbbells are most people's introduction to the brand. Once you get past how unlike a typical dumbbell they look, you can see how effective, convenient, and space-saving these dumbbell sets are.
The dumbbells, with names like Speedblock, Elite, Personal Trainer, and Pro, are just the tip of the iceberg. Powerblock also makes benches, barbells, weight stands, instructional materials, and full gym sets. They also sell complete systems to certified personal trainers. A trainer, especially someone just starting out, can set up a decent rig to bring into client homes at deep savings by taking advantage of Powerblock's packages.
Join us as we take a closer look at some of the different tools Powerblock has to offer.
In a Hurry? The test winner after 20 hours of research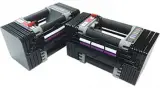 Elite
Why is it better?
Can be expanded up to 90 pounds
Shorter bar for greater range of motion/ease
Add and remove weights quickly
Space saver that replaces over 1000 pounds of free weights
Suitable for lifters of every experience level
4
Researched Sources
7893
Reviews Considered
20
Hours Researching
4
Products Evaluated
Adjustability
Comfort
Durability
Model
Portability
By Default
Best 4 Powerblock Adjustable Dumbbells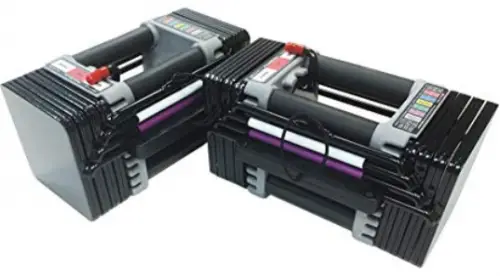 Can be expanded up to 90 pounds
Shorter bar for greater range of motion/ease
Add and remove weights quickly
Space saver that replaces over 1000 pounds of free weights
Suitable for lifters of every experience level
Initial package is very heavy (100 pounds)
This is a higher-end incarnation of Powerblock's flagship adjustable dumbbell sets, capable of replacing up to 825 pounds of free weights or 16 ordinary dumbbell pairs.
Read more
Powerblock's naming conventions and constant upgrading of their adjustable dumbbells have led to a lot of clutter and confusion on Amazon and other retail sites. As of this writing, the dumbbell line includes the following model groups (from the Powerblock website):
Pro Series (goes up to 50 pounds)
Pro EXP Series (goes up to 90 pounds)
Sport Series (includes Sport and Sport EXP, also goes up to 90 pounds)
Powerblock 50, and three additional Powerblock EXP sets
Classic series (includes the Elite line, up to 90 pounds)
Each model series offers different improvements and expansion options, with the Pro, Sport, and Powerblock base models being the least expensive.
This review, for our number one pick, covers the Elite or Classic dumbbell sets. These are the premium dumbbell sets and the only one we could verify as being sold currently on the Powerblock site. In many cases, the Amazon picture and description will not match the Powerblock site description. In this case, they do match.
This particular set goes up to 100 pounds, a maximum of 50 in each hand. This means the set and included storage tray weighs more than 100 pounds. This is reflected in shipping and package size. You can also upgrade later, with a maximum of 90 pounds for each hand. You can do fractional increments, as low as 2.5 pounds, for slow progressive resistance. This set could easily be shared by a heavy lifter and their friend who is more interested in light toning with lighter weights.
The Elite set comes with a ten-year warranty from Powerblock. Adding and taking off weights is quick and easy. The set is durable and will last a long time. Reviewers mentioned the dumbbell total length being less than that of competing products, leading to greater ease of use and fewer issues with joint or tendon inflammation.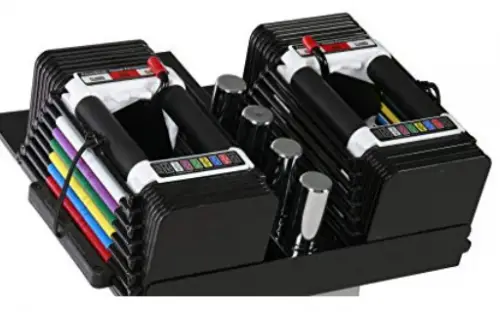 Keeps your Powerblock dumbbells organized
Portable, if you can carry 100 pounds
Mounts onto Powerblock stands
Easy pin weight adjustment
Rather pricey for what it is
No expansions/upgrades
Designed for personal trainers to use with clients, this kit includes 2 50 pound dumbbells in a carrying/display case to keep all your options close by and convenient to grab and use.
Read more
The dumbbells adjust in 2.5-pound increments, using a pin. As with other Poweblock products, your whole hand goes inside the rectangular unit. It takes some getting used to, but will not pinch, restrict, or limit the range of motion for most users.
Handles are padded, making them easy on your wrist. The quick pin operation is similar to that of a weight stack. The unique design aids in balance and ergonomics, helping ensure that your muscles, not momentum, are doing the work and reaping the benefits.
The Personal Trainer set cannot be expanded or upgraded. You can use either the Elite or Pro stand for storage. Powerblock offers a ten-year warranty. Though the dumbbells themselves are not bulky and will save space, the packaging is thick enough that the product will arrive in two different packages, possibly on different days.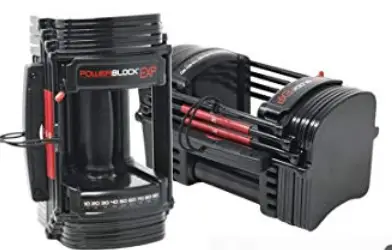 Roomy inside handles won't constrict
Can expand up to ninety pounds
No assembly required
Upgraded padded handles vs. earlier Powerblock sets
Construction is solid, durable
Dumbbells arrive in four different packages
Navigating the Powerblock line can get confusing
EXP stands for expandable. You can expand this set to go up to 90 pounds, saving quite a bit of space and replacing huge piles of free weights in your home gym.
Read more
Resistance adjusts quickly in two-pound increments. Micro loading of fractional weights is a reliable way to make a little progress every time you work out. This also helps out if you are recovering from an injury or otherwise diminished. Fractional weight options are in keeping with Powerblock's ethos, making lifting easier and more convenient no matter how busy your days get.
There is also a clever automatic lock that will secure the incremental weights (Powerblock calls them adder weights) when you slip them into the unit. It's just another way that Powerblock makes it easy for everyone to get a lifting session in. The dumbbells are powder coated, not urethane-coated as some of Powerblock's expanded product lines are. The powder coating makes for a durable tool that will not corrode or be affected by the humidity in your home.
The EXP, according to Amazon sellers, is Powerblock's latest and greatest line. These come in a pair, as Powerblock products typically do. The dumbbells will come in four boxes when you order online. Reviewers were pleased with how easy this set is to use, and the fact that they will not jam or stall during use. The Powerblock EXP is a product you can rely on, and even if you are unfamiliar with Powerblock dumbbells, you will learn to use and love these quickly.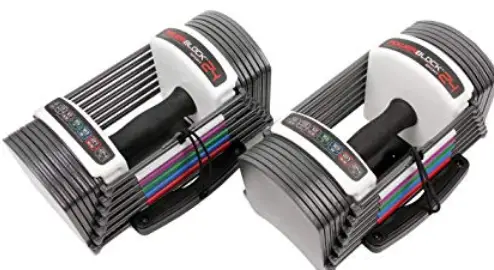 24 pound set is not too heavy to move
Padded/rounded comfort handles
Simple resistance adjustments
Lighter weight good for fast paced workouts
Not upgradeable without paying more for bigger set
This set will take you up to 24 pounds of dumbbell resistance in each hand.
Read more
This is a quick, compact, relatively inexpensive way to build your whole body without needing an Olympic barbell set or even a weight bench if you don't want one. This set is not upgradeable. If you need more weight, you can order up to ninety pounds from the start. Going up the weight scale means higher cost, of course.
If you have ever used a gym fitness machine with a weight stack, you'll figure out the selector assembly in no time. It is the same weight pin design on a handheld scale. You get the same padded and rounded handle, thicker in the middle than on the ends. This is a typical Powerblock design, and it ensures you won't get an inflamed wrist. You still get a full range of motion.
With this set, you can do light cardio workouts with weights as low as 3 pounds per hand. It is great for step aerobics enthusiasts who want to get their heart rate up while adding a bit of upper body training to their step workout. The 24-pound Speedblock set will replace 216 pounds of free weights, and comes with a 15-year warranty.
If you are interested in ordering by model number, to ensure the product you want is what you get, the Speedblock 24 pound set model number is IB-S24.
Criteria Used for Evaluation

Adjustability
Powerblock based its entire business model on adjustable equipment.
Powerblock dumbbells, kettlebells, and barbells all have weight discs and pins. You can increase or decrease your weight quickly. You do not have to stop and pick up weight plates or adjust spring clip collars.
This approach extends to the company's weight benches, too. Models we ran across are able to incline and decline with ease. We chose to only review the weight products here, but Powerblock makes a whole array of home and light commercial gym equipment.
Even fixed equipment, like weight stands, comes with options. You can get the compact weight stand in two different sizes. The stands are not height adjustable but are geared towards the range of average heights. More than many other companies, Powerblock does not ascribe to a one size fits all model.

Comfort
At first blush, Powerblock dumbbells do not look comfortable.
The design is so different from that of a typical dumbbell. The Powerblocks look bulky, with their square shape and lack of rounded edges. The adjustment features can even seem like too much to deal with at first.
But once you pick up a Powerblock dumbbell, it teaches you how to use it. The square shape is for your protection and convenience. The handles are rounded and padded, making them easy on your wrist.
The simple, non-moving flat benches Powerblock also offers are built for comfort too. You can't do many bench presses on them, but the padding lets you lie down and do dumbbell presses without back pain. The flat bench, too, lets you use standard dumbbells as well as the Powerblock sets.

Durability
Powerblock products get good reviews for their long life.
This is true across the board, for both commercial and customer reviews. No product is perfect, but Powerblock products will not let you down by wearing out too quickly. If there are any problems, Powerblock offers excellent, proactive customer service.
Also unlike cast iron fixed weight, the Powerblock does have moving parts. The selector pin will hold the weights in place the first time and the hundredth time that you use it. Consistency, efficiency, and strength are the highlights of any Powerblock product.

Model
Powerblock dumbbells may look similar, but each one has something different to offer.
The design is the same, except for some of Powerblock's older models. Many of these have been discontinued. The products are the same high quality, but in recent years Powerblock listened to customer feedback and changed the handle design. Some users noticed their hands were cramped while holding the handles. The square design, too, can limit the range of motion if not carefully engineered.
We have given you a set suitable for a personal trainer, a heavy set of Elite dumbbells that represent the best Powerblock has to offer, a couple of lighter weight, more beginner-friendly sets, and of course the kettlebell. We hope the range is enough that anyone reading can make a decision about the Powerblock training tool that will be the most rewarding for their own practice.

Portability
Powerblock is designed as a tool you can take with you.
It's true that the dumbbell sets are heavy. But if you are going on a multiday trip, it is possible to take a fifty pound set apart and distribute the weight in different bags. This will keep you from having to carry all the weight at once, and the combined weight would require quite a few more parts if you brought a set of equivalent traditional dumbbells.
Powerblock benches, too, are designed for easy carrying. They often have folding legs, wheels, and shoulder straps. Powerblock offers chin up and dip attachments, for the benches, that go on and come off quite quickly.
Expert Interviews & Opinions
Most Important Criteria
(According to our experts opinion)
Experts Opinion
Editors Opinion
Users Opinion
By Default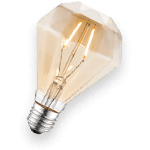 How Powerblock Helps
Powerblock equipment typically (but not always) is only compatible with other Powerblock equipment. Doesn't that make it less useful in a home gym?
The answer is, not necessarily. The adjustments, feel, and even the look of Powerblock dumbbells take some getting used to, true. Not everyone will want to switch or get used to the different feel, and that's okay. But we think there are few better ways to make use of a small space and still get a varied workout with plenty of weight and exercise options.
That is because, when you look at the blocky design, what you are not seeing is all the traditional fixed and adjustable dumbbells that the Powerblock is replacing.
A case in point is the Pro 50 set. This gives you fifty pounds of resistance, adjustable down to as little as five pounds. When you do the math, that means you have replaced 20 older style dumbbell sets or 1050 pounds worth of plates. This is all in a package that takes up less than most compact exercise machines, even with the additional footprint of the stand or stands. We think this is a fair trade-off if you have to build your gym within tight space limits. Every square foot saved by the Powerblock frees up space for a squat rack, multigym, or full-size exercise bike.
How Powerblock Works
If you have never held or seen a Powerblock dumbbell set up close, it may be hard to understand how exactly they adjust and how they can give you an effective workout with such an odd shape.
The core of any Powerblock set is the handle. Handles are padded and rounded, usually weighing five pounds. It goes through the center of the rectangle, holding the plates together while also disappearing if you look at the weight set from the side.
Plates are always in five-pound increments. They connect with each other through the handle. So each dual set adds 10 pounds to your total resistance. Finally, the selector pin allows you to pick your weight just by slipping it between the plates, on the sides. Each further push of the pin will increase the resistance.
To make things even more convenient, the weight plates are color-coded. Once you learn the colors-it's easy-you can change the resistance without having to think about it much. This increases your speed and efficiency, making your time at the gym count more and leading to better gains.
Other Factors to Consider

Materials
Powerblock dumbbells are made of tough, durable plastic polymers, with some exceptions. The adjustable kettlebell is made of steel. The benches have steel frames with polymer foam and vinyl coverings. We get that many users are reluctant to use plastic dumbbells, even ones with metal weight discs. But Powerblock's track record over time, and the fact that their products consistently place high in Amazon rankings for different departments, all show us that the company knows what they are doing and that they chose the most durable and lightweight materials they could find.

Speed
You could say that Powerblock products are built for speed. You can change resistances quickly. The kettlebells are ideal for Crossfit workouts, where part of the game is to keep moving without much rest between stations. We are satisfied that even the weight benches can be adjusted quickly, letting you focus on knocking out your sets. The portable units will fold up quickly and are shaped in such a way that they won't present an obstacle when you walk them from one location to another. We will be doing a more full review of Powerblock benches at a later date.
Frequently Asked Questions
q:

What is a military press?

a:

To do a military press, you sit at a bench (in the fully upright position), rest a barbell or two dumbbells on your chest, with palms facing up, then slowly extend your arms to press the weight above your head. This targets your pectorals and arms, including some muscles typically not recruited during a bench press. If you do the move standing up, it will also work your leg muscles.

At one time, this press was the main test of strength for members of the military. This is how it got its name. It is also called the overhead press.

If you do a military press with kettlebells, you get greater variety in grip and functionality. The military press is important because it is a compound exercise. Much like the squat, the military press is a single move that works multiple muscle groups. Makers of fitness benches will often point out that their bench goes upright for military presses.
q:

How can military presses help my training?

a:

The military press will build strength and power in your arms, shoulders, upper back, chest, core, and, if you do it standing up, your legs. We are big proponents of large muscle group exercises, because they get you through your workout faster, create microtears more effectively than isolation exercises (like bicep curls), and encourage strong joints and bones as they build muscle. All these qualities make the military press one of the best functional fitness exercises.
q:

What muscle groups do decline presses target?

a:

The decline bench press is more or less an enhanced version of that old standby, the flat bench press. It will target your lower chest in a way that bench presses do not, helping you work overlooked muscle groups. The decline bench press also eases shoulder strain, compared to the flat press.

One word of caution: when you do a decline press on a bench with no footpads, mind your balance. The concentration of weight above your head, without the ground stability offered by footpads, could cause you to drop the weight. We suggest starting with a lower weight than you typically bench, and also using dumbbells instead of a barbell.
q:

What are prone and supine positions? Why do they matter?

a:

Lying prone means lying on your stomach. You are able to lie prone on a bench and do dumbbell rows by picking the dumbbells up from the floor, one in each hand. You also use the prone position to do most leg curls.

Supine means lying on your back. All bench presses are done in the supine position.

The terms are important because knowing them will help you follow directions for new exercises. Also, knowing the different positions can get you thinking about which muscle group each exercise affects, and how you want to use that knowledge to crosshatch your own routines.
q:

Aren't all dumbbells adjustable?

a:

Yes, they are. You figured out our game. One-piece cast iron or rubberized dumbbells are the only ones that you can't label as being adjustable. Technically, the term for Powerblock dumbbells, as well as those offered by Weider (see Weider home gyms we reviewed), Bowflex, and a few others, is selectorized, because you select the weight.
Subscribe to our newsletter