The Best Compact Rowing Machine in 2023
last updated:
Jan 07, 2021
Adding a compact rowing machine to your home gym will provide you with an awesome multifunction machine. It uniquely combines cardio and resistance training to maximize weight loss while building muscle. But it usually takes up a large footprint, and many people don't have space for it. In this article, we focus on the 10 best compact and portable rower machines that will fit into even the tiniest of spaces. Be sure to check out all the great information about the best compact rowing machine we have here for you!
In a Hurry? The test winner after 10 hours of research: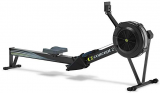 Concept2 Model D
Why is it better?
Backlit LCD Display
Air-resistance Flywheel
10 Damper Levels
Smooth And Quiet
Easy Assembly
42
Researched Sources
8k
Reviews Considered
16
Hours Researching
14
Products Evaluated
Use
Effectiveness
Durability
Features
Size
By Default
Top 10 Picks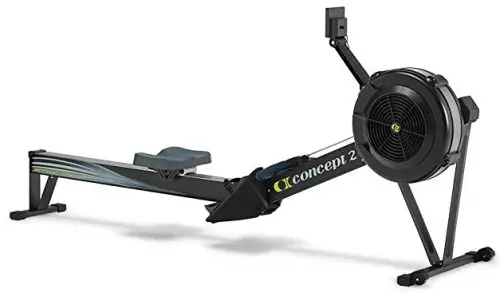 Backlit LCD Display
Air-resistance Flywheel
10 Damper Levels
Smooth And Quiet
Easy Assembly
Seat Can Be Slightly Uncomfortable
Concept 2 rowing machines are the best rowing machines you can find on the market today, and the Model D rowing machine is no different. The machine is not that big so that it can fit in home gyms and commercial gyms all the same. It fits in your budget as well!
Read more
The built-in LCD monitor will show you reliable data every time, showing you the time, distance crossed, calories burned, and your intervals. The display itself is backlit, so it's gentle towards your eyes. The wireless Bluetooth and ANT+ make connecting the machine to various apps, and heart rate monitors a reality. You can also plug in a USB flash drive to save all of your workout data. If you're bored with just rowing, open up a video game and play until your heart's content! The air-resistance flywheel responds correctly to every stroke, smoothly allowing you to row. The air flow can be controlled easily with the damper, which has 10 different levels. The noise the wheel creates is minimal. This compact rowing machine itself has only eight screws, so it's easy to assemble and store away. The caster wheels make transporting it time-effective and straightforward!
2

. Stamina Avari Hydraulic Rowing Machine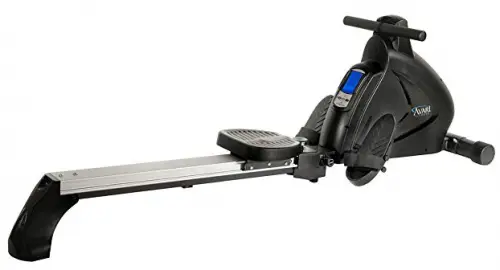 Ergonomic Handles
Sturdy Steel Frame
Great Range Of Motion
Twelve Workout Programs
The Stamina Avari Rowing Machine is a very compact, portable hydraulic piston is driven rowing machine. The durable steel frame allows for a max user weight of 250 pounds. The rowing arms of the machine can be folded when not in use, making it even more compact. The range of motion of the Avari rower is superb, allowing for a great calorie burning workout.
Read more
The Stamina Avari Rowing Machine allows you to adjust the tension to 12 levels by way of a centrally located dial. It has a thickly padded seat that moves along a ball bearing track to give a fluid guide motion. The foot plates and handles are ergonomically positioned for ideal exercise movement.
You can easily track your progress on this hydraulic rower with an easy to read LCD monitor that displays your time, row count, and calories burned.
3

. Stamina BodyTrac Glider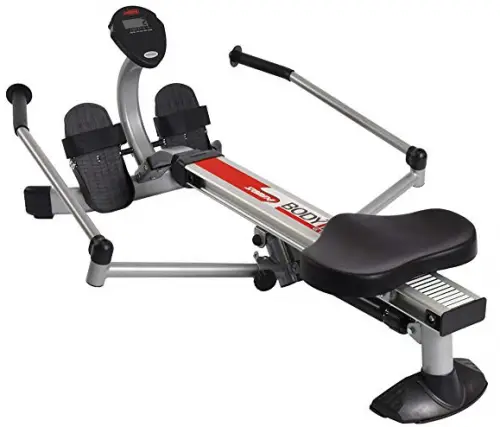 Built-in Shock Resistance
Separate Rowing Arms
Adjustable Seat
Foam Padded Hand Grips
Display Data Not Reliable
The Stamina Body Trac Glider is a basic model rower that provides a very solid workout. It has built-in shock resistance. This amazingly compact rowing machine will fit into almost any space. It is also an ideal rower to take with you when you travel.
Read more
A key feature of the glider is that it has separate rowing arms. It provides you with a more realistic rowing motion.
The seat on the Stamina BodyTrac Glider is adjustable so you can lift or lower it to suit. The seat is well padded and glides smoothly on the inside track. For a cheap rower, this compact rowing machine is surprisingly sturdy and wobble resistant. A centrally located dial allows you to adjust the resistance.
4

. Sunny Health and Fitness Rowing Machine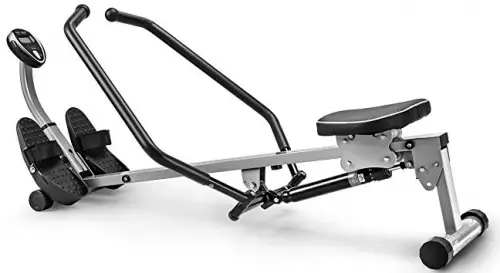 12 Resistance Levels
Adjustable Height Angle
Extra Wide Foot Pedals
Thick-Padded Seat
The Sunny Health and Fitness Rowing Machine is a hydraulic tension rower the features extra-long arms. It has 12 levels of adjustable resistance and a unique angled height which allows you to intensify your rowing angle. The seat is fully padded and contoured for comfort. The frame of this compact rowing machine is made from solid steel, providing a high level of rigidity.
Read more
The foot pedals on the Sunny Health and Fitness Rowing Machine are extra wide and have adjustable straps to allow you to secure your foot placement. The LCD is prominently positioned and provides a clear readout of your vital training data. It has a maximum user weight of 220 pounds. It is a very lightweight, portable model, ideal for taking with you when you travel.
5

. Xterra Fitness ERG200 Rowing Machine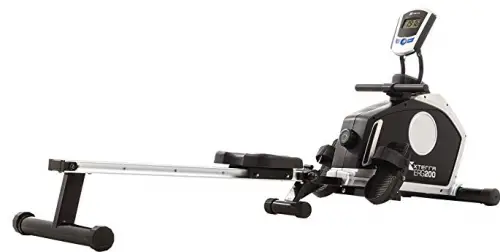 Small And Compact
Max User Weight 250 LBS
Smooth Magnetic Resistance
Hight RPM Flywheel
The Xterra Fitness ERG200 Rowing Machine is a compact magnetic resistance rower. It has a sturdy metal frame that will last for years. The maximum user weight on this compact rowing machine is 250 pounds with the unit itself weighing 55 pounds.
Read more
The magnetic resistance is easily adjusted from a central knob, providing you with a smooth transition between resistance levels. An easy to read LCD monitor gives you a readout of your key training data while the molded seat glides your every motion and the pivoting foot-plates and straps give you a secure foot grip.
6

. Merax Magnetic Rowing Machine



Smooth Glide Return
Very Compact
Excellent Display Monitor
Built-in Wheels
The Merax Magnetic rower is a compact rower that uses smooth magnetic resistance to provide a natural rowing action. The ergonomically designed seat is very comfortable, placing your lower body in an ideal position for best performance.
The seat features a ball bearing system that provides a smooth glide return.
Read more
The large foot plates have adjustable straps to give a secure foot placement.
You get 8 levels of adjustable resistance on the Merax magnetic rower. The onboard display monitor is centrally located and easily readable. This compact rowing machine provides readouts of time, several strokes, speed of strokes, and distance covered. It even provides audio and visual signals when you reach the goals that you can set.
7

. Harvil Magnetic Rowing Machine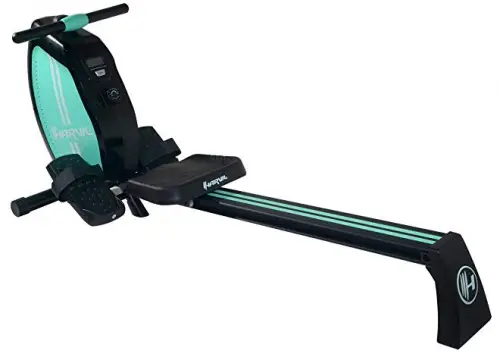 Smooth Glide Motion
Large, Pivoting Footplates
Rust-proof Aluminum Beam
Nylon Rowing Strap
Jiggles When Used Intensely
This compact rowing machine provides you with an effective high intensity home workout. The machine is built around the durable aluminum beam. The front stabilizer is fitted with wheels for ease of transportation and storage.
Read more
You get eight levels of magnetic resistance on this rower that can be instantly adjusted from your rowing position. The easy to read LCD monitor displays time, row count, distance, and calories in either scan mode or selected functions. The monitor is also backlit to make it easy to see in any light.
The rower has a U-shaped seating area on stable rollers which glide smoothly with every rowing motion. Large size, footplates which pivot and have easy to adjust adjustable Velcro-straps while the nylon rowing-straps resist tearing and allow for an upright row. Non-slip handlebars give a secure grip.
The max weight capacity on the Harvil Magnetic rower is 264 pounds.
8

. Sunny Incline Full Motion Rowing Machine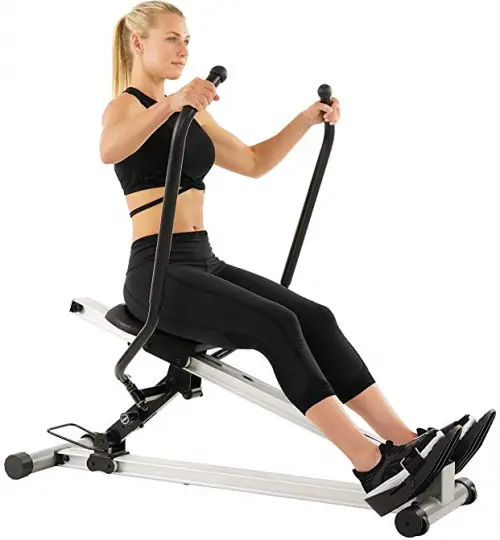 Water-resistant
Infinite Levels Of Resistance
Dynamic Rowing Stroke
Anti-slip Pedals
The Sunny Incline Full Motion Rowing Machine is a hydraulic arm compact rowing machine that provides you with a unique incline function. While rowing the solid incline rail inclines with your body to create a dynamic, fluid motion to provides your abs and quad with extra stimulation.
Read more
The Sunny Incline Full Motion Rowing Machine provides you with a very comfortable molded seat, along with ball bearing rollers to ensure smooth gliding motion. A multi-function display on this compact rowing machine provides you with updates on all of your training diagnostics.
9

. Stamina In Motion Rower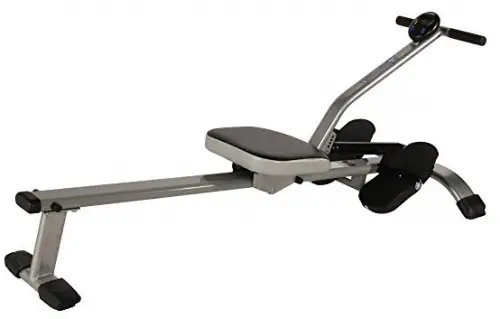 Five Resistance Levels
Hydraulic Arms
Super Compact
Stitched Comfy Seat
Questionable Customer Service
The Stamina In Motion Rower is a basic entry level small rowing machine that provides quality components for reliable performance. It provides 5 levels of adjustable resistance, giving a smooth rowing experience that is unusual for a rower under $100.
Read more
It is simple to assemble, having the hydraulic tension arm at the form of the machine, rather than under it. It makes for a more natural feel during the rowing motion.
The footplates pivot to provide for a more natural leg action while exercising. At 56.5 x 19 x 23.5 inches, this compact rowing machine is amazingly compact, allowing you to get a decent workout in even the most confined of spaces. It can also be stored on end.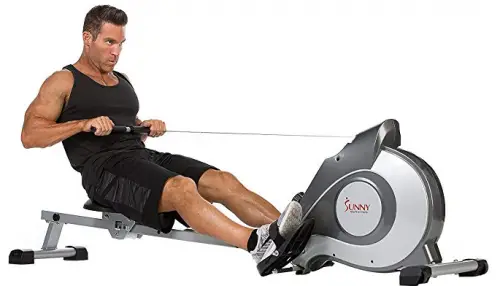 Magnetic Tension
Secure Foot-hold
Large LCD Console
Convenient Tension Knob
The Sunny SF-RW5515 is a magnetic tension rower with 8 levels of resistance. The cushioned seat provides you with very comfortable rowing experience. The large, textured safety pedals provide you with a very secure foot-hold while rowing.
Read more
A conveniently located tension knob allows you to adjust your resistance level easily. Your grip is assured with non-slip grip handlebars. You get a smooth, flowing rowing experience on this compact rowing machine that completely jerks free and natural.
Criteria Used for Evaluation

Use
Using a rowing machine is not that complicated, especially if you've been in a boat and rowed before. Sadly, many people run away from the machine simply because they do not know how to use it, and they are too afraid even to begin to understand. And even if you do give the rower a try, it's possible that you're not using it the right way. It is why we decided to break down using the rowing machine in this section.
The very first thing you've gotta do is learn the proper rowing form. Of course, you should first sit down on the seat. Place your feet on the foot pads, and bend your knees at a 90-degree angle. Then reach out with your arms fully extended and grab the handles. Lean forward so that your shoulders are just in front of your hips. Keep your back straight and squeeze your core! Now the actual motion. Keep your back straight, and your core tight Lock your arms and then straighten out your legs until the seat is way in the back. Once you're in this pose, hinge your hips and lean with your torso backward this time. As your torso approaches the 90-degree angle with the floor, pull with your arms by bending your elbows. As you finish this move, you should return your legs in a straight pose, your elbows should be bent, while the handles should be pulled down to your lower chest. Do not flare your arms, but do not keep them glued to your body either. Again, keep your back flat and your core tight.
These are just the basics, but there are some mistakes you should also look out for when you first start. One problem some people make is that the row in the wrong order. When you do the drive, it's possible that you use your arms or your body way too soon. To fix this, consider the rowing exercise as going from working on your bigger muscles to your smaller muscles. Large leg muscles should be doing most of the work here. You can try rowing without actually strapping your feet in the machine. If your feet are not in contact with the pads all of the time, then you are doing something wrong!
Some people tend to "shoot their seat". It means that the seat slides forward and the legs move, but nothing else actually happens. It prevents you from using your full power and strength! The handles should start moving at the same time as your seat starts to do so. You should try to focus on the first part of the motion, and explore it until you manage to make the handles move at the same time with your knees.
You could also be leaning too forward with your torso. If it goes past 90 degrees with the floor, your back is then placed in a weak position. Try to stay at that 90-degree angle as much as possible! Again, row without strapping yourself in. Lean with your torso forward as far as you can without lifting your feet. Squeezing your glutes when you do arm pulls can also help keep you in the right phase.
Your position when you sit, can also influence your rowing. If you're not sitting correctly, your power suffers! Try rowing by only using your torso. Extend both your arms and legs, hinge backward and forwards from your hips. When you isolate just your torso, you can feel the seat underneath you and focus on staying glued to it.
And finally, maybe you don't grip the handles the right way. A lot of people hold on to the handles with an underhand grip, or they grip with the first knuckles of their fingers. It is wrong, as your fingers should be wrapped around the handle until your second knuckles are facing forward, with the thumb on the underside. The top part of your wrist should also be flat, as opposed to the being rolled to the outside. Try taping a popsicle stick to your wrists. It sounds silly, but it's an effective way to keep your wrists in check! If the popsicle flies off, or if you feel it squeezing down on your wrist, then it's not positioned flat, and you should fix the position of your wrist.

Effectiveness
The rowing machine is definitely the most effective piece of cardio equipment out there! There are many benefits associated with cardio machines, and while we won't name them all, we will list some that we think are worth mentioning.
First things first, rowing machines give your whole body a full workout. The rowing motion activates every major muscle in your body. Your legs, arms, core and back all work in unison to let you row perfectly. Also, your grip will improve since you need to hold onto the handles, plus your forearms get a workout too. When you're just starting to row, sitting in the catch position, your legs are the first ones to be started up, to push you away. This motion fires up your hamstrings, glutes, quads, and calves. The phase that follows this one is the "drive". This phase will make over 84% of your muscles feel the burn! The last phase, the "recovery, brings you back into the "catch" position, and while doing so it engages your core and all the stabilizer muscles. The hamstrings also help a bit to get you back into the first position.
Your rowing machine will also give you an excellent aerobic and anaerobic workout. Your muscles and your cardiovascular system will all be challenged when you get on the rowing machine! The rowing machine will give you one of the most challenging cardio sessions out of every cardio machine. Just like when you bike and run, you can easily control the intensity of the workout to further challenge yourself. But just like we mentioned, unlike the bike and the treadmill, the rowing machine makes your whole body burn, skyrocketing its effectiveness. Aerobic and anaerobic exercises improve your endurance, lower your blood pressure, strengthen your heart and respiratory system, and keep your arteries safe from clogging.
The rowing machine will burn calories, unlike any other cardio machine! When you row intensely, you will burn anywhere from 600 to a whopping 1000 calories, or even more! The rowing machine is on par with the treadmill, but at an incline, while the bike, stepper, stair machine, and everything else in between fall behind it. Thanks to this, the rowing machine is steadily gaining popularity, with specialized rowing gyms popping up like crazy.
By working on your whole body with just one machine, you will save precious time. When you concentrate on just one muscle group individually, your session can last three times longer than it would if you chose just the rowing machine. You need about 20 minutes on the rower to simultaneously build muscle, burn calories and give your heart and lungs a challenge!
Surprisingly enough, when you row you don't put that much strain on your joints, making the rowing machine a low impact exercise. This is great if you are a senior or if you have any existing injuries and diseases. You will not need to lift heavy weights with it, so as a result, your joints do not need to suffer. Also, your bodyweight won't create problems for your knees, like running, jogging or jumping ropes would do. It's really incredible when you can say that you got a mind-blowing and super intense exercise while keeping your joints safe!

Durability
You will probably give the right amount of cash for a new, or even used, rowing machine, so it better be durable! The durability of cardio machines is determined by a few factors - the materials used to create it, how good the electronics are, how it was constructed, and of course by how often you use it, how heavy or tall you are, and so on.
The frame is, most of the times, made out of heavy duty steel that significantly prolongs the life of the rowing machine. Some frames are made out of aluminum so they won't be so hardy, but they will be lighter making moving the machine around easier. The upholstery of the seats and the padding also have to withstand a lot to be called hardy. The cover is usually made out of leather, or synthetic leather, or even vinyl, which all have their own set of pros and cons, but they are all quite hardy and can withstand a lot. If you notice that your machine jiggles and makes excessive noise while you row, it's likely that it has been cheaply constructed and that the bolts and screws are loose. It can happen if you haven't assembled the machine correctly, but it can also happen if the machine is bad, so make sure you pay attention to every detail!

Features
No rowing machine is just a simple machine - they all have a myriad of features meant to give you a better experience when you workout. What kind of features you need will depend on what kind of statistics you want to follow, and of course, on how serious you are about rowing!
First things first, every rowing machine has adjustable levels of resistance, while some even have infinite levels of resistance thanks to the flywheel that propels them. It allows you to always strive for more, and you will always have a challenge awaiting you. The rowing machine must have soft and comfortable handles since you need to have a good grip on them. Every cardio machine has some monitor that shows you valuable exercise data, and that gives you programs and the possibility to connect your device to it. There are some features though that are not so important, yet they are still nice to have around. A primary monitor will give you info about the time that has passed, the distance you've crossed, and how fast you've been rowing. But if you need more detailed info about your exercise, you can always find a rowing machine that provides you with it. Some monitors calculate the number of calories you've burned or the amount of energy you managed to generate while rowing. One of the features you should look out for are the preset programs. These programs are a way to challenge yourself and to enrich your session, making it more interesting. Some machines even give you the option to play games! The games you can play are usually racing games that challenge you to be better than ever, making them helpful and exciting at the same time. The pricier rowing machines have heart rate monitors. Some models allow you to connect an external monitor. A heart rate monitor is great for people who have health conditions that make observing their heartbeat an essential factor. You can also calculate other data more precisely when looking at your heart rate, like the number of calories burned.

Size
Since you did probably come here because you want to create your gym, it's very likely that you are looking for a rowing machine that is on the smaller side, or that it can be folded to be stored away. Many rowing machines are really quite large, but they can be easily separated into two pieces to be stored away, or they are easily folded and are made to be compact.
There's something you should keep in mind though - the smaller the machine is, the less weight it will be able to withstand, and it will probably be less durable. So what you need to look for is a rowing machine that is big enough to withstand your weight, and that it can be folded away or disassembled. The bigger machines are going to be heavier, but luckily they all have built-in transportation wheels that make moving them around a breeze!
Expert Interviews & Opinions
Most Important Criteria
(According to our experts opinion)
Experts Opinion
Editors Opinion
Users Opinion
By Default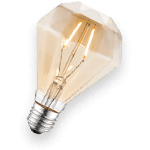 History
Now let's see who was the first one to figure out that the rowing machine is an excellent addition to the cardio equipment crew. The history if indoor rowing takes us back to ancient Greece, where they used rowing machines constructed out of wood to conduct military training. But the very first patented rowing machine was created in 1872, by a man named W.B.Curtis. He designed this compact rowing machine to help athletes stay fit when they are on land, not only when they are in a boat. The most important aspect of his design was the birth of the flywheel, which is still used today to build resistance. While the first rowing machine lacked what they have today, many people imitated his creation and helped create what we know today as the modern rowing machine.
Other Factors to Consider

Value
If you ever shopped for fitness equipment before, then you know just how pricey it can be, and the rowing machine is not any different. Although there are rowing machines that you can buy for a 100 dollars or so, they won't be so kind and are likely to fall apart, or they do not have features which make rowing easier and more fun. Midrange machines are constructed the same way as the ones on the top of the spectrum, but they also do not have as many features as the pricier ones, like a heart rate monitor or even video games. You can get fit on a budget-friendly machine, but the ones that cost the most have that price for a reason. They will enrich your experience while simultaneously being easy to use and understand!

Bottom Line
The best compact rowing machine in terms of portability and compactness that we found is the Stamina BodyTrac Glider. This air resistance compact rowing machine offers a great mix of comfort, functionality, and portability. The second best compact rowing machine that we encountered is the Sunny Health and Fitness with full motions arms, which provides a great range of motion, a comfortable, padded seat, and 12 resistance levels.
The third best compact rowing machine that we encountered is the Stamina Avari Hydraulic Rowing Machine, with its 12 levels of variable resistance and surprisingly smooth rowing action.
Frequently Asked Questions
q:

What are the benefits of using a compact rowing machine?

a:

A compact rowing machine is considered to be the best cardio equipment out there, providing you with many benefits, but it's also a great muscle building tool. Just one simple rower can help you burn a ton of calories, increasing your metabolic rate for hours after you complete your exercise. The rowing machine is the only machine that gets both your upper and lower body moving, affecting your whole body! You will feel the benefits of a rowing machine as soon as you start using it.
q:

Is there proper form I must maintain when I row?

a:

Just like with every kind of exercise out there, maintaining proper form when you row is a definite must. A lot of beginners struggle to figure out what the proper rowing form is, and that's understandable since it can look quite complicated to understand. Start with sitting on the seat, your legs bent, and your feet on the foot pads bent at a 90-degree angle. Extend your arms completely to grab the handles, and then lean forward, so your shoulders are in front of the hips. It is just the beginning, and we've explained everything in great detail in our Use section!
q:

How many calories are burned on a rowing machine?

a:

The amount of calories burned when working out is probably the essential factor for every person trying to lose weight, and the rowing machine will definitely help you burn excess calories and much more. Some people estimate that just one rowing session lasting a full hour can burn an incredible 1000 calories! If you realize that an average person consumes around 2000 calories a day, this number becomes even more impressive! It can burn even more if you push yourself intensely. The only other piece of equipment that can even begin to compare with the compact rowing machine is the treadmill, but with an incline.
q:

What resistance type should I buy?

a:

There are four different types of resistance you can find: magnetic, air, water, and hydraulic piston. All of these resistance types have their own set of benefits and drawbacks, and what you end up buying will depend on what you're looking for. They will all have a different noise level, an unusual amount of resistance levels available, their price will vary as well, and so will their size and portability. Air resistance is the most popular one and seems to be the best kind overall, but it tends to be on the louder side because of the flywheels continually spinning.
q:

Is the rowing machine better than other cardio machines?

a:

It is an ongoing battle that has lasted ever since cardio machines were created, and it's been a tough battle as well. The treadmill was the overall champion, thanks to the incline setting it had, but once the compact rowing machine entered the spotlight, nothing else mattered! The rowing machine is small enough, portable, budget-friendly, versatile, and it burns a ton of calories while keeping your whole body engaged. If you're looking for just one piece of equipment;t that can save you busy and fit for ages, then the compact rowing machine is what you should go for!
Subscribe to our newsletter