Best CrossFit Subscription Boxes
last updated:
Apr 10, 2020
updated January 1, 2019
With the huge popularity of Crossfit, it's hardly surprising that a whole industry would crop up consisting of auxiliary products and services for the Crossfit community. One of the most interesting is the CrossFit subscription boxes. In this article, we discover the Top 6 Crossfit subscription boxes that are available right now.
What is a Subscription Box?
A CrossFit Subscription box is a service you are able to sign up to receive a monthly box of products related to the Crossfit lifestyle. These will normally include items of clothing, supplements, snack foods, gym accessories such as wraps or gloves and personal hygiene items. You will find that the value of the package will be lower than if you bought each item separately.
The Top Five at a Glance
Our Top Rated Crossfit subscription boxes are Gainz Box, which provides the best value for money and provides the greatest range of product type. Our second favorite is the WOD Crossfit subscription boxes, which has the best monthly subscription rate that we could find, for which you get 6-8 quality products each month.
The third best Crossfit subscription box service is Barbella Box, which is specifically designed for female Crossfitters and gives you about $90 value for around fifty bucks. Rounding out our top 6 are the Brotein Box, the WOD BOM, and the Strength Crate.​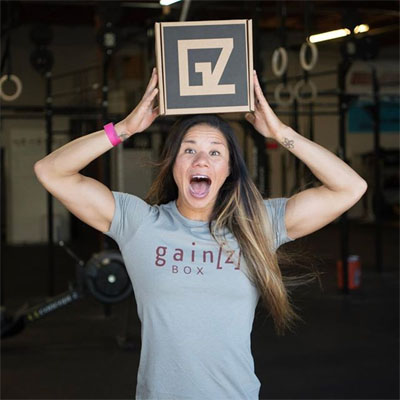 GAINZ Box is one of the oldest Crossfit subscription services. It offers the following subscription options:
1-month subscription for $32 per month(plus $6 shipping)
3-month subscription for $31 per month and a total of $111 (plus $6 shipping)
6-month subscription for $30 per month and a total of $216 (plus $6 shipping)
12-month subscription for $29 per month and a total of $420 (plus $6 shipping)
A GAINZ Box from the CrossFit subscription boxes contains a range of products that include apparel, training gear, nutritional supplements, and protein bars. Here's a recent sample to give you an idea of the quantity and quality of the products you are likely to receive:
Fitspi Shorts (female boxes only) (retail value $31)
Fitspi Socks (female boxes only) (retail value $15)
Fitspi Joggers (male boxes only) (retail value $50)
Fitspi Teal Tank (female boxes only) (retail value $25)
Fitspi Black Tank (male boxes only) (retail value $25)
Country Archer Beef Jerky (retail value $3.99)
Ice Age Meals Gift Card (retail value $50 off with purchase of $160 or more)
As you can you see you get some pretty good value here. Even if you don't include the meal gift card, you are receiving about $120 worth of value, which is more than three times your monthly subscription. Of course, you may not actually use all of these items, but that's the gamble that you take with any subscription service.
GAINZ Box is a veteran-owned business with a portion of your subscription fee going to support veterans.
WOD Box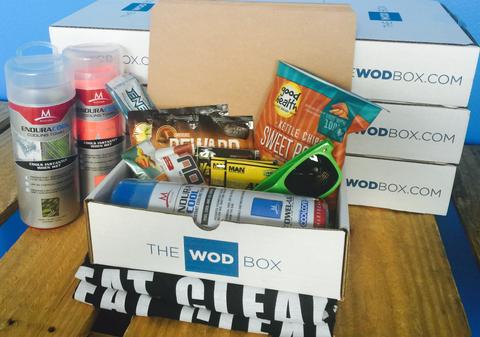 The WOD Box subscription service provides the lowest monthly fees that we have come across in the CrossFit subscription boxes service market. These are your options:
Recurring monthly plan @ $21.99 per month (includes free shipping)
Recurring 3 monthly plan @ $20.49 per month (includes free shipping)
Recurring 6-month plan @ $18.99 per month (includes free shipping)
Each WOD box contains 6-8 products, including apparel, supplements, protein snacks, and training gear. Here is a sample inventory from a recent WOD Box:
Miracle Tree Green Tea,
BUFF BAKE Protein Cookie and SpreadStakk'd
WOD & Done Hand Grips
NVR Broken LiveSore T-Shirt
And here's what came in the month before . . .
BITEFUEL
Honey Stinger Waffle
POWERICE, Spider Chalk
LIV SOR Tank Top
DoseLocker
So, for twenty odd bucks, you get a piece of clothing (t-shirt or tank top) a protein snack, a piece of training gear (chalk or hand grips) and a couple of liquid products. We think that those CrossFit subscription boxes represent very good value for money.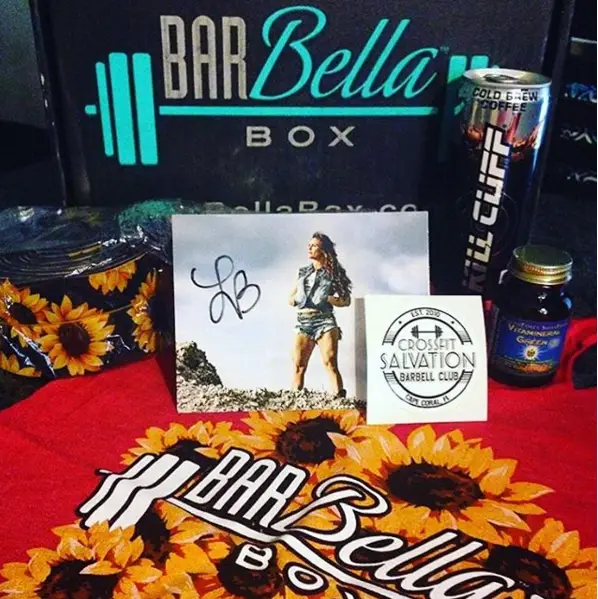 Barbella Box is the first CrossFit subscription box exclusively for women. You can sign up for either a monthly, quarterly or annual subscription at the following rates:
Monthly Barbella box @ $49.99 (plus free shipping)
Quarterly Barbella box @ $141.00 (plus free shipping)
Annual Barbella box @ $540.00 (plus free shipping)
As you can, see, by paying up front, you get a few dollars off each monthly cost.
So, what sort of products arrive in your Barbella box? According to the Barbella website, each month, you will receive CrossFit subscription boxes with a range of premium fitness related products that includes apparel, fitness gear, supplements, snacks, workout tips, and other products exclusively designed for women. Let's take a look at the December 2019 box:​
Exosleeve Elbow Wraps ($38.00 value)
Barbella Box Kettlebell Daisy Tumbler ($19.99 value)
Elevate Nutrition Probiotics ($32.99 value)
Smash Pack ($3.99 value)
La Colombe Coffee Triple Threat ($2.00 value)
Barbella Box Daisy Car freshener ($2.00 value)
The total value of these six items is about $89.00, which represents about a $30 savings if you were to buy each of the items separately.
On the Barbella box website, you can see a complete list of every box that has been sent out since this service started. That allows you to get a very good idea of the sorts of products that you are likely to receive – so, full marks to the Barbella people for full disclosure.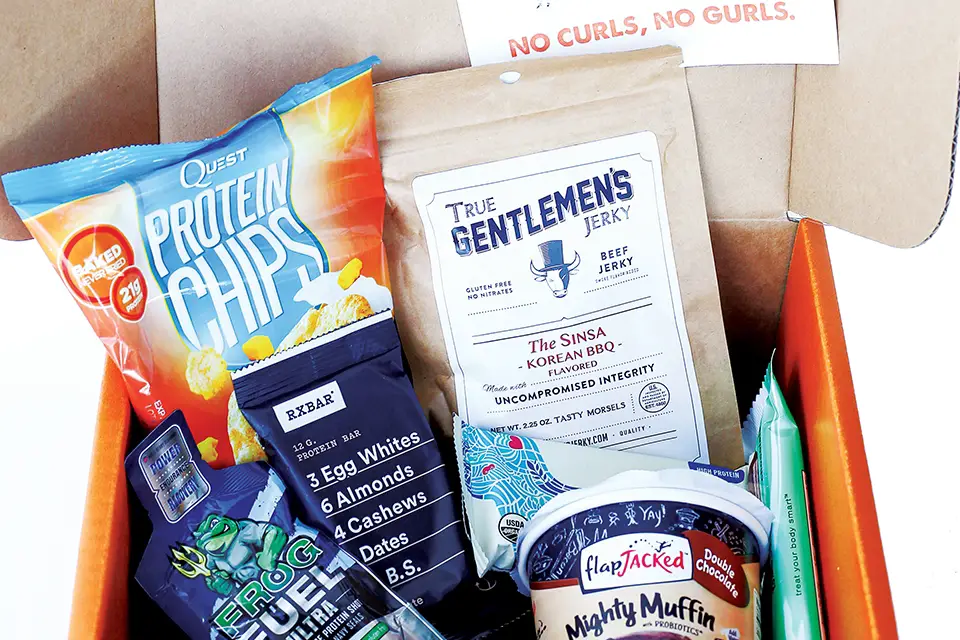 The Brotein Box is a protein-focused subscription box, especially for guys. For your $35.99 per month, you get between eight and twelve high protein food items. Unlike most U.S. based fitness subscriptions services, the guys at Brotein Box ship to limited countries outside of the U.S., though you will be paying extra for the shipping. Unlike much of the competition, however, shipping within the Continental United States is free of charge.
You can also take up the 'Team Protein Box' options, for $199.99 per month. This provides you with 72 or more high protein snacks to keep you and ten or more of your teammates in an anabolic state month round.
Unfortunately, the Brotein Box website does not give us any breakdowns from previous months' boxes. However, according to the FAQ, you will get such things as protein bars, jerky and tons of other protein-packed snacks. All products are taste tested, with new products being added every month.
According to the online reviews, the product range and quality represent good value for money, providing substantial savings over paying for the items individually.​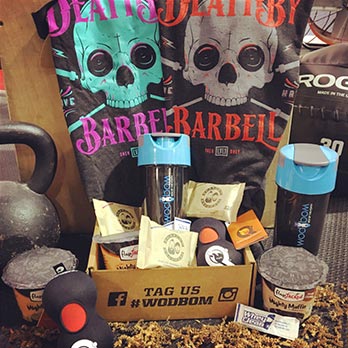 WOD BOM ( Workout Of the Day Box Of the Month) provides you with 6-7 large products that are directly related to your Crossfit lifestyle. Your subscriptions choices are as follows:
1-month subscription for $35 per month
3-month subscription for $34 per month ($102 total)
6-month subscription for $33 per month ($198 total)
Here's a recent sample to show what you might get in a typical month . . .
RuckPack Energy Shirt/Tank
Extreme Orb Mini
WOD Welder Hand Creme
Think Jerky
WOW Cookies
HotShot
Salt Stick
The WOD BOM guys state that their point of difference is that, rather than using sample packs, they always provide full-size product offerings. An analysis of several months' CrossFit subscription boxes (which are itemized on their website) shows that you will receive about twenty dollars more product than if you bought each product separately.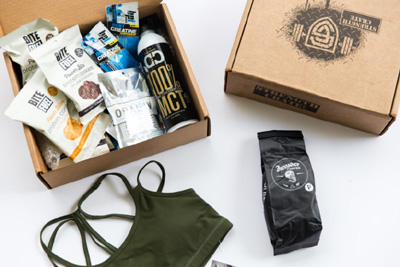 Strength Crate are a more expensive CrossFit subscription boxes than most of the opposition, with the 'Game-Day' Crate at $59.95 per month, and the G.O.A.T crate at $79.95. On top of this, you have to pay $6 for shipping each month. For this, you get 5-6 items in the 'Game-Day' crate and another 5-6 (presumably more costly) items in the G.O.A.T crate.
The expectation would be that, assuming that you are getting the same number of items as you do in competing boxes that cost around $20 per month less, you will get much higher quality products in your CrossFit subscription boxes. So do you?
Here are the contents of a recent 'Game-Day' crate:
Born Primitive T-Shirt
Versa lift Adjustable Heel Lifts
Oral I.V. Hydration Formula
Clean Snatch Soap
Biteful Protein Cookies
The most recent 'G.O.A.T' crate contained the following:
Born Primitive Compression Shorts
Versa Lift Adjustable Heel Lifts
Oral I.V. Hydration Formula
Caveman Coffee MCT Oil
Biteful Protein Cookies
As you can see, the only difference between the two boxes (and the twenty dollar increase) is that the t-shirt is swapped out for compression shorts and, instead of soap, you get MCT Oil. To us, this doesn't seem to represent an appreciable increase in goods received for money paid. What's more, we don't really see the improved quality of products received with 'Strength Crate' to warrant the extra price you pay for those CrossFit subscription boxes.​
Conclusion
The best Crossfit box subscription service is GAINZ Box, which offers the best value and the best range. The WOD box comes in at the best price-point to claim our number two spot, followed by the Barbella subscription box, the first CrossFit subscription boxes service designed specifically for women.
Subscribe to our newsletter