GAINZ Box Crossfit Fully Reviewed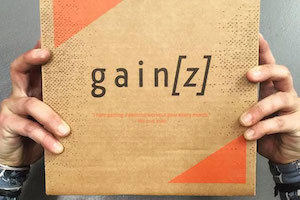 Let's face it – there's something magical about receiving a gift box in the mail. That childhood thrill of opening a package never seems to leave us. When we don't know what's inside it's even more exciting – which probably goes some of the ways to explaining the popularity of fitness subscription boxes, like WODBOM. In this review, we take a look at one of the oldest and most popular for Crossfitters, the GAINZ box.
What is the GAINZ Box?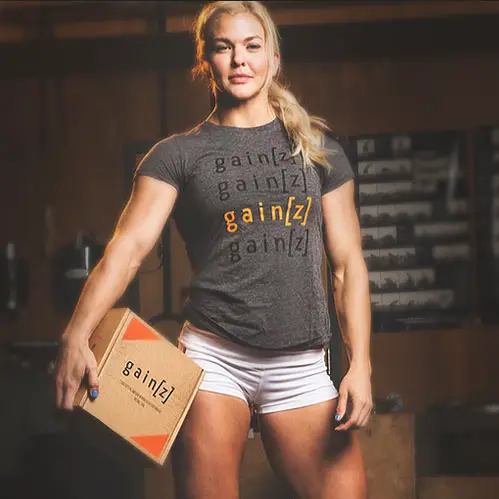 The GAINZ Box is a monthly Crossfit products box subscription. It is available at the official GAINZ website . . .
Each month you will receive between 6-8 products, ranging from apparel, mobility, snacks, supplements, hygiene products and more. The GAINZ guys offer the following subscriptions choices:​
1 month subscription for $32 per month(plus $6 shipping)
3 month subscription for $31 per month and a total of $111 (plus $6 shipping)
6 month subscription for $30 per month and a total of $216 (plus $6 shipping)
12 month subscription for $29 per month and a total of $420 (plus $6 shipping)
What Do You Get in the Box?
Obviously what actually turns up in each box is a total surprise (which is all part of the appeal). However, the guys at GAINZ Box do provide you with information about the contents of previous boxes. Let's take a look . . .
January GAINX Box Contents:
Fitspi Shorts (female boxes only) (retail value $31) Fitspi Socks (female boxes only) (retail value $15)
Fitspi Joggers (male boxes only) (retail value $50)
Fitspi Teal Tank (female boxes only) (retail value $25)
Fitspi Black Tank (male boxes only) (retail value $25)
Country Archer Beef Jerky (retail value $3.99)
Ice Age Meals Gift Card (retail value $50 off with purchase of $160 or more)
February GAINX Box Contents:
Workout Muscle Tank (retail value $29.95)
Halo Top Creamery Pint Voucher (retail value $6.99)
Fuel Socks (retail value $15)
Organic NuttZo Power Fuel 2Go (retail value $1.29)
FlapJacked Protein Cookie & Baking Mix (retail value $6.99)
Special Edition Gainz Box Wrist Wraps (retail value $25)
July GAINX Box Contents:
Reebok CrossFit Games Tee, Madison Edition (retail value $32)
Zevia Energy Drink (retail value $1.99)
FluWar Antibacterial Spout Pouch Gel (retail value $1.99)
PALEOETHICS Shaker Bottle, Surge Pre-Workout & Super Serum Protein (retail value $34)
VERMONT SMOKE & CURE Cracked Pepper Beef & Pork Sticks (retail value $1.99)
TRIFECTA Gift Card (retail value $25)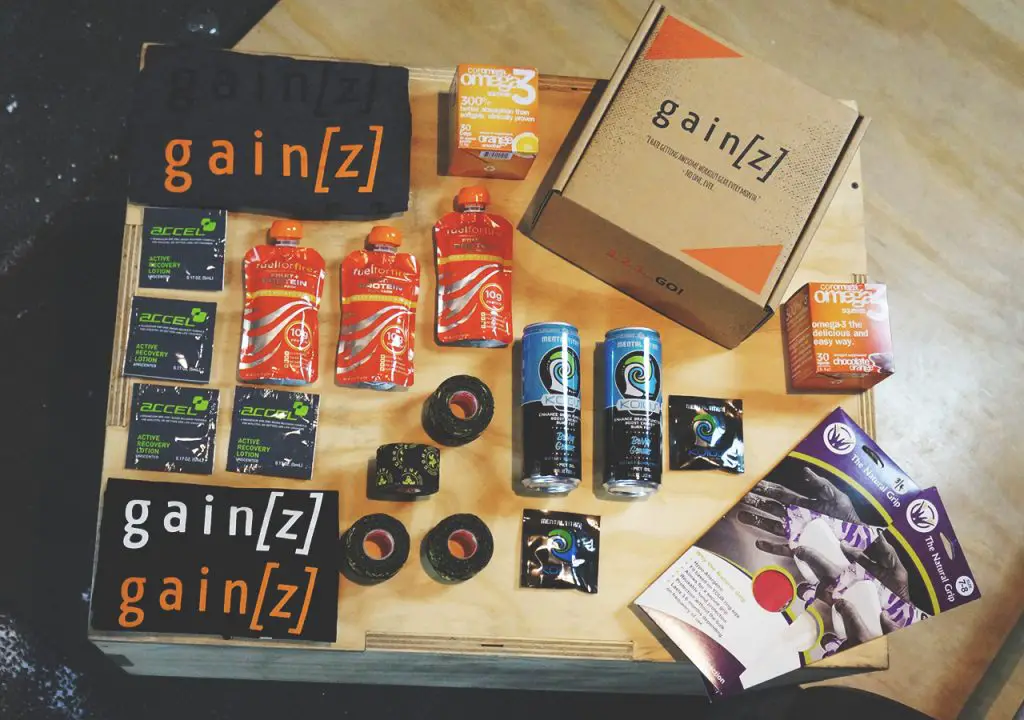 From the above we can see that you get do get a good range of products, with a typical box containing one piece of clothing, a snack food item, an energy drink or similar product, and a gift card. You will notice, however, some of these gift cards rely on a much larger purchase for them to be activated. For, instance the $50 gift card on the Ice Age Meals requires you to purchase $160 worth of product. If I had received this as part of my GAINZ Box, I would not have been very impressed.
Each box also comes with a full color brochure which provides you with a full description of the contents of the box, along with tips on how to get the most out of their use. You'll also find some literature either profiling a Crossfit athlete or providing some training guidance.
Value For Money?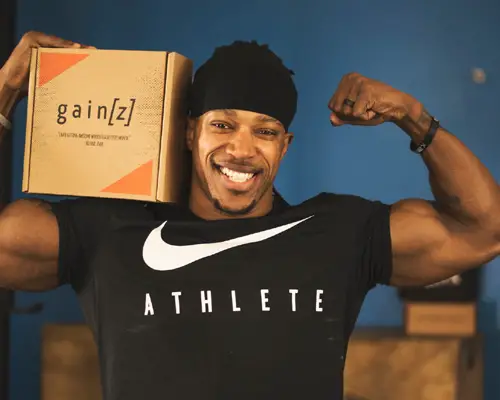 So, do you really get good value for money when you take a GAINZ Box subscription? On the face of it, yes. The average cost of the products received in the months of July, February and December 2019 was around $80. With a six-month subscription sitting at a price point of $30 (plus $6) for shipping, that offers very good value. In fact, it is one of the best value boxes that we have come across. However, as mentioned, the inclusion of gift certificates that are reliant on large purchases is not good luck. We suggest that GAINZ provide actual products in the box, rather than discounts on other products.
GAINZ Box is a veteran-owned business, with a portion of every subscription being donated to veteran support.
Summary
The GAINZ Box Crossfit Subscription box service is one of the best value services that we have found. Even when you factor in shipping, you will end up with a product that, if bought individually, will cost at least twice as much as your subscription cost. As with any subscription box service, however, you run the risk of ending up with stuff that you will never use. You will also have to be wary of the inclusion of coupons that only redeemable when you make further purchases.
Most Read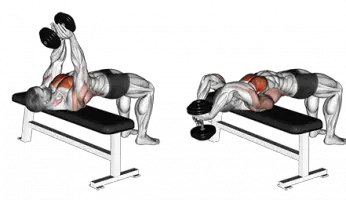 Subscribe to our newsletter