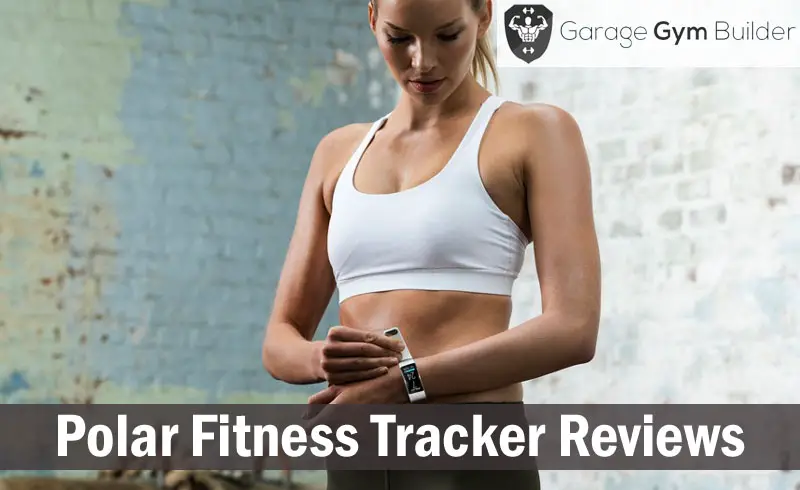 Polar Fitness Tracker Reviews 2018
When it comes to wearable heart rate monitors, Polar Fitness are the real deal. They've been producing portable fitness monitors since 1977, which is more than twice as long as any of their competitors. In this article, we delve into the Polar Fitness line-up. We'll review their most popular fitness monitors and discover why you should invest in the Polar advantage.
About Polar Fitness
If you thought that FitBit were the innovators when it comes to wearable heart rate monitors, it's about time you reviewed your history. Decades before FitBit came into existence, a Finnish professor by the name of Seppo Saynajakangas had invented the world's first battery operated fingertip heart rate monitor. The device was created as a training aid for the Finnish national cross country ski team. Seppo then went on to found Polar Electro.
​That was way back in 1977. Their first wearable heart rate monitor came out a year later. In 1984, Polar introduced the first wearable heart monitor that could connect with a computer for analysis. Decades before FitBit and Garmin started putting out activity trackers and GPS monitor based fitness devices, Polar were innovating and perfecting the production of wearable fitness technology.
​The Polar Fitness 2018 line-up features an impressive range of products to meet the needs of every person interested in monitoring their health and activity. Scroll down to see our review of the most popular Polar products.
Polar Heart Rate Fitness Monitor Reviews
Let's now go in-depth as we undertake Polar Fitness tracker reviews of three of the most popular devices in the Polar Fitness range, the A360, the M400 and the Polar Loop 2.
The Polar A360 is an activity and sleep tracker which is water proof down to 30 meters. That means that you can swim with this device on your wrist. However, it does not provide you with any swimming metrics. The battery life, according to the manual, is 12 days. In reality, most users are finding that the device lasts for between 7-10 days before it needs recharging. Charging is done via a micro USB. Bluetooth is built-in for syncing with the Polar Flow app.
The Polar A360 has interchangeable bands. This allows you to change up the look of the device with different colors. This is a slightly large wrist based monitor. It has an extremely soft band and provides a very comfortable fit. However, for some reason the band tends to collect a lot of lint and dust. The band has a secure locking mechanism, so you never have to worry about it slipping off your wrist.
The full color touch screen display works well. However, the touch screen display will not work under water. The display is low resolution, but is easily visible. The touch screen is very responsive, unlike many competitor products. There is a cool wrist turnover feature on the A360. This allows you to flick your wrist to check the time and to allow the activity tracker to kick into action. There is one physical button on the side of the device, which is how you manually turn on the display.
The optical heart rate sensor is on the underside of the device. This comes into play for workouts, but will monitor your heart rate 24/7. It does, however, also work for swimming. The optical sensor is not 100% accurate (none are), but it is better than most out there when it comes to such activities as weight lifting and crossfit. It is not as accurate as what you would get if you were wearing a chest heart rate monitor. The cool thing, though, is that the A360 can be paired with the H7 chest strap heart rate monitor to get really accurate heart rate readings. This is a smart option when you're doing dynamic workouts that involve plyometrics. It should be noted that the Polar A360 will not relay your heart rate to the Polar Flow app while you are swimming if you are using the H7 chest heart rate monitor. It will only do so if you use the built-in optical heart rate sensors. An etxra advantage of using the H7 heart rate monitor with the A360 is that it allows you to do a special fitness test to help you to determine what your VO2 Max is.
As with all of the products in the Polar line-up, the A360 is easy to use. You simply swipe up or down to get to the 'My Day' screen or the 'Training' screen. The My Day app gives you an analysis of your progress toward your daily movement goals. Polar bases your goal not just on your steps, but on your other movement activities as well. Swiping up on the device will bring you to your recent activities. Scrolling down brings you to the training screen. Here you select the type of workout that you want to engage in. You get plenty of options here, and you can customise them on the Polar Flow App. However, unlike FitBit and Garmin, the A360 will not estimate your running distance.
The Polar A360 includes move reminders, a daily alarm, a do not disturb mode and it will relay your phone notifications. However, you'll only be able to see the first 20 characters of your messages.
The Polar A360 is one of the best activity trackers currently on the market. It's not the cheapest device you'll come across, but it will give you a solid, in depth, reliable performance every time.
The Polar M400 is a GPS sports watch and activity tracker. It is Polar's attempt to combine GPS watches and activity trackers into a single device. The Polar M400 pairs with a Bluetooth Heart rate monitor. It provides around 8 hours of battery life when used in GPS mode. When used in activity mode, you will get about 24 days of battery life, which is pretty impressive.
You can sync the Polar M400 to the Polar Flow application via Bluetooth or USB. You can use any USB which is a real advantage. Many devices require a proprietary USB that, if you lose, leaves you unable to recharge. You won't have that problem here.
The M400 has move reminder and and alarm function. Unfortunately, it does not feature a silent alarm. The M400 will display the time, date and the percentage of your daily goal you have achieved. On the 'Today's Activity' screen, you can delve into detail about your day. The diary screen gives you a log of all of your workouts. You also have screens for settings, fitness tests, and timers.
Throughout the day, the M400 will track your steps, distance, calories and sleep. It automatically logs your sleep without requiring any manual input, which is a nice feature. During activities, the Polar M400 will monitor your distance, your duration, your route, your average maximum pace, calories, speed, training benefit, heart rate zones, altitude and provide you with laps data. This is a very impressive amount of data collection. On the Polar Flow app, you are able to analyze this data in minute detail.
The M400 has an attractive design, which is both rugged and extremely comfortable. The on-device software is straightforward and easy to navigate. It simply consists of a main menu and sub-menus. The screen is easily viewable in sunlight.
​We really like the fact that the daily goal on the M400 is not solely based on steps taken. So, if you do a workout that is not running intensive, such as crossfit or weight training, so long as you are wearing your chest strap monitor, you will still be working towards your goal.
​On the downside, the M400 does not feature a standard stopwatch. It's sleep analysis is also very basic in comparison to what else is on the market. The M400 will not automatically sync your data. The M400 will not work with any other mapping services. However, the device does work with My Fitness Pal.
​The M400 is a device for athletes, coaches personal trainers and fitness enthusiasts. The ideal M400 user will want to wear a sports watch that looks like a sports watch all day long. She wants 24/7 activity tracking and she wants all of the data from her workout that she can possibly get.
The Polar Fitness Loop 2 is an updated version of the original Loop. The first thing users of the former model will notice is that the band material is now made of a softer silicone. The band feels just as rugged as the original, but it sits more comfortably on your skin. A new button on the top of the device is also easier to work with. The sleek, attractive design of the original loop has been retained. It has LED indicators that light up to show you your steps. However, it is a little difficult to read in the sunlight.
When you first get your Polar Fitness Loop 2, you have to cut the band to fit the size of your wrist. This may seem to be a bit of a hassle, but it is the best way to get a personal fit from your activity tracker. The locking mechanism on the underside of the device is similar to a standard watch. This is made of stainless steel and is bigger than the locking mechanism on most activity trackers.
The Polar Loop 2 is water proof down to 20 meters, meaning that you can go swimming with the device still on your wrist. The battery life is listed as 8 days, but appears to be about 5-6 days in real life application. The Loop 2 pairs with a Bluetooth heart rate sensor. This allows you to get real time heart rate data during your workout.
All of your workout data is sent via Bluetooth to the Polar Flow app on your iOS or Android device. There is also a web app.
The Loop 2 will automatically record your sleep information. It will also relay your phone notifications, which the original Loop was not able to do. But this only works for iOS users. You also get activity reminders on this device. That means that the device will let you know when you've been inactive for too long, and prompt you to do some activity. You also get a daily goal with the Loop 2. The goal is based more on calories burned than steps taken.
The Loop 2 is set at an attractive price point of around $120. For that investment you get all day activity tracking, auto sleep, the ability to pair with a heart rate monitor, effective daily goal systems and a very good mobile app.
Compare Polar Watches
So, which is the best polar watch? That depends on what your main purpose for investing in the device is. If you are after a Polar fitness tracker that will give you complete and in depth workout and sports analysis, then you need the M400 watch. But, it you are more of a general exerciser who simply wants a stylish band that will track you daily activity and get you moving more, your band if choice will probably be the Polar Loop 2.
Polar Flow Mobile App Review
The home screen of the Polar Flow app shows you in a clock format how active you've been throughout the day. It will also show you the time you have been immobile. A color coded format will show you how active you have been. You daily goal is prominently displayed. As mentioned in the individual product reviews, a unique aspect of Polar's daily goal system is that it is not based on steps, but calories burned.
​Unfortunately the sleep analysis on the Polar Flow is not up to the standard that you would expect. In fact, it is virtually non-existent. The devices will accurately track your sleep, but the app does nothing with that data.
The training diary screen allows you to view all of your different workouts. You are provided with very detailed breakdowns of you stats for each activity. Your heart rate information is graphed to make it easy to see. For running you can track your route and take a look at what your heart rate was at various parts of the course.
​With the web application, you get a little more control over your training information than you do on the mobile app. You can also connect to MyFitnessPal.
The Polar Flow is a solid application. It shows all of your activity information and provides detailed workout analysis. The only real negative is that it doesn't have a lot of sleep analysis.​
Conclusion
Polar are the oldest and most experienced fitness tracking company in the world. Their extensive range of lifestyle, sports and pro training trackers offer a competitive alternative to such brands as Garmin and FitBit. If you are after a serious fitness watch that will give you detailed workout analysis, you should definitely check out the M400 GPS Sports watch and Fitness Tracker. And, if sleep analysis is not important to you, you should definitely check out their range of lifestyle trackers. The Polar Flow app is one of the best in the business.
If you're looking for some cool technology and fitness gadgets to provide your every training need, click the following link to find the best and latest in fitness technology.
For an in depth review of the Misfit range of fitness monitors, go here, the Misfit fitness monitors are another great fitness tracker on the market that are at least worth taking a look at. Don't forget to check our massive guide for the best fitness trackers available out there, too.