9 Essentials For Your Powerlifting Home Gym
last updated:
Mar 04, 2021
Building a powerlifting gym in your home is a tricky feat, but it can be done! Once you have stocked your workout space with a good bench, bar, and plates, it's time for accessories!
The accessories that we included in our list are designed to help keep your lifts clean, as well as heighten the difficulty to help you push past barriers.
There is a time in every powerlifter's journey where they hit a concrete wall in their progress and proper tools after often the key to push past frustrating plateaus. Tools such as resistance bands, knee sleeves, dumbbells, and even chalk can make all of the difference in the world.
In this guide, we have included some of our favorite powerlifting training accessories to help you reach that new PR!
In a Hurry? The test winner after 20 hours of research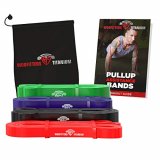 WODFitters Stretch Resistance Band
Why is it better?
Color-coded
Affordable
Tear-resistant
Accessories
Adjustability
Comfort
Features
Flexibility
By Default
9 Essentials for Powerlifting
1

. WODFitters Stretch Resistance Band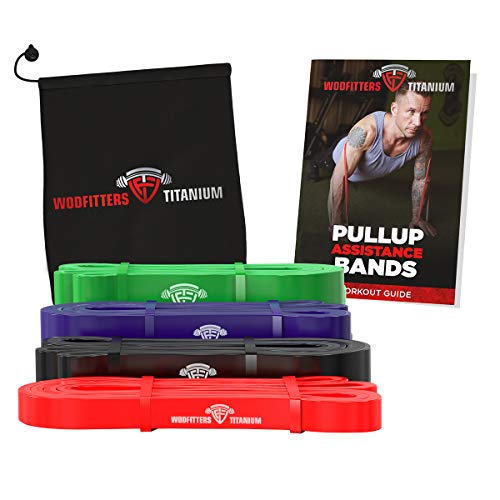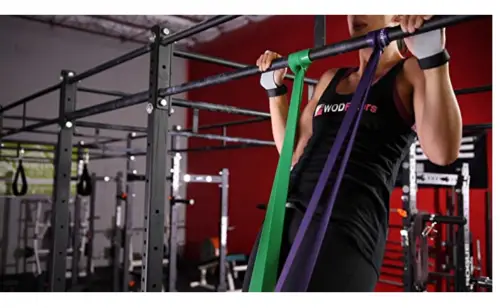 Color-coded
Affordable
Tear-resistant
Head to any commercial powerlifting gym, and you are bound to see a few bands affixed to the weight bench. In the early days, serious powerlifters use chains to add tension and amp up the difficulty. Today, many commercial gyms have swapped out chains for a series of bands that not only add a little weight for training but also work tiny stabilization muscles as well.
Read more
Most modern weight benches include posts at the base that are often misused for plate racks. These small base posts are where you hook one end of your band, and the barbell is where you hook the top loop. These bands are great for low-weight training and help to strengthen small stabilization muscles that can help you push past a wall.
We love this set from WODFitters because it comes in a pack of various weight options. Users can adjust the weight on the bar to work up to higher difficulties. Each band is color-coded to make it a little bit easier to add the right tension on the bar as needed.
If you find that you are stuck at a plateau or have a very specific sticking point during your bench press, it may be because you haven't worked those small little stabilization muscles. Investing in a good pair of resistance bands to loop on your barbell helps evenly distribute weight, and also amps up the difficulty level without the need for extra plates!
2

. Valor Fitness BD-7 Power Rack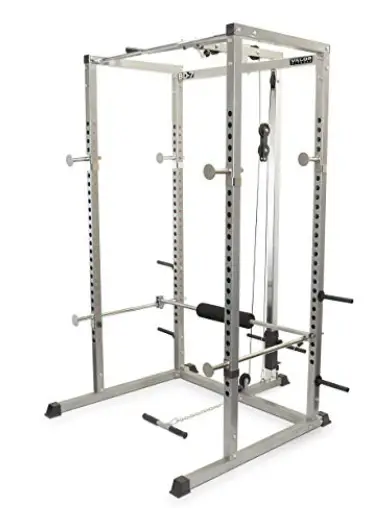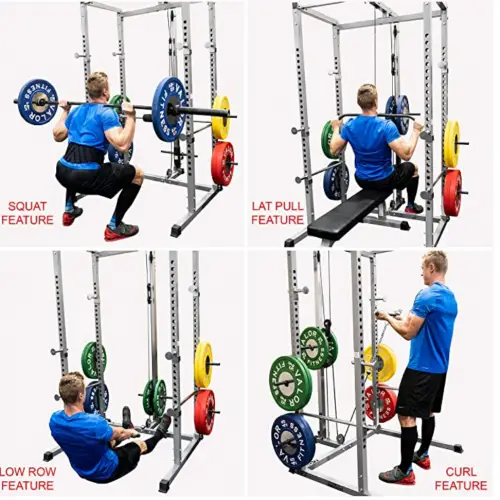 Ample weight storage
Pull-up bar is 83" off the ground
Lat pull attachment
Rubber toe caps
This power rack for barbell storage and a squat platform also includes a lat pull station for exercising your back, arms, and shoulders using a cable. It's made of two-inch by two inches 12 gauge steel framing. The footprint and working space are substantially large. There are 6 storage pegs for weight plates, four on the back and two on the side. An included pull-up bar comes 83 inches from the floor, to fit users of all heights comfortably.
Read more
The pull-up bar also has knurled handholds for comfort and grip enhancement. The barbell supports easily adjust to 27 positions, and user weight capacity tops out at 350 pounds.
The squat bar holder and safety catch each have a 500 pound capacity for squats. You can also purchase separate accessories, which include a dip station, dumbbell holders, and more safety attachments.
We're impressed with the safety bar catch, a feature missing from many home gym squat racks. It catches a loaded bar if you start to drop it or can't complete a rep. For around $400, you can even extend the BD-7 into a full-featured cable crossover machine, while retaining all the exercise capability of the base model.
3

. Telk Adjustable Dumbbells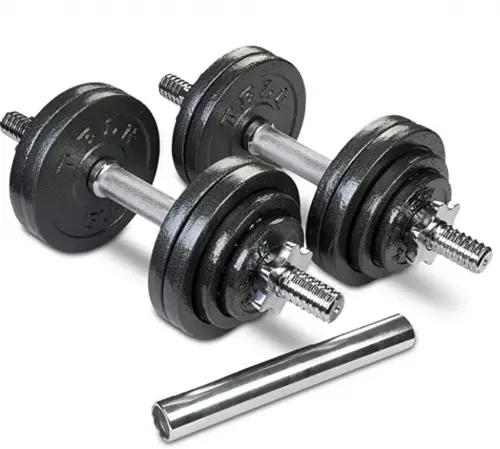 Easy to turn
Durable
Plates are indented for easier handling
Can combine handles into a barbell
Baked enamel finish is resilient, resistant
Standard weight plates, no adapting for Olympic bar
This dumbbell pair comes with cast iron weight plates and collars to let you put anywhere from 5 to 52.5 pounds in each hand. The collars are the spinning star type, easy to loosen or tighten though not as fast as the Clout Fitness quick releases. The plates are exceptionally tough, with a rust-resistant enamel baked finish.
Read more
The handles are chrome coated, with enough texture to help you maintain a firm grip. You can also fit the plates onto any standard bar, using the spin collars or any suitable 2-inch collars you have on hand. Unfortunately, since the holes in the plates are 1.15 inches, there is no way to make them bigger for an Olympic bar.
The Telk sets come in different weights, too, including the heavy-duty 200-pound set that lets you lift up to 100 pounds per hand.
The 45 and 65 sets include a threaded rod to let you combine the two dumbbells and use them as a barbell. Telk offers a five-year warranty on each set.
4

. ProsourceFit Puzzle Exercise Mat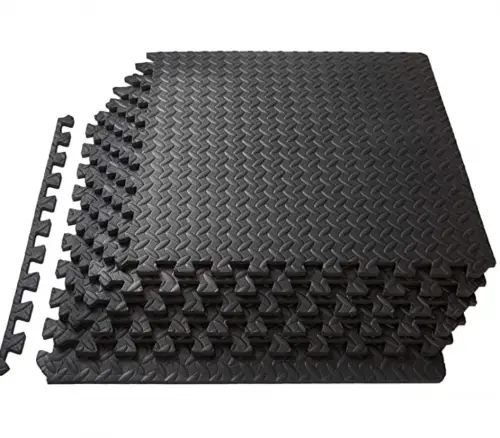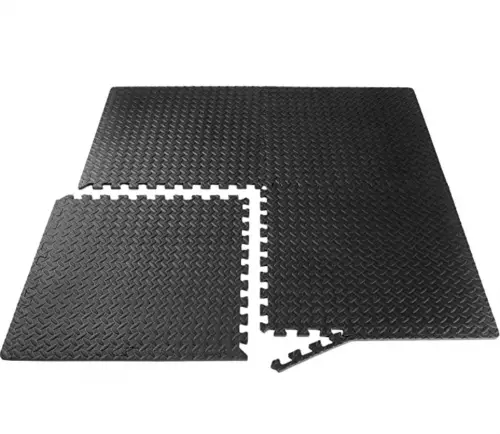 Puzzle piece design
Water-resistant
Reduces noise
Slightly expensive
Smaller than expected
While you are busy dreaming about hitting that new PR, many home lifters don't take into consideration what those heavy lifts will do to their floor! Investing in a good and supportive mat means that you failing out on a deadlift won't result in a chipped and broken cement floor. These mats not only protect your floor but also provide an added layer of stability that your joints will thank you for.
Read more
The reason that we selected this puzzle design from ProsourceFit is that it allows users to shape the floor that best suits their needs. It is composed of high-density EVA foam materials that are free of harmful toxic phthalates. This set ships in a set of 6 and allows you to adjust the shape of your mats.
We also love that this design has a host of benefits other than protecting your floor. A slight texture on the surface increases your footing (and prevents the bar from rolling away from you), and it is also water-resistant and reduces noise. Plus, it is incredibly easy to wide down at the end of a long training session.
If you are pushing a new PR on your deadlifts, a supportive impact-resistant mat is incredibly important to protect your floors. It's important to note that this mat set is not durable enough to drop the bar at the top of your lift, but it will protect your floor if you fail out on a set.
5

. AmazonBasics Rubber Hex Dumbbell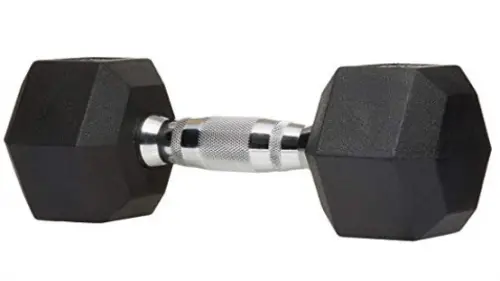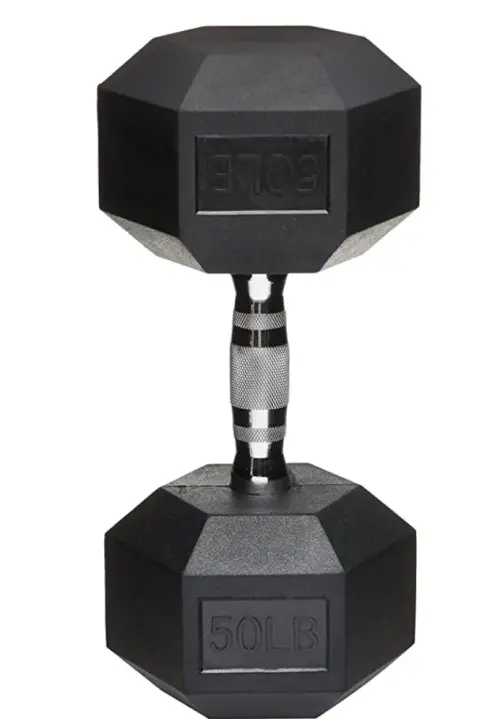 Rubberized cast iron
Contoured handle for comfort
won't roll away on flat surface
Comes with a warranty from Amazon
Fixed weight can't be added to, taken away from
Sometimes it's good to have fixed dumbbells in your favorite weight increments, so you can just grab and go. This one from Amazon gives you cast iron resistance encased in hard rubber for protection. These are called hex dumbbells, because of the hexagonal shape. It makes it easier to store on a flat surface. The cast iron won't break or dent, even if you drop them on a hard floor.
Read more
The rubber both protects your floor and prevents rust or moisture intrusion for the weight plates.
The chrome handle has ergonomic, hand-friendly chrome construction, with a widened center. The handle is textured, too, helping you with grip. The texturing is fine and will not bite into or indent your palms, even if you choose to lift without weightlifting gloves.
Amazon offers a one-year warranty on their product. This exact same design comes in increments from 10 to 50 pounds. The dumbbell is sold individually, not in pairs. If you want a dumbbell for each hand, you will have to buy them separately.
6

. Pro Fitness Knee Sleeves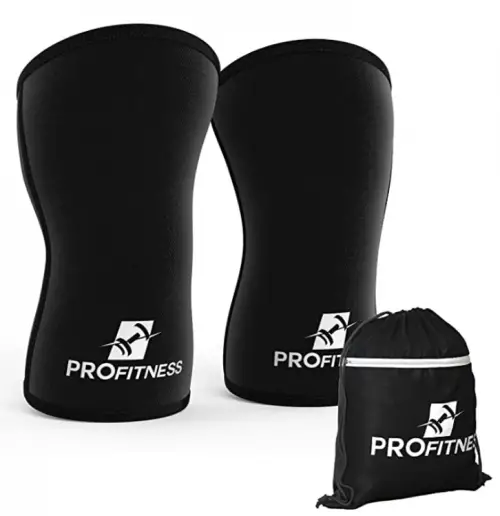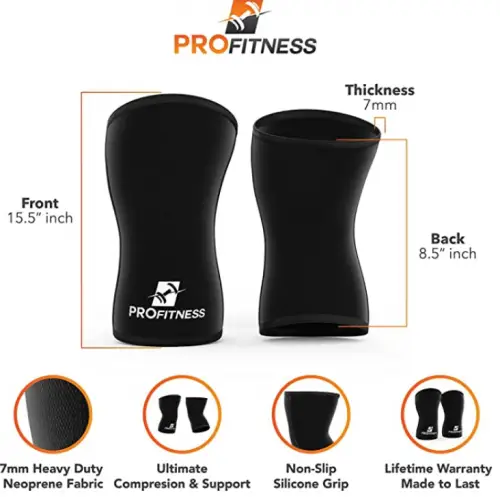 Low profile
7 MM compression
Comfortable
Affordable
Squats are the most dreaded lifts in the powerlifting world because there is so much that can go wrong. When you struggle under a heavy squat, your knees often take the biggest hit. Even if your knees are in tip-top shape, investing in a pair of high compression knee sleeves will really help you push into this difficult lift.
Read more
We selected this design from Pro Fitness because it provides a high level of compression that supports your knees while also increasing blood flow. This design is composed of 7 MM of high-density neoprene, which is one of the thickest designs out there on the market. If you are pushing for a new squat PR, it's important to keep those knees supported and protected.
We also love that this design boasts a smaller profile than some of the larger designs out there on the market. It doesn't run high up the thigh or low down on your calf, which means a higher range of motion. It also means they are less likely to shift around or even slide down your leg when engaging in a difficult lift.
Not only does a good pair of knee sleeves protect your knees, but it also cuts down on the risk of injuries, and can even help your lift heavier weight! If you head to any powerlifting competition, you will see that even the most extreme lifters are rocking a pair of knee sleeves. We feel that this design from Pro Fitness is one of your best choices that comes in at an affordable price point.
7

. RIMSports Heavy Duty Lifting Gloves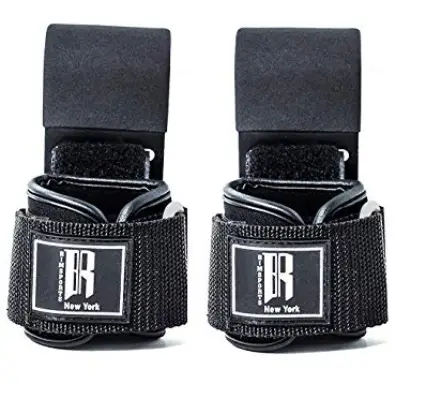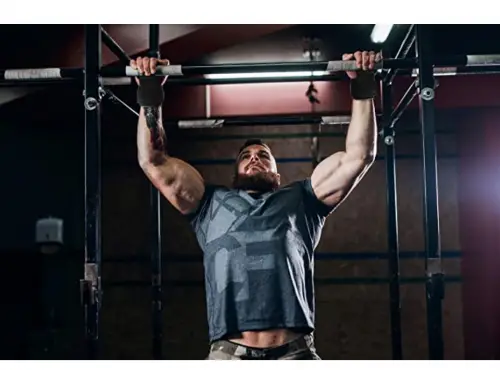 Comfort wrist guard
Hooks are metal coated in a polymer
Double stitching throughout
Straps are easy to put on bar and remove
Not safe to use for curls--could slip from your hands
These lift assists look more like hooks than gloves. While they aren't useful outside the weight room, the straps and hooks will help you grip better when you perform deadlifts and other barbell exercises with heavyweight. To use the gloves, you attach the straps to a pull-up bar, barbell, dumbbell or kettlebell.
Read more
You then wrap your hands around the lifting implement like normal, except that the hard plastic liners inside your hands give you a firm grip. This also helps transmit the load from your palm to your wrist, which also increases grip strength.
The reduced pressure on your palms can actually help you lift more weight, sometimes a substantial amount immediately after you put the gloves on. Though coated in plastic, the hooks are metal for added crush grip strength. Stitching is double-sided, and the straps are durable industrial quality. The gloves have neoprene padding around the wrist, which aids in comfort and will not slip even if you sweat from doing heavy reps.
These are also great for doing pull-ups. RIMSports offers a warranty and a money back guarantee. In addition to the enhanced grip, the gloves can help you maintain proper form while lifting.
8

. Dark Iron Fitness Lifting Belt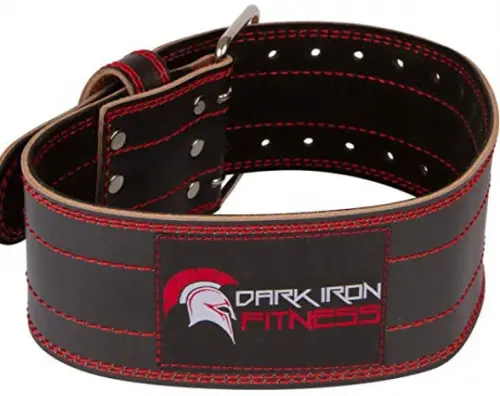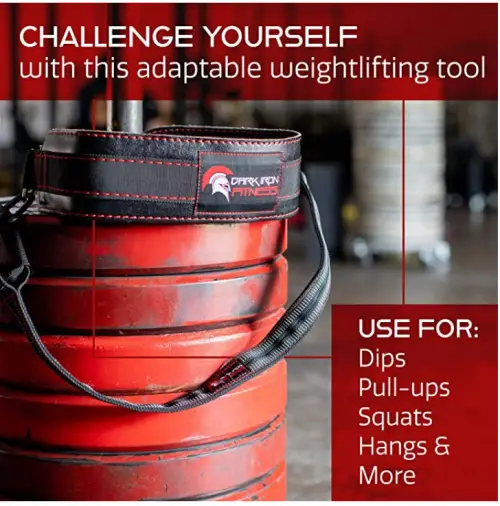 Soft comfortable leather
Approved by two international lifting federations
Covers entire lower back area
Fits waist sizes up to 49 inches
Won't be of much use if you do not do barbell exercises regularly
Lifting belts help protect your spine, lock you into better form, and even give you a boost when lifting heavy weights by making your muscle groups drill down on the task at hand. If you are going to do any heavy lifting, a weight belt is essential and indispensable.
Read more
The genuine leather construction of this belt means it will not tear or become loose over time. The leather is a buffalo hide, known for being soft and pliable while still giving solid protection. The leather will not dig into your hips, so pain and annoyance during lifting are eliminated.
This belt will stand up even if you lift 500 or 600 pounds. Your back and abs will be supported all the way. This belt can help you increase performance quickly while minimizing the risk of damage to your spine or injuries due to losing form.
We wouldn't dream of deadlifting a car body without one of these belts.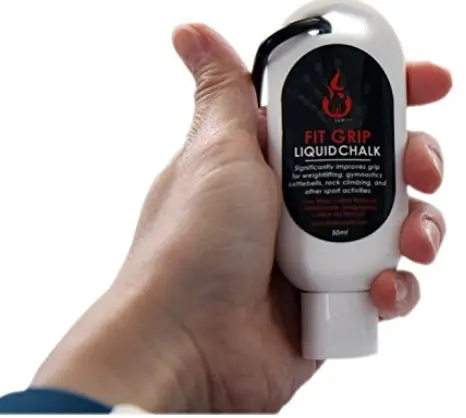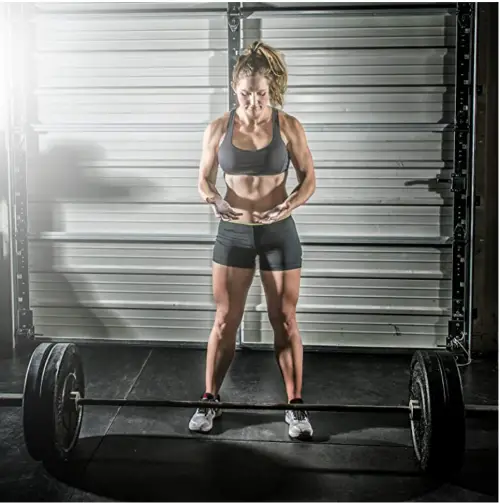 Comes in two different sizes
Smaller bottle is refillable
Long lasting, won't need to reapply often
Liquid dries quickly on hands, acts like regular chalk
No dust or mess
Some of the chalk will flake off on equipment
It may not be obvious why we'd include chalk in our buying guide until you consider that chalking your hands is one more way to increase grip efficacy for performing pull-ups, kettlebell swings, deadlifts, and other sports like gymnastics or rock climbing.
Read more
If it's good enough for rock climbers, then it's good enough for us--in that sport, good grip can make the difference between success and a serious setback. This chalk is liquid and comes in a squeeze bottle, so you can coat both hands quickly without making a dusty mess or coughing when the dust gets in your mouth. Also, some gyms won't allow block or powder chalk because of the mess.
The liquid goes on easily, dries fast, and outlasts sweat. It is also antibacterial, helping protect your immune system at public gyms with shared equipment. Once it goes on, it stays on, never letting go completely until you wash your hands. You won't be stopping often to reapply, so you can stay focused on your workout.
The small 50mL bottle comes with a mini carabiner, so you can attach it to a bag or clothing. You can also get a two-pack of the 50mL bottle. The other size is 250, a larger bottle you can use to refill the 50mL one. You also have the option of bundling a 250mL bottle with one of the 50s, for a lower price and five refills.
Criteria Used for Evaluation

Accessories
Almost every piece of equipment offers an accessory, if you look hard enough.
On big units like the squat racks, it is easy to see. Leg plates, cables, lat handles, extra weight storage--these are all accessories. Sometimes they come with the rack, and other times you have to purchase them separately.
Even something as simple as the liquid chalk has a carabiner for attaching to a bag. We consider that an accessory.
Accessories are important because they extend the equipment and enhance your workout experience. Anything you can do to keep your practice fresh and give yourself a new challenge is a positive.
In our reviews, we looked for equipment that will offer you opportunities to take your training past a plateau and to a new level.

Adjustability
Athletes come in all shapes and sizes.
To us, someone who just started lifting today is no less of an athlete than a long-term powerlifter. There are skill and experience levels, of course. And there is a big difference between an athlete and a professional athlete. But if you enjoy athletic pursuits, and you partake in them regularly, we say you are an athlete.
Since we are not all the same height, weight, age, or fitness level, we put a priority on equipment that is adjustable. This could be a grip width, the height of a pull-up bar, the recline of a seat, or plenty of other elements we could name.
We hope we have provided enough of a variety that everyone who is interested in the sport of powerlifting can find what they need to get started or advance past where they are.

Comfort
The workout can be harsh, but it doesn't have to be any more painful than necessary.
The kind of pain we're talking about is soreness, which takes place after a workout and can be a sign that your muscles are growing. A little soreness and tenderness can be good if it isn't chronic and doesn't get in the way of your daily activities.
Even while you are pushing and sweating, perhaps trying a new working weight that you are not used to, you can do so in comfort. Padded seats and grips, height adjustments, gloves, wraps, rubberized dumbbells--all of these are appreciated even by the most diehard lifter.

Features
Features are something that can distinguish one product from another.
There are a lot of copycat products out there. How many sets of dumbbells with spinlocks and cast iron plates are there? We chose the Telk in part because it got such great reviews. When companies compete to make products just like those of competitors, you can sometimes lose out. That is because unscrupulous makers will cut corners.
You may have to pay more for the best features and the most reliable service. When you think about the frustration of having to replace something just a few weeks after buying it, you can see why the money is worth it. The replacement could be because the product broke. But it could also be that the product's features were too few to keep up with your progress.
When you buy fitness equipment, you can always think about where you are as well as where you want to be. You want to make sure that whatever you purchase has the right features to take you there.

Flexibility
Not all of the equipment on our list is designed to be flexible.
If you have a deadlift jack, to get your barbells off the ground for safer loading, you really can't do much else with it. But if you have the Dead Wedge, a much simpler piece of equipment you can use dumbbells with it.
You can also rest hex head weights on the Dead Wedge. That is flexibility. A product does not even have to have moving parts to have more than one use.
Expert Interviews & Opinions
Most Important Criteria
(According to our experts opinion)
Experts Opinion
Editors Opinion
Users Opinion
By Default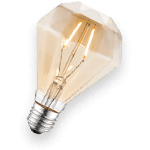 Other Lifting Equipment
Because of limited space, we did not cover everything you can find in a powerlifting gym. We wanted to give you more than one option for a few things, like squat racks and dumbbells. The items we have included are ones we see as the bare requirements. We have not included barbells or benches, because we reviewed those elsewhere on the site.
What follows is a list of some of the equipment you can use to round out your powerlifting practice. You can do just fine with what we have on the buying guide, but everything we are about to list can help you add variety and keep your practice fresh.
Olympic bar - this, the weight plates, and the collars form a barbell, the building block of many powerlifting routines. You definitely want to go with the Olympic bar, which has a two-inch diameter. Standard plates and bars are much more limited and won't be compatible with commercial equipment.
Weight plates - these attach to the dumbbells, barbells, and sometimes to leg developers. You can also tie a weight plate to yourself and do dips, or practice your grip with a weight plate connected to special tools. Weight plates are versatile and fundamental, though storing them brings on its own challenges.
Bench - the foundation of the bench press, and a presence at almost any gym. The bench press is absolutely essential to building strength in your arms and chest, which you will need for heavy squats and deadlifts. That means benches are vital, too.
Other Lifting Equipment
Chains - these are used to add extra resistance, either to a dumbbell, barbell, or your body. Although relatively new, chains are not a fad or gimmick. They have real potential for progressive resistance.
Glute ham raise machine - this is a fixed, odd-looking bench that will hold your ankles in place between rollers while you lie prone and list your body up, with the fulcrum of your knees bolstered against a large foam pad. Glute ham raises won't give you huge muscles, but they are perfect for building up your hip flexors and knee flexors. These muscle groups both have big roles to play in squats and deadlifts.
Box - not a plyometric box, but one rated for doing box squats. In a box squat, you stand in front of a box with your weight on your shoulders. You slowly and deliberately sit down, then stand back up. Doing box squats helps teach you form, gives you greater balance, and can even let you keep lifting while injured (only for certain injuries).
Deadlift platform - this is an 8 inch by an 8-inch rubberized pad that protects your floor and allows you to do squats in one dedicated area of your home gym.
Foam rollers - one of the simplest and most endlessly versatile tools for treating soreness and massaging tired muscles. We looked at ten different foam rollers elsewhere on the site.
Wrist Straps
You don't have to be a heavyweight powerlifter to benefit from using wrist straps with pull up bars, barbells, dumbbells, or kettlebells.
They are designed to help you lift more effectively by providing extra support to your wrist.
During heavy lifts, your wrist can easily be pulled into a position that will make it hyperextend. An injury like that can put you on the sidelines for months and cause a real setback.
This is why you often see competitive powerlifters on television using wrist straps.
But you don't have to lift a lot of weight to put your wrists at risk. If you have ever experienced sore wrists from lifting, we encourage you to try wrist straps.
You may be surprised at how much they help and how much confidence they can give you.
Other Factors to Consider

Speed
Powerlifting as a sport, really doesn't involve speed. In fact, the slower and more deliberate you are with heavyweight, the less likely you are to get injured. When we talk about speed here, we are talking about getting the equipment set up for use. A squat jack will let you prepare for your squat by loading your dumbbell much faster than you would otherwise.
So while powerlifting takes time, you should not have to spend extra time setting yourself up for the next move.

Stability
When lifting heavy weights, stability is a vital factor. You do not want to feel any wobble or bend when you overhead press a loaded barbell. You need products that will keep you on your feet. Shoes for powerlifters, in fact, are like the ultimate in stability shoes, keeping your feet immobilized and grounded in a way that would make walking outside quite uncomfortable.
We looked for equipment that we could say, with confidence, will support the weight of your body or equipment without causing discomfort and without making you twist your body into uncomfortable positions just to feel secure.
Frequently Asked Questions
q:

How much does a home powerlifting gym cost?

a:

Powerlifters push for high weight, and high weights come in at a pretty steep price point. To get started, you will need a bench, an Olympic bar, and Olympic-style plates as the bare minimum. There are many quality brands of benches and bars that will get the job done while taking it easy on your wallet.

The most expensive aspect is the weights. Many plates clock in at around 1.50-2 dollars per pound. So, if your goal is a 400-pound deadlift, that breaks down to about 800 dollars in plates.

To save on costs, head to your local sporting goods store and shop for used plates that are often discounted to 50 cents per pound!
q:

How many times a week do powerlifters train?

a:

Powerlifting is about pushing high weights at low reps and allowing ample time for your muscles to recover. Beginners often train 3-4 days per week and use off days for cardio, supplementary lifts, or simple rest.

As you gain strength, experienced lifters sometimes train 5-6 days per week. Even at the high levels, rest days are still super important!
q:

What is the difference between a squat rack and a power rack?

a:

A squat rack also called a squat stand, is usually more limited in features and use than a power rack. Home squat racks typically do not have safety stops, which limits the amount of weight you can safely squat. Typically, with a starter squat rack, you can do a few squat variations and a bench press, if you add a bench or if the squat rack comes with one.

Squat racks are designed as space savers and will often have a small footprint, especially compared to a power rack. A squat rack will have few options to customize. Some will have pull up bars, but few will have dip bars.

A power rack gives you more features and versatility in a less compact, more expensive package. They will have a more solid, stable look and feel. Safety pins, bars, and straps all help keep you from getting in danger, and you can squat without a spotter because of the horizontal safety stops.

A power rack lets you do pull-ups, chin-ups, squats, bench presses, deadlifts, rows, and, sometimes, cable exercises. Power racks may have dip bars. They can be customized with storage pegs, resistance bands, chains, and, extra safety features. Some power racks can even be customized for use as slam ball targets.
q:

Is powerlifting good for bodybuilding?

a:

Powerlifters and bodybuilders are often at odds. Powerlifters aren't too concerned with the look of their muscle and are primarily concerned with strength. Bodybuilders push for high reps with low weights that tone, but don't necessarily build strength.

However, over recent years the two schools of lifting have begun to blend into a mutual partnership. By really paying attention to your macronutrients and supplemental high rep workouts in your off-days, you can essentially build a bodybuilder physique with the strength of a powerlifter!
q:

How important is it, really, to change weight plates quickly?

a:

It's not the most important thing about lifting, but we think speed gives you an advantage. Loading and unloading weight plates is hard enough when you start a workout. If you have to do it after you have already been through a couple of sets, you can see the value of a squat jack, Dead Wedge, or quick-release collar.

When you get tired, and especially if your hands are sweaty, it is easier to drop a weight or make a mistake in loading.
q:

Why would someone want fixed weight dumbbells?

a:

The feel of a fixed dumbbell is different, and some may prefer it. The look and feel come from the hex heads and rubber-coated cast iron that usually form the design of the dumbbell. Also, fixed dumbbells have the weight stamped on the end for quick access. Not everybody trains the same, and not everyone will have the same needs.

It is possible to lift the same weight of dumbbell for years, using it primarily as a warm-up or for practice, while steadily increasing your bench or squat weights. Fixed dumbbells are faster, too, because you can just grab the weight you want if you have a rack of them. There are no collars to adjust.
q:

Do I need a lifting belt if I am not a powerlifter?

a:

We think you should consider one if you do any standing exercises with dumbbells or barbells, particularly if you plan on increasing resistance and intensity as part of a lifting practice. The thick leather will protect your lower back and spine, which are both so vital to both fitness and continued mobility.

You do not have to lift heavy weight to get an injury, especially when you are starting out and may have to learn proper form. The belt will help you with form, another way it protects you.
q:

Are bodyweight squats effective?

a:

They absolutely are. You may not be able to lift a lot of weight, or you may not want to. Don't be intimidated by the massive squat racks you see at the gym. Anything that uses resistance and works out your muscle groups will get you stronger over time. Bodyweight squats will target your back, legs, and glutes, and will help loosen up your hip flexors.

If your knees are flexible enough, you can do a sitting squat, coming closer to the ground and getting a wider range of motion than you would with a barbell squat. You get all these benefits, without the extra strain that barbell squats can put on your spine.
Subscribe to our newsletter