Top 11 Mirrors for Home Gym
last updated:
Nov 08, 2020
Gym mirrors are an essential feature of a home gym. Not only do they allow you to check your form when lifting and stretching but for aesthetic reasons, they can make a small home gym seem a lot bigger than it is! They are also a cost-effective way of transforming a DIY gym into a professional space and bringing a lot of light into the room. 
With so many to choose from, this article will show you a selection of some of the best mirrors for your home gym. Check out our list of the mirrors below! 
In a Hurry? The test winner after 25 hrs of research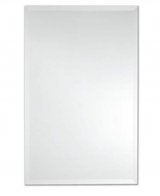 The Better Bevel Frameless Wall Mirror
Why is it better?
1-inch beveled edge
Comes in a variety of sizes
Silver backing
42
Researched Sources
12k
Total Readers
25
Hours Researching
14
Products Evaluated
Features
Durability
Effectiveness
Ease of Use
Materials
By Default
10 Best Home Gym Mirrors For Your Workouts
1

. The Better Bevel Frameless Wall Mirror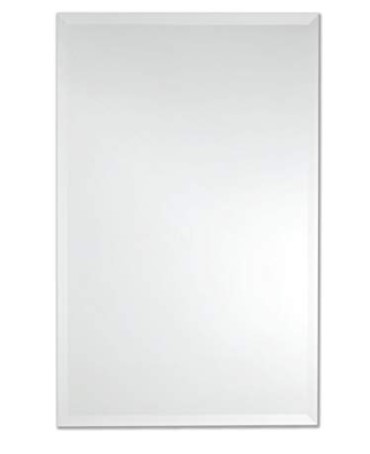 1-inch beveled edge
Comes in a variety of sizes
Silver backing
No frame is a little hard to handle
This is a simple and elegant workout mirror with the perfect rectangular shape. It is an unframed home gym mirror measuring 30-inches x 36-inches. It is made of premium 1/4-inch glass for the best reflection, allowing you to keep track of your progress.
Read more
It has a beveled edge and comes with three pre-installed hangers so you can hang it either vertically or horizontally. They have also included drywall anchors and screws.
The Better Bevel mirrors are a bestseller with a simple classic design. It has a beveled rectangle design which is highly versatile. This mirror is 30x36 inches with a 1-inch beveled edge.
It comes with a silver backing which will prevent corrosion, even in more humid environments. It is very durable, designed to eliminate the distortion found in cheaper mirrors.
There is also hardware included to attach the mirror to the drywall. This option comes in several size options so you will find one which can perfectly fit your space.
2

. Marketing Holders Acrylic Mirror Sheet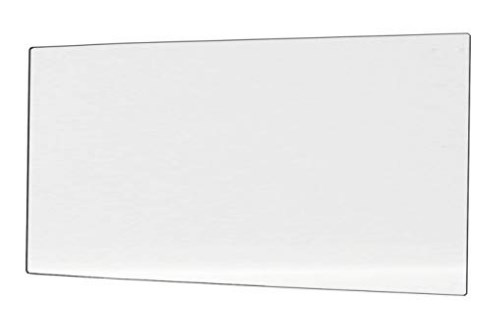 Made of premium acrylic
One foot by two-foot size
Comes with protective film
Reflective is a little distorted
Marketing Holders Acrylic home gym mirrors are a good alternative to glass mirrors if you cannot afford the glass. They work surprisingly well. The reflection quality is not quite as sharp but the savings in your wallet could make up for it. They are a little lighter and you can afford to get enough of them to cover a whole wall.
Read more
These acrylic mirror panels are 1x2-foot in size so you will need a few panels to cover a wall. The panels are great for multiple uses including covering a wall of your gym so you can see how your workout is going and the physical progress you are making.
The corners on these sheets are rounded so there is less chance of injury when you are installing them. Since they are lighter, you can install them easier as well.
The panels come with a protective film on both sides so you will want to be sure and remove that before you put the gym mirrors up. This mirrored acrylic is made of premium high-quality acrylic and will be an economical addition to your home gym.
3

. Hamilton Hills Large Rectangle Mirror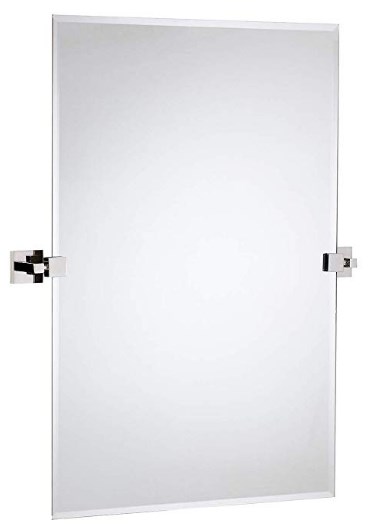 Easy to install
Has security vinyl
Made by strict standards
Hamilton Hills has been in the mirror business for many years. They have a sterling reputation for being an excellent company for quality home gym mirrors and customer service. They are also leaders in sustainable and recyclable production techniques. One of their most popular options for use in home gym settings is their 20 x 30-inch beveled mirror. This mirror is available with pivot adjustable wall brackets.
Read more
This Hamilton Hills mirror is perfect for your home gym. It is a 20-inch by a 30-inch elegant beveled rectangle. It is available with adjustable pivot wall brackets. This mirror is sleek and modern with a clean, beveled edge. It is a floating frameless design and has safety vinyl backing. The gym mirrors are suspended by rotating polished glass clamps which keeps it from slipping and loosening as other brands can.
This home gym mirror comes with polished edges for protection and a nice, finished appearance. The glass is backed with security vinyl to add stability to the glass and protection if it breaks. All mirrors come with metal brackets and the slide tracks as wall hardware and screws to hang both horizontally or vertically.
4

. Trico-op Wall-Mounted Gym Activity Mirror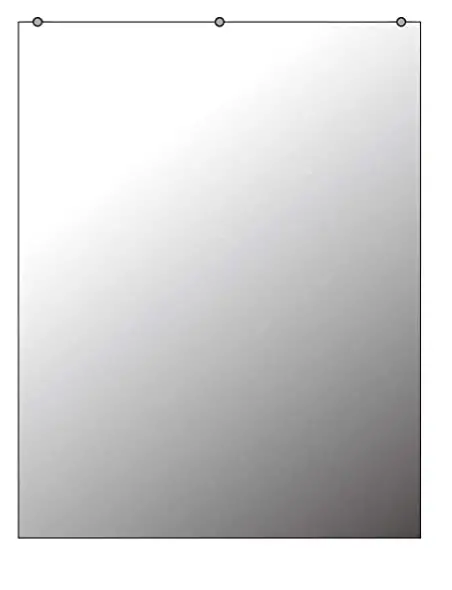 Easy to install 
Can hang either direction
Big enough to view the whole body when working out
Suitable for large spaces only 
The Trico-op mirror will look great in your home gym. Perfect for a large wall or big room, this workout mirror will transform your gym, making it feel bigger than it is and allows you to see your whole body when working out.
Read more
Approximately 48-inches x 32-inches in size, this mirror can be hung either horizontal or vertical on the wall. This mirror has been constructed out of 3 layers which are set on a 5mm silver plate. The piece offers a modern and sleek design and can be used in multiple combinations if the space is large enough. 
The home gym mirror features a protective edge, presenting a clean finished appearance. The mirror can be easily installed. It comes with screws, caps, glue, and a J-bar, making it easier to move the large mirror.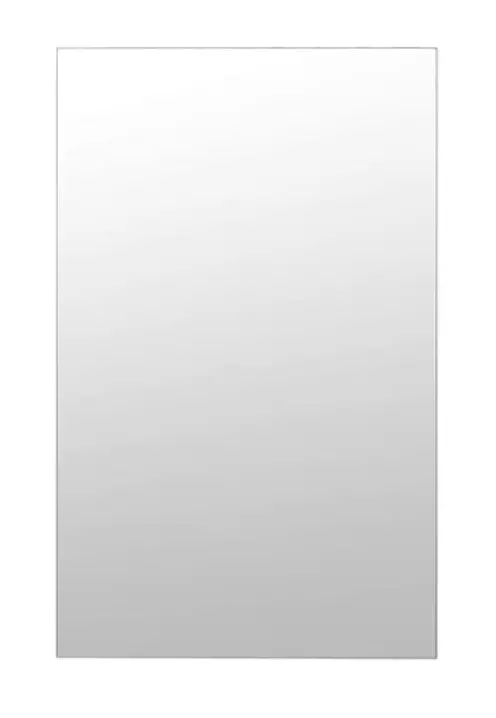 Easy to install
Polished beveled edges
Can hang either direction
The H & A gym mirror is a fabulous option for your home gym. If you want to be able to check your form easily when exercising, this large ceiling-high mirror is a great option.
Read more
This large mirror is approximately 47 inches x 31 inches and can be displayed either horizontal or vertical depending on the space. This is a modern-looking mirror that has a sleek and clean feel to it. The mirror is frameless and has a flat polished beveled edge that finishes off the piece nicely. 
The gym mirror features a wood backing that gives the mirror extra reinforcement and stability, improving its durability. This wooden core at the back of the mirror also prevents the mirror from warping and distorting over time. 
The H & A Activity wall mirror is extremely easy to install. Featuring caps, mirror glue, J-Bar, and detailed instructions, this mirror comes with all the additional parts required to hang the mirror successfully in no time at all.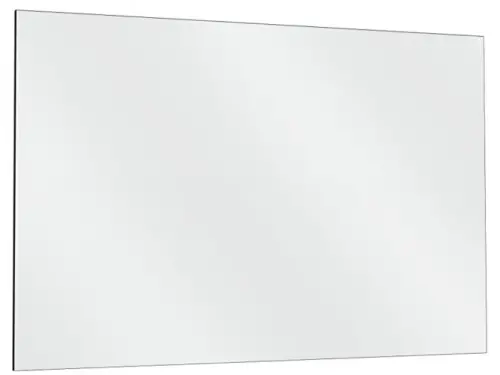 Has a safety film backing
Flat polished edge
Easy to install
Installation is a little difficult
This is a 48x84 inch activity mirror kit. It has a flat polished edge with safety backing so if something hits it, the glass will not shatter all over the floor. This is a quality, easy to install mirror kit for your home gym. It comes with a J-bar and chrome mirror clips to keep the workout mirror in place.
Read more
In the past, there have been issues with safety, installation and delaminating when considering mirrors for the home gym. Fab Glass has the answer to these issues with frameless wall home gym mirrors that have safety backings.
A frameless home gym mirror is a good choice for your gym because of its clean look. The safety film backing strengthens the glass and makes it less likely to break.
These gym mirrors are safe for you because they are shatterproof. They are also lightweight and sound-absorbing, as well as easy to clean.
The safety film backing helps to strengthen the glass. Items bounce off instead of breaking it. It also prolongs the life of the mirror.
7

. Naomi Home Bevel Mirror


A freestanding mirror so no installation required
Has a beveled frame
Suitable for smaller spaces 
Some users found their mirror became damaged in transit 
This freestanding Noami mirror is fantastic if you have limited space in your gym and do not want to attach anything to the wall.
Read more
Weighing 40lbs, this freestanding mirror is approximately 1.5 inches D x 30 inches W x 70 inches H/L. When leaned against the wall, this full-length mirror can provide a full-body view when exercising. The mirror can easily be moved to different positions depending on your preference and when not in use, it can be stored away. 
This classic elegant looking mirror has a beveled frame that gives the piece a lovely stylish finish as well as a modern flare. It also frames the mirror nicely and makes the piece more of a focal point for the gym. 
All Naomi Home Mirrors are packed carefully using a robust state of the art packaging that has been tested to ensure no damage occurs in transit.
8

. Murrey Home Mirror Tray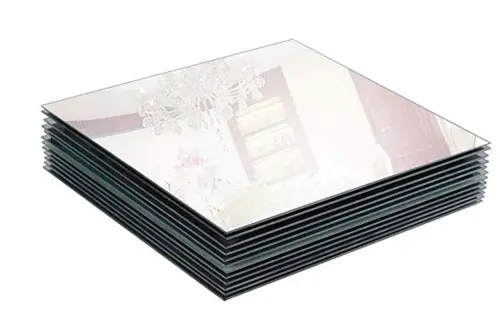 Has finely polished smooth edges
Easy to install
Comes as a set of 12 
Very thin and fragile mirrors 
The Murrey Home 8" square mirrors are an alternative way of ensuring your home gym has plenty of mirrors. These square tiled mirrors will not only give you plenty of mirrors so you can watch yourself working out but they are ideal for a smaller wall or room.
Read more
Murrey Home mirrors are approximately 8 inches x 8 inches in size, with a thickness of 2mm. The mirrors come in a set of 12 giving you lots of mirrors for the price. 
The simple but stylish mirror features finely polished edges that are incredibly smooth to touch so you do not need to worry about cutting your fingers on any sharp edges. The benefit of using these smaller lightweight mirrors is that you can create a unique display on the wall, giving the space a personalized look. 
When it comes to installation, these mirrors can be fixed to the wall using mounting tape or glue. Please note that fixtures are not included in these mirrors. As well as square mirrors, Murrey Home sells rectangle mirrors, along with other home décor accessories. 



3-way mirror including free-standing, lean on wall or wall-mounted
Thin brushed frame
Explosion-proof membrane on the back
The gym mirror is approximately 65 inches x 22 inches which is a great size to show off your whole body when working out.
Read more
The full-length mirror has a thin brushed frame that is made of aluminum alloy and is approximately 0.16 inches wide and 0.8 inches deep. This alloy material is exceptionally durable and will not fade over time. Showcasing a simple modern design, this free-standing mirror will look perfect in your home gym. 
Featuring a glass thickness of 0.2 inches and an HD reflection effective, you can expect a high-quality mirror from Tiny Times. The back of the free-standing mirror features an explosion-proof membrane, protecting you in case the mirror smashes. 
When it comes to installation, this mirror can be either free-standing or mounted on the wall. The mirror also comes with a 100% satisfaction guarantee. 
10

. Decoraport Large Backlit Mirror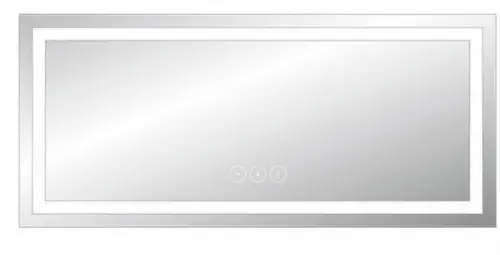 5500-6000K cool white LED light compliant 
5mm thick mirror plate
2 years manufacturer warranty
If you want a mirror that will brighten up your home gym and give it a focal point this Large Full-Length Backlit Mirror from Decoraport is a fantastic piece to consider.
Read more
This is a large 70-inch x 32-inch mirror that can either be hung horizontal or vertical. When hung vertical, the mirror is big enough so you can see your entire body when exercising. 
It offers an elegant and beautiful design that has a sleek and clean surface. The full-length mirror is extremely solid and has a stylish and modern feel to it. The mirror has a lovely 2-inch aluminum frame with moisture proof strips that finish off the piece nicely. The piece features a 5mm thick mirror plate rather than a commonly used 3mm plate, improving its durability. 
The Decoraport mirror offers a lot of features making it a statement piece. It features a 5500 – 6000K cool white LED light compliant that will certainly brighten up your gym, giving you plenty of light when working out. The mirror has an infrared sensor, anti-fog feature, and a conveniently positioned on/off button. 
This mirror is meant to be mounted on the wall but can also be free-standing. All the additional pieces needed to mount the mirror on the wall are included, making the installation process easy. The LED mirror can be hard-wired so you can connect it to the switch. The Decoraport mirror comes with a 2-year manufacturer warranty. 
11

. Toppay Wall-Mounted Activity Mirror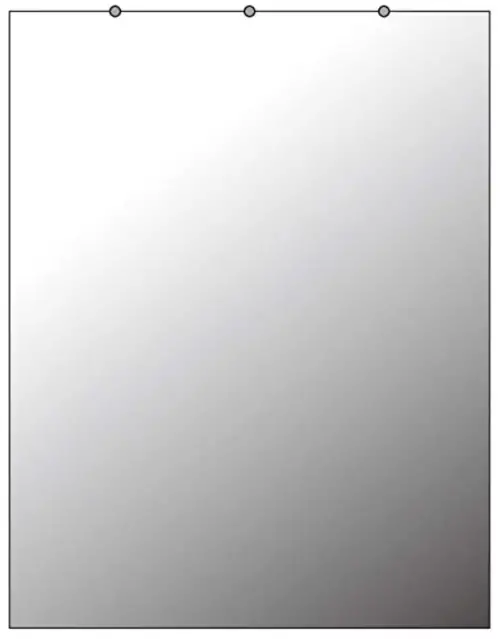 Easy to install 
Has flat polished edges
Can hang either direction  
Suitable for large spaces only 
The Toppay wall-mounted mirror is perfect if you have a large gym or wall space and want to fill it with a big mirror like this one!
Read more
The mirror is approximately 48 inches x 32 inches in size and weighs 28lbs. The mirror offers a modern and simple design with flat polished edges that can be hung either vertical or horizontal. This mirror has been made out of 3 layers that are set on a 5mm silver plate. 
This wall-mounted mirror from Toppay is easy to install. It comes with caps, screws, mirror glue, J-Bar, and an installation guide, making the installation process very straight forward. 
Criteria Used for Evaluation

Features
When it comes to mirrors for your home gym, there are a few choices to consider. So before you make the investment, check out all the features.
Most of the mirrors made are available in glass or acrylic so you want to look at the pros and cons of each and find one that is going to be durable but still gives you a good reflection so you can monitor your workout technique.
Having smooth or rounded edges is nice so they are safer to handle during installation. Beveled edges are available as well. It is also a nice safety feature to have protection against shattering.
Most of the mirrors come with different kinds of hangers so you want to find one you can understand and install easily. If you live alone, there are some which are even designed to be installed by only one person.
You will find J-bars, pivoting wall brackets, or chrome brackets. Some come with screws that are specifically designed to go into drywall. There are also many designs that come in panels you put together to get a perfect size and they stick directly on the wall. It just depends on what fits your situation the best.

Durability
It is definitely a challenge to talk about durability when you are discussing mirrors but there are a few options to take a look at. F
First of all, there are mirrors that are made out of acrylic so they will not shatter if something hits them.
If you prefer glass, look for one which has a protective coating on the back. Many have a vinyl back to make them shatterproof. Others have a silver coating to protect them on the back which also protects them against corrosion.
Finding a mirror that is designed to be shatterproof in whatever method is important because you never know when they will get accidentally bumped while you are working out in the gym. It is important to keep yourself safe.

Effectiveness
For a gym mirror to be effective, you need to be able to easily see your reflection while you are working out so you can monitor your technique and get the most out of your exercise.
So you need a mirror with a crystal clear reflection in glass or in acrylic. You want one which does not distort what you are looking at or get all scratched up too easily.
Beveled edges are nice and attractive on your wall. It is nice to have edges that are polished or rounded so you can install them and use them without hurting yourself or get cut if you bump against them.
To be effective they also need to be easy to install and stay up afterward. They need sturdy brackets that hold the mirror in place or if they are panels you stick on the wall they need to be sturdy and stay in place so they need to be made with quality glue that sticks to any type of wall.

Ease of Use
Easy to use mirrors should go up on the wall and then you can use them without much more thought.
They should have safe edges which will not cut you if you brush against them. You should be able to easily see your reflection without any distortion. If your mirror is in panels, they should fit together easily and give you the complete picture that you need.
This ease of use should start with the installation. Your mirror should come with the hardware you need to put it on the wall safely and effectively. The brackets should be easy to install and fit the mirror easily. If it comes with a sticky back, then they should stick easily to any wall and stay in place for years to come. The mirror should be something you can set and forget.

Materials
When you are working with glass, you want quality. Most of the mirrors on our list are made of either glass or acrylic.
If you choose to use the acrylic mirrors, you will have something very sturdy but be sure it is highly reflective so you can get a clear image of yourself without any distortion. If you use panels, be sure they fit together easily and stay in place.
If you are using glass mirrors, be sure it is good quality thick glass which will not shatter easily if something bumps against or hits it. If your mirror is not framed to help protect it, we recommend you use one with a protective backing to make it shatterproof. The ones on our list come with silver backing or vinyl backing which help protect backing.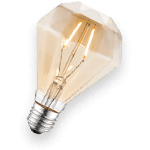 Mirrors Are Not To Be Vain
Many people think having a mirror in your gym means you are just vain and want to stare at yourself, but there is a little more to it. Mirrors are for checking your form, making sure you are doing the exercise correctly so you will get the most out of it. Of course, mirrors are also for looking at yourself but not in the way you think. Being able to see the fruits of your labor will help inspire you to keep going.
Best Way To Transport A Mirror
What happens if you have to move and need to pack your mirror? First, invest in the best packing materials. The investment will be worth it when your mirror arrives at the new place safely. Use packing tape to make a large 'X' that covers the surface of the mirror. Put a corner protector on each corner to keep them from getting damaged. Cover the mirror surface with a layer of cardboard, and it is ready to travel!
Frequently Asked Questions
q:

Does my home gym mirror need to be floor to ceiling?

a:

You do not need a mirror which is floor to ceiling. Your mirror can be at least a foot and half above the floor and still let you see everything when you are standing in front of it. It should be 48-72 inches tall or so. Any more than that is a waste of effort and money.
q:

Do I really need a mirror in my gym?

a:

It is not that your gym 'needs' a mirror but they are definitely helpful and not just for vanity's sake. You can look at yourself and check your progress and where you need improvement which provides inspiration. The biggest benefit though is being able to check your posture during your exercise to be sure you are doing it right and getting the most out of it. So mirrors are definitely handy.
q:

Where should I place the workout mirror?

a:

A regular gym does not need fully-mirrored walls as you see in a dance studio. You can have your mirror at least 50cms off the floor. That space will be taken up by equipment anyway. Also, remember that mirrors placed behind your power rack are going to be a waste of money, so place them carefully.
q:

How thick should my mirror be?

a:

The thicker a mirror is, the stronger it will be. Thin mirrors, such as those in acrylic mirrors, are more prone to flexing. As a general rule, you should not buy a mirror that is less than 3 mm thick. 5 mm is ideal.
q:

Do you have any installation tips?

a:

Remember that when you are measuring up your mirror, you need to allow a 2-3 mm gap around the edges to provide a snug fit. You will also need to allow 6-7 mm to ensure that the seam that joins the two mirrors is secure. Make sure that the wall that you are attaching the mirror to is completely flat.

This is especially important if you are installing acrylic gym mirrors. An acrylic mirror can be directly drilled to the wall, provided that you use a drill bit that will not damage the material. As an alternative, you can use an adhesive to glue the mirror to the wall. Spread a thin layer of adhesive uniformly over the whole of the mirror backing.
Subscribe to our newsletter