A Breakdown of the Best Mirrors for Home Gym
last updated
Aug 01, 2019
Gym mirrors are not just there for guys with big egos to flex their muscles. They are, in fact, a vital tool to allow people who are working out to check their exercise form. If you don't have a mirror to check your form, your flying blind when it comes to assessing whether you're doing the movement the right way. You do not want to be doing that. In this article, we will get you up to scratch with the best large mirrors to equip your home gym without breaking the budget. Check out the best home gym mirrors top 10 list below!
In a Hurry? The test winner after 25 hrs of research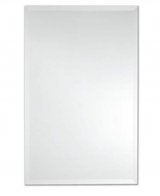 The Better Bevel Frameless Rectangle Wall Mirror
Why is it better?
1-inch beveled edge
Comes in a variety of sizes
Silver backing
In a
Hurry? Editors choice: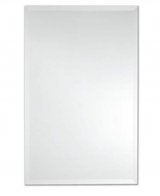 Test Winner: The Better Bevel Frameless Rectangle Wall Mirror

42
Researched Sources
12k
Total Readers
25
Hours Researching
14
Products Evaluated
Features
Durability
Effectiveness
Ease of Use
Materials
By Default
10 Best Workout Mirrors For Your Home Gym
1

. The Better Bevel Frameless Rectangle Wall Mirror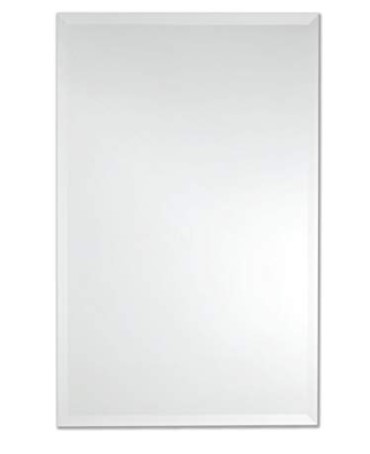 1-inch beveled edge
Comes in a variety of sizes
Silver backing
No frame is a little hard to handle
The Better Bevel Mirror is perfect for location, including your home gym. This is a simple and elegant workout mirror with the perfect rectangular shape. It is an unframed home gym mirror measuring 30-inches x 36-inches. It is made of premium 1/4-inch glass for the best reflection, allowing you to keep track of your progress.
It has a beveled edge and comes with three pre-installed hangers so you can hang it either vertically or horizontally. They have also included drywall anchors and screws.
Read more
The Better Bevel Gym Mirrors are a bestseller which has a simple classic design. It has a beveled rectangle design which is highly versatile. This mirror is 30x36 inches with a 1-inch beveled edge.
The mirror has a silver backing which will prevent corrosion, even in more humid environments. It is very durable, designed to eliminate the distortion found in cheaper mirrors. They stand their quality mirrors.
This mirror arrives securely mounted on a thin wood core backing to keep it stable. It has three reinforced loop-style hangers are installed onto the back so you can hang it vertically or horizontally. There is also hardware included to attach the mirror to the drywall. The home gym mirrors have polished edges for safe hanging and an attractive finished appearance. This workout mirror comes in several size options so you will find one which can perfectly fit your space.
2

. Marketing Holders Acrylic Mirror Sheet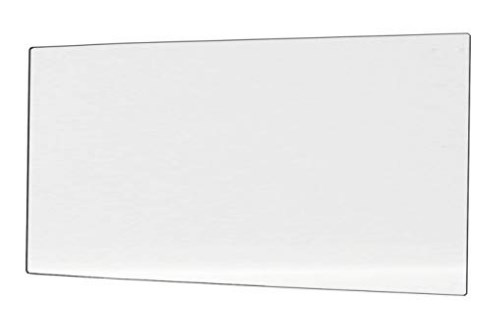 Made of premium acrylic
One foot by two-foot size
Comes with protective film
Reflective is a little distorted
Marketing Holders Acrylic home gym mirrors are a good alternative to glass mirrors if you cannot afford the glass. They work surprisingly well. The reflection quality is not quite as sharp but the savings in your wallet could make up for it. They are a little lighter and you can afford to get enough of them to cover a whole wall.
Read more
These acrylic mirror panels are 1x2-foot in size so you will need a few panels to cover a wall. The panels are great for multiple uses including covering a wall of your gym so you can see how your workout is going and the physical progress you are making.
The corners on these sheets are rounded so there is less chance of injury when you are installing them. Since they are lighter, you can install them easier as well. The panels come with a protective film on both sides so you will want to be sure and remove that before you put the gym mirrors up. This mirrored acrylic is made of premium high-quality acrylic and will be an economical addition to your home gym.
3

. Hamilton Hills Large Rectangle Mirror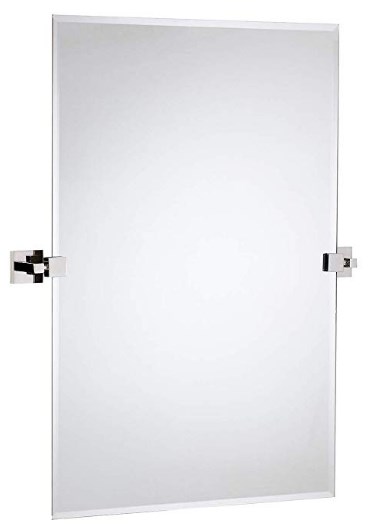 Easy to install
Has security vinyl
Made by strict standards
Hamilton Hills has been in the mirror business for many years. They have a sterling reputation for being an excellent company for quality home gym mirrors and customer service. They are also leaders in sustainable and recyclable production techniques.
Hamilton Hills provides you with a huge range of workout mirror sizes, shapes, and styles. One of their most popular for use in home gym settings is their 20 x 30-inch beveled mirror. This mirror is available with pivot adjustable wall brackets. It provides you with a sleek, modern, clean beveled edge. The floating frameless design is very professional-looking, giving you the commercial gym look at a home gym price. A safety vinyl backing pairs with adjustable, rotating polished clamps. These features prevent the slipping and loosening which is often found in cheaper brands. You will pay a bit more for a Hamilton Hills safety mirror, but you will never regret that investment.
The silver-backed glass comes with polished edges to provide extra protection and a very professional finish. The glass is backed with security vinyl that adds stability and provides extra protection in the case of a break. Every mirror comes with metal brackets and slide tracks. You also get wall hardware and screws to give you the option of hanging vertically or horizontally. Your purchase comes with a money-back guarantee.
Read more
This Hamilton Hills mirror is perfect for your home gym. It is a 20-inch by a 30-inch elegant beveled rectangle. It is available with adjustable pivot wall brackets. This mirror is sleek and modern with a clean, beveled edge. It is a floating frameless design and has safety vinyl backing. The gym mirrors are suspended by rotating polished glass clamps which keeps it from slipping and loosening as other brands can.
This home gym mirror comes with polished edges for protection and a nice, finished appearance. The glass is backed with security vinyl to add stability to the glass and protection if it breaks. All mirrors come with our metal brackets and the slide tracks on the mirror as wall hardware and screws to hang both horizontally or vertically.
Hamilton Hills uses the best premium materials which are not found in lesser imitations. Our mirrors are made according to strict standards and have to pass rigorous inspections. The mirror comes with a certificate of authenticity.
4

. Gatco 1802 Flush Mount Frameless Rectangle Mirror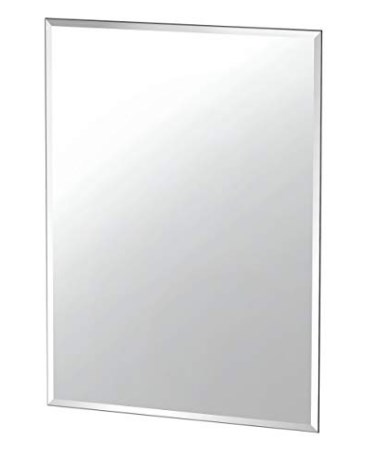 Has a patented mounting system
Refined beveled edge
Premium silver coating
The Gatco 1802 mirrors for home gym feature patented mounts which makes them much easier to install. They install in about 10 minutes. It has a built-in bubble level lets you quickly install the bracket and the mounting system makes it easy for just one person to hang a mirror. Gatco home gym mirrors are thick with a refined beveled edge and quality silver coating.
Read more
Gatco has a nice wide range of large rectangular mirrors. This is another large US manufacturer who has been around for more than 40 years. They have a new range of mirrors that feature a patented mounting system which makes it very easy to install. In fact, most Gatco gym mirrors can be installed in less than ten minutes.
The built-in bubble level that comes with each mirror allows you to quickly and confidently install the bracket, and the mounting system allows only one person to hang the mirror. All Gatco wall mirrors for home gym have a refined beveled edge, thick quarter inch glass, and a premium silver coating. The hangman mirror hanger is heavy duty and is made of aluminum brackets which are interlocking and were modeled after a bracket called the French Cleat that features a built-in level.
5

. Croydex Kentmere Wall Mirror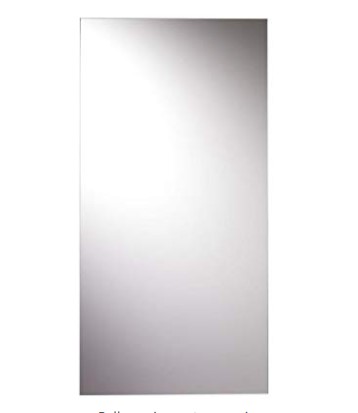 Can hang either direction
Easy to install hook n lock system
Has stellar clarity
Cannot mount flush to the wall
The Croydex Kentmere Wall Mirror is a high-quality 5mm glass which is backed for safety. It can be hung either portrait or landscape because it has a simple rectangular design. It is easy to install with a hang and lock system. It is a floating mount style.
Read more
The Croydex Kentmere mirror has a great reflection with fantastic clarity. It can be hung vertically or horizontally. It comes with a patented hang 'n' lock bracket which is easy to install. It is simple and safe.
The hang 'n' lock gives you the flexibility to change the level of the home gym mirrorafter you have drilled the holes so it is easy for one person to install. It allows you to attach the bracket on the surface of the wall instead of the workout mirror so you will not have to use a measuring tape or mark the holes on the wall.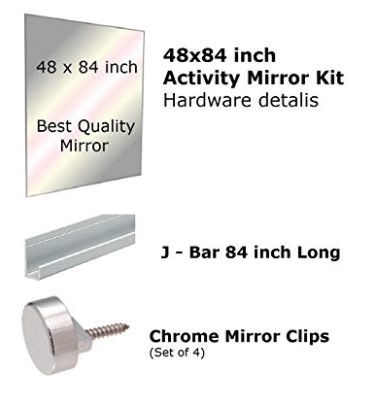 Has a safety film backing
Flat polished edge
Easy to install
Installation is a little difficult
Fab Glass and Mirror is a 48x84 inch activity mirror kit. It has a flat polished edge with safety backing so if something hits it, the glass will not shatter all over the floor. This is a quality, easy to install mirror kit for your home gym. It comes with a J-bar and chrome mirror clips to keep the workout mirror in place.
Read more
In the past, there have been issues with safety, installation and delaminating when considering mirrors for home gym. Fab Glass has the answer to these issues with frameless wall home gym mirrors which have safety backings.
A frameless home gym mirror is a good choice for your gym because of its clean look. The safety film backing strengthens the glass and makes it less likely to break.
It is a perfect mirror for your gym wall. Having a nice mirror gives you a motivating experience like what you get in a professional gym. They are beneficial for helping you track your workout regime.
These gym mirrors are safe for you because they are shatterproof. These home gym mirrors are also lightweight and sound absorbing. They are also easy to clean.
The safety film backing helps to strengthen the glass. Items bounce off instead of breaking it. It also prolongs the life of the mirror.
7

. BBTO 10 Pieces Mirror Sheets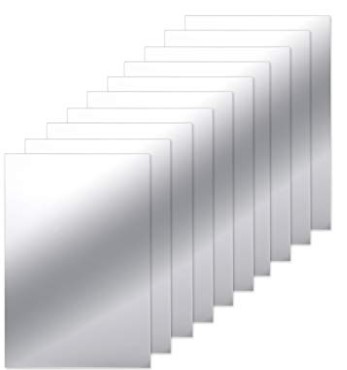 Comes in a package of ten
Self-adhesive
9 inch by 6-inch size
Not near as reflective as a mirror
The BBTO mirror sheets are self-adhesive, non-glass mirror tiles which stick to your wall. It comes in a set of ten tiles and each one is 6 by 9 inches. The home gym mirror pieces are covered with a protective film that protects the surface from getting damaged or scratched during the install.
Read more
The BBTO package contains 10 non-glass mirror tiles which you can stick to the wall of your home gym. They come covered in a protective film which keeps them from getting scratched during transportation or installation.
The tiles are about .04 inches thick, 9 inches long and 6 inches wide. They are made of PET material with a good texture and smooth surface. The self-adhesive. These tiles are an easy way to have a mirror on your gym wall in just the right spot and just the right size.
8

. Beauty4U Full Length Tall Mirror Tiles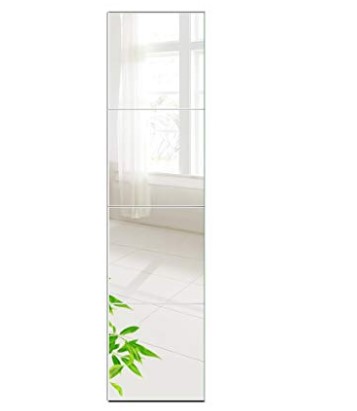 Comes in 4 tiles of real glass
Easy to install with double sided foam tape
Sticks to any wall
Pieces do not always sit flush
BEAUTY4U as a well-known mirror manufacturer. They strive for excellent quality in their mirrors and good customer service. This product comes with four frameless mirrors for home gym, which is 14-inch square. They are easy to install and perfect for your home gym.
Read more
These gym mirrors come in a set of four 14 inch square home gym mirrors which are about 3mm thick. They are frameless mirrors with an advanced polishing which makes them safe and gives them nice beveled edges.
The tiles are easy to install with strong double-sided foam tape and mirror holders. The foam tape will not damage your wall. Use a combination of tiles to fit your wall size perfectly. These tiles can be installed onto many surfaces like smooth, latex paint, or ceramics.
9

. TroySys MiraSafe Single Gym Mirror Kit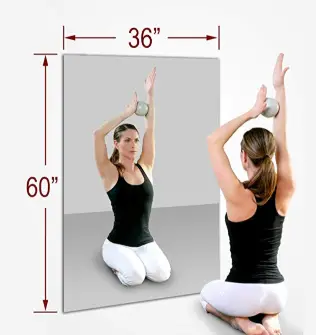 Made of real glass
Will not shatter
Crystal clear reflection
TroySys MiraSafe gym mirror is the ideal workout mirror for active spaces and home gyms. This mirror is shatter-resistant. They will work for any area where safety and clarity are your priority. These mirrors come in kits with everything you need to install them on your own. These mirrors will not break into dangerous shards if they are hit with something. The low-iron mirror gives you superior clarity without any green tint or distortion.
Read more
This kit comes with one 48"x72" mirror with flat edges that are polished. With that comes two tubes of glue, clips for the mirror, and a J-Bar. These home gym mirrors are specially designed not to shatter if they are struck. Because of this, the safety backing is not needed. The strength comes from the mirror itself.
The MiraSafe mirrors are low in iron content which makes them crystal clear. This will encourage you to work on your form for years to come.
Each kit comes with all you need to do the installation yourself. They have everything you need to put the mirror on the wall.
10

. Laser Creations Acrylic Mirror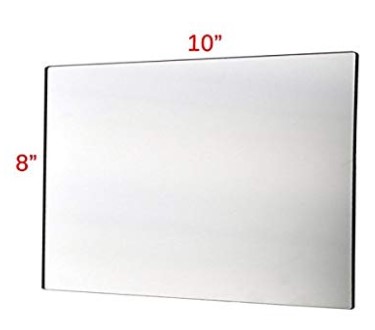 8x10 inches in size
Made of premium acrylic
Have rounded corners
The Laser Creations Acrylic Mirror is 8" x 10" inch. This workout mirror has rounded corners and is covered with protective film. It is made with premium acrylic. These mirrors for home gym come in a variety of sizes and amounts in the package.
Read more
The Acrylic Mirror Sheet comes with one 8x10 inch sheet. It is made with premium acrylic which has rounded corners. It comes with protective film on both sides to keep it from scratching.
Criteria Used for Evaluation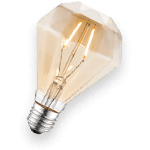 Mirrors Are Not To Be Vain
Many people think having a mirror in your gym means you are just vain and want to stare at yourself, but there is a little more to it. Mirrors are for checking your form, making sure you are doing the exercise correctly so you will get the most out of it. Of course, mirrors are also for looking at yourself but not in the way you think. Being able to see the fruits of your labor will help inspire you to keep going.
Best Way To Transport A Mirror
What happens if you have to move and need to pack your mirror? First, invest in the best packing materials. The investment will be worth it when your mirror arrives at the new place safely. Use packing tape to make a large 'X' that covers the surface of the mirror. Put a corner protector on each corner to keep them from getting damaged. Cover the mirror surface with a layer of cardboard, and it is ready to travel!
Frequently Asked Questions
q:

Does my home gym mirror need to be floor to ceiling?

a:

You do not need a mirror which is floor to ceiling. Your mirror can be at least a foot and half above the floor and still let you see everything when you are standing in front of it. It should be 48-72 inches tall or so. Any more than that is a waste of effort and money.
q:

Do I really need a mirror in my gym?

a:

It is not that your gym 'needs' a mirror but they are definitely helpful and not just for vanity sake. You can look at yourself and check your progress and where you need improvement which provides inspiration. The biggest benefit though is being able to check your posture during your exercise to be sure you are doing it right and getting the most out of it. So mirrors are definitely handy.
q:

Where should I place the workout mirror?

a:

A regular gym does not need fully-mirrored walls as you see in a dance studio. You can have your mirror at least 50cms off the floor. That space will be taken up by equipment anyway. Also, remember that mirrors placed behind your power rack are going to be a waste of money, so place them carefully.
q:

How thick should my mirror be?

a:

The thicker a mirror is, the stronger it will be. Thin mirrors, such as those in acrylic mirrors, are more prone to flexing. As a general rule, you should not buy a mirror that is less than 3 mm thick. 5 mm is ideal.
q:

Do you have any installation tips?

a:

Remember that when you are measuring up your mirror, you need to allow a 2-3 mm gap around the edges to provide a snug fit. You will also need to allow 6-7 mm to ensure that the seam that joins the two mirrors is secure. Make sure that the wall that you are attaching the mirror to is completely flat.

This is especially important if you are installing acrylic gym mirrors. An acrylic mirror can be directly drilled to the wall, provided that you use a drill bit that will not damage the material. As an alternative, you can use an adhesive to glue the mirror to the wall. Spread a thin layer of adhesive uniformly over the whole of the mirror backing.