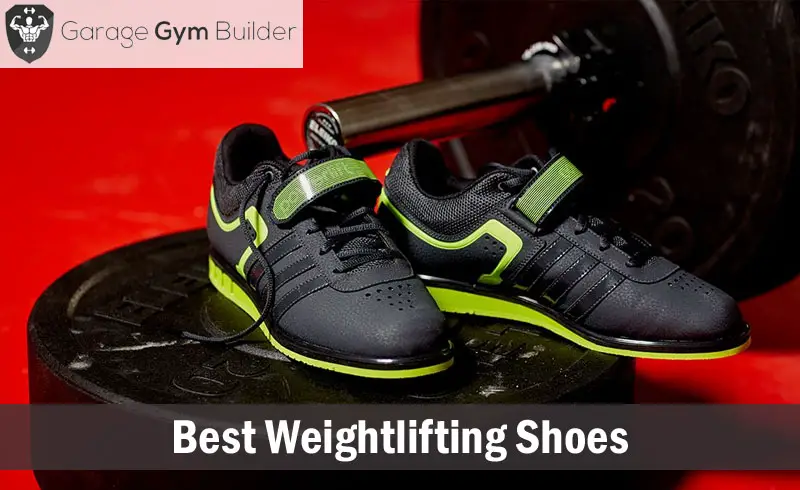 A Review of the Best Weightlifting Shoes in 2017
updated August 1, 2017
Today's best weightlifting shoes are serious sports equipment. Not only can they significantly enhance safety and performance but they reflect the best in modern style and comfort as well. We're here to take a look at the cream of the crop for 2017 and provide you with a comprehensive weightlifting shoes review and roundup. We'll highlight our three favorites first and then conduct a more general review of the different brands and categories of shoes and reveal our picks for best of each along the way.
Our Favorites
Our favorite weightlifting shoes fall into three categories: "Best in Class", "Best Overall Value" and "Most Affordable." Best in Class indicates our choice for the best weightlifting shoe on the market today regardless of price. Best Overall Value is the shoe that comes closest to Best in Class in overall quality but has a slightly more attractive price point. And Most Affordable is our choice for best shoe on the market under $100.
Skip to the most relevant section of this article by using the table of contents below
BEST VALUE
BEST BANG FOR YOUR BUCK
The Nike Metcon 3 is an amazingly versatile cross trainer that introduces an updated drop-in midsole to provide maximum forefoot stability and flexibility. The low profile firm rubber heel delivers a solid base for heavy lifting.
Flywire technology makes use of lightweight Vectran filaments to give ultimate structure and support. Such features as molded flex grooves on the forefoot, embroidered TPU reinforcement and the lightweight construction make Nike Metcon 3 a great shoe to tackle the varied challenges of CrossFit training.
BEST IN CLASS
BEST SHOES ON THE MARKET (REGARDLESS OF COST)
Reebok's brand new Legacy Lifter is their showcase oly shoe. It features a TPU heel, ensuring that you have an in-compressible heel that is both lightweight and durable. The conventional double metatarsal straps are joined by an extra lacing strap to deliver superior foot security. A gap in the top medial velcro strap allows you to quickly tuck your laces into the shoe. The Legacy is a super comfortable lifting shoe that features full grain leather. An outside TPU counter locks in your heel to prevent slippage.
MOST AFFORDABLE
GREAT CHOICE FOR THOSE ON A BUDGET
The Wei Ru Warrior redefined what cheap lifting shoes could be upon its introduction in 2011. Well built using real leather and sporting and it presented the first really affordable alternative to the elite shoes. Wei-Rui won't win any style awards (hey you have to sacrifice something to get that price down) but if you're looking for an entry-level weightlifting shoe that's durable, comfortable, effective and affordable you won't find any better than the Wei Rui Warrior.
MOST AFFORDABLE
Update for 2017
The Adidas Powerlift 3 is a multi use weightlifting shoe that allows you to squat, deadlift and power clean without having to change your footwear. It features a high density midsole along with a grip friendly outsole to provide you with maximum foundational stability.
The lightweight synthetic upper comes with an instep strap closure system for great support and lock-in fit. The lining and collar of the tongue comprise air mesh material to vastly improve breathability and reduce moisture.
TOP BRANDS / OTHER OPTIONS
The best weightlifting shoe manufacturers all create high quality footwear so you won't find any losers among the shoes featured here. What really separates the best lifting shoes from middle of the pack shoes is styling which means if you take styling considerations out of the equation the playing field tends to even out pretty dramatically.
---
ADIDAS
The German company Adidas has been making some of the world's best shoes for weightlifting for decades. In 2008 they leapfrogged the competition with their Adistar line and have been at the top of the WL shoe heap ever since, consistently being blogged about by weightlifting shoes review experts around the web.
There's little if anything to dislike about the Adidas Adipower weightlifting shoe. Adipower helps Adidas stay firmly atop the weightlifting shoe pyramid by being a marked upgrade from its predecessor - the already excellent Adistar - and features:
Superior ventilation
Improved stability
Improved design
Though the price is nothing to sneeze at consider you'll probably have your new Adipower long after your buds are laying out coin to replace the cheaper brands they bought at the same time. Click here to read our review of the Adidas Adipower.
---
NIKE
Nike is one of the world's largest makers of weightlifting shoes. Over the past decade they've established themselves as a worthy rival to Adidas and with recent upgrades to their top tier products the gap between the two continues to narrow.
---
With the Romaleos 2 Nike states their intent to knock Adidas from the top of the "best weightlifting shoe" heap if not soon, then eventually. The Romaleos' many attributes include:
Thermoplastic Urethane (TPU) heel cup for enhanced stability
Synthetic leather exterior for remarkable flexibility
Changeable insoles
Ability to order in a custom color
That ability to customize the color of the R2 makes it a prime example of how performance does not have to be sacrificed for the best powerlifting shoes to achieve great styling. If you would like to learn more about the Nike Romaleos, and read our comprehensive comparison of the Romaleo, vs the Metcon, where we have broken it down in much more detail.
---
Clash of the Titans!
Widely considered the two best mass-produced weightlifting shoes on the market the Adipower and Romaleos 2 have been waging a pitched battle for hearts and minds in the weightlifting community for afew years now. The quality of both shoes means thattoday you're likely to find popular opinion splitalmost directly down the middle on just which shoeis actually better.
We have our own opinion on the matter, of course, and you can check out our comparison between the Adipower and Nike Romaleos 2 at that link.
---
Reebok
Reebok is perhaps best known for their running shoes but their foray into the world of weightlifting footwear has been an impressive one. Their full line of CrossFit Lifters has something to offer everyone from hard-core Oly weightlifters to novice CrossFitters and everyone in between.
---
The CrossFit Lifter Plus 2.0 is one of the best looking weightlifting shoes currently available.
With dual tarsal strap and smart, well balanced design it's an eye catcher that also delivers on the performance side in impressive fashion.
Key features include:
Mid-foot wrap is heat-activated to mimic custom fit
Heel counter offers close grip for added support
Rock solid lateral stability
Impressive ventilation
If you're a dedicated Oly lifter and you write this shoe off without ever trying it on you'll be making a mistake. Check out this review of the best reebok crossfit shoes, where we go more into depth on all the other shoes, including the Reebok Crossfit Lifter Plus 2.0
---
WEI-RUI
Wei-Rui came out of nowhere a few years back. Their amazing 'Warrior' line is virtually identical to the shoes they were already manufacturing for BAF but checks in a tidy 25% cheaper.
---
Real leather upper
A high level of craftsmanship
¾ inch solid rubber heel
Velcro instep strap
You won't impress many people with the style, but a stunning design never lifted anything. Fact is, The Wei Ru Warrior can be favorably compared to some of the best sneakers for weight training costing nearly twice as much providing you with exceptional value for your money.
To find out more about the Wei Rui Warrior and read our Wei Rui Weightlifting shoes review, you should read the linked article where we have broken the shoes down by all of its benefits.
---
PENDLAY
Pendlay is well known in the weightlifting community for their precision bars and plates and so it's not a big surprise that they would also start making their own Olympic weight lifting shoes. Perhaps the best thing about Pendlay is the fact that you'll find no Pendlay tennis, golf, basketball or running shoes in their repertoire. They do some of the best Olympic weightlifting shoes . Period.
---
Pendlay hasn't been making weightlifting shoes very long but they hit their stride right out of the gate. The Do Win lifting shoes boasts:
A wide profile for extra comfort
Hard plastic heel that reduces the shoe's weight
Synthetic leather upper
Improved breathability over previous models
Perhaps the area where Pendlay most obviously separate themselves from their competition in the mid-priced WL footwear market is style. These are great looking shoes and for that you'll have to pony up a bit more. To learn more about Pendlay and the DoWin shoes, check out this article where we do a comprehensive Pendlay lifting shoes review. Don't miss it!
---
Inov8
The New Zealand company Inov8 first caught the eye of lifters with their Fastlift 335 model (so named for their weight, a svelte 335g) a few years back. The recent release of their follow-up to the 335 - the 370 Boa - proves that Inov8 are no flash in the pan.
---
The 370 Boa is Inov8's grab for the "best lifting shoe" brass ring and features a revolutionary closure system. That system - the "Boa" of the shoe's name - allows the user to adjust tension on the strap by turning a built-in dial that eliminates the need for laces. Some of the 370s other virtues include:
Cutting edge profile
Lightweight construction
Excellent grip/stability
In short, this Inov8 lifting shoe combines cutting edge design with an old-fashioned custom feel. Click the following link to read our complete breakdown of the Inov8 lifting shoes review.
---
Asics
The Japanese company Asics has been around since 1949. In spite of their significant share of the ever changing athletic footwear market, however, Asics has continued to manufacture the exact same weightlifting shoes they made 50 years ago.
---
The Asics 727 Tiger you buy today is made from the same template and materials as 30 years ago. That's good because it's among the best shoes for powerlifting, but bad because the design fairy has been frozen out. Style aside the 727 features:
True handcrafted quality
Real leather and wood
Top flight performance
Unparalleled durability
Limited production run
As you might expect top quality products in short supply like Asics are going to present a challenging price point. In this case nearly $230. Learn more about the Asics weightlifting shoes by visiting this article.
---
Risto
Risto has carved out a tidy niche for itself by producing high quality, handmade Olympic weight lifting shoes and accessories. Risto are notable for being handmade using socially responsible labor practices.
---
Risto Olimpico
The Risto Olimpico is another product that will not set the fashion world on fire but clicks in all the important performance categories and features:
Natural rubber sole
Solid wood heel
Custom colors
Limited production
Socially responsible manufacturing
In spite of the fact that the men and women who make Risto actually have things like health insurance the shoes are not as expensive as you might think and are a great all around shoe you can be proud to own. If you would like to read our Risto weightlifting shoes review, check out this page.
---
VS Athletic
VS Athletic is best known for their athletic apparel and accessories but along the way they also saw fit to create a weightlifting shoe, and it's a good one. While it won't land you on the cover of GQ it will probably help drive your lifting routine to new heights.
---
Well built, affordable and performance oriented, the VS Athletic Weightlifting Shoe II is much admired by both novice and experienced lifters. Key features include:
Dual hook and loop straps for solid support
Flat leather-reinforced sole
Strengthened heel counter
Real leather upper
At less than $100 the VS Weightlifting Shoe is a pretty amazing value proposition and one you'd be remiss to not consider next time you're shopping for new WL shoes. To learn more about the VS Athletic shoes read our in depth VS Athletic weightlifting shoe review. Don't buy until you've read this article.

---
Otomix
Otomix is a brand created by martial artist Mitchell Bobrow. Today the company produces four differentshoes for weightlifting/bodybuilding that have attracted the attention of a relatively small but extremelyloyal customer base.
---
The Otomix Ultimate Trainer is the only shoe Otomix is designed specifically for weightlifters. It's anattractive, high-cut shoe that fits great and features serious ankle support along with top notch grip.Other key features include:
High degree of flexibility
Proprietary lacing system
Contemporary hybrid profile
Above average padding for extra comfort
You won't find Otomix in as many athletic footwearshops as say, Nike, but there are plenty of onlineretail outlets that carry them. Find out more by reading our Otomix weightlifting shoe review in that linked article.
TYPES OF LIFTING SHOES
Crossfit Shoes
Weightlifting shoes come in a variety of styles to serve a variety of purposes. From straight up Olympic weight lifting shoes designed and built for one purpose to multidimensional crossfit models created to save you from having to change shoes when you go from the weightlifting rack to the road. The guide below represents our picks for the best shoe in each category.
What are Crossfit Shoes?
Crossfit regimes include rope climbing, jumping, running, sled pulling, weightlifting and more and call for a shoe that's as versatile as you are. Top Crossfit shoes attempt to fill this need by essentially being all things to all sports. They may have a slightly elevated heel to accommodate certain aspects of Oly weightlifting, a slightly cushioned insole for dynamic absorption during running (but not so much as to be useless during squats and deadlifts), sticky outsoles to help you climb that rope easier and often assume a minimalist profile. Learn more about the benefits of Crossfit shoes here.
Best Crossfit shoes
The best shoes for Crossfit hit all the right notes in the areas of comfort, versatility and style while treading lightly on your wallet. They'll feel right at home whether you're executing squats, climbing the rope or barreling down a muddy cross country trail.
Top crossfit shoes are quasi-minimalist in design and meet traction, shock absorption, weight and breathability requirements of road work while retaining enough stability to handle moderate amounts of weight. Find out more including which ones we believe to be the best crossfit shoes of 2015 by clicking here. Find out more about the all time best Crossfit shoes here.
Best Crossfit Shoes for Women
The best Crossfit shoes for women also tend toward the minimalist though designers can't be as willing to throw comfort under the bus as they sometimes are with men's shoes. That's because studies show that women who run at a competitive level typically have more rigid feet than the rest of us which brings the need for comfort to the fore.
At the same time though the best women's crossfit shoes need to shine on the WODs, provide traction on slippery running surfaces and display the firm heel and robust stability required by the lifting platform. Find out which are the best Crossfit shoes for women meet all of those requirements and manage to look great in the process by clicking the article linked above.
Best Shoes for Squats and Deadlifts
If you're wearing the wrong shoe for squats and deadlifts you're leaving weight on the platform. With this type of lifting you need to have solid, stable, no-nonsense contact with the ground and this is why Converse Chuck Taylor's have been popular deadlift shoes for so long. They're great at creating maximum push by getting the most out of your lower legs. For a long time it was Chuck Taylors or bare feet but that's not the case anymore. Find out which manufacturers have taken up the challenge of creating the best shoes for squats and deadlifts here.
Cross Training Shoes (Running / Lifting)
New Balance Men's MX409V3 Cross Trainers
If you like to end your weightlifting session with some time on the track or treadmill you're going to want a shoe that promotes maximum upward thrust while you're under the weight but also hugs the ground, is relatively flexible and is great for putting miles behind you. Running and lifting shoes need to be durable, stable and flat but light on the cushioning in order to help your feet do what 3 million years of evolution designed them to do. This may be one of the most challenging categories of footwear design and our picks for the best may surprise you. Click the following article to find out more about our choices for the best shoes for lifting AND running.
High Top Weightlifting Shoes
High top, flat-soled, versatile gym shoes are perfect for squats and deadlifts, leg presses and more. In addition they will serve you well should you decide to take up mixed martial arts, boxing or a slew of other activities that require you to have your feet flat on the ground.
High top powerlifting shoes range from the decidedly low-tech to state of the art athletic footwear with clean, professional profiles that evoke both intent and good taste. Check out our choices for the best high top weightlifting shoes here.
Weightlifting Shoes for Women
Crossfit shoes are perfectly adequate for the light to moderate lifting routines typical of Crossfit workouts. But if you're serious about your weightlifting you'll need real weightlifting shoes; shoes that promote stability while distributing weight properly during dynamic transitions like the Adidas Powerlift 2 or Romaleos. The raised heel on those shoes encourages an upright torso and maximum upward push while the Crossfit need for comfort - driven by the physiological differences in the feet of women runners - is not a factor. See our selections for the best women's weight lifting shoes here.
Flat Weightlifting Shoes
While the raised heel on the Adipower and Romaleos provide stability, superior positioning and the ability to drive downward with maximum force there are times you want a shoe that positions your foot absolutely horizontal to the lifting plane. Flat lifting shoes replicate the natural barefoot stance but with the added grip only a sole can provide.
Examples of popular flat shoes for weightlifting include the Chuck Taylor and the Inov8 XF 210 Bare Shoe. The first is a decidedly low tech piece of lifting equipment while the second a state of the art barefoot alternative with no midsole and a rubber outsole for added stability. Learn more here about our choice for the best flat weightlifting shoes here.
Minimalist Lifting Shoes
There are a lot of decent minimalist lifting shoes on the market besides the venerable Chuck Taylors. These include the Vibram KMD Sport, the Merrell Barefoot, the New Balance Minimus and the Nike Free. All of them will give you that barefoot feeling while providing added protection and grip.
The best minimalist weightlifting shoes should stay in the background of your lifting experience, providing just the right measure of support and stability while letting your muscles do the talking. We've taken the measure of the best minimalist lifting shoes and you can see the results in the linked article.
Best Weightlifting Shoes for Flat Feet
If you have flat feet it can be difficult to find the best weightlifting shoes that will aid you in creating upward push during your deadlifts while also providing arch support. Opinions about exactly which type of shoe may be best for flat footed lifters run the gamut from work boots to top-of-the-line Nike Romaleos weightlifting shoes.
Many favor the Rogue Do Win lifting shoes for their minimal ½" solid wood raised heel and superior styling. Will our experts agree? Click the following article to find out more about the best weightlifting shoes for flat feet.

BENEFITS OF WEIGHTLIFTING SHOES
The three most obvious benefits of weightlifting shoes are easy to quantify. First, their solid (often wooden) heel ensures the upward force you apply is transferred effectively to the weight where it belongs. Second this heel forces the shoulders out over the front plane of your body creating a proper dynamic relationship between body and weight. And third a snug, metatarsal strap prevents your foot from sliding laterally and negatively affecting balance and stability. All these features reduce your chance of injury and increase your chance of attaining your personal goals. To learn more about why you should use weightlifting shoes, check out that article.
ADDITIONAL INFO / BUYING GUIDE
If you're an Olympic lifter you regularly subject the bones, ligaments, muscles and tendons of your feet to unbelievable stresses Mother Nature never intended. To think that your feet could not benefit from some level of active assistance is to simply deny reality. Good lifting shoes are your front line defense against short and long term damage and here's what to look for in your next pair:
Comfort/Fit - Discomfort equals distraction equals mistakes equals injuries. Find a brand of shoes that feel comfortable then work backwards to a model that fits your other needs.
Function - For clean and jerk and snatch you'll want an elevated heel while for squats and deadlifts you're going to want your feet flat on the lifting platform. Crossfitters will want something equally at ease under the weight and on the track.
Price - How much you spend will be entirely up to you but if you're a weekend warrior it doesn't make much sense to drop $250 on a pair of the best Olympic weightlifting shoes when you can buy perfectly functional Wei-Rui weightlifting shoes for $69.
Style - With the incredible variety of good weightlifting shoes available today you're sure to find a style that will fit your taste and budget.
CONCLUSION
Weightlifting shoes have come a long way since the days of Paul Anderson's leather Oxfords. Today's best shoes for weightlifting are the result of years of trial and error, advances in materials and construction methods and comprehensive computer-aided analysis of human physiology. With the re-emergence of free weights as a desirable, even preferable, method of weight training the need for good shoes to lift in has never been greater and neither have the choices. The weightlifting shoe review pages I've put together can help you to narrow those choices. Good luck!